How to Ship Your Bike
Introduction
This section contains:
See the Shipping pages for information on air and sea shipments by actual travellers to or from everywhere!
For each shipment, the details include Shipping wooDate, Cost, Shipper Contact details and a Description of the experience, in many cases very detailed and extremely useful information about the requirements for crating or the paperwork involved at the destination location.
This information has been gleaned from various sources, and not all details are available for every route. If you are aware of any more up-to-date information, or you know of any shipping details for locations which aren't listed in the database, please advise us. Thanks to all who have entered shipment details, and please keep it coming!
After shipping our own bike many times, and watching and hearing about hundreds more shipments, we have come to the conclusion that overall, the best method to send your bike is via air.
Sea shipping sounds cheaper, but the port fees are much higher, often off-setting any savings, or worse, as we heard recently, costing a traveller more than the entire original shipping fees! And by the time you factor in being without the bike for weeks or even months, it's usually not worth any savings you may get in the end. An important thing to watch for is that sea shipments are extraordinarily unreliable for time. The shipper will often quote for instance 6-8 weeks to ship from Vancouver to Europe by sea. Experience has shown that this is at best an optimistic guess, at worst a flat lie. Yes it can be done in six weeks, but not if the boat is rerouted to Nigeria! Twelve weeks is not unheard of, and then there's the dock strikes...
We know of one traveller who arranged shipping for her bike from England to Ecuador 12 weeks in advance of her planned vacation in South America. On arrival in Ecuador, she went to the shipping company's office looking for her bike. They knew nothing about it. It was still in the UK, awaiting a boat. She didn't enjoy the bus for the next two months. At least with an airplane they can always put it on another flight and it will only be a matter of days before it arrives.
Unfortunately US airlines are paranoid about shipping bikes - they class them as "dangerous goods" - and often refuse to carry them at all. All you can do is call all the airlines freight departments and find out if they will do it. Not the head office etc. - their automatic reaction is NO. If you find one make sure you talk to the guys in the freight department that actually handle it - what they will tell you is often very different from the official story from head office and passenger people. Do a search using the search bar above on "dangerous goods" to find much more about solutions and ways to deal with the problem. MOST shipments aren't done out of the USA anymore, most travellers use Canada instead due to this problem. Air Canada is very familiar with shipping bikes, and it can generally be done by dealing direct with the FREIGHT guys at the airport - not the check-in desk! :) Air Canada also regularly does super deals on shipping, in the range of half or less the usual, during the northern summer. See posts on the HUBB Trip Transport Forum documenting the details.
Lufthansa and other European airlines, as well as South American and Asian airlines will generally take a bike. You may have to work through an agent, but it is usually not too expensive for their services, and they will take care of all the paperwork for you.
For a good description of the crating process, see Chris and Erin Ratay's website. Chris also made this comment on the Air vs Sea question on the HUBB:
"Receiving a bike at the airport in Buenos Aires is much cheaper than at the seaport. ($60 vs $400). I've heard that Uruguay is a bit more expensive.

A friend shipped his bike to Valpariso (near Santiago), Chile, and paid US$7 -- yes, only SEVEN Dollars to reclaim his bike. I was with him, and the whole process was done in one day. The customs offices are walking distance from where the containers get unpacked."
Also, there are numerous more posts on the HUBB on this topic, in the Trip Transport forum.
General Instructions for Shipping
You may get told you can't ship the battery with the bike - that is not generally true - you MUST however completely disconnect the battery and tape the terminals securely. Also usually you must drain MOST of the fuel out of the tank, a litre or pint or so left is usually fine, just enough to get you to a fuel station on arrival.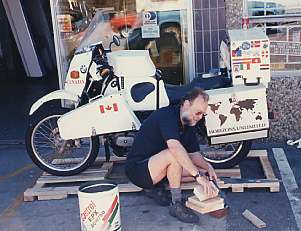 Grant preparing to crate the bike in Cape Town, South Africa
We usually leave the front wheel on when shipping as we're lazy - it can be an advantage to be able to just wheel the bike out of the crate and drive away, particularly in places like Nairobi. All I usually do is take off the mirrors and windshield, but it does cost a little more. Sometimes the local warehouse where you pick up the bike will not allow you to dismantle the crate there, insisting you take the crate away on a truck. We've always been able to get around this, but it has taken some persuading in the USA. (and waiting for everyone to go on coffee break)
Crates can often be obtained from a dealer. Wood crates are the easiest to deal with but many crates are now metal with a cardboard wrapper. They will work, but are harder to custom size. They are lighter, which can be good, but usually the problem with a bike is not the weight but the volume.
Shipping costs are calculated on a weight per volume basis. If the weight is over x / cubic foot then you pay the weight, if under you pay based on volume. Bikes are bulky, and you have to work hard to get the volume down in order to pay the weight price. You will have to really squeeze hard to get down to the weight price.

"Size counts" formula in common use:

Length x Width x Height in cm. divided by 6 = weight in KG.

e.g. 225 x 100 x 115 = 2587.5 cm3 divided by 6 = 431kg

Therefore regardless of the REAL weight of the bike and crate, you will be charged AS IF it weighed 431 KG.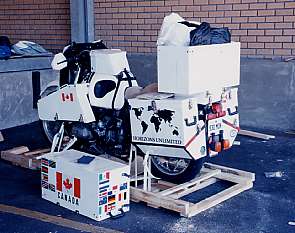 DON'T fully compress the forks. The bike should be tied TIGHT down on its suspension, about half-way or a little more down. Be SURE the straps can't loosen or come unhooked if the bike moves, because it will!
It should NOT be resting on centre-stand or side-stand, only on its wheels, and vertical. This will not harm the springs (unless you leave it for a couple of years). If it's on the stand, it will pound up and down in transport, and cause a lot of damage to the stand, the crate, etc., as well as loosen the straps!
Use good straps (I like 6) and don't skimp on the crate. You can usually get them for nothing from bike dealers, since they usually throw them away anyway, or even have to pay to get them hauled away. Good straps are often available for free from BMW dealers - they are what BMW uses to ship their bikes, and dealers end up with plenty. They are popular though!
IF you really want to squeeze the volume down, take the front wheel off, rest the bike on the forks (with axle installed and clamps tightened but NOT the end nut), and tie securely. I like to have the axle secured to the base of the crate.
Book a container and put several bikes in it, and the cost per bike will usually drop significantly.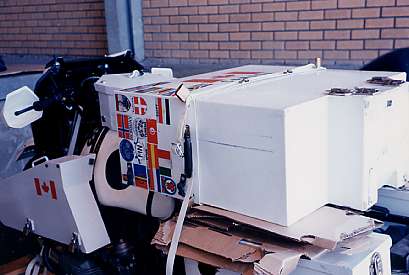 Strapping boxes on top, getting as much as possible in and as small as possible.
To reduce your shipping costs - from Istvan Szlany:
Dismount front tire with fender, handle bar with mirrors, and side+tail bags/boxes to reduce height, length and width and you'll pay the minimum possible by volume.
if you can, crate the bike, because then they can put other things on the top of the motorcycle crate. Ask around for scrap wood (*) see note below), nails and hammer - I'm sure they have. In this case you will pay most likely for the weight of the motorcycle.

Almost done.
For a good description of the crating process, see Chris and Erin Ratay's website.
Also, there are numerous posts on the HUBB on this topic, in the Trip Transport forum.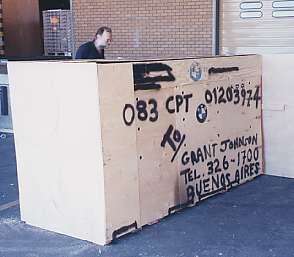 Make that address BIG! And on top, and the other side, and the end too!
Other issues to think about
Import regulations
Carnet de passage or temporary import permit (esp. OZ)
Insurance (transport, bike, health insurance etc.)
Quarantine: Be aware of very strict regulations for OZ and NZ.
CLEAN - the bike must be SUPER CLEAN or toothbrush clean for some countries, especially Australia.
* WOOD - Many countries require that all crates made out of wood be heat treated to reduce the risk of pest infestation. These crates require an approved stamp known as the "bug stamp" or ISPM 15 mark, certifying the crate meets international shipping standards. Do your wood crates pass the test? If they don't, foreign authorities have the right to fumigate or destroy your shipment without notification. NOTE the word "shipment" - that INCLUDES your motorcycle! They can also just send the shipment back, at your expense. More info on ISPM-15 here, and here on Wikipedia.
---
Member login
Are you an Overland Adventure Traveller?
Does the smell of spices wafting through the air make you think of Zanzibar, a cacophony of honking horns is Cairo, or a swirl of brilliantly patterned clothing Guatemala? Then this is the site for you!
Hosted by Grant and Susan Johnson, RTW 1987-1998
Next HU Events
HU Event and other updates on the HUBB Forum "Traveller's Advisories" thread.
ALL Dates subject to change.
2024:
Virginia: April 25-28
Germany Summer: May 9-12
Switzerland: August 15-18
Romania: August
Ecuador: August 23-25
France: September
Austria: September 12-15
Queensland is back! Oct 4-7
Germany Autumn: Oct 31-Nov.3
Add yourself to the Updates List for each event!
Questions about an event? Ask here
ALL 15 chapters of the HU Achievable Dream Guide are available to download on Vimeo!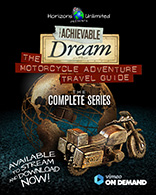 Binge watch over 18 hours of inspiring, informative and entertaining stories and tips from 150 travellers!
"a cross between entertaining stories, tech tips, and reference guide"
"A timeless introduction to Motorcycle Adventure Travel!"
Originally launched as a 7 DVD set, The Achievable Dream series can now be downloaded anywhere. OVER 18 hours of solid info take up zero space in your panniers. How convenient!
Books

All the best travel books and videos listed and often reviewed on HU's famous Books page. Check it out and get great travel books from all over the world.
NOTE: As an Amazon Affiliate we earn from qualifying purchases - thanks for your help supporting HU when you start from an HU Amazon link!