Carnet de Passages en Douanes - List of countries where it is Required
The OFFICIAL list of countries where you CAN use a carnet:
NOTE: This does NOT mean you MUST use a carnet in these countries,
only that you CAN if you wish!
See below for where a carnet is REQUIRED
Australia
Guinea-Bissau
Paraguay
Bangladesh
Travellers report Carnet OK as of Jan 5 2023
India
Peru
Benin
Indonesia
Qatar
Bophuthatswana
Iran
Senegal
Botswana
Iraq
Singapore
Burkina Faso
Ivory Coast/Cote d'Ivoire
Somalia
Burundi
Jamaica
South Africa
Cameroon
Japan
Sri Lanka
Canada
Jordan
Sudan
Central African Republic
Kenya
Surinam
Chad
Kuwait
Swaziland (SACU)
Chile
Lebanon
Syria
Ciskei
Lesotho (SACU)
Tanzania
Colombia
Libya
Togo
Comoros
Malawi
Trinidad and Tobago
Congo
Malaysia
Uganda
Costa Rica
Mauritania
United Arab Emirates
Cote d'Ivoire
Myanmar
Uruguay
Dutch Antilles
Namibia (SACU)
Vanuatu
Ecuador
Nepal
Venezuela
Egypt
New Zealand
Yemen
Gabon
Niger
Zimbabwe
Ghana
Oman
To the best of our knowledge, this lists all countries where a tourist is REQUIRED to produce a Carnet de Passages en Douanes to be able to temporarily import a vehicle.
Africa
Burundi, Cameroon, Congo, Djibouti, DRC, Egypt, Gabon, Gambia, Ghana, Guinea, Guinea-Bissau, Kenya, Libya, Malawi, Nigeria, Senegal (for vehicles older than 5 years), Southern African Customs Union (BW/NA/LS/SZ/ZA), Sudan, Tanzania, Togo, Uganda.
Other countries have a mechanism for temporarily importing a vehicle. This document is often referred as Passavant, Laissez-Passer or Salvo Conducto. A small fee is often charged to obtain it, and it allows the vehicle to be imported and driven for up to 1 month. It replaces the Carnet in that country, and should be returned to the customs office upon leaving the country.
From 2006 Senegal is easing the requirement for a Carnet de Passage. It is only required at the North Border, and drivers usually get through without a Carnet by paying a variable amount between 80-100 Euros.
Also from 2006, Egypt now has its own Carnet, available for those without a valid Carnet de Passage at the borders. It still requires a cash deposit (up to 2000 Euros) which is returned upon exit.
Americas (North, Central and South)
None. NO carnet is required anywhere, but you CAN use one if you already have it - but don't get one just for the Americas, it's not worth it.
Asia and Middle East
Bangladesh (Travellers report Carnet OK as of Jan 5 2023), India, Indonesia, Iran, Iraq, Japan, Kuwait, Nepal, Pakistan, Qatar, Singapore, Sri Lanka
Malaysia: while officially required, it is no problem to enter or leave via land borders on the peninsula. Local bikers think that a problem would arise attempting to ship the bike out.
A letter from the Automobile Association of Malaysia
"...Please be informed that AAM provide the service in issuing of the Carnet the Passage (CDP) for Thai registered vehicles. Documents required are as belows;
Application form for CDP (attached)
Original and photocopy of vehicle Registration Card and current Insurance Policy.
Depending on the purpose of application, vehicle inspection may be carried out to certify the vehicle details are in accordance with the registration card.
Bank guarantee equivalent to the market price of the vehicle. v RM 1,000.00 per vehicle is charge (for non-AAM Member)
Regards, Erly Sarina
Member Relation Unit
Automobile Association of Malaysia
Tel no : 03-21626915
Fax no : 03-21618540
website : http://www.aam.org.my/aamweb/
Japan
You generally need a Carnet for Japan. If you enter by FERRY with your vehicle, there is a special exception that will allow temporary import without a carnet (Customs Form C 5014). Shipping by freight (sea or air), you will most likely require a Carnet. Some people are rumored to have been granted temporary import even by freight, but this is generally not allowed and may result in expenses in excess of the non-refundable part of your Carnet costs. If you do a permanent import, you will have to register the vehicle, a time consuming and expensive process even if you speak Japanese (and also requiring a legal address in Japan).
(by Chris of Japan, HU Mod, as of Dec 2014)
Europe
None
Oceania
Australia (required - more details here), (and here), Vanuatu
Indonesian Motor Club:
Ikatan Motor Indonesia (IMI)[A]
Stadion Tennis, Sayap Kanan
Jln. Pintu Satu, Senayan,
Jakarta 10270
Tel: (62-21) 571 20 32 - 573 11 02
Fax: (62-21) 571 2037
Internet: www.imi.co.id
Email: imi@imi.co.id
Updates and information about this document
The contents of this page was originally mostly copied from the relevant Wikipedia page. However, updates to the Wikipedia page have been undone by others, citing 'original research'. Fair enough, this is not allowed on Wikipedia, but experiences by travellers are more useful to others than an academic requirement, so this page attempts to tell the reality as encountered by travellers at actual border crossings.
There are various documents on the internet, often cited, claiming to list 'requiring' countries. These lists seem to be mostly outdated and highly inaccurate, hence this attempt to produce a list for travellers that we ourselves can keep up-to-date.
US / Canada Carnet issuing authority is Boomerang Carnets, and they have loads of information of use to anyone. US / Canada residents MUST use them to get a carnet.
More HU information and explanations on Carnets and travel paperwork
Updates by Peter Hendricks (beddhist) or Grant Johnson (2023)
---
Member login
Are you an Overland Adventure Traveller?
Does the smell of spices wafting through the air make you think of Zanzibar, a cacophony of honking horns is Cairo, or a swirl of brilliantly patterned clothing Guatemala? Then this is the site for you!
Hosted by Grant and Susan Johnson, RTW 1987-1998
Next HU Events
HU Event and other updates on the HUBB Forum "Traveller's Advisories" thread.
ALL Dates subject to change.
2024:
Virginia: April 25-28
Germany Summer: May 9-12
Switzerland: August 15-18
Romania: August
Ecuador: August 23-25
France: September
Austria: September 12-15
Queensland is back! Oct 4-7
Germany Autumn: Oct 31-Nov.3
Add yourself to the Updates List for each event!
Questions about an event? Ask here
ALL 15 chapters of the HU Achievable Dream Guide are available to download on Vimeo!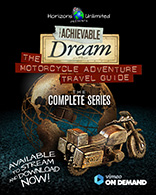 Binge watch over 18 hours of inspiring, informative and entertaining stories and tips from 150 travellers!
"a cross between entertaining stories, tech tips, and reference guide"
"A timeless introduction to Motorcycle Adventure Travel!"
Originally launched as a 7 DVD set, The Achievable Dream series can now be downloaded anywhere. OVER 18 hours of solid info take up zero space in your panniers. How convenient!
Books

All the best travel books and videos listed and often reviewed on HU's famous Books page. Check it out and get great travel books from all over the world.
NOTE: As an Amazon Affiliate we earn from qualifying purchases - thanks for your help supporting HU when you start from an HU Amazon link!