HU Travellers Meeting Virginia 2023
Workshops and Tech Sessions
If you know of any other motorcycle or travel equipment vendors or tour operators who should be there, please suggest it to them!
Exhibitors, more details and registration here. Please contact us if you have more questions.
Facilities for a Fantastic Weekend!
We are excited to come back to the Holiday Lake 4-H Educational Center and Camp. The camp is located in the Appomattox-Buckingham State Forest in central Virginia, about ten miles from Appomattox Courthouse National Historical Park. The camp is about 85 road miles west of Richmond, VA; 85 miles east of Roanoke, VA; 170 miles southwest of Washington, DC; and about 130 miles north of Raleigh, NC. It's an easy and scenic ride from almost anywhere in the mid-Atlantic or central U.S.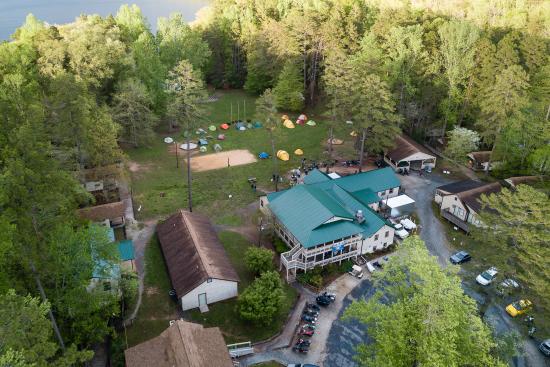 This part of Virginia is characterized by rolling farmland and countryside, lush forests, and scenic, two lane roads with minimal traffic. While easy to reach via major highways, the Appomattox area is a mostly rural landscape, dotted with small towns, and shaped by history. When you're not participating in HU seminars and presentations, you'll enjoy great riding and plenty to see and do.
Accommodation on site
Holiday Lake 4-H camp offers plenty of flat and grassy areas for tent camping with bathhouses nearby; rustic and historic cabins for basic accommodations with bathhouses nearby; bunkhouses with bath/shower rooms incorporated; a limited number of spaces for RVs; and a very small number of upgraded rooms (PODS) for more private lodging. You are responsible for providing linens – sheets, pillows, sleeping bags, towels, etc. – for all accommodations.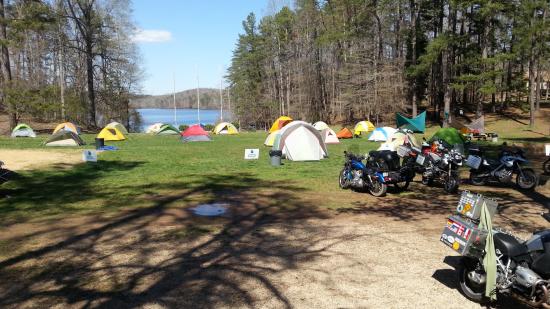 Tent Camping
Tent space is divided into two areas. One area is on the lake side of the dining hall complex. There is a terraced, grassy area set aside for tents between the dining hall and the large fire ring. Campers here will use the large bathhouse near the dining hall building. This is the more social area, and will likely see more late night activity and foot traffic.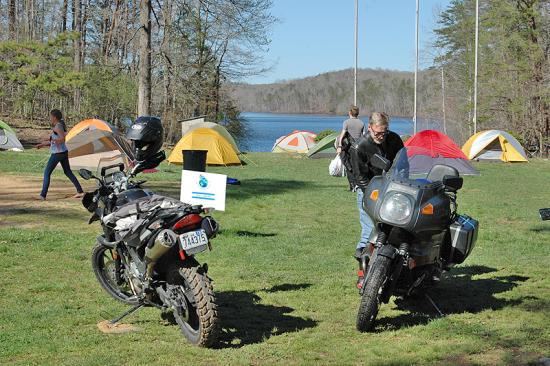 The second camping area is near the entrance to the camp and across from the swimming pool. This is a flat, grassy, athletic field, and is the Quiet Camping Area. These campers can use the bathhouse at the swimming pool just across the road OR the bathhouses near the cabins and presentations building. The swimming pool itself will be closed during our event. There is a large parking area on the far side of the athletic field. To avoid damaging the athletic field, you will not be allowed to ride your motorcycle up to your tent.
Please adhere to QUIET CAMPING practices in this area — no loud parties, late night gab sessions, or bright lights. If you want to party, please camp in the area near the lake and let others enjoy the peace and quiet of the athletic field camping area.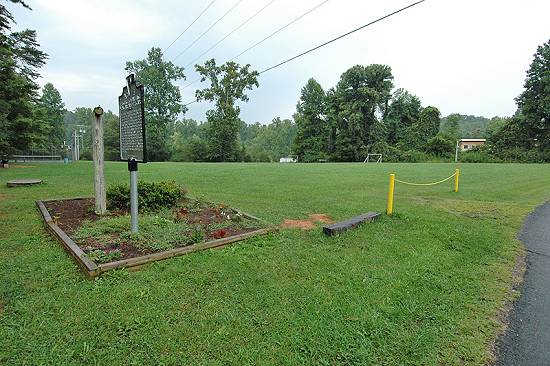 All campers are advised to use best practices regarding the storage and disposal of food near their tents and cabins. We are staying in a state forest with the corresponding possibility of animals looking for food.
Fires are allowed only in the camp fire ring. Camping stoves are permitted at your tent site but not inside any buildings.
Bunkhouses
There are two bunkhouses plus a lodge. These buildings will be segregated by gender, and each contains a bathroom and shower. They include bunk beds, but we will only use the lower bunks, so the upper bunk is available for your gear.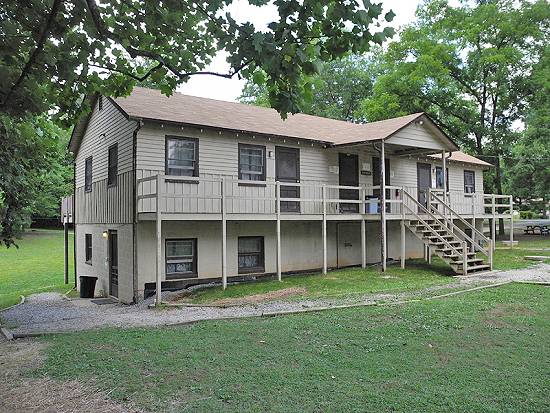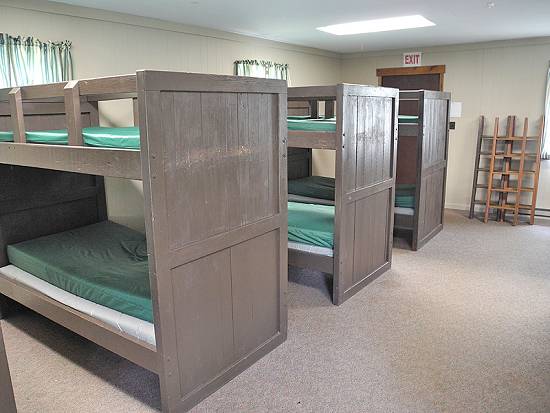 Cabins
There are two rows of cabins flanking a lawn with a volleyball court and grassy areas. There are 15 of these, each with four bunks (eight beds). We will use four beds (lower bunks) per cabin so there will be enough room for four adults plus plenty of gear. Beds are 72"x30", slightly narrower than a twin mattress.
Note: One row of cabins is reserved for women only and couples, the other for men only.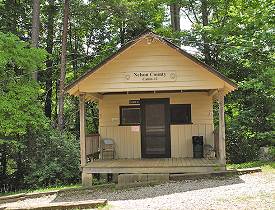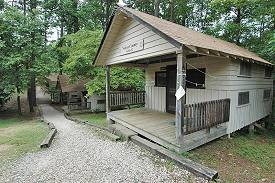 PODS - Limited Numbers!
There are five of these with two bedrooms with one bed in each, plus a bathroom and a living room. Heated and A/C.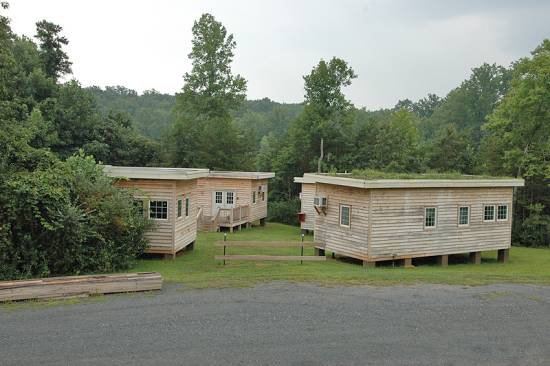 RV Parking
There are 4 spaces available with electric hookup, but no water hookup or waste disposal is available.
Showers & Toilets
There are bathhouses for those camping in tents or staying in the cabins. Bunkhouses and upgraded rooms have their own washroom facilities, including private showers, toilets, and sinks.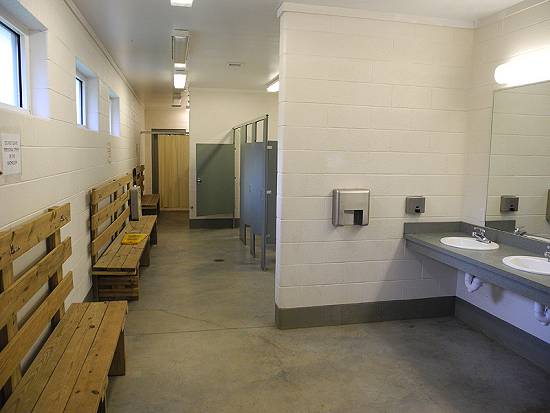 Meals
Meals are NOT included with your registration fee. You have choices regarding meals. Complete meal packages are either 8 meals (if coming for Thursday afternoon – Sunday morning) or 5 meals (if coming for Friday afternoon – Sunday morning only). Partial meal packages leave lunch up to you, and may make sense if you're planning on a ride-out on Friday and Saturday. You can also sign up for the complete meal package and choose a box lunch for your ride-out.
"The food was amazing and there was so much of it, it was comfort food as well, I did not hear one complaint and the ladies in the kitchen were very accommodating."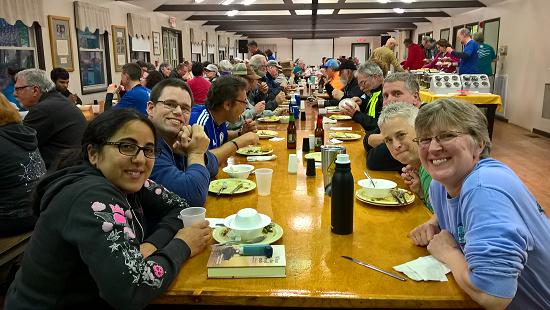 "The food is very good. Well worth the cost, and certainly worth the time you'll save."
Meal Package A - 8 meals, $130

- Thursday dinner;
- Friday breakfast, lunch, and dinner;
- Saturday breakfast, lunch, and dinner;
- Sunday breakfast.

Meal Package B - 6 meals, $95

- Thursday dinner;
- Friday breakfast and dinner;
- Saturday breakfast and dinner;
- Sunday breakfast.

Meal Package C - 5 meals, $82

- Friday dinner;
- Saturday breakfast, lunch, and dinner;
- Sunday breakfast.

Meal Package D - 4 meals, $65

- Friday dinner;
- Saturday breakfast and dinner;
- Sunday breakfast.
If you desire a box lunch for either Friday or Saturday, please check the appropriate box.
There will be a vegetarian option offered at each meal - we will need numbers for these, so please indicate when you register if you wish a vegetarian meal.
Special dietary needs within reason can be accommodated with advanced notice.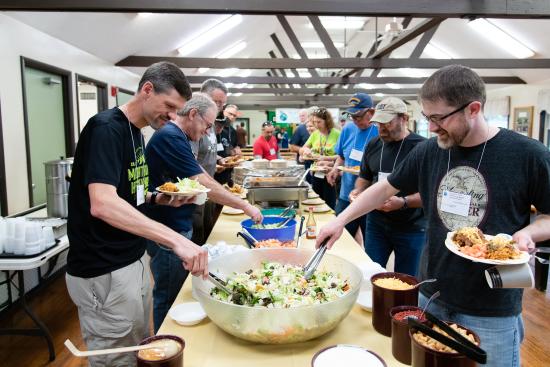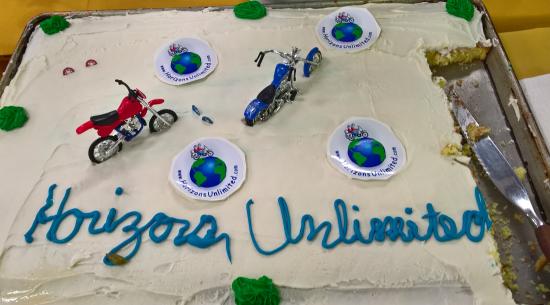 Sample meal plan below (to be updated when finalized):
Thursday
Friday
Saturday
Sunday
Breakfast

Eggs, oatmeal, sausage or bacon,
cereal, yogurt, fresh fruit.

Eggs, oatmeal, sausage or bacon, cereal, yogurt, fresh fruit

Eggs, oatmeal, pancakes, French toast, sausage or bacon, cereal, yogurt, fresh fruit
Lunch
Pulled pork BBQ OR fried chicken, cole slaw, tossed salad, cookies
Hamburgers OR baked chicken, potato salad, baked beans, tossed salad, brownies
Dinner
Fajita bar – Make your own fajitas and enjoy them with a tossed salad and cobbler!
Lasagna (meat OR vegetarian), roasted broccoli, green beans, tossed salad, pie
Roast beef OR baked fish, whipped potatoes, green beans, tossed salad, cake
There will be a vegetarian option at each meal. We'll need numbers for these, so please indicate when you register if you wish vegetarian meals, gluten-free etc. The camp staff will try to accommodate special dietary needs, but you may want to make your own provision in that circumstance, just in case. Also, when you arrive at each meal be sure to tell the staff what special meal you requested.
Presentation Facilities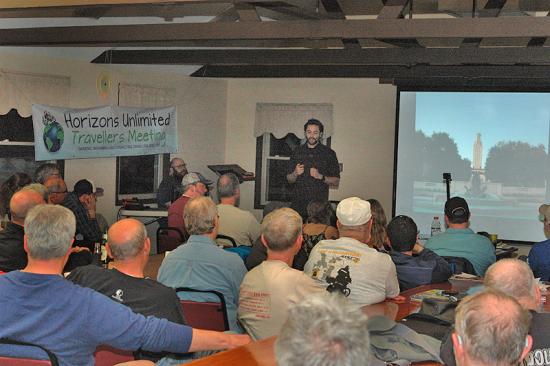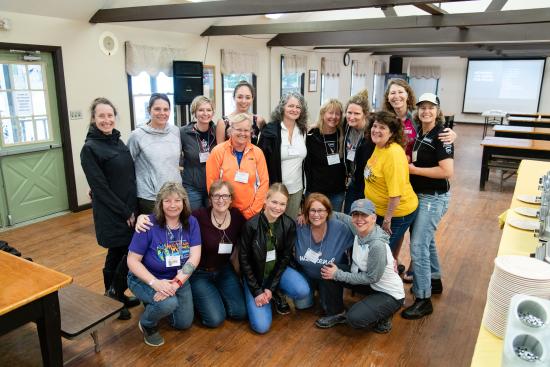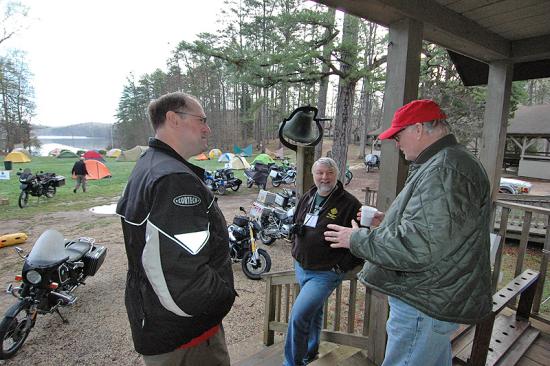 Cellular Service and Internet
Holiday Lake Camp sits in a "bowl" in the middle of a state forest, and thus has practically no cellular service available. Cell service is available a mile or two up the road from the camp. There is a landline phone we can use for emergencies or to let loved ones know we've arrived safely. Ask at registration if you need to make a landline call. Incoming calls from your friends or family can be made to the camp office (434-248-5444) and messages can be relayed through the HU registration area.
The camp has decent cable internet available but it is not designed to host 100+ people on Facebook at the same time. Internet will be available for you all, but please understand this is not a resort with unlimited amenities. Be patient when necessary and relax and enjoy your time with us.
Please don't forget the reason we're all here -- to interact with each other, to learn from each other, and to grow as a community. We encourage posting of photos, videos, and blog accounts of your experiences at HU meetings, but make sure you don't retreat into a digital cocoon while you're here.
Children & Pets
Horizons Unlimited wants to inspire the next generation of adventure travelers, so you're welcome to bring your children along if you wish. Bear in mind this event is for adults, with adult themes and language, and we won't have any specific activities for children. Those under 16 years old get in for free. Participants under 18 years old must, in accordance with 4-H regulations, be under the supervision of an adult. Please note that the health and safety of your children is your responsibility and they must be supervised by you at all times. Children will not be allowed in any of the presentations from 8 pm onwards each evening.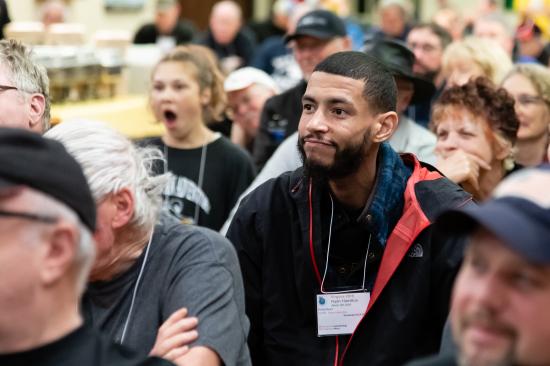 Pets, Dogs
Pets and other animals are not allowed, as per 4-H regulations, except for LICENSED AND REGISTERED companion / support dogs.
Holliday Lake State Park is just across the lake from the 4-H camp and does accept pets, but you cannot bring them on site at any time.
Smoking & Drinking
Smoking is prohibited inside any of the camp buildings. Smoking is allowed on the decks of the dining hall. If you are smoking anywhere on the property, you must dispose of the butts properly in the butt cans.
Alcohol is permitted at the camp, but we reserve the right to expel without reimbursement any attendee who becomes intoxicated and/or causes a disturbance. Beer or wine can be purchased at almost any grocery or convenience store in Virginia; liquor is available at the state-run Alcoholic Beverage Control (ABC) stores. The closest one to the camp is in the nearby town of Appomattox and is open Monday-Thursday from 10am-7pm and Friday-Saturday from 10am-9pm.

Firearms
Please note: Firearms are not permitted at the camp.
---