HU Travellers Meeting South Africa 2017
Workshops and Educational Sessions
Because Horizons Unlimited meetings are also about informing, not just inspiring!
Exhibitors -
Confirmed
If you know of any other motorcycle or travel equipment vendors or tour operators who should be there, please suggest it to them! Vendors please contact me for details.
Facilities for a Fantastic Four Days
Elgro River Lodge
Conference Centre & Game Lodge
Potchefstroom 2520
South Africa

Kobus Fourie of the Elgro River Lodge is our host for the Horizons Unlimited South Africa meeting. The Elgro River Lodge is the true African experience situated on a bend of unexpected beauty on the Vaal River, 30 km from Potchefstroom.
The Lodge sits on the bank of the mighty Vaalriver and is on the Western side of the Vredefort Dome created some 2000 million years ago where a meteorite of about 10 km in diameter plunged to the earth and hit it with a velocity op 20km per second (+/- 72,000 km/h). The meteorite created a unique geological structure of unsurpassed beauty recognized as a World Heritage Site.
The Lodge has hosted many competitions as well as prestigious events including the National Archery Championships and the World Bowhunter Championships 2013.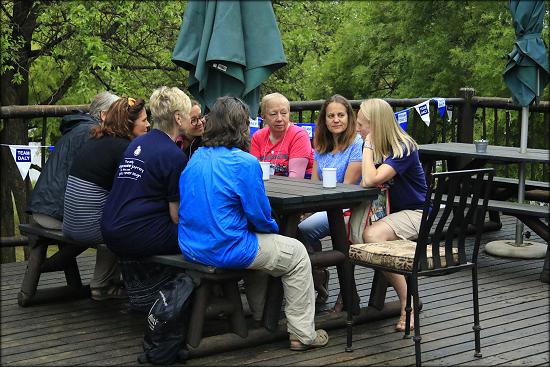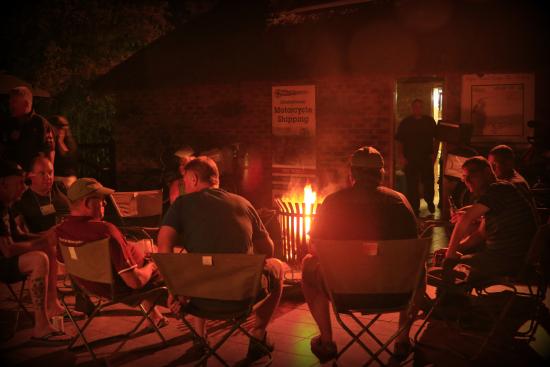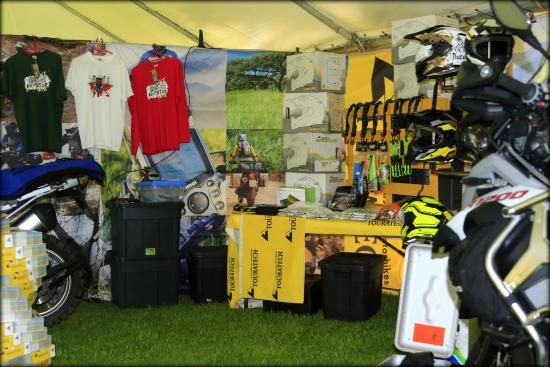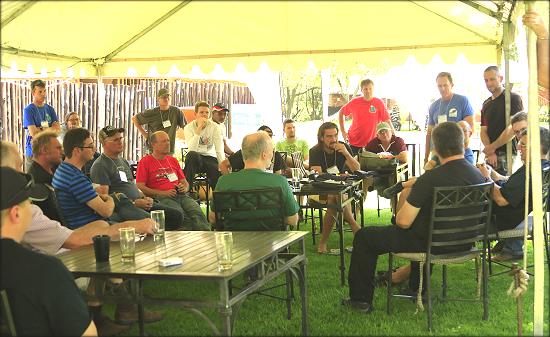 Accommodation & Meals
The Lodge is offering a choice of 3 accommodation packages including HU meeting registration fee, all meals (from Thursday lunch through Sunday breakfast) and all activities (workshops, presentations, ride outs, discussion groups).
Choose your accommodation package (and t-shirt, membership, etc.) when you register for the meeting, you will then have the option to pay by PayPal in USD or by bank transfer in ZAR.
Accommodation Packages
Package 1 - R2950 p.p. sharing includes:

HU Registration Fee
Luxury Accommodation for 3 Nights
Full English Breakfast, Lunch & Buffet /Barbeque Dinner x 3 Days
Game Drive / Outrides / Skills Course
Goodie bag

Package 2 - R2650 p.p. includes:

HU Registration Fee
Rustic Accommodation for 3 Nights
Full English Breakfast, Lunch & Buffet /Barbeque Dinner x 3 Days
Game Drive / Outrides / Skills Course
Goodie bag

Package 3 - R2350 p.p. includes:

HU Registration Fee
Camping for 3 Nights (Own Tent)
Full English Breakfast, Lunch & Buffet /Barbeque Dinner x 3 Days
Game Drive / Outrides / Skills Course
Goodie bag
Accommodation
The Lodge offers top class accommodation options to fit any budget:
Luxury Chalets (various available)
The Lodge has 9 beautiful self-catering riverside units, fully equipped with access to a swimming pool and walking distance to the lapa & bar area ideal for a cocktail on the deck overlooking the beautiful Vaal River. Just imagine sipping sundowners with a gorgeous sunset right on your doorstep!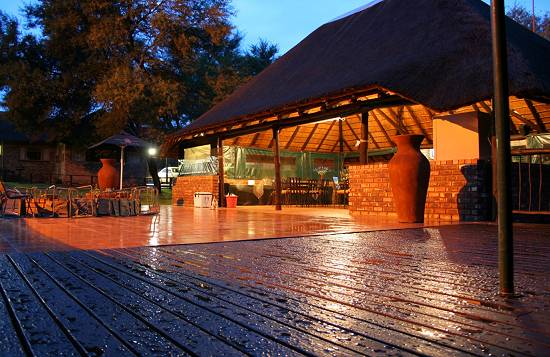 Owl's Cottage & Annex Rooms
Owl's Cottage boasts its own swimming pool and conference facility. The Owl's Cottage exist of 4 separate rooms, 2 bathrooms, 1 separate toilet, 1 kitchen with a stove and microwave and fully equipped with cutlery, plates and glasses, 1 living room and dining room, TV with DSTV satellite and a braai area.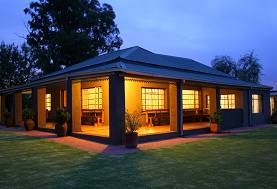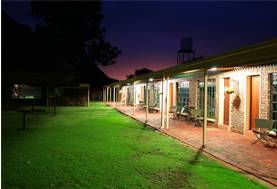 Elgro River Lodge Camping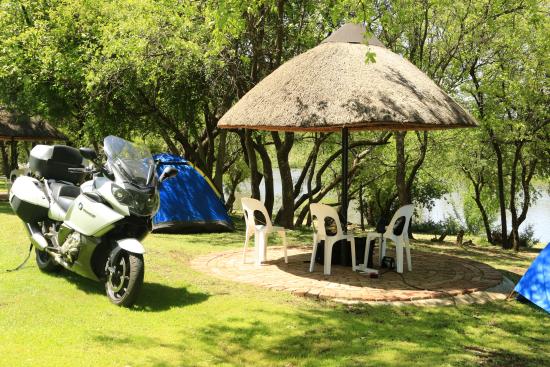 Meals
Sharing meals are an excellent way to meet fellow participants and talk to presenters - the 'connect' part of Inspire, Inform and Connect! Also, since you're eating right there on site, you won't miss any of the after-dinner slideshows.
"It was a real pleasure to meet some of the world travelers and to eat in their company."

"The atmosphere was relaxed and I liked the networking opportunities."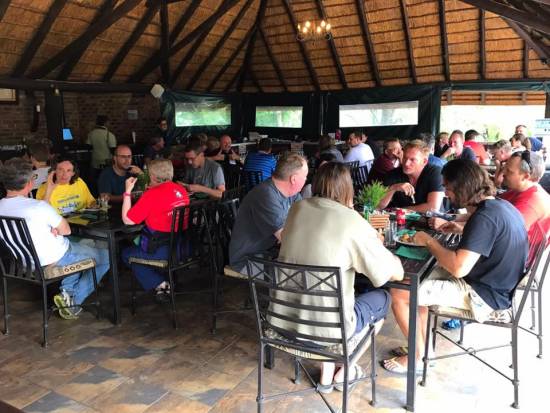 Meals are included in the Accommodation Packages above. The food is AWESOME!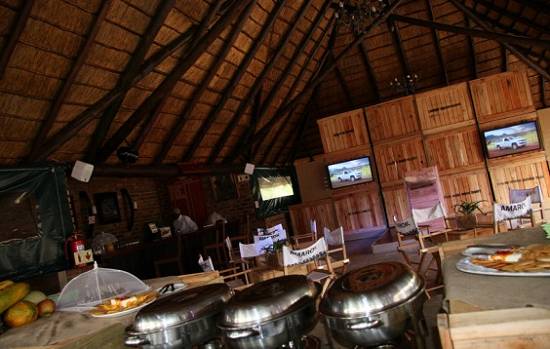 Activities at Elgro River Lodge
This is adventure paradise! Whether it is a game drive you're after, with more than 11 species of game, or an adrenaline rush down the river on a raft, this is the place to get all the action. All activities are guided by our qualified staff and we ensure you will have an experience of a lifetime!
During the Adventure Travellers Meeting, Elgro River Lodge will be providing Game Drives and River Rafting on Friday and Saturday at no extra charge. Why not stay on after the event and enjoy the facilities and other activities at the Lodge, including Bird watching, Mountain biking, Fly fishing and 3D Traditional Archery!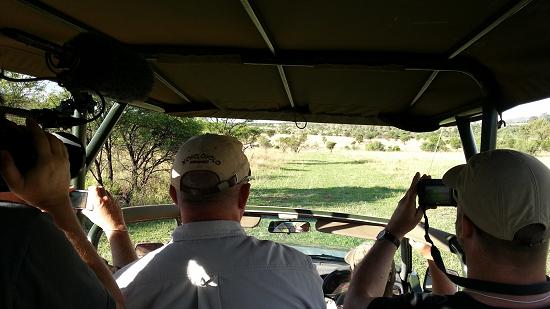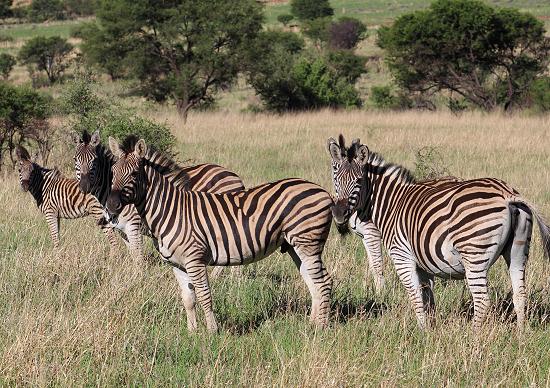 Game Drives - The Lodge is home to a great diversity of game, like Impala, Zebra, Eland, Waterbuck, Kudu, Giraffe and much more. The drives takes you through the spectacular mountains and up to view points with beauty that you can only imagine. Book and experience a magnificent African sunset. There is also a Mampoer tasting game drive available definitely an adventurous experience.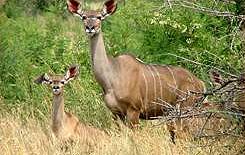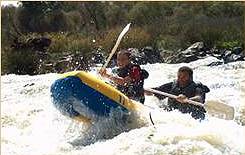 River Rafting - A rafting trip on the Vaal is definitely a big consideration to add to your overall experience. Trips differ in length and the river is suitable for children as well. Our experienced guides will take care of your safety and educate you on the ways of the water.
Bird Watching & Wildlife - Over 180 bird species have been identified on the Lodge, so take the binoculars and go for a stroll along the river bed or the established trails throughout the reserve.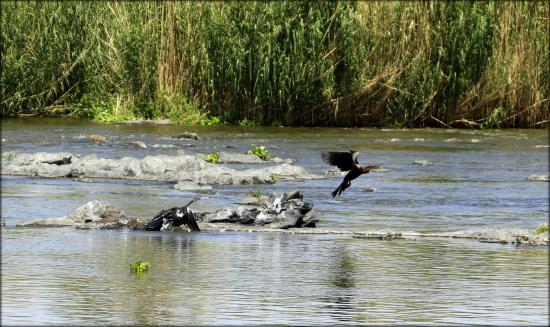 Mountain Biking - This is part of our monthly guided activities and is ideal for the mountain bike enthusiast or for the more serious riders preparing for a race. Beautiful trails surrounded by wildlife and game.
Fly Fishing - Welcome to the best fly fishing water for yellows on the Vaal. We offer about 20 km of pristine fly fishing water for small and large mouth yellow fish. Take the stumble out of the Vaal and do one of our float & fly trips or you can enjoy the streams around the lodge and catch that elusive yellow. A basic Fly Fishing Shop is available at the lodge. Fly fishing trips can also be organized with experienced guides, these trips must however be booked in advance. For the last 15 years the Elgro River Lodge was the proud host of the Bell's Fly Fishing Festival.
3D Traditional Archery & Target Shooting - The Elgro River Lodge boasts one of the best 3D Archery courses in the country. With exceptional course layouts that change frequently. The Elgro Traditional Archers Club is based at the lodge and we host a club shoot every second and fourth weekend of the month.
---