HU Travellers Meeting South Africa 2017
THE PREMIER OVERLAND ADVENTURE TRAVEL EVENT
4th Horizons Unlimited South Africa Adventure Travellers Meeting
Thursday Nov 9 - Sunday Nov 12, 2017 - Elgro River Lodge
It's All About Overland Adventure
Whether you're a seasoned veteran with wisdom to share or a complete novice hungry for ideas and guidance, it doesn't matter if you ride a motorcycle, a bicycle, or drive an expedition vehicle...
Horizons Unlimited meetings are for everyone who dreams of adventure along the road less travelled.
Horizons Unlimited South Africa Event Schedule
The event is taking place from Thursday, Nov 9 to Sunday, Nov 12, 2017.
The Registration Tent will open for check-ins at 13:00 on Thursday, Nov 9 with the first presentations beginning at 18:00. Last presentations will be Sunday morning.
There will be inspirational slide shows, practical demonstrations and tech clinics throughout the weekend, and lots of time for connecting with fellow travellers. Come early and make it a great weekend! We recommend riding on Thursday and Sunday, and participating in the presentations and clinics in the evenings, Friday and Saturday.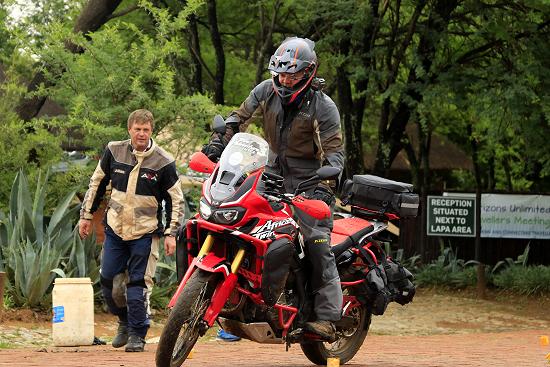 As well as hearing inspiring stories of overlanding adventure from around the world, you'll get the low-down on preparing for your journey, navigation, first-aid, photography, filming and a host of other essential topics.
Kobus and the team at Elgro River Lodge have also arranged game drives and ride-outs on Friday and Saturday, so there will be something for everyone!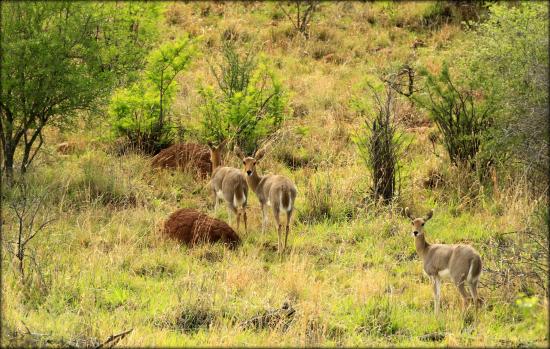 You can download the event schedule here approximately a week before the event, and a copy will be available at the event, but it is subject to change!
Presenters at HU South Africa
2017

so far...
Charles Garrett

Freedom, Solo Travel & Managing Limitations
Been on the road now for 18 months through Africa, Europe, and North America. True freedom and dealing with limitations along with travel experiences and insights.
What does it mean to be truly free to travel the world and what are our limitations? How does one live the biggest life possible? This presentation is about sharing my story and travel anecdotes whilst giving some practical tools to help inspire your adventure. My biggest limitation were about being alone, but yet I set out to cover a continent solo.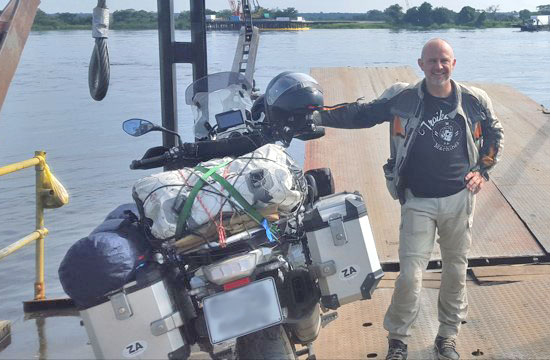 Ronell Scheepers & Barend La Grange

Twist in the Tale: The East Africa 6
Adventure tour to six East African countries via public transport only: Zambia, Tanzania, Burundi, Rwanda, Uganda & Kenya
Explore East Africa: Public Transport Only! A tour to Zambia, Tanzania, Burundi, Rwanda, Uganda, and Kenya by 10 adventurous souls! Aim: to explore and experience Africa on 'ground' level. Mixing with locals, travel in crowded buses with them, "eat from the street" tasting local cuisine all the way, "stay where the locals stay", and more. Also, beautiful and interesting places visited.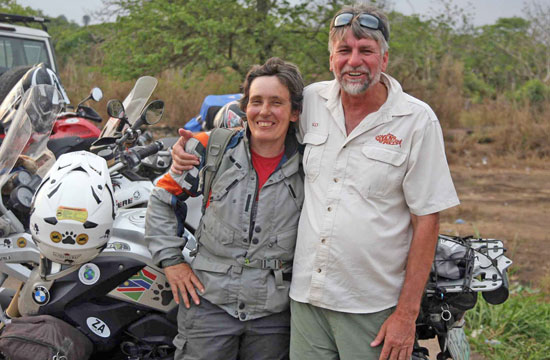 About Ronell: Ronell is a Free Stater from South Africa. Lesotho Snow 4x4 Tour July 2015 (-13 temps! and camping!), Angola Motorbike Tour Sept 2015, East Africa via Public Transport Only July 2017. At other times, she's been a farmer, agribusiness woman, and photographer. Love the outdoors, camping, kayaking, and adventure.
About Barend: Barend has traveled through Africa for the last 14 years and only uses public transport. This way of travel is very close to the people and the environment. A few years ago he and Foeta Krige, RSG Monitor and Spectrum Director, traveled through 14 countries; from the southernmost to the northernmost point in Africa (from Cape Agulhas to Ras ben Sakka in Tunisia). In August 2011, with the permission of the United Nations High Commissioner for Refugees, he spent a week in a Burundi refugee camp in the Tabora Province in Tanzania, where 45 000 refugees are living and, in extreme circumstances, have to survive. This first-rate practical experience allows him to better understand the people of Africa with their diversity. Barend was born in the Cape. There went to school, study and worked. However, he has been in Johannesburg for the last 19 years. He has been married to Annalene for 42 years and they have two sons and five grandchildren.
Mom On A Career Break Cycles Through Japan
Videos and photo presentation of a mother exploring Japan on bicycle all by herself
Do you sometimes dream of packing your bicycle and experiencing the world from a different perspective? Ever considered Japan? Although it is very foreign and different, it is a beautiful and safe country to satisfy that wanderlust. Enjoy some videos and tips on what I learned during my three months of cycle touring through Japan. Handy tips on free accommodation, what to pack, crossing language barriers, and so much more.
Christina is a mother and internal auditor who, mid-way through her life, took a career break to go and explore the unknown on her mountain bike. She took six months' unpaid leave and embarked on an adventure in all aspects totally foreign to her - cycle touring through Japan. Solo.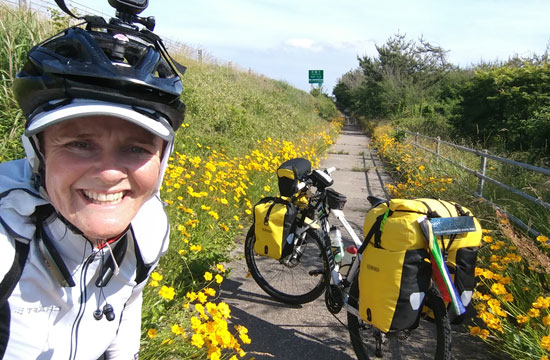 The Great World Trek
A married couple of South African doctors traveling the world for two years on motorcycles.
Matthew and Megan recently returned from a two-year motorcycle trip through South America, North America, and Africa with even more on the cards. Come and see some beautiful pictures, some crazy videos, and hear some funny stories. Plus, insights into living as a couple on-the-road and how Matthew performed a miracle by getting his wife to agree to ride a motorcycle around the world. All questions welcome!
Matthew and Megan are two medical doctors, and a married couple, who rode their motorcycles across three continents for two years in aid of Doctors Without Borders. They're also proudly South African!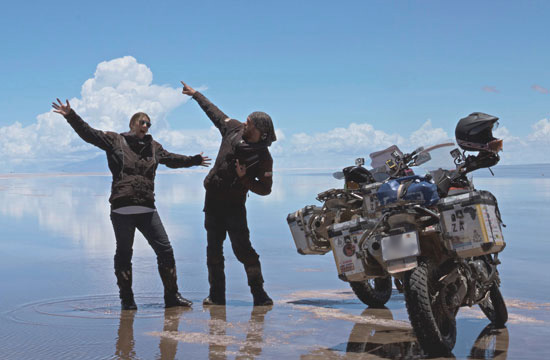 Kobus Fourie

Short Adventures!
Experienced adventure traveller who will share his thoughts on shorter trips he did through Namibia and Botswana. It's not always possible to do longer trips but in the meanwhile there is nothing wrong doing a shorter trip for 2-3 weeks. He will also do a presentation about camping gear and modifications on your bike.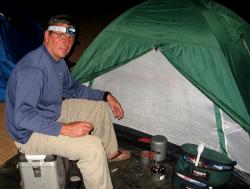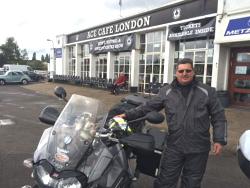 Kobus has been riding motorcycles for 40+ years, and has travelled throughout Southern Africa, including the Cairo to Cape Town tour, as well as Europe. He is the host of the Horizons Unlimited South Africa Travellers Meeting. Kobus will also host the game drives on bikes, not to be missed.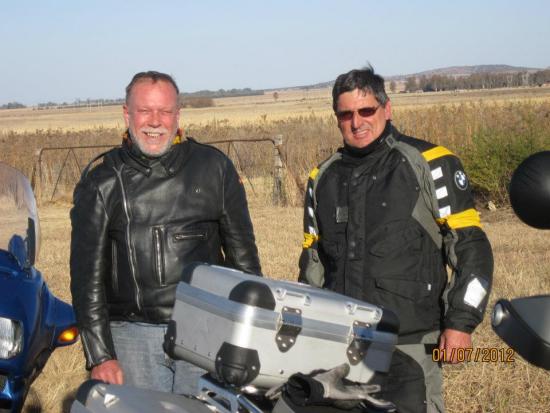 Anton Goossens

Ride outs!
Anton is the owner of Bikers Paradise Potchefstroom. He will do two outrides in the Vredefort Dome world heritage site over the weekend. We can without doubt recommend doing his trips.
Workshops and Educational Sessions
Because Horizons Unlimited meetings are also about informing, not just inspiring!
How to Pack a Medical Kit for Adventure
Small, light, and able to fix nearly everything - the best way to pack a medical kit for adventure biking.
Medical doctor Matthew Snyman recently returned from a two-year round-the-world motorcycle trip. He gives insight into the best way to pack a comprehensive medical kit for the road, what to bring, and what to leave at home.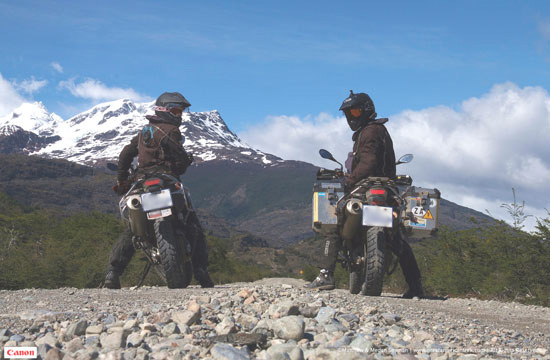 Johan Gray

Slow Riding Skills
Skills courses... with a twist
Johan is recognised as one of the best Dual Purpose riders and coaches in South Africa. His riding experience spans 35 years with most of it in the motocross discipline and later years in the off-road discipline. As a member of the South African Defence Force Bike Squad he won the Driver of the Year - Motorcycle competition in 1984. He participated in the demonstration team with most of the his military service in the operational area.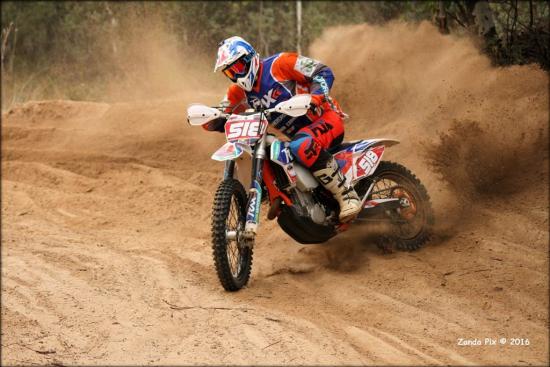 In 2012 he competed in off-road racing, dominating his class, winning 7 of the 8 races. Unfortunately, not finishing the one due to food poisoning. In 2014 Johan won the National BMW GS ECO Skills Event on a BMW F800GS Adv and in 2015 the Sabie GS Challenge Skills Event on a BMW GS 1200 Adv LC.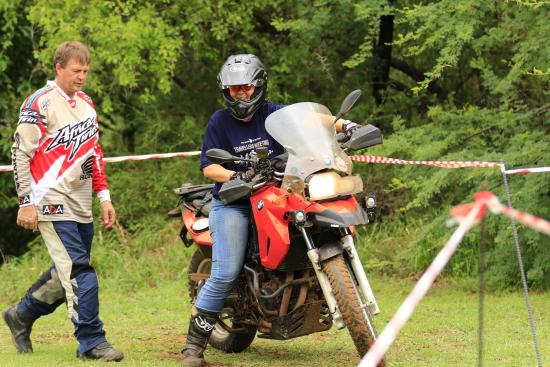 For eight years he fulfilled the role of Chief Instructor at the well-known and leading African Dream Adventures, South Africa (ADA SA). He set and put standards in place and developed leading rider development curriculums. ADA is known for approaching training in a way that ensures every student experiences personal attention, like painting with a pinstripe brush rather than a roller. In 2015 Johan as Programme Director delivered the Women Development Programme.
He's back at HU South Africa 2017 with TWO presentations on the skills course!... and he's added a twist. Johan is highly recommended in South Africa. This is a must-attend over the weekend!
Hein van Rensburg

Practical Route Planning and GPS - How to use Basecamp efficiently, and set up your GPS correctly
Using Basecamp software is a tough problem for many people to plan a trip and use it for navigation. I am going to show you a few easy steps to be able to use these advanced tools for trip planning and transfer it to your GPS so that it will work. My method is simple and effective and have been proven over 5 years of travel of more that 100 000 km on my bikes. Bring your GPS to the presentation and also bring your PC so that you can do it practically during the workshop. I will show you how to plan a trip, plan a route and transfer it to your GPS so that it is not recalculated and changed, but works on the bike.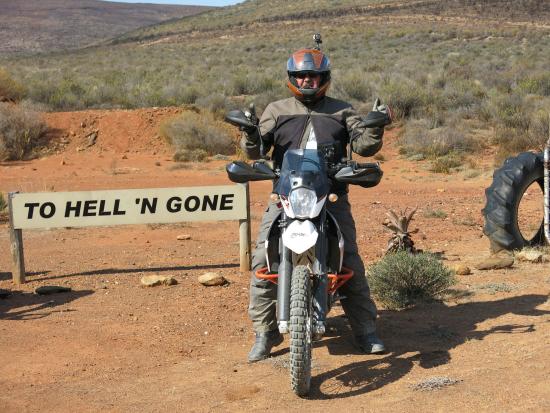 I have traveled South Africa, Europe, USA and the Middle East extensively over 30 years. I am an Electronic Engineer and have worked in the Military and Aerospace Industry for 35 years. I just love to ride my bikes and am an avid golfer.
LOTS of presentations to come! As people register to present we'll list them here.
How about you? We're all here to learn, and there's LOTS to learn! We want to do more presentations and seminars - but we need volunteers to give them! Any topic you can contribute having to do with motorcycle travel, maintenance, planning etc, lasting 20 minutes or more, would be great. Please contact us here to volunteer.
The Adventure Travel Zone
Equipment Specialists
Manufacturers
Tour Operators

Adventure Travel Authors and Film-Makers
The HU Store
Exhibitors -
Confirmed

Howard Scott and Hannelie Francis of Scott Adventure Motorcycle Accessories will be there! Manufacturer of hard-parts motorcycle accessories. One of few that totally designs, develops and tests all its own products. With a range from levers to foot pegs to bash plates to canvas bags to full exhaust systems to crash bars to panniers to top box plates and even camera mounts. Wide range of items for widest range of bikes. You request it, we design and manufacture it for you.

Kathy from MotoFreight will be there! MotoFreight are experts in international motorcycle and vehicle shipping, with many years' experience in freighting of all kinds. They are qualified in the freighting of Dangerous Goods and are members of BIFA (the British International Freight Association).
As importantly, they are all bikers. "We have ridden a number of different bikes in a variety of countries. We do own our own bikes and we feel, just as you do, that our babies must always be in good hands. We wouldn't trust our own bikes with anyone else!"
If you know of any other motorcycle or travel equipment vendors or tour operators who should be there, please suggest it to them! Vendors please contact me for details.
Facilities for a Fantastic Four Days
Elgro River Lodge
Conference Centre & Game Lodge
Potchefstroom 2520
South Africa

Kobus Fourie of the Elgro River Lodge is our host for the Horizons Unlimited South Africa meeting. The Elgro River Lodge is the true African experience situated on a bend of unexpected beauty on the Vaal River, 30 km from Potchefstroom.
The Lodge sits on the bank of the mighty Vaalriver and is on the Western side of the Vredefort Dome created some 2000 million years ago where a meteorite of about 10 km in diameter plunged to the earth and hit it with a velocity op 20km per second (+/- 72,000 km/h). The meteorite created a unique geological structure of unsurpassed beauty recognized as a World Heritage Site.
The Lodge has hosted many competitions as well as prestigious events including the National Archery Championships and the World Bowhunter Championships 2013.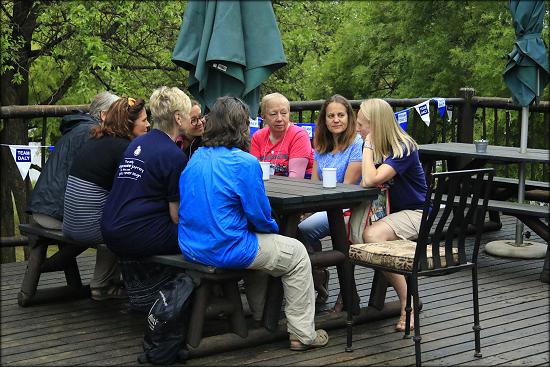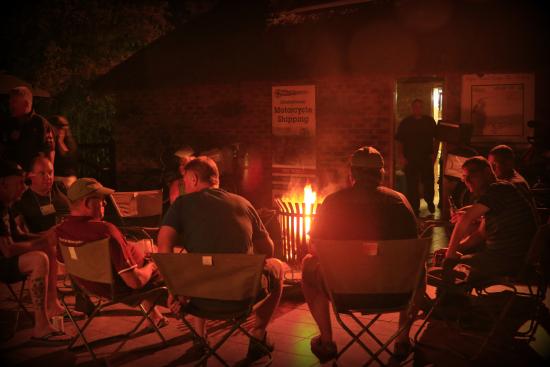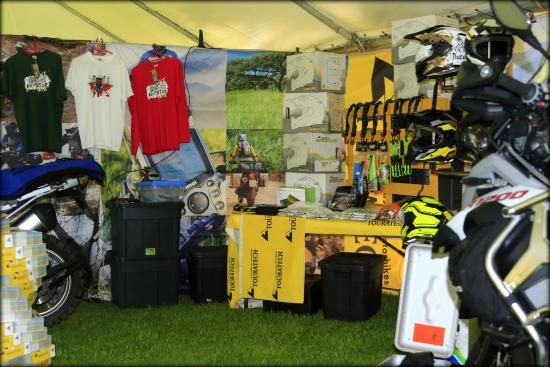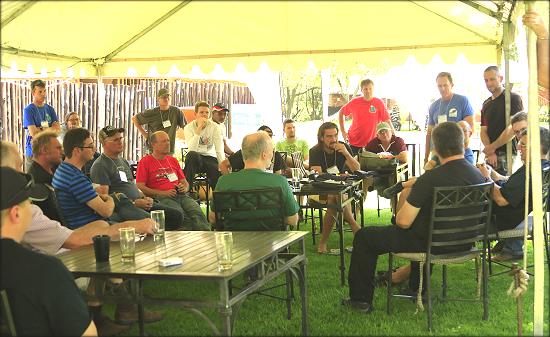 Accommodation & Meals
The Lodge is offering a choice of 3 accommodation packages including HU meeting registration fee, all meals (from Thursday lunch through Sunday breakfast) and all activities (workshops, presentations, ride outs, discussion groups).
Choose your accommodation package (and t-shirt, membership, etc.) when you register for the meeting, you will then have the option to pay by PayPal in USD or by bank transfer in ZAR.
Accommodation Packages
Package 1 - R2950 p.p. sharing includes:

HU Registration Fee
Luxury Accommodation for 3 Nights
Full English Breakfast, Lunch & Buffet /Barbeque Dinner x 3 Days
Game Drive / Outrides / Skills Course
Goodie bag

Package 2 - R2650 p.p. includes:

HU Registration Fee
Rustic Accommodation for 3 Nights
Full English Breakfast, Lunch & Buffet /Barbeque Dinner x 3 Days
Game Drive / Outrides / Skills Course
Goodie bag

Package 3 - R2350 p.p. includes:

HU Registration Fee
Camping for 3 Nights (Own Tent)
Full English Breakfast, Lunch & Buffet /Barbeque Dinner x 3 Days
Game Drive / Outrides / Skills Course
Goodie bag
Accommodation
The Lodge offers top class accommodation options to fit any budget:
Luxury Chalets (various available)
The Lodge has 9 beautiful self-catering riverside units, fully equipped with access to a swimming pool and walking distance to the lapa & bar area ideal for a cocktail on the deck overlooking the beautiful Vaal River. Just imagine sipping sundowners with a gorgeous sunset right on your doorstep!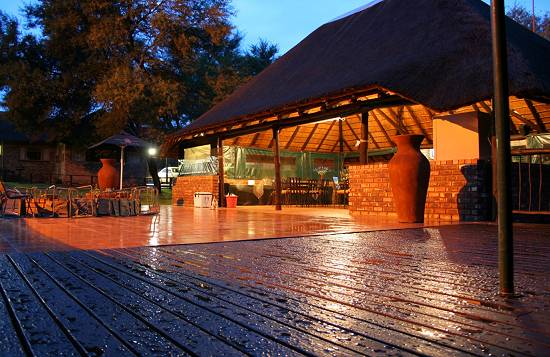 Owl's Cottage & Annex Rooms
Owl's Cottage boasts its own swimming pool and conference facility. The Owl's Cottage exist of 4 separate rooms, 2 bathrooms, 1 separate toilet, 1 kitchen with a stove and microwave and fully equipped with cutlery, plates and glasses, 1 living room and dining room, TV with DSTV satellite and a braai area.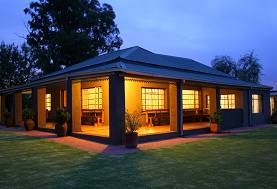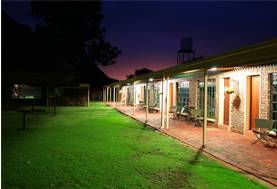 Elgro River Lodge Camping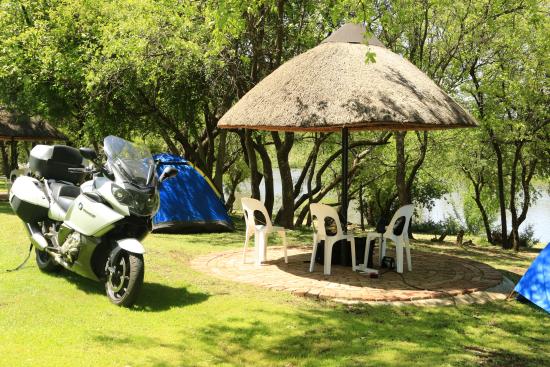 Meals
Sharing meals are an excellent way to meet fellow participants and talk to presenters - the 'connect' part of Inspire, Inform and Connect! Also, since you're eating right there on site, you won't miss any of the after-dinner slideshows.
"It was a real pleasure to meet some of the world travelers and to eat in their company."

"The atmosphere was relaxed and I liked the networking opportunities."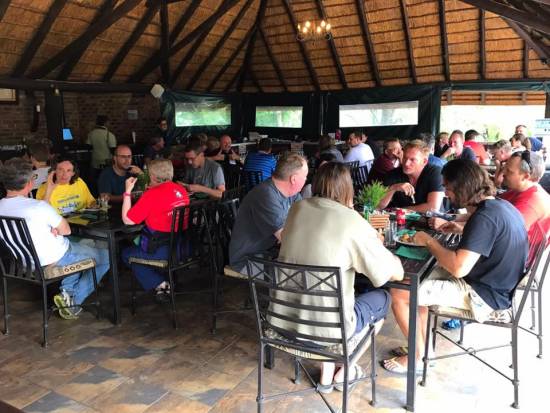 Meals are included in the Accommodation Packages above. The food is AWESOME!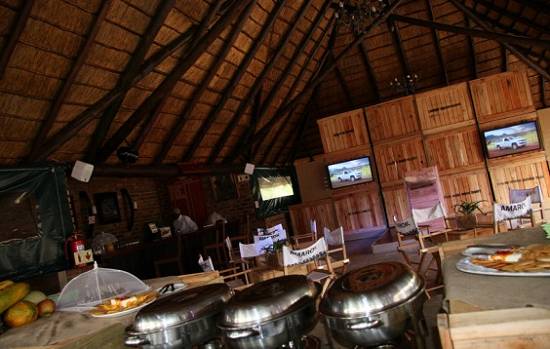 Activities at Elgro River Lodge
This is adventure paradise! Whether it is a game drive you're after, with more than 11 species of game, or an adrenaline rush down the river on a raft, this is the place to get all the action. All activities are guided by our qualified staff and we ensure you will have an experience of a lifetime!
During the Adventure Travellers Meeting, Elgro River Lodge will be providing Game Drives and River Rafting on Friday and Saturday at no extra charge. Why not stay on after the event and enjoy the facilities and other activities at the Lodge, including Bird watching, Mountain biking, Fly fishing and 3D Traditional Archery!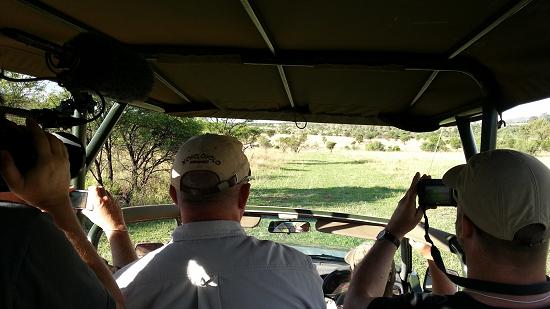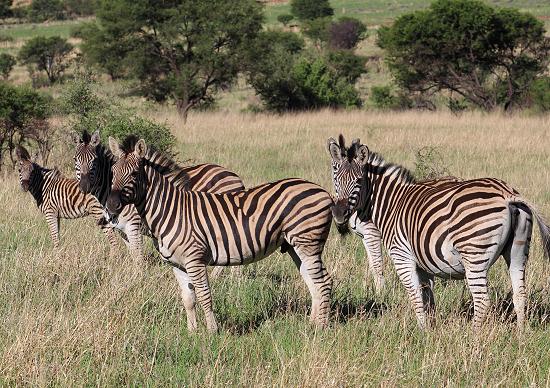 Game Drives - The Lodge is home to a great diversity of game, like Impala, Zebra, Eland, Waterbuck, Kudu, Giraffe and much more. The drives takes you through the spectacular mountains and up to view points with beauty that you can only imagine. Book and experience a magnificent African sunset. There is also a Mampoer tasting game drive available definitely an adventurous experience.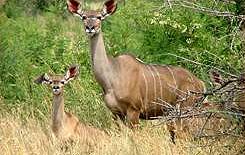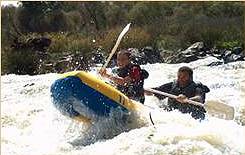 River Rafting - A rafting trip on the Vaal is definitely a big consideration to add to your overall experience. Trips differ in length and the river is suitable for children as well. Our experienced guides will take care of your safety and educate you on the ways of the water.
Bird Watching & Wildlife - Over 180 bird species have been identified on the Lodge, so take the binoculars and go for a stroll along the river bed or the established trails throughout the reserve.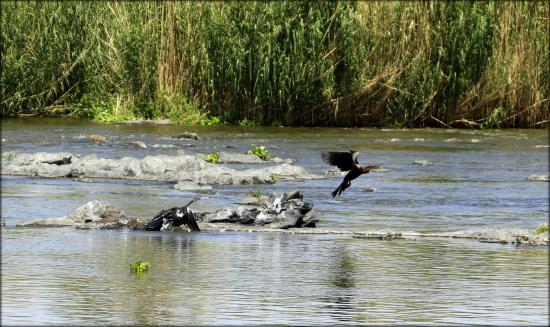 Mountain Biking - This is part of our monthly guided activities and is ideal for the mountain bike enthusiast or for the more serious riders preparing for a race. Beautiful trails surrounded by wildlife and game.
Fly Fishing - Welcome to the best fly fishing water for yellows on the Vaal. We offer about 20 km of pristine fly fishing water for small and large mouth yellow fish. Take the stumble out of the Vaal and do one of our float & fly trips or you can enjoy the streams around the lodge and catch that elusive yellow. A basic Fly Fishing Shop is available at the lodge. Fly fishing trips can also be organized with experienced guides, these trips must however be booked in advance. For the last 15 years the Elgro River Lodge was the proud host of the Bell's Fly Fishing Festival.
3D Traditional Archery & Target Shooting - The Elgro River Lodge boasts one of the best 3D Archery courses in the country. With exceptional course layouts that change frequently. The Elgro Traditional Archers Club is based at the lodge and we host a club shoot every second and fourth weekend of the month.
---
Next HU Events
What happens at HU events?
HUBBUK
HUMM is Everywhere!
HU South Africa
Join the Volunteer Crew
From welcoming travellers at the gate, to taking care of the campsite and making sure all the presentations run smoothly, the success of every HU event relies on the enthusiasm of its volunteer crew.
"What a wonderful bunch of people. I had no idea how much fun I'd have by helping out!"
"It was my absolute pleasure to be able to give something back to the HU community and working with such great folks really made the event special."
Volunteering is a great way to make new friends, get more involved with Horizons Unlimited and have loads of fun! You can sign up to volunteer when you register for the meeting, OR click here if you have already registered and want to add volunteering.
Comments about HU Events
"I have picked up so much information... and met some new friends and wonderful people."
"A superb event that was really well organised. I found the atmosphere amongst the attendees to be very positive too."
"I have not done much travelling so it was like visiting with a world traveller - Presenters were very approachable."
"Great atmosphere and camaraderie, especially at dinner time, and interesting presentations."
"Folks were all great and the most amazing thing was there was NO ATTITUDE."
"I have learned so much, made some great mates and met some of the best people. I was buzzing by the time I got home. I have a little trip planned and just can't wait to get out there."
You can help!
If you have a few minutes, please download a poster (Adobe pdf format) or postcard and print off a few and hand them round your club or your local bike shop or anywhere seems like a good place.
Poster in pdf format (500kb) full colour Event poster: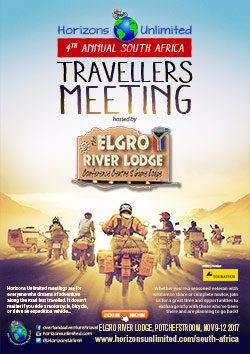 POSTCARD - NEW!
Postcard in pdf format (620kb) full colour Event postcard, can be printed 4 to a page: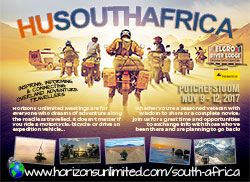 Elgro River Event Poster (hi-res)
Poster in pdf format (4.5 MB) full colour Event poster: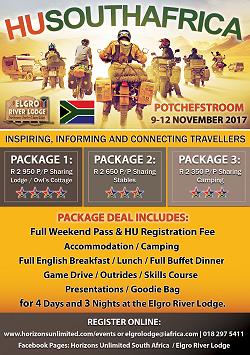 You may need to right click and choose "save target as..."
Thanks!
Be a Presenter
We're inviting submissions for presentations, so whether you're attending the event or exploring a distant continent, if you've got a story to tell or expertise to share we'd like to hear from you.
We love to hear stories about your travel adventures, especially if you have great pics! Also, practical how-to sessions such as roadside cooking, navigation / GPS, trip prep and planning, adventure motorcycling medicine, packing light, setting your bike up, communications / blogging from the road, self-publishing your story, yoga for bikers, bodging / bike maintenance, self-defense, photography, videography, tire repair, safe riding techniques, how to pick up your bike, off-road riding, all are of interest.
There are 40 minute and 90 minute sessions available for talks, workshops, demos and live web chats.
Click here to submit your ideas
PLEASE NOTE:
Submitting a Presenter registration DOES NOT mean you will automatically be included in the schedule, as we often have more presenters than available presentation slots. We will confirm one way or the other as soon as we can (but not immediately!).
In order to get FREE entry to the event, you are expected to either REPEAT your presentation OR do TWO or more DIFFERENT presentations.

Departing or Returning?
If you're planning an expedition, why not make the Horizons Unlimited meeting your official start point? Or maybe you're nearing the completion of a journey and would like a very public welcome home? Of course you might just be passing through and fancy marking a key stage of your travels?
We'd love to make you a big part of the meeting, so feel free to get in touch and tell us your plans.
Advertise at HU South Africa
Run a business that serves the overland adventure travel market? Want to spread the word at HU South Africa but can't take a Trade Stand? Send us a vinyl or roller banner and we'll display it in a prominent position.
South Africa Venue Location
Elgro River Lodge
Conference Centre & Game Lodge
Potchefstroom 2520
South Africa
-26.92505,27.18047

View Larger Map
Elgro River is:
145 km from Johannesburg
392 km from Gaborone, Botswana
1329 km from Cape Town
Local Hosts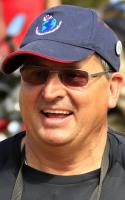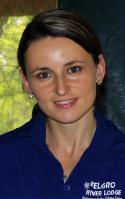 Kobus Fourie is the local host for this event. Kobus has been riding motorcycles for 35+ years, and has travelled throughout Southern Africa, including the Cairo to Cape Town tour. Kobus is ably assisted by his daughter Claudine Kidson. We're VERY grateful to them for stepping up and making it happen with a lot of legwork and effort.
We can always use help on the day - please volunteer to help out for a couple of hours when you register!
HU Events Refund Policy
We know 'stuff happens', and you know we have financial commitments to venues and caterers!
If you're unable to attend an event, please let us know (by e-mail reply to your confirmation e-mail from us) so we don't worry that something has happened to you...
Up to 30 days prior to event start, we will refund all fees in full less a $10 (or €9 or £8) fee for handling and PayPal charges.
Up to 15 days prior to event start, we will refund camping/accommodation and food packages in full less a $10 (or €9 or £8) handling fee. We will apply your registration fee to any subsequent HU event in the year or following year. If you have purchased a t-shirt, let us know your mailing address and we'll send it out.
Within 15 days of the event start, there will be no refunds, but we will apply your registration fee to any subsequent HU event in the year or following year. If you have purchased a t-shirt, let us know your mailing address and we'll send it out.

New to Horizons Unlimited?
Horizons Unlimited was founded in 1997 by Grant and Susan Johnson following their journey around the world on a BMW R80 G/S motorcycle. The website, HUBB forum and regular events across the globe have inspired thousands of people to follow their dreams and take the road less travelled.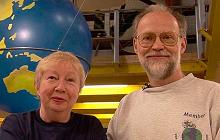 Read more about Grant & Susan's story