HU Romania 2023
Exhibitors
- Confirmed for 2023
If you know of any other motorcycle or travel equipment vendors or tour operators who should be there, please suggest it to them!
Exhibitors, more details and registration here. Please contact us if you have more questions.
Food, glorious food!
This event features a combination of International, Romanian and Szekely traditional recipes cooked on the open fire:
Asiatic pork, mushrooms noodles - super delicious noodle dish with pork, mushrooms and optional with spicy sauce.
Tochitura bucovineana with pork - is a traditional Romanian and Moldovan dish made from pork cut into small cubes, (tochitura comes from the verb "a topi" which means "melted slow fried meat in fat") cooked over low fire in its own fat and juices usually in a cast-iron pot. It is traditionally served with over-easy eggs and mămăligă.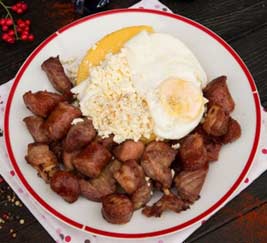 Classic Carbonara Pasta is made with guanciale (cured pork), eggs, Pecorino Romano cheese, spaghetti pasta, and lots of black pepper.

A traditional Hungarian Goulash is a soup or stew that is usually filled with tender beef and onions spiced with paprika. It also includes vegetables such as potatoes, carrots, onions, celery, peppers, and tomatoes.

A shot of Palinca (traditional Romanian beverage) will be on the house on arrival.
These meals are an excellent way to meet fellow participants and talk to presenters, and since you're eating right there on site, you won't miss any of the presentations. Always enjoyable and amazing value at only €9 each!
There will be a vegetarian option offered at each meal - we will need numbers for these, so please indicate when you register if you wish a vegetarian meal. Special diets can be accommodated with advanced notice within reason.

---