HU Travellers Meeting North Carolina 2016
THE PREMIER OVERLAND ADVENTURE TRAVEL EVENT FOR MOTORCYCLISTS
Horizons Unlimited 13th North Carolina Travellers Meeting
Thursday Oct 6 - Sunday Oct 9, 2016 - Stecoah, North Carolina
It's All About Overland Adventure
Whether you're a seasoned veteran with wisdom to share or a complete novice hungry for ideas and guidance, it doesn't matter if you ride a motorcycle, a bicycle, or drive an expedition vehicle...
Horizons Unlimited meetings are for everyone who dreams of adventure along the road less travelled.
Horizons Unlimited North Carolina Event Schedule
The event is taking place from Thursday, Oct 6 to Saturday, Oct 9, 2016.
The Registration Tent will open for check-ins at 1 pm on Thursday, Oct 6, with the first presentations beginning at 6 pm. Last presentations will be Saturday night.
There will be slide shows and tech clinics on Thursday, Friday and Saturday evenings, and all day Saturday. Come early and make it a great weekend! We recommend riding on Thursday and Sunday, and participating in the presentations and clinics in the evenings, Friday and Saturday.
As well as hearing inspiring stories of overlanding adventure from around the world, you'll get the low-down on preparing for your journey, navigation, first-aid, photography, filming and a host of other essential topics. Whatever your past experience or future plans may be, there's something for everyone.
Presenters at HU North Carolina
2016

included...
Merrill Glos

Africa.....the "Dark Continent" and
Mongolia, Kazakhstan & Kyrgyzstan
Southern Africa - A visual odyssey of the animals and landscapes of Southern Africa. Traveling with two friends on rented motos for 25 days thru 6 countries.
Traveling thru South Africa, Swaziland, Botswana, Zimbabwe, Namibia & Lesotho (and walking across the Zambezi River for lunch in Livingston, Zambia!) on rented BMW 650's for 25 days and 6,200 miles. Making the best of Game Preserves and game drives and seeing the spectacular sand dunes at Sossuslvei. I traveled with two friends, Doug from Ohio and Uwe (who I met in Mongolia on my RTW) from Germany. Go now before the Africa of your dreams is gone.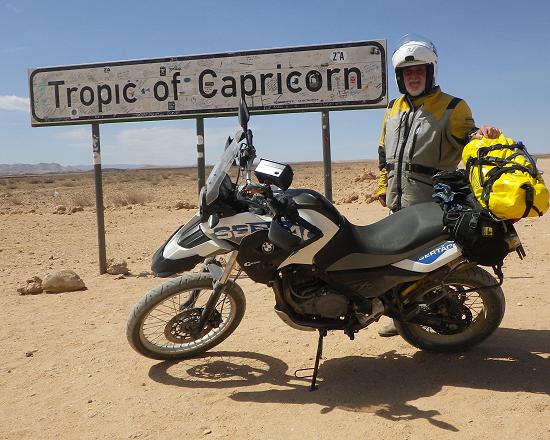 Mongolia, Kazakhstan & Kyrgyzstan
Riding from Cincinnati Ohio to Eastern Europe on "Tarbaby Too", my Super Tenere. Navigating the Gobi Desert.
I've wanted to do an RTW for a long time..... at 68 years, it was now or never. I'm glad I made the effort. 6 months, 6 days and 29, 695 miles of challenges met and accomplished. I left the front door and traveled in a Westerly direction until I reached the back door. This presentation will concentrate on the rigors of Siberia, the Gobi Desert in Mongolia and the beauty of the people and the Altai Mountains of Kazakhstan and Kyrgyzstan. Leave your prejudices at home.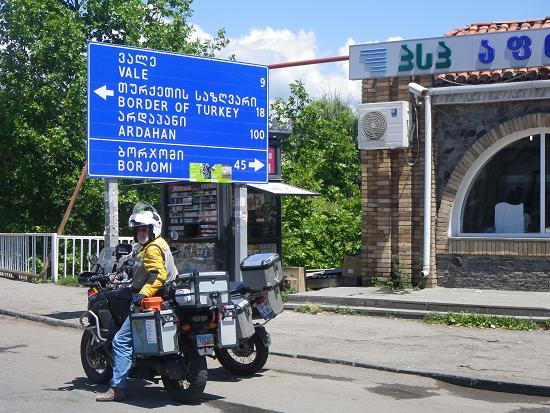 Merrill Glos loves to visit foreign and exotic places....the more different, the better. He prefers to travel via moto because it adds a whole new element of confrontation with the locals. He has traveled thru 52 different countries on 5 continents on his moto.
Isabelle and Terry Porter

The "Trans-Lab" as Training for South America
Two years ago Isabelle unexpectedly said, "So when do I get MY bike?". That changed everything! Join them as they take you from her first ride that spring to becoming a "GS rider", one that will be ready for a year touring South America starting next spring. They will cover rider preparation (on/off road) through formal and informal training and practice and two practice trips that included Newfoundland's "T'railway" and the Trans-Labrador road. Find out a little about climate, taiga and tundra pockets, trail and road conditions, gear, wild animals and wild camping in this harshly beautiful land that has been variously settled by the Dorset, the Viking, the Basques and the Innu peoples, to name just a few. There will also be lots of time for questions!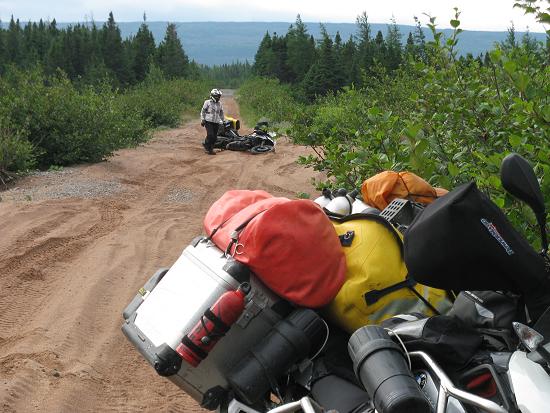 Isabelle and Terry are experienced wilderness campers but are new to motorcycle travel. In two seasons and 7 weeks of travel they have visited the White Mountains, New England states, Gaspe Penninsula, Cape Breton Island, Newfoundland, the Trans-Labrador road and Quebec's Northeastern roads as part of the "Great Northern Circle Route".
| | |
| --- | --- |
| | RTW - East to West |
Two longtime adventure junkies highlight their 2014 trip round the world via North America, Northern Asia and Europe on 1100GS bikes.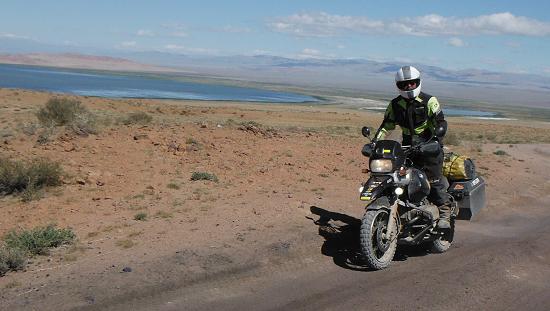 One quit his job and the other put his business on autopilot to be able to carve out the time for this epic adventure. There are countless approaches to RTW trips – the presenters will inform you of the how(s) and why(s) they did it the way they did. The presentation will take you through bike prep and logistical planning pre-departure, as well as what was experienced throughout the journey to include border, ocean and sea crossings. Although the ride touched 23 countries, much of the discussion, photos and learnings will focus on the monster landscape of northern Asia to include South Korea, Russia, Mongolia and Kazakhstan.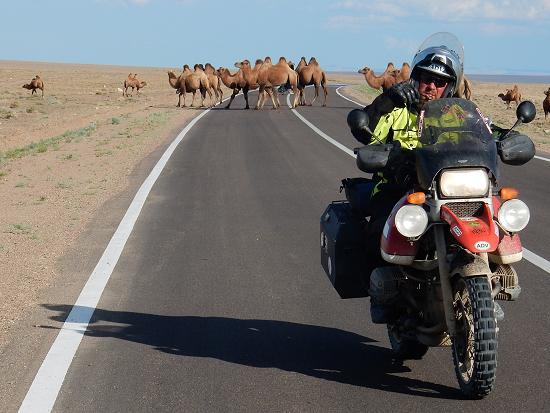 Chip Nelson lives in the mountains of Colorado, bought his first motorbike in 2012 and quit his island paradise job in the Caribbean to do this RTW trip.
Ken Showalter, an experienced rider and farmer, lives in rural Virginia. With the support of his awesome wife, he left the business in her capable hands to be able to head off on the trip of his dreams.
| | |
| --- | --- |
| | Kazakhstan - Yesterday and Today |
Mark Carrera, a world traveler, will give a presentation on adventures in Kazakhstan where he lived throughout the 1990's. His presentation will cover a little history, his travels from the Tien Shan Mountains to the Aral Sea, and what's currently going on in Kazakhstan's moto-adventure world. Mark will close his presentation with a very brief introduction to the GS Giants and a question and answer session. Lastly, as an average-Joe rider and adventurer, Mark has maintained that no adventure is without risk but the media sours the pool with too much fear mongering. Plan on attending his Round Table discussion on safety and security while traveling abroad, or at home!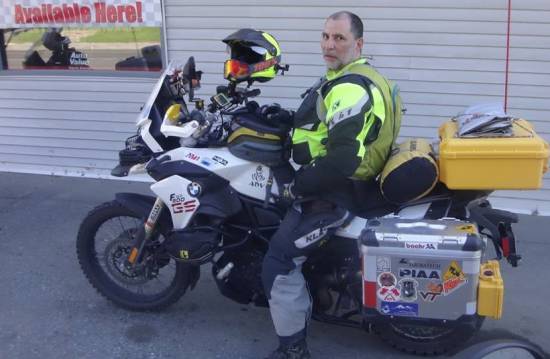 Lastly, as an average-Joe rider and adventurer, Mark has maintained that no adventure is without risk but the media sours the pool with too much fear mongering. Plan on attending his Round Table discussion on safety and security while traveling abroad, or at home!
Robert Echard


Beyond Siberia, Riding the ROB Part 1 & 2
(Video Documentary narrated by Charley Boorman)

After making presentations to several different groups on my RTW trip, I've found the audience to be much more thrilled at this movie, rather than me blathering on with still pictures.
This is a PBS quality documentary on DVD narrated by Charley Boorman, of a ride I was on with my trusty DR650, along with 14 others, London to Magadan Siberia. I star in the movie with two fabulous crashes. 17,400 miles, 14 countries, Silk Road, Mongolia, Siberian wilderness, deserts, snow capped mountains, torrential rain, and the famous Road of Bones (ROB). Two riders didn't make it.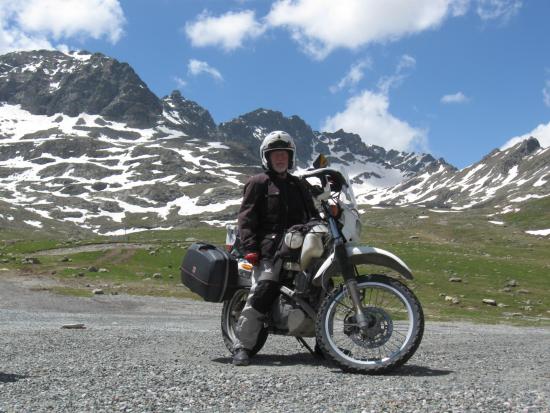 Robert Echard has been riding 53 years. Raced MX, Enduros, drags, hare scrambles, and road races when young. Has ridden Mexico, Chile, Argentina, Alps, Ecuador, PA to Alaska and Prudhoe Bay. Began collecting books about RTW travel in the 90's. Met Helge Pederson and Ted Simon. Finally planned to go RTW himself.

Workshops and Educational Sessions
...because Horizons Unlimited meetings are about information, not just inspiration!
| | |
| --- | --- |
| | Photography Workshops |
A Thousand Words - Creating travel photos that speak to our hearts
Your friends think you are NUTS for traveling around the globe on a motorcycle. You try to describe these destinations to them, only for it to fall short. Why is that? The human brain is highly driven by visual stimulation. In order to truly convey the EXPERIENCE of being there, you need great visuals! In this course, we will discuss all the ingredients that make for beautiful photography. Composition, light, color... you too can discover the "magic" that makes images reach into our hearts and 'speak a thousand words'!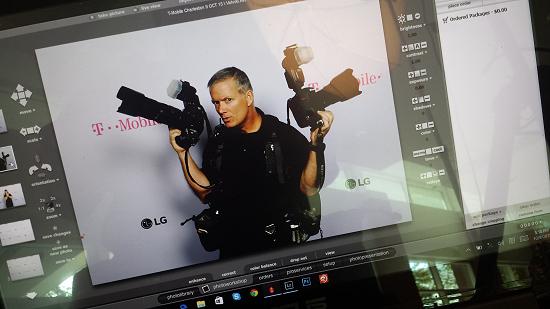 Managing the Monster - Managing, editing, and sharing all your digital files with the magic of Adobe Lightroom
I often get professionals and amateurs alike asking me how in the world we're able to quickly import, edit, share, and manage the zillions of files we shoot every year. I will do a 'live' demonstration of our workflow for everyone. Now that digital cameras are so ubiquitous, keeping up with this technology might prove helpful to folks taking tons of travel photos while on a RTW trip.
Photography Q & A
A hands-on show-and-tell period where you can get answers about camera settings, image management, backup systems, etc.
As red-blooded American as it gets, Chris was born and raised in the Congo (DRC) with a healthy dose of travel lust coursing through those veins. His parents were missionaries at the time, affording him a childhood full of wonder and curiosity at the marvelous planet we inhabit, and the diversity of people we share it with. From Tanzania to Jamaica, Canada to Costa Rica, Romania to Guatemala, Chris is always searching for that next great adventure!
A second life-long ailment struck him in high-school when the photo bug latched on and never let go. Returning to the US, Chris obtained his photography degree in New York, and now operates one of the most highly rated studios in South Carolina with his wife, Cami. Barack Obama, George H. W. Bush, Steve Harvey, Serena Williams, Pete Sampras, Karch Kiraly, and Martha Stewart are just a few of the names he's had the privilege of photographing in his 25 year career.
From riding dirt bikes in the African plains as a teenager, to carving corners on the Blue Ridge Parkway, riding is the third great passion in Chris' life. He looks forward to sharing all three with everyone at the HU Meeting in North Carolina!
| | |
| --- | --- |
| | Practical Minimalism - Budgeting, Finding Time, Medical, Packing |
Practical Minimalism - Budgeting
How to find the money, how much you need, and how to spend it. It's one of the most common questions asked of overlanders - how to pay for it? Andrew breaks down what needs to be planned for to build an overlanding budget, how to find the money, and how much you actually need for a long overland journey.
Practical Minimalism - Finding Time
How to find the time to take the Big Trip. It's one of the most common questions faced by overlanders, and perhaps the biggest hurdle that prevents people from taking long journey of their dreams. Leaving work, home, and loved ones to travel is a huge change, and Andrew works on how to approach finding the time to travel, dealing with the obsticles and delays, and how to come home and start again after the trip is over.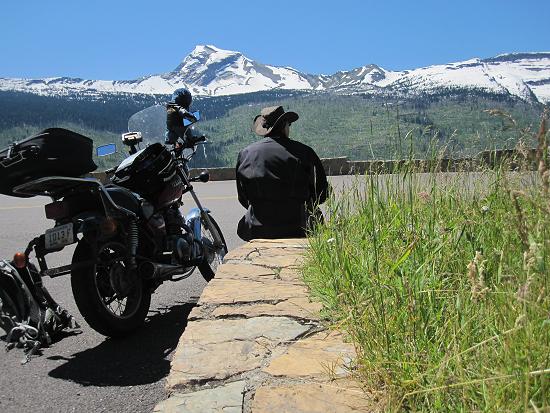 Practical Minimalism - Packing
From what to carry to how and where to carry it - everything about packing
It's easy to become overloaded, but not having the correct gear and supplies while traveling only increases costs, adds stress, and makes it hard to relax while traveling. Andrew Pain reviews not just the things he packs while traveling on his 250, but how to establish a packing plan and make your own good packing decisions.
Knowing what to pack is only part of the problem with overland travel by motorcycle. Knowing how and where to carry your gear and supplies is as important - and often overlooked - as what to carry. Andrew breaks down types of luggage, weight and load, and where to carry your equipment so you have what you need, when you need it (without starting a yard sale on the side of the road).
Practical Minimalism - Medical
What medical and first aid supplies should you carry while on the road? No one wants it to happen, but injuries and illness happen? while on the road. Packing all the gear and medications to face every possible scenario is impratical at best and impossible at worse. Andrew has worked as a paramedic in Milwaukee for 17 years, and traveled around North, Central, and South America on a small motorcycle. He explains what you don't need, what you should have, and where you should get it, as well as a few simple tips for dealing with the things that go wrong.

Andrew Pain started riding motorcycles in 1991, riding over 300,000 miles around the United States before quitting his job and traveling through the Americas on a 30+ year, 250cc motorcycle, with a stuffed teddy bear named Blue. Back in the United States, he's written books on traveling on small, lightweight motorcycles, packing, and how to travel inexpensively. He now givens talks encouraging people to focus more on travel, and less on the planning and preparation. The trip should always be the goal, to Just Go.
Andrew is also a published author. Below are just some of his books, which are available on Amazon.
| | |
| --- | --- |
| | Fly Fishing for the Motorcycle Traveler - minimalist fly fishing gear for motorcycle travel, and fly fishing techniques. |
Have you ever camped next to that stream or lake and said to yourself, 'I wish I had brought my fishing pole.'? Well you can do that, but there are a few things you ought to know before packing the motorcycle. After all, space is limited, isn't it. In Fly Fishing for the Motorcycle Traveler, we'll discuss a minimalist approach to fly fishing gear. With several samples of equipment in hand, we'll learn a few techniques too. If you've ever wanted to put a fly rod in your hand, don't miss this one. Oh, and where will we have this demonstration? Why stream side of course at the Iron Horse Motorcycle Resort.
D. Brent Miller has been motorcycling since age 15. He is the Program Leader for Project Healing Waters Fly Fishing—Cincinnati. The program teaches Veterans with disabilities how to tie flies, cast a fly line, build their own fly rods and provide opportunities for the Veterans to go fishing.

Panel discussions at most HU events include...


Border crossings - How to get through borders with minimal stress and cost!
Packing light - Tips and techniques from experienced travellers to reduce weight and bulk.
Regional discussions - e.g. travelling in South America or Asia.
For Women Only - A must for the ladies, so be sure to plan on being there! A chance to talk to experienced travelling women without the men around!
Experienced Travellers Panel - ask the experts anything you want!
Walk arounds / Show and tell!
Tents and Bedding discussion (in the camping area) - What works, cheap vs dear and which ones keep you dry, warm and comfy!
Bike mods - Show off your best bike mods - homemade saddle bags, toolbox mounts, GPS mounts, seats, side stands, tank panniers, cup holders, etc.
Facilities for a Fantastic Four Days
Iron Horse Motorcycle Lodge, Cabins and Campground
1755 Lower Stecoah Road,
Robbinsville
North Carolina 28771
For more information:
Telephone: 1-828-479-3864
John & Charlene Powell have been welcoming Horizons Unlimited to Iron Horse since 2004, and a friendlier bunch of folks we've yet to meet!
From their Website:
"Iron Horse Motorcycle Lodge and Campground is a secluded 39-acre resort on Stecoah Creek in the smoky mountains of western North Carolina. We are surrounded by the splendor of the Great Smoky Mountains, which provide some of the best motorcycle riding in the world. Iron Horse is within minutes of the famous Tail of the Dragon at Deals Gap, the scenic Cherohala Skyway, Blue Ridge Parkway, Cherokee, Fontana Dam, and the Nantahala River Gorge. Gather around the fire at the Iron Horse Pavilion and enjoy a home cooked meal.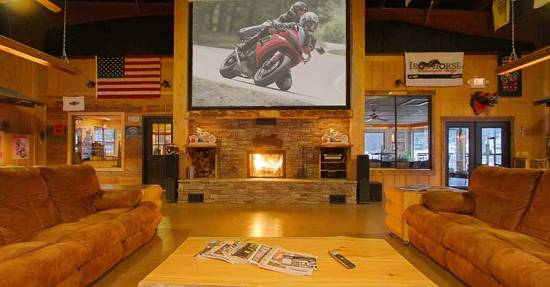 The Pavillion includes a large screen surround sound TV with satellite/VCR/DVD, pool table, karaoke, camp store, and your favorite T-shirts and souvenirs. Check your email or browse the internet using our high speed wireless internet service. Connect with your own wireless laptop or use our public computer located in the Pavilion."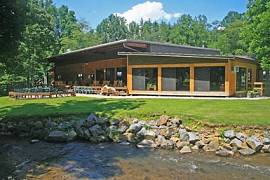 Accommodation
Accommodation is NOT included with your registration fee.
Iron Horse offers full cabin rentals, comfortable cabin rooms, creekside tent camping, RV hook-ups, and bunkhouse accommodations.
Covered bike parking and an unloading ramp are available. Guests have use of the spacious and clean wash house with showers and washer/dryer. See here for more details and rates.
NOTE: You should book early for camping and cabins. For rooms or bunkhouse there is a Horizons Unlimited special - stay 2 nights get 3rd night free. You must book directly with Ironhorse before May 1, 2016 to reserve rooms at the HU Special rate. Call them at 1-828-479-3864 or e-mail: i...@ironhorsenc.com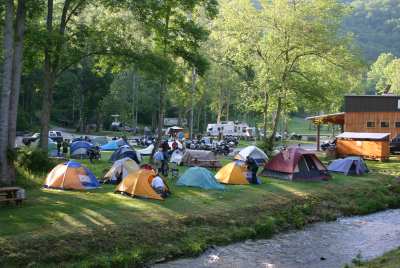 Meals
Meals are NOT included with your registration fee.
"Breakfast and dinner is served daily. We serve quality home cooked meals and fresh baked desserts. All meals are served in the pavilion with comfortable indoor dining, creek side on the deck, or gather round the group campfire. Dining is available for our guests only. Guests should call ahead or sign up for dinner in the morning or at check-in."
Saturday night special: Prime Rib or Fish, includes Salad Bar, Baked Potato, and Dinner Roll
Susan notes: Meals are great, and you will not go hungry! The prime rib is awesome!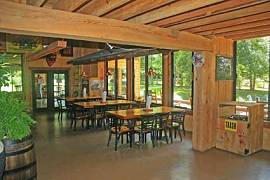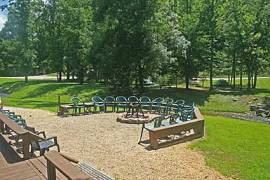 More info on their website, and a review of Iron Horse in "Motorcycle Consumer News." (128kb .pdf).
---
Next HU Events