HU Travellers Meeting Indonesia 2018
Horizons Unlimited 2nd Indonesia Adventure Travellers Meeting
Thursday Oct 11- Sunday Oct 14, 2018
Rancabuaya Beach, West Java, Indonesia
It's All About Overland Adventure
Whether you're a seasoned veteran with wisdom to share or a complete novice hungry for ideas and guidance, it doesn't matter if you ride a motorcycle, a bicycle, or drive an expedition vehicle...
Horizons Unlimited meetings are for everyone who dreams of adventure along the road less travelled.
Inspiring, Informing & Connecting
Some people value Horizons Unlimited events for what they learn from the unique line-up of presenters. Some people value the chance to discover new products and services at the trade stands. Some people value just kicking back with a beer among old friends and new.
Most people enjoy a little bit of everything, and everyone goes home fired-up for adventure with a smile on their face.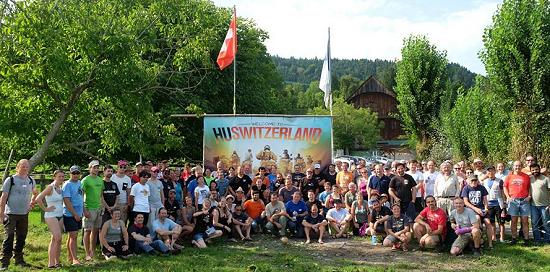 The event will include a packed schedule of presentations and activities. All within the relaxed and friendly atmosphere that Horizons Unlimited is known for.
Event Schedule
The event is taking place from Thursday, 11 October - Sunday, 14 October, 2018. But the adventure starts even sooner, with the ride to get there! Thanks to Jeffrey Polnaja for the great video!
Thursday
We will start to register on Thursday morning and you can unpack, put up your tent, relax and re-energize while enjoying a private beach. Late afternoon we will start the opening ceremony by enjoying Indonesian traditional dance then continue by presentations and chats in the evening.

Friday and Saturday
Like your panniers, Friday and Saturday are FULLY PACKED with value! We kid you not. Our basic philosophy is that there's no such thing as too many talks/seminars/demos/tech clinics!
Presentations and talks galore;
Exhibitors show off their latest gear and products. In return, they get feedback from the folks who REALLY test the gear in real life;
Practical demos
Break out/roundtable sessions and panel discussions on various topics of interest to motorcycle travellers, such as specific bike models, regions, camping equipment, carnet de passage and other travel logistics planning.
Saturday night there will be a barbeque on a campfire - you can connect with experienced world travellers and get answers to all your questions.
Sunday
Sunday morning everybody goes in their own direction, some will continue the journey, some will go back home. All will be changed by the experience!
Share your experiences, life lesson learning, explore possibilities, get inspired and motivated.
Detailed schedule
*
Will follow!
Presenters at HU Indonesia
2018

so far...
| | |
| --- | --- |
| | How it all began. The story of Grant and Susan's 11-year trip around the world, without a plan or a clue! |
Way back in 1987, before the Internet, two young and naive Canadians set out from Vancouver to ride around the world on a motorcycle. The plan (and budget) was for 3 years, but it didn't quite work out that way!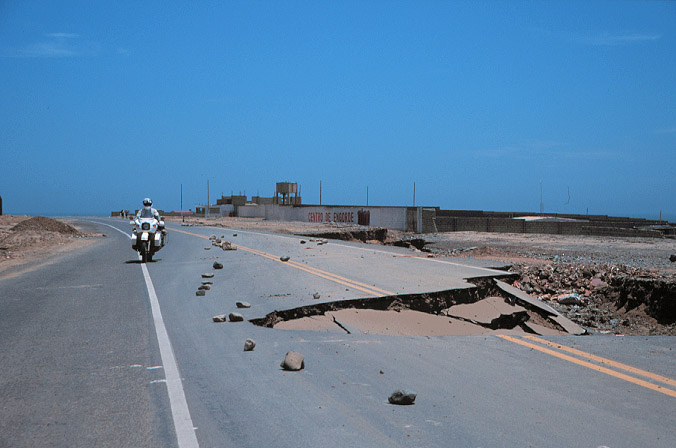 Jeffrey Polnaja, Ride for Peace

The Impossible Journey: Ride For Peace - One Man - One Bike One Planet - Solo Ride Exploring 97 Countries, All Continents

The more people say impossible, the stronger the urge to make his dream come true. Armed with faith, a tight budget and a little language skills, he started his 'Impossible Journey' from Indonesia in 2006. The blank canvas started to have incredible color by heaven and hells. Hit by a drunk driver in the middle of Baluchistan desert, face to face with Himalayan bear in Bhutan, riding thru difficult terrain in Trans Siberia, crossing extreme weather in Alaska, getting lost in Atacama and counterbalancing the strong Patagonian wind until Ushuaia became a part of his 'Ride For Peace' journey.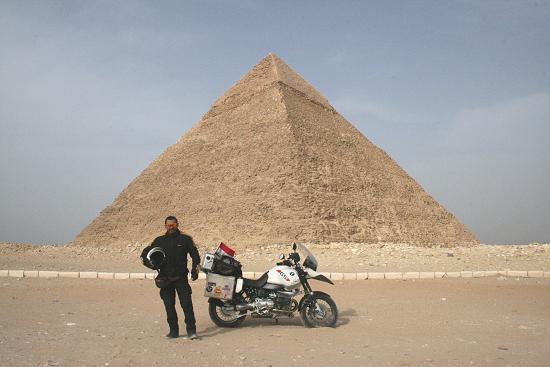 Jeffrey didn't just overcome those problems, he also visited 97 countries in Asia, Africa, Europe, North America, Central America, South America and Australia. You'll meet him in Sumbawa not only as a local host, but he also will present his secret to overcoming all the problems and of course share his incredible stories, photos and movies with you.
Workshops and Educational Sessions
...because Horizons Unlimited meetings are about information, not just inspiration!
| | |
| --- | --- |
| | 4 Easy Steps to Overland Travel! You can do it - we can help! Finding your way around Horizons Unlimited, other resources. Lots of great pics and video clips. |
"Grant and Susan Johnson are icons in the round-the-world (RTW) motorcycling community. The Johnsons host - or more appropriately write, edit, produce, manage and coordinate Horizons Unlimited - a global network of motorcycle travelers... and a bona fide adventure motorcycling phenomenon." Dan Hilton, Rider Magazine
This seminar will be an overview of 'How To' travel overland topics. Includes content from the Achievable Dream series and great pics from HU Photo Contest winners!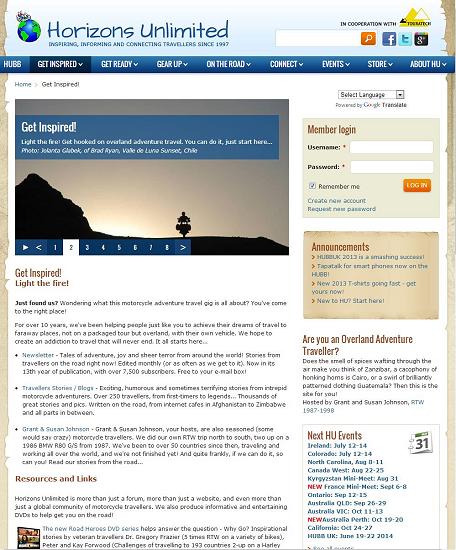 | | |
| --- | --- |
| | Bike mods and ergonomics! |
Grant will host a bike 'Show and Tell' - bring your bike and show us your favorite travel mods. Critique and discussion.
When you picked up your new bike, did they take the time to make it fit you? You'll learn the amazing difference a properly setup bike makes to your riding fun.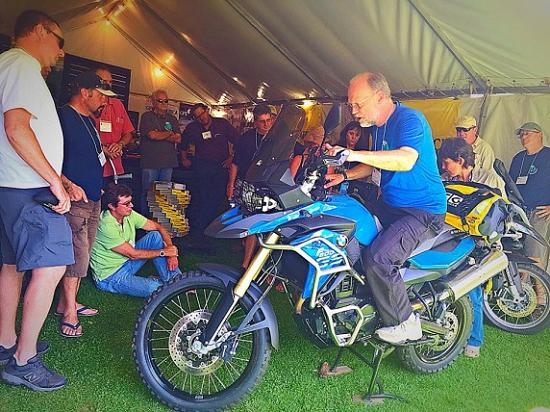 | | |
| --- | --- |
| | Fix that flat! How to change a tyre anytime, anywhere! |
Grant's tyre changing seminars are always well attended and appreciated. This seminar covers: how to prevent flats in the first place, and fix them when you get one; the best tools and how to use them for tube and tubeless tires; hands-on practical for beginners to experts.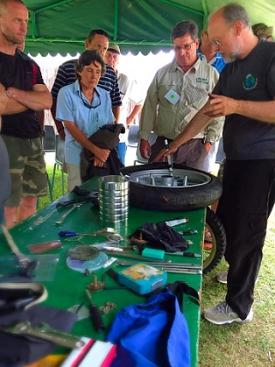 LOTS of presentations to come! As people register to present we'll list them here.
How about you? We're all here to learn, and there's LOTS to learn! We want to do more presentations and seminars - but we need volunteers to give them! Any topic you can contribute having to do with motorcycle travel, maintenance, planning etc, lasting 20 minutes or more, would be great. Please contact us here to volunteer.
I'M READY TO REGISTER NOW!
SELECT YOUR PRE-REGISTRATION OPTION BELOW
Presenters at HU Indonesia
2017

included...
Workshops and Educational Sessions
...because Horizons Unlimited meetings are about information, not just inspiration!
Facilities for a Fantastic Event!
Where is it?
PADI PADI Beach Resort,
Jl. Raya Lintas Selatan, Pantai Rancabuaya
Kabupaten Garut, Jawa Barat, Indonesia

7°32'5.52"S 107°30'13.96"E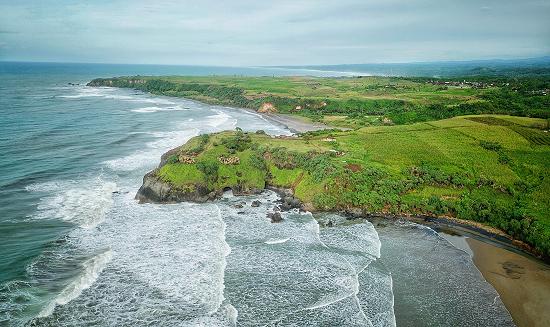 Facilities on site:
VIP Room/Cottage
Air Conditioning
Bathroom
Camping Area with toilet / bathing room
Military Tent for those without tents (limited numbers, 'first in first serve'
Safe Parking for Motorcycles
Food vendors on site - price $2-$5


REGISTRATION

Camping is included (your own tent, or a few spaces in military tents: 'first in, first serve').
T-shirt is FREE with your entry - Sponsored by Eiger Tropical Adventure!

Price
USD

Price
IDR

Meeting Entry includes slide shows, workshops and rides

USD 35

475k
Pre-book to be sure you get your t-shirt,
but please Pay at the event!
I'M READY TO REGISTER NOW!
SELECT YOUR PRE-REGISTRATION OPTION BELOW
---
HU Indonesia 2017 Video
Thanks to Jeffrey Polnaja

Comments about HU Events
"So many trips, tips, subjects, discussions, questions, answers, experiences, insights... I could go on and on. I will be back, and back, and back."
"It was like being with family... a friendly group with shared love of adventure."
"Everyone was humble, genuine, and encouraging, and I really needed that kind of 'we're all just people' kind of atmosphere."
"You'll see and hear the most useful ideas on so many subjects that it boggles the mind."
"Thank you all for such a superb extended weekend. So good to see everyone, to hear so many stories, to learn so much, and just to feel so at home with my tribe. Thanks to you, my batteries are fully recharged and rarin' to go!"
"Brilliant, entertaining and informative presentations."
"Yoga class was not something we had ever considered but really helpful."
"Full of very inspiring people who got me fired up again and motivated for my next trip!"
"What a fantastic inspirational weekend...we will be back."
"I have picked up so much information... and met some new friends and wonderful people."
"A superb event that was really well organised. I found the atmosphere amongst the attendees to be very positive too."
"I have not done much travelling so it was like visiting with a world traveller - Presenters were very approachable."
"...a new league of awesomeness."
"Great atmosphere and camaraderie, especially at dinner time, and interesting presentations."
"Folks were all great and the most amazing thing was there was NO ATTITUDE."
"I have learned so much, made some great mates and met some of the best people. I was buzzing by the time I got home. I have a little trip planned and just can't wait to get out there."
You can help!
If you have a few minutes, please download the poster (Adobe pdf format) and print off a few and hand them round your club or your local bike shop or anywhere seems like a good place.
Poster in pdf format (422kb) full colour 8.5 x 11 Event poster:
POSTCARD - NEW!
Postcard in pdf format (1.6 MB) full colour Event postcard, can be printed 4 to a page: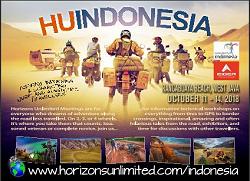 You may need to right click and choose "save target as..."
Thanks!
Be a Presenter
We're inviting submissions for presentations, so whether you're attending the event or exploring a distant continent, if you've got a story to tell or expertise to share we'd like to hear from you.
We love to hear stories about your travel adventures, especially if you have great pics! Also, practical how-to sessions such as roadside cooking, navigation / GPS, trip prep and planning, adventure motorcycling medicine, packing light, setting your bike up, communications / blogging from the road, self-publishing your story, yoga for bikers, bodging / bike maintenance, self-defense, photography, videography, tire repair, safe riding techniques, how to pick up your bike, off-road riding, all are of interest.
There are 40 minute and 90 minute sessions available for talks, workshops, demos and live web chats.
Click here to submit your ideas
PLEASE NOTE:
Submitting a Presenter registration DOES NOT mean you will automatically be included in the schedule, as we often have more presenters than available presentation slots. We will confirm one way or the other as soon as we can (but not immediately!)

Local Host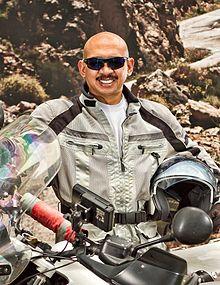 Jeffrey Polnaja is our local host. Jeffrey is the first Indonesian motorcylist to ride around the world. We met him during his 'Ride for Peace' trip.
Jeffrey says: "After completing my solo Round the World trip in 9 years, it's time for me to host fellow travellers and friends I met from all over the world, to visit my home country. We welcome you, beginner or experienced. Come and meet your own tribe, chat and have a coffee in a private beach or even share your amazing journey."
Big thanks to Jeffrey for stepping up and making this event happen! We can always use help on the day - please volunteer to help out for a couple of hours when you signup (above)!
HU Events Refund Policy
We know 'stuff happens', and you know we have financial commitments to venues and caterers!
If you're unable to attend an event, please let us know (by e-mail reply to your confirmation e-mail from us) so we don't worry that something has happened to you...
Up to 30 days prior to event start, we will refund all fees in full less a $10 (or €9 or £8) fee for handling and PayPal charges.
Up to 15 days prior to event start, we will refund camping/accommodation and food packages in full less a $10 (or €9 or £8) handling fee. We will apply your registration fee to any subsequent HU event in the year or following year. If you have purchased a t-shirt, let us know your mailing address and we'll send it out.
Within 15 days of the event start, there will be no refunds, but we will apply your registration fee to any subsequent HU event in the year or following year. If you have purchased a t-shirt, let us know your mailing address and we'll send it out.

Next HU Events
New to Horizons Unlimited?
Horizons Unlimited was founded in 1997 by Grant and Susan Johnson following their journey around the world on a BMW R80 G/S motorcycle. The website, HUBB forum and regular events across the globe have inspired thousands of people to follow their dreams and take the road less travelled.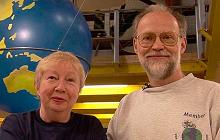 Read more about Grant & Susan's story