HU Travellers Meeting Indonesia 2017
Horizons Unlimited 1st Indonesia Adventure Travellers Meeting
Thursday May 18 - Sunday May 21, 2017
Kencana Beach, Sumbawa Island, Indonesia
It's All About Overland Adventure
Whether you're a seasoned veteran with wisdom to share or a complete novice hungry for ideas and guidance, it doesn't matter if you ride a motorcycle, a bicycle, or drive an expedition vehicle...
Horizons Unlimited meetings are for everyone who dreams of adventure along the road less travelled.
Event Schedule
The event is taking place from Thursday, 18 May - Sunday, 21 May, 2017.
Thursday
We will start to register on Thursday morning and you can unpack, put up your tent, relax and re-energize while enjoying a private beach. Late afternoon we will start presentations and chats.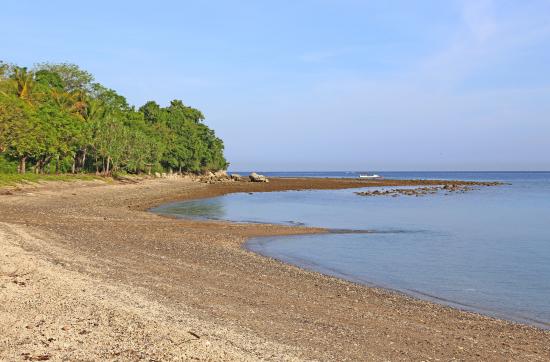 Friday and Saturday
For those who want to get in touch with our beautiful nature we can suggest some routes (gravel and paved) which we plan for Friday morning. There are 3 categories: Green (all paved), Yellow (75% paved + 25% unpaved), Red (50% paved + 50% unpaved).
Like your panniers, Friday and Saturday are FULLY PACKED with value! We kid you not. Our basic philosophy is that there's no such thing as too many talks/seminars/demos/tech clinics!
Presentations and talks galore;
Exhibitors show off their latest gear and products. In return, they get feedback from the folks who REALLY test the gear in real life;
Practical demos
Break out/roundtable sessions and panel discussions on various topics of interest to motorcycle travellers, such as specific bike models, regions, camping equipment, carnet de passage and other travel logistics planning.
Saturday night there will be a barbeque on a campfire - you can connect with experienced world travellers and get answers to all your questions.
Sunday
Sunday morning everybody goes in their own direction, some will continue the journey, some will go back home. All will be changed by the experience!
Share your experiences, life lesson learning, explore possibilities, get inspired and motivated.
Detailed schedule
*
Thursday
8AM – 3PM: Register
4PM – 6 PM: Presentation
7PM – 10 PM: Presentation
Friday
7AM - 8 AM : Breakfast
9 AM – 12AM : Riding
12PM – 1 PM: Lunch
1PM - 3PM: Freetime/Relax on the beach
3PM – 4:30 PM : Presentation
5PM – 6PM: Yoga
6PM – 7PM: Dinner
7 PM – 10 PM: Presentation
Saturday
8AM – 9AM : Yoga
9AM – 10AM: Breakfast
10AM – 12AM: Presentation
12 PM – 1 PM: Lunch
1PM – 4 PM: Presentation
5PM – 6PM: Yoga
6PM – 8 PM: Dinner / BBQ
8PM - 12PM: Grand Presentation
* Please note - This timetable can be changed, adapted to the circumstances and possibilities.
Presenters at HU Indonesia
2017

so far...
Ted Simon

''Jupiters Travels''
On the 6th October 1973 at the age of 42 Ted Simon left London on a 500cc Triumph Tiger to complete a four year solo round the world trip covering 64000miles and passing through 45 countries. On the 27th January 2001, aged 69, Ted repeated the journey, this time on a BMW R 80GS to discover what had changed over 28 years. A journey of 59000 miles through 47 countries.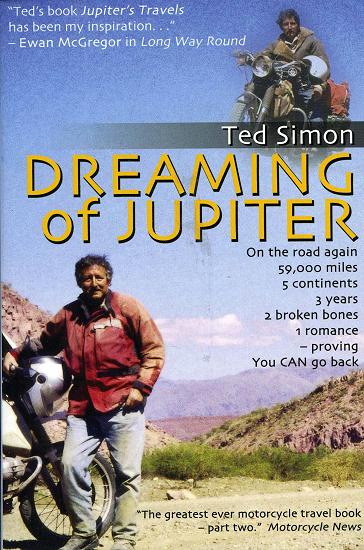 Ted's books:- Jupiter's Travels; Riding High and Dreaming of Jupiter are to this day an inspiration to the traveller who seeks to understand the world and his/her place in it through personal adventure.
Ted will show a film (Ken Burns style) about the first part of his first trip, with a voice over by himself. This film was critically acclaimed in the USA, this will be the first showing in Indonesia!
Jeffrey Polnaja, Ride for Peace

The Impossible Journey: Ride For Peace - One Man - One Bike One Planet - Solo Ride Exploring 97 Countries, All Continents

The more people say impossible, the stronger the urge to make his dream come true. Armed with faith, a tight budget and a little language skills, he started his 'Impossible Journey' from Indonesia in 2006. The blank canvas started to have incredible color by heaven and hells. Hit by a drunk driver in the middle of Baluchistan desert, face to face with Himalayan bear in Bhutan, riding thru difficult terrain in Trans Siberia, crossing extreme weather in Alaska, getting lost in Atacama and counterbalancing the strong Patagonian wind until Ushuaia became a part of his 'Ride For Peace' journey.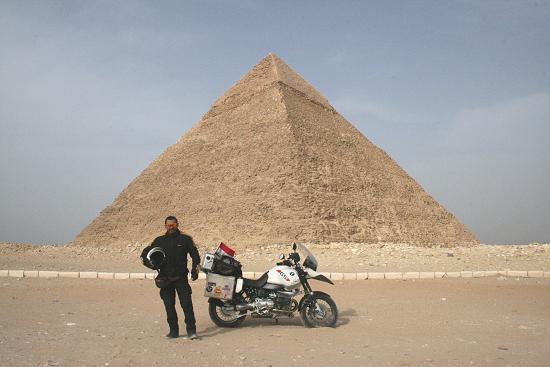 Jeffrey didn't just overcome those problems, he also visited 97 countries in Asia, Africa, Europe, North America, Central America, South America and Australia. You'll meet him in Sumbawa not only as a local host, but he also will present his secret to overcoming all the problems and of course share his incredible stories, photos and movies with you.
Motorcycling the Americas
A thousand miles a minute: A kick-a$$ video capturing 16 months by motorcycle from Seattle to the tip of South America.
We are currently two and a half years into a round the world motorcycle journey that started in Seattle, WA, USA going south to Ushuaia, Argentina then from Uruguay we rode a cargo freighter with our motorcycles to Antwerp, Belgium. Once in Europe we rode south to Morocco returning to Europe riding east to Turkey where we put our bikes on an airplane to Nepal. From Nepal we will ride as far south as the HUBB meeting in Indonesia before returning to North America and completing our adventure.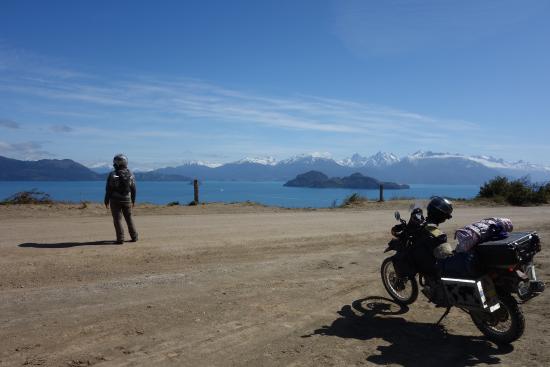 The cargo freighter we rode from South America to Europe was a five-week journey, so we used that time to produce a 24-minute video combining photos and video from our 16-months through North, Central, and South America. It is a fun representation of life on the road in Latin America. Following the video we will discuss what it took to prepare for a multi-year motorcycle trip and answer all related questions. We will also take this time to explore the many resources we have available (for free) on our website such as expense, accommodation, and border reports per country as well as budget preparatory tools, weather spreadsheets, and of course our travel articles and photos. We will also touch on having short motorcycle adventures within a life of jobs, mortgage payments, and other commitments.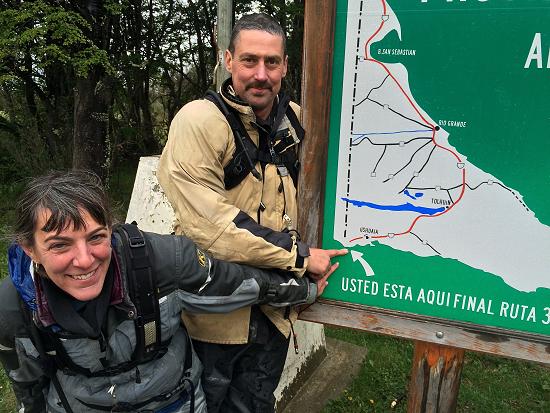 Singapore to London 1973. Times change.
Head Out on the Highway and go EAST!
1. Singapore to London 1973. Times Change.
I was hooked on the exhilaration of motorcycles at the age of five when I was taken for a ride on a Sunbeam 500 outfit that a mate of my old man's rode from London to Melbourne in 1954. It seemed like a good idea to do the reverse trip myself, so in 1973 I crated my 450 Honda twin and shipped it to Singapore. Seven months later, and a lot wiser, I arrived in London. This is the story of that trip. The past is a foreign country - things may be different there, but the spirit of adventure is the same as ever. And we've still got it!
2. Head out on the highway and go EAST!
The islands east of Bali are an adventurer's nirvana. Open roads, mountains, beaches, jungles, joy! Over the last nine years I've ridden thousands of kilometres around this region. The people I've met have been helpful and friendly, and always made me feel welcome. I've climbed volcanoes, explored lakes, visited ancient sites, swum many a beach, and rounded my share of bends. I've been lulled to sleep by the lapping of the waves and jolted awake by the muzzein's call to prayer. I've trudged lonely beaches and explored caves. I've eaten incredibly good food in incredibly ordinary places and have accumulated a vast store of information and memories which I'm happy to share with you. I've travelled in Indonesia since 1970. Transport connections and roads have improved immensely in that time. Spend a few weeks exploring east of Bali - you won't regret it.
"Give me a blue sky, an open road and a motorcycle." I haven't been everywhere yet - but it's on my list.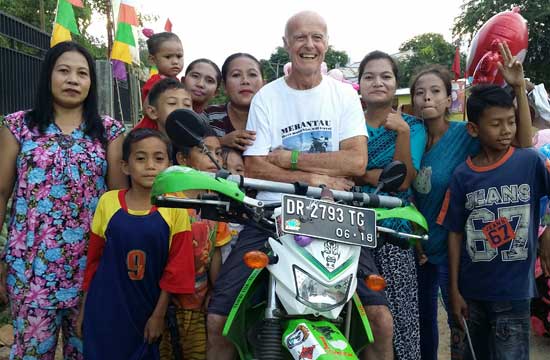 Global Dream Ride
Without much riding skill and money, Anita rode the world solo and become the first Muslim woman to do so.
Most people picked up riding because of interest or to follow the trend, but Anita Yusof learned how to ride a motorbike to 'escape' relationship conflicts. Riding became addictive and she wanted to ride at every opportunity. Being an avid solo traveler who relied on public transportation, she turned this hobby using her own motorbike. She started riding solo outside of her own country, Malaysia, to Indochina only three months after learning to ride. One year later, she rode solo to the remoteness of the five Central Asia "Stans", including Afghanistan. There's no turning back, so she started to plan a bigger ride - to conquer the world solo on two wheels and became the first Muslim woman to do so.
She wanted to correct the bad perception of Islam and to show to the world that Muslim women are not weak by making herself a good example. Completely self-supported other than some resources from Givi and Yamaha, who sponsored here the bike and some riding gear, Anita set out on her Global Dream Ride on September 11, 2015. She travelled with very little in terms of funds from her own savings (made more difficult by a fall in currency value), off-road riding skills, no other language except her mother tongue and English. Anita flew her bike to Seattle, USA, rode to Alaska and then south to Argentina before crossing the Atlantic Ocean to London and later riding in Europe, Asia, and all the way to Vladivostok, Russia. She faced lots of challenges on the road from extreme temperature to difficult terrain that surpassed her ability, and most of all, fighting crazy winds on Ruta 40 in Patagonia all the way to Ushuaia. How she struggled to keep her small 150cc bike on the road without being blown away by the fierce wind! 370 days after starting out, Anita returned home safely to claim 4 continents, 40 countries and 65,369 km to her experience.
Anita is a mother, lecturer, backpacker-turned-advrider loaded with courage, determination, positive thinking, enthusiasm and a desire to prove that nothing is impossible. She started to learn how to ride a motorbike at the age of 45 and three years later, she embarked on her Global Dream Ride, solo on her trusty 150cc Yamaha FZ150.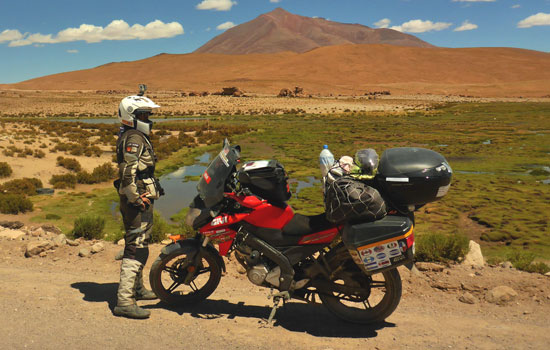 | | |
| --- | --- |
| | Highlights and wild tales from the ride from Chile to Alaska that spawned the two 'Adventures in Yellow' books, and how we made it from Belfast to Sumbawa. |
Veteran overlander Norman Magowan is author of the 'Adventures in Yellow' books and websites. With his wife, Maggie, he spent 15 months on a slow ride through the Americas (2004 – 2006). Currently heading east from UK to Australia on the same pair of yellow BMW F650GS.
1. A Pan-American Adventure
In 2004, Norman and Maggie Magowan travelled the length of the Americas from Chile to Alaska on their two yellow BMW F650GS motorcycles. They spent 15 months and 35,500 smiles chasing a slow road that yielded the website www.panamericanadventure.com and the pair of gripping saddle yarns in the 'Adventures in Yellow' series of books. Their slideshow will look at the highlights and challenges of being on the road for this time and will hopefully inspire others to go out and chase their dreams!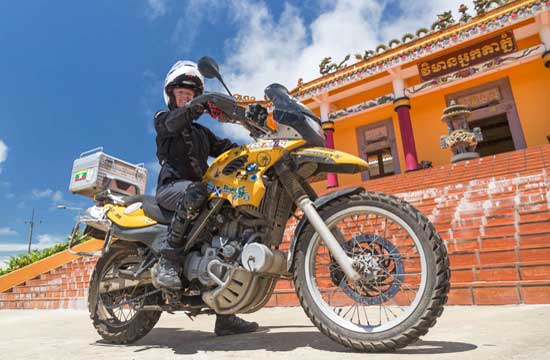 2. From UK to Indonesia
Norman & Maggie Magowan, veterans of the Pan-American (see other presentation) left their comfortable jobs and home in the UK in July 2015 to head out toward Australia. This is the story of their progress so far and how they came to the beautiful island of Sumbawa after 20 months on some of the greatest roads on the planet...
| | |
| --- | --- |
| | Soaring on Two Wheels: Africa and Egypt |
Nicole finds strength on her recent Joshua Tree solo leading to Africa and Egypt
When faced with adversity, sometimes the best choice is to soar right through it on two wheels. This financial crisis ends up being Nicole's blessing to get her out on the road, where answers and a higher purpose are waiting. Documenting this exciting journey in the healing desert landscape of Joshua Tree, California, encourages Nicole to start Vlogging to share her insights and road magic with the world.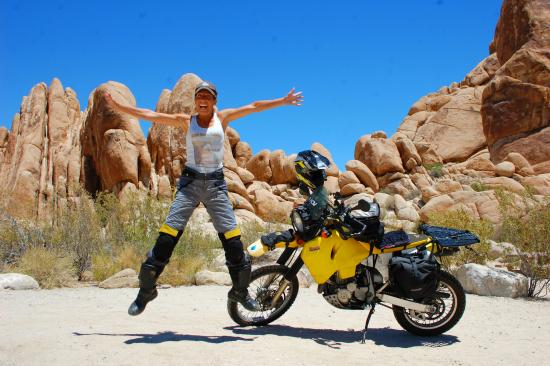 This chapter opens her up to global opportunity as she travels to Africa to shoot Lorraine Chittock's film Rallying for a Wild Life that also includes Tiffany Coates. Three motorcycling women taking on Eastern Africa unsupported and raising awareness for the local wild life. Then on to Egypt solo, to uncover ancient wisdom and a Higher Purpose. This time of global travel for Nicole will pave the way to that sidecar motorcycle that will get her kids on the road traveling the world with her.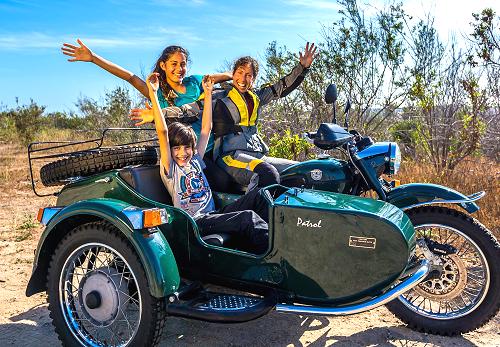 Launching into adventure riding after a divorce in 2008, Nicole found freedom and a new career. Designing aftermarket accessories for her business Rugged Rider, and writing about her journeys led her to a position as contributing editor for Adventure Motorcycle magazine. Currently living on the road after selling everything, Nicole launches into global adventures paving the way to get that sidecar motorcycle that will get her kids traveling the world with her. Nicole is also the co-organizer (with Flip Morton) of Horizons Unlimited's California Travellers Meeting!
| | |
| --- | --- |
| | The Big Easy? |
We've all dreamed of quitting our jobs and riding around the world, but for many of us it remains an elusive dream, continually dashed by mortgage payments, pension planning and the prospect of exorbitant college funds for the kids. I've decided to push all that to one side for a couple of years, hit the road and worry about it when I return. As I prepare for the longest journey of my life, I wonder whether an armchair traveller can become a true overlander…
If you're looking for a mid-life crisis, you've come to the right place. I quit my job to ride around the world and plan to compete in six marathons on six continents. I'm a complete beginner so please wish me luck.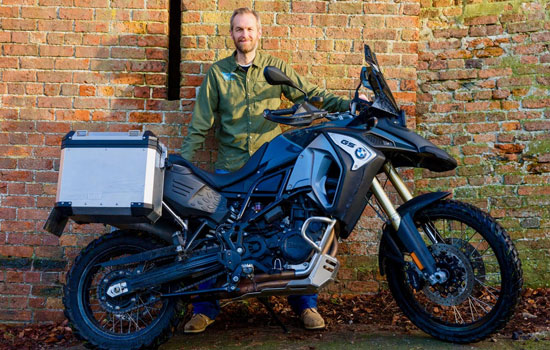 Workshops and Educational Sessions
...because Horizons Unlimited meetings are about information, not just inspiration!
Yoga for Travellers
A light beginners introduction to the benefits of yoga for those of us on the road.
Try something you may not have done before... Join Mags on the beach for a beginners yoga class with some gentle stretching exercises to limber up for your next journey!
Maggie has been traveling for nearly 40 years on motorcycles with her husband. They are now traveling overland from UK to Australia on our trusty yellow BMWs. She is also a qualified Yoga and Pilates Instructor and loves to practice on the road.
LOTS of presentations to come! As people register to present we'll list them here.
How about you? We're all here to learn, and there's LOTS to learn! We want to do more presentations and seminars - but we need volunteers to give them! Any topic you can contribute having to do with motorcycle travel, maintenance, planning etc, lasting 20 minutes or more, would be great. Please contact us here to volunteer.
Facilities for a Fantastic Event!
Where is it?
Kencana Beach Cottages, Sumbawa Island, Indonesia
Jl. Raya Tano km. 11 Badas, Sumbawa Besar, Sumbawa, Indonesia
Latitude: 8°27'29.64"S Longitude: 117°21'41.32"E

Facilities on site:
Room/Cottage with doubles
Air Conditioning
Bathroom
Free Wi Fi
Swimming Pool
Private Beach
Camping Area
Military Tent
Safe Parking for Motorcycle and Car


Room/Cottage Bookings - SOLD OUT!
We have reserved the entire site for the event! Rooms are available at USD 50 per night.
To book a room/cottage, send an SMS text message to +62 87 722 722 693 in this format:
(Full Name/Number of Rooms/Length of Stay/Check In Date).
Example: (Roberto Garcia/1/3/17May) means Roberto Garcia booked 1 room for 3 nights, check in at May 17th.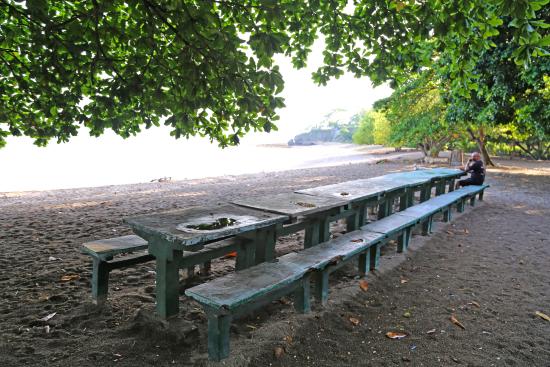 "Located to the east of the more famous Lombok Island, Sumbawa is just waiting to be discovered. It may take longer to reach but once you get to Sumbawa you'll be rewarded with excellent surf and incredible views. This island is best known for its waves, sandy beaches and wild terrain. With great surf and spectacular coral reefs, the majority of travelers to Sumbawa come to surf and dive. In parts of Sumbawa, traditional ways of living continue today. Many of the ritual events of old ways are still performed such as water buffalo racing and berempuk – a ritual boxing match. Visit here if you have a thirst for adventure and want to get a truly authentic experience of local culture." Indonesia Travel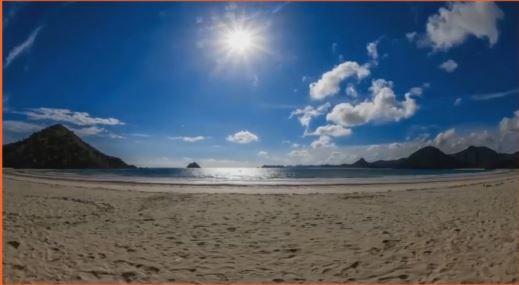 ---
Next HU Events
HUMM - the most fun on 2 wheels!
What happens at HU events?
HU South Africa
Comments about HU Events
"I have picked up so much information... and met some new friends and wonderful people."
"A superb event that was really well organised. I found the atmosphere amongst the attendees to be very positive too."
"I have not done much travelling so it was like visiting with a world traveller - Presenters were very approachable."
"Great atmosphere and camaraderie, especially at dinner time, and interesting presentations."
"Folks were all great and the most amazing thing was there was NO ATTITUDE."
"I have learned so much, made some great mates and met some of the best people. I was buzzing by the time I got home. I have a little trip planned and just can't wait to get out there."
You can help!
If you have a few minutes, please download the poster (Adobe pdf format) and print off a few and hand them round your club or your local bike shop or anywhere seems like a good place.
Poster in pdf format (422kb) full colour 8.5 x 11 Event poster:
POSTCARD - NEW!
Postcard in pdf format (640kb) full colour Event postcard, can be printed 4 to a page: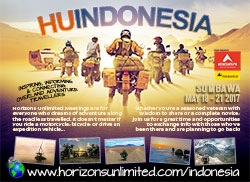 You may need to right click and choose "save target as..."
Thanks!
Be a Presenter
We're inviting submissions for presentations, so whether you're attending the event or exploring a distant continent, if you've got a story to tell or expertise to share we'd like to hear from you.
We love to hear stories about your travel adventures, especially if you have great pics! Also, practical how-to sessions such as roadside cooking, navigation / GPS, trip prep and planning, adventure motorcycling medicine, packing light, setting your bike up, communications / blogging from the road, self-publishing your story, yoga for bikers, bodging / bike maintenance, self-defense, photography, videography, tire repair, safe riding techniques, how to pick up your bike, off-road riding, all are of interest.
There are 40 minute and 90 minute sessions available for talks, workshops, demos and live web chats.
Click here to submit your ideas
PLEASE NOTE:
Submitting a Presenter registration DOES NOT mean you will automatically be included in the schedule, as we often have more presenters than available presentation slots. We will confirm one way or the other as soon as we can (but not immediately!)

HU Indonesia Venue Location
Kencana Beach Cottages
Jl. Raya Poto Tano Km. 11,
Badas, Labuhan Badas,
Kabupaten Sumbawa,
Nusa Tenggara Bar. 84312,
Indonesia

+62 (0)813 39814555
8°27'29.64"S, 117°21'41.32"E


Getting There
"First make your way to Lombok. From Lombok, you can take a ferry to Poto Tano in West Sumbawa." Indonesia.Travel
Local Host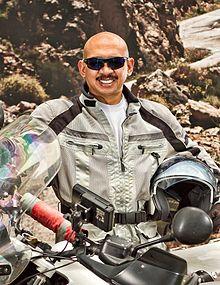 Jeffrey Polnaja is our local host. Jeffrey is the first Indonesian motorcylist to ride around the world. We met him during his 'Ride for Peace' trip.
Jeffrey says: "After completing my solo Round the World trip in 9 years, it's time for me to host fellow travellers and friends I met from all over the world, to visit my home country, in the beautiful island of Sumbawa. We welcome you, beginner or experienced. Come and meet your own tribe, chat and have a coffee in a private beach or even share your amazing journey."
Big thanks to Jeffrey for stepping up and making this event happen! We can always use help on the day - please volunteer to help out for a couple of hours when you signup (above)!
New to Horizons Unlimited?
Horizons Unlimited was founded in 1997 by Grant and Susan Johnson following their journey around the world on a BMW R80 G/S motorcycle. The website, HUBB forum and regular events across the globe have inspired thousands of people to follow their dreams and take the road less travelled.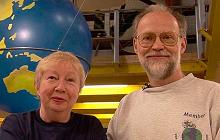 Read more about Grant & Susan's story