HUBB UK 2018
THE PREMIER OVERLAND ADVENTURE TRAVEL EVENT
FOR MOTORCYCLISTS, CYCLISTS, AND DRIVERS
OF 4X4 & OTHER EXPEDITION VEHICLES
Thursday 14th to Sunday 17th June 2018 - Baskerville Hall
On Two Wheels or More - It's All About Overland Adventure
Whether you're a seasoned veteran with wisdom to share or a complete novice hungry for ideas and guidance, it doesn't matter if you ride a motorcycle, a bicycle, or drive any kind of expedition vehicle...
Horizons Unlimited meetings are for everyone who dreams of adventure along the road less travelled.
Inspiring, Informing & Connecting
Some people value Horizons Unlimited events for what they learn from the unique line-up of presenters. Some people value the chance to discover new products and services at the trade stands. Some people value just kicking back with a beer among old friends and new.
Most people enjoy a little bit of everything, and everyone goes home fired-up for adventure with a smile on their face.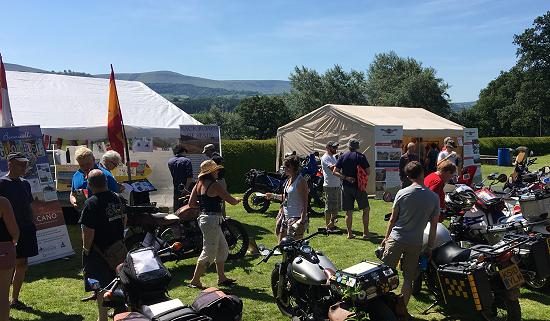 The event will include a packed schedule of presentations and activities. All within the relaxed and friendly atmosphere that Horizons Unlimited is known for.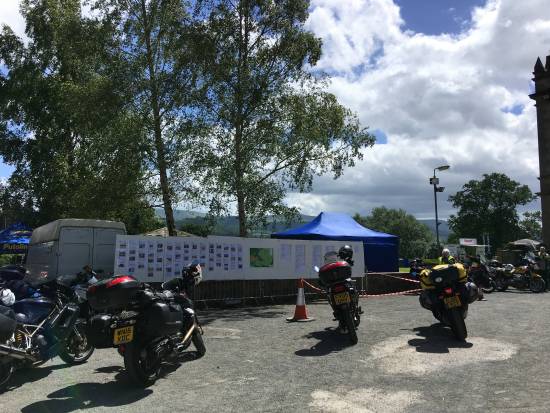 There are three presentation rooms, a Skills Course with some surprises, the popular Slow Bike Race, and our unconventional take on the 'Best in Show' concept for motorcycles, bicycles and expedition vehicles.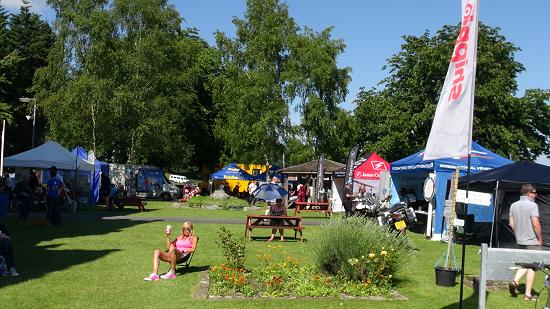 The Adventure Travel Zone is where you'll find the trade stands for many of the leading names in overland travel, including authors, film-makers, equipment suppliers and tour operators. And of course there'll be the HU Store selling the Achievable Dream and Road Heroes DVDs as well as a range of limited-edition t-shirts.
The HUBB Zone will feature an eclectic array of clubs, online community forums and magazines.
HUBB UK Event Schedule
The Registration Tent will open for check-ins at noon on Thursday 14th June, with the first presentations beginning at 1pm. The event will draw to a close at 12pm on Sunday 17th June.
Over the course of the event there'll be hundreds of sessions of talks, demonstrations, workshops, Q&A's, challenges and competitions, with many presentations being repeated so you won't miss out. Whatever your past experience or future plans may be, there's something for everyone.
Draft schedule can be downloaded here approx 1 week before the event.
PLEASE NOTE: The schedule is subject to change at any time - all the presenters are volunteers and travelling, thus they may be delayed or unable to get there. Some may have anxiety attacks and be unable to perform! ;-) And sometimes travellers show up unexpectedly with great pics and stories, so we try to fit them in!
Presenters at HUBB UK 2018
so far...
Click on the presenter's pic or name for details or here for the complete list!

Ed March

Elspeth Beard

Spencer Conway

Chris Scott

Nick Schofield

Tiffany Coates

Duncan Gough

Fernando Torres

Helen Black

Fred Buckingham & Lutz Eiser

Jade Atkins and Alex Marsh

Gareth Jones

Tori Lang

Sheonagh Ravensdale
& Pat Thomson

Mark Warrender

Omar Mansour

Graham Hoskins

Q+Shu Wijnberg

Dan Godzisz

Geoff Grimmett

Jacqui Furneaux

Stephen Marsh

Nora Nijkamp &
Jojo Weissborn

Fern Hume

Jenny & Ian Jordan

Susan & Grant Johnson


Iain Nicholson


Sharyn & Nigel Tailyour

Simon Gandolfi
Lots more to come...
How about you? We're all here to learn, and there's LOTS to learn! We want to do more presentations and seminars - but we need volunteers to give them! Any topic you can contribute having to do with motorcycle travel, maintenance, planning etc, lasting 20 minutes or more, would be great. Please sign up here.

OFF-ROAD RIDER SKILLS TRAINING
It's time to regain your riding legs - maybe you've been brushing up on your skills, or maybe it's long past time you did? Got a new Adventure bike, and finding it a little intimidating?
Now, what if you could get an extra confidence boost by taking off-road skills training at the HUBB UK event?
Following the success of 2017, we're again offering Off-road Skills Training for HUBB UK registrants and a wee prize challenge on the Saturday afternoon - details on that to come!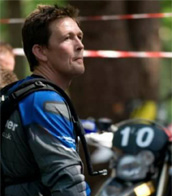 Former UK Enduro Champion Lee Walters has been riding off road since the age of six, where he went on to become the Welsh School Boy Champion.
Lee currently trains all levels of riders at his Lee Walters ORT school in Wales, based at Baskerville Hall!
How does it work?
Training takes place from 08:00 – 17:00 Friday and Saturday, and 08:00-12:00 on Sunday, on the Baskerville Hall grounds.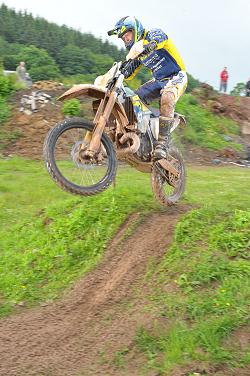 On track training is only £45 for each half day sessions.
Openings are limited to maintain an 8:1 student-to-instructor ratio. This ensures a better training experience for all! Registration closes when we're full.
PRE-Registration is strongly recommended. There MAY be spaces available on the day, there may not!
All classes run if there are at least 5 students. If not enough students, we may move you to another slot.
All classes:
SUITABLE RIDING GEAR IS REQUIRED FOR PARTICIPATION. IT IS THE RESPONSIBILITY OF THE RIDER TO SELECT A HELMET AND APPAREL THAT WILL PROVIDE APPROPRIATE PROTECTION. RIDERS MUST RELY ON THEIR OWN JUDGMENT IN THE SELECTION OF HELMETS AND APPAREL FOR PROTECTION AND DURABILITY.
---
Panel discussions at most HU events include...


Border crossings - How to get through borders with minimal stress and cost!
Packing light - Tips and techniques from experienced travellers to reduce weight and bulk.
Regional discussions - e.g. travelling in South America or Asia.
For Women Only - A must for the ladies, so be sure to plan on being there! A chance to talk to experienced travelling women without the men around!
Experienced Travellers Panel - ask the experts anything you want!
Walk arounds / Show and tell!
Tool Kits - Show us your favorite tools. Toolkit discussion.
Tents and Bedding discussion (in the camping area) - What works, cheap vs dear and which ones keep you dry, warm and comfy!
Farkle Walk - Take a stroll and talk about your best bike mods - homemade saddle bags, toolbox mounts, GPS mounts, seats, side stands, tank panniers, cup holders, etc.
The Adventure Travel Zone
Equipment Specialists
Manufacturers
Overland Tour Operators

Adventure Travel Authors
Overlanding Film-Makers
The HU Store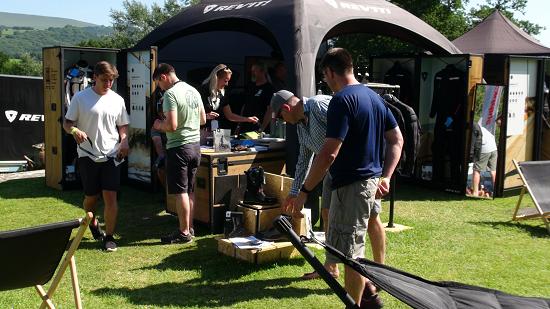 HUBB UK Exhibitors

- TO BE CONFIRMED



James Cargo Motorcycles



TravelDri Plus

BoundaryTec /
Outdoor Equipment

Moto Freight


2 Wheel Trans
Motorcycle Outreach


Adventure-Gear.co.uk



Adventure Bike Shop

MORE TO COME!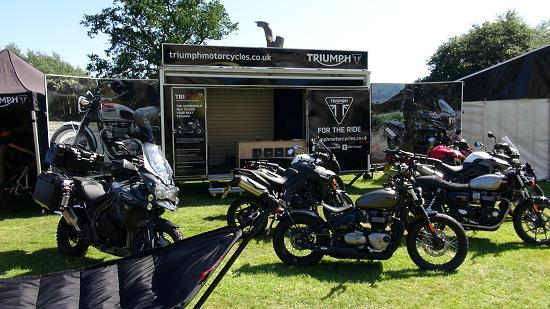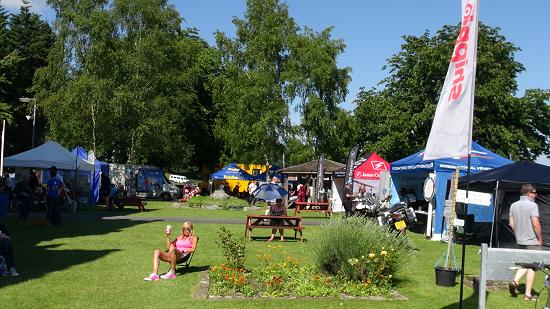 More HUBB UK Features
ROADKILL COOKOUT
SAHARA ROTUNDA
Live Music & Fire Drums

---




Sell your used travel kit and clothing at HUBBUK!

This year the charity Motorcycle Outreach will have a stall to sell your used travel kit and equipment on your behalf, for a price decided by you, in return for a 10% donation of the sale price to Motorcycle Outreach (or more if you're feeling generous!) Please help this worthy charity and do yourself a favour at the same time- bring your stuff along to the stall from Friday onwards. Clean and serviceable items only please - e.g. camping equipment, bike stuff, clothing, tents, guidebooks - anything travel-related!

All items need to be clearly marked with your name and the sale price you would like. The stall will be open from [0900 hrs Friday] to 1800hrs on Saturday.

(Any items not sold and not collected by 11 am on the Sunday will be disposed of.)

---
Facilities for a Fantastic Four Days
Free Camping
Free Parking
Free WIFI
Power Hook-Ups TBC

Great Value Food
Real Ale
ON-SITE Accom to suit all budgets

HUBB UK 2018 is back at Baskerville Hall Hotel, on the edge of the Brecon Beacons and Black Mountain National Park. WE have booked the entire hotel for this event!
Address:
Baskerville Hall Hotel
Clyro Court, Hay on Wye
Powys HR3 5LE
United Kingdom
Phone: +44 1497 820033
Less than a mile from the A438, this country house hotel dates from 1839 and is surrounded by 130 acres of Welsh countryside overlooking the Wye Valley on the edge of the Brecon Beacons and Black mountain National Park.
Hay-on-Wye, famous for its second hand book shops and Festival of Literature and Art, is just over a mile away nestled beside the river Wye.
On our doorstep we have one of the best playgrounds for those wishing to sample what the great outdoors has to offer, with mountains for gorge walking, pony trekking, and the river Wye for Canoeing and rafting, with many more activities and places of interest to visit for the athletic or the gentler hearted alike.
The indoor heated swimming pool and sauna is a great place to relax after your busy day or just relax in the residents bar before dinner.
Free WiFi is available in the reception area.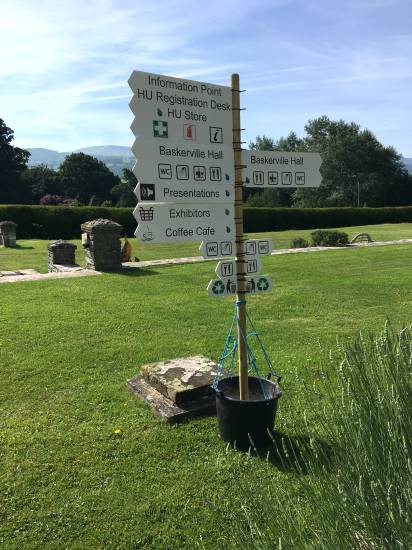 Rider Training!
We're excited that the venue supports fantastic rider training including off-road courses plus lots of bush for ride-outs, and we have plans to use it... See the video below from Lee Walters off-road training for a taster!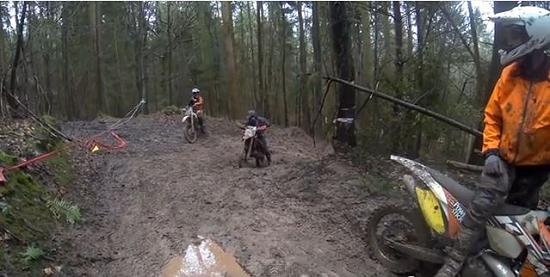 Campsite & Parking
The extensive campsite is on mostly flat, well-drained, ground. The main camping field has drinking water stand-pipes at regular intervals around the perimeter. It is surrounded by trees on two sides (with views towards the river Wye), and a large box-hedge facing the terraced garden and the hotel beyond.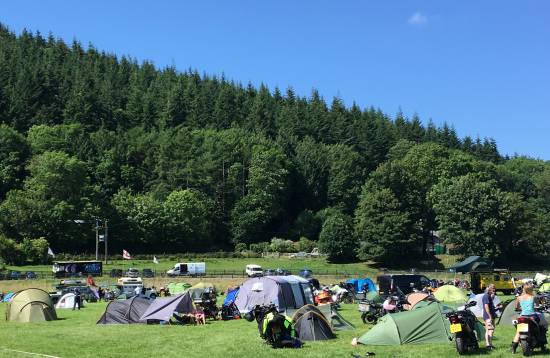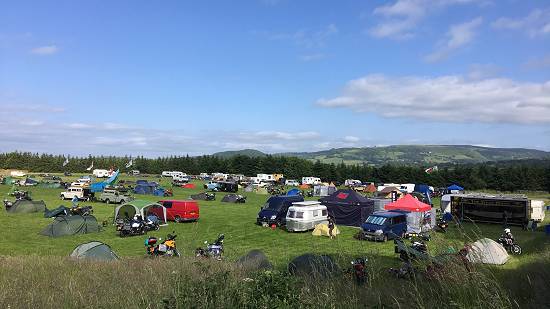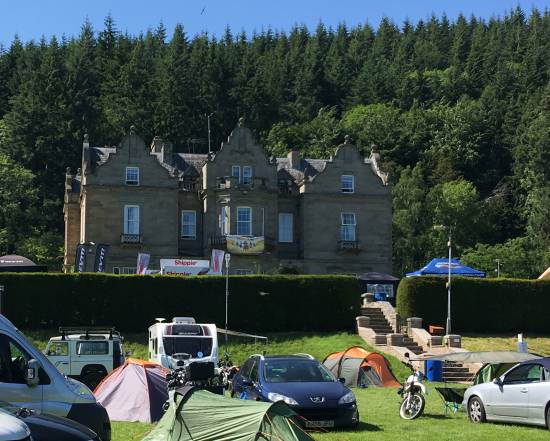 The main camping area also accommodates caravans, 4x4s and large RVs.
Please help to conserve the fields for future events by not skidding, wheel-spinning, etc. The organisers reserve the right to restrict vehicle movement and parking subject to weather and ground conditions.
Electricity
Powered spaces are extremely limited, only for medical issues, CPAP machines, etc. These will be allocated on a first come, first served basis and based on need. When you register, indicate in the comments why you need it (you can charge your phone/tablet at the Charging Station at the Reg Desk).
No Fires
There's a strict 'no fires' policy across the whole site, but camping stoves and BBQs are allowed. BBQs must be raised above the ground on bricks supplied by the venue via the volunteer Campsite Crew. Please be aware that Horizons Unlimited will be obliged by the venue to enforce these rules very strictly.
Showers & Toilets
There are a number of shower and toilet blocks in the camping area (paid for by Horizons Unlimited!) plus additional showers and toilets in Baskerville Hall which may be used by campers.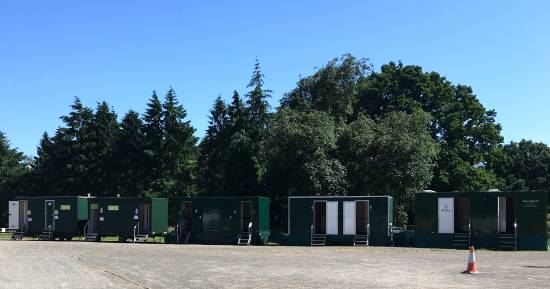 "I'm at HUBB UK with some of the sweetest smelling mobile toilets you'll find at any camp site." Patrick at HUBB UK 2017, posted on Facebook
Food & Beer
Baskerville Hall will be offering a buffet service for breakfasts, lunches and evening meals, plus a la carte options - all at great value prices. They'll include vegetarian choices.
There is Real Ale available in the bar.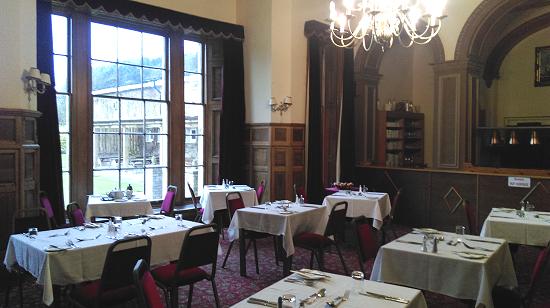 Hotel Accommodation
The rooms, ranging from simple to ritzy with 4-poster beds, all include en suite bathrooms, and have TVs and tea and coffeemaking facilities. Dorm-style rooms with shared facilities are also available. ALL Hotel room prices include full cooked breakfast! Book when you register.
Multishare / dormitory (shared facilities) - £25 per person per night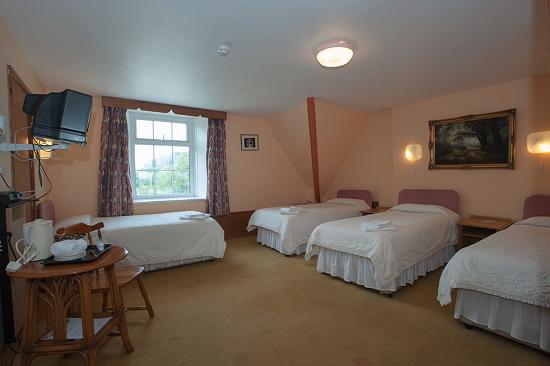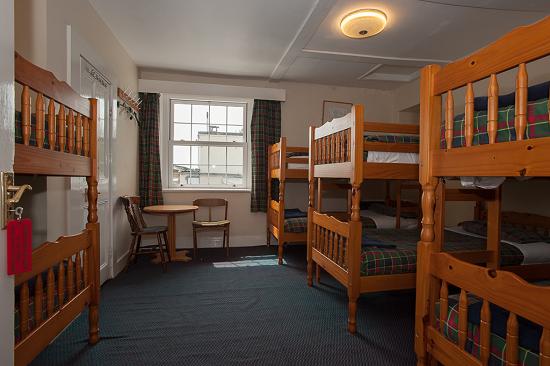 Couples room (1 double bed, private facilities) - £45 per person per night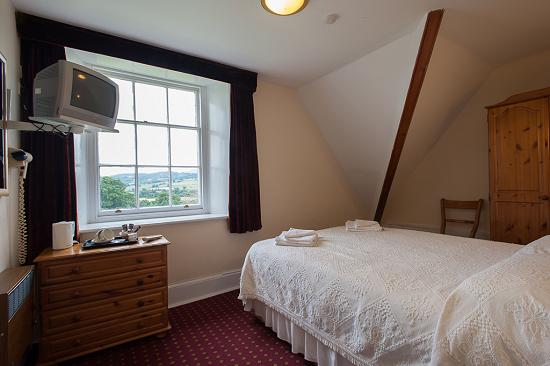 Baskerville Hall Couples Room with Double Bed
Standard room (2 single beds, 2 sharing, private facilities) - £55 per person per night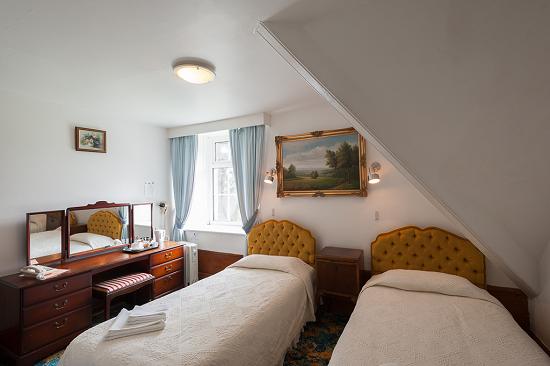 Baskerville Hall Standard Room with 2 Single Beds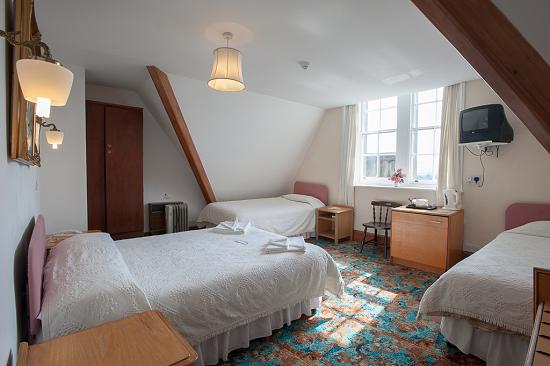 Private room (1 double or 2 single beds, 1 person, private facilities) - £80 per person per night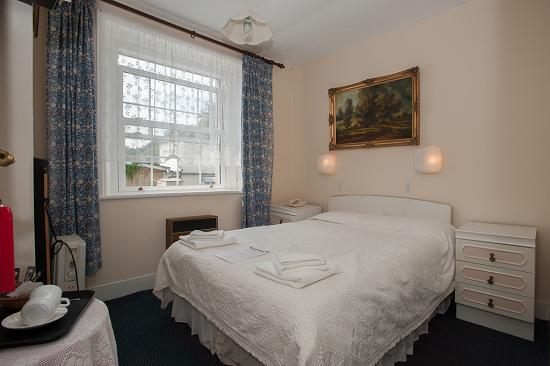 Executive Double Room (2 sharing) - £65 per person per night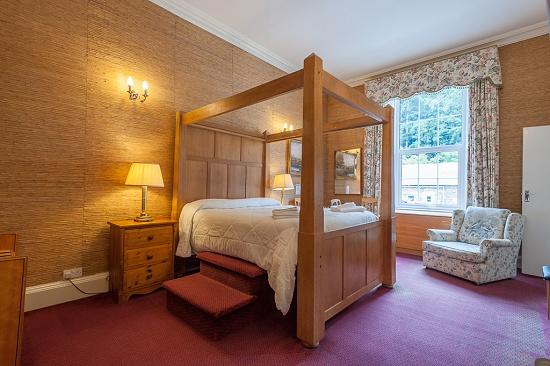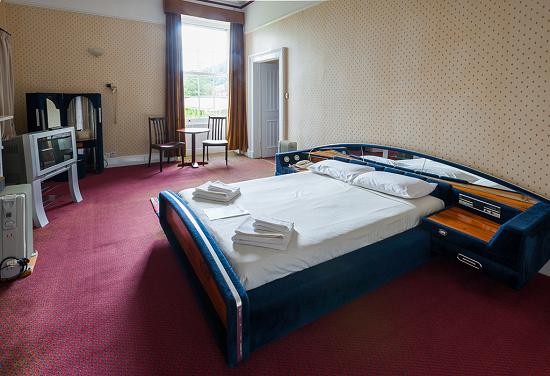 Swimming pool
All hotel guests have use of the indoor pool and sauna.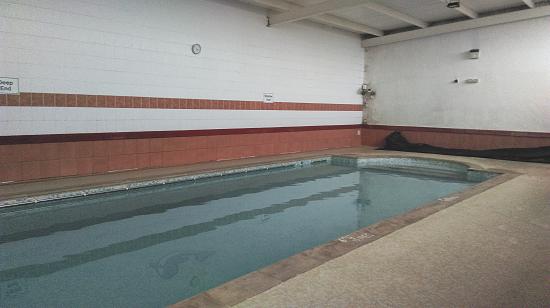 Children & Dogs
Horizons Unlimited is naturally keen to inspire the next generation of adventure travellers so you're welcome to bring your children along if you wish, but do bear in mind that the event is for adults (with adult themes and language) and we won't have any specific kids' activities. Children under 14 years old get in for free. Please note that the health and safety of your children is your responsibility and they must be supervised by you at all times. Children will not be allowed in any of the presentations from 8pm onwards each evening.
If you'd like to bring your dog along to the event we'll have a special area set aside for you to camp in. You'll need to ensure your pet remains on a lead at all times and doesn't damage or foul the site. Owners of noisy or aggressive dogs may be asked to leave.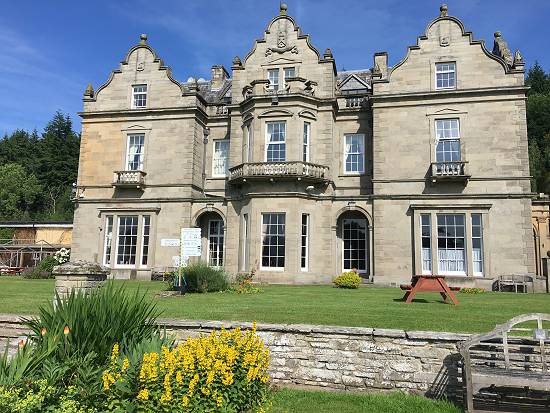 Baskerville Hall History
"Baskerville Hall was built in 1839 by Thomas Mynors Baskerville for his second wife, Elizabeth. The Baskervilles were related to the Dukes of Normandy and first came to Britain to help William the Conqueror in 1066.
Arthur Conan Doyle was a family friend who often came to stay here. During his many visits he learnt of the local legend of the hounds of the Baskervilles. It is reputed that on nearby Hergest Ridge he translated this into probably the most famous case for his celebrated detective Sherlock Holmes. However, at the request of his friends he set the book in Devon 'to ward off tourists'.
Since the Second World War the house has been used as a school, then a hotel and health farm, until 1984 when the present owner David Hodby took over and undertook extensive restoration work.
The 19th-century style is reflected in many rooms. All amenities are incorporated, thus providing guests and visitors with comfortable surroundings whilst keeping alive its historical roots."

ONLINE REGISTRATION PRICING

Pay Online by Credit/Debit Card or PayPal, or BACS transfer

Register & Pay BY:

Full 4-Day Pass

WEEKEND Pass

31 July 2017

£59 (saves £30)

£49 (saves £20)

31 December 2017

£69 (saves £20)

£49 (saves £20)

7 June 2018

£79 (saves £10)

£59 (saves £10)

Discount changes occur at midnight UK time on each cut-off date

AT THE EVENT PRICING

Applies After 7th June 2018 --- Pay Cash or Credit Card On Arrival




Full 4-Day Pass £89 WEEKEND Pass £69




*** FREE CAMPING & NO PARKING FEES ***

All prices are per person and include admission to all presentations, workshops, panel discussions, demonstrations, exhibitor displays and tech sessions.

Off-road rider skills / practice sessions on your bike with instructors are separately priced. NOTE: You must be registered for HUBB UK to take the training. Spaces are limited, and you may not be able to sign up on the day, so don't procrastinate! For schedule details and to sign up, start here.

NOTE: Weekend passes are for arrival after 7 pm on Friday and include camping Fri/Sat night.

Meals and Accommodation are NOT included in the registration price.

Separate rates apply for authors/film-makers and trade stands.
Online registration is FREE for presenters and accredited journalists.
Accommodation is NOT included with your registration fee. Accommodation is available at a range of prices to suit all budgets. See descriptions above.
All prices are per person, per night and include full English breakfast!
NOTE: ACCOMMODATION MUST BE BOOKED FOR ALL 3 NIGHTS - THURS, FRI, SAT, EVEN IF YOU ARE BOOKING A WEEKEND PASS!


Description

Price (Per person, per night)

Multishare / dormitory (shared facilities, no upper bunks!)

Couples room (1 double bed, 2 sharing, private facilities)

Standard room (2 single beds, 2 sharing, private facilities)

Private room (double or 2 singles, 1 person, private facilities)

Executive room (Large double, 2 sharing) - Only 3 available!

£25


£45

£55

£80

£65


All accommodation is available on a first-come, first-served basis. Register early to ensure your accommodations! To Note - we sold out of rooms within a few weeks of opening registration for HUBB UK 2017, so book soon!
---