HUBB UK 2016
THE PREMIER OVERLAND ADVENTURE TRAVEL EVENT
FOR MOTORCYCLISTS, CYCLISTS, AND DRIVERS
OF 4X4 & OTHER EXPEDITION VEHICLES
Thursday 16th to Sunday 19th June 2016 - Baskerville Hall
On Two Wheels or More - It's All About Overland Adventure
Whether you're a seasoned veteran with wisdom to share or a complete novice hungry for ideas and guidance, it doesn't matter if you ride a motorcycle, a bicycle, or drive any kind of expedition vehicle...
Horizons Unlimited meetings are for everyone who dreams of adventure along the road less travelled.
Inspiring, Informing & Connecting
Some people value Horizons Unlimited events for what they learn from the unique line-up of presenters. Some people value the chance to discover new products and services at the trade stands. Some people value just kicking back with a beer among old friends and new.
Most people enjoy a little bit of everything, and everyone goes home fired-up for adventure with a smile on their face.
The event will include a packed schedule of presentations and activities. All within the relaxed and friendly atmosphere that Horizons Unlimited is known for.
There are three presentation rooms, a Skills Course with some surprises, the popular Slow Bike Race, and our unconventional take on the 'Best in Show' concept for motorcycles, bicycles and expedition vehicles.
The Adventure Travel Zone is where you'll find the trade stands for many of the leading names in overland travel, including authors, film-makers, equipment suppliers and tour operators. And of course there'll be the HU Store selling the Achievable Dream and Road Heroes DVDs as well as a range of limited-edition t-shirts.
The HUBB Zone will feature the Rendezvous Tent and Message Tree, practical demonstrations, along with an eclectic array of clubs, online community forums and magazines.
HUBB UK Event Schedule
The Registration Tent will open for check-ins at noon on Thursday 16th June, with the first presentations beginning at 1pm. The event will draw to a close at 12pm on Sunday 19th June.
Over the course of the event there'll be hundreds of sessions of talks, demonstrations, workshops, Q&A's, challenges and competitions, with many presentations being repeated so you won't miss out. Whatever your past experience or future plans may be, there's something for everyone.
PLEASE NOTE: The schedule is subject to change at any time - all the presenters are volunteers and travelling, thus they may be delayed or unable to get there. Some may have anxiety attacks and be unable to perform! ;-) And sometimes travellers show up unexpectedly with great pics and stories, so we try to fit them in!
Presenters at HUBB UK 2016 so far...

Click on the presenter's pic or name for details or here for the complete list!


Sjaak Lucassen

JD Smith

Dylan Wickrama

Tiffany Coates

Martin Williams

Dennis Robinson

Jacqui Furneaux

Sarah Palfreyman

Rod Shaw

Tori Lang

Sheonah Ravensdale & Pat Thomson

Nathan Millward

Gareth Jones

Simon Gandolfi

Simon Jarratt

Barbara Alam

Stuart & Janelle Clarke

Nicholas Foulerton

July Behl


Iain Nicholson


Giles Ernsting

Mark Manley

Greg & Melanie Turp

Dan Skeates

Craig Carey-Clinch

David Bailey

Fern Hume

James Davis

Duncan Gough

Mark Barrington

Colin & Dee Masters

Geoff Grimmett

Andrew Sercombe

Nigel & Sharon
Tailyour

Egle Gerulaityte

Mat Ward

Donald Nightingale

Steve Wigglesworth

Steve Mason

Jan Forman

Arun Nangla

John Horne

Susan & Grant Johnson

More to come...
How about you? We're all here to learn, and there's LOTS to learn! We want to do more presentations and seminars - but we need volunteers to give them! Any topic you can contribute having to do with motorcycle travel, maintenance, planning etc, lasting 20 minutes or more, would be great. Please sign up here.

OFF-ROAD RIDER SKILLS TRAINING
We're super excited to be back in the UK at a new venue, with a new team, and featuring heaps of new presentations, workshops, discussions and exhibitors to inspire, inform and connect overland adventure travellers.
BUT all that just wasn't enough, so we're adding off-road skills training for HUBB UK registrants and a wee prize challenge on the Saturday afternoon! If you want to upgrade your existing skills, get started off-road, or are even thinking about it, there's something for everyone to make your riding smoother and adventurous.
Ramey 'Coach' Stroud, owner of Cascade Endurance Center, is leading rider training at HUBB UK. Coach Stroud specializes in helping riders to transition from pavement to dirt or gravel roads, and to master less-than-ideal riding conditions – a perfect fit for motorcycle adventure travellers!
Former U.K. enduro champion, Lee Walters, and his team are joining Coach Stroud with the hands-on, field-based sessions outdoors.
There's more! We're chuffed to have David (Knighter) Knight joining in as our Special Guest Instructor! He recently dominated the Extreme Ravines in the third round of the 2016 ACU British Extreme Enduro Championship on his Honda 250X trial bike.
How does it work?
Training is a combination of in-class morning sessions for HUBB UK attendees (limited numbers, sign-up required), and pre-registered, field-based instructor time (4-hour sessions in mornings and afternoons), to practice what you learned in the morning classes or fine tune your skills.
How much does it cost?
Off-road classroom and static rider training sessions (for HUBB UK attendees only) are free to attend. Off-road rider skills / practice sessions on your bike with instructors are separately priced at £35 per 4-hour session. For schedule details and to sign up, start here.
NOTE: You must be registered for HUBB UK to take the training.
Spaces are limited, and you may not be able to sign up on the day, so sign up now!

Meet the Instructors
| | | |
| --- | --- | --- |
| | | |
| 'Coach'presents his KSA curriculum in class and brings out your best in the field sessions. | Lee Walters and his team will be on-site all day for the hands-on, field-based sessions. The trails around Baskerville Hall are his training playground! | Special Guest Instructor! David Knight joins Coach Stroud and Lee Walter's team to share his best off-road riding tips. |
| | | |
---
Inaugural HUBB Adventure Travel Challenge (ATC)
On Saturday afternoon, you can put your freshly-honed skills to the test. Riders test their skills against the course. There will be prizes! Sign up on Friday or Saturday morning at Registration.
Class I - 800cc and under.
Class II - Over 800cc.
Class III - Two-UP (any cc).
Want to know what's on when?
Sign up now for training - But Don't forget to sign up for HUBB UK!
Panel discussions at most HU events include...


Border crossings - How to get through borders with minimal stress and cost!
Packing light - Tips and techniques from experienced travellers to reduce weight and bulk.
Regional discussions - e.g. travelling in South America or Asia.
For Women Only - A must for the ladies, so be sure to plan on being there! A chance to talk to experienced travelling women without the men around!
Experienced Travellers Panel - ask the experts anything you want!
Walk arounds / Show and tell!
Tents and Bedding discussion (in the camping area) - What works, cheap vs dear and which ones keep you dry, warm and comfy!
Bike mods - Show off your best bike mods - homemade saddle bags, toolbox mounts, GPS mounts, seats, side stands, tank panniers, cup holders, etc.
The Adventure Travel Zone
Equipment Specialists
Manufacturers
Overland Tour Operators

Adventure Travel Authors
Overlanding Film-Makers
The HU Store
HU Global Sponsor
& HUBB UK ATC Sponsor

Skills Course Sponsor
& HUBB PUB Sponsor
HUBB UK 2016 Exhibitors



James Cargo Motorcycles


Kaapstad Motorcycle Tours

APB Trading Ltd /
Expedition Equipment


Rally-Raid Products


Moto Freight

RTW Moto Tours


TravelDri Plus

The Overlander

2 Wheel Trans


Front Runner 4x4

WANDRR



Stahlkoffer Panniers


CCM Motorcycles
Motorcycle Outreach
More HUBB UK Features
Rendezvous Tent
Message Tree
Live Music & Fire Drums

9 Minute Moto Film Festival
Clubs & Online Forums
Magazines

Roadkill Cookout

Motorcycle Outreach

Haggs Bank
Horizons Unlimited
Adventure Meet

9 Minute Moto Film Festival
Facilities for a Fantastic Four Days
Free Camping
Free Parking
Free WIFI
Power Hook-Ups TBC

Great Value Food
Real Ale
ON-SITE Accom to suit all budgets

HUBB UK 2016 is taking place at Baskerville Hall Hotel, on the edge of the Brecon Beacons and Black Mountain National Park. WE have booked the entire hotel for this event!
Address:
Baskerville Hall Hotel
Clyro Court, Hay on Wye
Powys HR3 5LE
United Kingdom
Phone: +44 1497 820033
Less than a mile from the A438, this country house hotel dates from 1839 and is surrounded by 130 acres of Welsh countryside overlooking the Wye Valley on the edge of the Brecon Beacons and Black mountain National Park.
Hay-on-Wye, famous for its second hand book shops and Festival of Literature and Art, is just over a mile away nestled beside the river Wye.
On our doorstep we have one of the best playgrounds for those wishing to sample what the great outdoors has to offer, with mountains for gorge walking, pony trekking, and the river Wye for Canoeing and rafting, with many more activities and places of interest to visit for the athletic or the gentler hearted alike.
The indoor heated swimming pool and sauna is a great place to relax after your busy day or just relax in the residents bar before dinner.
Free WiFi is available in the reception area.
Rider Training!
We're excited that the venue supports fantastic rider training including off-road courses plus lots of bush for ride-outs, and we have plans to use it... Coach Ramey Stroud will be back! See the video below from Lee Walters off-road training for a taster!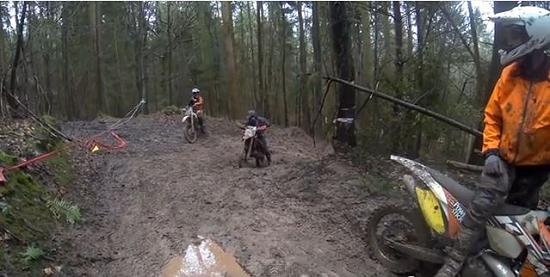 Campsite & Parking
The extensive campsite is on mostly flat, well-drained, ground. The main camping field has drinking water stand-pipes at regular intervals around the perimeter. It is surrounded by trees on two sides (with views towards the river Wye), and a large box-hedge facing the terraced garden and the hotel beyond.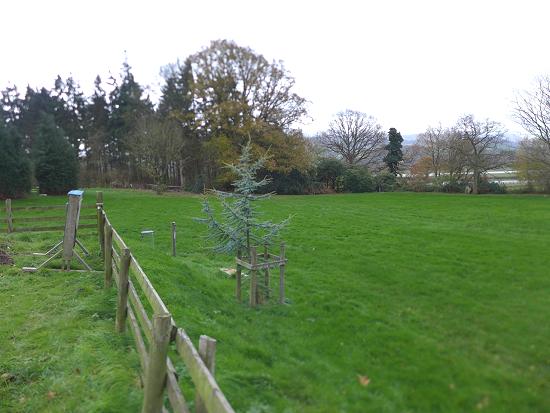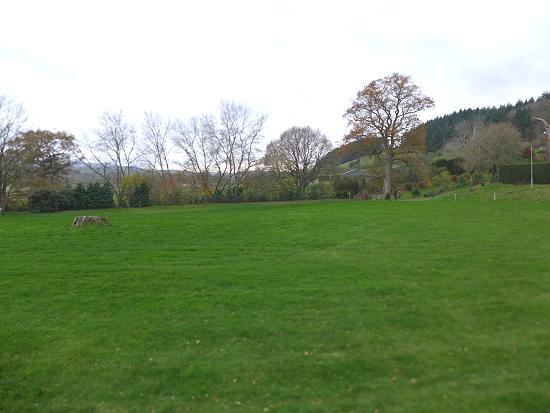 Caravans, 4x4s and large RVs will have a separate hard-standing parking area.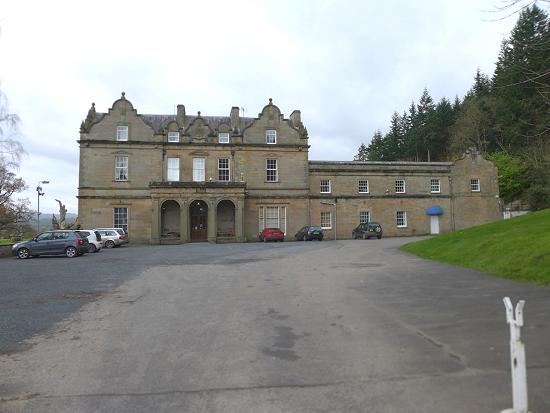 Motorcycles, bicycles and expedition vehicles will be able to park in the camping area. Ordinary cars and vans will be able to unload in the campsite, but must be parked in the dedicated parking field. Please help to conserve the fields for future events by not skidding, wheel-spinning, etc. The organisers reserve the right to restrict vehicle movement and parking subject to weather and ground conditions.
Electricity
Powered spaces are extremely limited, only for medical issues, CPAP machines, etc. These will be allocated on a first come, first served basis and based on need. When you register, indicate in the comments why you need it (you can charge your phone/tablet at the Charging Station at the Reg Desk).
No Fires
There's a strict 'no fires' policy across the whole site, but camping stoves and BBQs are allowed. BBQs must be raised above the ground on bricks supplied by the venue via the volunteer Campsite Crew. Please be aware that Horizons Unlimited will be obliged by the venue to enforce these rules very strictly.
Showers & Toilets
There will be a number of free shower and toilet blocks in the camping fields.
Food & Beer
Baskerville Hall will be offering a buffet service for breakfasts, lunches and evening meals, plus a la carte options - all at great value prices. They'll include vegetarian choices.
There is Real Ale available in the bar.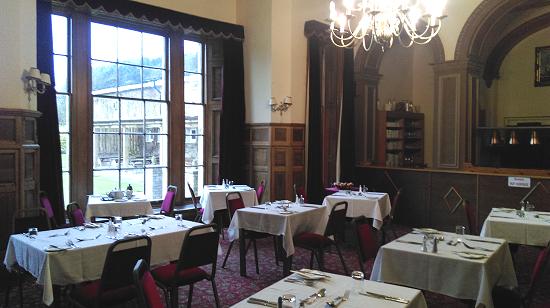 Hotel Accommodation -
SOLD OUT!
The rooms, ranging from simple to ritzy with 4-poster beds, all include en suite bathrooms, and have TVs and tea and coffeemaking facilities. Dorm-style rooms with shared facilities are also available. ALL Hotel room prices include full cooked breakfast! Book when you register.
MULTISHARE/DORM ROOMS SOLD OUT!
Multishare / dormitory (shared facilities) - £23 per person per night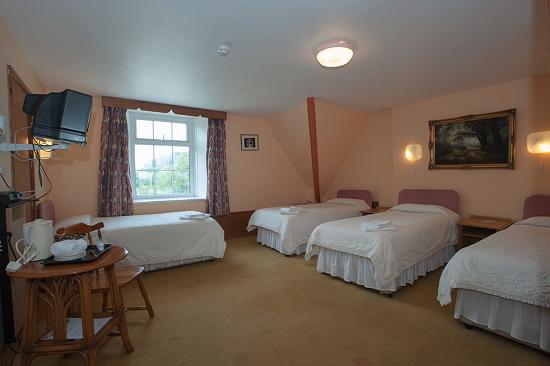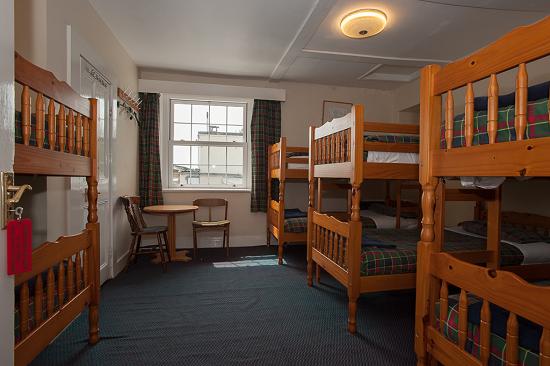 COUPLES ROOMS SOLD OUT!
Couples room (1 double bed, private facilities) - £35 per person per night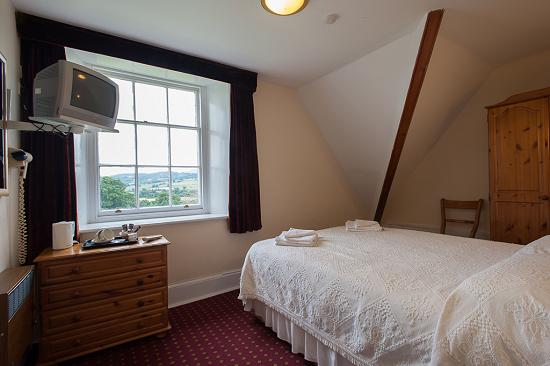 Baskerville Hall Couples Room with Double Bed
STANDARD ROOMS SOLD OUT!
Standard room (2 single beds, 2 sharing, private facilities) - £39 per person per night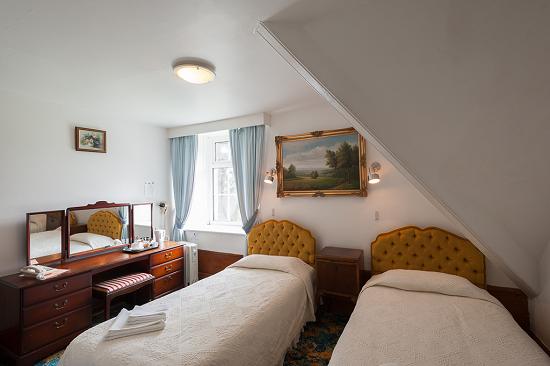 Baskerville Hall Standard Room with 2 Single Beds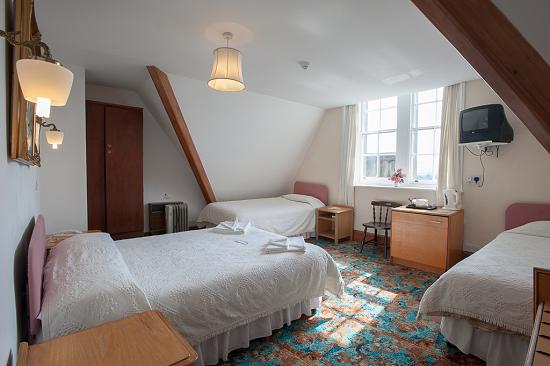 PRIVATE ROOMS SOLD OUT!
Private room (1 double or 2 single beds, 1 person, private facilities) - £49 per person per night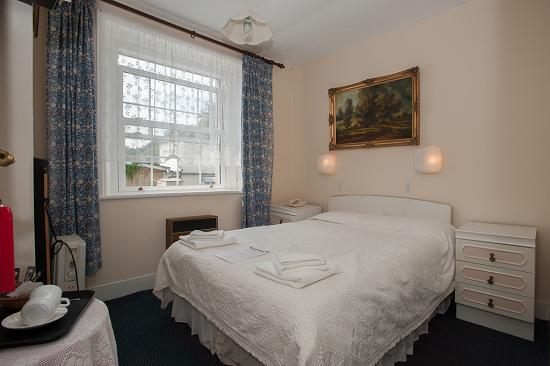 EXECUTIVE DOUBLE ROOMS SOLD OUT!
Executive Double Room (2 sharing) - £59 per person per night - Only 3 left!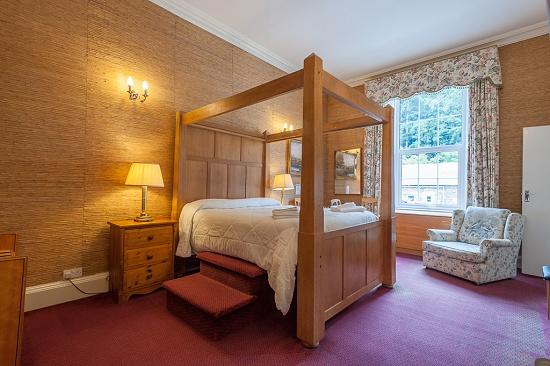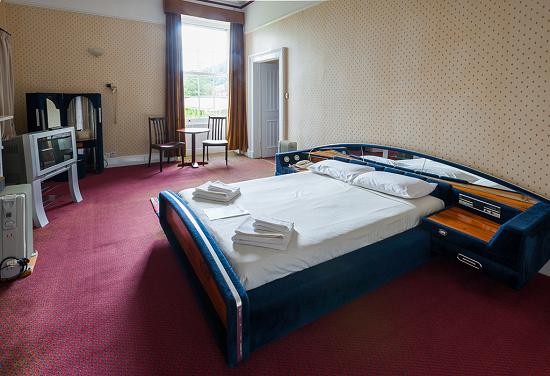 Swimming pool
All hotel guests have use of the indoor pool and sauna.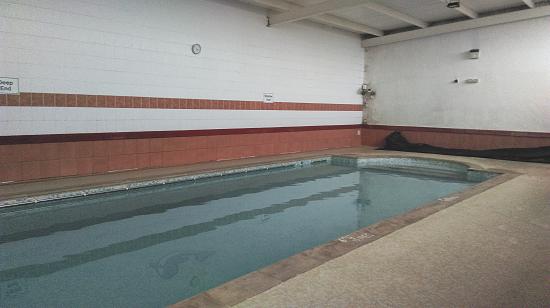 Children & Dogs
Horizons Unlimited is naturally keen to inspire the next generation of adventure travellers so you're welcome to bring your children along if you wish, but do bear in mind that the event is for adults (with adult themes and language) and we won't have any specific kids' activities. Children under 14 years old get in for free. Please note that the health and safety of your children is your responsibility and they must be supervised by you at all times. Children will not be allowed in any of the presentations from 8pm onwards each evening.
If you'd like to bring your dog along to the event we'll have a special area set aside for you to camp in. You'll need to ensure your pet remains on a lead at all times and doesn't damage or foul the site. Owners of noisy or aggressive dogs may be asked to leave.
Baskerville Hall History
"Baskerville Hall was built in 1839 by Thomas Mynors Baskerville for his second wife, Elizabeth. The Baskervilles were related to the Dukes of Normandy and first came to Britain to help William the Conqueror in 1066.
Arthur Conan Doyle was a family friend who often came to stay here. During his many visits he learnt of the local legend of the hounds of the Baskervilles. It is reputed that on nearby Hergest Ridge he translated this into probably the most famous case for his celebrated detective Sherlock Holmes. However, at the request of his friends he set the book in Devon 'to ward off tourists'.
Since the Second World War the house has been used as a school, then a hotel and health farm, until 1984 when the present owner David Hodby took over and undertook extensive restoration work.
The 19th-century style is reflected in many rooms. All amenities are incorporated, thus providing guests and visitors with comfortable surroundings whilst keeping alive its historical roots."

---
Next HU Events
Join the discussion:

What happens at HUBB UK?
HUMM is Everywhere!
HU Supported Charity

For 2016, the HU Supported Charity is 'Do Good As You Go', Volunteer Programs for Independent Travelers Around the World, which is run by the Muskoka Foundation.
"Do Good as You Go is a network that connects individuals that are traveling and volunteering to quality small to mid-sized organizations making significant, positive impact on their local community.
The objective is to fulfill the needs of the organizations as well as leverage the unique skill set of the travelers.
By lowering the barriers to high quality, meaningful volunteer opportunities we look to encourage people traveling for all different reasons to Do Good as they Go.
By working closely with the directors of our partner organizations we work to develop relationships and programs that are sustainable and provide a deep local impact."
See below for a short slide show on how this works.
You can support Do Good as You Go by getting raffle tickets for our Saturday evening charity raffle.
Thanks for your support.

Join the Volunteer Crew
From welcoming travellers at the gate, to taking care of the campsite and making sure all the presentations run smoothly, the success of every HU event relies on the enthusiasm of its volunteer crew.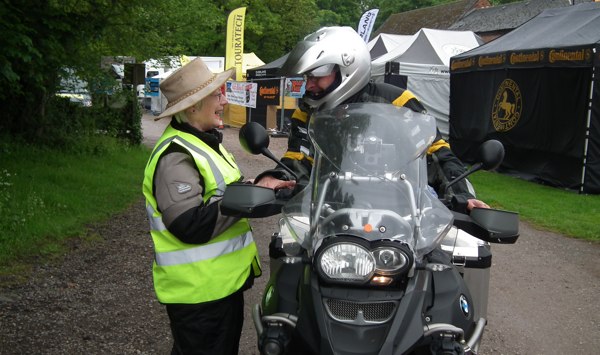 "What a wonderful bunch of people. I had no idea how much fun I'd have by helping out!"
"It was my absolute pleasure to be able to give something back to the HU community and working with such great folks really made the event special."
Volunteering is a great way to make new friends, get more involved with Horizons Unlimited and have loads of fun! You can sign up to volunteer when you register for the meeting, OR click here if you have already registered and want to add volunteering.
You can help!
If you have a few minutes, please download the poster (Adobe pdf format) and print off a few and hand them round your club or your local bike shop or anywhere seems like a good place.
Poster in pdf format (453kb) full colour Event poster.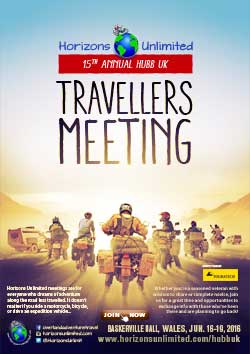 POSTCARD - NEW!
Postcard in pdf format (620kb) full colour Event postcard, can be printed 4 to a page: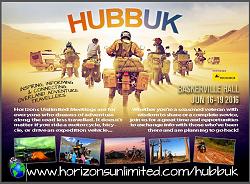 You may need to right click and choose "save target as..."
Thanks!
Be a Presenter
We're inviting submissions for presentations, so whether you're attending the event or exploring a distant continent, if you've got a story to tell or expertise to share we'd like to hear from you.
We love to hear stories about your travel adventures, especially if you have great pics! Also, practical how-to sessions such as roadside cooking, navigation / GPS, trip prep and planning, adventure motorcycling medicine, packing light, setting your bike up, communications / blogging from the road, self-publishing your story, yoga for bikers, bodging / bike maintenance, self-defense, photography, videography, tire repair, safe riding techniques, how to pick up your bike, off-road riding, all are of interest.
There are 40 and 90 minute sessions available for talks, workshops, demos and live web chats, plus a new Pecha Kucha option (20 slides x 20 seconds each).
Click here to submit your ideas
PLEASE NOTE:
Submitting a Presenter registration DOES NOT mean you will automatically be included in the schedule, as we often have more presenters than available presentation slots. We will confirm one way or the other as soon as we can (but not immediately!).
In order to get FREE entry to the event, you are expected to either REPEAT your presentation OR do TWO or more DIFFERENT presentations.

Praise for HUBB UK
"Very enjoyable and informative."
"Great event. Met some really interesting people and it has given me some great ideas for the future. Many thanks HU!"
"This is a fantastic event. The Skills Course is brilliant. The volunteers who helped out at the course were very supportive. I have learned some important off road riding skills and it was really fun! :)"
"Well organised awesome event."
"What a FANTASTIC event!!!!! We found the atmosphere totally different to our usual events; everyone was so friendly – it was almost like one big family. We found the talks inspiring... the HUBB event isn't a show – rather it is a 'gathering of like minded people', and we decided we liked that very much."
"I really liked the fact that there was so much more going on at the HUBB."
"Great event, great organisation and super volunteers! Many thanks."
"Thank you for a great event. We need more shows like this one."
"I was a HUBB UK virgin, and my goodness, there are no words to describe the experience. It was just simply mind blowing."
"...such a wonderful experience. It was our 1st time there but it certainly won't be our last... the overall friendliness from folks with 2 wheels or 4 had to be seen to be believed."
"Great event. As a Landy owner it was so great to see and meet people with a common interest, irrespective of the number of wheels."
"Fantastic! As a 4x4 member we were all made to feel very welcome. From the moment we were greeted at the gate, to the moment we left, everyone we met treated us almost as family."
"...the weekend was only made more special with the cyclists and 4X4 input. The talks by the various cyclists were all truely inspiring."
"...a new league of awesomeness."
Departing or Returning?
If you're planning an expedition, why not make the Horizons Unlimited meeting your official start point? Or maybe you're nearing the completion of a journey and would like a very public welcome home? Of course you might just be passing through and fancy marking a key stage of your travels?
We'd love to make you a big part of the meeting, so feel free to get in touch and tell us your plans.
Book your Trade Stand space
Over the course of four days, this Horizons Unlimited event offers a unique opportunity to build awareness of your brand and talk directly to potential customers.
The Adventure Travel Zone occupies a central position at the event site and is exclusive to trade stands representing the overland adventure travel market.
Choose between our Premium and Standard packages, both of which include on-site advertising and Pecha Kucha presentations about your products and services.
Free Promotion in the HUBB Zone for your Club, Forum or Magazine
The HUBB Zone is an informal outside space that'll be buzzing with activity.
If you run a club or online community forum with members interested in overlanding, or if you publish a magazine for motorcyclists, cyclists or 4x4 drivers, we're offering space in the HUBB Zone free of charge. The space is flexible and will be allocated on a first-come first-served basis at each event.
We also provide 2 free passes for your club attendees so you can staff your space.
Advertise at HUBB UK
Run a business that serves the overland adventure travel market? Want to spread the word at HUBB UK but can't take a Trade Stand? Send us an outdoor vinyl banner and we'll display it in a prominent position for maximum brand exposure.
HUBB UK 2016 Venue Location
Baskerville Hall Hotel
Clyro Court, Hay on Wye
Powys HR3 5LE
Getting There
From London (160 - 180 minutes)
Take the M40 to Oxford, leaving at Junction 8 and taking the A40 through Cheltenham and Gloucester to Ross-on-Wye. Take the A49 to Hereford, and follow the A438 Brecon road to Clyro.
From Bristol (100 - 120 minutes)
Take the M4 westbound across the Severn Bridge, leaving at Newport Junction 24 and follow signs for Monmouth onto the A40 to Abergavenny and Crickhowell. Turn onto A479 Builth Wells road to Talgarth. Follow signs for Hereford on the A4078, turning onto the A438 at Glasbury to Clyro.
From Birmingham (100 - 120 minutes)
Take the M5 southbound, leaving at Junction 7 for Worcester. Follow signs for Hereford on the A4103 then follow the A438 Brecon road to Clyro.
From Cardiff (60 - 80 minutes)
Leave the M4 at Junction 32 and take the A470 via Merthyr Tydfil and Brecon turning onto the A438 Hereford road at Glasbury to Clyro.

HUBB UK Event Organisers
Glynn Roberts, Caroline Carver, Conan Easson, Johanne Carter, Brendon Ball, Tricky Walby and Gary Wrench have stepped up this year, as veteran organisers Sam Manicom and Iain Harper take a well deserved rest! We're VERY grateful to them, to Jenny Morgan and all the folks who sent venue suggestions for helping us to make it happen!
We still need some help beforehand and can always use help on the day - please volunteer to help out for a couple of hours when you register (above)!
HU Events Refund Policy
We know 'stuff happens', and you know we have financial commitments to venues and caterers!
If you're unable to attend an event, please let us know (by e-mail reply to your confirmation e-mail from us) so we don't worry that something has happened to you...
Up to 30 days prior to event start, we will refund all fees in full less a $10 (or €9 or £8) fee for handling and PayPal charges.
Up to 15 days prior to event start, we will refund camping/accommodation and food packages in full less a $10 (or €9 or £8) handling fee. We will apply your registration fee to any subsequent HU event in the year or following year. If you have purchased a t-shirt, let us know your mailing address and we'll send it out.
Within 15 days of the event start, there will be no refunds, but we will apply your registration fee to any subsequent HU event in the year or following year. If you have purchased a t-shirt, let us know your mailing address and we'll send it out.