HU Travellers Meeting Chile 2018
Horizons Unlimited 1st Chile Travellers Meeting
Thursday Mar 8 - Sunday Mar 11, 2018 - Pucón, Chile
It's All About Overland Adventure
Whether you're a seasoned veteran with wisdom to share or a complete novice hungry for ideas and guidance, it doesn't matter if you ride a motorcycle, a bicycle, or drive an expedition vehicle...
Horizons Unlimited meetings are for everyone who dreams of adventure along the road less travelled.
Horizons Unlimited Chile 2018 Event Schedule
The event is taking place from Thursday, Mar 8 to Sunday, Mar 11, 2018. The schedule is pretty laid back. Folks will arrive sometime on Thursday after 14:00, set up camp and prepare for an evening of tire kicking and story telling (chill and swill). Dinner will start at 19:00.
Activities on Friday and Saturday
Breakfast between 8:00hrs and 10:00hrs
During the day there will be at least 3 presentations of 1 hour. 2 from travellers and 1 from a sponsor minimum.
10:00 traveller presentation.
11:30 available presentation
Lunch
16:00 sponsor presentation
17:30 traveller presentation
19:00 available presentation
20:00 Dinner starts
Late gathering at the fireplace.
Last night (Saturday) there are going to be games, trivia, etc. Also the sponsor will give away free stuff.
Sunday
7:30 ~ 10:00 Breakfast
Bikers leaving the premises.
Everyone is welcome to stay after the HU meeting.
Presenters at HU Chile
2018

so far
Dos años explorando Sudamérica en pareja
Una aventura en pareja por 9 países de Sudamérica. ¿Cómo costeamos una aventura de 2 años sin ahorros? (Chile, Argentina, Uruguay, Bolivia, Perú, Ecuador, Colombia, Brasil and Paraguay)
La principal característica de nuestro viaje es que amamos las actividades de aventura - senderismo, kayak, rafting, buceo, exploración de cavernas, etc. Pero también disfrutamos de las paradisíacas playas del caribe. Actividades y lugares que usualmente son caros, entonces ¿Cómo costeamos una aventura de 2 años sin ahorros? Ya se los contaré en el 1st HU Chile Travellers Meeting. Hablaremos sobre las principales rutas y atractivos de los 9 países que recorrimos y porque nos faltaron 4 para completar el continente. También de aquellos lugares desconocidos pero que vale la pena descubrir. Y les contaré sobre uno de los temas más peligrosos en una travesía de estas características: Como realizar un viaje de largo aliento en pareja, sin morir en el intento.
En 2015, Ariel y Susan dejaron de trabajar para explorar Sudamérica en dos Honda NX400. Su viaje a través de desiertos, selvas, salinas, playas y montañas les dio la oportunidad de conocer personas reales y culturas ancestrales.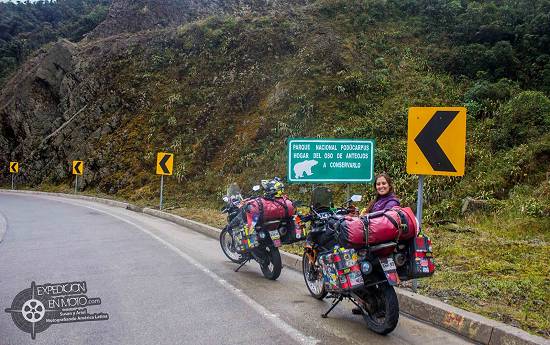 The main characteristic of our trip is that we love adventure activities - hiking, kayaking, rafting, diving, cavern exploration, etc. But we also enjoyed the paradisiacal beaches of the Caribbean. Activities and places that are usually expensive, so how do we pay for a 2-year adventure without savings? I will tell you in the first HU Chile Travellers Meeting. We will talk about the main routes and attractions of the 9 countries that we visited and because we had 4 to complete the continent. Also from those places unknown but worth discovering. And I will tell you about one of the most dangerous issues in a cruise of these characteristics: How to make a long-term trip as a couple, without dying in the attempt.
In 2015, Ariel and Susan quit work to explore South America on two Honda NX400s. Their journey through deserts, jungles, salt flats, beaches and mountains gave them a chance to meet real people and ancestral cultures.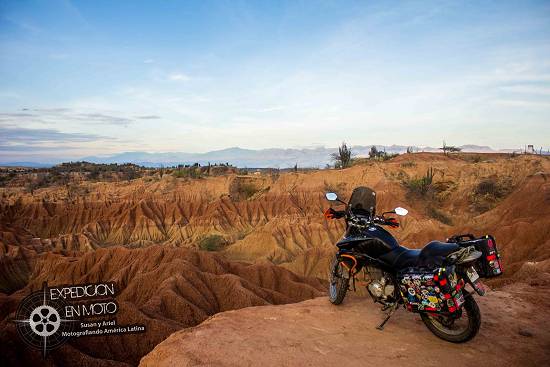 More to come...
How about you? We're all here to learn, and there's LOTS to learn! We want to do more presentations and seminars - but we need volunteers to give them! Any topic you can contribute having to do with motorcycle travel, maintenance, planning etc, lasting 20 minutes or more, would be great. Please sign up here.
Horizons Unlimited Chile Rides
There are some awesome rides in the area. If you want to ride with a group, there will be announcements at the event.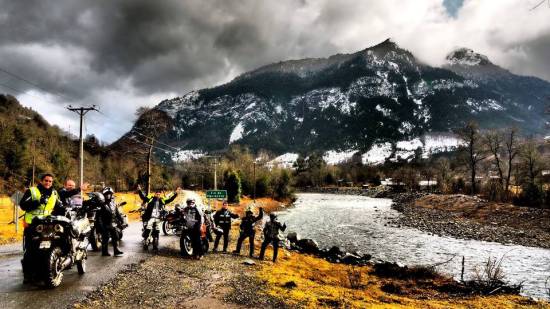 Note: You are spoiled for choice on rides in the area, so let us know if you have any particular requests.
Facilities for a Fantastic Three Days
The 1st HU Chile Travellers Meeting will be held at MotoCamp Pucón in Chile.
Camping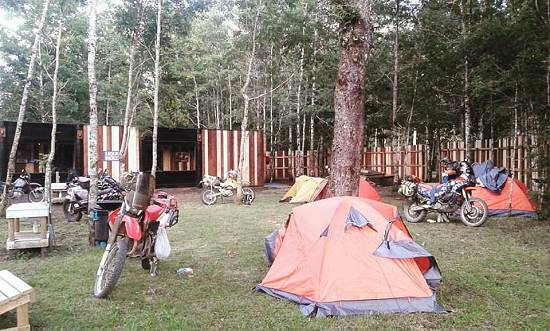 Hostel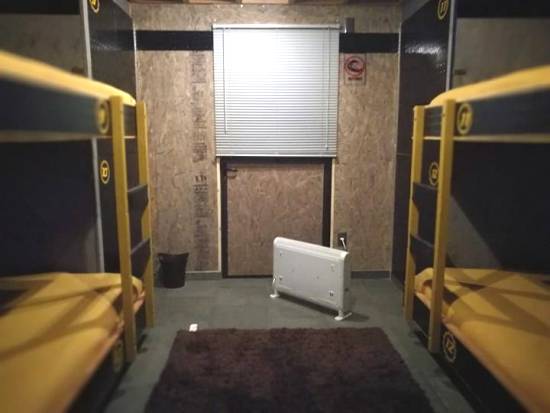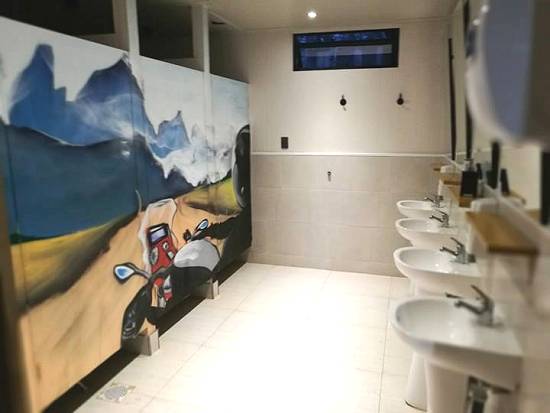 Accommodation Packages
Packages all included (hostel/camp and meals only, NOT Horizons Unlimited event fee)
Accommodation + All Meals
Camping
Hostel
3 nights (Thursday, Friday, Saturday)
3 breakfasts (Friday, Saturday, Sunday)
2 lunches (Friday, Saturday)
3 normal dinners (Thursday, Friday, Saturday)
USD $108
(CLP 70.000)
(Normal price USD $119 (CLP 77.000) 10% off
USD $155
(CLP 100.000)
(Normal price USD $172 (CLP 110.000) 10% off
Yummy BBQ dinner - Includes main dish (lamb or pork, beef, sausages), side dish (rice, beans, potatoes, etc), salads, dessert. 1/2 bottle of Chilean Wine, or 500cc of beer or soft drink or juice or water.

For BBQ dinner add USD $16 (CLP 10.000)
For BBQ dinner add USD $16 (CLP 10.000)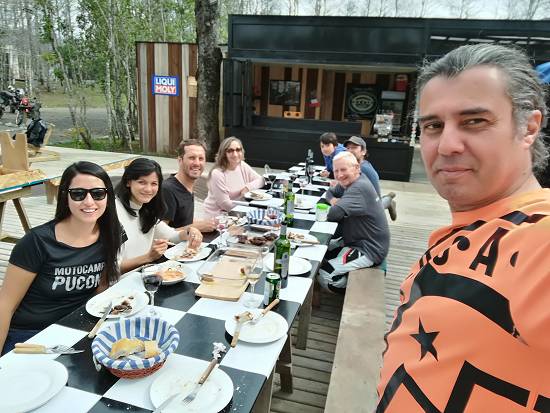 Meal Pricing (a la carte)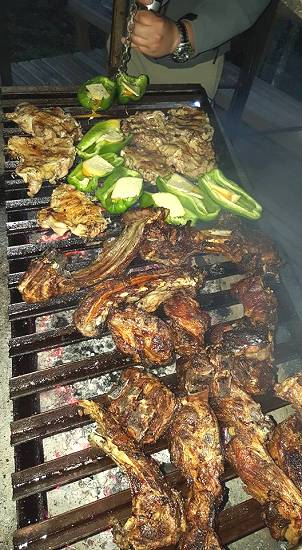 Breakfast is included with the price of lodging (hostel or camping).
Lunch: USD $16 (CLP 10.000)
Includes main dish (pasta or lasagna or goulash with rice, etc), salads, dessert, glass of wine or soft drink or juice or water.
Normal dinner: USD $16 (CLP 10.000)
Includes main dish (pasta or lasagna or goulash with rice, etc), salads, dessert, glass of wine or soft drink or juice or water. (300cc)
BBQ dinner: USD $32 (CLP 20.000)
Includes main dish (lamb or pork, beef, sausages), side dish (rice, beans, potatoes, etc), salads, dessert. 1/2 bottle of Chilean Wine, or 500cc of beer or soft drink or juice or water.
Beverage Pricing
Beer 500cc: USD $4 (CLP 2.500)
Glass of wine: USD $3 (CLP 2000)
Pisco Sour: USD $5 (CLP 3.000)
Soft drinks (colas, bottled water): USD $2 (CLP 1.000)
Bottle of wine: USD $10 (CLP 6.000)
Tap water 100% clean

Camp Rules
No cooking is allowed in the premises. Catering is available.
No fires are allowed on the premises. Huge fire place is available.
No alcohol from outside. A bar is available.

BOOK AND PAY EARLY FOR BEST PRICE!

Includes admission to all slide shows, discussion groups,
Tech Clinics, demos and ride outs on Thursday, Friday, Saturday and Sunday.
All prices are PER PERSON!
Camping is priced separately. Meals are priced separately.

Pre-Register & Pay before:

Event Price
USD

Event Price
CLP

Dec 31, 2017

39

25.000

Mar 1, 2018

44

28.000

AT THE EVENT PRICING (APPLIES AFTER MAR 1)

Pay cash on arrival

49

32.000
ACCOMMODATION CHOICES TO SUIT ALL BUDGETS!

Accommodation is NOT included with your registration fee. Camping or Hostel accommodation is available. See descriptions above. You are responsible for providing linens – sheets, pillows, sleeping bags, towels, etc. – for all accommodations.

All Prices are Per Person:

USD

CLP

A - Camping + Breakfast (per night)

15

9.000

B - Hostel bed + Breakfast (per night)

32

20.000

C - 3 nights Camping + 8 Meals Thurs-Sun

108

70.000

D - 3 nights Hostel bed + 8 Meals Thurs-Sun

155

100.000

E - Add BBQ Dinner Sat Night to Pkg C or D

16

10.000

F - Add BBQ Dinner Sat Night to Pkg A or B

32

20.000

All beds are sized for one person. All hostel beds are available on a first-come, first-served basis. Register early to ensure your accommodations!
---
HUMM - the most fun on 2 wheels!
What happens at HU events?
HUBBUK
HU South Africa
Join the Volunteer Crew
From welcoming travellers at the gate, to taking care of the campsite and making sure all the presentations run smoothly, the success of every HU event relies on the enthusiasm of its volunteer crew.
"What a wonderful bunch of people. I had no idea how much fun I'd have by helping out!"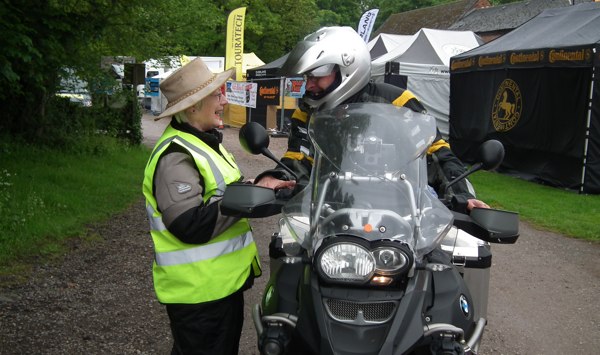 "It was my absolute pleasure to be able to give something back to the HU community and working with such great folks really made the event special."
Volunteering is a great way to make new friends, get more involved with Horizons Unlimited and have loads of fun! You can sign up to volunteer when you register for the meeting, OR click here if you have already registered and want to add volunteering.
You can help!
If you have a few minutes, please download the poster (Adobe pdf format) and print off a few and hand them round your club or your local bike shop or anywhere seems like a good place.
Poster in pdf format (1.5 MB) full colour Event poster: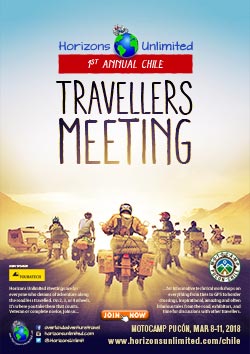 POSTCARD - NEW!
Postcard in pdf format (683kb) full colour Event postcard, can be printed 4 to a page: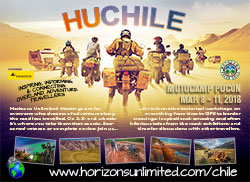 You may need to right click and choose "save target as..."
Thanks!
Praise for MotoCamp Pucón!
"Moto Camp combines a fun-filled moto theme with everything a moto traveler dreams of... secure parking for the motos, no stairs to climb with bags of gear, friendly people, comfortable beds or camping, everything is nice and clean + over-the-top extras... a pristine, tranquil natural environment, awesome day rides, a bar, and a fire in the evening for everyone to gather around and chat. We've been traveling on motos for 15 months, spent a week there and loved it!"
"Espectacular! Atendidas por el mismo dueño... un bello lugar para motociclistas en medio de la naturaleza. Recomendable 100%!"
"This place should be a Mecca for those on motorcycles. The go to place in Chile. Great accommodation (camping for those that want to), hot showers with lots of pressure, parking for motorcycles, BAR (draft beer on tap), laundry, great food if you want or you can use the kitchen and even a workshop so you can service your bike (even stocks oils). All this situated just outside Pucon amongst trees next to a salmon filled river with lots of great riding within easy reach. Everything from easy sealed roads, through to dirt and challenging trails. Chuck in a couple of volcanos, lots of lakes, rivers everywhere and you have some of the best riding in the world to enjoy. Something for everyone. Definitely the place you will want to stay. Highly, highly recommended."

"El lugar es espectacular, cómodo, limpio, hermosa ubicación, la atención y amistad de su dueño de primera... 100% recomendable, muchas gracias Cristian por todo. Volveré."

Be a Presenter
We're inviting submissions for presentations, so whether you're attending the event or exploring a distant continent, if you've got a story to tell or expertise to share we'd like to hear from you.
We love to hear stories about your travel adventures, especially if you have great pics! Also, practical how-to sessions such as roadside cooking, navigation / GPS, trip prep and planning, adventure motorcycling medicine, packing light, setting your bike up, communications / blogging from the road, self-publishing your story, yoga for bikers, bodging / bike maintenance, self-defense, photography, videography, tire repair, safe riding techniques, how to pick up your bike, off-road riding, all are of interest.
There are 40 minute and 90 minute sessions available for talks, workshops, demos and live web chats.
Click here to submit your ideas
PLEASE NOTE:
Submitting a Presenter registration DOES NOT mean you will automatically be included in the schedule, as we often have more presenters than available presentation slots. We will confirm one way or the other as soon as we can (but not immediately!)

Departing or Returning?
If you're planning an expedition, why not make the Horizons Unlimited meeting your official start point? Or maybe you're nearing the completion of a journey and would like a very public welcome home? Of course you might just be passing through and fancy marking a key stage of your travels?
We'd love to make you a big part of the meeting, so feel free to get in touch and tell us your plans.
Other Activities
You will definitely want to linger in the area! According to Lonely Planet, Chile is the best country to visit in 2018. Check it out!

Pucón has won many awards for its conditions to do a lot of extreme outdoor sports and other activities.
Rafting, kayaking, hike to the top of an active volcano (Villarrica), dive the waters of Lake Villarrica, fly fishing, hundreds of kilometers to hike and ride off road and much more.

Local Hosts
Cristian Maragaño is our local host for this 1st Horizons Unlimited Chile Travellers Meeting. Cristian and the team at MotoCamp Pucón will show you a great Chilean welcome!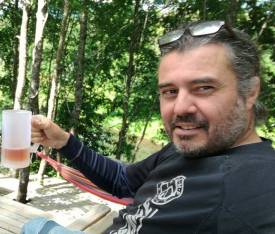 We can always use help on the day - please volunteer to help out for a couple of hours when you register!
HU Events Refund Policy
We know 'stuff happens', and you know we have financial commitments to venues and caterers!
If you're unable to attend an event, please let us know (by e-mail reply to your confirmation e-mail from us) so we don't worry that something has happened to you...
Up to 30 days prior to event start, we will refund all fees in full less a $10 (or €9 or £8) fee for handling and PayPal charges.
Up to 15 days prior to event start, we will refund camping/accommodation and food packages in full less a $10 (or €9 or £8) handling fee. We will apply your registration fee to any subsequent HU event in the year or following year. If you have purchased a t-shirt, let us know your mailing address and we'll send it out.
Within 15 days of the event start, there will be no refunds, but we will apply your registration fee to any subsequent HU event in the year or following year. If you have purchased a t-shirt, let us know your mailing address and we'll send it out.

Next HU Events
NEW!

Chile: Mar 8-11

NEW!

Sweden Mini: Jun 29-Jul 1

NEW!

Ecuador: Jul 20-22

NEW!

Italy: Sep 14-16
France: Sep 21-23
Indonesia: Oct 11-14
Germany Autumn: Nov 1-4
South Africa: Nov 8-11