HU Travellers Meeting CanWest 2016
HU Travellers Meeting Canwest 2016
Workshops and Educational Sessions
...because Horizons Unlimited meetings are about information, not just inspiration!
Exhibitors - Confirmed
If you know of any other motorcycle or travel equipment vendors or tour operators who should be there, please suggest it to them! Exhibitors please contact me for details.
Facilities for a Fantastic Four Days!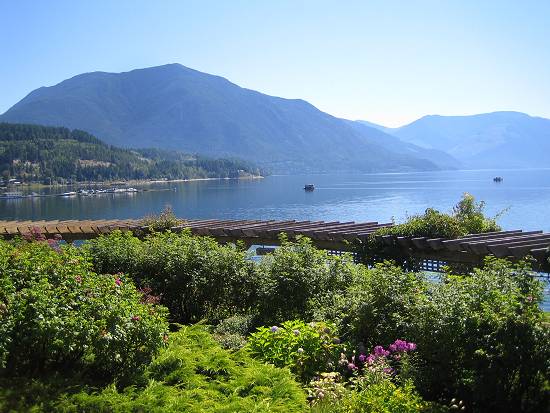 Camping
You will want to be at the official HU Campground so you don't have to go looking for people to talk to. Camping is NOT included in your registration fee! Tent camping is a very special price for us of $9 per tent per night, payable on check-in. (Regular price is $19-$27).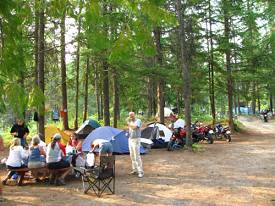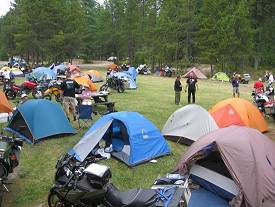 Powered sites are extremely limited, only for medical issues, CPAP machines, etc. Choose 'Powered Site' when registering, and indicate in the comments why you need it (you can charge your phone/tablet at the Charging Station at the Reg Desk).
The powered spaces have 50 amp sockets for motorhomes, so you WILL NEED an adapter. You may be able to buy one in town, but safest is to bring your own! If you check in early, BE SURE to clarify with the campground attendant that you are with us.
PLEASE NOTE: For 2016, 'Walk-ins', even if they show up early, will be assigned space in the Overflow Area near the Arena. If you want to be in the campground, you MUST pre-register and pay in advance.
Also note, there are NO RESERVED SPACES from Thursday Aug 25 through Saturday Aug 27. You will be sharing sites, so plan to make new friends!
Nakusp Municipal Campground Map
Nakusp Municipal Campground Policies
Dogs are welcome but must be tethered and or on a leash at all times.
Owners are responsible to pick up feces as per Village Bylaws.
Firewood is available for purchase from the campground manager.
Quiet time is 11PM to 7AM
R/V Generators may only be used from 7AM to 11PM
Fires are permitted in fire pits only and are subject to fire bans
Do not burn garbage in your fire pits, and please do not damage the trees.
Campground speed limit is 5km/hr
Children & Dogs
Horizons Unlimited is naturally keen to inspire the next generation of adventure travellers so you're welcome to bring your children along if you wish, but do bear in mind that the event is for adults (with adult themes and language) and we won't have any specific kids' activities. Children under 14 years old get in for free. Please note that the health and safety of your children is your responsibility and they must be supervised by you at all times. Children will not be allowed in any of the presentations from 8pm onwards each evening.
If you'd like to bring your dog along to the event we'll have a special area set aside for you to camp in. You'll need to ensure your pet remains on a lead at all times and doesn't damage or foul the site. Owners of noisy or aggressive dogs may be asked to leave.
Food
We recommend the Food - Deb Guest, the caterer is highly praised every year!
Dinners - 2016 Menus - To be confirmed:
Thursday - Mexican - Chicken enchiladas, black bean and corn salad, ensalada, chili and Mexican rice, chocolate mousse, coffee, tea or soft drink.
Friday - Chicken Parmigiana with noodles, veggie pasta, sauce, Caesar salad, buns and creme brulee, coffee, tea or soft drink.
Saturday - Roast beef, yorkshire pudding, potatoes, hot veggie, green salad, cheesecake, coffee, tea or soft drink.
Please PRE-BOOK dinners with your registration. There will be limited amounts available for late-comers. You MIGHT be able to get it on the day, but it's first come first served (and $4 more each), and they won't have much extra!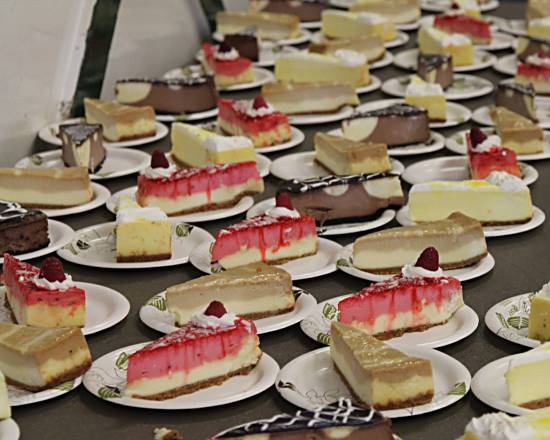 Breakfasts & Lunches
For 2016 you will have an option for convenient breakfast or lunch on site. You can, of course, cook for yourself, or go to cafes or restaurants in Nakusp.
Breakfasts
Deb Guest, our caterer, will offer breakfasts (pre-booked) as follows:
Friday - Egg and ham on English muffins with fruit salad and hash browns, banana bread, toast, cereal, yogurt, coffee, tea, juice.
Saturday - Breakfast burritos with fruit salad and hash browns, muffins, toast, cereal, yogurt, coffee, tea, juice.
Lunches
Deb Guest will offer lunches (pre-booked) as follows:
Friday - Brat and sauerkraut, potato salad and soft drink
Saturday - Chicken caesar wrap, pasta salad and soft drink
---
Next HU Events
HU Canwest 2015 Photos
- by Gerry Muza
What happens at HU events?
HUBBUK
HUMM is Everywhere!
HU South Africa
HU Supported Charity

For 2016, the HU Supported Charity is 'Do Good As You Go', Volunteer Programs for Independent Travelers Around the World, which is run by the Muskoka Foundation.
"Do Good as You Go is a network that connects individuals that are traveling and volunteering to quality small to mid-sized organizations making significant, positive impact on their local community.
The objective is to fulfill the needs of the organizations as well as leverage the unique skill set of the travelers.
By lowering the barriers to high quality, meaningful volunteer opportunities we look to encourage people traveling for all different reasons to Do Good as they Go.
By working closely with the directors of our partner organizations we work to develop relationships and programs that are sustainable and provide a deep local impact."
See below for a short slide show on how this works.
You can support Do Good as You Go by getting raffle tickets for our Saturday evening charity raffle.
Thanks for your support.

Join the Volunteer Crew
From welcoming travellers at the gate, to taking care of the campsite and making sure all the presentations run smoothly, the success of every HU event relies on the enthusiasm of its volunteer crew.
"What a wonderful bunch of people. I had no idea how much fun I'd have by helping out!"
"It was my absolute pleasure to be able to give something back to the HU community and working with such great folks really made the event special."
Volunteering is a great way to make new friends, get more involved with Horizons Unlimited and have loads of fun! You can sign up to volunteer when you register for the meeting, OR click here if you have already registered and want to add volunteering.
You can help!
If you have a few minutes, please download the poster (Adobe pdf format) and print off a few and hand them round your club or your local bike shop or anywhere seems like a good place.
Poster in pdf format (439kb) full colour Event poster.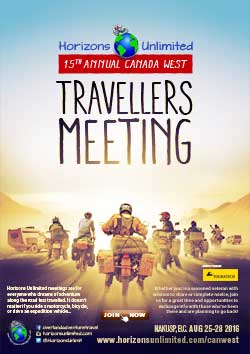 POSTCARD - NEW!
Postcard in pdf format (620kb) full colour Event postcard, can be printed 4 to a page:
You may need to right click and choose "save target as..."
Thanks!
Be a Presenter
We're inviting submissions for presentations, so whether you're attending the event or exploring a distant continent, if you've got a story to tell or expertise to share we'd like to hear from you.
We love to hear stories about your travel adventures, especially if you have great pics! Also, practical how-to sessions such as roadside cooking, navigation / GPS, trip prep and planning, adventure motorcycling medicine, packing light, setting your bike up, communications / blogging from the road, self-publishing your story, yoga for bikers, bodging / bike maintenance, self-defense, photography, videography, tire repair, safe riding techniques, how to pick up your bike, off-road riding, all are of interest.
There are 40 and 90 minute sessions available for talks, workshops, demos and live web chats, plus a new Pecha Kucha option (20 slides x 20 seconds each).
Click here to submit your ideas
PLEASE NOTE:
Submitting a Presenter registration DOES NOT mean you will automatically be included in the schedule, as we often have more presenters than available presentation slots. We will confirm one way or the other as soon as we can (but not immediately!).
In order to get FREE entry to the event, you are expected to either REPEAT your presentation OR do TWO or more DIFFERENT presentations.

Comments about HU Events
"I have picked up so much information... and met some new friends and wonderful people."
"A superb event that was really well organised. I found the atmosphere amongst the attendees to be very positive too."
"I have not done much travelling so it was like visiting with a world traveller - Presenters were very approachable."
"Great atmosphere and camaraderie, especially at dinner time, and interesting presentations."
"Folks were all great and the most amazing thing was there was NO ATTITUDE."
"I have learned so much, made some great mates and met some of the best people. I was buzzing by the time I got home. I have a little trip planned and just can't wait to get out there."
Departing or Returning?
If you're planning an expedition, why not make the Horizons Unlimited meeting your official start point? Or maybe you're nearing the completion of a journey and would like a very public welcome home? Of course you might just be passing through and fancy marking a key stage of your travels?
We'd love to make you a big part of the meeting, so feel free to get in touch and tell us your plans.
Book your Trade Stand space
Over the course of four days, this Horizons Unlimited event offers a unique opportunity to build awareness of your brand and talk directly to potential customers.
The Adventure Travel Zone occupies a central position at the event site and is exclusive to trade stands representing the overland adventure travel market.
Choose between our Premium and Standard packages, both of which include on-site advertising and Pecha Kucha presentations about your products and services.
Advertise at HU Canwest
Run a business that serves the overland adventure travel market? Want to spread the word at HU Canwest but can't take a Trade Stand? Send us a vinyl or roller banner and we'll display it in a prominent position.
Canada West Venue Location
Nakusp Arena and Campground
Nakusp, BC
N 50º 14.624 W 117º 48.421

View Larger Map
Venue is at Nakusp Arena, 200 8th Ave NW, Nakusp; and the municipal campground is around the corner at 4th Street at 10th Avenue, NW.
Nakusp is located 47 km. (29 miles) north of New Denver on Highway 6. Nakusp Airport is located 3km north of town.

Driving Distance / Time to Nakusp:
| From | Distance |
| --- | --- |
| Vancouver | 664 km |
| Seattle | 481 - 533 miles |
| Calgary | 511 km |
| Edmonton | 805 - 920 km |
| Missoula | 448 miles |
| Denver | 1341 miles |
| San Francisco | 1127 miles |
NOTE: If you're coming from the USA, some of the more remote, smaller border posts close at 5PM.
Where are we in Nakusp?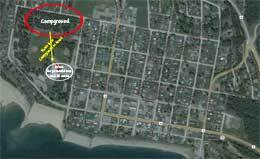 Other Accommodation
There are a few hotels within walking distance and a number of bed & breakfasts.
Riders Retreat (250) 265-8043. "Motorcyclists accomodations! We have a luxury all inclusive campground here in Nakusp, specifically designed for motorcyclists. We provide all the tents, beds, bedding, coolers, camp chairs and lanterns all set up up and ready to enjoy. We have coin showers that include all your towels, soap, shampoo and conditioner and a fully equipped outdoor kitchen. All your firewood, coffee and juice is included in your nightly rate." Rebecca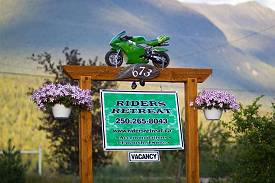 Selkirk Inn. "Quiet units, queen beds, some kitchenettes, all with fridges, some rooms with air conditioning, non smoking, touch tone phones, cable TV, complimentary coffee, continental breakfast." Toll free: 1-800-661-8007. Tel: 1-250-265-3666
Kuskanax & Tenderfoot Lodge. "34 fully appointed rooms have all the comforts of home including cable and phones. Centrally located, close to hot springs, golf course, public beach and marina." Toll free: 1-800-663-0100. Tel: 1-250-265-3618
Information about the area
Attractions include national parks all around, fantastic roads that are easily among the best in the world, beautiful lakes and more, so plan to spend a few days!
This whole area is full of amazing roads! See Destination Highways for a book on BC Roads - some of the best are right near Nakusp.
Hot Springs
Nakusp Hotsprings
and
Halcyon Hotsprings
are close by, and there are a number of free bush hotsprings too.
Tourism Information
Nakusp and District Visitor Info Centre
92 West 16th Avenue
P. O. Box 387,
Nakusp, BC V0G 1R0
Phone: (250) 265-4234
Toll Free: 1-800-909-8819
Any info you have on the area, rides etc, please let us know.
Local Hosts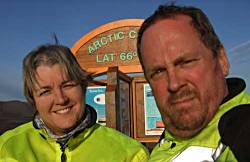 Kevan and Karen Ibbotson, Mark and Leslie Kuzminski are hosting this event, assisted by Mike Taylor and Allen Plantinga, since Ekke Kok and Audrey Allenspach-Kok are off travelling for the year!
Huge thanks to them for all their help! We can always use help on the day - please volunteer to help out for a couple of hours when you register!
HU Events Refund Policy
We know 'stuff happens', and you know we have financial commitments to venues and caterers!
If you're unable to attend an event, please let us know (by e-mail reply to your confirmation e-mail from us) so we don't worry that something has happened to you...
Up to 30 days prior to event start, we will refund all fees in full less a $10 (or €9 or £8) fee for handling and PayPal charges.
Up to 15 days prior to event start, we will refund camping/accommodation and food packages in full less a $10 (or €9 or £8) handling fee. We will apply your registration fee to any subsequent HU event in the year or following year. If you have purchased a t-shirt, let us know your mailing address and we'll send it out.
Within 15 days of the event start, there will be no refunds, but we will apply your registration fee to any subsequent HU event in the year or following year. If you have purchased a t-shirt, let us know your mailing address and we'll send it out.