HU Travellers Meeting California 2024
Workshops and Tech Sessions
Because Horizons Unlimited events are about informing, not just inspiring, we also have a great lineup of educational sessions for you...
Stay tuned for tech talks scheduled here!
Exhibitors and Sessions
TBC
If you know of any other motorcycle or travel equipment vendors or tour operators who should be there, please suggest it to them!
Exhibitors, more details and registration here. Please contact us if you have more questions.
Facilities for a Fantastic Four Days
Mariposa County Fairgrounds
5007 Fairgrounds Road,
Mariposa CA 95338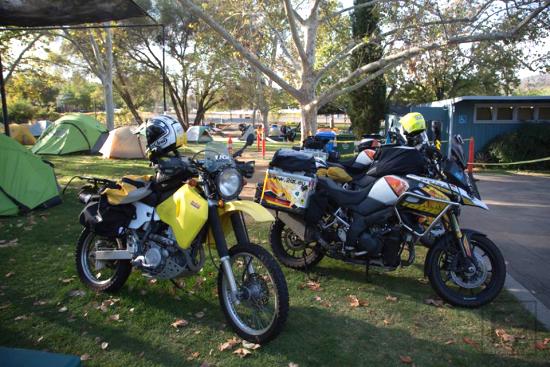 A wide range of bikes at HU California
Free Parking
Free WIFI
12 showers plus other bathrooms

Great Food
Hotel Accommodation <2 miles away
10amp Power Hook-Ups
Presentation Rooms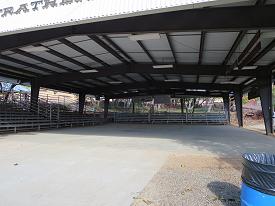 Campsite & parking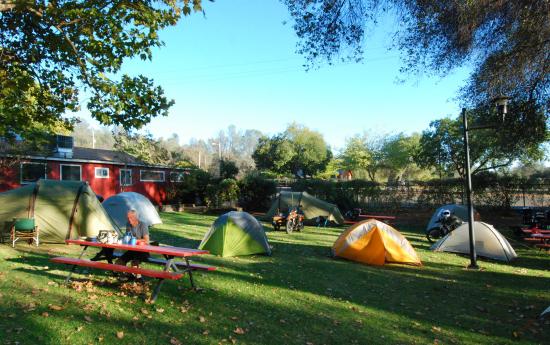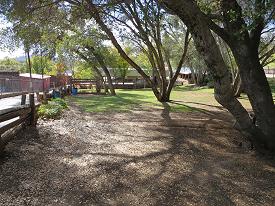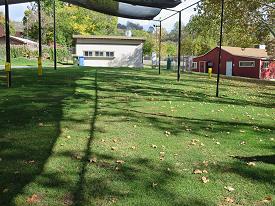 The extensive campsite area is on flat, well-drained, ground with a few 10amp power hook-ups and water outlets. There are a number of secluded areas nestled next to woodland as well as RV parking around the perimeter of the main camping area.
If you need to use the electric hook-ups there are some through the grounds.
Motorcycles will be allowed to park in the camping area. RVs will have a separate parking area. Cars, vans & trucks with trailers must be parked in the main parking lot. Please help to conserve the fields for future events by not skidding, wheel-spinning, etc. The organizers reserve the right to restrict vehicle movement and parking subject to weather and ground conditions.
Note: Camping prior to Thursday is $20/night and payable in cash to the fairgrounds.
No Fires
There's a strict 'no fires' policy across the whole site, but camping stoves and BBQs are allowed. There will be no individual camp fires allowed. There may be a group camp fire.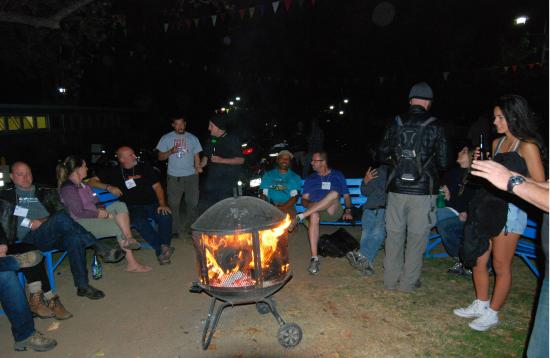 Noise
Our contract with the venue has a midnight noise curfew. This applies to music and also if you're staying offsite, please leave quietly after midnight and be considerate of the older folks who are trying to sleep. ;-)
Showers & Toilets
There are 12 showers in 2 separate buildings by the camping area as well as the many toilets. The toilets and showers, and all the areas within the grounds have wheelchair access.
Children & Dogs
Horizons Unlimited is naturally keen to inspire the next generation of adventure travelers so you're welcome to bring your children along if you wish, but do bear in mind that the event is for adults (with adult themes and language) and we won't have any specific kids' activities. Children under 14 years old get in for free. Please note that the health and safety of your children is your responsibility and they must be supervised by you at all times. Children will not be allowed in any of the presentations from 8pm onwards each evening.
You'll need to ensure your pet remains on a lead at all times and doesn't damage or foul the site. Owners of noisy or aggressive dogs may be asked to leave.
Relaxing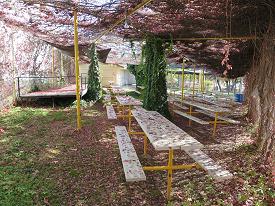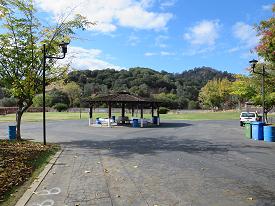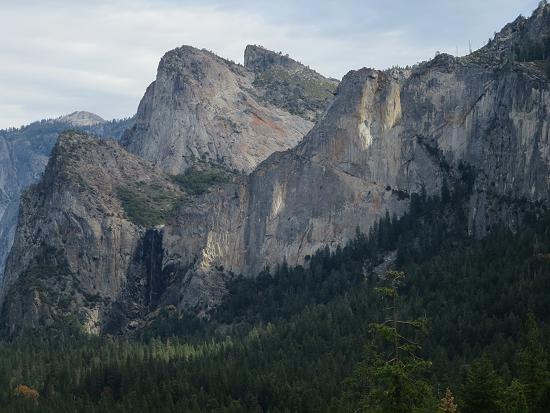 Food, glorious food!
For 2024, we're pleased to announce that Caroline Briese of BB's Catering will be returning! Typical comments from past events:
"Great caterer!"
"The catered food was very good and the staff was awesome!"
For 2024 you will also have the option to prebook breakfasts and/or lunches on site. We recommend you pre-book the meals with your registration. There will be limited amounts available for purchase at the event. You can, of course, cook for yourself, or go to cafes or restaurants in Mariposa.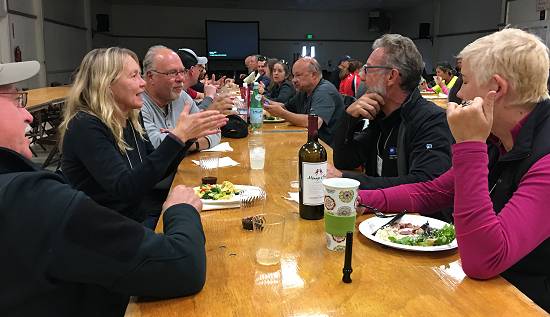 Pre-book pricing - breakfasts 19.50, lunches 22, dinners 33.50 (including yummy dessert!)
ALL TAXES AND TIPS are included! And that's our COST price.
You won't go away hungry, and can always go back for more - try that in a restaurant!
Confirmed Menu
Thursday
Thursday dinner - Mexico
Chicken enchilada with green sauce & flour tortilla. Ground beef enchilada with red sauce & corn tortilla. Spanish rice, refried beans and green salad
Dessert - variety of delicious baked cookies and ice cream
Iced Tea/Lemonade/Water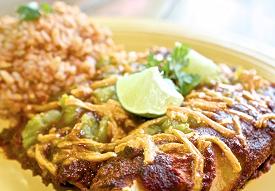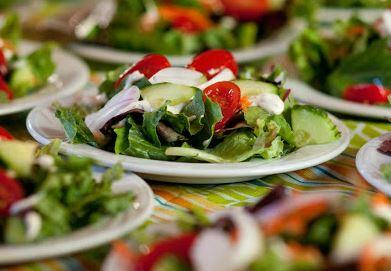 Friday
Friday breakfast
Biscuits and sausage gravy, scrambled eggs and fresh fruit salad
Juice/Coffee/Tea/Water
Friday lunch - Germany
Brat and Sauerkraut, potato salad, green salad, chips. Iced Tea/Lemonade/Water
Friday dinner - Italian
Pork Tenderloin with a dry rub topped with a whiskey praline sauce. Grilled Chicken with alfredo on the side as sauce- toasted rice pilaf, sautéed vegetables & herb focaccia bread with cubed butter. Dinner salad. 
Dessert - Crème Brulee of course!
Iced Tea/Lemonade/Water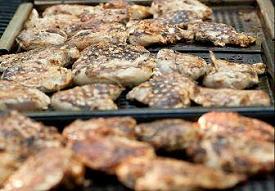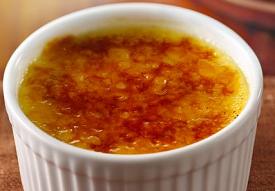 Saturday
Saturday breakfast
Croissant Egg Sandwich - 2 fried eggs, 2 slices of ham, one slice cheddar cheese, served with fresh fruit salad & breakfast potatoes

Juice/Coffee/Tea/Water.
Saturday lunch - Burger Bar
Oil topped bun, grilled hamburger- toppings- pesto mayo, regular mayo, cheese, lettuce, tomato, pickle, grilled onion, fresh onion, condiments- served with chips & garden salad
Iced Tea/Lemonade/Water.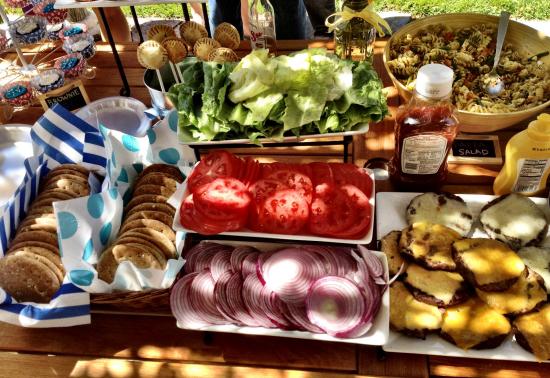 Saturday dinner - USA
St. Louis Style Ribs & California Grilled Chicken (topped with garlic cream sauce, tomato, bacon, green onion, jack cheese & avocado) – accompanied with garlic mashed potatoes & sautéed green beans with toasted garlic almonds - Dinner Salad & garlic bread
Dessert - Peach & Blueberry Cobbler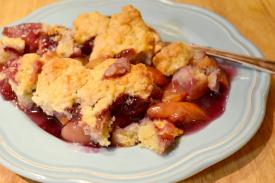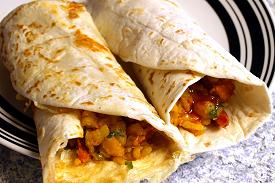 Vegetarian and special diets
There will be a vegetarian option offered at each meal - we will need numbers for these, so please indicate when you register if you wish a vegetarian meal.
Special diets may be accommodated with advanced notice within reason - be sure to PRE-REGISTER to be SURE, or at the latest when you register on the day. Also TELL the SERVERS you've asked for a special meal, and give them your name, and they'll get it for you.
Alcohol
You are welcome to bring your own alcohol to the event, but we reserve the right to expel without reimbursement any attendee who becomes intoxicated and/or causes a disturbance.

---