HU Travellers Mini-Meeting Bolivia 2018
Horizons Unlimited 2nd Bolivia Travellers Mini-Meeting
Friday Mar 16 - Sunday Mar 18, 2018
Samaipata, Santa Cruz, Bolivia
It's All About Overland Adventure
Whether you're a seasoned veteran with wisdom to share or a complete novice hungry for ideas and guidance, it doesn't matter if you ride a motorcycle, a bicycle, or drive an expedition vehicle...
Horizons Unlimited meetings are for everyone who dreams of adventure along the road less travelled.
Event Schedule and Costs
The event is taking place from Friday Mar 16 to Sunday Mar 18, 2018. Schedule subject to change depending on number of travellers!
Event price 70 Bolivianos including presentations and camping! Presenters get free entry and camping!
Please e-mail mika...@web.de to let them know you're coming and to ensure there is enough food, but please pay when you arrive!
We are a small motorcycle club in the Bolivian mountain village of Samaipata - Samaipata Motoclub. And as one of our aims for the club is to help and connect travellers, we are organising this event here in Samaipata for the veteran traveller or for the novice looking for information and guidance. Please come on your motorcycle, bicycle or in your expedition vehicle ... but of course we don't mind if you arrive by taxi!

Friday 16 March 2018
After 2pm:
Reception of bikers and travelers at the local bar La Boheme, plaza central Samaipata. Welcome drink. We will show you the cabaña with camping area. Or the hotel/hostal that you wish to stay for the event.
Food - BBQ with salads at the cabaña.
Costs - about 30 - 40 Bs/person for food, drinks extra.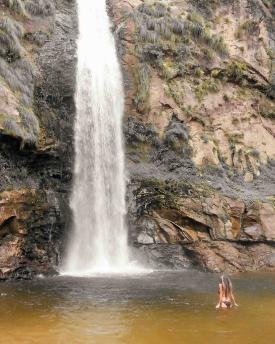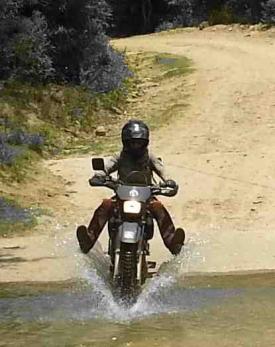 Saturday 17 March 2018

around 8am to 9am:
Full breakfast buffet at the cabaña. Costs - about 25 Bs/person
around 9am to 10am:
Meeting at the cabaña for the ride to the waterfall La Pajcha with a stop in the picturesque Bolivian village of San Juan del Rosario. About 2 hours each way on gravel roads, 40km each way, so in total 4 hours slow riding and 80km.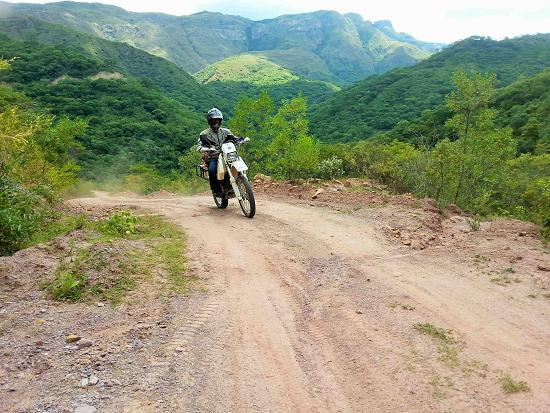 after 3pm:
Return from La Pajcha. Lunch in a restaurant in the village of Samaipata.
after 5pm:
Presentations and a little party after this at the cabaña. Price for presentation is included in the meetings costs. We want to have four presentations, each for about 45 minutes. Please tell us if you want to hold a presentation about your journey or about stuff that you learned traveling.
Around 7pm:
Dinner at the cabaña. About 45 Bs.
Localy brewed beer and Bolivian wine. About 20 Bs a big bottle or 15 Bs a glass of wine.
Sunday 18 March 2018

Schedule depends on number of travelers. Maybe Bike workshops or a visit to Pre Inca ruins El Fuerte (50 Bs ticket fee).
Around noon. End of the meeting.
Share your experiences, explore possibilities, get inspired and motivated!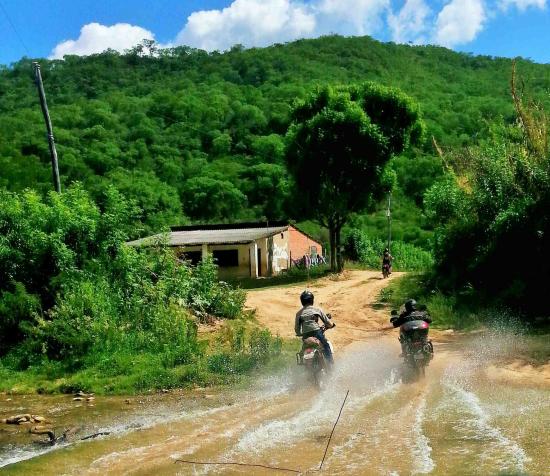 Rideouts by the Samaipata Motoclub, pic by Bryan Fewkes
Please e-mail mika...@web.de to let them know you're coming and to ensure there is enough food, but please pay when you arrive!
---
Comments about HU Events
"So many trips, tips, subjects, discussions, questions, answers, experiences, insights... I could go on and on. I will be back, and back, and back."
"It was like being with family... a friendly group with shared love of adventure."
"Everyone was humble, genuine, and encouraging, and I really needed that kind of 'we're all just people' kind of atmosphere."
"You'll see and hear the most useful ideas on so many subjects that it boggles the mind."
"Thank you all for such a superb extended weekend. So good to see everyone, to hear so many stories, to learn so much, and just to feel so at home with my tribe. Thanks to you, my batteries are fully recharged and rarin' to go!"
"Brilliant, entertaining and informative presentations."
"Yoga class was not something we had ever considered but really helpful."
"Full of very inspiring people who got me fired up again and motivated for my next trip!"
"What a fantastic inspirational weekend...we will be back."
"I have picked up so much information... and met some new friends and wonderful people."
"A superb event that was really well organised. I found the atmosphere amongst the attendees to be very positive too."
"I have not done much travelling so it was like visiting with a world traveller - Presenters were very approachable."
"...a new league of awesomeness."
"Great atmosphere and camaraderie, especially at dinner time, and interesting presentations."
"Folks were all great and the most amazing thing was there was NO ATTITUDE."
"I have learned so much, made some great mates and met some of the best people. I was buzzing by the time I got home. I have a little trip planned and just can't wait to get out there."
You can help!
If you have a few minutes, please download the poster (Adobe pdf format) and print off a few and hand them round your club or your local bike shop or anywhere seems like a good place.
Poster in pdf format (451 kb) full colour 8.5 x 11 Event poster: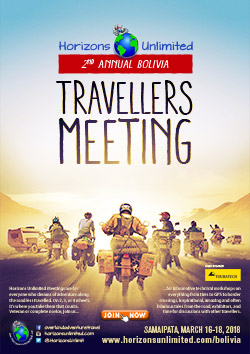 POSTCARD - NEW!
Postcard in pdf format (689kb) full colour Event postcard, can be printed 4 to a page: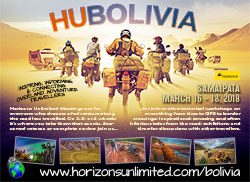 You may need to right click and choose "save target as..."
Thanks!
Local Hosts
Gustavo, Luigi, Serdar and Mika Kuhn are the Samaipata Motoclub Bolivia.
"We are a newly (06/2016) established motorcycle club here in the Bolivian mountains village of Samaipata and we want to welcome travelers, help them out and organize motorcycle travelers meetings.
We are four bikers, two of us veteran motorcycle travelers and two future motorcycle travelers. We speak 7 languages and our main point of reference in Samaipata is the local bar La Boheme at the plaza. On Facebook, we are: Samaipata Motoclub. Please contact us, if you want to meet or you are in need of anything."
Please e-mail mika...@web.de to let them know you're coming and to ensure there is enough food!
Big thanks to Mika and team for stepping up and making this event happen! We can always use help on the day - please volunteer to help out for a couple of hours when you get there!
Next HU Events
New to Horizons Unlimited?
Horizons Unlimited was founded in 1997 by Grant and Susan Johnson following their journey around the world on a BMW R80 G/S motorcycle. The website, HUBB forum and regular events across the globe have inspired thousands of people to follow their dreams and take the road less travelled.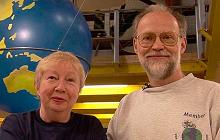 Read more about Grant & Susan's story