Top Tips for Your First Trip to New York
Top Tips for Your First Trip to New York
Have you ever wanted to go to New York? Have you always wondered what it would be like but haven't had the chance yet? Well, now's your chance. Whether it's your first time in New York or not, there are a few things that every tourist should do while they're here. If this is your first time visiting and you want some travel tips before getting started with planning all of the details for your trip, we've got just the thing for you: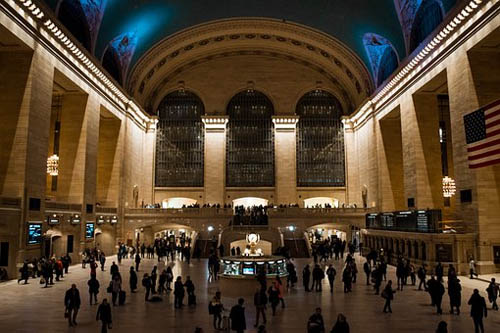 Hire a Tour Guide
If you're not the type of person who likes to plan every little detail of their trip, or if you want to make sure that you see as much of the city as possible during your stay, then hiring a tour guide might be a good option for you. With New York touring guide, you can explore the city with a knowledgeable guide who knows all of the best attractions and will keep your group together during your visit. This option is excellent for people who want an opportunity to learn about New York history but don't have time or energy to plan out what they'll see when they get here. They can also help arrange tickets for attractions and shows.
Research before hiring a tour guide to ensure you'll get the most out of their services and won't end up spending too much money on what they have to offer. The tour guide is also licensed by the New York State Department of Tourism or another official tourism board since there might be others who are not trained correctly in giving tours.
Plan Your Trip
One of the most important things you can do before going on your first trip to New York is to plan your trip. Figure out what attractions you want to see, where you want to stay, and what kinds of activities you're interested in. There's so much to do and see in this city that it would be impossible to fit it all into a single visit, so you'll want to prioritize what's most important to you.
Once you've got an idea of what attractions and activities you want to see while in the city, start putting together a plan for how your trip will go. During this planning stage, you'll also want to think about what kind of accommodation you'd like to stay in and how much money you're willing to spend.
Explore the Streets at Night
New York City is a beautiful place to see during the day, but it's even better at night. If you want to get the whole experience of what New York has to offer, then plan an evening out on the town so that you can spend some time exploring all of its hidden treasures and unique attractions after dark. One great option for enjoying yourself in New York after sundown is taking advantage of one of many different cruises available throughout the city. These cruises are often less expensive than other tour options or regular sightseeing tours because they're not as guided or planned out. The cruise staff will usually point out famous landmarks along your route while providing information about them if someone asks questions. This makes their services perfect for people who want to better look at the city from the water but don't have time or money for an organized tour.
Book Reservation in Advance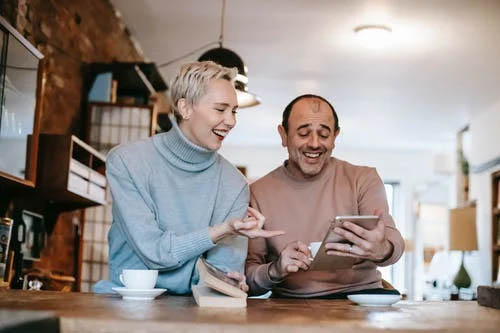 If you want to enjoy the best restaurants in New York, booking your reservation ahead of time will be necessary. If you show up without calling or checking online first, then there's a good chance that they'll have no tables open and will turn you away. This is particularly true for fine dining experiences since you can't always guarantee table availability. For example, it might take more than an hour from when you make your initial request until someone gets back to you with a confirmation or rejection notice. If possible, try making your reservation at least several weeks before whenever you plan to go out to eat.
However, this doesn't mean taking all reservations months in advance because some eateries are better about accommodating guests at the last minute. Research ahead of time so that you have an idea of which restaurants are more likely to be able to take you in and which ones require a little bit more notice.
New York City can be a fantastic place to visit, but it's essential to be aware of the different scams and theft tactics used to protect yourself. By being vigilant and knowing what to look out for, you'll have a much more enjoyable experience during your time in the city. Additionally, make sure to book your reservations ahead of time so that you can enjoy some of the best restaurants that New York has to offer. Have a great trip!
---
Member login
Are you an Overland Adventure Traveller?
Does the smell of spices wafting through the air make you think of Zanzibar, a cacophony of honking horns is Cairo, or a swirl of brilliantly patterned clothing Guatemala? Then this is the site for you!
Hosted by Grant and Susan Johnson, RTW 1987-1998
Next HU Events
HU Event and other updates on the HUBB Forum "Traveller's Advisories" thread.
ALL Dates subject to change.
2023:
2024:
California: April 18-21
Virginia: April 25-28
Germany Summer: May
Switzerland: August
Romania: August
Ecuador: September
France: September
Austria: September 12-15
South Africa
Queensland: Oct 4-7
Germany Autumn: Nov.
Add yourself to the Updates List for each event!
Questions about an event? Ask here
ALL 15 chapters of the HU Achievable Dream Guide are available to download on Vimeo!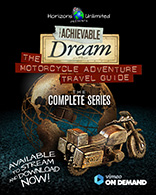 Binge watch over 18 hours of inspiring, informative and entertaining stories and tips from 150 travellers!
"a cross between entertaining stories, tech tips, and reference guide"
"A timeless introduction to Motorcycle Adventure Travel!"
Originally launched as a 7 DVD set, The Achievable Dream series can now be downloaded anywhere. OVER 18 hours of solid info take up zero space in your panniers. How convenient!
Books

All the best travel books and videos listed and often reviewed on HU's famous Books page. Check it out and get great travel books from all over the world.
NOTE: As an Amazon Affiliate we earn from qualifying purchases - thanks for your help supporting HU when you start from an HU Amazon link!