Staffanstorp, Sweden, HU Community
Welcome to the Staffanstorp, Sweden HU Community!
Hi,
I started this Community I think I have a lot to help with if you come up to the north part of Europe, both with tips on destinations and also to offer a place to set up you tent, or a floor to sleep on and all outer tings a traveling biker need. I start this Community by myself but I hope some of my biker friends will help out later on. And also answer question about things in my nearby area both when you on the trip and before when you are planning it. So if I'm home, then I will do what I can to be able to help if it's for a cup of coffee help with sleeping location or borrowing of the washing machine I will do my best to help.
Then I'm not always at home, but e-mail before then it is not impossible that you can borrow a plot for a tent anyway.
I think that for many travelers Skåne (the southern part of Sweden ) is starting place to continue exploring Sweden but also our neighboring countries Norway and Finland. Staffanstorp is about 10 km from Malmö where the bridge from Denmark arrive. There are also cities like Trelleborg and Ystad were boats from German and Poland entering these towns that is about 30 miles from Staffanstorp.
I am very interested to meet new people from all different parts of world all ​​with different story to tell, hope I see and hear from YOU.
Best regards
Kenneth
......................................
Some things I can offer on site at the friendly bike community in Staffanstorp
Safe place to put your bike
Safe place to fix your bike
A place to wash your bike
Opportunity to wash your clothes, take a shower
Opportunity for free internet :)
We have space for a tent, or even an opportunity to sleep inside, but unfortunately no beds.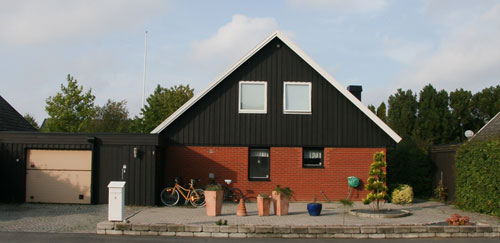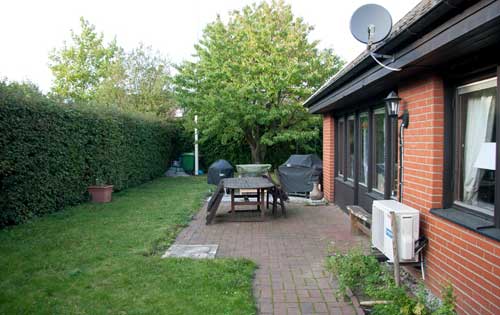 You can cook and even, if you want to, barbeque!
In the village of Staffanstorp there are about 15,000 people and it has everything to buy food and gasoline and other things. But there is no bike shop or bikeworkshop.
About 15 km from Staffanstorp is Malmö, which is Sweden's third largest city. There you will find, among other things motorcycle shops and motorcycle workshop available.
So do not hesitate to contact us if you are planning a trip in Scandinavia.
I can help you with information for your planning and also give you the opportunity to visit and spend a night here if you like.
But send me an email via th eContact Community list before you come so we can exchange phone numbers and I can meet up at the gps coordinates, or if I'm not home so can send you the correct gps to my house which is near the gps available on website but not exactly, for security reasons.
Sincerely, Kenneth
Staffanstorp HU Community
---
Member login
Are you an Overland Adventure Traveller?
Does the smell of spices wafting through the air make you think of Zanzibar, a cacophony of honking horns is Cairo, or a swirl of brilliantly patterned clothing Guatemala? Then this is the site for you!
Hosted by Grant and Susan Johnson, RTW 1987-1998
Next HU Events
NEW!

Chile: Mar 8-11

NEW!

Sweden Mini: Jun 29-Jul 1

NEW!

Ecuador: Jul 13-15

NEW!

Italy: Sep 14-16
France: Sep 21-23
Indonesia: Oct 11-14
Germany Autumn: Nov 1-4
South Africa: Nov 8-11
Don't miss out on the HU 2018 Motorcycle Adventure Travel Calendar! Fantastic holiday gift for your favorite adventurer!
HUGE, 11.5 x 16.5 inches! Photos are the winning images from over 650 entries in the 12th Annual HU Photo Contest!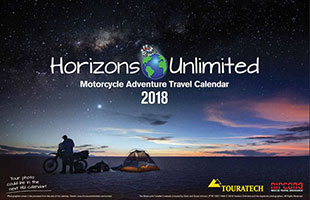 "So many awesome shots..." "Fantastic pictures. I'm very sorry that there is only 12 months in a year!"
HOLIDAY SPECIAL: Buy 4 Calendars and get free shipping anywhere in the world! Use Coupon Code 4CAL at Checkout.
We share the profit with the winning photographers. YOU could be in the HU Calendar too - enter here!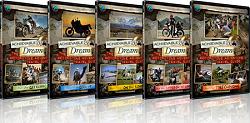 Ho, ho, ho!
Santa came early this year, so we're taking
20% off
all DVDs in the
HU Store
! Get the complete
Achievable Dream Collectors Box Set
for only
$79
(regularly $99)! Remember to use
Coupon Code 'EZSPEC'
on your order. Coupon expires
Jan 31
!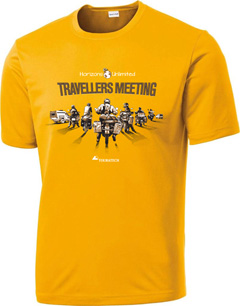 Didn't get to an HU meeting this year? Or are you looking for a great holiday gift for your favorite adventure traveller?
We have a few in stock, in a variety of colors and sizes, including Ladies sizes and shapes!
Back slogan: 'Make your own adventures, take the road to everywhere!'
Get them while they last at the HU Store