Welcome to the 96th Edition of the motorcycle travellers' e-zine! Update - we're back in Vancouver and recovering from HUBB UK! We got great weather and a record crowd, and had a fantastic time - our thanks to all who came, and most especially to Sam and Iain for making it happen! See a few more pics below.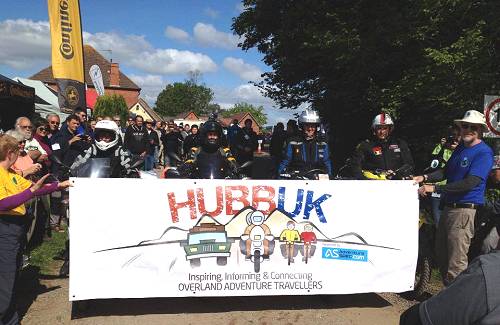 Still adding meetings to the schedule, we're now up to 18+ this year! We've just added a Perth meeting to our Australia roster, so we'll have three in Oz this year: Dayboro in Queensland Sep 26-29; Cavendish in Victoria from Oct 11-13; and just north of Perth from Oct 18-20! We've applied to renew our Australian passports, and if the powers that be let us come back, we'll be at all of them. Hope to meet you there!
Although our focus is on meetings for the next five months, we also are aiming to implement some wiki functionality by the end of June. We have two main wikis in mind initially, and there is a linkage between them. We've been working on a 'Destination' wiki, aka the 'overland bucket list'. We envision travellers (places you've been that you'd like to share) and HU Community members (someplace near home that you think other travellers should visit) creating these. We will be seeding the list to get the process started, as our dear friend Dee Masters has been working on this in her spare time and has done over 100 already!
Of course, Destinations are located in Countries, and the 'Country' wiki will contain lots of useful information for overland travellers, such as bike-friendly campgrounds and helpful people. We already have quite a bit of information for a few countries, such as Turkey and Norway, so they have served as templates. Importantly, the structure will be in chunks, so anyone who knows a bit about someplace can just add the bit they know rather than having to tackle a whole country!
As I mentioned last issue, we are looking for help to expand HU:
by running additional travellers meetings in various geographies;
by running other types of events with more of a rider training or competitive flavour (HUMM?);
by producing new DVDs, translating current DVDs into other languages and excerpting for other media, such as iTunes;
by adding products (various distribution possibilities) to the HU Store and to our stores on Amazon; and many more!
We can't commit to paying a salary, but we're happy to share profits on an equitable basis, or pay commission on revenues, whatever makes sense. Get in touch and help us grow!
Where are our intrepid travellers this month?
We've got great stories from Bolivia, Peru, Brazil, Thailand, Iran, Italy, Colombia, Panama, Turkey, Belgium, Morocco, Guatemala, New Zealand, Germany, Argentina and even Vancouver!
...And those are just the ones we tracked down! What about you? Get out there on the road and make your own adventure, and don't forget to write! Seriously, there are so many travellers out there now that it's hard for me to keep up with them all. If you send me a couple of paragraphs and pics every month you'll have a much better chance of making it into the e-zine! We try to link to your blog/website if you have one. If you don't have a blog, we can help, and it won't cost you anything.
This newsletter is provided as a complimentary service for travellers everywhere, both on the road and (temporarily ;-) off. Your support is greatly appreciated.
your editors, Grant and Susan Johnson, (about us, contact us)