April 19, 2013 GMT
Bolivia - Tupiza, Uyuni & Sucre
Well what will today bring, another new country - into Bolivia!
We get away by 10.00am after manoeuvring the bike out of the building very carefully, as you can see.

We get the bike out of Hostal Copacabana

Arriving at Argentinian immigration and customs is a breeze and we are processed pretty quickly, then it is on to the Bolivian side, immigration is quick, but there is always a catch, Customs. Where is our segura (insurance), well we don't have any, our inquiries of other travelers indicated we didn't need it for Bolivia. Where can we buy it? From La Quaica, NO. From Villazon, NO. On the Internet. NO. So we need it but we can't get it? So what do you want us to do?
He motions for Skill to step inside the office and quickly intimates if he slips Sesenta US, $60.00US inside the passport, then "No problemo". Skill declines and the amount drops to $50.00US, then to $40.00 US in quick succession. Skill comes out to the bike to talk to me as I am trying to get the camera out to take this joker's photo and tells me that apparently $40.00 US will make the problem go away. "Bull****", I say and walk into the office and smilingly say, "No, no, no, you are naughty, this money is for you" and point at him. Still smiling and laughing, meanwhile secretly wanting to hit the slimy little git.
Then all of a sudden he waves Skill to the front desk and the bike is stamped in, the problem has gone. Apparently whatever I did seemed to do the trick, wish I knew what it was. Then after a bit of a broken conversation we ask if he has children, "Si" and we plonk a couple of koalas on his desk. After that everything is fine and as we are repacking the bike, he comes out and jokes with us to "Hurry up". Nothing like being bribed with a smile.

Chinese made Aussie Koala 1 - Slimy little Bolivian Customs Guy 0

After this we are extremely wary and get on the bike and ride, not even bothering to get out money in Villazon. At the first checkpoint (a piece of rope across the road) the rope is down, as a mini bus is stopped so we just ride around the bus and wave, no one stops us so we continue on. At the second checkpoint about 40 km further on the rope is down again and we just ignore the guys who are in their hut. (Apparently these guys gave Paul – English guy we met in Salta - a hard time) We arrive in Tupiza after negotiating our way through a landslide on the highway. We find the Hostel Valle Hermosa (recommended by the Copacabana Hostel) easily, but as usual we are on the top floor and have to lug everything up the stairs, it is only 12.30 and we are stuffed, must be the altitude??????
Tupiza's claim to fame is it's dramatic desert landscape and in the early 20th Century Tupiza was home to one of Bolivia's biggest mining barons, Carlos Aramayo. His mines and their payrolls were rich enough to attract the interest of Butch Cassidy and the Sundance Kid, who apparently died in a shoot out in the town of Saint Vincente, 100 km Northwest of Tupiza.
We wander out into the streets, and find a money machine as we have no Bolivianos, thankfully no trace of Butch Cassidy and the Sundance kid, then find a local cafe and have the "menu del dia" which was pretty yummy. So far we are really liking Tupiza, the people at the hostel are friendly and the town is easy to negotiate. That night we have dinner at the most bizarre restaurant "Alamo" which is like an American movie themed restaurant but the food was sensational.

Lan and Skill at Alamo restaurant Tupiza.

We enjoy this little town and spend another day before deciding we will do the Uyuni Salt Flats tour from here, the bike is safely locked away in the garage, Valle Hermosa tours seem to have a good reputation and the tour is a day longer tour than out of Uyuni. The other plus is they will bring us back to Tupiza for nothing. That night we sort our gear out, buy a cheap bag to put on top of the roof rack, and meet our fellow travellers, there will be two "jeeps" actually a landcruiser and a patrol, we will be travelling with two young French guys, Cedric and Maxamilien and in the other vehicle are a French couple, Priscill and Mattheiu, a young German girl Katia and an Israeli guy, whose name we never got, sorry.

We leave at 8.00 am the next day and luck in with our driver, Vincente, and cook/guide, Celia. They are both really nice, Vincente doesn't speak any English but luckily appears to be a fairly careful, competent driver. Celia does a great job with the food given the lack of facilities, and speaks a little English. We are so lucky as our French travelling companions, speak three languages so kindly translate for us the whole time. How lucky are we?
The first day is a really long one, over 11 hours. However the scenery is stunning, the company good and the food delicious.

Is this a bit like Inshalla (I hope Vincente isn't trusting in God too much)

Another Moon Valley

Cactus

Lunch Stop Lan with the Llamas, what a magic place

Lunch stop with the Llamas

An Adobe Village along the way

An Adobe Village along the way

Mountain Scenery

Ghost Town at an altitude of 4690 metres, the vehicles are refuelling

Lan and Skill enjoying the mountain scenery

Altiplano Viscacha

Scenic view of Lake Morejon at 4855m View to volcano Uturunco 6008m
We arrive at our very basic accommodation after dark, a concrete compound with a series of 4 share dorm rooms, no shower, but working toilets. Poor old Max is not feeling great and disappears to bed while Skill, Cedric and I have dinner before retiring to bed at about 10.30, it has been a long day and it is very cold, we are at nearly 4300metres. I am wearing my thermals, socks, am wrapped up in my silk liner, my down sleeping bag and am under three blankets, I am quite warm.
Next morning we don't rise till 7.30 am have a leisurely breakfast before packing up and continuing on. Max is feeling much better and we all enjoy the drive to the next Lake, even if it is a bit smelly, the flamingoes are gorgeous.

More Flamingo photos

Onward and upwards to Laguna Kollpa where there are huge flocks of flamingoes, it really is a sight to behold.

Huge flocks of flamingoes on Lake Kollpa

Huge flocks of flamingoes on Lake Kollpa

Cedric, Max and Lan
We then venture out to the Dali Desert

Lan in the Dali Desert

Hanging around in the Dali Desert
before we have a lovely swim in the thermal pools before lunch. As usual lunch is a feast which we really enjoy.

John & Lan bathing at 4350metres. Lovely warm water
Unfortunately after lunch Bolivian belly suddenly hits Skill and we have to dose him up on medication to make the rest of the journey (thanks Katia). We then visit some of the world's highest geysers at an altitude of 5200 metres,

The Geysers

The Geysers
then it is a leisurely drive to our next accommodation, before we venture out to the Red Lake.

The Red Lake (Known as Laguna Colorada)

The Red Lake (Known as Laguna Colorada)

The Red Lake (Known as Laguna Colorada)
Because it is an early day, Skill hits the sack for a while, while I have a few vodkas and watch the kids play "Cheater".

A very competetive game of cheater with Matthieu, Priscill, Cedric, Max, Katia, and our other travelling companion

Skill manages to make it to dinner and the eight of us have a few wines and continue to chat and enjoy each other's company. At 8.30pm a very toey middle aged American man from another Tour comes and asks us to be quiet, we are making too much noise, there are people trying to sleep. What? It is 8.30pm, we try really hard to be quiet, but at this point it is a lost cause as we all have the giggles at our own audacity to be making noise at this time of night so we eventually give up and go to bed. It is absolutely freezing, once again I have everything on and am inside my silk liner and sleeping bag, under three blankets, I also have on my beanie and gloves. I cannot move.
We are up and at em for a pancake breakfast before packing up and moving on. Today we travel lots of amazing 4WD tracks, first visiting the Tree stone in the Sili Desert,

Tree Stone in the Sili Desert

The absolutely amazing Sili Desert

The starkly beautiful Sili Desert
before venturing on to countless Lakes with countless flamingoes.

Lake Hedionda (??>)

A flamingo on Lake Hedionda

Eco?? Hotel at Lake Hedionda

Lake Hedionda Landscapes

Lake Hedionda Landscapes

We then cross various salt flats before arriving at the small village of San Juan.

Local Lady - San Juan

It is then onto a Salt Hotel on the edge of the Uyuni Salt Flat itself. Skill and I actually get a room to ourselves and even manage a hot shower, even though we have to queue for over an hour. The hotel is amazing, nearly everything is made from salt including all the furniture. Once again we share a meal with our fellow travellers before lights out at 10.30 pm (the generator is turned off), this time we didn't get in trouble for making too much noise, and surprisingly the hotel was toasty warm, I didn't even use my sleeping bag.

The very comfortable Salt Hotel

Dining Room of the Salt Hotel

The following day, a very early start, 5.30 am we are driving across the Salar, at first we are high and dry following some sort of road, then we hit the water and probably drive for 10km through the salty water before stopping to take in the sunrise. It is absolutely freezing!!!

Skill watching the sun rise over the very beautiful Salar de Uyuni.

Sunrise over Salar de Uyuni

Lan enjoying the sunrise

The very beautiful Salar de Uyuni at Sunrise. Not a bad way to celebrate a wedding anniversary

We continue on to Incahuasi Island for a brisk hike before breakfast.

View over the Salar from Incahuasi Island

View over the Salar from Incahuasi Island

View over the Salar from Incahuasi Island

It is then a glorious drive across the Salar before we stop for those ridiculously childish photos

It's Easter Sunday so chocolate is in order

A BIG block of Toblerone

Childish photos

Childish photos

The jump - Katia, Mattheiu, Priscill, Lan, Max and Cedric

Our travel team Lan, Skill, Katia, Priscill, Mattheiu, Cedric and Max

Our travel team with driver Vicente, and cook Celia.
and continue on to the now closed down salt hotel, trading as a dodgy museum.

Salt Hotel Museum

Lan and Katia at the Salt hotel museum

We arrive at the village of Colchani, a highly touristed village selling all manner of textiles and trinkets. Colchani residents are also involved in the harvesting of salt. All done by hand. Surprisingly the salt is only for the Bolivian market, I don't think they will run out any time soon.

Harvesting the Salt

Harvesting the Salt.

A Colchani lady sells her wares
We arrive in the dusty outpost of Uyuni where everyone else disembarks, quick goodbyes and we return to Tupiza with Vincente and Celia. It is a five hour journey back through amazing countryside, it has been a long day for us but an even longer one for Vicente and Celia. We really enjoyed their company and insight into this amazing country.
Next day we are very lazy and can't be bothered to move on so repack our gear, organise to get some washing done and wander out for a late lunch before a very early night. We try to get away at an early hour as we have mixed reports on the road and driving times to Potosi. So far we have heard that the road is paved, that it is ripio, that it takes 7 hours, that it takes 5 hours. We head off to refuel, we only need 5 litres, we arrive at the first service station but they refuse to serve us as we are foreigners and they don't have the government receipt books for the foreigner priced fuel, so we head to the next service station that does have the receipt books but they are out of gasolina (it is not a ploy, they really are out of fuel), back to the first service station where a lovely English speaking Argentinian family try to help us and do a big translation for us. To cut a long story short, the manager will not back down for any money, he refuses to sell us fuel and keeps saying camera camera. OK what to do next.
We ride back into town, wave a $50.00 Bolivano note at a taxi driver for 5 litres of fuel. He accepts the challenge, he and Skill disappear in the taxi, go back to the same service station we have just been at. The taxi driver buys 5litres of fuel in a jerry can and he and Skill return to the bike. Fuel goes into the bike and the taxi driver pockets $30 boliviano profit. It would of cost us 45 Bolivianos at the foreigner price anyway. What a bloody rig morale.

What to do when they won't let you buy fuel.
By this time it is getting quite late so we head out of town wondering what will be next. So far we have only ridden 75 km on Bolivian roads, and we have had attempted bribery and not been able to buy fuel.
The ride to Potosi is wonderful, a lovely paved road with only one minor dirt detour, very little traffic and not a single police or army check at any of the checkpoints, we are waved through. We stop for a late lunch in the shade of a pepperina tree in the middle of nowhere, it is a beautiful day. At the next village we find a service station where they have no problem serving us but still at the foreigner price. We continue on to Potosi where we have a little bit of a problem negotiating the one way street system but all in all we manage to find a hotel with parking reasonably easily. So we can now tell you the road from Tupiza to Potosi is 260 km, it is paved and it takes about 4 hours with a stop for lunch and fuel.
Potosi is actually the worlds highest city at an altitude of 4100metres. The city of Potosi sits beneath the cone shaped mountain of Cerro Ricco, the richest source of silver the world has ever seen. Mining began in 1545 and continued for three centuries. During this time it is believed nearly nine million people died in the harsh conditions, mainly Indigenous and African slaves. Archaic style mining continues to this day, but it is no longer silver, but minerals that are the prize. Due to my aversion to small spaces we decide against a mine tour but do go out for a wander around the town. It is a chaotic, edgy mining town with incredibly crowded, narrow streets. We find a nice restaurant to eat in before retiring for the night.
We get away early next day and after negotiating the crazy traffic and one way street systems, emerge on the road to Sucre unscathed, and once again enjoy a glorious ride on a paved road to Sucre. The weather starts to close in and rain clouds loom on the horizon, we ride through a few scuds but make it to Sucre without getting wet. It is only midday and we book into the first hostel we find with parking, it is quite luxurious and a little expensive by Bolivian standards, however a good decision as it starts to rain and continues for the rest of the day.
Later in the afternoon we check out another Hostel with parking, Hostal Pachamama. Here we run into Paul, the Tenere rider from Salta. This Hostel while not as posh as Hostal Tukambamba is less than half the price, has a beautiful garden, big kitchen, pleasant rooms and heaps of parking. The decision is made. Tomorrow we move. We go back to our lovely room, with king size bed, spotlessly clean bathroom, endless hot water and fast internet. We enjoy it while we can.
Next morning after breakfast we do move to Hostal Pachamama which is to become our home for the next three weeks, it should have taken us 10 minutes to travel across town but there were student demonstrations going on so it was an hour trip instead. All part of life in Bolivia!!!!!
Posted by John Skillington at April 19, 2013 07:27 PM GMT

Recent Entries
Archives:
Archives:
Monthly
Archives:
Category
NEW! HU 2015 Motorcycle Adventure Travel Calendar is now available! Get your copy now for some terrific travel inspiration!
HUGE, 11.5 x 16.5 inches, beautifully printed in Germany on top quality stock! Photos are the winning images from over 600 entries in the 9th Annual HU Photo Contest!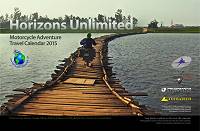 "The calendar is magnificent!"
"I just wanted to say how much I'm loving the new, larger calendar!"
We share the profit with the winning photographers. YOU could be in the HU Calendar too - enter here!
Next HU Events
NEW!

USA Virginia: Apr 9-12, 2015
Take 40% off Road Heroes Part 1 until October 31 only!
Road Heroes features tales of adventure, joy and sheer terror by veteran travellers Peter and Kay Forwood (193 countries two-up on a Harley); Dr. Greg Frazier (5 times RTW); Tiffany Coates (RTW solo female); and Rene Cormier (University of Gravel Roads).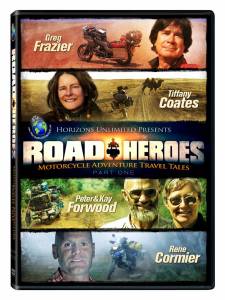 "Inspiring and hilarious!"
"I loved watching this DVD!"
"Lots of amazing stories and even more amazing photographs, it's great fun and very inspirational."
"Wonderful entertainment!"
Check it out at the HU Store! Remember to use Coupon Code 'HEROES' on your order when you checkout.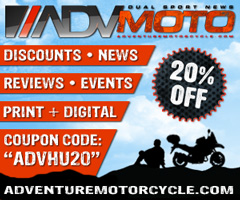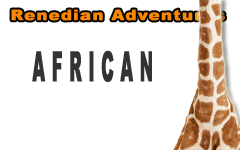 What others say about HU...
"I just wanted to say thanks for doing this and sharing so much with the rest of us." Dave, USA
"Your website is a mecca of valuable information and the DVD series is informative, entertaining, and inspiring! The new look of the website is very impressive, updated and catchy. Thank you so very much!" Jennifer, Canada
"...Great site. Keep up the good work." Murray and Carmen, Australia
"We just finished a 7 month 22,000+ mile scouting trip from Alaska to the bottom of Chile and I can't tell you how many times we referred to your site for help. From how to adjust your valves, to where to stay in the back country of Peru. Horizons Unlimited was a key player in our success. Motorcycle enthusiasts from around the world are in debt to your services." Alaska Riders

10th Annual HU Travellers Photo Contest is on now! This is an opportunity for YOU to show us your best photos and win prizes!
NEW! HU 2014 Adventure Travel T-shirts! are now available in several colors! Be the first kid on your block to have them! New lower prices on synths!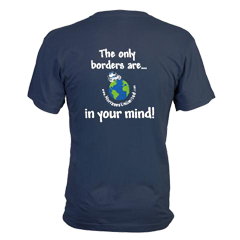 Check out the new Gildan Performance cotton-feel t-shirt - 100% poly, feels like soft cotton!

What turns you on to motorcycle travel?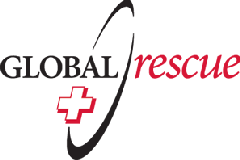 Global Rescue is the premier provider of medical, security and evacuation services worldwide and is the only company that will come to you, wherever you are, and evacuate you to your home hospital of choice. Additionally, Global Rescue places no restrictions on country of citizenship - all nationalities are eligible to sign-up!
New to Horizons Unlimited?
New to motorcycle travelling? New to the HU site? Confused? Too many options? It's really very simple - just 4 easy steps!
Horizons Unlimited was founded in 1997 by Grant and Susan Johnson following their journey around the world on a BMW R80 G/S motorcycle.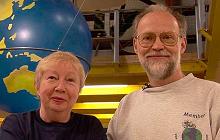 Read more about Grant & Susan's story
Membership - help keep us going!
Horizons Unlimited is not a big multi-national company, just two people who love motorcycle travel and have grown what started as a hobby in 1997 into a full time job (usually 8-10 hours per day and 7 days a week) and a labour of love. To keep it going and a roof over our heads, we run events (22 this year!); we sell inspirational and informative DVDs; we have a few selected advertisers; and we make a small amount from memberships.
You don't have to be a Member to come to an HU meeting, access the website, the HUBB or to receive the e-zine. What you get for your membership contribution is our sincere gratitude, good karma and knowing that you're helping to keep the motorcycle travel dream alive. Contributing Members and Gold Members do get additional features on the HUBB. Here's a list of all the Member benefits on the HUBB.
Books & DVDs

All the best travel books and videos listed and often reviewed on HU's famous Books page. Check it out and get great travel books from all over the world.

MC Air Shipping, (uncrated) USA / Canada / Europe and other areas. Be sure to say "Horizons Unlimited" to get your $25 discount on Shipping!
Insurance - see: For foreigners traveling in US and Canada and for Americans and Canadians traveling in other countries, then mail it to MC Express and get your HU $15 discount!
Story and photos copyright © All Rights Reserved.
Contact the author:
Editors note: We accept no responsibility for any of the above information in any way whatsoever. You are reminded to do your own research. Any commentary is strictly a personal opinion of the person supplying the information and is not to be construed as an endorsement of any kind.
Hosted by: Horizons Unlimited, the motorcycle travellers' website!
You can have your story here too - click for details!