PHOTOS AND FEEDBACK FROM HUBB UK 2013
Thursday 30th May to Sunday 2nd June
The first HUBB UK at Donington Park Farmhouse Hotel in Leicestershire proved to be the biggest event in the history of Horizons Unlimited and we'd like to thank again everyone who helped make it such a huge success.
Online Registration for HUBB UK 2014 is now open - click here for details
After heavy rain during setup, the sun eventually came out and we basked in inspiration and information from nearly 200 sessions of presentations, workshops and practical demonstrations, as well as the expertise and exciting products on show at the 25 trade stands. Visitors came from around 16 different countries and just under half were new to Horizons Unlimited events. With a fascinating mix of motorcycles, bicycles and expedition vehicles of all kinds, along with the Slow Bike Race, Skills Course, Roadkill Cookout, live music and HUBB Zone, there was something for everyone.
As we'd hoped would be the case, the venue's size and excellent facilities combined to allow the characteristic Horizons Unlimited relaxed atmosphere to flourish and many new friends to be made.
There were too many highlights to mention every one, but perhaps some of the most memorable were the impromptu appearance of a troop of Masai warriors who enthralled the courtyard crowd with their dancing, connecting with Sarah Outen via satellite phone as she continued her solo row across the Pacific, the "Grand Charity Muster" and fundraising in aid of Prostate Cancer UK (which raised over £4,000) and the "Big Send Off" on the Sunday morning for Seb Leeson & Kim Van Aerde going to Mongolia and Anders & Petra Stridfeldt beginning their round-the-world adventure.
We've listened to all the feedback received from those who were there and are working closely with the venue to make HUBB UK 2014 even better. It's taking place from Thursday 19th to Sunday 22nd June.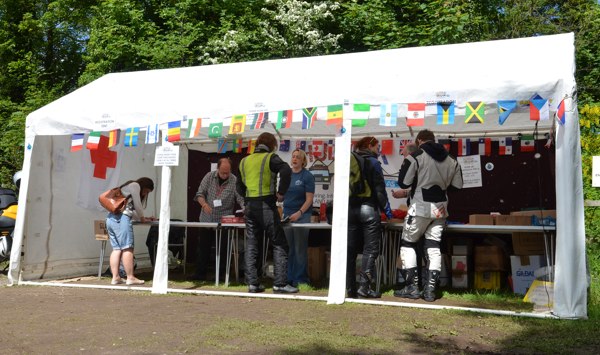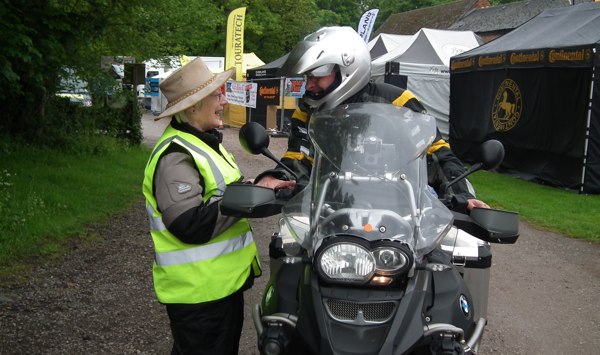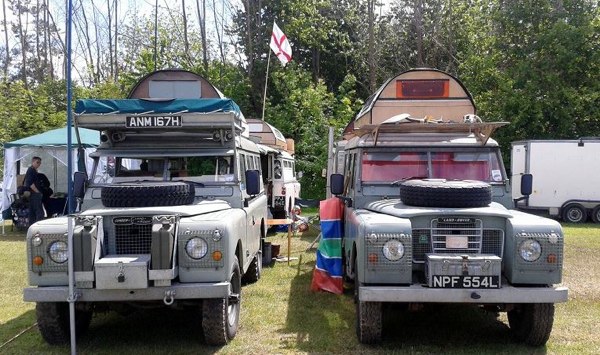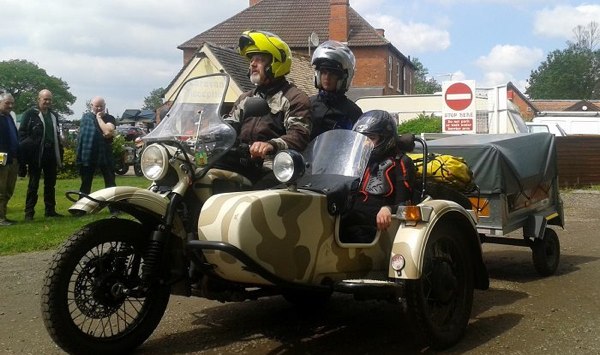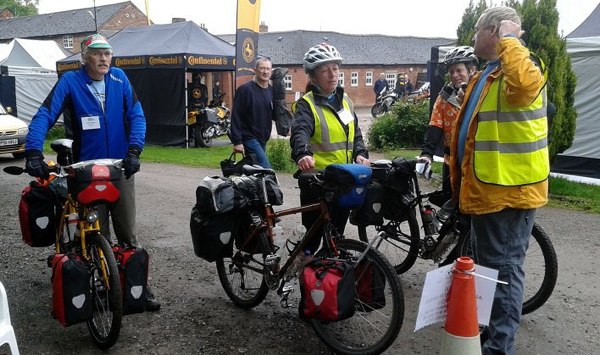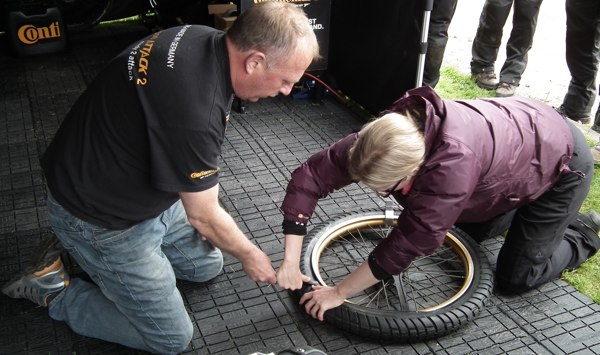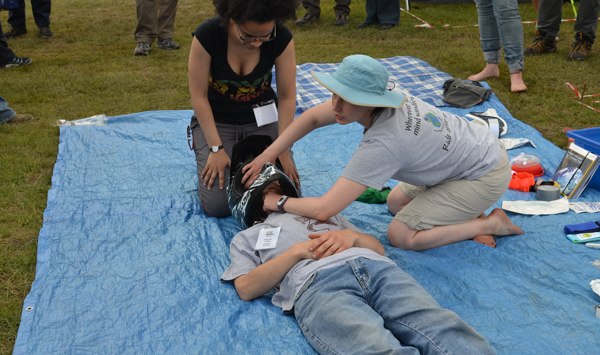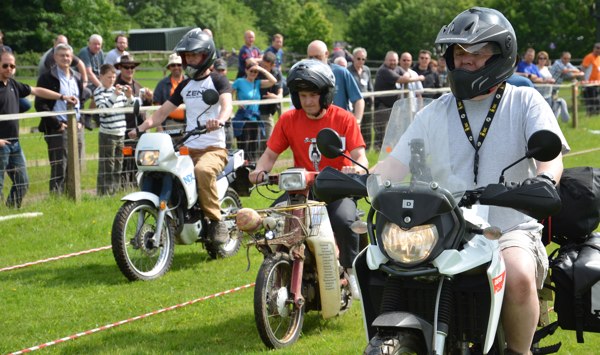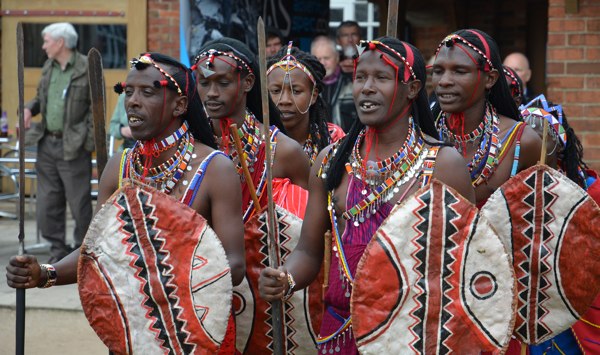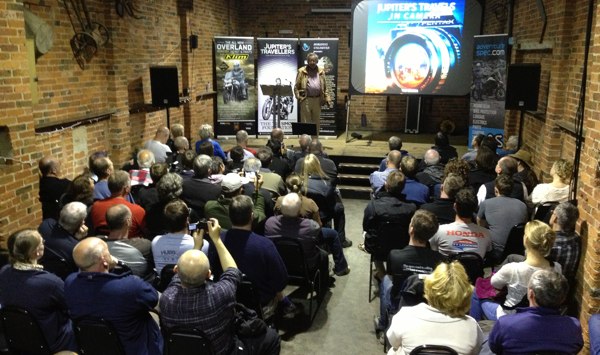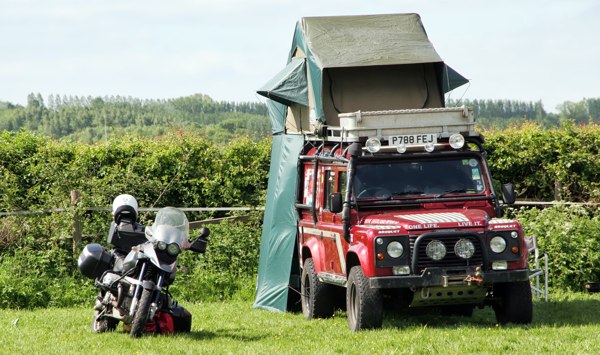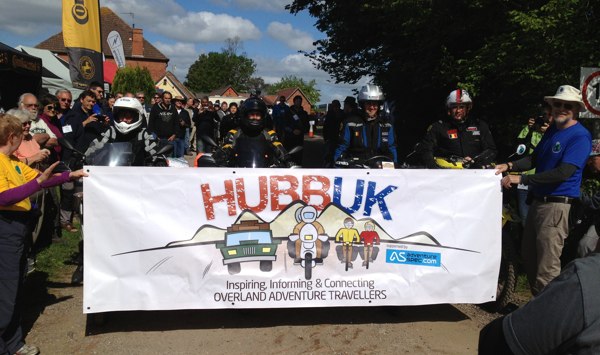 Ratings For HUBB UK 2013
190 people responded to an online survey after the event.

Overall Event Rating:
25.3% said it was Amazing
52.6% said it was Very Good
13.2% said it was Good
4.7% said it was Average
1.6% said it was Below Average
2.1% said it was Poor
0.5% said it was Rubbish

68.9% said the mix of presentations and trade stands was just right, although a third would have liked more trade stands.

All the outdoor activities at the event were rated either Excellent or Good by 71.9 - 95.5% of respondents that attended them.

Excellent or Good was the rating of:
84.1% for the venue overall
83.4% for the presentation rooms
66.1% for the bar & serving areas
83.7% for the real ale bar
78.2% for the campsite and facilities
36.9% for the price of food (42.9% said Average)
47.3% for the quality of food

76.3% of respondents plan to attend HUBB UK 2014.
Praise For HUBB UK 2013
"Excellent event."

"Great event!!!"

"Excellent show - really well done and big thanks to all who made it happen :)"

"As a HUBB veteran I am very happy with our new venue. It is a great site."

"Great new venue. Love being able to bring my dog. :)"

"Very enjoyable and informative."

"Superb event (my 3rd). Loved the location. Planes only downside. Thanks to all for the hard work."

"Great event. Met some really interesting people and it has given me some great ideas for the future. Many thanks HU!"

"This is a fantastic event. The Skills Course is brilliant. The volunteers who helped out at the course were very supportive. I have learned some important off road riding skills and it was really fun! :)"

"Well done!! Another good bash. Good to see the Land Rover guys as well. Better venue. Staff attentive. A good weekend. Thanks!!"

"Fantastic venue. Well organised awesome event."

"What a FANTASTIC event!!!!! We found the atmosphere totally different to our usual events; everyone was so friendly – it was almost like one big family. We found the talks inspiring, with many of them just as applicable to our style of overlanding as they are to your usual HUBB members on a lesser number of wheels. We were chatting before we left and realised one of the difference we found this weekend is that the HUBB event isn't a show – rather it is a 'gathering of like minded people', and we decided we liked that very much."

"Brilliant event in the new Donington venue."

"New venue was super, the speakers were excellent.

"Donington Park is the business. Really glad you found this venue. Real ale too."

"What a fantastic event .... Met lots of FB friends in the flesh ... virtual world is very useful but face to face beats it hands down."

"I really liked the fact that there was so much more going on at the HUBB. I wasn't sure about going to a new place but I like it a lot."

"This gathering wins first place in the 2013 travel event calendar on home soil. . . It was travel presentation heaven and some... Awesome place, awesome speakers, awesome companies. . . But that campsite, beautiful, good move. I'll be back."

"Great event, great organisation and super volunteers! Many thanks."

"What a top weekend! The weather, the presentstions, the vehicles, the people, the food, the camping areas and just about everything else I can think of were great!"

"Thank you for great event. We need more shows like this one."

"I was a HUBB UK virgin, and my goodness, there are no words to describe the experience. Susan and Grant you a true inspiration and thank you for starting a movement that felt like one big family. I know us 4WD'ers are not the normal at your show, and all I can say is we all felt honoured to be there. From meeting and chatting at the shower 'q' with travellers, seeing the kit you guys have for bikes, hearing stories, sharing journeys and so much more. It was just simply mind blowing."

". . . although the attendance was very high the place never felt crowded as the site is massive and people were able to spread over a big area."

"May I just add our thanks to ALL those who helped make The Hubb 2013 such a wonderful experience. It was our 1st time there but it certainly won't be our last. The venue was great with excellent camping facilities, the seminars mind blowing and the overall friendliness from folks with 2 wheels or 4 had to be seen to be believed."

"After 9 years on this forum I finally managed to get to the HUBB UK and had a truly amazing time despite missing half the talks I'd planned on seeing through chatting to everyone."

"What can I say, brilliant just brilliant. It was my first time attending this event and as soon as I made my plans to go, way back last year, my wife and son decided that they too wanted to come. We have all come away truly inspired and raring to go, my son was made very welcome by all and so the next generation is well on their way. Thanks to all involved and.....see you next year."

"Great event. Many thanks to one and all for organizing, and to all the presenters, volunteers and the people who visited. As a Landy owner it was so great to see and meet people with a common interest, irrespective of the number of wheels. Well done the HUBB!"

"Fantastic - that's all I can say! As a 4x4 member I can say we were all made to feel very welcome. From the moment we were greeted at the gate, to the moment we left, everyone we met treated us almost as family."

"Another brilliant HU meet. As others have said the whole thing was great. I thought the weekend was only made more special with the cyclists and 4X4 input. The talks by the various cyclists were all truely inspiring."

"A brilliant event it was guys. After initial apprehension over change of venue it just worked a treat and I would say stepped in to a new league of awesomeness. Thanks for putting so much in to it, for the rest of us to get out. See you next year."

"I just want to say a huge THANK YOU to the organisers, volunteers, speakers and everyone else who made this an awesome weekend. As members of the 4x4 community, we were made to feel welcome, and were all united by a desire to connect, learn, and travel. The atmosphere was great, mix of seminars and displays was good, camping field (we were in the overflow field) was good, and even the air traffic became insignificant. Looking forward to next year!"

"It was a great time, brilliantly thought out. A huge thank you to all involved. And for the emergency work that was needed to move things to dryer fields. Great selection of real ale! I learned that selling raffle tickets is a wonderful way to get around to meet lots of folks."

"..absolutely fantastic time at this years HUBB. The new venue, where we were joined by the 4x4 overland crowd, was perfect as was the weather. The best part of the weekend for me was of course meeting up with friends new and old and in such a wonderfully relaxed atmosphere, brilliant! As usual there was a great selection of talks and events taking place all around this massive site throughout the weekend which was only made more pleasant by the additional real-ale bar."


Save the Dates
HUBB UK 2014: 19th to 22nd June
HUBB UK 2015: 18th to 21st June
HUBB UK Event Organisers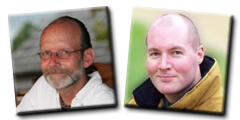 Sam Manicom
Iain Harper
About Horizons Unlimited
Horizons Unlimited was founded in 1997 by Grant and Susan Johnson following their journey around the world on a BMW R80 G/S motorcycle. The website, HUBB forum and regular events across the globe have inspired thousands of people to follow their dreams and take the road less travelled.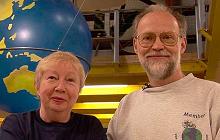 Read more about Grant & Susan's story