Welcome to the 94th Edition of the motorcycle travellers' e-zine! Hope you like the new look!
November has been a month of recuperating from the 2012 meeting season and planning 2013 meetings, including a couple that we're starting from scratch with a new venue, which is mega time-consuming! I am working slowly through the meeting paperwork and starting to follow up with memberships, so apologies to anyone who is waiting for their HUBB upgrade, and I promise to have it done this month. And Grant promises faithfully to have all the 2013 meeting registration pages up this month too, so people can start to register!
We've also been working on the website, dealing with a number of annoying things that have been broken (and reported!) since the new site design went live in May, but we've only recently had time and energy to focus on them. For example, we have finally implemented Google paid search as a replacement for our old search engine, which was totally broken! It's live on the site now (top right of every page), so give it a whirl. You can also reach it directly here. It may need some tweaking, so let us know if you have any issues with it.
There's a much improved Books section with hundreds of books in it, but we had asked for search and filters in it to make it easier to find a particular book or author, or all books about Africa, for example. That has now been done (yay!) and the search and filters should be live within the next couple of days. See the Books section of this e-zine for examples, and do check it out on the site. If you start your search for any book from Horizons, we get a small amount from Amazon, and every little bit helps. :)
We have several bigger projects pending - the Shipping database, country wikis, communities and blogs, but we're dependent on our Drupal development shop to do the technical stuff, and we're not their highest priority! So it's been a bit frustrating, but we hope to have some more things to announce by the next issue. Stay tuned...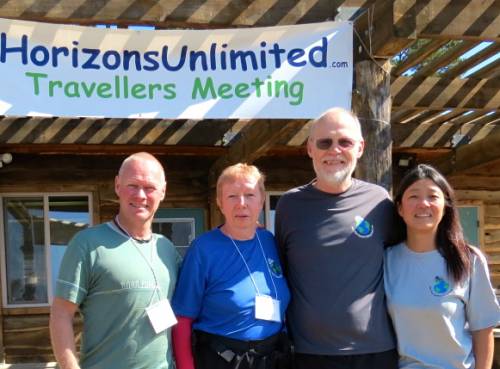 Grant continues to recover slowly from the prostate surgery. He compares himself with other guys who have had the surgery and bounced back quickly, but he also had 6 months of chemotherapy and hormone shots prior to the surgery, and that's all had an effect on his general health and recuperative powers. His doctors keep telling him to be more patient with himself, but that's like telling a fish to fly ;-) He's finally able to sit down at a desk again, but we're struggling to get back to working even a 35-40 hour week, much less our previous level of 60-70 hours a week.
But all things considered, and compared to last year at this time, life is very good! Except for the rain, but it is Vancouver after all... As a thank you to our loyal e-zine subscribers (and to see if anyone reads the e-zine intro ;-), we are giving a 15% discount on any Store order over $20 for the month of December only. The discount code (enter when you checkout) is 'ezspec' (case is unimportant). Happy holidays!
Where are our intrepid travellers this month?
We've got great stories from Argentina, Cambodia, China, Chile, Colombia, Ecuador, Ethiopia, Iran, Kazakhstan, Laos, Mexico, Nepal, Panama, Paraguay, Romania, Russia, Rwanda, Turkey, Uganda, Venezuela, and even Canada and the USA!
...And those are just the ones we tracked down! What about you? Get out there on the road and make your own adventure, and don't forget to write! Seriously, there are so many travellers out there now that it's hard for me to keep up with them all. If you send me a couple of paragraphs and pics every month you'll have a much better chance of making it into the e-zine! We try to link to your blog/website if you have one. If you don't have a blog, we can help, and it won't cost you anything.
This newsletter is provided as a complimentary service for travellers everywhere, both on the road and (temporarily ;-) off. Your support is greatly appreciated.
your editors, Grant and Susan Johnson, (about us, contact us)