Germany 2009: Second Annual HU Travellers Meeting
Horizons Unlimited Travellers Meetings
Second Annual Deutschland Travellers Meeting
Thursday May 21-Sunday May 24, 2009
Want to know what people thought of other HU Meetings? Is it worth coming to the Meeting?
"I'm so looking forward to another UK meet. My only problem is that I simply can't get to every talk I want, such is the amount of terrific presentations on offer. Each year I've been astonished at how articulate, intelligent, informative and entertaining the speakers are. I'm willing to help with anything that doesn't keep me from a talk - and my timetable will be full to bursting!" More comments here.
See what it was like last year! Deutschland 2008 Meeting Report here.
Meeting Report
Comments on the event, photos etc on the HUBB thread
by Jens Ruprecht, Meeting Organiser, Germany
"Sorry guys, a little late… I was pretty busy during 2009.
After our first HU Meeting in Germany in 2008, which was quite successful, we decided to continue with the German HU Series. I had the idea to run two Meetings in 2009, Grant thought I would be crazy… Okay, at our 2nd HU Meeting we had around 200 people on the spot and we had a great time!
We got people from nearly all over Europe (of course Germans, Dutch, Belgium, Netherlands, France, Switzerland, Austria, Bulgaria and from Russia - Moscow!) and even some guys from USA and Canada! I hope I didn´t forget anybody.
We had very good workshops like: Woman only, fix that flat, Diesel Bikes, How to write a book, Photo Composition, GPS Tech clinic etc. And your presentations were great too (see below for the long list!)
So thanks to everybody and of course all our Helpers! We hope to see you in 2010!
Here's a few small photos:"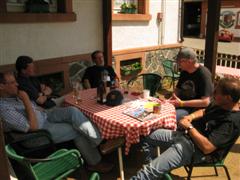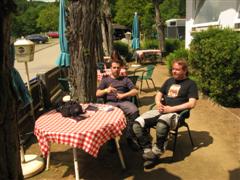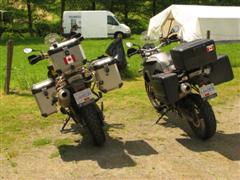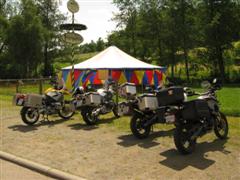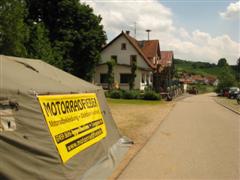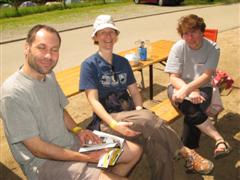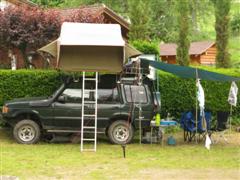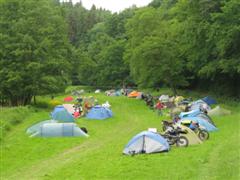 The Plan - or, what WAS planned!
The plan is simple. Show up on Thursday or at the latest Friday afternoon, meet people and setup. Travel Presentations and Tech seminars are planned throughout the meeting, starting Thursday night.
2009 Speakers and Tech Seminars:
Presentations in English or German as possible.
Every country in the world

Peter and Kay Forwood, Australia
All 193 countries on a Harley in 13 years, the Challenges, Enjoyments and Logistics of Visiting Every Country

Sjaak Lucassen, Netherlands, RTW on an R1; will team up with Peter and Kay to present a unique take on travelling the world, on two very opposite - but highly successful - bikes.
Ted Simon is hoping to be there, and if he can make it:
The start... Jupiters Travels, NEW film and slides

Ted Simon, UK / USA
An expanded account of the beginning of the first journey, and much more

Africa Solo: The Long Way Around

Werner Bausenhart, Canada (Germany) in English or German
A Circumnavigation of Africa from London via Cape Town back to London. Werner will have some of his books too.

15.000km Down Under with 3 Triumph Tigers

Wilco Vonk and Frank van Gerwen - TigerRaid
A story and a double DVD movie about 3 guys and 1 girl doing 15.000km in 8 weeks through the Red Centre and the Westcoast of Australia

With Enfield Diesel to Lake Aral and back

Gerben from Holland
nearly 20.000 km in 5 Weeks -Tashkent, Usbekistan, Turkmenistan

Canada to the southern tip of South America, Ushuaia

Kevin Bradley and Erin Van Zant, Canada
A six month adventure

Vietnam and Laos

Peter Kongsbak, Denmark
Riding around Vietnam and Laos on a Minsk Motorcycle

Offroad travelling and taking "Enduro" seriously

Stephan Eichenlaub
From traveller to sport rider and back: The fascination of trying the "impossible": Riding the big KTM twin on a rallye and on the Enduromania. Travel by bike, change tyres and be ready for action.

An Enfield in India

Jörn Buchleitner, Germany
A quick 3 weeks on a rented Enfield through India, tips and tricks.

Dakar Rally 2009 the easy way

Jens Ruprecht, Germany
Argentina/Chile and the Dakar Rally 2009 on a 125cc Suzuki

Morocco: safe, exciting and inexpensive

Tim Cullis, UK
Overview and hidden/special places (NOTE: Friday night only)

Women only

a very popular session that was once again well attended - there was even a man caught trying to sneak in dressed as a a woman! :) A chance to talk to experienced travelling women without the men around!
Doris Wiedemann will lead the session, with an introduction into travelling as a woman.

Fix that flat! How to change a tire anytime, anywhere

Workshop
How to prevent flats in the first place, and fix them when you get one. The best tools and how to use them for tube and tubeless tires. Hand's on practical and tire changing contest for beginners to experts!


Tech sesssion

Diesel Bike Workshop

Peter Selzer, Germany
Interested in better fuel mileage? Find out from an expert!

How to write and publish your travel book!

Jens Ruprecht, Germany
Want to get your story published and on Amazon? Jens did it, and here's how!

Photo Composition for Travellers

Grant Johnson, Canada
The one everyone SHOULD take, but no one does... We all want to take great photos of our trip - so why don't we? This easy clinic will transform your motorcycle travel photos from boring to fabulous! BRING your photos on a CD or Flash Drive, max 10, and we'll critique and discuss YOUR photos - what's good, and what's not - and how they could be improved.

GPS Tech clinic

Matthias Zörcher,

http://www.rswolf.de/ (30 minutes from the meeting if you need anything for GPS, Ducati or Suzuki)
Friday and Saturday presentations on using a GPS

For next year: How about you? We're all here to learn, and there's LOTS to learn! We want to do more presentations and seminars - but we need volunteers to give them! Any topic you can contribute having to do with motorcycle travel, maintenance, planning etc, lasting 20 minutes or more, would be great. Please contact me here to volunteer.
There were
slide shows and talks Thursday, Friday and Saturday night
, as well as all
Saturday morning and afternoon
, and
Sunday
too!
Rideouts
Rideouts are limited to 6 or 10 people per ride, no exceptions.
All rides will be back on site at or before 5.00pm
Road Rides - two planned, details to come.
Off-road - we could use some help - any ideas, locations, routes, off-road tracks?
The cost of going on any ride is included in the registration fee.
All rides are "register on the day." There will be signup sheets for each ride posted the evening before. First in best dressed.
Charity
Last year we raised almost €2000 for Riders for Health or Motorcycle Outreach at HU Meetings, through the sale of raffle tickets and the generous donation of prizes from all the vendors on site and from afar at our HU Meetings worldwide. Many thanks to everyone, let's hope we can raise even more this year. And if you'd like to donate a prize, please contact Grant in London or Jens in Germany.
Food
Served all day, breakfast €5 from 08.00 every day, then hot meals form 11:30 till 22.00, a wide and varied menu - typical dishes of the area (Odenwald), including vegetarian, at reasonable prices. Try the Odenwald Äppelwoi!(applewine).
Camping
Camping is INCLUDED in your registration fee. NO 4 wheeled vehicles in the main camping fields, there will be an area specifically for you.
Travel Equipment Vendors
We're looking for Travel Equipment vendors to come and display your products, and sell as well. Please contact Grant in London or Jens Ruprecht in Germany.
Kedo Performance Products "Heroes Legend Race to Dakar" support, travel goodies and more/
Petra Friedrich from OutdoorFieber will be there with motorcycle and outdoor products.

Books - get your signed copy direct from the Author!
Patrick Schweizer, (onkelkarle) with his book and DVD "Fernweh - RTW Trip"
Doris Weidemann will have her new book "Unterwegs zum Roten Drachen" and the "Taiga Tour".
Torsten Schopbach, "Der Weg war das Ziel" 56.000 km, 14 Länder, 4 Kontinente – ein Abenteuer! 56.000 km, 14 countries, 4 continents – one adventure!
Dave Barrett, Germany, "Dodging Potholes," Motorcycling in Eastern Europe, proceeds from the book go to the orphanage in Calarasi, Moldova.
Werner Bausenhart, will have a few of his four books available.
Schedule
All times - and everything - approximate!
An up-to-date schedule will be posted at the Meeting.
Thursday morning
CHECK-IN and sign up! You MUST be registered to go on a ride or for entry to any events, seminars etc.
Friday
08:00 - Breakfast, all morning, €5
CHECK-IN and sign up! You MUST be registered to go on a ride or entry to any events, seminars etc.
09:00 Ride briefing. Be gassed up and ready to ride if you're going.
Friday night
21:00 Speakers presentations start sharp at 2100, so be sure you've eaten early!
Saturday morning
8:00 - Breakfast, all morning, €5
8:30 - 9:00 Late Check-in.
9:00 Ride briefing. Be fueled up and ready to ride if you're going.
Saturday Lunch
From 11:30, served all day. Payable to the venue on the day. Range of specials from the blackboard served all day, various excellent prices. Vegetarian meals available.
Saturday afternoon,
Rideouts - details here if you're riding on your own.
On road runs - we'll post a sheet of paper up for you to add your name to a destination, volunteers to lead appreciated!
Tech Seminar, details to come. If you want to volunteer to lead a seminar or breakout session, on any appropriate topic, please contact us. We have had lots of interest in seminars, ranging from 30 minutes to several hours, on subjects from GPS to packing lists to tire changing.
Saturday, dinner
See Saturday lunch above.
19:00 sharp:
Speakers presentations
21:00 (not sharp) - Door prizes - you have to be there to win!
Sunday
Breakfast served from 8:00, €5
Miscellaneous notes:
Organizers will be there most of Thursday, hopefully Wednesday evening, if anyone wishes to arrive early and just hang out or go for a ride in the area. There is no problem arriving even a couple of days early, our hosts will be happy to see you and feed you, and camping is free. Please LET US KNOW you will be arriving early.
Registration
Sign up for the 2010 event here!
Entry fee includes admission to the slide shows on Thursday, Friday and Saturday night and Sunday am, and other events during the day Friday and Saturday. Camping is also included in your entry fee for Thursday, Friday and Saturday night. If you arrive early there is generally no problem finding a spot to camp, no charge. Just eat there and they're happy!
Accommodation other than camping, and meals are NOT included.
Membership - Show you're proud to be a Horizons Unlimited Traveller!
Just to clarify the membership situation: Currently there is no requirement to be a member to access the website, the HUBB or to receive the monthly e-zine. For now, what you get for your membership contribution is our sincere gratitude, good karma and knowing that you're helping to keep the motorcycle travel dream alive.
We will also upgrade your status in the HUBB to Member. In addition to recognising your contribution through your status, this will allow you to upload a custom profile picture and custom avatar, store up to 50 private messages, upload more pictures (10 MB maximum storage) and create polls.
Another benefit we can provide is if you decide you want a t-shirt, mug, fleece jacket or other Horizons logo product from the Souk, you can purchase Member logo products at the basic price. Just let us know and we can arrange access to the Members Private Store.
T-Shirt Deal
Top quality heavy cotton t-shirts in black, or grey if pre-ordered. We will have a range of sizes available, but quantities will be very limited, so if you wait till the day, there might be none left in your size.
The new Synthetic t-shirts are in a beautifully made wicking material, and make great travel / riding t-shirts as well as all-round wear t-shirts. Available in black or grey at most meetings. MUST be pre-ordered.
Note that we will have a very few t-shirts extra at each meeting, but to be sure you must pre-order and pay in advance.
NO more 2009 tshirts, sorry!
You can help!
If you have a few minutes, please download the poster (Adobe pdf format) and print off a few and hand them round your club or your local bike shop or anywhere seems like a good place.
(You may need to right click and choose "save target as...")
Poster in pdf format, English (886kb) full colour 2009 poster.
Poster in pdf format, Deutsche (886kb) full colour 2009 poster.
Thanks for the help!
The Meeting Location for 2009
Gasthaus "Zur Schneeburg"
69509 Ober-Liebersbach
(30 min. north of Heidelberg)
Getting There - GPS, Maps
GPS-Koordinaten "Zur Schneeburg"
N49 36.422
E8 42.421
Restaurant/Farm website, with details on getting there: www.zur-schneeburg.de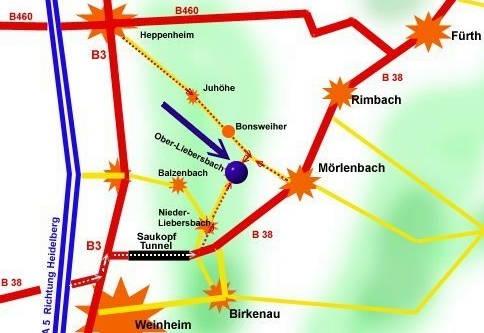 Map to the Meeting - click for more details.
If you have any links or details for the area please let us know.
Other Accommodation Possibilities
If you have any information for the area please let us know.
Pretty nice hotel:
Der Watzenhof
69502 Hemsbach/
Balzenbach
Tel: 06201 70050
Fax: 06201 700520
Email Hotel: kont...@watzenhof.de

Information about the area
The Odenwald Region, a little bit south of Frankfurt, east of the Rhine river is a very nice area for motorcyclists because of its pretty little hills, forests, romantic villages and perfect motorcycle roads! If you have never been here – you will love it! A ride in the morning – an afternoon coffee somewhere in an ancient castle and then back to our campground with all these beautiful people – what else do we need? We are only 15 min. away from the nice little towns of Heppenheim and Weinheim. Once you are here in the region – don't miss visiting the old town of Heidelberg.
If you have any links or details for the area please let us know.
Local Hosts
Jens Ruprecht is the lead organizer of this event. Thanks go to Jens for volunteering to bring Horizons Unlimited Travellers Meetings to Germany!
If you have any questions, contact Jens at jens...@gmx.de
If you have a problem contact Jens (via Grant) here with rideout registration, vendor, venue and speakers questions.
See you at a meeting this year!
Grant and Susan
---
Member login
Are you an Overland Adventure Traveller?
Does the smell of spices wafting through the air make you think of Zanzibar, a cacophony of honking horns is Cairo, or a swirl of brilliantly patterned clothing Guatemala? Then this is the site for you!
Hosted by Grant and Susan Johnson, RTW 1987-1998
NEW! HU 2015 Motorcycle Adventure Travel Calendar is now available! Get your copy now for some terrific travel inspiration!
HUGE, 11.5 x 16.5 inches, beautifully printed in Germany on top quality stock! Photos are the winning images from over 600 entries in the 9th Annual HU Photo Contest!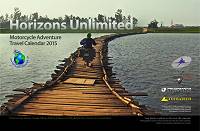 "The calendar is magnificent!"
"I just wanted to say how much I'm loving the new, larger calendar!"
We share the profit with the winning photographers. YOU could be in the HU Calendar too - enter here!
Next HU Events
NEW!

USA Virginia: Apr 9-12, 2015
Take 40% off Road Heroes Part 1 until October 31 only!
Road Heroes features tales of adventure, joy and sheer terror by veteran travellers Peter and Kay Forwood (193 countries two-up on a Harley); Dr. Greg Frazier (5 times RTW); Tiffany Coates (RTW solo female); and Rene Cormier (University of Gravel Roads).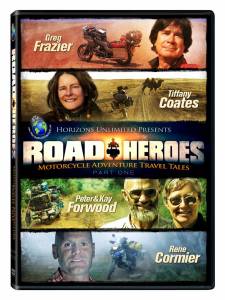 "Inspiring and hilarious!"
"I loved watching this DVD!"
"Lots of amazing stories and even more amazing photographs, it's great fun and very inspirational."
"Wonderful entertainment!"
Check it out at the HU Store! Remember to use Coupon Code 'HEROES' on your order when you checkout.

10th Annual HU Travellers Photo Contest is on now! This is an opportunity for YOU to show us your best photos and win prizes!
Books

All the best travel books and videos listed and often reviewed on HU's famous Books page. Check it out and get great travel books from all over the world.