Colorado 2006: Second Annual HU Travellers Meeting
Leadville CO, USA, July 6-9, 2006
Want to know what people thof HU Meetings? Is it worth coming to the Meeting? See comments here. Or get the DVD about 2005 HU Colorado Travellers Meeting! Free trailer here.
Meeting report:
The Leadville Colorado Meeting was a washout - literally - tons of "very abnormal" rain fell on us, making a mess of the shade tent we had planned on, and necessitating a rush to buy tarpaulins in town at the one store stocking them - which we bought right out! More arrived on Saturday and we finally managed a "dry" experience for the Saturday afternoon and evening slide shows. Despite the rain, most everyone had a good time, with lots of riders out on the trail rides crossing the high mountain passes. Next year we promise to have a DRY location for the seminars no matter what the weather! New location to be announced soon.
We had something extra-special at this years meeting:

"We just want to thank Erin, Chris and Grant for an outstanding time at the Colorado Meeting. When Mary and I decided to get married we thought we would go to where we really enjoyed ourselves and be with people that shared our thoughts and dreams. The Horizons Meeting was perfect. We had no idea that anyone would be interested in our endeavor. It wasn't planed for anyone to care but to our surprise we were showered with outstanding friendship and positive comments. We thank everyone for the warm welcome and sharing information of their journeys. July 7th, 2006 will be in our memory forever and everyone in the Horizons network will be in our minds. Truly an outstanding event! We learned more than we ever thought we could comprehend in a short time. Regards, Mary and Richard Meadors, Oklahoma City, Oklahoma"

Congrats and best wishes Mary and Richard - we hope the wedding cake stayed dry long enough to eat!

"Many, many thanks to both RawHyde and HU for such a wonderful weekend. I had a BLAST!"
David Bosley, Englewood CO

"Grant, The Leadville meeting was my first Horizons Unlimited event and I had a great time. I enjoyed all of the activities, the food was good, and I also enjoyed riding in beautiful Colorado. Here is the link to my photos. Thanks, Robert Stallones"
Sadly our organisation fell apart in the deluge, so it didn't run as smoothly as we usually manage, (which isn't to say it's normally super-slick and professional, it's not!) so we apologise for the problems, and we guarantee next year will be a whole different experience - and much better!
The Plan
Rally Location - Where was it?
Local hosts, information
This event was a little different from the usual Horizons Unlimited Travellers Meeting - working with Rawhyde Adventures this time, we hoped to bring you something special!
This was an Adventure Rally/Meeting held on a beautiful open ranch at 9,000 feet, surrounded by incredible Rocky Mountain peaks - complete with bivouac-style toilets/showers, optional on-site catering by RawHyde's famous chef, some of the best dual-sport riding in the world, and 3 nights of inspiring presentations from fellow travelers.
Rawhyde Adventures specialises in Adventure Rider training, helping you master your bike off-road with their Adventure Camps, focusing on off-road riding with adventure travel bikes.
Grant
What happened:
2006 speakers were:
Chris and Erin Ratay, USA, "Ultimate Journey"
Grant Johnson on "Achieving the Dream - the next Country, or the next Continent - what do you need to know? " - Saturday afternoon, 2 1/2 hours
Tim Bussey, "Riding a Harley from New Mexico to the Middle East and back."
Laurence Mclaughlin, Ireland, Around the World (in progress, fresh from Alaska and Siberia) "Through Siberia and the Zilov Gap on a Honda ST1100"
Jim Keys, USA; "Mucho Moto Aventura!"
Chris Jones (www.RTW101.com) "Independent Racer Preparing for Dakar 2007", including experiences riding the Baja 500 & 1000.
Tyler Dollard, Northern Colorado BMW / Ducati Motorcycles "Ergonomics - make the bike fit YOU!"
Jim Hyde, "Off-road Ride via Baja to the Creel Mexico HU Meeting 2005 - and what to expect for 2006!"
Tech Sessions for 2006:
Grant Johnson - Photo Composition for travellers - the one everyone SHOULD take, but no one does...
Is your bike ready for long distance travel? Grant will conduct a hands on assessment and discussion of bike set up and prep, looking at YOUR bike.
Jim Hyde, Off-pavement basics.
NOTE: Northern Colorado BMW/Ducati was on hand as support, and his trailer was usually full of people browsing through all the goodies on hand!

Photos by Robert Stallones:
Grant, The Leadville meeting was my first Horizons Unlimited event and I had a great time. I enjoyed all of the activities, the food was good, and I also enjoyed riding in beautiful Colorado.
Here is the link to my photos.
Thanks, Robert Stallones
And a few samples: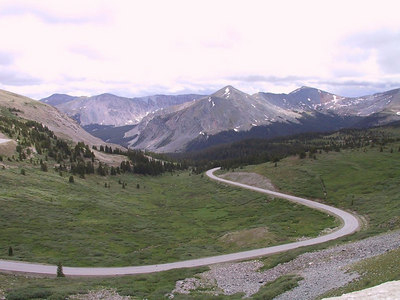 send us your photos!

The Meeting Location for 2006
Near Leadville, south of Denver Colorado, in a high mountain meadow. On site is camping only, or other accommodation only a mile or two away.
Actual address is: 301 Hwy CO-300, Leadville.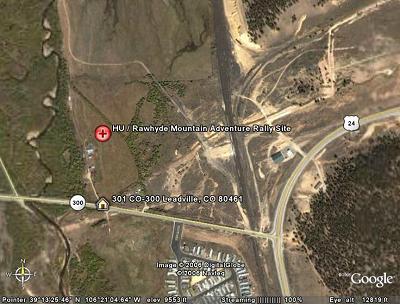 Links to local Hotels and Motels

Northern Colorado BMW/Ducati Motorcycles are very generously supporting the Meeting, and will be there with supplies and goodies for sale! Don't forget to say "thanks for coming" when you visit them at their shop or at the Meeting!

Local Hosts
Chris and Erin Ratay are co-organizers of this event. Thanks guys!
If you have any questions:
Short History of the Horizons Unlimited Travellers Meetings
Susan and I started the Horizons Unlimited Motorcycle Travellers Meetings in May of 2001 while we were living in the UK, with an event held in our backyard in Slough. That first event had almost 40 people show up, and we were especially pleased that some came from as far away as Norway!
In 2002 we had moved back to Canada, so we organized a meeting in Nairn Falls, British Columbia, and also asked Chris Bright and Glynn Roberts if they would organize a second UK meeting since we couldn't be there. We had a small but enthusiastic turnout for the Canadian meeting, with folks coming from as far away as Missouri (almost 3,000 kilometers!), Alberta and California, as well as two round the world travellers, from Switzerland and the UK.
But the Brits really exceeded our wildest expectations. Almost 100 people came to the HU UK 2002 event, and had a great time. No rock bands or beer bashes, just motorcycle travellers and would-be travellers getting together to share experiences and tips - what a concept! For the HU UK 2003 event, almost 200 enthusiastic folks came together over several days and this is now well established as an annual event, with Glynn and Chris continuing to provide superb organizing, and a host of volunteers.
Ken and Carol Duval hosted Australia's first HU travellers event in 2003, and they had almost 60 people. The meetings in New Zealand, Argentina, Mexico and Portugal in 2003 were also big successes, and we look forward to many more in the years to come. It's wonderful for us to come to the meetings and visit with the many friends we've only met over the internet, and of course for everyone meeting up and sharing stories - and planning to meet in Ushuaia next year!
2004 was another big year for the HU travellers Meetings - we had almost 600 people come to the various meetings! We've learned a lot from your feedback, and we plan to have even better meetings this year, and more of them.
See you at a meeting this year!
Grant and Susan
---
Member login
Are you an Overland Adventure Traveller?
Does the smell of spices wafting through the air make you think of Zanzibar, a cacophony of honking horns is Cairo, or a swirl of brilliantly patterned clothing Guatemala? Then this is the site for you!
Hosted by Grant and Susan Johnson, RTW 1987-1998
Next HU Events