| | |
| --- | --- |
| Sumbawa Indionesia: ride to Mt Tambora - climb it if you're game. | |
Ride Tales
An easy way to post your ride reports, whether it's a weekend ride or around the world. Please make the first words of the title WHERE the ride is. See the announcement in the forum for details on posting. Please do NOT just post a link to your site. For a link, see Get a Link.


11 Mar 2011
Registered Users

New on the HUBB

Join Date: Aug 2007

Location: Australia

Posts: 17
Sumbawa Indionesia: ride to Mt Tambora - climb it if you're game.
---
Tambora – the mountain that blew its top
One minute I was up then, in the blink of an eye, I was down. I felt the shattered surface of the road bite into my right knee and I heard the scraping of my Honda Vario as it slid before me in a shower of stones and dust. There wasn't even the ghost of a chance to get a foot down. Before setting out on this four week odyssey east of Bali I'd made a vow: 'I will not drop this bike.' But, not yet a fortnight into the trip, the claret was oozing from my knee. So much for good intentions! My mind kicked into overdrive. 'The bike. The bike!' Images of splintered plastic fairing, broken glass and bent forks danced before my eyes.
The Honda was lying on its side, barely a metre away, engine running. I up-righted the bike and silenced the engine in one swift movement. A quick inspection told me my luck was in. No cracked fairing, no broken lights, switches or handles. Merely a few scratches on the right-side mirror, right side of fairing and some scuff marks on the exhaust. I'd only been doing 25 kph when I came off, so the likelihood of major damage was low. But even so, it could have been a lot worse.
Now for my wounds. I splashed water on my grazed knee and used a handkerchief to clean myself up. I'd lost a bit of blood and skin, and had a sprained left wrist, but other than that I was fine. Just as well, as I was a long way from any serious medical help if I'd needed it. The provincial capital, Dompu, which I'd left that morning, was 6 hours away, 100 km back down the disintegrated, ribbon of Macadam I'd just travelled. As roads go it was one to remember. Witness to many monsoons, it was riddled with decay. Islands of surviving asphalt lay marooned in a dusty grey sea of sand, grit and broken foundation. Negotiating this minefield was a perilous affair requiring total concentration, deft manoeuvring and judicious use of the brakes. Fortunately much of the road passed through savannah country; no overhanging trees meant there were no shadows within which the countless, cavernous potholes could secrete themselves.
I took stock of my situation. I knew why I'd come off. Impatience had got the better of me. Six hours of crawling that tortured track had taken its toll on my patience and my rear end. I just wanted to get to the end of the ride, get off the bike and rest, so, in my eagerness, I'd been travelling too fast. I remember heading right, to a higher section of the battered bitumen, to avoid a pothole. I aimed to hit the shoulder at an acute angle to lessen the impact on the suspension. But part of the shoulder must have broken away and ... the rest is history.
I still had maybe two hours to go to reach the village of Pancasila located at the base of my goal - Mt Tambora. Its massive presence dominates the peninsula that juts, north-west from the coast, about half way along Sumbawa's sinuous spine. I'd been keeping an eye out for the mountain all day but it lay hidden beneath a thick quilt of leaden rain cloud. To the west the land undulated away until it kissed the edge of an azure sky. Occasionally the road crept closer to the sea and I caught glimpses of calm waters lapping distant shores – the sort beachcombers long to roam.
Mt Tambora literally blew its top in 1815 – an event estimated to have been ten times more powerful than the Krakatau explosion of 1883. Sir Stamford Raffles, founder of Singapore, and an inveterate traveller in the East, had measured its height at 4200m. The explosion reduced this to 2800m as 36 cubic kilometres of earth and rock was catapulted into the upper atmosphere. 91,000 people died and the western half of Sumbawa was rendered uninhabitable. The resultant dust cloud girdled the globe. The surreal sunsets it produced inspired the English landscape artist, J.M.W.
Turner, to compose some of his finest works. 1816 became known as the 'year without summer'. In London the Thames froze over and, in parts of Europe, famine stalked the land. It was my intention to climb this peak and stare down into the abyss created by the greatest explosion in modern history.
***************************
I nearly had the road to myself after passing the tee-intersection that connects the Dompu-Pancasila road to that which heads west to Sumbawa Besar, the main town in western Sumbawa. I saw the occasional rider heading the other way and, once in a while, I'd be passed by a local more used to the treacherous conditions – or perhaps more foolhardy – than I. There were no cars. Now and then a pick-up would appear the distance. Depending on conditions, it would either be weaving and bouncing from side-to-side or catapulting down the road at the rate of knots, letting out a great plume of grey dust in its wake.
Around midday, whilst I was still taking a breather after the spill, the Dompu bus hove into view. Like a great top-heavy galleon it lumbered and lurched its way along, a dozen intrepid souls clinging steadfastly to the roof-rack cargo. I stepped off the road as the bus swept past. The dust billowing from its churning wheels hung in the still, tropic air like a jet's vapour trail. As the bus, and its roof-top daredevils disappeared into the distance, the sound of its engine the faintest hum beyond the curve of the road, I found myself alone again – just me, the bike and the road ahead.
I'd been travelling less than two weeks but a lot had happened in that time. At 6.00 am on a Monday morning, I'd nosed out into the traffic on Jalan Padma, Legian, Bali and headed east to catch the ferry to Lombok, a little wary but, nevertheless, eager to immerse myself in whatever might come my way in the weeks ahead. Well, I'd had my accident, and the bike and I had come away virtually unscathed, so ... it was time to hit the road again! Crawling along, determined to stay upright, I pressed on. A little while later a rider breasted a low hill and weaved his way towards me. He waved as he drew alongside. Then I spotted him in the rear vision mirror as he braked and did a U-turn.
He pulled up beside me and yelled out, "Tambora?" I stopped and we began to chat in Indonesian. The young bloke's name was Haris and he had been up Tambora a few times. He told me of the organisation – K-PATA – that had been set up to co-ordinate ascents of the mountain. Haris was a mine of information. I liked him immediately. He looked fit and capable and answered all my questions in a straight forward manner, without hesitation. He'd been on his way to Dompu to see some mates, 'But that can wait,' he said. He'd much rather be my guide for Tambora, so we struck a deal, shook hands and headed off for Calabai, the last village where supplies could be purchased for the trip.
Within an hour we reached the little village – a couple of small government agencies and an assortment of shops and rude dwellings strung out along a narrow pock-marked main street. Chickens roamed freely and the occasional dog nosed through the garbage in competition with a herd of wild-eyed goats. Not much happened in Calabai and not even the arrival of a foreigner in this far-off place could bring the locals out of their homes; the village slumbered in the afternoon heat. In a general store crammed with foodstuffs and farmers' supplies, we stocked up with instant
noodles, bananas, eggs, sweet buns, and bottled water. Three pretty teenagers busied themselves assembling our purchases. The owner, an elderly matron of indeterminate age, was pleased to fill this unexpected order on such a slow afternoon. Laden with plastic bags we headed for the bikes and after securing our loads we made took a right turn at the end of the village.
The track to Pancasila, about twenty kilometres distant, passed by cultivated fields and pastures where cattle grazed contentedly. The road provided a stark counterpoint to this bucolic scene. A nightmare of mud and washaways, punctuated with deeply rutted sections, where trucks had gouged tracks into the rich volcanic soil, it rose steadily, winding its way around Tambora's lower contours. Haris led the way unerringly. I followed in his wake, glad to be the beneficiary of his local knowledge. An hour beyond Calabai and we were there. We crossed the football field, where a mob of bare foot boys played a spirited game, and pulled up in front of a sign board announcing that this was the headquarters of K-PATA – Kelompok Pencinta Alam Tambora – the Nature Lovers' Group of Tambora.
Haris and I were met on the veranda by the ranger, Saiful Baharin, who invited us inside. Ordering his young daughter Dinda to prepare coffee, he ushered us into a small room where we sat on cane mats and began to talk. Saiful explained his role as custodian of the Tambora Nature Park. He produced the visitors' book and a pamphlet on the history of the mountain and its famous eruption. Tambora saw few visitors. It was May and, for the year, only a lone Frenchman and a group of eight Indonesians had made the trip. In its five years existence the book had recorded about 20 foreign tourists – just one of them an Australian. On average about 30 people a year made the trip up - mostly groups of Indonesian students from university adventure clubs. Saiful explained the dangers of the trek and insisted that I take two guides – common sense really as, if anything untoward happened, there was no mobile phone coverage and the injured person would have to be left alone while the other went for help. Seeing so few visitors, the track was heavily overgrown. The ascent, let alone any rescue mission, was sure to be a challenge.
And so, I was introduced to Farouk, a married man in his 30s. Wiry and compact, he'd made the trip many times. He looked at me a little warily wondering if, at 60 years old, I'd be up for the journey. I assured him that I'd be fine and that I'd be carrying my own gear too. It was arranged that we set out at 7.00 am next morning. The plan was to reach a spot called 'Post 3' in the late afternoon. There we would rest up, eat and sleep before the final push to the summit which would begin at 1.00 am and hopefully terminate at the crater rim just on dawn. A few hours at the top and then it was back down with the expectation of reaching K-PATA headquarters by nightfall.
We shook hands all round and, after a good meal of rice, cassava leaves, spinach and salted fish, prepared by Saiful's wife, the local primary school teacher, Farouk and Haris departed. I headed off for a shower and bed. My wounded knee had stiffened up a bit but the cut was clean with no redness – the tell-tale sign of infection. My left wrist was still a little sore but I'd get by.
Sleep came easily that night; it had been a long day. I was awake with the village roosters at first light. Coffee and
pisang goreng,
(banana fritters), were on the go and, before long, the four of us, Haris and Farouk having arrived at 6.30 am, were being served by Dinda and her mother. All was in
readiness and refreshed with full bellies, and the stimulation provided by tall glasses of thick, black, Sumbawa coffee, we made our farewells and stepped out onto the track that ran beside the house.
It felt good to get underway. The air was chill and the grass wet with dew. The track rose gently uphill through a coffee plantation, the trees laden with ripening berries. After thirty minutes walking we came to a bamboo boom gate which announced the entrance to the Park. We slipped past and began to climb more steeply now. This was indeed a footpath only. Narrow and ill-defined it was for the most part, totally overgrown with trailing creepers and bracken. It was not long before the
parang
(machete)came out and Farouk and Haris began taking turns, slashing vigorously at the dew-laden vegetation. We were soon saturated. The greenery was like a thick curtain enveloping us, trying to swallow us up. Our choices were stark - we either resist or succumb to our verdant host. We pressed on.
We were now deep in primary jungle. It had become increasingly difficult for light to penetrate the dense canopy overhead. Forest giants, home to a riot of climbing vines, with lush, bushy epiphytes clinging to their trunks, reached skywards, their crowns melding into the curtain of greenery which blocked out most of the sky. An occasional opening, revealed a dense blanket of rainclouds and it was not long before we heard the thunder rolling over the mountain. We trudged on wondering how long it would be before the storm broke. The peals of thunder came closer splitting the air with their reverberations.
The first heavy droplets to reach us were refreshing; we had been sweating and staining our way up a steep incline fit for the labours of Sisyphus. But within minutes we were drenched as water streamed from every leaf and tendril. And so it continued for three hours as we hacked our way up the forested slopes. At each rest point we'd remove our shoes to get rid of the leeches. Haris made good use of his
parang
to make sure they would not return for second helpings! It was pointless changing into dry gear – we didn't have any! I later discovered that even my passport, which I'd placed in a zip-lock bag inside my money belt, did not escape the deluge; it remains water damaged to this day.
At 3.00 pm, eight hours after leaving Pancasila, we staggered into Post 3, a rude shelter fashioned out of bush timber and roofed with corrugated iron that some hardy souls had dragged up from below. Built up on stilts and set in a tiny clearing, it was as welcome as any Hilton had ever been. By now the rain had ceased. Farouk ferreted some dry wood out from beneath the shelter and got a fire going. I rigged up a line. We emptied our packs and began the big dry out. In the steamy afternoon humidity this was more a gesture of hope than of expectation.
The exertions of the day had left us ravenous and we attacked our food with relish. Rice, instant noodles, hard boiled eggs and sweet buns were washed down with coffee and Haris and Farouk luxuriated in their first smoke for quite a few hours. We stoked the fire, producing a cheery blaze and did our best to dry some clothes prior to the hoped-for night's sleep. We chatted about the track ahead and our plan for the night ascent. Farouk and Haris were agreed. We should rise at midnight, eat a hot meal, drink plenty of coffee and break camp before 1.00 am. I asked about the going and was dismayed to learn we still had some work to do before we got above the tree line. What's more we were yet to reach the region of the dreaded
jelantik
, or stinging nettle. Brushing
against this little nasty was, according to Haris, like being seared with a welder's torch. To make our way through parts of it we would have to shinny up two fallen forest giants. Each lay against the mountainside at a 30 degree angle and on either side the
jelantik
lay waiting to enclose a falling climber in its poisonous embrace. The thought of this happening under torchlight at 3.00 am was, needless to say, sobering.
It was time to rest. We lay down on the hard teak boards and tried to get comfortable. Still-damp clothes, hard boards, a coolish breeze and, just on dusk, the arrival of a squadron of noisy mosquitoes, conspired to keep us awake. Furthermore, every time I made a move to seek some comfort, I'd cramp in the quadriceps, or hamstring or calf – at times it seemed like all three at once! Thus, I discovered, it's very difficult to sleep and massage your screaming muscles at the same time.
Darkness closed over us with the rapidity of a stage curtain and we were left to contemplate the night sounds of the ever-present jungle. Far off were heard the faint rumble of thunder; each of us secretly hoped it was not coming our way. Close by, a
burung hantu,
which literally means
ghost bird,
began to hoot eerily. The undergrowth rustled and swished with the passage of a large beast – maybe a wild pig or a small deer. Sleep would not come and I began to worry about the hours ahead. Would this enterprise end in failure or even worse, end disastrously with one of us injured precipitating an emergency rescue? Thankfully, my wounded knee had not troubled me so far. Or, by some conspiracy of the clouds, would we be denied a view of Tambora's awesome crater by the onset of more atrocious weather? I pushed the thoughts from my mind and entered the twilight zone of dozeland – unsure if I was dreaming or thinking, vaguely aware of my physical discomfort, but not able, or not willing, to move lest I jerk myself back into wakefulness.
In this way I cobbled together an hour's rest before my mobile's alarm came to life with The Eagles crooning,
'Welcome to the Hotel California'.
I stirred, moving gingerly so as to not bring on cramp. The breeze had abated but the air was cold. Haris blew on the embers and soon had a blaze going, its halo a red glow pushing against the black night. Our clothes – and most importantly – shoes and socks had dried, so, at least we would be comfortable for a while. Plenty of warm food and hot coffee primed us for the off, and at 1.00 am precisely we left camp and struck out into the green curtain ahead of us.
The narrow trail wound steadily on. We climbed under and over fallen trees eventually reaching the first fallen giant that would carry us safely above the forest of
jelantik
. The tree was too slippery to walk along. Perhaps 40 meters long we could just straddle it and, using our hands, drag ourselves up its length. On either side the
jelantik
lay, just a metre below, waiting. My head torch lighting the way, I inched myself forward after the others. Its silvery beam illuminating the seemingly endless wall of greenery, I wondered aloud: "When will this forest end?" The answer came back from Farouk, "Just one more hour." Could I hang on? Could I make it till we reached the easier going?
True to his word, shortly after negotiating a second fallen monster and tasting my first brush of
jelantik
against an exposed cheek, we found ourselves in flatter, more open country. Trees were smaller, thinner – a different species altogether – and instead of alang grass, bracken and trailing creepers, we were pushing our way through tussocky grass and could feel scoria, not slippery earth, beneath our feet. The end of the green hell distracted me from the burning sensation left by the
jelantik
– at last some easier going! The lightening sky brought promise of a soon-to-come rendezvous with the summit. Our hopes rose with each step. We quickened our pace eager to take in the long-anticipated vista. The open sky above was clear. The firmament blinked and twinkled a greeting to the first rays of dawn – we were assured of clear, uninterrupted views all the way to Lombok!
The last few hundred metres were a scramble over a moonlike surface of sand, scoria and small rocks. With perfect timing we reached the crater's edge. In the dim light we could sense we were standing, looking down into an awesome chamber. Gradually the sky lightened and our eyes feasted on a stupendous sight – Tambora's crater bathed in the sun's first rays. Seven kilometres wide, 21 kilometres in circumference, 350 metres deep, its sombre presence defied description. It was simply – THERE! - the result of the most cataclysmic event in modern history. No words were needed to describe the feelings we experienced at that moment. We smiled and embraced and my steadfast companions lit up a smoke. Below us the mountain fell away to the coast, beyond which lay the islet of Satonda with its salt water lake, created courtesy of the
tsunami
which followed the explosion – the explosion 'which shook up the world.' Far away to the west waves caressed the fractured, indented northern Sumbawa coastline whilst we contemplated the massive power of nature and the inevitability of the trip back down the mountain.
We stayed up top for a couple of hours, resting, eating bananas and sweet buns, and congratulating ourselves. Then it was time to go. We stepped away strongly, invigorated, flushed with success. We rested upon reaching the tree line having spotted copious deer tracks in the sandy going, but disappointingly, seeing nary a beast. Back down through the
jelantik
, older and wiser, I came out the other side unscathed. Tiredness set in and the walk back down became a war of attrition – us against the endless forest. I set on a method and stuck to it. Born of sheer bloody-mindedness it was a simple one. Pick out a target 50 metres ahead, achieve it, then, pick out the next one. Hour after hour my achievements built up but by late afternoon I was really wilting. Resisting the desire to lay down and sleep I knew we had to keep going for the weather was closing in and darkness was not far off, waiting in the wings. Grim-faced we struggled on, each step a victory of sorts.
For hours I had resisted the temptation to ask the bleeding obvious: 'How much further?' but finally I gave in. The answer came back: 'About another hour.' I told myself I could hang on. And I did. We reached the bamboo gate and collapsed on the track. Haris phoned his mates to come and pick us up with their motorbikes.
And so we would travel the last few kilometres riding pillion. In 33 hours we'd walked for 24 and had about an hour's sleep. I figured we'd done our share of walking for a while! Exhausted, but happy, we lay back and waited for the sound of the approaching engines that would close the chapter on our successful slog up the forested slopes of far-off, seldom-seen Tambora.
Steve Campbell
---
Last edited by Grant Johnson; 11 Mar 2011 at

04:03

. Reason: Email address deleted. Never post your email unless you really want to be spammed! Users can click your name to contact you.

Currently Active Users Viewing This Thread: 1

(0 Registered Users and/or Members and 1 guests)
Posting Rules

You may not post new threads

You may not post replies

You may not post attachments

You may not edit your posts

---

HTML code is Off

---
NEW! HU 2015 Motorcycle Adventure Travel Calendar is now available! Get your copy now for some terrific travel inspiration!
HUGE, 11.5 x 16.5 inches, beautifully printed in Germany on top quality stock! Photos are the winning images from over 600 entries in the 9th Annual HU Photo Contest!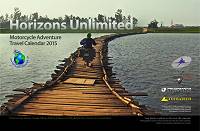 "The calendar is magnificent!"
"I just wanted to say how much I'm loving the new, larger calendar!"
We share the profit with the winning photographers. YOU could be in the HU Calendar too - enter here!
Next HU Events
NEW!

USA Virginia: Apr 9-12, 2015
Take 40% off Road Heroes Part 1 until October 31 only!
Road Heroes features tales of adventure, joy and sheer terror by veteran travellers Peter and Kay Forwood (193 countries two-up on a Harley); Dr. Greg Frazier (5 times RTW); Tiffany Coates (RTW solo female); and Rene Cormier (University of Gravel Roads).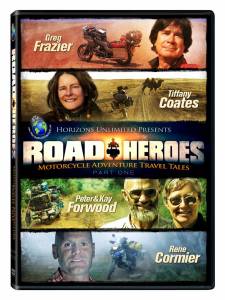 "Inspiring and hilarious!"
"I loved watching this DVD!"
"Lots of amazing stories and even more amazing photographs, it's great fun and very inspirational."
"Wonderful entertainment!"
Check it out at the HU Store! Remember to use Coupon Code 'HEROES' on your order when you checkout.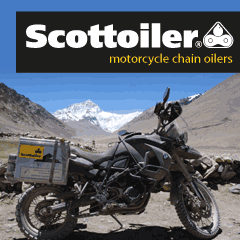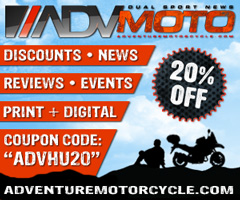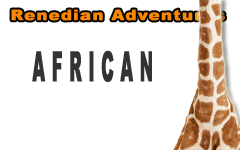 What others say about HU...
"I just wanted to say thanks for doing this and sharing so much with the rest of us." Dave, USA
"Your website is a mecca of valuable information and the DVD series is informative, entertaining, and inspiring! The new look of the website is very impressive, updated and catchy. Thank you so very much!" Jennifer, Canada
"...Great site. Keep up the good work." Murray and Carmen, Australia
"We just finished a 7 month 22,000+ mile scouting trip from Alaska to the bottom of Chile and I can't tell you how many times we referred to your site for help. From how to adjust your valves, to where to stay in the back country of Peru. Horizons Unlimited was a key player in our success. Motorcycle enthusiasts from around the world are in debt to your services." Alaska Riders

10th Annual HU Travellers Photo Contest is on now! This is an opportunity for YOU to show us your best photos and win prizes!
NEW! HU 2014 Adventure Travel T-shirts! are now available in several colors! Be the first kid on your block to have them! New lower prices on synths!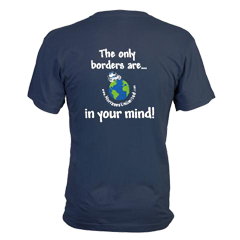 Check out the new Gildan Performance cotton-feel t-shirt - 100% poly, feels like soft cotton!

What turns you on to motorcycle travel?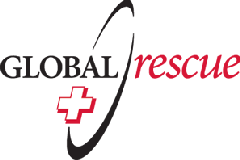 Global Rescue is the premier provider of medical, security and evacuation services worldwide and is the only company that will come to you, wherever you are, and evacuate you to your home hospital of choice. Additionally, Global Rescue places no restrictions on country of citizenship - all nationalities are eligible to sign-up!
New to Horizons Unlimited?
New to motorcycle travelling? New to the HU site? Confused? Too many options? It's really very simple - just 4 easy steps!
Horizons Unlimited was founded in 1997 by Grant and Susan Johnson following their journey around the world on a BMW R80 G/S motorcycle.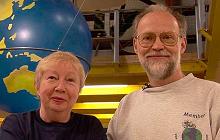 Read more about Grant & Susan's story
Membership - help keep us going!
Horizons Unlimited is not a big multi-national company, just two people who love motorcycle travel and have grown what started as a hobby in 1997 into a full time job (usually 8-10 hours per day and 7 days a week) and a labour of love. To keep it going and a roof over our heads, we run events (22 this year!); we sell inspirational and informative DVDs; we have a few selected advertisers; and we make a small amount from memberships.
You don't have to be a Member to come to an HU meeting, access the website, the HUBB or to receive the e-zine. What you get for your membership contribution is our sincere gratitude, good karma and knowing that you're helping to keep the motorcycle travel dream alive. Contributing Members and Gold Members do get additional features on the HUBB. Here's a list of all the Member benefits on the HUBB.
Books & DVDs

All the best travel books and videos listed and often reviewed on HU's famous Books page. Check it out and get great travel books from all over the world.

MC Air Shipping, (uncrated) USA / Canada / Europe and other areas. Be sure to say "Horizons Unlimited" to get your $25 discount on Shipping!
Insurance - see: For foreigners traveling in US and Canada and for Americans and Canadians traveling in other countries, then mail it to MC Express and get your HU $15 discount!
All times are GMT +1. The time now is
16:39
.