| | |
| --- | --- |
| ...since preparing for the trip is half the fun | |
North America
Topics specific to Canada and USA/Alaska only.


29 Jun 2007
Registered Users

HUBB regular

Join Date: Jul 2006

Location: Calgary, Alberta, Canada

Posts: 33
...since preparing for the trip is half the fun
---
Hello all,
(I really have to stop posting after opening a bottle of wine)
I started this all-encompassing thread (part gear, part planning, part bike type, etc, here, because it is a north american trip thing).
Here again, has arrived my meager holiday (a month - of which, if I'm lucky, I'll get a week or so of travel time. The rest of the time is allocated to the "honey-do-list". Mind you, I seem to manage several thousand kilometers or so, each time. Guess I can't complain.).
Once again, I am packing the metal mule (a 2002 klr650 with 34,500k on it) for a trip alone (the wife thinks I'm nuts and the daughter is using these trips as ammuntion for having me committed to an old-age home).
Once again, I am packing for a trip where the the temperature can range from "why the hell is my helmet filling up with smoke - shit, my hair is on fire again" to "that had better not been my other testicle that just rattled down my pant leg. I wasn't done with it yet!". Welcome to travel in Canada.

From my previous trips I learned a few things.

The KLR stock seat is not a bad thing. The main problem is that you slide forward with each little vibration and slowly, but surely, crush tender parts into painful jelly. Solution - the same material you use in RV's to prevent dishes from slipping around on a counter top. A peice of this works wonders. My last trip saw 700k days on a stock seat without problems. If a aftermarket seat is the answer for you, I won't argue - I can't afford it - this works for me.
My bike has Renthal handle bars. That and a thin slice of gel-seat on the hand grips eleminates all vibration. No numb fingers - at all. I'm sure commerical gel hand grips do the same - this is cheap, I had an old gel seat from my mountain bike.
The tools go into a length of 4" water pipe strapped to the bash plate - handy, weight is low down - works for me. Additions to the tools are three 9" tire bars - hope I never have to use them - hope they are long enought - I am counting on desperation to lend the extra strength if they are not.

Last year I learned never be stupid enought to trust the dealership or bike manufacture tire pressure recommendations. Set the pressure to the upper range of the specific tire (not the bike manual's) indicated pressures for highway travel, if you want acceptable milage.

Eye protection. I use full face helmets because I have had endless encounter with all manner of crap flying through the air into my face while traveling down the highway. However, when the air still and not burdened with all manner of solids, the weather is balmy, and the speed is pleasently moderate, I like to have the sheild up and feel the wind on my face. This, after all, is the idylic joy of motorcycling. The reqular bi-focals I wear, have my eyes streaming with tears with anything over 80K per hour. Sure. Go ahead. Lets see you look so cool and macho while the water works are on. At every stop, the fair sex of all ages is asking (in honest concern for this seamingly-in-distress old fart) if you are O.K.. It is embaressing.
The ESS goggles with the insert prescription lenses seem pretty good - I'm ordering a pair. In the mean time, over the glasses sun shades from London drugs, seem to do the trick (No, I don't mean thoses huge -I'm eighty years old and just-had-cataract -surgery glasses). These are passable.

Enought for now - more to come. Sure would like to see others post their pre-trip musings.

Peace,

Narly


29 Jun 2007
Large Golden Member

Veteran HUBBer

Join Date: Aug 2005

Location: BC, Canada

Posts: 1,096
Well the Single Malt seems especially fine tonight ,so here's my contribution .

I spent a fair portion of yesterday afternoon driving around looking for a 530 chain ,O or X ring if at all possible .There are 4 bike dealers in the town which is an hours drive away .
Well apparently 530 chain is as plentiful as fresh dinosaur shit , at the 4th dealer I was even informed by some storeman [ who looked to be about 12 years of age] that it was not made anymore -- must be a really old bike - ha ha !
When his buddy ,who had a functioning brain, found one for me ,I was ecstatic ,I then made the fatal error of asking for a spare master link .
A spring type master link to boot .
They both informed me that such a thing does not exist .
Ye Gods ! I have been halucinating for all these years or mebbe the one that I KNOW I HAVE somewhere is as valuable a piece as any Egyptian tomb ornament .
I should have gone to the farm machinery dealer and bought a baler chain for a quarter of the price , at least they have master links there .

BTW I also found we have a new Yamaha dealer ,[the previous dealer now sells KTM but not road going models - so no Adventure 690 and 990s to drool over ].So I was able to order parts for my daughter's bike - hooray .

As I left town I did go and buy a battery for the bike from the farm dealer - significantly cheaper than a bike shop and it was an Exide .

I had a look at a new style KLR as well , I think they look better "in the flesh" than in photos .

My other bike preparation involves brushing the sheepskin seat and filling the tank .
__________________
Blessed are the cracked, for they let in the light. - Spike Milligan
"When you come to a fork in the road ,take it ! When you come to a spoon in the road ,take that also ."


26 Jul 2007
Registered Users

HUBB regular

Join Date: Jul 2006

Location: Calgary, Alberta, Canada

Posts: 33
should have stuck with the wine
---
Damn it Dodger, you did have to mention single malt. Now now here I am, just finished stage 2 of my ride, the night before stage 3, pissed as a newt, trying to post.
Quick notes.
First, the 400k from Calgary to Jasper, dispite now paved roaded and eco tourists, still worth the trip (I did it 25 yrs ago on a 10 speed bicycle).
Second, the thrill of lot of elk sharing my campsite at the "wapiti" campgrounds just south of Jasper was only slightly diminished by finding a "tick" roaming about my neck come bedtime.
Third, don't forget the sunblock (forget the sunscreen, go for the block), folks, that sun at altitude hits like a hammer!!!
Peace,
Narly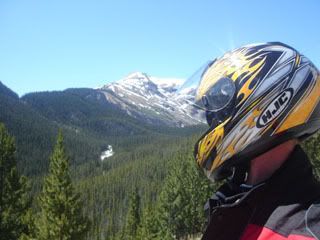 Currently Active Users Viewing This Thread: 1

(0 Registered Users and/or Members and 1 guests)
Posting Rules

You may not post new threads

You may not post replies

You may not post attachments

You may not edit your posts

---

HTML code is Off

---
All times are GMT +1. The time now is
13:15
.