HU Travellers Meeting Germany-Autumn 2014
Horizons Unlimited 13th Deutschland Travellers Meeting
Thursday 23 Oct - Sunday 26 Oct, 2014
Campingplatz Pfrimmtal, Deutschland
It's All About Overland Adventure
Whether you're a seasoned veteran with wisdom to share or a complete novice hungry for ideas and guidance, it doesn't matter if you ride a motorcycle, a bicycle, or drive an expedition vehicle...
Horizons Unlimited meetings are for everyone who dreams of adventure along the road less travelled.
Horizons Unlimited Germany Autumn Event Schedule
The event is taking place from Thursday, 23 Oct to Sunday, 26 Oct, 2014. Presentations will start Thursday night. Rideouts will start Friday morning. Organizers will be there most of Wednesday, hopefully Wednesday evening, if anyone wishes to arrive early and just hang out or go for a ride in the area. Please LET US KNOW you will be arriving early.
Schedule will be posted here, with a print version as well, when it's ready... The schedule is subject to change - stuff happens! Check the latest schedule to be posted at the meeting on the day.
Presenters at HU Germany Autumn
2014

so far...
| | |
| --- | --- |
| | Austria to Australia - 18 months, 65,000 km, 21 countries! |
"Kurs Südost"
Kurs Südost eine Reise in (m) ein Abenteuer, 65.000 km, 18 Monate, 21 Länder. Höhepunkte meiner Reise: Pakistan, Mount Everest Basecamp, Tibet, Traditioneller Walfang in Lamalera (Indonesien), Australien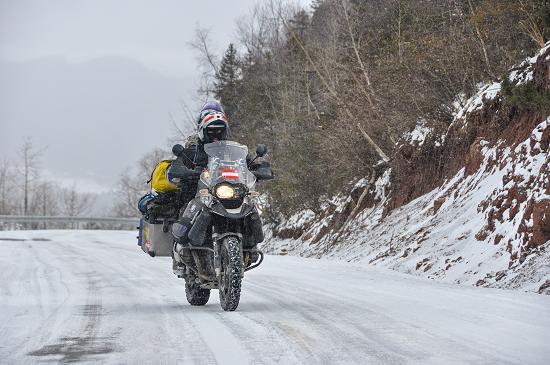 Course Southeast
A travel adventure, 65.000 km, 18 months, 21 countries. Highlights of my trip: Pakistan, Mount Everest Base Camp, Tibet, Traditional Whaling in Lamalera (Indonesia), Australia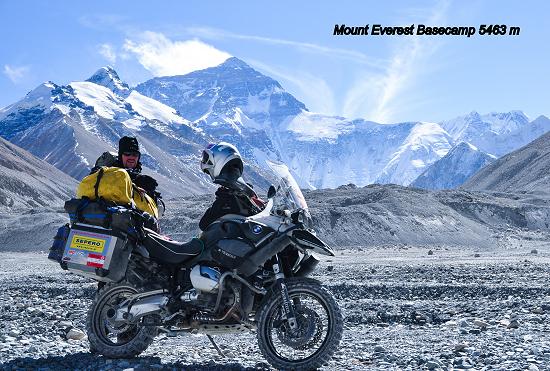 Harry says: "I drove from Austria to Australia, via Iran, Pakistan. 18 Month, 65.ooo km, 21 countries. I was with my motorbike on the Mount Everest Basecamp. I joined a traditional whale catching in Indonesia..."
More to come...
How about you? We're all here to learn, and there's LOTS to learn! We want to do more presentations and seminars - but we need volunteers to give them! Any topic you can contribute having to do with motorcycle travel, maintenance, planning etc, lasting 20 minutes or more, would be great. Please sign up here.
Presenters at HU Germany Summer
2014

included...
| | |
| --- | --- |
| | From Europe to the Himalayas and beyond! |
Three faces of the Himalaya
Exploring the Himalaya in three very different countries: Pakistan, India and Nepal - During our world trip we had the chance to see three different faces of the Himalaya in three different countries. We explored the roads and stunning landscapes between the highest mountains of the world in Pakistan, India and Nepal. Different religions, different cultures, different people, different countries - but all were fascinating... In this presentation we will take you on a trip through those three countries, we will ride up onto some of the highest passes of the world in India, we will take you over the Karakorum Highway, and we will show you that Nepal consists not only of mountains!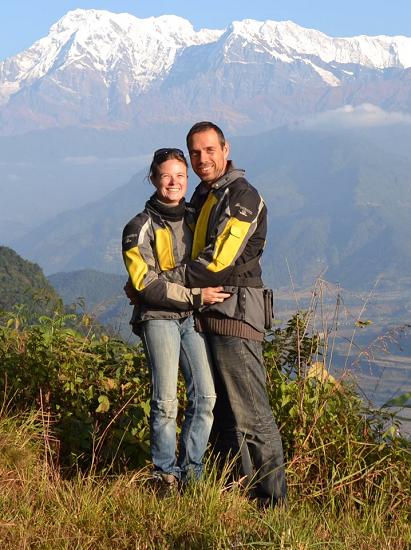 Big Bikes Back in Burma
Burma is opening up - together with 3 friends we were the first that were allowed in with our bikes. While we were in Thailand we got the chance to enter Burma overland with our motorbikes. Together with 3 friends we formed the first group that was officiall allowed in. We spent only 7 days in this country, but we retuned with fantastic pictures and wonderful stories...
In May 2012 Filippo and I left Europe to travel around the world... and after 2 years on the road, we will be back in Germany in May 2014!
Werner Zwick

Guatemala, Belize and Southern Mexico - Volcanoes, indigenous markets, ancient ruins, great landscapes and dense jungles combined with great roads and rough dirt tracks.
Werner travelled in January 2014 from Guatemala City to Mexico City. His presentation covers: Central Guatemala with its impressive Volcanoes, curvy roads, fascinating Atitlan Lake and the charming old city of Antigua. Colourful indigenous markets, the tranquil cascades of Semuc Champey and the impressive old Maya city of Tikal in the jungle. Belize wth its Caribbean air stands in stark contrast to the more reserved highland people further west.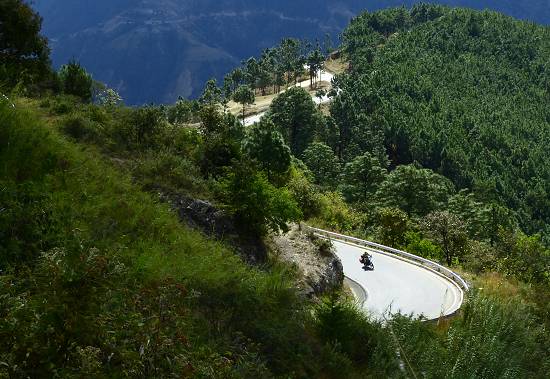 Motorcyclewise, the Yucatan peninsula in Mexico is not really worthwhile. But the cultural treasures of old Maya cities like Chichen Itza, Uxmal and Paleque make up for missing curves and oppressive humidity. Riding on curvy roads into the highlands of Chiapas is pure fun. Crossing the isthmus of Teuhantepec is hard work. Fighting winds of up to 100km/h on an elevated Highway with heavy traffic took full concentration. The empty mountain roads in the Mexican highlands offered some more fun on the way to Oaxaca and Mexico City.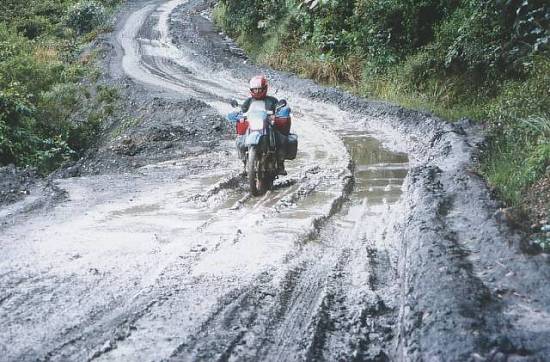 Werner has travelled by motorcycle in the Americas, parts of Africa, New Zealand and many parts of Europe so far.
Markus & Ellen Kirchgeßner - two with desire of freedom!

Karibuni! - Welcome to Africa
45.000 kilometers through 23 countries - A multivison-show about two nomads, embarking on a Transafrica journey.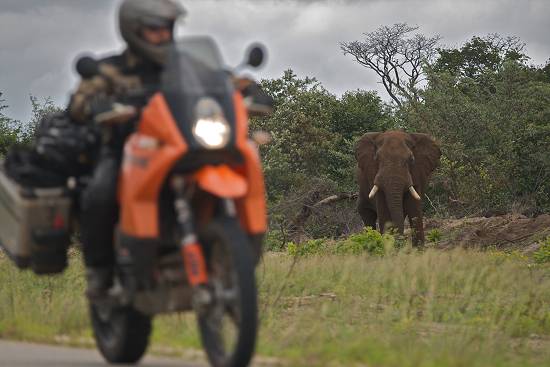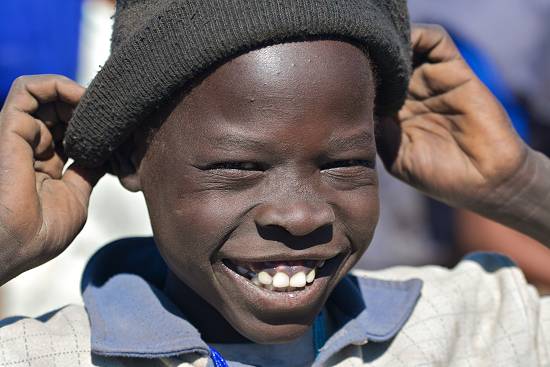 Frank Panthöfer and Simone Dorner, Krad-Vagabunden

Getting into contact with locals
The 'Krad-Vagabunden' (Simon and Panny) travelled around the world on two Honda Transalps from 05/2010 to 10/2013: North to South america, New Zealand and Australia, Southeast Asia, the Himalayas, back home through Iran, Iraq, Turkey, etc.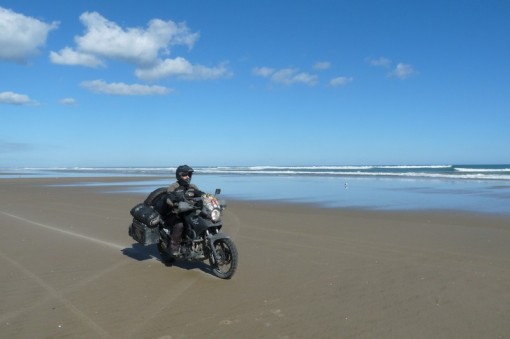 Following their successful presentation in Australia on this topic, Simon and Panny will give some highlights from their around the world trip, then describe the online 'channels' which proved to be of outstanding efficiency for us to get into contact with locals / local motorcycle travellers. They will also give some tips/tricks + examples for real live contact.
Premkumar Govindarajulu, Switzerland

A Mixed Ride India, East Africa & Europe
Before starting this trip, I had a detailed plan. But the day I got geared up I threw all my plans in a Dustbin and decided to travel as a clean slate. Absolutely no plans. But I knew the direction from Switzerland. (as I live near Zürich). My direction was only south & East of Europe. With only direction in my mind I started my travel.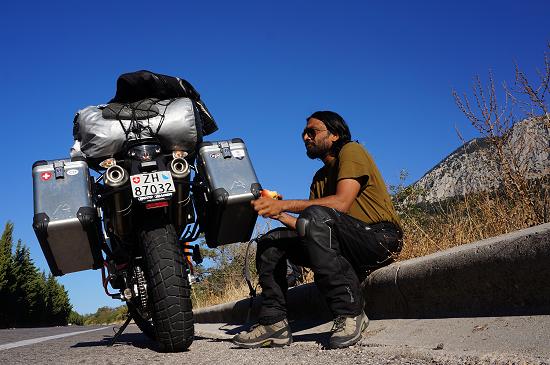 Premkumar rode Across India and East Africa in 2010 and after a break, started again to travel in Europe.
Educational Sessions
Because Horizons Unlimited events are about informing, not just inspiring, we also have a great lineup of educational sessions for you...
| | |
| --- | --- |
| | Safe off-road riding fully loaded |
Tips on how to handle your fully loaded bike in tricky off-road conditions
Tips and tricks for travellers that want to go off-road with a fully-loaded motorcycle, and don't want to risk a crash. E.g. how to turn around on a very steep and slippery slope with a fully loaded BMW - going downhill save and slow - handling of heavy bikes in difficult situations - turning on a narrow track - etc.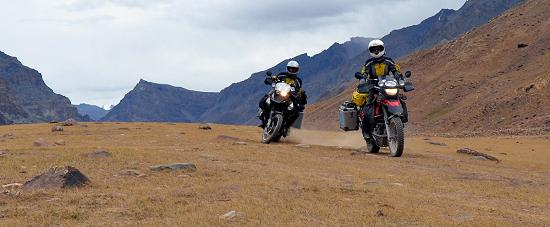 Bike modifications and technical tips
Bring your bike, bring your questions... Bring your bike and show us your modifications, fixes, etc. Bring your questions and problems, and we will try to find a solution. Filippo will also present some modifications that have proven very helpful during his world-trip.
I have travelled on two wheels for more than 30 years. In May 2012 I left Germany together with Heike to travel around the world, and after 2 years on the road we return in May 2014.
Panel discussions at most HU events include...


Border crossings - How to get through borders with minimal stress and cost!
Packing light - Tips and techniques from experienced travellers to reduce weight and bulk.
Regional discussions - e.g. travelling in South America or Asia.
For Women Only - A must for the ladies, so be sure to plan on being there! A chance to talk to experienced travelling women without the men around!
Experienced Travellers Panel - ask the experts anything you want!
Walk arounds / Show and tell!
Tents and Bedding discussion (in the camping area) - What works, cheap vs dear and which ones keep you dry, warm and comfy!
Bike mods - Show off your best bike mods - homemade saddle bags, toolbox mounts, GPS mounts, seats, side stands, tank panniers, cup holders, etc.
Horizons Unlimited Germany 2014 Ride-outs
Ride-outs are limited to 6 or 10 people per ride, no exceptions.
All rides will be back on site at or before 5.00pm
Road Rides - two planned, details to come.
Off-road - we could use some help - any ideas, locations, routes, off-road tracks?
The cost of going on any ride is included in the registration fee.
All rides are "register on the day." There will be signup sheets for each ride posted the evening before. First in best dressed.
Facilities for a Fantastic Four Days
NOTE: NEW LOCATION !!!
The event will be held at:
Campingplatz Pfrimmtal
Pfrimmerhof 3
67729 Sippersfeld
Telefon (06357) 9753 -80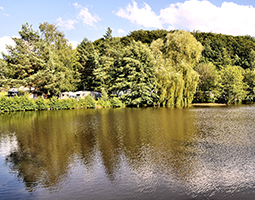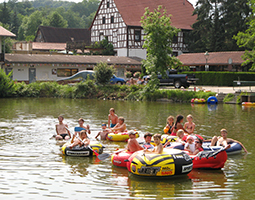 Jens has found a great new venue! Official Campground in beautiful surroundings features:
Separate Camping Area for Groups
Fireplace
Great toilets and real showers – finally!
German/Greek Restaurant on the spot (lunch, dinners and breakfast)
Swimming in several lakes possible (depends on the weather!)
Good for hiking
Fishing possible
Absolutely quiet – no traffic around!
Great Barn for slide shows
Cabins/ Mobilhomes and Apartments are available (book through Jens)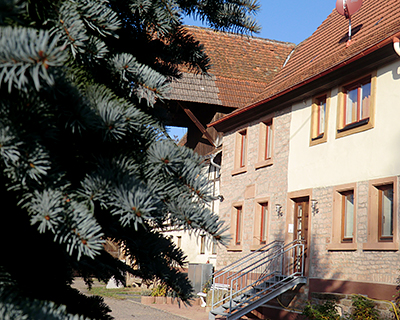 Great riding in one of the best riding areas of Germany – the Pfälzer Wald! The famous Motorcycle Meeting Point "Johanniskreuz" is just around the corner... Endless turns with nearly no traffic! Plenty of attractions in the area - see list!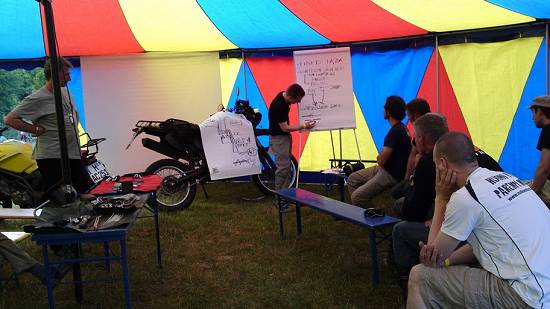 Camping
Camping IS included in your registration fee. There is lots of room for camping!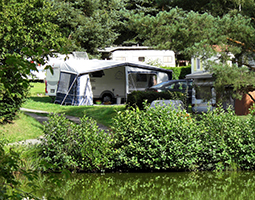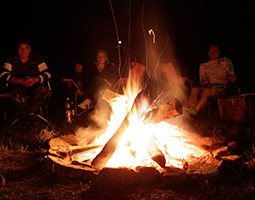 Food
Is NOT included in your registration price. There is a Greek/German restaurant serving breakfasts, lunches and dinners.
MEALS
Meals are NOT included but food may be purchased on site.
ACCOMMODATION
Camping (with real showers!) is included with your registration fee. Cabins/ Mobilhomes and Apartments are available at extra cost (book through Jens).
SELECT YOUR PRE-REGISTRATION OPTION
---
What happens at HU events?
HUBBUK 2013 - Donington Park
Join the Volunteer Crew
From welcoming travellers at the gate, to taking care of the campsite and making sure all the presentations run smoothly, the success of every HU event relies on the enthusiasm of its volunteer crew.
"What a wonderful bunch of people. I had no idea how much fun I'd have by helping out!"
"It was my absolute pleasure to be able to give something back to the HU community and working with such great folks really made the event special."
Volunteering is a great way to make new friends, get more involved with Horizons Unlimited and have loads of fun! You can sign up to volunteer when you register for the meeting, OR click here if you have already registered and want to add volunteering.
Be a Presenter
We're inviting submissions for presentations, so whether you're attending the event or exploring a distant continent, if you've got a story to tell or expertise to share we'd like to hear from you.
We love to hear stories about your travel adventures, especially if you have great pics! Also, practical how-to sessions such as roadside cooking, navigation/GPS, trip prep and planning, adventure motorcycling medicine, packing light, setting your bike up, communications/blogging from the road, self-publishing your story, yoga for bikers, bodging/bike maintenance, self-defense, photography, videography, tire repair, safe riding techniques, how to pick up your bike, off-road riding, all are of interest.
There are 40 and 90 minute sessions available for talks, workshops, demos and live web chats, plus a new Pecha Kucha option (20 slides x 20 seconds each).
Comments about HU Events
"I have picked up so much information... and met some new friends and wonderful people."
"A superb event that was really well organised. I found the atmosphere amongst the attendees to be very positive too."
"I have not done much travelling so it was like visiting with a world traveller - Presenters were very approachable."
"Great atmosphere and camaraderie, especially at dinner time, and interesting presentations."
"Folks were all great and the most amazing thing was there was NO ATTITUDE."
"I have learned so much, made some great mates and met some of the best people. I was buzzing by the time I got home. I have a little trip planned and just can't wait to get out there."
You can help!
If you have a few minutes, please download the poster (Adobe pdf format) and print off a few and hand them round your club or your local bike shop or anywhere seems like a good place.
Poster in pdf format, English (300kb) full colour Event poster: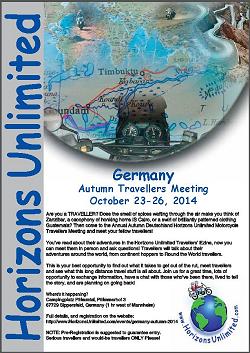 You may need to right click and choose "save target as..."
Thanks!
Departing or Returning?
If you're planning an expedition, why not make the Horizons Unlimited meeting your official start point? Or maybe you're nearing the completion of a journey and would like a very public welcome home? Of course you might just be passing through and fancy marking a key stage of your travels?
We'd love to make you a big part of the meeting, so feel free to get in touch and tell us your plans.
Information about the area
Located 35 km west of the City of 67549 Worms Rhein, just at the entrance of one of the best riding areas of Germany – the Pfälzer Wald!
The famous Motorcycle Meeting Point "Johanniskreuz" is just around the corner... Endless turns with nearly no traffic!
If you have any links or details for the area please let us know.
Local Hosts
Jens Ruprecht is the lead organizer of this event. Thanks go to Jens for volunteering to bring Horizons Unlimited Travellers Meetings to Germany, and all his hard work!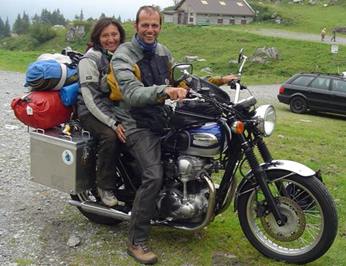 If you have any questions, contact Jens at jens...@gmx.de. If you have a problem contact Jens (via Grant) here with rideout registration, vendor, venue and speakers questions.
We can always use help on the day - please volunteer to help out for a couple of hours when you register!
HU Events Refund Policy
We know 'stuff happens', and you know we have financial commitments to venues and caterers!
If you're unable to attend an event, please let us know (by e-mail reply to your confirmation e-mail from us) so we don't worry that something has happened to you...
Up to 30 days prior to event start, we will refund all fees in full less a $10 (or €9 or £8) fee for handling and PayPal charges.
Up to 15 days prior to event start, we will refund camping/accommodation and food packages in full less a $10 (or €9 or £8) handling fee. We will apply your registration fee to any subsequent HU event in the year or following year. If you have purchased a t-shirt, let us know your mailing address and we'll send it out.
Within 15 days of the event start, there will be no refunds, but we will apply your registration fee to any subsequent HU event in the year or following year. If you have purchased a t-shirt, let us know your mailing address and we'll send it out.

New to Horizons Unlimited?
Horizons Unlimited was founded in 1997 by Grant and Susan Johnson following their journey around the world on a BMW R80 G/S motorcycle. The website, HUBB forum and regular events across the globe have inspired thousands of people to follow their dreams and take the road less travelled.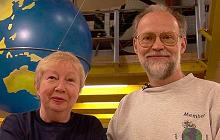 Read more about Grant & Susan's story
Membership - Show you're proud to be a Horizons Unlimited Traveller!
Horizons Unlimited is not a big multi-national company, just two people who love overland adventure travel and have grown what started as a hobby in 1997 into a full time job (usually 8-10 hours per day and 7 days a week) and a labour of love. To keep it going and a roof over our heads, we run events such as this one (18 this year!); we sell inspirational and informative DVDs; we have a few selected advertisers; and we make a small amount from memberships.
You don't have to be a Member to come to an HU meeting, access the website, the HUBB or to receive the e-zine. What you get for your membership contribution is our sincere gratitude, good karma and knowing that you're helping to keep the motorcycle travel dream alive. Contributing Members and Gold Members do get additional features on the HUBB. Here's a list of all the Member benefits on the HUBB.
You can join at a reduced rate as part of your meeting registration. Note that new Memberships with your Meeting Registration are applied as of the Meeting date or as soon as possible thereafter, not earlier, unless you make a special request in the Comments box when you register.

10th Annual HU Travellers Photo Contest is on now! This is an opportunity for YOU to show us your best photos and win prizes!