HU Travellers Meeting Colorado 2014
Horizons Unlimited Campfire and Ride Meeting
Friday July 11 - Sunday July 13, 2014 - Grant, Colorado
It's All About Overland Adventure
Whether you're a seasoned veteran with wisdom to share or a complete novice hungry for ideas and guidance, it doesn't matter if you ride a motorcycle, a bicycle, or drive an expedition vehicle...
Horizons Unlimited meetings are for everyone who dreams of adventure along the road less travelled.
Horizons Unlimited Colorado Event Schedule
The event is taking place from Friday, July 11 to Sunday, July 13, 2014. The schedule is pretty laid back, as you'd expect since Greg Frazier is the local organizer (Dave Rankine and Chris Kelly are actually doing all the work!)
We're still working on the details, but expect riding as the focus, follow the leader or on your own, with a presentation or two in the evening.
There will be Saturday ride outs (with suggested routes/maps) and possibly group leaders.
Presenters at HU Colorado
2013

included...
Nick Taylor

High Passes & Soft Curves
"A quick trip to the Indian Himalaya Fly-in fly-out trip to Leh and Ladakh on a rented Royal Enfield Bullet. You can have a great experience in a very foreign environment without having to do a lot of planning or taking a lot of equipment."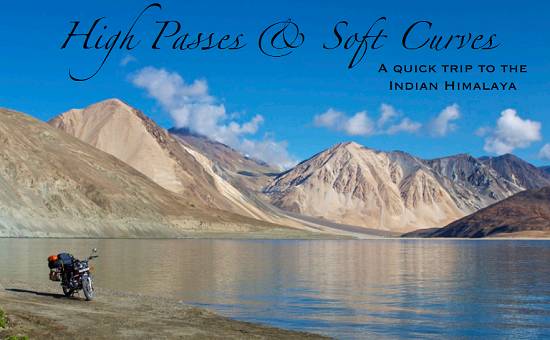 After growing up in the North-East of England, Nick seeks out the drier parts of the world! An experienced desert traveler, Nick has made many trips to the Sahara and the Rub' al Khali, as well as spending time in Southern Africa and the slightly wetter parts of South East Asia. Nick lives in Idledale, Colorado, drives Land Rovers and rides BMWs.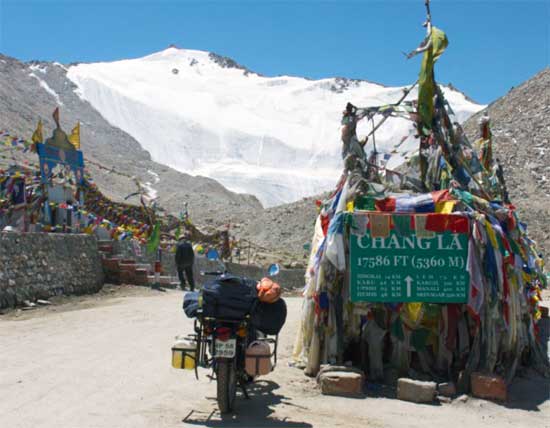 David Rankine

Your Alaska Journey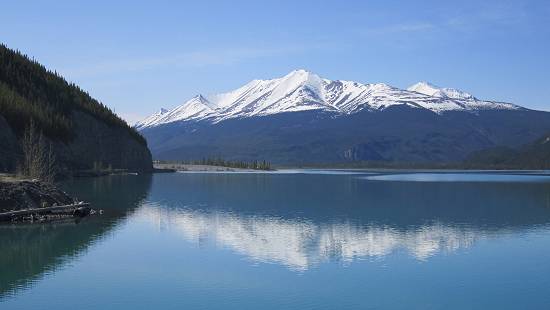 I am a former Alaska Resident. The presentation is slides of various routes to and from Alaska and the Marine Ferry along with a talk to help people plan their Alaska Journey.
| | |
| --- | --- |
| | FIVE (and a half!) x RTW |
We're pretty sure Greg can be arm-twisted to get up and talk about his FIVE (and a half!) amazing trips around the world!

Gregory Frazier riding SE Asia
Horizons Unlimited Colorado Ride-outs
Dave Rankine has volunteered to lead a ride over some of the easier Colorado passes for people who want to do some guided off pavement group experience. Off road technique instruction as needed. Ride is weather permitting.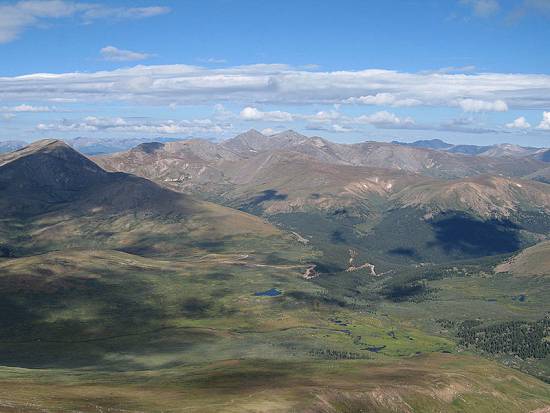 Note: You are spoiled for choice on rides in the area, so let Greg know if you have any particular requests.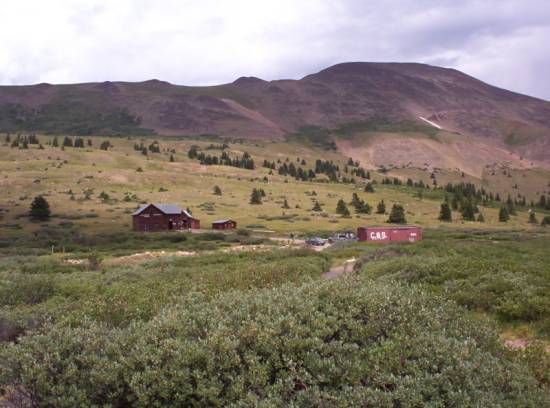 Facilities for a Fantastic Three Days
The Horizons Unlimited Colorado Campfire and Ride meeting will be held at Terry A Gross memorial park (Geneva Creek), Pike National Forest, Grant, CO 80448.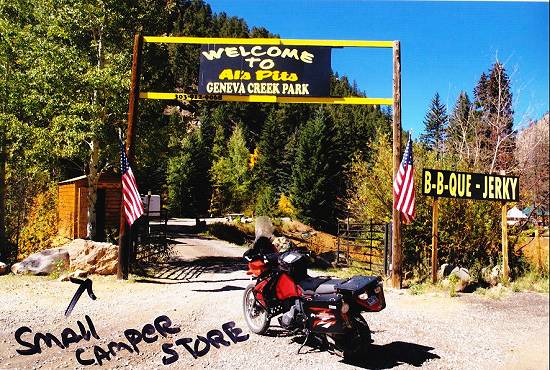 This secluded park features streams on both sides of the property to form an island. An approximately 400 ft. x 150 ft pond is ideal for canoeing and fishing...
The park is secluded from the paved road and neighbors, ideal for friendly motorcyclists ;-)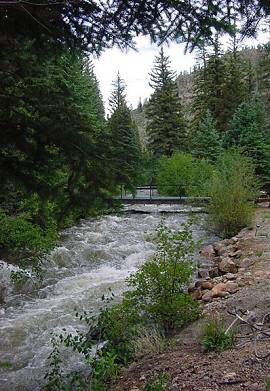 The park also features 4 horse shoe pits, a bandstand 24ft. x 20ft. a 30ft gazebo with a firepit, 2 very nice & clean restroom facilities are available, two walk bridges over Geneva Creek.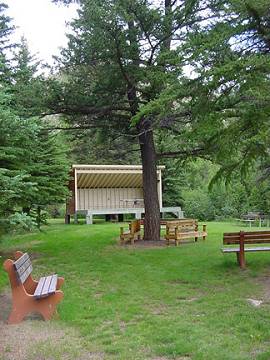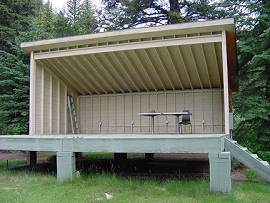 Camping
Camping along the creek is included in your registration fee.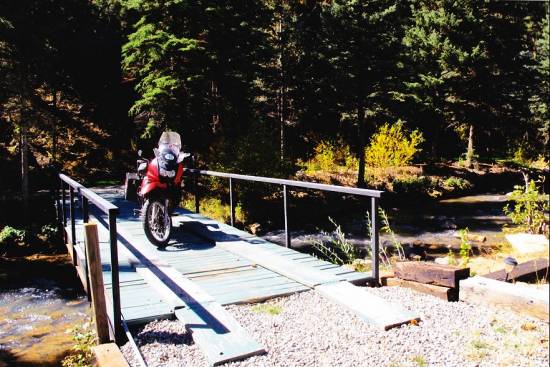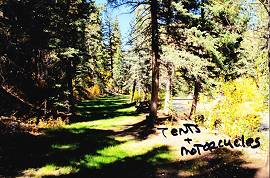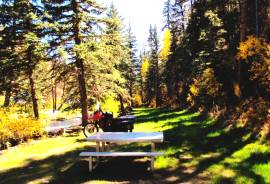 Food
You won't go hungry! From their website: "We smoke like a narrow gauge engine from Colorado! But our 'engine' belches the primal scent of bar-b-qued meats. Succulent Ribs - Brisket - Pork & Turkey legs."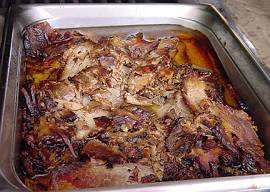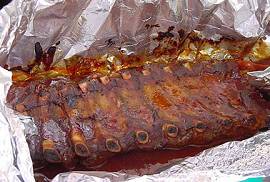 And a local delicacy - Fudge!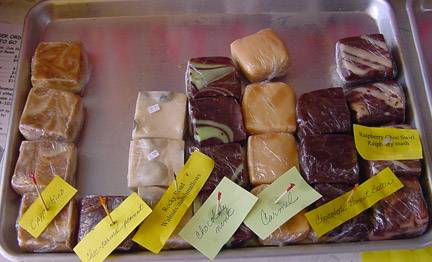 Menu from their website:
There is also a small "camper store" on site, for firewood, soups and soda.
PRE-REGISTRATION PRICING FOR FULL PASSES

Includes ride-outs and admission to all slide shows Friday and Saturday.
Camping is included. Meals are NOT included.

Pre-Register & Pay between:

Event Price

(all presentations and workshops)

September 1st & December 31, 2013

January 1st & March 31, 2014

April 1st & July 5, 2014

$34 (saves $25)

$39 (saves $20)

$49 (saves $10)

AT THE EVENT PRICING (APPLIES AFTER JULY 5)

Pay Cash or PayPal on Arrival

$59
SELECT YOUR PRE-REGISTRATION OPTION