HU Travellers Meeting Perth 2014
Horizons Unlimited 2nd Western Australia Travellers Meeting -
Fairbridge Village (near Pinjarra), WA
Friday Oct 10 - Sunday Oct 12, 2014
It's All About Overland Adventure
Whether you're a seasoned veteran with wisdom to share or a complete novice hungry for ideas and guidance, it doesn't matter if you ride a motorcycle, a bicycle, or drive an expedition vehicle...
Horizons Unlimited meetings are for everyone who dreams of adventure along the road less travelled.
Horizons Unlimited Perth Event Schedule
The event is taking place from Friday 10th October to Sunday 12th October 2014 at Fairbridge Village. The Village is a nationally heritage-listed town site operated by a major youth charity, and has convenient proximity to Perth.
We are organising an exciting range of inspirational speakers and educational workshops.
Arrive early on the Friday (after 12 pm) and make it a great weekend! There will be presentations and workshops starting Friday afternoon, all day Saturday and Sunday morning.
As well as hearing inspiring stories of overlanding adventures from around the world, you'll get the low-down on preparing for your journey, navigation, first-aid, photography, filming and a host of other essential topics. Whatever your past experience or future plans may be, there's something for everyone.
More detailed schedule will be posted here 1 week before the event, and will be posted at the event, but is subject to change.
Presenters at HU Perth
2014

so far...
Linda Bootherstone, RTW Solo Traveller

Three Wandering Poms and Waterfalls and Wats
Three Wandering Poms
In 1969 Jacky, Angie and Linda are three young women who leave their friends and family behind in UK and emigrate to Australia. From Flatting in notorious Kings Cross to travelling by motorcycle all round Australia their exploits include facing the then unsealed roads and meeting a wealth of true blue bush characters. Two of the women had never ridden before and yet they took it all in their stride.
Linda, one of the co-authors of this new book will show in this presentation that no obstacles are too great and where there is a will there is a way- its just a matter of following your dreams.

Waterfalls and Wats
There are many Guided bike tours around Thailand now with big bikes and fancy hotels provided but Linda shows that you can have a great time in cheap guesthouses and hiring a 125 Honda Dream. She takes you on her trip around northern Thailand to meet the people and enjoy the music and may even let you in on the secret of why she suddenly decided to go there this year!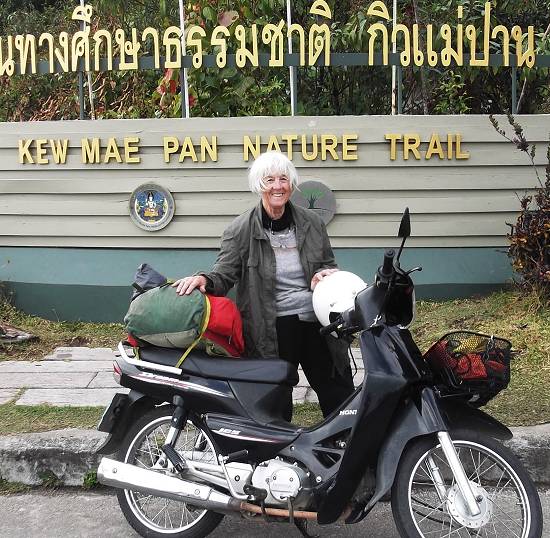 During 50 years of motorcycling Linda Bootherstone-Bick has travelled the world, solo. In the 60s - Great Britain and Europe, USSR; the 70s Australia and Africa; in the 80s America and in the 90s, eastern Europe, Ukraine and North Africa. During her 60th year she rode from Spain to Australia - and she's still going!
Stephen Armitage

Riding down the west coast of Africa - The highs and lows of riding in Africa with 4 HUBBers I'd met for 4 hours before leaving the UK...
Steve did not give himself much time to prepare for his around the world motorcycle trip. leaving work in July 2013 and departing in late August 2013 after organising inoculations, medication, etc.
Joining a group of HUBBers who promoted their trip in the 'Travellers seeking travellers' section of the HUBB, Steve planned to ride around Africa from Morocco to South Africa to Egypt without prearranged visas and without a carnet for a year, then carry on, on his own...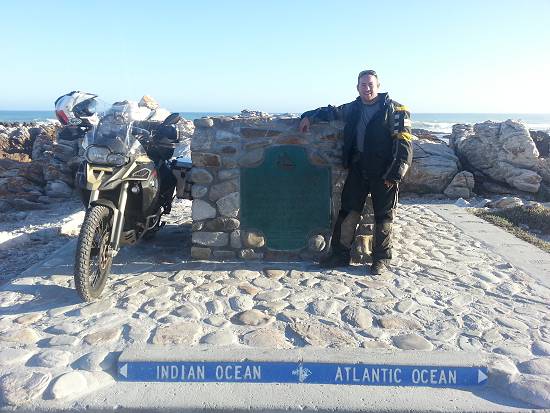 Anyone can ride around Africa
Leaving the UK with very little off-tar experience, Steve travelled around Africa trying not to drop his motorcycle.
How do you prepare for an around the world trip to continents you have not experienced, on terrain that will test you and your motorcycles ability? With only a weekends fun trail riding in Wales, Steve left the UK to travel around Africa. Coming across a full spectrum of conditions to brand new tarmac to mud and sand, Steve survived to tell the tale.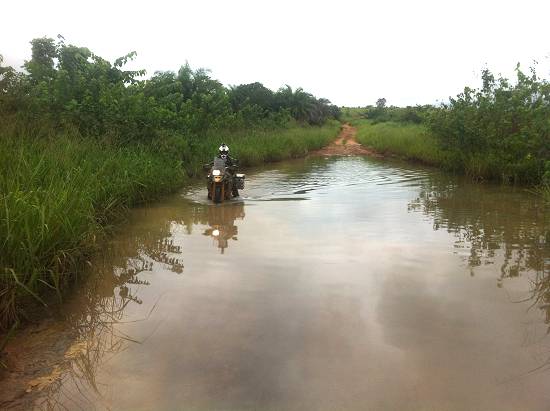 After working in IT for 20 years, Steve departed the UK on his 5 year RTW motorcycle trip in August 2013.
Ewen MacGregor

Morocco 'short way down' via Spain and the Picos Mountains
Morocco via Picos Mountains - Trans Morocco via Spain and the Picos Mountains - UK to Morocco on a GS 800, first adventure ride with three riding mates from UK, lessons learnt, tips and suggestions.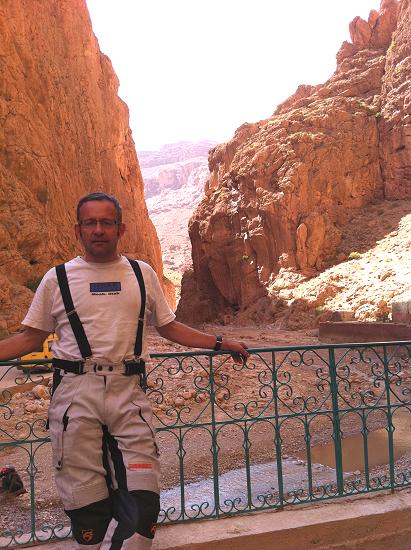 WA Short Trips by Adventure Bike - With so many excellent and challenging riding destinations in WA overland travel experience starts at home. Many of us can't take a few months to a year off work therefore short breaks and rides are one way of feeding the passion for adventure on a motorcycle. Ewen will present on a range of adventure riding locations from the Holland Track in the south east to further north and locations like Gascogne Junction.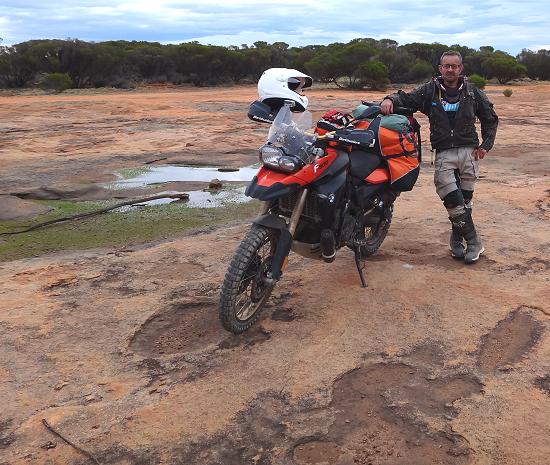 Eastern Europe 2014
Presentation will cover 2 month adventure ride in Eastern Europe to be completed Sep 2014!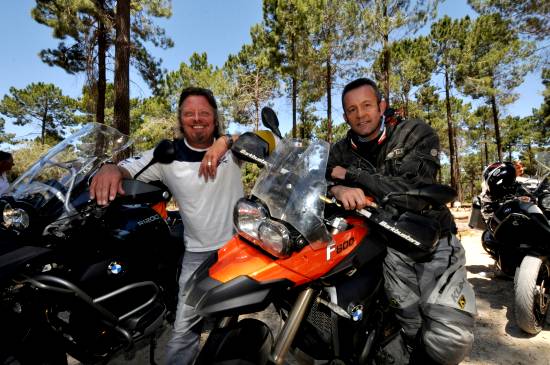 Ewen is a passionate advocate of adventure motorcycling and a key driver in making the fist Perth HU meeting happen. His first overland (motorcycle) adventure was to Morocco over the high, middle and low Atlas Mountains via Spain. Since then trips across Europe and more local within Western Australia have been the foci.
John Lizamore

Introducing the not so boring Nullarbor!
The treeless plain that spans a distance of over 2000km between the civilization of WA and SA. Most often described in travel blogs as "boring" and "endless". Not so!!!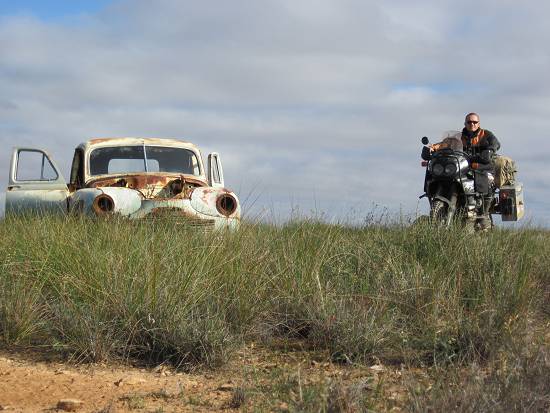 Part of the ancient marine floor, the plain is home to much wildlife, hundreds of karst caves, spectacular vistas, scattered ruins and much stranger things. For the willing traveler that will brave the isolation, the plain is life-changing. Sten Larson from Norway had only one word to describe our 1st night on the plain: "Wow!"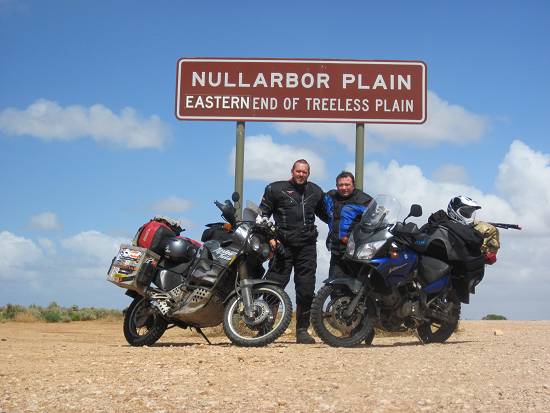 Never the same as the last time you visited it, but always spectacular. I'll talk through some of the sites and places (and tracks) the Nullarbor has to offer, including Telegraph road, Kunalda station, Abrakurrie cave, Old coach road, Old Eyre highway, Thampana blowhole, the Bight and more. John has toured Southern parts of Africa, Suisse, North Island of New Zealand and Australia. "We have some of the best riding on our doorstep, but people choose to stay on the ringroad, and miss all the good stuff."
| | |
| --- | --- |
| | How it all began. The story of Grant and Susan's 11-year trip around the world, without a plan or a clue! |
Way back in 1987, before the Internet, two young and naive Canadians set out from Vancouver to ride around the world on a motorcycle. The plan (and budget) was for 3 years, but it didn't quite work out that way!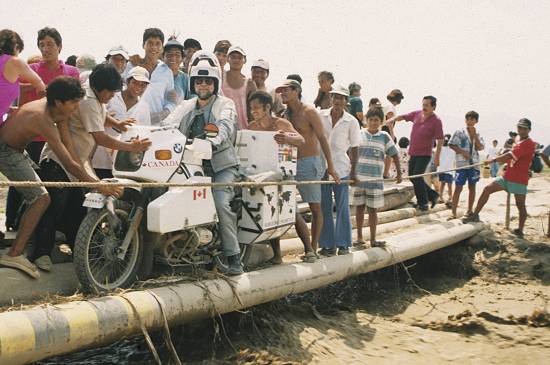 11+ years later, they finally made it, through 50 countries - Europe, Africa, New Zealand, Australia, North and South America, with a side trip to Antarctica! Hundreds of great pics and some amazing stories!
Confirmed presenters (topics TBA) include...



Ralph Weiss

Andrew Wilmot


Matthew Natonewski


Tony Friday
Educational Sessions
...because Horizons Unlimited meetings are about information, not just inspiration!
| | |
| --- | --- |
| | Two-up on a Twin: African & Asian Antics Tales from life on the road travelling two-up through Europe, Africa & SE Asia |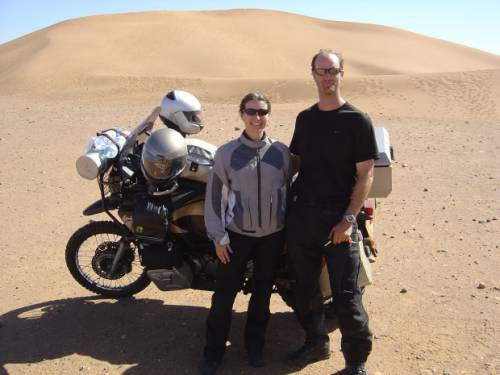 Xander has been riding since he was 5yrs old and has never stopped for long. He started traveling on his bike as soon as he got his license at 16, traveling American and Canada. He always travelled solo until he was 25 yrs old when he met his wife Tam. Since then they have been travelling Two-up though Australia, Europe, and an 18-month long tour from the UK to Australia through the west coast of Africa and SE Asia. This is a light hearted but honest look at the pros and cons two-up travel. Looking back and looking forward we will find out if he would ever do it again.
Packing Light Two-up vs Solo (with Andrew Wilmot)
The debate of what to bring, and how much to carry is as enduring as what is the best bike. It is agreed that the "lighter the better", but what does that mean? What do you need to "live on the road". Andrew has been a motorcyclist for 24 years has always loved touring off-road, and into remote areas. In recent years he have explored most of Western Australia's remote outback including the Kimberley, Great Sandy Desert, Canning Stock Route, Goldfields and South West. Xander, started riding as a small child, and has ridden ever since. For the last 15 years he and his wife have been touring two-up, around Australia, Europe, and an 18month long trip from the UK to Australia through the west coast of Africa and SE Asia.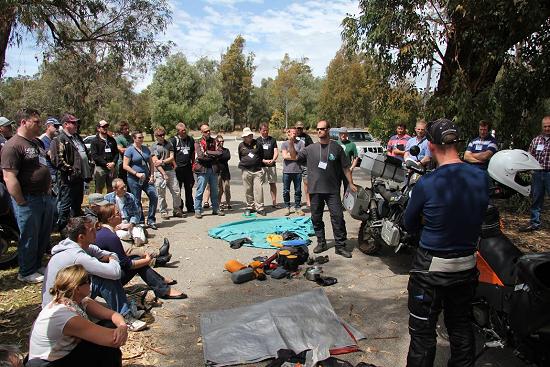 This workshop will have a close look at what an experienced solo traveller packs on his bike. We will then compare and contrast it to what two-up travellers pack on their bike. The differences or lack of differences may surprise you. We will show you what and how we pack for the weekender, the short break and the around the world trips. Find out what these two different styles of travel fit on theirs bikes, what they feel is necessary and what is a luxury that they wont live with out, and how they get it all in their panniers.
| | |
| --- | --- |
| | Fix that flat! How to change a tyre anytime, anywhere! |
Grant's tyre changing seminars are always well attended and appreciated. This seminar covers: how to prevent flats in the first place, and fix them when you get one; the best tools and how to use them for tube and tubeless tires; hands-on practical for beginners to experts, optional tyre changing contest.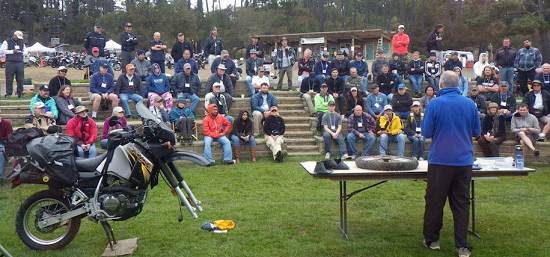 | | |
| --- | --- |
| | 4 Easy Steps to Overland Travel! You can do it - we can help! Finding your way around Horizons Unlimited, other resources. Lots of great pics and video clips. |
"Grant and Susan Johnson are icons in the round-the-world (RTW) motorcycling community. The Johnsons host - or more appropriately write, edit, produce, manage and coordinate Horizons Unlimited - a global network of motorcycle travelers... and a bona fide adventure motorcycling phenomenon." Dan Hilton, Rider Magazine
This seminar will be an overview of 'How To' travel overland topics. Includes content from the Achievable Dream series and great pics from HU Photo Contest winners!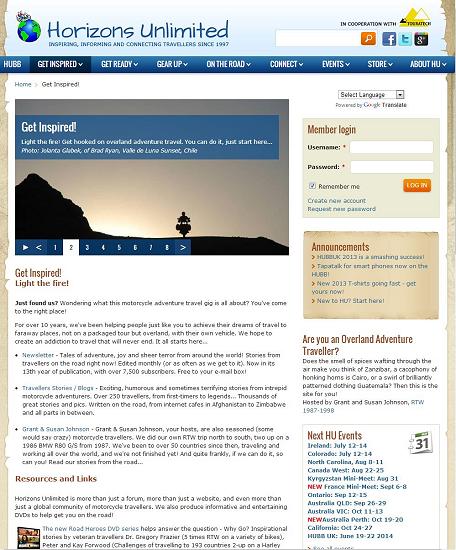 | | |
| --- | --- |
| | Bike mods and ergonomics! |
Grant will host a bike 'Show and Tell' - bring your bike and show us your favorite travel mods. Critique and discussion.
When you picked up your new bike, did they take the time to make it fit you? You'll learn the amazing difference a properly setup bike makes to your riding fun.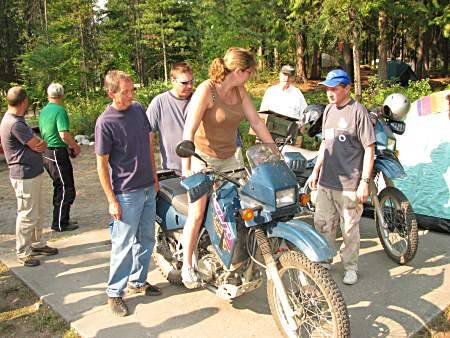 LOTS of presentations to come! As people register to present we'll list them here.
How about you? We're all here to learn, and there's LOTS to learn! We want to do more presentations and seminars - but we need volunteers to give them! Any topic you can contribute having to do with motorcycle travel, maintenance, planning etc, lasting 20 minutes or more, would be great. Please contact us here to volunteer.
Panel discussions at most HU events include...


Border crossings - How to get through borders with minimal stress and cost!
Packing light - Tips and techniques from experienced travellers to reduce weight and bulk.
Regional discussions - e.g. travelling in South America or Asia.
For Women Only - A must for the ladies, so be sure to plan on being there! A chance to talk to experienced travelling women without the men around!
Experienced Travellers Panel - ask the experts anything you want!
Walk arounds / Show and tell!
Tents and Bedding discussion (in the camping area) - What works, cheap vs dear and which ones keep you dry, warm and comfy!
Bike mods - Show off your best bike mods - homemade saddle bags, toolbox mounts, GPS mounts, seats, side stands, tank panniers, cup holders, etc.
Facilities for a Fantastic Weekend!
The event is taking place at Fairbridge Village, near Pinjarra, 1 hour south of Perth in Western Australia. Fairbridge Village is owned and operated by Fairbridge, a major youth charity in Western Australia. Fairbridge Village is self-contained and surrounded by bushland.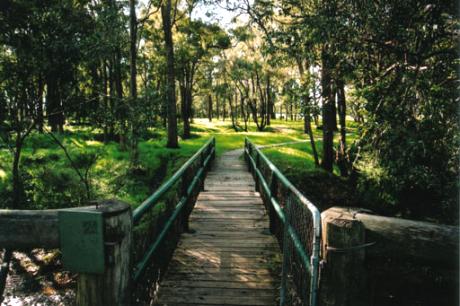 Facilities on the grounds: Art gallery; Museum; Tennis, basketball and beach volleyball courts; Children's playground (wheelchair accessible); 30m swimming pool (for village guests only); Full sized sporting oval with football, soccer and cricket facilities; Free gas barbecues; Scenic walk trails; Picnic sites; Onsite cafe.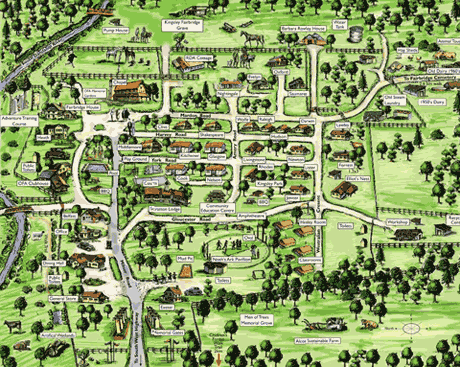 Presentation Facilities
We have booked the Ruby Fairbridge Centre as our main presentation room and dining room. We have also booked the Lady Kyle room as a second presentation room, so we can run two streams of presentations / workshops concurrently.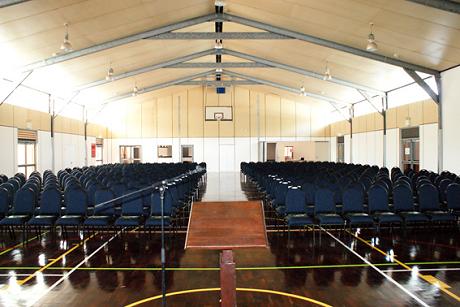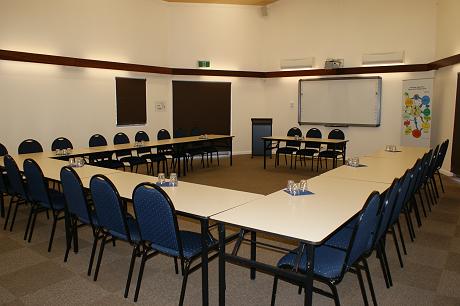 Accommodation on site
Camping (Pre-book when you register)
Camping is on the Oval, and there are lots of showers and toilets. Campers will also have the use of kitchen facilities and communal areas of the Lodge (see below).
Weekend (Friday + Saturday night) Camping: $35.00 per tent. (Not included in registration fee).
Scratton Lodge (Pre-book when you register)
For 2014, we have booked the entire Scratton Lodge. This offers a choice of 3 levels of accommodation:
Shared rooms - $30 per person per night. Max. 3 persons sharing a room, communal bathroom facilities (boys in one room, girls in another).
Private rooms (single bed, communal bathroom facilities) are $140 per person for weekend (cannot be booked for 1 night only). Limited numbers are available, so book early!
"Suite" (suitable for family or 2 friendly couples) - 2 rooms with 2 single beds per room, shared bathroom within the suite. $300 for the weekend (cannot be booked for 1 night only). Only one of these is available, first in best dressed!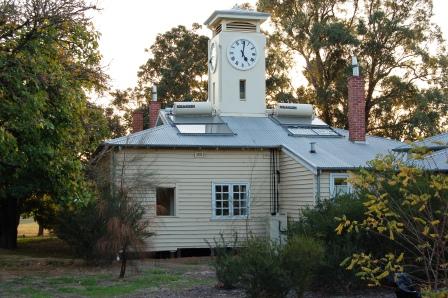 Pillows and blankets are supplied. Bring your own sleeping bag, pillowcase and towel.
The Lodge is equipped with oven and gas hotplate, fridge, kettle, cutlery and crockery. There are also several communal areas and verandahs.
For those who were at Yanchep, Xander has personally checked the facilities and they are in very good condition!
Food (Pre-book when you register)
We have arranged to have fully catered dinners for Friday ($25) and Saturday ($25) nights, so you don't have to wander around finding food! Quantities will be limited, and we must give the caterers final numbers 14 days before the event, so don't wait to book!
There will also be breakfasts and lunches available, catered by local community groups, pay on the day.
There is a cafe on site for fast food - meat pies, cold drinks, etc.
ONLINE REGISTRATION PRICING

Includes admission to all presentations and tech sessions.
Meals and Accommodation are NOT included in the registration price.

Register & Pay before March 31:

$40

Register & Pay between Apr 1 and October 3:

$55

At the Event Pricing (applies after October 3):

$75
DINNERS

Pre-order only - please order when you register so you don't go hungry!

Friday Dinner - Buffet style, including dessert. Menu to be advised.

Saturday Dinner - Buffet style, including dessert. Menu to be advised.

$25

$25
ACCOMMODATION

Camping or lodge accommodation is available. See descriptions above.

Camping - per tent for weekend

Lodge Rooms

Shared rooms (max. 3 per room including 1 single and 1 bunk bed, communal facilities) - per person per night

Private rooms (single bed, communal bathroom facilities) - per room for weekend - cannot book 1 night only.

"Suite" (suitable for family or 2 friendly couples) - 2 rooms with 2 single beds per room, shared bathroom within the suite. Price for weekend for entire suite.


$35




$30


$140




$300
SELECT YOUR PRE-REGISTRATION OPTION
---