HUBB UK 2014

THE PREMIER OVERLAND ADVENTURE TRAVEL EVENT
FOR MOTORCYCLISTS, CYCLISTS, AND DRIVERS
OF 4X4 & OTHER EXPEDITION VEHICLES
Thursday 19th to Sunday 22nd June 2014 - Near Donington Park
Building on the success of the 2013 event, and learning from all the feedback, HUBB UK returns to Donington Park Farmhouse Hotel in 2014 even better than before. The event is once again being generously supported by Adventure-Spec.com.
On Two Wheels or More - It's All About Overland Adventure
Whether you're a seasoned veteran with wisdom to share or a complete novice hungry for ideas and guidance, it doesn't matter if you ride a motorcycle, a bicycle, or drive any kind of expedition vehicle, HUBB UK 2014 is for everyone who dreams of adventure along the road less travelled.
Inspiring, Informing & Connecting
Some people value Horizons Unlimited events for what they learn from the many presenters. Some people value the chance to discover new products and services at the trade stands. Some people value just kicking back with a beer among old friends and new. Most people enjoy a little bit of everything, and everyone goes home smiling and fired-up for adventure.
HUBB UK 2014 will include a packed schedule of presentations and activities across five themes and four days. All within the relaxed and friendly atmosphere that Horizons Unlimited is known for.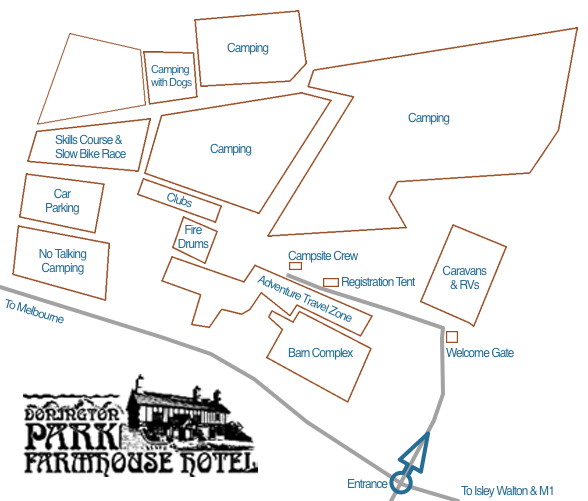 There are five presentation rooms and a marquee cinema, an expanded Skills Course, the popular Slow Bike Race, and our unconventional take on the 'Best in Show' concept for motorcycles, bicycles and expedition vehicles.
The Adventure Travel Zone is where you'll find the trade stands for many of the leading names in overland travel, and in the main courtyard there'll be authors, film-makers and the HU Store selling the Achievable Dream and Road Heroes DVDs as well as a range of limited-edition t-shirts.
An eclectic array of clubs, online community forums and magazines will be there, along with the Rendezvous Tent and Message Tree, and a wide range of practical demonstrations including Danny & Fil's legendary RoadKill Cookout. If you play the guitar or another instrument, bring it along on the Saturday night and join the Rendezvous Jam Session around the Fire Drums!
HUBB UK Event Schedule
The Registration Tent will open for check-ins at 9am on Thursday 19th June, with the first presentations beginning at 2pm. The event will draw to a close at 1pm on Sunday 22nd June.
Over the course of the four days there'll be more than 150 sessions of talks, demonstrations, workshops, Q&A's, challenges and competitions, with many presentations being repeated so you won't miss out. The sessions will be scheduled in five themed HUBB Tracks:
Get Inspired Get Ready Gear Up On The Road Connect
As well as hearing inspiring stories of overlanding adventure from around the world, you'll get the low-down on preparing for your journey, navigation, first-aid, photography, filming and a host of other essential topics. Whatever your past experience or future plans may be, there's something for everyone.
Practise on the Skills Course, learn how to skin a rabbit, compete in the Slow Bike Race, and enjoy screenings of Aim for the Horizon 2 from Adventure-Spec, Daniel Rintz's acclaimed new film Somewhere Else Tomorrow, plus the premiere of Revolution Road by Stephen Holmes.
An Historic Venue with Eco-Credentials in the Heart of England
HUBB UK 2014 is taking place near the border between Leicestershire and Derbyshire on a stunning 20 acre site set in the rolling countryside north of Breedon Hill.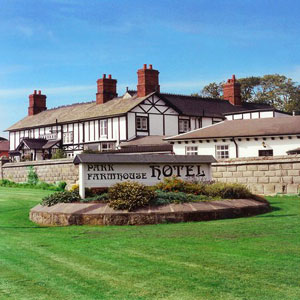 Donington Park Farmhouse Hotel is a real gem of 17th century brick and timber architecture, neighboured by ancient villages and a medieval Deer Park. But it's far more than just an historic location.
In keeping with the environmental ethos shared by many overlanders, the Donington Park Farmhouse Hotel uses sustainable biomass heating, reed bed water filtration, solar power and has a comprehensive waste recycling scheme.
The venue is just 5 minutes from the M1 (23A) and it's an accessible location for cyclists too, with less than 10 miles to pedal from either East Midlands Parkway or Willington railway stations.
East Midlands International Airport is only 3 miles away, which also puts the event within easy reach of travellers coming from overseas just for the weekend. Every silver lining has a cloud though, so do expect plenty of aircraft noise throughout your stay.
Fundraising for Charity
Our nominated charity for the HUBB UK event in 2014 is ShelterBox and we're inviting you to join us in helping them "Put The Lid On Disaster" by raising funds to support the invaluable disaster relief work undertaken by the charity around the world.
There's an option to make a donation online when you register as an adventure traveller and we'll be selling tickets at the event for the Saturday afternoon Charity Raffle if you fancy the chance of winning some great overland adventure prizes donated by all the trade stands, Adventure Bike Shop, Turcano Urbano and others.
We also want to get you involved in our Grand Charity Muster - a mass photo of everyone putting the lid on disaster in the courtyard at around 9.30am on Saturday 21st June. Within minutes of the Muster we'll have the photo posted on Facebook for you to Like and Share. It'll be a light-hearted and really powerful way to raise awareness of the charity.

The Adventure Travel Zone
Equipment Specialists
Manufacturers
Overland Tour Operators

Adventure Travel Authors
Overlanding Film-Makers
The HU Store
More HUBB UK Features
Rendezvous Tent
Live Music
Fire Drums

Clubs
Online Forums
Magazines
Facilities for a Fantastic Four Days
Free Camping
Free Parking
Free WIFI in the Barn Complex
HotSpot WIFI in the Campsite
10amp Power Hook-Ups

Real Ales
Spit-Roast Pig
Great Value Food & Take-Away
Hotel Accommodation
Cash Machine
Campsite & Parking
The extensive campsite is on mostly flat, well-drained, ground with a good provision of 10amp power hook-ups and plenty of water outlets. There are a number of secluded areas nestled next to woodland as well as hardstanding pitches for 4x4s and campervans.
If you'd like to use the electric hook-ups, the charge is £4 per day payable for your whole stay in advance (e.g. £16 for 4 days) when you first check-in at the Registration Tent. They'll be allocated on a first-come first-served basis.
Motorcycles, bicycles and expedition vehicles will be able to park in the camping area. Caravans and large RVs will have a separate hard-standing parking area. Ordinary cars and vans will be able to unload in the campsite, but must be parked in the dedicated parking field. Please help to conserve the fields for future events by not skidding, wheel-spinning, etc. The organisers reserve the right to restrict vehicle movement and parking subject to weather and ground conditions.
No Fires
There's a strict 'no fires' policy across the whole site, but camping stoves and BBQs are allowed. BBQs must be raised above the ground on bricks supplied by the venue via the volunteer Campsite Crew. Please be aware that Horizons Unlimited will be obliged by the venue to enforce these rules very strictly.
Showers & Toilets
As well as the many toilets, washing facilities and recycling bins throughout the site, the venue's showers are available 24 hours a day. These operate with pre-paid cards available from all the bars and food serving areas. Each card costs £1 for 5 minutes of hot water. We'll also have a number of free shower blocks in the camping fields. Some of the toilets and showers, and all the areas within the main Barn Complex, cater for wheelchair access.
Food & Beer
Donington Park Farmhouse Hotel will be offering a wide-ranging menu for breakfasts, lunches and evening meals - all at great value prices. They'll include vegetarian choices, plus a take-away option later each evening for those who prefer their burgers al fresco.
A mouth-watering selection of beers, ciders and real ales will be available from the on-site bars, with a pint of beer costing on average around £3. You're welcome to bring your own alcohol to the event, but please respect the venue by not consuming it within the Barn Complex. The Overlanders' Bar has a cash machine, which we understand charges £1.95 per transaction.
There'll also be "Glynn's Corner Shop" tent, where you'll find all the essential supplies you need for a supermarket-free weekend, including bread, bacon, eggs, cheese, tinned food, cigarettes, soft drinks and confectionery.
Children & Dogs
Horizons Unlimited is naturally keen to inspire the next generation of adventure travellers so you're welcome to bring your children along if you wish, but do bear in mind that the event is for adults (with adult themes and language) and we won't have any specific kids' activities. Children under 14 years old get in for free. Please note that the health and safety of your children is your responsibility and they must be supervised by you at all times. Children will not be allowed in any of the presentations from 8pm onwards each evening.
If you'd like to bring your dog along to the event we'll have a special area set aside for you to camp in, though please be aware that this will be situated close to the East Midlands Airport flightpath. You'll need to ensure your pet remains on a lead at all times and doesn't damage or foul the site. Owners of noisy or aggressive dogs may be asked to leave.
Hotel Accommodation
There are a small number of double and twin bedrooms available in the hotel for anyone not wishing to camp or stay off-site. The rooms will be allocated on a first-come first-served basis for minimum stays of three nights paid in advance. We've negotiated a discounted room-only rate of £80 per room per night on the Friday and Saturday and £60 per room per night on other days, with a maximum of two people per room. If you'd like to book one of the rooms with a full payment for at least three nights, please contact Donington Park Farmhouse Hotel directly on 01332 862409, quoting "HUBB UK" as your reference.
Rendezvous in the Orchard
If you just want to get away from it all, chew the fat, set the world to rights and have a blather with your mates, the Rendezvous Tent is the place to go.
There's no schedule and no plan. It's a space dedicated to nothing. Nothing except relaxation and tales from the road.
At the end of the day. . .
On the Friday night, grab a pint from the Real Ales Bar and head to the Orchard to enjoy the singing talents of Steve McGill. Watch the video for a flavour of Steve's ever-popular repertoire. Then to round-off the Saturday night, return to the Orchard for more entertainment from Radio Mary.
ONLINE REGISTRATION PRICING

Pay Online by Credit/Debit Card or PayPal, or send a Cheque

Register & Pay Between

Full 4-Day Pass

2-Day Pass

8th July & 31st August 2013

£45 (saves £30)

£30 (saves £15)

1st September & 31st December 2013

£55 (saves £20)

£35 (saves £10)

1st January & 12th June 2014

£65 (saves £10)

£40 (saves £5)

Discount changes occur at approximately 9pm UK time on each cut-off date

AT THE EVENT PRICING

Applies After 12th June 2014 --- Pay Cash On Arrival




Full 4-Day Pass £75 2-Day Pass £45




All prices are per person

2-Day event passes are for either:
Thursday & Friday only (camping Thursday night)
or Saturday & Sunday only (camping Saturday night)

Separate rates apply for exhibiting authors/film-makers and trade stands

Online registration is FREE for non-commercial presenters, journalists
and stand space for clubs, online community forums and magazines

Please note that we DO NOT offer 1-day only event passes

*** NO CAMPING FEES & NO PARKING FEES ***
SELECT YOUR ONLINE REGISTRATION OPTION

TRADE STANDS

(Now Full)
---