Ajit Harisinghani - Road to Khardung-La
Introduction
Once I had decided that yes, I was still mad enough to do it, the plan began to gather a momentum of its own. My old, but sparkling Royal Enfield (1996 350cc.) found itself getting spruced up under the experienced eye of my mechanic, who replaced piston rings, greased cables, adjusted settings, installed the new electronic ignition system and gave it an oil transfusion.
I packed in spares to cover all possible contingencies. Extra tubes, tire-repair kit, clutch plates, cables, brake-shoes, plugs, and more. Anything can happen when one is planning to take a motor-cycle over 4300 kilometers of roads from sea level to Khardung-La, the world's highest motorable road at 18,380 ft. But nothing did! Happen, I mean. Not to the bike, anyway. With only minor carburetor re-adjustments for the rarer air supply at high altitudes and some brake-tightening, my lovely black beauty performed with precision and without complaint over smooth roads and rough roads and even where there were no roads–only slush. But I came back from the trip an old man. I had been brainwashed! And almost everyone I met on the road seemed to be part of an unspoken national conspiracy! The young army Jawan who was back in his Himachal village and couldn't stop emphasizing how unique it was for him to see a 'buzurg' (elderly person) riding an Enfield all the way from Pune and going on to the wild terrains of Ladakh; the 3 German guys in the Srinagar parking lot, riding in a group were amazed that I was doing the 4300 km bike ride alone; and a host of army personnel, tea-shop owners, dhaba-cooks, and everyone else's cousin-all, in their own way, made me feel I was doing something very unusual for someone "my age†. It took me 2 weeks after my return home to de-brief myself.
In April 2004, as the plan began to take shape, my 12-year old daughter Juhi asked me why I was doing it. Was I trying to prove that, at age 54, I was still 'young' enough? What exactly was propelling me on to this long journey? I didn't know the answer to that one myself. It all started as just a thought that grew on itself. A week-long bike trip to Goa in February 2004 when I had ridden from Calangute Beach to Pune (450 kms.) in 12 hours, had triggered the desire for a longer ride. Gradually the idea hatched. "Go to Ladakh†the hatchling whispered! In retrospect, I realize that I never did ask myself whether or not I'd actually be able to do it. I don't know what my answer would have been. Ask no questions and be told no lies! Just Do It! (thanks Nike). Age…is a mysterious entity… and although it has a lot to do with the natural state of progression of the body-material as it goes from birth to birth, 'age' is only a concept for the mind. In today's world, obsessed as it mostly is with the physical, we look upon our bodies as indicators of our self-image. A 50-year old man looks in the mirror, sees his thinning white hair and tells himself he should now act and behave like a grown-up. He drops his spontaneous child-like qualities, curtails singing romantic songs in the bath-room, and begins to develop a serious demeanor. Society encourages him in this role by providing 'perks' due to the elderly. Young women touch his feet and ask for blessings! And the most comfortable chair always becomes available to him! All this quietly but surely reinforces the idea that one has indeed grown old. It's a sweet, comfortable honey-trap, easy to fall for. But it is a trap which first overpowers the mind. The body then follows suit and begins to respond as an 'old man's body' would. Sidney joke: When an attractive woman once said to me that she feels very 'safe' with me, I joked back that I would be complimented if she felt 'just a little bit unsafe' around me!! My work involves facilitating attitudinal changes in young adults and I frequently encounter some very 'old' men aged 25! But I'm regressing (must be getting old!). Let's get back to the trip.
Everyday, I found myself ticking off one more items on my list of "Things to do†. Two months of cycling with a regular half-hour at the University gym; eating lots of nutritious food to store up energy, and surfing the web for information on the Manali–Leh road kept my thoughts centered on the journey. I discovered an Enfield rider's dream website www.60kph.com where I met a group of young bikers who also wanted to ride to Leh. An itinerary evolved through e-mails and phone calls. The plan was to meet up with 4 other riders in New Delhi and ride together all the way to Leh and then on to Srinagar and finally Jammu. By a series of coincidences, the plan did not work for me. The other bikers moved as a group all the way but I found myself riding alone throughout the trip. Riding with a group provides tremendous support to each member and the reasons are obvious. Aside from being mentally reassured that help is available in case of an accident or mechanical malfunctioning of the bike, a group provides evenings-full of entertainment. Songs, humor, and good company can do wonders for the fatigued body after a hard day's ride and I missed out on that. Stopping on the side of a long and isolated stretch of a Himalayan road, I frequently felt the need to have someone to exchange ideas with (and to take pictures with me in them!!). But it was only me, my bike and a sky named blue! There were some advantages in riding alone too. And these revealed themselves slowly, in subtle and mysterious ways. At times, riding those high-altitudes, snow-laden mountain passes, with not a soul in sight, a feeling of aloneness cast its spell over me. I felt like the only person on Planet Earth! As when I passed a pristine Suraj Tal lake, nestled in the crotch of snow-topped mountains, just before the Baralacha-La pass at 16,500 ft. An ethereal scene, with me to experience it, all alone! There was no one around to applaud my ascent and no one for me to tell how thrilling it felt. No one, but the wind, blowing in firm gusts touched my chilled skin and welcomed me to participate in a cosmic dance. The awesome peaks, stark against the background of an amazingly blue sky, littered with tufts of angel-white clouds, no life-forms in sight, no birds, no insects, nothing. Stillness. My consciousness vibrating to the celestial beat. Powerful yet benevolent natural forces which could crush me without effort but chose not to! At such moments, I could only surrender to the bliss and be enthralled. Someone later suggested that this euphoria could be altitude-related (by now I was at 17,600 ft), and maybe it was, but being alone was an integral part of the experience. Riding alone one can think in the singular! And feel secure in the singular! One doesn't have to think conventional thoughts. Traveling in a group, one inevitably develops a group-thinking, always conscious of being accountable to the group and in return, expecting similar accountability. A group is a life-support system. Maybe that was what I was running away from! My secure life-style in Pune, where I went to bed feeling safe and woke up feeling secure! In his book 'Keynote', JRD Tata says: "Live Life a little dangerously†. And there were some moments of such 'little dangers'. Being stuck in the 2 feet deep, icy cold river (formed by glacier-melt) as it rushed over the road to Khardung-La; and being rushed at by a horde of dangerous looking men on the Srinagar-Jammu highway near Doda were two such times. But my perverse desire to be kidnapped by "militants†and held for ransom was to remain unfulfilled!
Well…win some, lose some! Up in the Himalayan passes, I had stumbled upon the reason for my trip!
The Ride:
I left Pune on June 11, 2004. My first stop was Dahanu, a small coastal town on the Maharashtra-Gujarat border. An easy, pleasant ride; up the Western Ghats and on to the wide, Mumbai-Ahmedabad NH-8. I rode 300 km that first day. The second day was a longer 440 km ride to Ahmedabad. After an initial lovely 100 km, I came on to the chemical-industrial towns where the Narmada begins to break down into a delta carrying effluent waste of vivid colors into the Arabian Sea. The ride to Ahmedabad is filed under 'insipid' in my cerebral hard-disk. The weather was hot those two days in Ahmedabad and I was glad to leave it on the 14th, bound for Mt. Abu about 150 km away. Except for the fact that it was cooler, Mt. Abu was a disappointment. Commercialized to cater to tourists who come to drink the alcohol they cannot in neighboring, 'dry' Gujarat; the one redeeming feature of Mt. Abu is the fabulous Dilwara Temple–an ancient marvel of carved marble. It opened for visitor everyday 12 noon but the riding-fever was on and it propelled me to move! I descended Mt. Abu at 6:30 am, bathing in the early morning sunlight on the state-highway to Ajmer-a fabulous ride. Around noon, it got toasting hot at 45 degrees C but these roads, winding through the blazing desert sands, are a biker's delight. Stopping frequently to quench my thirst with cups of superb tea, I met people I normally wouldn't in my city avatar. My digital camera became a popular attraction at road-side tea shops and made me friends, fast and easy. Everyone loves to see his own picture instantly! Sitting on a charpai at one such tea-stall, I saw an old man, dressed in green, cycling away and decided I wanted to meet him. I finished my tea and soon overtook him, rode on a bit ahead to a culvert and waited for him to arrive. After some initial hesitation, he alighted and sat next to me. I asked and he told me he was 66 years old and cycling from Vasai (near Mumbai) to Ajmer and then on to Mecca. That day he was planning to cover 100 km at 15 kph all the way to Pali. He began to talk of the benevolence of the Almighty and I realized that I was in the presence of a saint. His entire demeanor exuded loving peace and I basked in this bliss. He refused to take money and only after some heart-felt, but hindi-filmi-sounding-dialogues ("Babaji, Kuch mera nahi hai…Aatee, jaatee maya hai†, etc.) did he accept what I gave him. A genuine Sufi king, traveling incognito! Oh, wondrous India! Where else would I have met someone like this Babaji? Before continuing on his journey, the venerable man raised both arms heavenwards and said a prayer for my safety. But not all 'sadhus' I met were saints! Later on, that same day, I felt the brakes needed some tightening, and stopped under the shade of a wide banyan tree, squatted to take out my tool-kit and looked up to see two 'sadhus', complete with ash and iron chains staring at me. These two were at the business-end of wearing saffron. Not satisfied with the money I gave them anyway, they started hounding me for more. Enough for one kilo of pure ghee which they promised to use in a yagna to generate good luck for me on the trip! Exasperated, I told them I'd bring them the finest Yak ghee from Ladakh and kick-started the engine to ride on.
The ride from Ajmer to Jaipur became a test of endurance. With much of the new highway still under construction, 'diversions' were the flavor of the day. Traffic was heavy. NH-8 is the life-line of the country and brimming full with heavily-laden trucks carrying everything from steel and stone to finished industrial goods. By 4pm, the sand began to blow across the road and found access to my nose and eyes! That day, those hot 480 km from Mt. Abu to Jaipur had painted me black in skin and spirit. Too tired to find better accommodation, I settled for a seedy highway lodge. An un-remembered dinner later, slumber land opened its gates and let me enter. My last thought that day was "Phew…what a ride!â€
But I did not know what was in store. The Manali-Leh road was waiting! The 250 km ride from Jaipur to Delhi was uneventful. The road was nice, wide, flat and not quite so interesting. Delhi was a hot-house at over 40C and I was anxious to leave it almost as soon as I had arrived! The www.60kph.com group's plan was to leave Delhi on the 22nd of June and ride on to Manali via the tough Jalori Pass. Having reached Delhi on the 16th, 22nd seemed too far away to me. My host in Delhi told me about a fantastic chalet in Kasol (near Manali) where his friend had rooms available and I gave in to the temptation of an easier ride via Chandigarh to spend a restful 3 days in the lap of Mother Nature. Riding past Chandigarh on the by-pass, I got a feel of the prosperous and aggressively-generous ambience of Punjab. The roads were good but not wide enough for the light and heavy vehicles, zipping past each other with not much room to spare, not the kind of riding a biker enjoys. The sight of 3 fresh accidents (one fatal) did nothing to make me alter my defensive-minded riding and by the time I approached the foot-hills of the Himalayas, I was anxiously looking for a place to stay the night. Hotels along the road, sparse as they were, had rates I didn't feel like affording, so I kept on riding. At a chai shop, the sardar-owner interrupted the brushing of his long hair, his cupped palm holding hair-oil, and told me about the gurudwara at Kirtanpuri where I could stay the night for free. And so I did. The beautiful white gurudwara was placed across a small gushing river and just as I passed over the bridge, a swarm of craig-martins did a fly-past over my head. A good omen! The guy who gave me my room-key advised that I park the motorcycle with me in the room–I first thought he was joking but he wasn't! I had thought that a gurudwara would be a safe place and he assured me it was. The actual reason became apparent when at around 9 pm, ten bus-loads of Sikh families from various locations in rural Punjab descended on the gurudwara and pretty soon occupied every inch of the corridors (no rooms were available by then). After an initial settling-in hour, they all quieted down into sleep. The silence disturbed only by a lone snorer who sang his hoarse lullaby to the rest of us!
Kirtanpuri is at the very base of the first climb towards Manali and just 20 minutes into the climb, the bike began to demand attention. The engine was being starved of air. I stopped to adjust the carburetor settings with over 50 small and big langoors for an audience! Some made faces at me while others sprinted around to get a better seat. It was a panoramic setting: rolling green hills, interspaced with ploughed brown farm-land and with the snow-laden higher mountains, white in the backdrop. Then it began to rain and the road became messy. I detoured through a longish tunnel and came up to the turn off which would take me to Kasol–30 km off the road to Manali. This being my first experience of the rough, mountain roads, a sense of apprehension came over me. The heavy rain did not help and I crawled up the stony mountainside road at a snail's pace, finally reaching Kasol in the early evening. Kasol delivered all it had promised, and more. Alpine Crest was right next to the River Parvati which was in gushing form. The roar of the river masked all other sounds and formed a canvass even for my dreams! Those three nights in Kasol, I dreamt of oceans and water-falls. And made frequent trips to the toilet.
Next day's ride took me to Manikaran, only 4 km away, where hot springs and the massive gurudwara are the places to visit. The narrow bridge connecting the gurudwara to the road, hung over my dream-mate: the Parvati River. "Tranquility†is the word to describe the next day's ride to Manali. Through dense forests of towering trees, with the fragrance of Deodhar in the air, this ride had ecstasy written all over it. Frequent stops to flirt with the cows and sheep (which were crossing the road) and an omelet/paratha and two cups of tea later, I entered Manali. Manali could very well be re-named "Hotel-Alley†. Every standing structure is a hotel! But the ambience was good and the rates reasonable and I found a room, next to the River Beas for only Rs.150/- a day. Spent a joyous day strolling the streets of this tourist town. Soon, it was June 24th. I had been in sporadic SMS contact with the 60kph group. The Jalori pass had taken its toll and they turned up in Manali, a day later than planned, having had to spend the night in Aut. I had company at last! Rahul and Anil, from Bangalore, were riding together on a 500 cc. Enfield rented from Delhi. Parikshit was from Ahmedabad and Prem had brought his well-kept bike (named 'Predator') on the train from Mumbai to Delhi. Finally, I was to ride with the 60 kph group. But for me, this happy thought was not to last too long!
June 25th dawned, bright and sunny with a palpable sense of thrill in the air. Up and ready by 6:30am, I was impatient to take off, but now that I was part of a group, it was 10 am by the time everyone was finally ready to leave. I was to soon bless the group when, while beginning to climb Rohtang Pass, my bike again needed some urgent tappet and carburetor adjustments. Prem, who runs an Enfield workshop in Mumbai, was my savior that morning. The 20 minutes that he spent tuning up my bike were magical in their results. (Thanks a million, Prem!). Rahul suggested I ride first and I surged on, expecting them to catch up with me somewhere along the road ahead. But that was not to be. I would next meet my new friends only 450 km later in Leh. Their bikes had caused them some delay and they had had to stay overnight in Keylong (instead of the planned halt at Darcha).
The road from Manali to Rohtang Pass is nicely paved and so packed with tourist traffic that it could very well have been the busy Ring Road of the capital. The atmosphere was carnival. Noise from tape-recorders mingled with fumes from a 1000 diesel vehicles, the smell of chole-parathe from the dhabaas, the cries of balloon sellers, and the excited yelps of children enjoying their pony-rides! But once past the Rohtang, the ambience changed as if by magic! A lone silence took over. Not a soul in sight for long stretches of the road, I was alone at last! And now I could think. A pair of large white eagles circles overhead in an aerial ballet, often merging with the white of the clouds which only emphasized the absolute blue-ness of the sky. I had mentally traveled this road when reading the write-ups previous travelers had posted on the internet. But now that I was actually on it, the road spoke to me one-to-one. I didn't know roads could talk. This one did, exuding warmth and welcome. Moving away from habitation at 30 kmph, with the next town Khoksar still hours away, my new friend kept me entertained through road-signs to make me laugh and keep alert. With my mind almost tranced-out, overwhelmed by the newness of the locale, I came to Khoksar, a sparse habitation with a few shops and shelters on either side of the road. Here, I had my first of the 'dal-rice' meals, which is staple food on the road to Leh. 100 km from Manali is Tandi, a significant dot on the map because here is where one tanks up on petrol. An ominous sign has warned me that there is no petrol available over the next 375 km but I have been alerted to this through the grape-vine on the web and have come prepared. The gas station is a desolate single-pump affair but the attendant is friendly and helps me top up 14.5 liters in the tank and also fills the two extra cans I've been carrying on the special carrier I got fitted in Karol Bagh, New Delhi. River Bhaga keeps me company as I enter Keylong just 8 km away from Tandi. Keylong surprises me with its size and modernity. There is a BSNL tower to give good connectivity on my mobile. There are shops selling just about everything–from food, fruits, vegetables, to consumer goods like TVs and refrigerators. There are Chinese-food restaurants and schools with smiling children dressed in vivid uniforms. Keylong looks like a 'happening' place. I would have liked to stay here a while longer, but Darcha which is to be my halt for the night, is still 40 km away and I want to reach it before night-fall. Darcha will never qualify if its 'night life' one is talking about! With just about 2 tent–hotels, and a police check point (another tent), Darcha was a desolate place. The Himachal policeman asked me to go inside the police-station to register my passage. When asked why, he explained that it helps them trace riders in case they are lost. Since time was all we had, he elaborated with a story of the month before when two foreigners had been killed and their embassies had wanted such details. My accommodation that night was a large tent operated by a Tibetan couple. The menu for dinner again listed the same dal-rice combo but I facilitated that with some Old Monk rum and was content to go into sleep before the clock struck 9.
Getting up at 2 in the morning to purge myself of some liquid, I walked towards the river with light from the nearly full moon. The scene was ethereal–the peaks all around highlighted against the golden lit sky! But it was cold and I had to return to the warmth of the tent within the hour. When morning dawned, I quickly ate a noodle breakfast and kicked my faithful Enfield to life. Everyone I had read on the web had said that the ride from Darcha to Sarchu was a tough one. Apprehensive as I was at the beginning of the day's ride, I would later be able to classify it as one of the most exciting of the trip. The road took me to barren Patsio before beginning to climb. Suraj Tal, a lovely blue lake appeared rather suddenly after one of the bends on the gravel topped road. Glacier melt had washed out some sections of the road, and icy water ran over some patches, but I had covered my socks with plastic bags and my feet were warm and dry as I crossed the Baralacha-La Pass (16,500 ft), surrounded by 12 snow-laden mountain peaks which had given it its name. On the north lay the Lake Yunan Tso. With these peaks for company, the road guided me to the wide open spaces of Sarchu. Sarchu had a few tents which beckoned the weary traveler. But it was still early afternoon and I continued to ride ahead to the 21-Gata Loop road which took me heaven-ward rather quickly. Riding the Gata-Loops was easy and enjoyable-the curves sharp but safe. An army tow-truck was waiting at one corner to assist any vehicle unable to execute the steep climb and I felt secure as I finally reached the top. Soon I was at the Lachlang-La Pass (16,500 ft) where I stopped to soak in the silent scenery. It was cold up there even at 3 in the afternoon. Cupping my palms, to light a cigarette, I heard the wind shout out my name. "Ajit?†it enquired. For a while I was certain the altitude had altered my brain cells (they had warned me about this!) but the call was repeated. I looked around to see a young woman coming towards me with a smile on her face. The specter seemed packaged in flesh and skin and wasn't transparent! "Hi†it said. Taiyaba and her husband Idris were on a smaller 100 cc bike and she had had to walk up the steep road to relieve the load on the engine. She had recognized me from my picture on a write-up of a previous biking trip which was posted on www.60kph.com! Idris soon chugged towards us and finally I had someone to take a picture with me in it! Later, at Pang, I would share the tent with the couple and Martin (who was traveling with them on his own 100 cc). The freak meeting had released palpable good vibrations between the four of us. The trio was from New Delhi and we had much to talk over our dinner that evening. Pang had 4 tents and we chose the first one in line. The Tibetan women operating this Pang-Hilton(!) quickly and cheerfully dished out a meal (the inevitable dal-rice special) while at the same time taking care of their smiling chubby 1 year old. It was a healing experience to see such happiness in this cold and desolate land.
When I woke up the next morning, my room-mates were still asleep. Loading and securing my bags was by now an oft-repeated, streamlined operation and with just one cup of tea in my belly, no breakfast, I was on the road, climbing towards Tanglang-La, the highest pass on the Manali-Leh road at 17,680 ft. But first there were the Morey Plains to cross. The 45 km road ran arrow straight on a wide table-land between two mountain ranges with broad stretches of sand on either side. The ride lured me with initial promise; it was bright and sunny to begin with. But within minutes, the scene changed. Sand began whirling itself into tall thin dust devils over 50 feet high. In retrospect, it was a miraculous sight but that morning, I was hungry and looking for a place to breakfast and overwhelmed by the scale of it all. I was also a bit scared. Midway through, I saw a lone Tibetan man, dressed (as they all are) in a maroon gown, sitting all by himself by the road-side. Probably a Shepard, but there were no sheep in sight. A snow cloud was forming up ahead which seemed to have a life of its own. It approached me rather quickly and soon my jacket changed color from brown to white! I was covered with wispy light snow-flakes which melted almost as soon as they landed on me. Frequently wiping the visor of my helmet with my gloved hands, I slowed my pace and crept up. The narrow, gravelly road lined with snow, seemed endless in its steep climb to the Tanglang-La peak which became visible from a distance. When I finally stood the bike on its stand at T-top, it was only 11 in the morning but I had been riding 5 hours on an empty stomach and I wanted food! Digging around in the numerous pockets of my high-altitude jacket, my fingers discovered some half-eaten chocolate which I munched rather greedily! The army-man who took my picture told me I'd get lunch at Rumtse, which was only 30 minutes away. Making quick obeisance to the deity at the temple nearby, I rode down to my first meal of the day. After Rumtse, the ride became easy. I had reached the higher plains of Ladakh. Upshi was 60 km away and Leh another 50, but after Tanglang-La, this well maintained, flat road was a breeze and it was only 5 pm when I entered the capital city of Ladakh. Hey! I had reached Leh! Another set of cosmic rules seems to apply here. More benign, but aloof, the Buddhist denizens of Leh seem to be at peace with themselves and the world around them. Ancient faces etched with history glide by, whirling the Tibetan wheel, lost in their private Shangri-Las. Friendliness is in the air and smiles are easy to come by, but hotels are not! I have planned my arrival to coincide with the annual Hemis festival and Leh is packed with tourists from all over the world. No where to stay! As a contingency plan for just such a situation, I have army support to fall back on and within the hour, I am comfortably ensconced in the officer's mess of the Indian Air Force Station. Ah! The luxury of a hot bath! The mess-orderly assures me the dinner won't be dal-rice tonight! And there is a broad, clean bed to sleep on! Life feels good, these first hours in Leh, where the evening stays lit–first by the slow fading sunlight and then by the emerging moonlight which filters in through the window of the warm, insulated room. Seems like a lifetime ago that I was in 'big city' Manali. I can actually feel the stress draining out from my muscles. I drift into a state of blissful delirium. I am a river flowing past forests and mountains. I am the wind sweeping through snow-laden peaks. I am silence. I am …… asleep.
When I wake up early next morning, it is the 28th June, the last day of the Hemis festival. This year, the golden Buddha tapestry is to be unveiled, an event which happens only once every 12 years. So with a hearty army-breakfast tucked under my belt, I kick-start the now unloaded Enfield into action. Karu is 30 km away. From here the road climbs up for 10 km and lo! – aaa gaaya Hemis! It takes some time to find parking even for a motorcycle – all available space is packed with vehicles. Everyone is in Hemis today, and why not? This is what they have come for. With the deep-throated drums punctuating high-pitched chants, masked Tibetan dancers prance about the grounds of the three-storey high Hemis monastery. Color, rust and red and yellow and green. Tall poles with flags spear the blue sky. The sun blazes away in ultra-violet glory. The skin of my face and arms resembles burnt toast, well beyond reaping the benefits of skin lotions offering UV-protection. These creams only make me feel like burnt toast with lots of butter on it!
Back in Leh, a day passes and then another. Walking around downtown, eating exotic meals by the roadside, visiting the gompas scattered all around, I savor the rich aroma of this ancient city. The streets are full with travelers from foreign lands and I make friends with a few. German frau Ingrid is on her own and would like to ride with me on a side-trip to Nubra Valley. This trip to the villages of Deskit and Hunder, travels over the highest motorable road in the world–the fabled Khardung-La! But a special permit is needed from the commissioner's office. Being a citizen of India, I get it easily. Ingrid can only travel in a group with at least 3 other foreigners, so I say 'tschuess' to her over a cup of sweet Ladakhi tea and return to the air-force station located far away from the main city. The ride from Leh towards Khardung-La provides a spectacular feast for the eyes. First in patches, and soon in unbroken lines, the road becomes lined with clear white snow, glowing in the morning sunlight. Permits are checked and tea drunk at the South Puli Check-post and now the climb is steep. The Enfield can handle it easily and soon I find myself on the top of the world. Khardung-La!
---
Member login
Are you an Overland Adventure Traveller?
Does the smell of spices wafting through the air make you think of Zanzibar, a cacophony of honking horns is Cairo, or a swirl of brilliantly patterned clothing Guatemala? Then this is the site for you!
Hosted by Grant and Susan Johnson, RTW 1987-1998
NEW! HU 2015 Motorcycle Adventure Travel Calendar is now available! Get your copy now for some terrific travel inspiration!
HUGE, 11.5 x 16.5 inches, beautifully printed in Germany on top quality stock! Photos are the winning images from over 600 entries in the 9th Annual HU Photo Contest!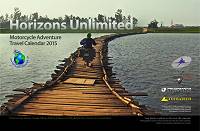 "The calendar is magnificent!"
"I just wanted to say how much I'm loving the new, larger calendar!"
We share the profit with the winning photographers. YOU could be in the HU Calendar too - enter here!
Next HU Events
Germany: May 14-17
Canada Ontario: Jun 18-21
Ireland: June 26-28
Colorado: July 17-19 TBC
Canada West: Aug 20-23
USA California: Sep 24-27
Aus Queensland: Sep 24-27
USA North Carolina: Oct 8-11
Aus Perth: Oct 9-11
Germany: Oct 22-25