Connor's Rebuild in Queensland
An over-budget spectacular, set in Brisbane, Queensland, and featuring an international cast:

THE STORY - Connor's Tenere is badly in need of new 4th and 5th gears, to replace the disintegrating and crappily case hardened items installed by the evil Dark lord, MR YAMAHA only 40,000 miles ago when the bike was new. The XT also needs a new camchain, a rebore, a reconditioned shock absorber & spring, new swingarm bearings, a fork service, and has a shattered rear brake caliper with a bent disc.
The early days-if only I'd stopped here.
Connor is very sad, and sings of his woe until people tell him to shut up.
Connor goes to the home of Ken and Carol Duval, where he gets good beer and good advice in roughly equal proportions.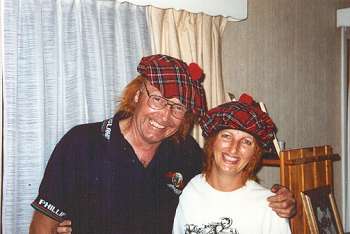 Ken and Carol Duval
Bodging genius at work - Ken tries to set fire to his garage
Connor sources his spares from Yamaha dealers in Brisbane (Caboolture Yamaha and Metro Yamaha). The guys at the dealerships are sympathetic and very helpful, but their evil master, the Dark lord MR YAMAHA makes them charge extortionate prices for the spare parts, because he is a hollow, soulless, profiteering ghoul who should by rights be shipped off to run a taco stall somewhere in the middle of the Darien Gap, not that I'm bitter or anything....
The demolition proceeds...
Connor gets some 2nd hand parts from Australian Dirtbike Spares, who do mail order parts as well, and in fact had pulled Connor's nuts out of the fire on a previous occasion when they sent him a new rear wheel to Kathmandu.
A rear brake for the bike cannot be found in breakers yards throughout Australia, mainly because this part is prone to frequent failure, so Mark at ADS grafts a caliper from a different bike onto the Tenere. Nice one. Connor is very happy, but fortunately Ken gets him out of the shop before he is minded to sing again.
Geoff Perry, Tenere Guru at Robbie Turton's 'Tyres for Bikes' begins to disassemble the XT's engine. It's a major job, partly because the bolts securing the barrel are held by special long cylindrical nuts made of alloy, which have corroded and are tightly attached into the cooling fins and almost immovable. In his dank gloomy castle far away, MR YAMAHA cackles and rubs his hands, gleefully contemplating the end result of rotten design and poor quality alloy. But Geoff is not so easily beaten. He and Robbie pulverise the feeble alloy nuts to powder, and replace them with identical good steel ones. Mr. YAMAHA curses sibilantly, and sulks off to count all his money again, which usually cheers him up, even though it takes such a very long time.
How to remove Yamaha barrel nuts...
Connors shocky has not been very well recently, even after it was 'reconditioned' using a couple of Nepali guys, a spring compressor and a dozen big steel washers from the Caterpillar bulldozer shop in Kathmandu. However, at RAD Motorcycle Shocky Repairs most types of shock can be rebuilt with ease. Connor also gets a new, 20% up rated spring, and has the shaft on the shock re-chromed for good measure. Connor hopes that this harder suspension will reduce the up-and-down-bouncy-bouncy movement (to be technical) which he believes to be a major cause of chain wear and damaged rubber chain rollers, and may contribute in part to Connor's embarrassing tendency to fall off at regular intervals.
Removing the forks for servicing - pratting about pretending to be Arnold Schwarzenegger
Geoff begins to rebuild the engine. Four gears need to be replaced from the transmission assembly: 4th (both gears) and 5th (both gears) are badly pitted and have been disintegrating for some time. The whirring noise, which indicated the beginning of the problem, started in Iran, about 12,000 miles ago, and was only evident in 5th gear at about 3500 revs. Connor tries to find out how long his brand new Yamaha replacement gears are going to last before the same problem occurs again. Nobody seems to know! David Lambeth, Tenere expert from the UK, reckons that the problem will come back, depending on riding conditions, within 20,000 or 30,000 miles. David, who generally knows his stuff, sells a kit with up rated gears, which will last a lot longer, but Connor can't afford it and so buys the Yamaha replacements instead.
MR YAMAHA dances with unholy glee, (nearly falling off the top of his huge pile of money) as he rejoices at the ticking time bomb now installed in Connor's bike, which will probably put it off the road again somewhere in the middle of South America. Connor is really starting to dislike Mr. YAMAHA, and entertains a number of uncharitable thoughts, none of which are printable, and most of which are biologically impossible in any case. As Connor waits for his engine from Geoff, he drinks heavily, replaces his steering head bearings, and rebuilds his swingarm. Yamaha genuine needle roller bearings and bushes are hugely expensive, but Connor has foolishly not been greasing his swingarm like he should, so he is an idiot, and probably deserves it.
This big hole is where my engine used to be.
The bearings are seized solid, and Connor finds that the grease nipples installed on older Teneres aren't really that effective in achieving good saturation of grease anyway. Connor promises to disassemble his swing arm and pro-link periodically to grease them with good quality waterproof marine grease.
Finally, the engine is back together, and ready for installation. Connor puts the engine reverentially back into the frame.
Oh shit, what have I done!
The Dark lord MR YAMAHA makes one last attempt to sabotage the rebuild. He sends a tiny flying beetle to stuff Connor's exposed engine oil pipes full of leaves (look, I swear I'm not making this up...)
When the engine is reconnected to its various pipework, Connor cannot understand why the bloody hell little bits of leaf are coming out of his oil return line, until he catches one of the tiny beetles in the act of flying up the open end of an exposed pipe, carrying a single leaf, with the clear intent of establishing some sort of beetle homestead. I mean look, OK, I'm all in favour of the pioneer spirit but not in my bloody engine, all right?
Be this a warning to all people who are repairing their bikes, at least in Queensland! Cover up the open ends of your pipes with plastic or something, unless you like your lubricant seasoned with aromatic herbs.
Connor ejects the beetle gently but firmly from his lubrication system, gets its email address (just in case), climbs on the bike, and rides off into the sunset in the general direction of Melbourne...
Lapping the valve seats on Kens R80
Fellow overlander Stefan Uch (left) has his dodgy BMW wiring sorted at the Duval Home for Distressed Machinery.
Ken and Stefan greasing stefan's drive shaft
Greasing stefan's drive shaft UJ - something he has to do about every
6 months. The shaft will last a couple of hundred thousand Kays. In contrast,I have to grovel around in the dirt twice a day getting covered in chain lube, and am obliged to replace the whole damn assemblage every 15000 kays at a minimum cost of 100 pounds sterling. Wonder which design is superior??
Fade...
(Heartfelt thanks to all of the above folks for their efforts and advice, and in particular Ken Duval, without whom I would still be listening to the woeful sound of disintegrating gears and wondering when I was going to screw up the courage to do something about it...)
Posted by Connor Carson at February 21, 2002 12:00 AM GMT