Hoi (Dutch),
Coming home was great, friends and family had all come to the border. It were those we had kept warm in our hearts for 5 years and others we had got in contact with over the internet during our travels, who had started to follow our travels and got connected. Among those were 4 other motorcycle-world-travelers.
Emotions
Crossing the border suddenly the whole world started coming together in my (Dafne's) mind, like a raging storm of images. I looked at Rob to see that he was also struggling. We grabbed each other and didn't know whether to laugh or cry. Is it all over? Is this the end? We have made it, that for sure. We came twice around the world and kept ourselves, each other and our dear sidecar in one piece, that too. 'Life is a voyage, it will never end,' we told each other.
Through my tears I saw my mother. She was holding a beautiful wreath, green with yellow lilies and orange lantern flowers. My father was taking pictures and slowly I started recognizing the other people who were there. 'I can't believe that you are back,' my father punched me to be sure that I was real. 'Gee, you've been away for five years, you are five years older,' he continued. 'I'm not, but you are,' I joked and funny enough I really felt that way.
This was the weirdest experience of my life. For moments I could not get my thoughts together. My emotions would lift me up sky-high at one moment and drag me into the deepest depth the next. Party A lot of fellow sidecarists had also come to meet us and now we all drove in a big parade to sidecar builder EZS in the small town named Zelhem, where back in 1994 our sidecar came to life. Albert and his wife Helma had organized a welcoming party and of course we had to tell some of our stories. I think we only spoke for about 3 hours and many times we heard each other say: 'Oh yes, but that's another story... We'll have to tell that another time.'
I also had to explain why I had not grown older: 'I have grown, but not older,' I said. I had realized that for the past five years we have lived our lives in fragments; a few days here and a few days there, totally free of any ties and yes, even of time. The whole world had moved on for five years but our fragments had not rooted.
Address unknown
Friends and family invited us to stay as long as necessary and, although I feel the need to get my life rooted again, to go through the necessary bureaucratic hassle for this also is the most frightening thing to do. Like a sailor who decides to live ashore, who sees his ship going to sea without him. We went to the administration of the town where we had lived before, parked our sidecar in front. 'We only come for info,' we started. Soon we found out that our names had been moved to a special departed, called: 'Left the country' and 'Address unknown'.
We did find a small cottage (used to be a pig-stable) in (for Dutch standards far away) Groningen, where we can stay for the time being. It's really a lovely place, looking over farmland and wide open spaces. We have been so lucky again!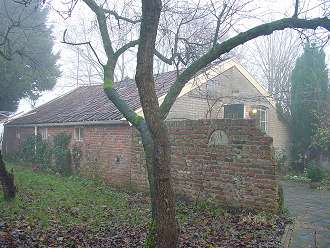 It's the little house (former pigs house) we are living in (aren't we lucky).
The World on a Children's Drawing
As soon as we get reorganized we will pick up our project again. We still have many drawings in which children from around the world tell each other about themselves. These we are going to exchange and together with the children we will keep on sending messages of friendship into the world. We also have a few connections regarding the setting up of a big exhibition of the project and our world tour, but all of that still is in a premature stadium.
Ride-on... 2002
Life is a voyage and we are sure to be travelling again. First we will write a book (in English) and get our slide-show going; informative, colorful but especially with a lot of fun, because we had a lot of fun all around the world. We will start with our show in Holland, Belgium and Germany, but looking forward to take it to the USA as well.
We wish all our dear friends and everyone else who reads this around the world a very happy New Year.
Thank you all for having mailed us your lovely messages and please accept our apologies if you did not get an answer yet. We very much needed some time with just ourselves and hope that this message will answer most of your questions.
A greeting and a smile,
Rob and Dafne Ride-on World Tour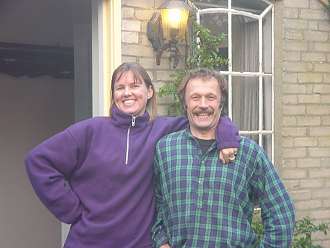 Rob says that he'll wash that pig (Dutch expression) and tries to look like a farmer.
Ed. Read all about Rob and Dafne's adventures over three and a half years on the road - through Africa, Asia, Australia, New Zealand, the USA, Japan and Russia - click on the links to the right!