Too many to list! If you haven't checked out the Links page it's time you did - it's huge, and a fascinating browse.
---
Get your website listed in the LINKS Section
by listing Horizons Unlimited on YOUR web site, let me know you've done it by mailing me a link to the page, and you may get listed here in the next newsletter and on the Horizons Unlimited web site Links page. To make it easy for you, we even have our logo and link code here! From there you can request your link.
All sites will be considered for listing, but must be a MOTORCYCLE or TRAVEL site, useful or of interest in some way to travellers. We reserve the right to refuse to link back.


Motorcycle Express
MC Air Shipping, (uncrated) USA / Canada / Europe and other areas. Be sure to say "Horizons Unlimited" to get your $25 discount on Shipping!
Insurance - see: For foreigners traveling in US and Canada and for Americans and Canadians traveling in other countries, then mail it to MC Express and get your HU $15 discount!
There are many 'Helpful People' listed on the Links page, a huge thanks to all of them. How about you? Or you can join a Community, or start your own!
Do you know of a good shop 'on the road,'
. in other words, somewhere there isn't a large number of shops? (Also of course any shop that specializes in travellers equipment and repairs is of interest.) But we're particularly looking for those rare items, good repair shops in South America, Africa and Asia etc. Please post your info in the Repair shops around the world Forum on the HUBB.
There are now 100's of shops listed in out - of - the - way places, from Abidjan to Ghana to Peru! Be sure to check out the HUBB 'Repair shops around the world' forum if you need work done!
When you meet people on the road, and they haven't heard of this e-zine or the website, we'd appreciate it (and hope they would too!) if you'd get their names and e-mail addresses and send it in to me.
Thanks, Grant
Request for info
Wouldn't YOU like to know all about the border you're approaching - what it should cost, paperwork required, 'tips' needed, and who to talk to, etc.?
When you cross ANY border, take some notes, and pass them on to us. Thanks!
Shipping
The Shipping page on the site is HUGE! It can be reached directly or from the Shipping link on the Trip Planning page.
Travel Advisories:
The Foreign Office in London's Travel Advice Unit advises against travel to all sorts of places. Check out the listing before you start!
The US State Department regularly issues updated travel advisories, information and/or warnings.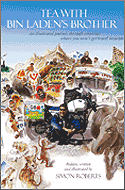 Tea with Bin Laden's Brother, by Simon Roberts
An Adventure motorbiking graphic novel telling the gripping story of a solo ride through Iran, Pakistan and India to Nepal. Take a look inside...
---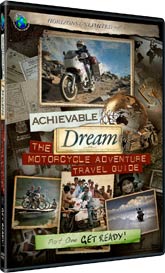 Part 1 - Get Ready!
Get the Achievable Dream DVD's NOW and learn how YOU can get on the road!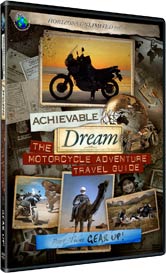 Part 2 - Gear Up!
Get the Achievable Dream DVD's NOW and learn how YOU can get on the road!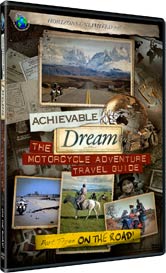 Part 3 - On the Road!
Get the Achievable Dream DVD's NOW and learn how YOU can get on the road!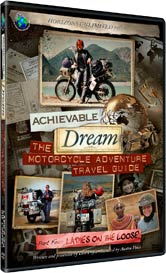 Part 4 - Ladies on the Loose !
Get the Achievable Dream DVD's NOW and learn how YOU can get on the road!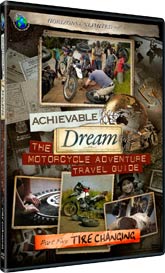 Part 5 - Tire Changing!
Get the Achievable Dream DVD's NOW and learn how YOU can get on the road!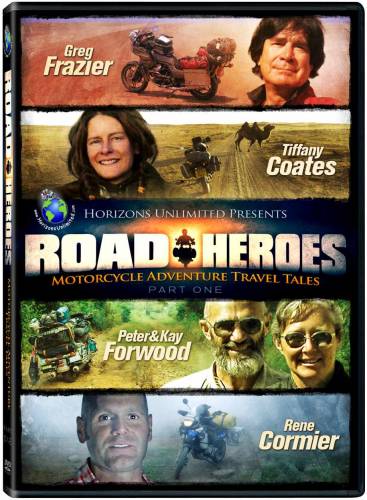 Road Heroes Part 1!
Get your Road Heroes DVD now for inspirational and funny tales from the road!
"We ask some workers what the thru road is like. The guy shakes his head, said it's way too hard for those big heavy bikes and left us to it. With that kind of advice, obviously the decision had already been made for us. So, I attacked the hill first. Well, the first part of the first hill anyway! Not one to give up too easily, I turned round and had another go. Faster this time. It's getting a bit like the good old days where as kids momentum was your friend, and if you don't crash you're not trying hard enough! Hmm, is this really a good idea?
No, it wasn't. The road was actually pretty bloody tough, and really too much for these bikes. Then factor in Wade's foot and it was stupid. 2 crashes later, and in a river of sweat we manhandle the bikes to turn around, then telling ourselves we won't get into a situation like that again (a lie) we ride out the easy way and into Las Felipe. Found a bar and campsite on the beach. Argh... this is the Mexico I've been dreaming about!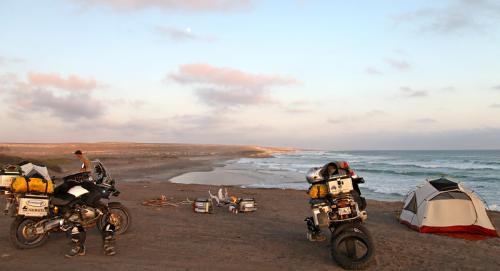 Today was cool. Really cool. We arrived in Isla Gonzaga around midday and decided that was enough. Time to relax and enjoy ourselves. As I floated about in the Sea of Cortez like an albino fur seal (I know, I know. I should run more. But I really like riding my bike instead! I swear I'll exercise next week. And it's tough to get a tan in riding gear!) I rolled lazily onto my side and said 'Hey Stubbsie. You know what's brilliant about today.'
'Yeah, I didn't fall off!'
'Well, that's true, but it's not what I meant. Today we woke up and rode somewhere exciting we've never been before. You know what's even better? Tomorrow we get to do the same, and the next day. And the next for another 6 months. Can you believe it'?
If that's isn't a pinch yourself moment, nothen is. Sometimes I slap Wade in the face for no apparent reason.
'Hey, what's that for?'
'Buddy, I just don't want you thinking it's a dream!'
When I was on Flinders Island before leaving Aussie for the first time I would look up and see jet planes and think to myself 'I don't care what part of the world that plane lands, I wish I was on it (so long as it isn't Australia!)'. Now? Well now I look up and see jets crossing paths all day long and think to myself 'I don't care where in the world those planes are destined, I am bloody happy I'm not on it'!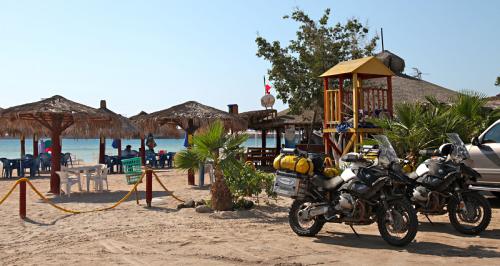 We are half way down the east coast of the Baja, Mexico. Its 21:25, dark and about 95 Fahrenheit / 33 Celsius. I'm sitting on the beach writing, trying to wipe away the sweat before it drops onto the keyboard. The moon is out, but like a great lead in a Broadway musical it doesn't quite shine so bright as to hide the other stars. They are in perfect harmony.
My bed is rolled out underneath the stars, bathed in moonlight. There is no need for a tent tonight. A quick swim to wash away the sweaty reminder of the day's heat and I'm sleeping like Beauty. Mind you, if Stubbsie tries any funny business to wake me in the wee small hours of the morning there'll be trouble!
Good night to you all, and may you sleep like me!"

Colin and Dee Masters, UK, Wrinklies Wround the World, on the road again in Turkey, BMW 1150 GS,
"Arrived at the Turkish border around noon and still around 30 degrees. Showed passports and then had to buy visas. He was away having lunch, so we sat on the side of the lane waiting patiently. Not too long a wait and the 2 visas were 70 lire (£26.92 ). Then on to another building to buy insurance -- Colin did this whilst I stayed with the bike in the shade. We were partially blocking the lane exit --- but the official had told us to leave it there -- so we did! Insurance cost 120 YTL (£46.15) for 6 months. Customs control; checked bike papers only and we were through after an hour - good going. We thought we would be longer than that.
Went straight into Erdine and got a Caravanerie hotel which was built in the 1400's - it has been modernised since then! It was very tranquil in the courtyard - the place outside heaving with people and noise - but inside the hotel you can't hear any of that. 180 YTL for the night (£69). The place was full of atmosphere, traditional and obviously very old with thick walls and inner courtyards. There is a particular smell to these old places -- slightly sewery and musty --- but you soon get used to it!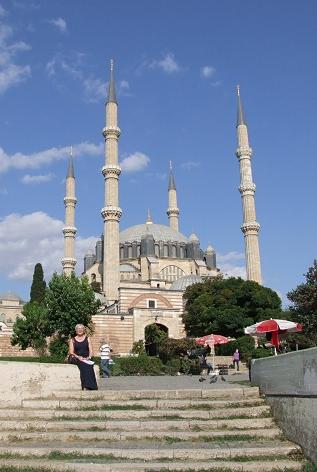 The mosques here are stunning inside - they say they are as good as The Blue Mosque in Istanbul. Huge domes inside that are painted and gold leafed. I had to cover my shoulders and wear a headscarf- and we both had to take shoes off. We were visiting the second mosque when the call to prayer came out - so we left.
Got back to the hotel and asked for 'water'- guy didn't understand that and when I got the laptop out he rushed over and said 'Google translate' It's 'soda.' So now you know! We had to laugh.
That evening I had a dose of the squitts and took 2 Imodium. We were then down to 4 tablets, so next day I was sent off to get some more. Well you try to mime diarrhoea to 2 girls who don't speak English! We were in fits of laughter, then the guys came in to see what all the fun was about, so I was playing to a crowd! No embarrassment though, it was all taken in good part. First of all they gave me Dulcolax (a laxative). 'No, no, the other way'! Then I spotted a computer and said 'Google Translate' which they did and eventually I got 2 lots of tablets for 14 YTL (£5.38).
We got into Istanbul at 1 pm. The traffic was manic to say the least. Car and, lorries cutting you up on either side. People driving down the hard shoulder, horns beeping and at the toll-cars or lorries backing up to change lanes! Colin pulled into the side to let things sort out a bit and then we went for it! Had to get through to the third lane. This is not for the faint hearted and I kept Very quiet on the back!
Then we found ourselves in the airport and at the arrivals! At this point I said to Colin: 'We have got to get a taxi and follow that to the Ibis. We are rapidly getting into a Delhi situation here'. (i.e. hot and bothered and under a great deal of pressure) The taxi fare was worth every penny. It was 10 k away and we would never have found it under our own steam. The Ibis found us a room overlooking the Sea of Mamara and we are chilling nicely, thank you!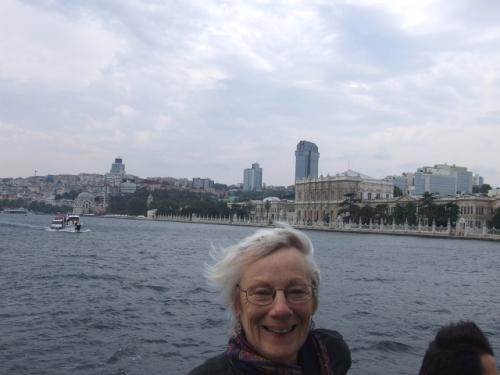 We are having 2 days off here to see the sights and have been on a cruise of the Bosphorus today. The funniest thing about that was the taxi running out of gas and we had to walk the last 1000 metres back to the hotel! See, Colin's not the only one to run low on gas - and he didn't run out completely!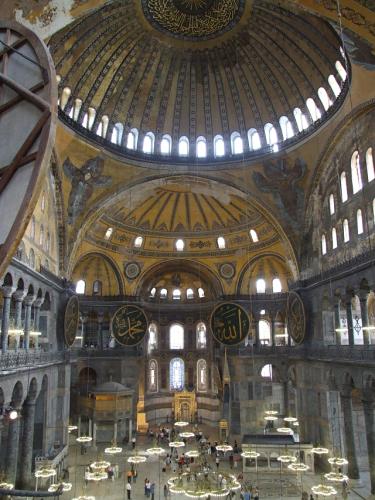 We went off to see the sights: Sofia Museum, Cisterne Bacillicus, Topkapi and the Blue Mosque. Tomorrow we are go on to Safronbolu - but first we have to get out of Istanbul - which Colin is not looking forward to..."

Ionut and Ana, Romania, Trans-Africa, in Morocco, Yamaha Tenere,
"While Rabat has a European feel, the shanty towns that line the coast and the lively fresh food markets are intensely Moroccan, so is charming Mahommedia. East from Rabat we used Meknes as our base camp for a few days, visiting the Imperial cities (Fez, Meknes), the sacred town of Moulay Idriss and the ancient ruins of Volubilis.
The Medina, (the medieval centre of Fez) has not changed for centuries: a maze of narrow alleys housing hundreds of merchants and craftsmen, stalls with spices, dried fruits and nuts, fish, handmade copper items, carpets and musical instruments. A seat of Arab learning, a Holy City and a place of pilgrimage (when the route to Mecca was obstructed), Fez was a place of considerable importance until recently, being the depot for the caravan trade from the south and east of the African continent. A must see in Fez is the Leather Souq with the oldest leather tannery in the world, Chouwara.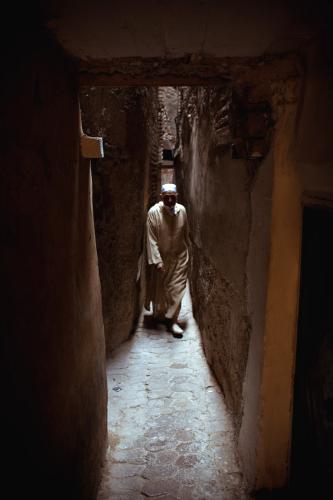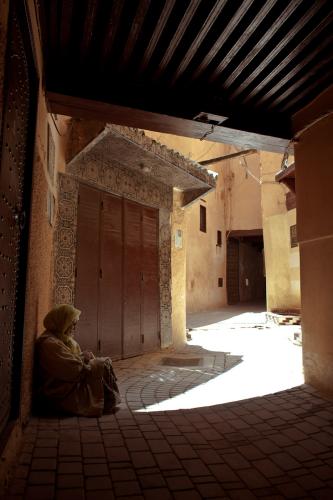 Even if Fez has a more intricate architecture in the beautifully preserved UNESCO World Heritage Medina, we found that Meknes has a more authentic feel, with few to no tourists and touts and a Medina where people seem to actually live and work (not just for show). Moulay Idriss is a little gem, a fairytale town on top of a mountain among olive tree hills, where life has a slower pace.
In the afternoon we stopped again in Azilal for a tagine, then continued on a breathtaking route among peaks ranging from 2K to 4K. The landscape kept changing every hour, from lifeless valleys, to cactus infested walls, from reddish soil and rocky forests to fragrant cedars and green canyons punctuated by magenta wild flowers. When the road appeared to end, we suddenly found ourselves at 2750m altitude, from where 50km of tarmac interrupted by gravel brought in by spring floods led us to Imilchil.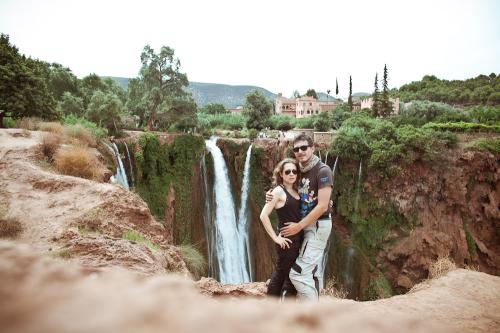 You can see the mighty sand dunes in two places in Morocco: the golden ones of M'Hamid or the psychedelic pink Erg Chebbi in Merzouga, which is where we arrived in a blazing hot weather. A weird afternoon rain in the Sahara and a pool plunge later, we woke up to see the sun rising behind the glistening foot-trace swallowing mirage that is Erg Chebbi, a dune 160m high, bordered by the village of Hassi Labied.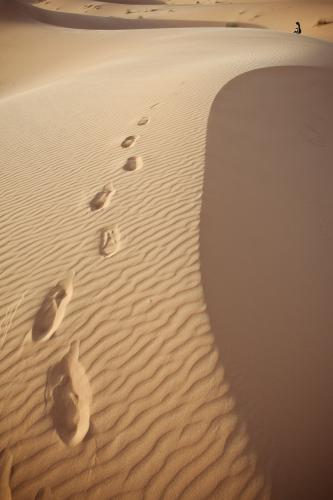 After a month in Morocco where we rode over 6000 km, the motorbike is in great shape and we experienced no technical issues, except for the chain problem. We took a few low-speed falls due to deep sandy patches and rocky pistes, the battery was drained two times while charging our laptop with the engine off and we had to send home a few spares and personal stuff in order to lose some 6,5 kg off the bike (which do make a sizable difference). So our first advice (not that is a huge novelty) is pack light, cause every gram counts.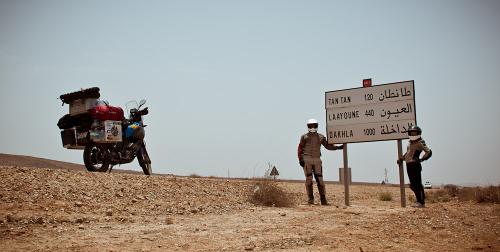 People in Morocco are friendly, sometimes aggressively trying to sell you something or guide you, are not easy to trust, which is a shame, because up in the mountains you will meet genuinely sweet villagers and generous men. Moroccans nurture close family ties and friendships, and we witnessed how they warmly greet each other for minutes. The cafe culture is a big deal here, with solo men filling up terraces from morning to dawn, at a chat over coffee with friends. Women are harder to meet, but they are highly educated and almost all speak fluent French. Some Arab and Berber will come a long way here; in Merzouga area English is largely spoken and understood. We bought a Meditel modem for Internet, but discovered that IAM has a better 3G coverage, so we suggest you get that one instead.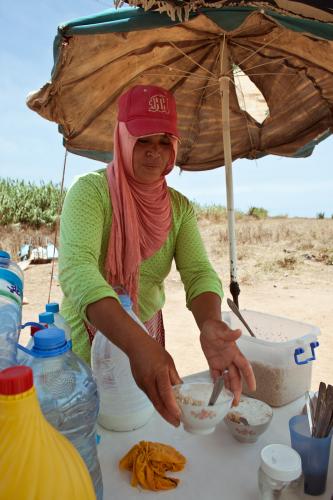 Food is a reason to be here in itself. Produce is mostly organic and very regional: in Fez you have the famous fassi cuisine with treats like b'sara (a soup made of fava beans served with a fragrant garlic olive oil), pigeon pastilla (a pastry spiced with cinnamon) and very spicy and hot sausage made of mutton and offal; in Meknes you can eat the freshest figs and delicious flat bread with thin crust and cumin spiced crumble; pure eucalyptus, almond or cactus honey is produced high in the Atlas; in Erfoud you will eat the best dates with the extraordinary sweet and creamy Medjool reigning supreme; Marrakech is home to sheep meat and offal delicacies like tangia (mutton or beef cooked slowly with cumin, ras-el-hanout, preserved lemons and olives in a dough-sealed clay pot), sheep brains and tongue and mechoui (whole sheep baked with spices in a vertical clay oven); the freshest fish is in Essaouira and other coastal cities - here you can follow our example, and buy your fish from the fishermen, then have it cooked for 5Dh/plate at the public grill, next to the market; in the Banana Village just before Agadir you can taste the local varieties of banana and succulent cactus fruits.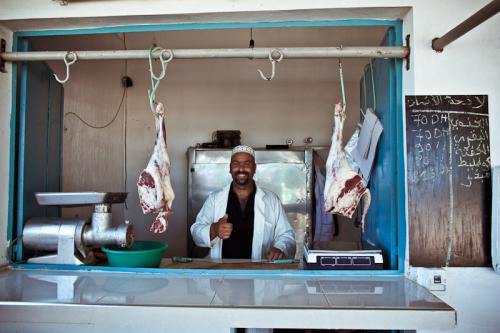 All over the country you can find tasty veggies, mutton and beef kafta, gorgeous watermelons and melons, dried fruits and nuts, along with top quality spices like saffron, paprika, cumin and ras-el-hanout. The breakfast is usually bread with the best local olive oil or served with honey sweetened leben (local yoghurt), or couscous with cold sour milk from streetside vendors. Bread is sold freshly baked along Moroccan pancakes, which in Fez have a sweet spongy texture. At lunch people usually eat a tagine (a typical stew of meat or fish, slowly cooked on charcoal in a signature clay pot). Dinner is protein based: kafta or harira (bean soup with aromatic herbs, which in Agadir is served with a local twist - with dates, a boiled egg and a piece of hard caramel).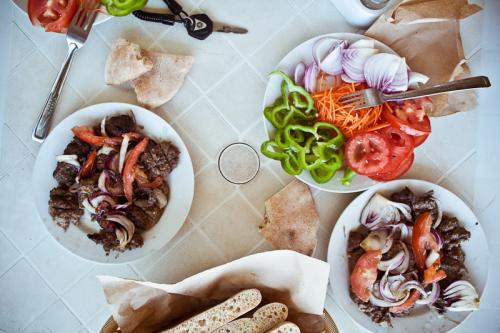 Other signature Morocco treats available countrywide are freshly squeezed orange juice and green/black tea perfumed with fresh mint (called whisky marocain). Tap water is safe to drink and wild camping is possible in most unmarked places, even if locals may try to discourage you from doing so."
Chris Sorbi, Around the world on a classic Suzuki for a cause, in Argentina,
"We finally woke up early, took a hot shower at the fire station, and headed out due south for Cafayate. We went five blocks and I was hungry already so we stopped for one last salami and bread in Salta. We only had 250km to go and it was early in the day so I wasn't too concerned about the time. At one of our stops, there was an all familiar shrine built for someone who had died in a car accident. In most of South America, when people die on the road, their families build a little shrine for them on that spot. Depending on wealth of the family, shrines differ from a simple cement box to elaborate granite covered cabins. All year long, people leave water, candles and flowers in them, and in some I have even seen food. (Just in case they come back from the dead and are hungry I suppose.)
This particular shrine had something I had never seen before. Apparently the deceased was a smoker, so people had been lighting up cigarettes for him instead of candles, and leaving a few unlit ones just in case he came back to life. That was a touching gesture and I liked it so much that I left him a few cigarettes too. So this is my will: when I die, leave me cigarettes too and don't forget the lighter either. If you're feeling generous that day, a few liters of fuel would be nice too since I always run out gas.
The road started nice and turned gorgeous. We entered a landscape so extraordinary that the 100 degrees heat had no effect anymore. This was a land of massive sand stones, tall cliffs, blue sky, and a sun the size of a football field. I have spent a lot of time in Moab and Zion in Utah, but the enormity of this place makes Moab look like a dirt parking lot. The road with its class A asphalt twisted through cliffs after cliffs, and we rode from tropic to desert up and down with each ascend. What we could see from the road was a drop in the ocean of what was beyond, as the real beauty was always a mile off the road but it was mesmerizing nevertheless.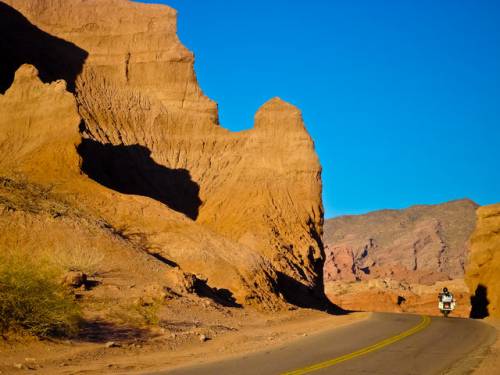 I don't think I ever used the 4th or 5th gear as we stopped constantly just for another picture. The 250km trip which should have taken three hours at most took us nine hours to complete, and we arrived at the wine producing town of Cafayate at sundown. Cafayate is a beautiful little town surrounded by vineyards and most if not all of its income comes from the barrels. Cafayate is a touristy town and being poor means that you don't get to enjoy it the way the others do, but that doesn't mean you shouldn't stop there.
We needed a place to crash for the night. We started by looking for the Police Station, but they were no good, and the tourism office was less than helpful. The hotel prices were an arm and a leg so we went straight for the fire station again to see if we could find a place to sleep there, but the station was so small that it barely had room for their own fire-engine. As always, somehow things worked out. A guy at the station called around, and found us a place to camp at his friend's yard. When we got to the place, I saw no yard. The house was a colonial style mansion with an open area in the middle and the only way to get inside was to ride the 1000 lb street motorcycle up 6 stairs with no ramp. I looked at the stairs and shivered but there was no other way as I wasn't going to leave the bike on the street. My first try almost ended disastrous as the bike simply wouldn't go up - it stalled in mid-air and started to roll back down. On second try, I gave it hell and she climbed all the way up the stairs and we settled down for the night; munching on salami, cheese, olives and bread yet another night.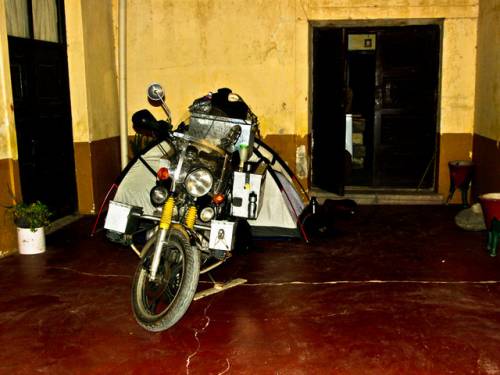 I grew up not eating pork due to ridiculous religious taboos, but as soon as I reached the age of reason, I took revenge by indulging in this wonderfully delicious animal whenever possible. Now don't get Vegan on me, pigs are not cute, they are not funny, and they are not smart either. They are just what the good lord had intended them to be - stupid and delicious. In Argentina, pigs fulfill their destiny by voluntarily going into casings with white pepper corns, garlic and salt, and they get reincarnated into some of the best Salami in the world. The word Salamé comes from Italian and Salami is its plural form used in English to describe this product. Salami is produces in much of Europe and Americas, and it's an assumption that the Italians are the masters of this craft, but I beg to differ. In my opinion, Argentine salami is the best salami in the world, with Hungarians taking the second place, and then Italy. On average, it takes 30 to 40 weeks for salami to be ready for consumption, and to clarify something, I'm not talking about the garbage you find in supermarkets in United States sold as hard salami or Genoa salami. Genoese salami is a fantastic salami which comes from Genoa, but it has nothing to do with the crap they sell in US by the same name. It's interesting to know that salami was originally made by peasants as an alternative to fresh meat as they could keep it for years. Now days, it's not uncommon that a good salami (once a peasant food) to be priced as much as three times of best cut of fresh meat.
Argentina is heavily influenced by Italian and Spanish cultures, and they created bests of both worlds out of this merger when it comes to food. On my trip to Uruguay, I discovered a very small village on the border of Argentina that was like heaven on earth. On both sides of the street, there were shacks with signs that read cheese and salami. Once you enter one of these huts, you can get high on the smell alone, and it doesn't help much that pretty farm girls shove samples into your mouth. I left that town almost broke as quickly as possible, as it was a sure way to get me to settle down.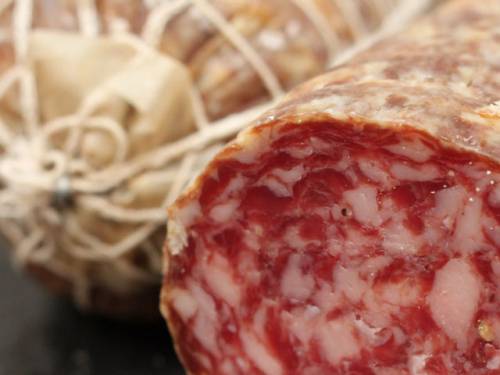 I wanted to write a travel blog but somehow I ended up writing a whole page on salami and I haven't even scratched the surface yet. Now that I wrote about salami, I kind of want to write about hams too (again not the kind of ham you see on your thanksgiving table, that's not ham, that's an abomination to Spanish Jamón.) I'll cut this post short here so stay tuned for the rest of the story, but I can't promise that it won't have any salami in it."
Ed. Who knew salami could be such a big topic ;-) See Chris' story and pics in the HUBB Ride Tales Forum!
Ian Moor, UK, Wrong Way Round The World, in Costa Rica and Panama, BMW F650GS,
"Parking the bike beside the small San Vito central plaza I found a hotel on foot, the easiest way with the one way system and town traffic. I picked a place on the main street, primarily because it had covered off street parking for the bike and I was anticipating plenty of rain. The volume of traffic using the steep main street was surprising, because of the one way system all the traffic coming into or leaving town had to pass down it. Large trucks regularly passed the hotel using their noisy Jake's compression engine brakes. I had never heard of these in Europe but most trucks in the Americas are fitted with them. In the USA there are signs stating that the use of these brakes is illegal in towns due to the noise pollution. In addition to the traffic noise road works involving pneumatic drills and mechanical diggers started up at 10:30pm and continued through the night for the first three nights. They do the work at night so that they don't disrupt the daytime traffic which is a great idea unless you happen to live in the street.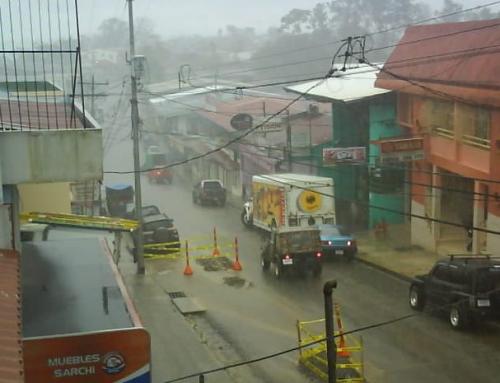 San Vito was established by Italian immigrants in 1952, the first tree was felled to start clearing the ground on February 28th making the town six days older than me. Settled by farmers, they cleared land for a runway to get supplies in then set about creating the town and the surrounding coffee plantations, coffee is still the main industry. It is the only place in Costa Rica where Italian is taught in the schools and the town has a reputation for keeping to its Italian roots. I can't say that I was aware of it, maybe they have always had pizza restaurants in San Vito but now every town in the Americas (and Europe) has them!
The rain in San Vito is pretty much continuous apart from early morning which may be dry. I found a weather web site which breaks each day up into eight hour periods. In the week that I was there the driest period was Thursday morning with 4mm of rain and the wettest was Sunday afternoon with 50mm of rain. The total rainfall for the week was 355mm (14 inches). At least it is warm with temperatures in the low 20s centigrade (around 72F) but all the rain restricts riding the bike and walking.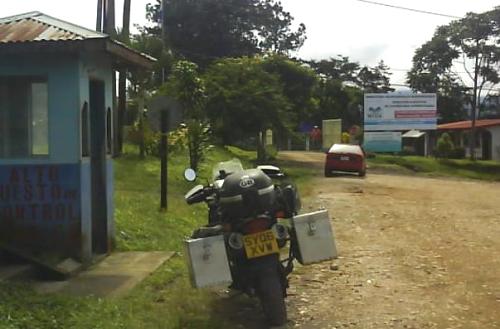 I originally planned to ride from San Vito through Ciudad Neily to the main Panama border crossing at Paso Canoas on the Pan Americana Highway. This crossing has a reputation for being a chaotically frustrating experience but there are few alternatives. There is a border crossing at Sabalito / Rio Sereno only five miles (eight km) from San Vito which isn't shown on my fairly detailed map. I had read that there was no customs office on the Costa Rican side so it wasn't possible to enter or leave with a vehicle which is probably the reason the map publishers don't show the border crossing. Also, a blog entry from three or four years ago said that the roads on the Panama side of the border to Volcan, the first proper town were a series of unmarked dirt tracks which at this time of year could be awash with mud or washed away completely. I had dismissed trying this border as I didn't think I would be allowed to take the bike through if there wasn't a customs office and if I did get into Panama I could be stranded by impassable dirt roads and not be allowed back into Costa Rica as you are supposed to stay out of the country for at least three days before being allowed back in. This rule is apparently aimed to make life a little tougher for the foreigners who live permanently in Costa Rica with tourist visas and have to exit and re-enter the country to renew their visas. It doesn't seem much of a hardship to me; having to spend a long weekend in Panama or Nicaragua once every three months.
All the rain meant I spent more time than usual in my hotel room so I utilised some of it to further investigate the Rio Sereno border and came across an 18 month old blog entry on the Adventure Rider website. The rider had crossed the border from Panama to Costa Rica without a problem and said there was a new paved road from Volcan to Dolega that rivals the famous 'Tail Of The Dragon' road in the USA with mountain scenery comparable to Switzerland and New Zealand. This got my juices flowing and further research suggested that there was now a Costa Rican Customs office for clearing the bike and that the new road has been extended right up to the border on the Panamanian side so it's Panamanian 'Tail Of The Dragon' time.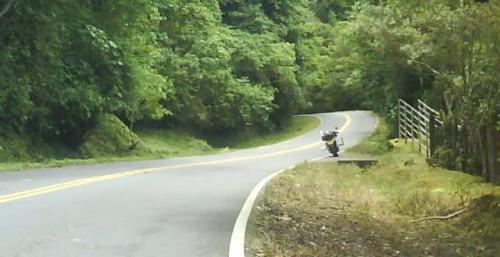 I had to ask directions at a junction between San Vito and the border and the last few miles were on a dirt road which was easily passable despite all the recent rain. The border offices were close together in Rio Sereno although not particularly well signposted but it wasn't a problem as there were officials around to get directions from. There were no queues and I was invited to sit in the various offices while the paperwork was processed by friendly staff."
"We got very cold riding this leg of the trip and decided that we are real woosies so we would booking a room in Springbok. We had been told of a hotel / camping ground called the Kokerboom and we headed there, we enquired about the rate and were told that it is R450,00 for the night, no ways the other guy on a bike only paid R150,00 so the receptionist phoned the owner and he also has a bike so we could have a double room (with heater) for R250,00! Apparently temperatures had been below freezing, with ice on the ponds!
The next morning it was blowing a howling gale and very cold, I had my duck down jacket on under my riding jacket and it made it bearable. We decided to ride to Saldahna Bay and try and get the broken pannier bracket repaired on my bike, we went to the airfield there and Johan Froneman was very kind in allowing Larry to use his workshop for the repairs and we spent the night in the control tower at the airfield. An unusual place to spend a night!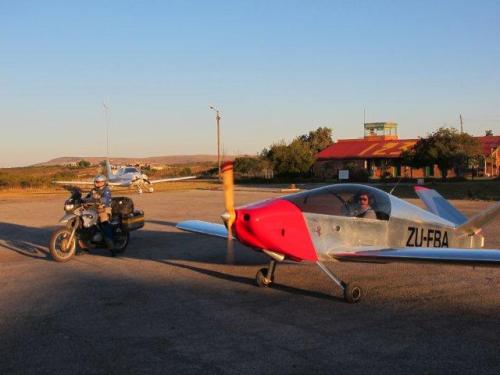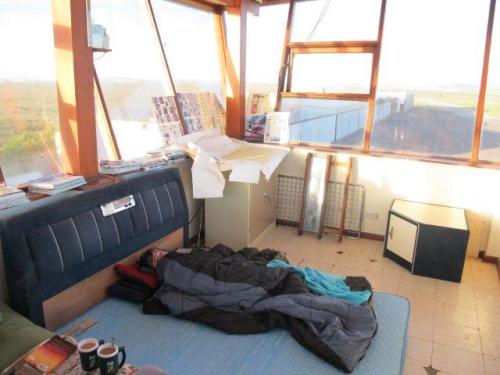 So after a late start with the repairs and welding of bike and pannier brackets - again - we set off for Cape Town, with wonderful sunny warm weather. We had decided to try and do some shopping and landed up at Canal Walk, these two plaas jaapies in dirty riding gear walking around one of the biggest and fanciest shopping centres in Africa. And then we bought nothing!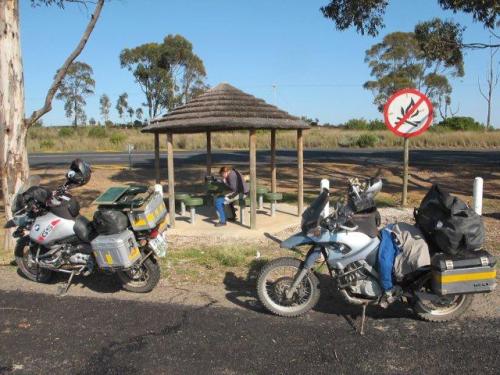 We had a wonderful ride around Table Mountain, Camps Bay, Hout Bay and Chapman's Peak en route to Noordhoek to see Sue and Trevor Abraham. Once again it was wonderful to see some Grahamstownians and some friendly faces."
Dan Peters, Milwaukee to South America, in Guatemala and El Salvador, Suzuki TS185,
"Natasha and I were on a traveler's high riding out of Guatemala City. The border was a few hours away and I thought I would ride straight to it non-stop. 20 minutes after leaving the Morales', we stopped. A man on a fancy BMW bike saw us in traffic and waved us to the side of the road. His name was Martin and he insisted that we come back to his house for lunch and wait out the rain that had just begun.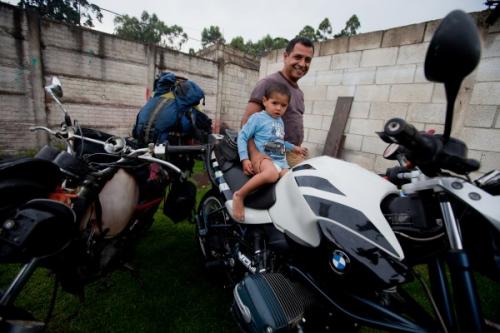 Martin and his beautiful wife and kids treated me to the best meal of the entire trip. BBQ steak and assorted Guatemalan side dishes and vegetables. After the early pit stop we were back on the road and riding at full speed to the border, opting for side roads that took us through the mountains and away from traffic.
At the border we ran into the first hurdle of the restarted adventure. When I had entered Guatemala from Mexico, I was given the proper 90 day visa, however, upon reentering Guatemala from Belize I was only stamped for 30 days. I did not notice this and ended up overstaying my visa by four days. Guatemalan immigration told me that I would have to return to Guatemala City, find the customs office, and apply for an extension.
This was the last thing I wanted to do after finally escaping the urban sprawl. With 30 minutes of negotiations and schmoozing I was granted a cheap five-day extension, but with a catch. Guatemala shares its immigration system with its neighbors of El Salvador, Honduras and Nicaragua. Natasha and I would have to make it out of that system in five days, all the way to Costa Rica.
I was excited. It was a challenge, a race. Natasha and I against many miles, borders and breakdowns. Into the unknown without a map (ruined in the rain) or worry.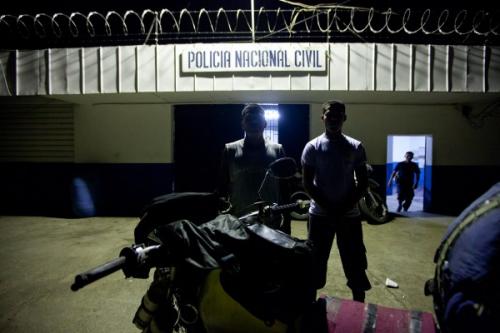 By the time we cleared El Salvador's border it was dark, but our headlight worked and we had no desire to call it a day just yet. It would not be until 2am, when we came across a surfing town with a raging disco party, that we stopped. The first day ended and the second began sipping El Salvador's brew in sweaty riding clothes and meeting new friends."
Anders Johansson, Sweden, across Russia on Harley powered Chopper Trikes,
"The first idea was to take my adventure bike for this ride across Russia, but I felt... everyone else who crosses Russia does it on adventure bikes, so why not take our Harley powered Trikes instead... more fun to be different and my wife Sandra doesn't have to be a passenger... and so we did.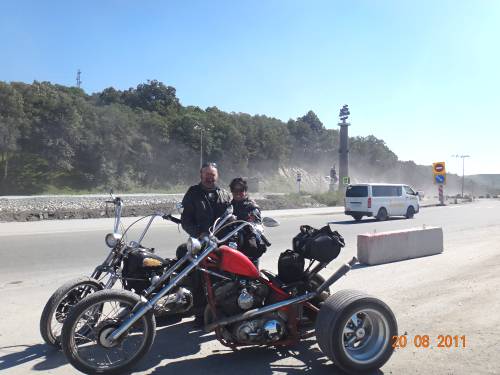 We started from our village 100 km east of Gothenburg Sweden, took the ferry from Stockholm to Helsinki and from Finland we crossed the border to Vyborg then we rode thru St Petersburg to Moscow then to Novgorod, Ufa, Celjabinsk, Ekaterinnburg, Tjumen, Omsk, Novosibirsk, Krasnojarsk, Irkutsk and Baikal, Ulan-Udé, Cita, Habarovsk, Vladivostock. It took us almost exactly 5 weeks and 13000-14000 km from Sweden to Vladivostock. I believe the distance we rode was about 1/3 part around the globe at this latitude.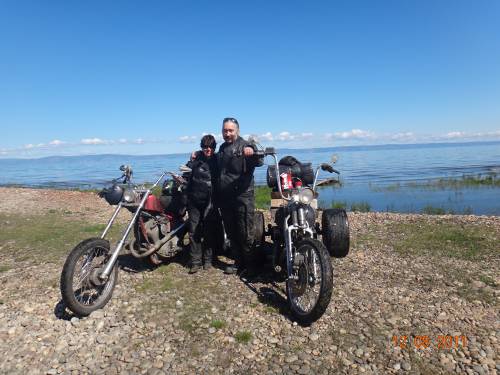 It was really hard to ride these low to the ground trikes with very short suspension on some of the Russian roads, especially at the roadworks but we got so much feedback from the friendly Russian people! Almost every time we stopped for petrol, food, hotel or whatever we stopped for there came Russians with their cellular phone cameras and took photos of the bikes, of us at the bikes and themselves together with the bikes and us... even in the traffic they took photos from their cars, they waved at us and gave the sign thumbs up. Even the police stopped us just to take photos! The positive response was overwhelming and this helped us a lot when we were battling with the roughest roads!
When we arrived at Vladivostock we had run out of our 5 weeks vacation and we still had to wait two more weeks to be able to send our trikes back home to Sweden."
Marco Hoffmann (BikingMarco), Australia/Germany, Sydney to Germany - the African way, Suzuki DR650,
"I am typing this in my tent, somewhere nowhere, a little conservation area 100km east of Ceduna in South Australia. Yep, I made it across the border to South Australia yesterday. And will cross another border once I made it across the Nullarbor, entering Western Australia.
There is actually not too much to write about. I wouldn't be able to point a finger towards any particular highlights during the last few days. There has been just an abundance of nothingness which in itself is a highlight. The road simply stretches on forever. Straight and flat. And there is nothing beside the road either. Just more flat ground. Some might find it boring but I love it. I can't really explain why. Being just a little dot in such a massive landscape is just awesome. It is hard to tell how far away the horizon is, maybe 10km, maybe 20. You are able to see such a huge and vast area, it just makes you feel ever so small. And free.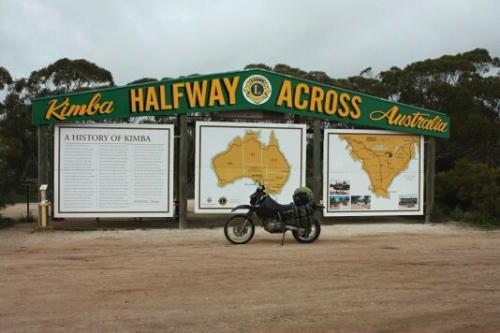 My little Suzuki has done an awesome job over the last few thousand km, she's been to places she's never dreamed of. Starting out in her first few months being a city bike she really enjoys as much as I do the open road, the use of more than just first and second gear, the rocky bits and sandy bits and muddy bits, the little wobbles along gravel roads, both of us getting wet, getting dirty and being covered in a thick layer of red dust. Chasing road trains, going for hours at a time and going where there is no road, we're a great team!
Doing one of my walkarounds around her today I noticed a few missing bolts. They must have shaken loose on those corrugated roads, pretty much all bolts on the underside of something (fuel tank, bash plate, horn mount) were either gone or halfway there. But only $1.90 in the local hardware store in Norseman bought me a handful of new bolts and washers. And a friendly guy from the caravan parked next to me gave me a helping hand replacing them all. Good to be in 'no-worries-country'!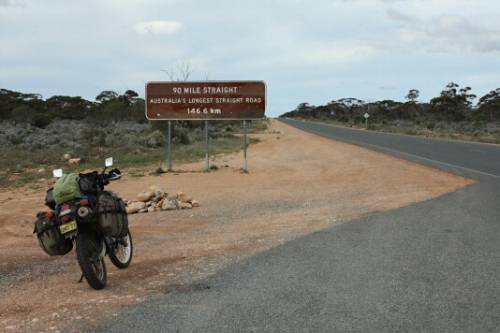 ...It is now only 600km to Perth along a 290km gravel road from Norseman to Hyden where I plan to see the Wave Rock, a big red rock shaped like a breaking wave (what else?). And the rest of the distance will be on paved roads to Perth.
It was meant to be an easy few hundred km, the last stretch to Perth. But the event that really started up the adventure was the rain. While camping at Disappointment Rock it started raining heaps during the night. One of those strange nights when it keeps bucketing down for 10min, followed by the clearest sky imaginable with millions of stars, followed by another downpour. It was the wind that made the rain clouds travel so fast. And since my old tent has proven many times before that it can withstand whatever the weather throws at it, I wasn't worried. The big awakening came the next morning, reminding me that I was some 80km into a 290km dirt road. Or now: mud road. The rain overnight transformed the top few centimetres of the road into a brown slimy slippery something to negotiate a way through on my little Suzuki. It was a really wobbly affair, often going more sideways than forward, just impossible to judge the depth of the soft surface. And not helped by the hidden ruts under the soft stuff either. Throw into the mix a few oncoming trucks and you can imagine the walls of brown stuff that followed them. If I was lucky they only created a cloud of fine brown mist which instantly turned hard on contact with my visor. If I was unlucky it was a whole swell of mud being flung right towards me. The average speed was down to 40km/h or less, so it took the best part of the day to get through this.
I will never forget the sweet look of the tarmac when it finally started in Hyden. By then bike and rider where just soaked in brown stuff, head to toe, helmet to boots. There were kilos of mud, now hard as concrete underneath the fenders, the panniers enjoyed a new nature inspired look. And me, pretty much wearing all my clothes because of the cold had suddenly all my clothes looking a bit brownish."
Ed. See Marco's story and pics in the HUBB Ride Tales Forum!

Peter and Kay Forwood, Australia, RTW (193 countries), in the USA, on Harley-Davidson,
"We had internet purchased a second hand gearbox (transmission) and attached sump from Pinwall Cycle Parts in Massillon, Ohio a couple of weeks ago, $400. It was from a crashed 1994 Electraglide Classic, same model and year as ours. The bike had travelled 59,000 miles, about 100,000 km's, before it was broken down for parts. Pinwall Cycle Parts have an enormous parts warehouse, tens of thousands of catalogued parts, many listed on eBay for sale, where we found ours. As we were passing the shop we called in to collect the transmission which was loaded onto our top box rack for the 300km ride to our friend's place, where we will store it till it is needed. Our motorcycle's original transmission is well worn, a repaired hole in the sump, ovaled swing arm attachment holes, not to mention 600,000 km's wear on the gears. Still, it is running for the moment, but a spare will ultimately be needed, and they aren't making any more for our model. Moved on to Cambridge, Ohio, another roadside motel, nicely air-conditioned as temperatures rise to 34 degrees centigrade.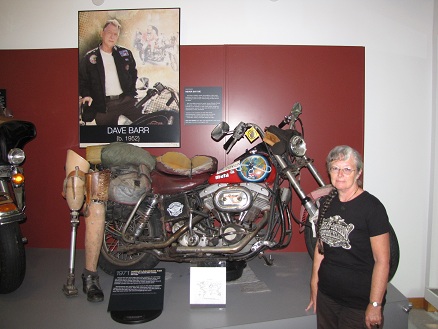 The American Motorcycle Association's Hall of Fame Museum is in Pickerington, Ohio, displays over 100 motorcycles and has a few hundred inductees, including Dave Barr, a good friend, a double amputee who rode his Harley-Davidson motorcycle around the world back in the 80's, on a Shovel, and it is on display at the museum. We were there at opening and spent a few hours reading about the people who made motorcycling great in this country.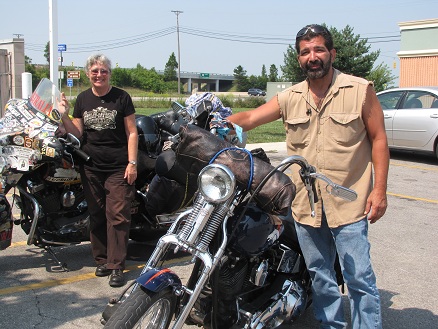 As we mentioned before, Americans are a friendly bunch, and while riding towards Bowling Green, Ohio, a Harley rider pulled alongside, acknowledged us, then pulled in behind, and we rode this way for the next 50 miles till needing gas. Cricket, his nickname, followed and we spent the next half hour chatting before again riding together past his turn off probably never to see each other again. A great guy, interesting, forthright enough. A snippet encounter of lasting memory."
David and Heidi Winters, USA, RTW, in Germany, Denmark and Netherlands, KTM 640 Adventure,
"Visiting Neuschwanstein Castle in Bavaria was our last 'must see' stop in Southern Germany even though we had to pry ourselves away from the area that we have come to love so much. From here on out it is a race to get up to Norway. Once we were on the road we drove 7 hours north to the town of Iserlohn, about an hour northeast of Cologne, Germany.
We met Tobi and Louie at the Horizons Unlimited meeting a few days ago and spent the weekend swapping stories. They took two 2002 640 Adventures across Africa and again across South America. Then they up-sized to a Mercedes G-series overlander and again went to Africa and South America. Needless to say they were a wealth of information and encouragement. We told them we were headed north but had no idea where and they invited us to stay with them. Of course we said yes!
We spent three restful nights at their house in Iserlohn, a beautiful old town that's not accustomed to 'tourists' which made it feel very warm and welcoming.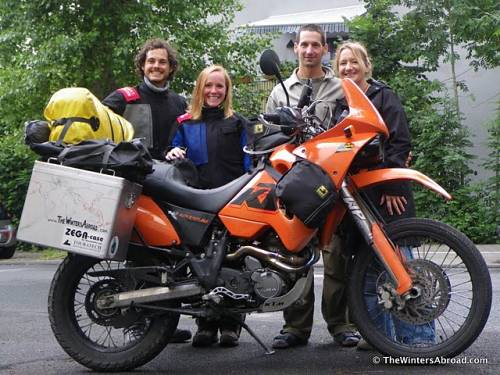 The time spent being stationary allowed us to get some work done on the bike. First on the list was an oil change. Once that was taken care of we addressed our kickstand problem. The side stand has been a thorn in our side for 7 months now. Yikes! One of Tobi's friends offered to repair it for free. He bent it back into proper alignment and welded reinforcements on it. We are So Thankful! I have been carrying around a 2"x 2" block of wood in my coat pocket that I have to slide under the kickstand every time we get off.
While David worked on all these bike specific jobs, I spent 8 hours washing all our laundry! Our poor motorcycle gear hadn't been washed since we were in Sydney, Australia in January. In those last 5 1/2 months we took our gear through the ringer with 6 weeks of sweat and grime from India's roads to another 5 weeks of filth in Nepal. There was actually white salt lines on the outside of our thick jackets from all the sweat! Gross!
...The ride from Iserlohn only took about 3 hours but the weather was so erratic it made the ride a bit painful. Pummeling rain storms gave way to sun that gave way to huge hail storms that gave way to high side winds that forced us to slow way down for fear of being pushed right off the road. Repeat all those scenarios several times and there you have it.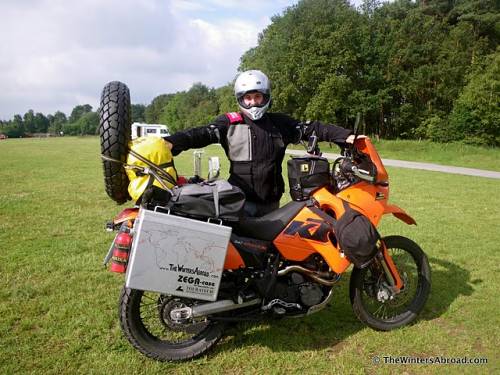 To make it all worse, in the morning after packing up our tent and all our stuff we loaded up the bike, got all our toasty gear on, helmets and gloves included, and then the bike wouldn't start. David tried kick-starting it and was quickly sweating and stripping off gear. After a while we tried push starting it but that failed miserably too. Finally a friendly driver stopped (we were still trying to leave the campground after 45 minutes of this) and gave us a jump. That did the trick, so we put our gear back on and angrily rode off toward Copenhagen.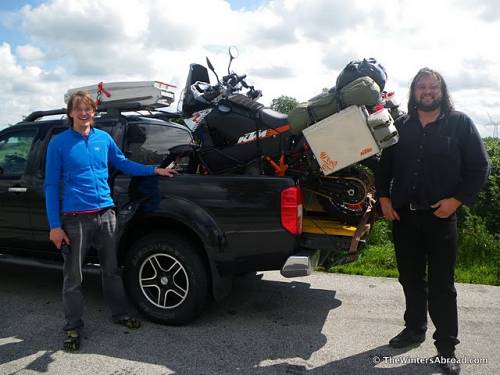 We were riding north in Germany, almost to Kiel (and the border with Denmark) when we saw this super nice truck with two fully kitted out KTM 990's in the back. Everything looked brand new and we started drooling again. They gave us a thumbs up and we motioned that they should pull over. They obliged and pulled over at the next exit where we got to meet these two Austrian guys who were trucking their bikes up to the ferry in Kiel that would take them to Iceland for a two week off-road trip. We were pretty impressed by all their awesome gear and they were pretty impressed that we were two up on a 640, significantly smaller then the 990's they had.
'Are you trying to break a world record or something?'
'What?'
'For longest time spent two-up on such a small bike. I don't believe it's ever been done before! Good for you!'
Maybe they have a point..."

Ferris Wheels Motorcycle Safaris are one of the pioneers of the motorcycle tour industry. We have been taking clients professionally to the highest road in the world several times a year since 1994; over 50 times now! Other exotic destinations include Morocco, Turkey, Bhutan, South America, and the Dalmatian Coastline.

All fully-detailed itineraries can be found at www.ferriswheels.com.au where you may also find countless client accolades and many press articles endorsing our tours over the past 15 years or so, and request our free DVD!
Chad Watson and Kyla, NZ, in Venezuela, 2-up on a Chinese 250,
"After a night in El Vigia and getting the bent rear wheel straightened the next morning, we headed out to Puerto Concha, where we could get a boat out to the fishing village of Congo on Lake Maracaibo. Out here you can see the Catatumbo lighting phenomenon. Congo was an interesting village, built on stilts on the edge of the lake. About two out of three nights a year you can see the lighting, which is over the same place near the lake every time. There are a few theories about this but no one is really sure why it happens. We got lucky and saw the lightning, not its most impressive display apparently, but still lightning.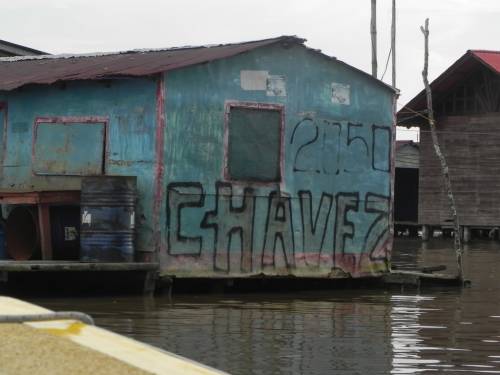 On the way there and back we also saw monkeys, toucans, freshwater dolphins and a whole lot of other wildlife. Back in Puerto Concha, we headed to Merida for a another couple of days rest. In Merida we did a lot of sleeping and tried out the ice cream shop with the most flavours in the world. I got gristle in my steak ice cream and tried Viagra flavour, while Kyla didn't really like the rice grains in her arroz con pollo (rice and chicken). Chino from Posada Guamanchi told us where some back roads were in Los Llanos that would be fun to ride with lots of caiman and capybara to see, so we thought we'd head that way.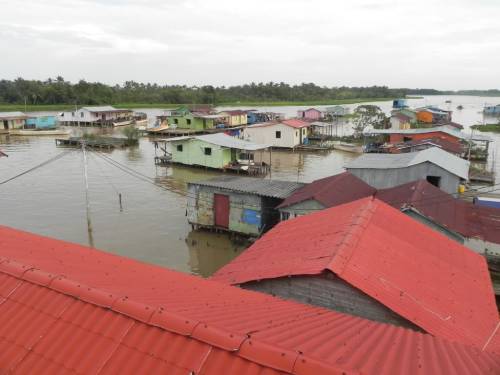 Next day we loaded up and head headed back up to about 4000m before dropping down into Barinas. We had a very close call that day with a car pulling out to pass a truck, not seeing us and coming within a few metres of a head on collision. Sometimes things remind you that even at 21 you're not bulletproof. We spent that night in a small town in Los Llanos called San Silvestre, having given a cop $2 to stop harassing us on the way. Los Llanos is a huge, flat, mostly dry area through the centre of Venezuela that is mostly used for cattle ranching. In the dry season huge amounts of birds, caiman and capybara are concentrated around the few remaining water holes.
From San Silvestre we headed south on a slowly degrading road that ended up being a one lane sandy track by the time we got to the Rio Apure. The Apure is quite a large river but there is a family that lives on the bank operating the ferry. It was quite an interesting ferry, with a one medium vehicle sized platform on a couple of pontoons and a dugout canoe with an outboard motor tied to it for power and steering. Over the other side, after helping a local fix a flat, we headed off for a 2 hour ride in the wrong direction on a crappy road in the very hot sun. Nice scenery but it turns out our map wasn't the most accurate one in the world and GPS for me is looking at the sun and mumbling to myself. It's easy to lose your sense of direction when it's so flat, a new experience for me. So a 2 hour ride back to where we were after realising the road we wanted didn't exist. Then we tried the other way.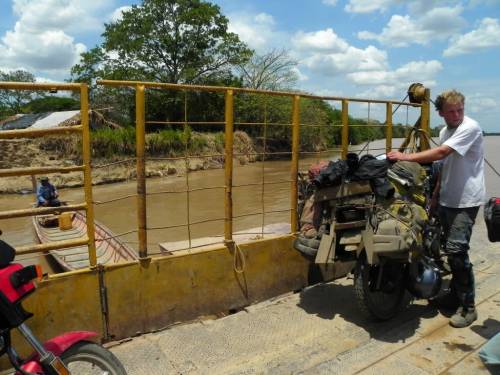 Not long after heading down this road there were big water holes running parallel to the road filled with literally thousands of caiman and hundreds of capybara. There were so many Caiman around there were a lot of road kill caiman just flattened in the middle of the road. As it was getting late we noticed a tour group pulling into to a compound for the night. We asked and they gave us a cheapish room for the night with a bunch of other gringos who had paid for a 3 day wildlife tour from Merida. The next day they let us ride around the ranch behind the jeep on a wildlife spotting tour. This was quite amusing for us and for the bunch of Russians paying for the tour.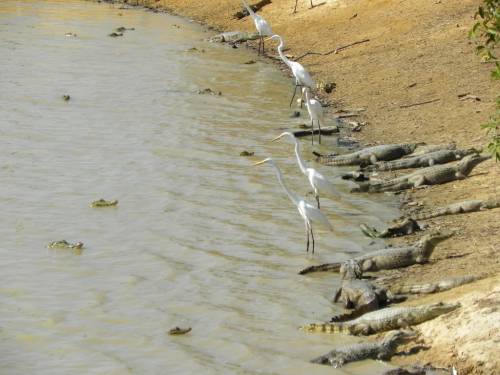 We headed east out to the main road and on towards San Fernando de Apure. Just finding a petrol station in time before we ended up pushing. Then an expensive but air conditioned restaurant as we were about to pass out from heat exhaustion/dehydration in the 30+ degree weather. After some amount of recovering we hit the road again towards San Fernando, only getting stopped and our papers checked at about 4 military checkpoints. The soldiers were generally very nice and gave us iced water at a couple of the stops while mostly not pointing their big guns at us. Eventually we find a hotel just after dark that there has been an attempt at some point to make look like a castle. And it's rotisserie chicken takes away for dinner again (about $3 for a whole chicken).
With the cheap fuel in mind and enjoying the open road we decide to head the long way to Ciudad Bolivar, via Puerto Ayacucho. So it's south towards the jungle, on a road we soon christen 'the road of death'. This was due to the intense heat, dryness and sheer amount of dead animals, birds and plants everywhere. It seemed quite mad-max post apocalyptical for awhile there. We somehow survived and made it to Puerto Paez, where there is a ferry across the Orinoco River. It was a nice ride over with river dolphins swimming alongside us. Over the other side we got hassled for half an hour at another military checkpoint, but at least they gave us more iced water. Then it's on down to Puerto Ayacucho through another few checkpoints, to find another crappy hotel for the night."
Ronnie Borrageiro, South Africa, RTW, in Indonesia (preparing for Australia), BMW 1200 GSA,
"The previous evening, as I entered the gloomy little 'eatery' recommended by Alphonso, a large rat, the size of a kitten, had dashed out of the interior, throwing what I fancied to be a 'Good luck, Mate' over his shoulder as he went scampering off into the darkness! I sat down at one of the two tables, and was summoned towards the counter by a grouchy looking woman, who indicated what was on the day's menu by waving a large dirty soup ladle at a few bowls of food hidden in thick gravy! I noticed a plate of ready cooked chicken pieces off to one side, and asked for a few pieces of those with some rice. When the food arrived, barely a minute later, I found myself chewing down on a plate of cold rice and even colder fried chicken, which had me trying to remember where I had stashed my Imodium!
...The following morning, I rode down to the Toll Marine offices, eager to begin the process of getting the Big Fella shipped, and knowing that I had just one day to do it in! Joao, the guy who handled the customs clearing, greeted me with a smile, and within a few minutes had copied all my documents and with my Carnet in hand, promised to do all he could to get it stamped and cleared that same day. He then took me over to the office that would be arranging the actual shipping, where I met James Geddes, who I had been communicating with for the past few weeks. He and his assistant, Lucy Campos, handled my queries with absolute professionalism and efficiency, and gave me the impression that the chances of getting things squared away that day were 'do-able'! But there was one little catch!
'You will need to have your bike washed thoroughly to pass the Australian import and quarantine regulations, Mate!' James advised. 'I'm not sure that you'll have enough time to get it done today, because you need to be back here by about 3.30pm so that we can get the bike loaded and lashed down. We close at 5.00pm, and tomorrow as you know, is a holiday here!' He gave me directions to Troy Logistics, and told me to take every piece of kit that I intended putting in the container with me when I went to have the bike cleaned.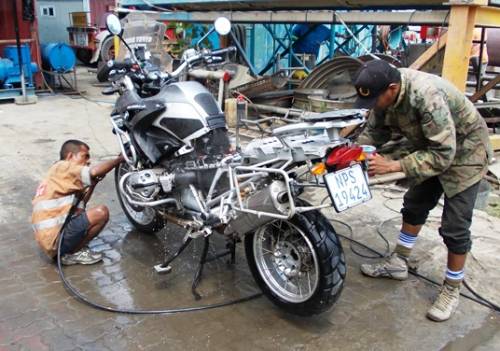 I met Chris at Troy Logistics, who introduced himself as Troy's brother and asked how he could be of assistance to me.
'Well, I need to have this bike prepped for shipment to Darwin.' I explained.
'No problem, Mate! When do you need it by?'
'Three o'clock this afternoon!' I replied with a smile.
'What!' he spluttered. 'That's impossible! It usually takes us two days to do a big bike like that!'
'Well Chris, then today we are going to break a few records !' I smiled confidently back at him, all the while feeling my heart sinking into my shoes.
But the boys from Troy Logistics were up for the challenge and a few minutes later I was stripping the bike down and together with two of their staff members, we began soaping and washing the Big Fella down. I could not believe the lengths we went to, to get every piece of dirt and grime off the bike! We removed all the covers, got to grips with all the nooks and crannies on the bike, using toothbrushes, and cloths covered in wire.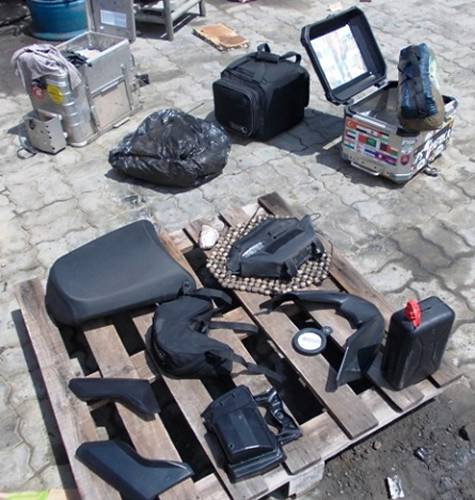 Just when we thought we had it all done, Troy himself arrived and began finding spots we had missed! Troy is the kind of 'hands-on', owner/manager that I relate to completely. He got down and dirty, making sure every bit of the bike was scrubbed clean before he pronounced himself satisfied that the job had been properly done. He then went even further, by helping me empty every bit of kit and equipment from my panniers, and after giving them a thorough washing, proceeded to wipe down each and every item with a clean cloth, before passing it back to me to be repacked!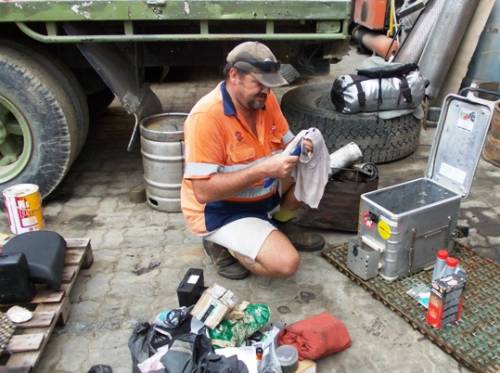 'I worked with the customs guys in Darwin for a few years, Mate, so I know what it is they will be looking for when they inspect your bike! You need to be sure that not a single blade of grass or a seed pod is lodged anywhere on this bike. Get rid of all sticky tape on these packages, as that is where they will look first! All kinds of shit sticks to tape, so it is best not to have any for them to look at!'
We cut the tape off the small boxes I used to hold spare parts; we removed the duct tape that I had put on the pannier frames to avoid wear and tear, using thinners and petrol; Troy inspected all the stickers on my luggage to make sure that none of the edges had lifted and dirt had become trapped underneath them; we sandpapered some of the rust marks on the pannier frames. The list of things we did could fill a page or two of this post!
'Are you sure we need to go to all this trouble?' I asked.
'Are you sure you don't want your bike shipped back to Dili?' he replied nonchalantly.
By 3.00pm, we were done, and I had worked alone through the lunch break the guys took, to make sure no time was wasted in getting the Big Fella as clean as he was when I rode him off the showroom floor in June 2007!
I eyed the muddy puddles between the wash bay and the front gate, and wondered how I was going to get this clean bike through them. Troy made a phone call and ordered a breakdown truck, one of those with a ramp on the back, and when it arrived, we pushed the bike directly onto the metal bed and with a few of Troy's guys holding onto the handlebars, rode out of the yard and down the road to Toll Marine's offices and container yard.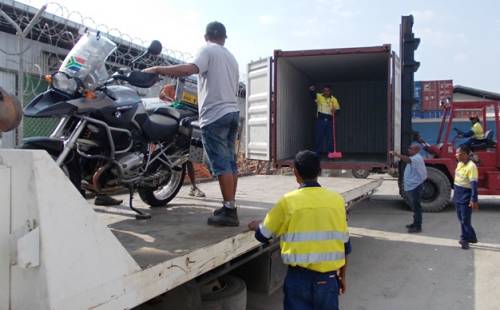 Once there, a forklift brought an empty container up close to the truck, lifting it to the same level as the load-bed, and then we pushed the Big Fella directly into the container without his wheels even touching the ground! Talk about door to door service!"

Brian Kennedy, Canada, in Colombia, Aprilia ETV 1000 cc CapeNord,
"At such an early hour in the morning I was the only one checking into the American Airlines counter in Ottawa, I was relieved to find out that passengers flying to South American destinations were allowed two pieces of luggage, no charge. Its been a few months since I last flew out of the Ottawa airport and as I approached the security screening area, I could see that there were some new changes in place at the airport. They now had one of those new total body scanners, the ones that does a virtual strip search of you when you go through it. When I approached the security area, the security personnel asked whether I wanted to be scanned or patted down. I reluctantly said that I preferred a physical pat-down (wrong choice!)
In a stern tone the security screening personnel directed me to go stand inside the designated circle a few feet away and wait for a CATSA person to conduct the search. I am not sure what I was thinking, but I was expecting that the search would be no more than some guy passing a metal detector around my body and do a quick pat down. No, what I got was some guy kneeling on the ground in front of me who then began to grope my body from my ankles up to the inside of my crotch, next he stands up and repeated the process on my upper body. After he had completed frisking my upper torso, I thought he was finished and started to walk away, at that moment I had an image in my head of drop kicking this guys gonads into the next county.
The security dude then then yells over to me 'Sir I am not done, I need for you to turn around so that I can search your backside'. It is at this point that I lost it. 'F**ck-it I am not going to be subjected to any more of this humiliation'. My outburst had caught the attention of the other screeners. 'Sir you have the choice of still going through the scanner if you do not wish to continue with the enhanced pat-down'. 'In that case', I said, 'I prefer to have my balls irradiated by this machine than to have them manhandled by any of you'. After passing through the security area I made a mental note to myself, 'I will have to behave myself when going through airport security in the states'...
...For a first time driver in Colombia the experience of riding a motorcycle or driving a car through the street of a large urban city can be a life changing experience that is if you survive the ordeal. The first rule about driving in Colombia is realizing that there are no rules. Every intersection, every roundabout, every lane merge becomes a game of chicken and the driver with the biggest pair of cojones rules the road. And down here the drivers with the biggest set of cojones are the bus drivers, followed by the truckers and lastly by the army of kamikaze taxi drivers. Now put into this mix, swarming hordes of 100cc and 125 cc motorcycles piloted by individuals with a strong death wish and you begin to get some idea of the chaos that governs the roadways in Colombia.
A note of caution when you are traversing the roads in this area, beware of the sugarcane trucks trains. The sugarcane after it has been harvested from the fields is then transported in these enormous truck vehicles called truck-trains, these units can be anywhere from two to four trucks bodies in length.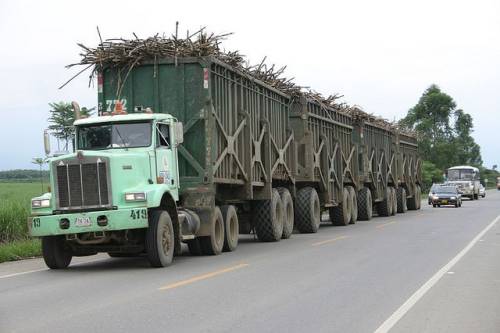 The first time I encountered one of these was when I was trying to make a quick pass around one of these trucks only to discover that I was not just pass a single truck but 4 of them at once. I was glad to have all that extra horse power afforded by the Aprilia.
As I neared the town of Tulua, I stopped off for a late lunch at a roadside restaurant. There is one aspect of Colombia that I find to my liking and that is the availability of restaurants where ever you go. Colombians really enjoy their food and drink. I stayed longer than I should have at the restaurant, there was a couple I met there from Australia and we got on to talking, exchanging travel stories and drinking Colombian. By the time I got back on the road it was already late afternoon and I could see that the sun was getting low in the sky. Unlike up north in Canada and the US where we enjoy long days and extended periods of twilight, Colombia as it is only 4 - 5 degrees above the equator, days and nights are equally 12 hours long and come 6:00 pm nightfall comes in a hurry.
North of Tulua the road branches east to Armenia along route 40 and up into the mountains. The surrounding scenery starts to change and the twisty winding road makes for some interesting riding. You know you are now in coffee country as all around you are coffee farms spread out across the rolling hills. With the increased altitude the air feels cooler than down in the Cauco valley. I arrived into the town of Armenia just before 6:00. I would not be able to reach my intended destination of Salento as it would take another 30 minutes to reach the town and with darkness falling I was not keen on riding in the dark along a narrow mountain roadway.
It took me 15 - 20 minutes of driving around Armenia to find a hotel for the night. I pulled over on one of the main streets in the center of town and was about to ask someone where I could find a good hotel and realized I had stopped on the door step of the Hotel Caf Real. As I dismounted from the bike an excited door man came out to greet me and ushered me into the hotel lobby. The place was more expensive (by Colombian terms) than I was expecting but I was in no mood to look elsewhere. When I asked where I could park my motorcycle for the night, the door man led me over to the end of the hallway and to a room with a sign indicating 'Hotel Spa and Gym', he opened the glass doors to the room, inside the room contained gym equipment and a jacuzzi and said I could leave the bike in here for the night.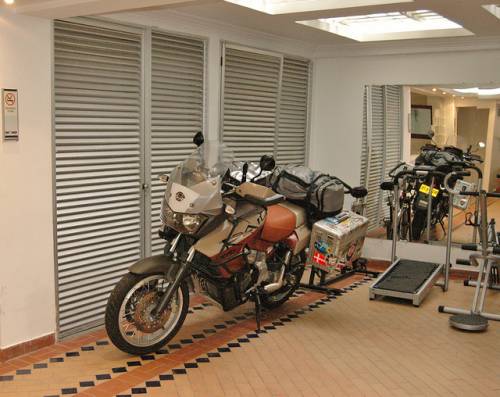 Riding the fully loaded Aprilia up the street curb and up the slippery polished marble steps of the hotel lobby was a trial in itself with the width of the motorcycle handlebars almost as wide as the entrance door. Everyone in the hotel was very accommodating to me. I parked the bike in the far corner of the Spa, thinking to myself that it was going to be a real chore in the morning when I would have to get the bike turned around in order to exit the room. However after unloading my bags and settling into my room, I came down later to discover that some of the hotel elves had been at work and had turned the bike around for me. Fantastic!"
Ed. See Brian's story and pics in the HUBB Ride Tales Forum!
"'Do you carry a gun on the bike in Mexico?' Honestly, we started to doubt whether we should go south into Mexico after all the warnings! Someone really asked us whether we would carry a gun on the bikes, and if not, we should definitely not drive into 'scary Mexico'!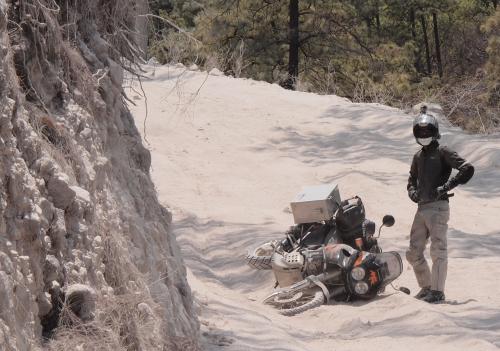 The prediction by most people was that we would be shot, raped, murdered and robbed within the first week. Now that we are in Mexico for just over six weeks, I think we owe the Mexican people, country and wonderful hospitality this story; this country is great and the people are even better! To whomever is in doubt: get your ass on the bike and drive up here!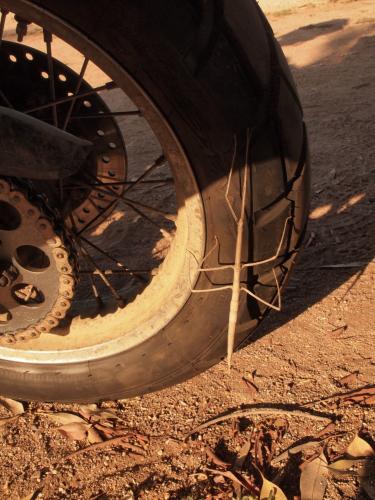 We did meet the police though, which seemed to be quite scary! Driving to Fresnillo, Durango, Mexico, we ended up searching for a hotel. We had been driving about 650 km and were quite exhausted. As the rainy season has started, we didn't have a lot of time. Combine this with a travellers' budget and you end up driving through the village in search for the best value-for-money accommodation.
Driving through the main street seemed okay, until we had a police car behind us at a traffic light. He turned on his lovely colourful lights on the roof, and the car in front of us drove through the red light. We thought we should do the same, having the idea the police car was in a hurry and we needed to make space. Once we were going, he followed us. Oops, we just drove through a red light and now we had a flashing police car on our tail! Finally he shouted 'Pull Over' via his speaker on the roof. Daan went to the left of the narrow street and Mirjam pulled over to the right. 'To the Left!' we heard being shouted, so Mirjam nervously parked her bike next to Daan's. We really thought we were in trouble now!
The officer stepped out of the car, walked up to us with a huge smile and asked us whether he could help us with anything, as it seemed we were looking for a hotel or something! Sure he could, and finally we were following him and he showed us various hotels. He still had his lights on which resulted in quite an 'efficient tour' I have to admit. When we said goodbye, I asked him why he pulled us over like he did, with all the lights and shouting. 'Well, I had to get your attention, didn't I?' was the reply. ;-)"
Sherri Jo Wilkins, Australia/USA, RTW, in UK and Canada, KTM 690 Enduro,
"Time is nearly out... I must get to England! Another overnight ferry (I wish I kept count of the ferries on this trip!) to get across from Rotterdam Holland to Harwich England.. which as normal sails through the night and arrives very early in the morning the next day. Off the boat and a mad dash of around 320 km to Ripley England to attend my first ever world famous Horizons Unlimited meeting!
Another country, another language... and it's English! Boy does it hit you when you see road signs in English and can have meaningful conversations with the people at the fuel station! I immediately thought, this won't be as fun... far too easy in English... ha! (I've been gone too long I think)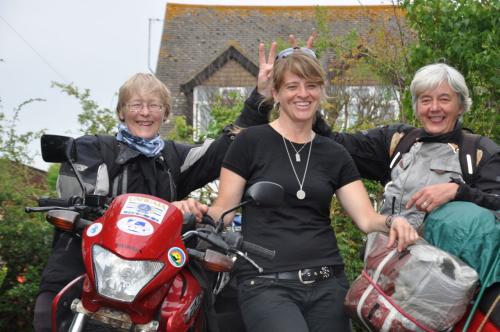 When I first decided to do this motorcycle journey, one of the first places on the internet I found with the majority of info I needed to arm myself was at HorizonsUnlimited.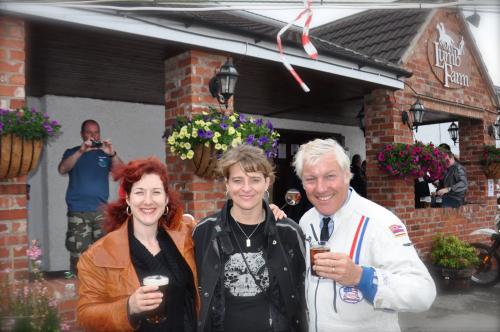 Most of you know about HU, but for those of you who don't, they have meetings all over the world bringing people together who love motorcycle adventures! This one in Ripley just happens to be the largest one and perfect for it to be here now. I can meet so many incredible adventurers and then get my butt down to Heathrow airport where I have booked a flight.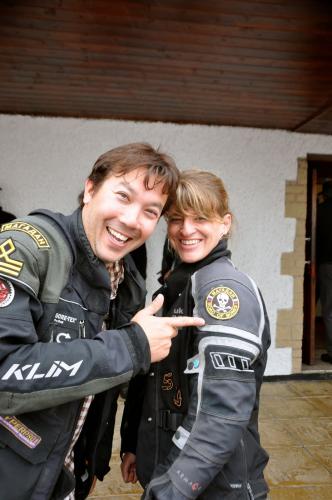 ... What an absolutely beautiful day it was. Eventually arriving to Halifax airport in Nova Scotia. I was recommended to fly here instead of America as the fees and paper work for the bike would be much easier. Since I didn't have an experience with New York, I assume they must be right! My bike arrived Halifax around 4 pm, and I arrived around 7 pm on a different airplane.
I had spoken to a man named Paul Blois from the Horizons Unlimited website a couple days prior and not knowing for sure when my bike would arrive OR be released from customs, I told him I'd give a call with information after I arrive. To my surprise, he was waiting for me at the airport!
Customs and paperwork were a total breeze. So Paul suggested after my long flight not to uncrate the bike here. He'll just put it in the pick-up truck and we can take it to the family farm and tackle that project in the morning... sweet! What a seriously nice man! So lucky and so unexpected! With neighbor friend and daughter in tow, we all rode back to his farm. After a fairly good sleep and a bit of jet lag, I come out the next morning to see where the heck I am! And there's my bike in the box, waiting so patiently for me.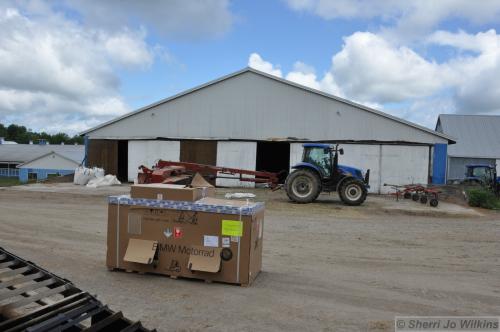 This is one big motorcycle riding family! Very fun and lucky to be here as they are all looking after me so well during my big transfer to North America... Unbelievable!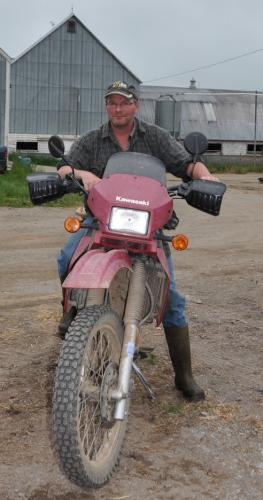 They show me this most unique spot... it's called Bay of Fundy... claiming to be the location of the highest tide in the world! 'The Natural World, Greatest Tides: The greatest tides in the world occur in the Bay of Fundy... Burntcoat Head in the Minas Basin, Nova Scotia, has the greatest mean spring range with 14.5 metres (47.5 feet) and an extreme range of 16.3 metres (53.5 feet)' from Wikipedia info.
Now, thanks to the Blois family, I am off to a great start exploring parts of North America I have never been before."

More stories below...