Coach2Ride Dual Sport Clinic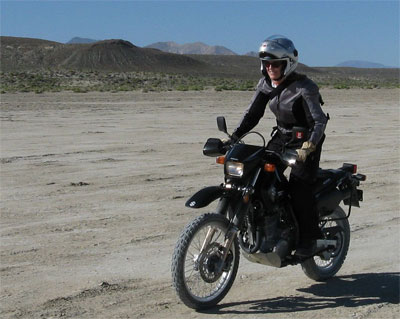 Horizons Unlimited

California Meeting is joining with

Coach2Ride

of Ramona, CA to offer a Dual Sport Clinic for riders who are attending the HU CA meeting. Improve your off-road skills by reviewing the fundamentals of riding off the pavement.
Proper dirt bike cornering techniques
Correct body posture
Sitting/ standing
Learning how to be "rider active"
Efficient braking
Up and down hills
Obstacles

"In December we traveled to Ramona with three HU friends from last years CA meeting to spend a day with Bonnie and Andrea learning off-road skills. We all improved our skills and more importantly, our confidence. Maybe most important of all - we all had a GREAT time. Bonnie and Andrea are wonderful people and terrific teachers. Don't miss this opportunity."
-Sandy & Mike Dimond, Meeting Hosts
"Bonnie and Andrea adjust the course based on your current riding ability whether you are a green as Kermit beginner, advanced MX shredder or studly world ADV rider. All types of riders can benefit from Coach2ride's custom tailored dirt school. What's wonderful about Bonnie and Andrea's instructional approach is that even with a larger class with various skill levels they customize the curriculum to engage and challenge on all levels. Everyone walks away thrilled with the new knowledge and riding confidence that they have acquired by the end of the class."
-Nicole Espinosa aka "Nicomama"
Here's the Plan...
When:
Friday morning of the HU meeting
Friday Oct. 25, 2013. The class will begin at 8:30am and run for about 4 hours.
Where:
Meet in front of the lodge at Camp Ocean Pines, the Meeting venue.
Clinic will be held nearby on private ranch (same as last year).
Who:
Open to all riders registered for the HU meeting in Cambria. Meeting registration is HERE.
Space is limited and it's first come first served. Riders should be competent and comfortable on their bikes. Off-road experience is not required.
What:
Here's what you'll need:
Snacks, lunch and water.
Gear: Minimally have a good helmet, gloves, heavy boots, blue jeans and a long sleeved shirt. Full dirt riding gear or dual sport riding and touring gear is ideal, but be aware it may get hot.
Mechanical: bike in good order, knobbies or dual-sport tires will work best. Street bike tires will NOT work.
Type of bike. It has to be a legal dual sport bike that can go at least 150 miles. Terrain will be a combination of street and dirt. You can bring a smaller dual sport bike, but make sure to bring extra gas or make friends with a fellow with a big gas tank.
How to Pay:
You MUST have first registered at the Meeting page for the event, then come back here and click the Pay Now button for the Coach2Ride Clinic below. Be sure to give us your name so we can match you against the Meeting Registrations. If you have NOT ALSO registered and paid for the Meeting, you will not be allowed in to this Coach2Ride Clinic.
There are only 16 spaces! First in best dressed! or gets to ride! :)
Fee for Coach2Ride Clinic: US$ 60.00