Blossoms
Spring is in the air in Japan and that Saturday Chris takes us around Tokyo to see the cherry blossoms in the trees. Cherry blossoms do to the Japanese what Christmas presents do to children; for a while already they have been visible, but you cannot smell or touch them yet. The weekend that the blossoms are out the Japanese go crazy and it's time to celebrate the Hanami festival. The parks and gardens are full of people, picnicking under the trees. Tokyo's youth is a bizarre lot. A kind of 'Flower Power' is hanging in the air. Teenagers dress remarkably: Girls in petticoats and strange skirts and headwear, some faces painted white or blue.
First impressions "How about sushi?" Chris opens the door to a sushi-bar. A few times already we had stopped in front of restaurants to look in their windows at a remarkable display of (real) food on stylish dishes, preserved in a plastic coating. Here and there the spaghetti rises up from the bowl, two chopsticks hanging in the air since a hand holding them was not available.
In the middle of the sushi bar is part of the kitchen around which the bar and a ring, on which little dishes with pieces of raw/cooked/smoked (shell)fish and sweet egg on little pieces of sticky rice are being endlessly paraded past your nose on a kind of driven belt. Some pieces are wrapped in a leaf of seaweed, others are decorated with shiny red fish-eggs or a green hot touch of horseradish. "Take me," is what every dish seems to tell you. The Japanese like green, slimy and jelly things, we notice, as we have seaweed in our misu soup, seaweed and 'grass' balls, green cake and all kinds of slimy things. Also, many things we expected to taste sweet happen to be salty, spicy or bitter.
Especially the Japanese kitchen and eating culture keeps us busy, discovering new smells and tastes and also sounds every day, as you are allowed to slurp when eating spaghetti with chopsticks (it is necessary if you want to win the fight with the spaghetti). Japan being the first Oriental Asian country on our tour (coming from the USA) off course made the contrast even better.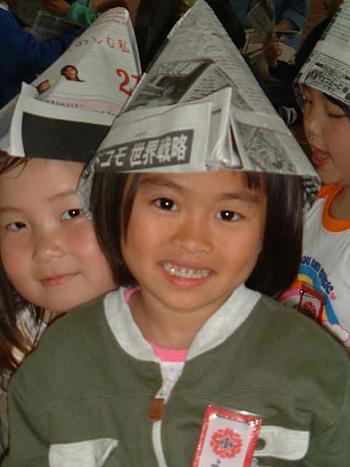 With a group of young children we make paper hats
Small, smaller, smallest
In many (of the rich) countries people say that everything in Holland is small. Tokyo reminds us of Holland in several ways, with many narrow streets and people walking and bicycling everywhere. It's a lively city and because the crowd is so thick, everything has to be small. We see tiny cars and tiny trucks (are specially designed for the Japanese market). To be able to own a car here you must own a parking spot first, which is often more expensive than the car.
This explains the amount of mopeds, scooters and motorcycles we see in Tokyo. Many of them are small too, not only in cc, but also in size, like made for children, only here adults are wrapping themselves around them to split the lanes of ever jammed Tokyo. So, to drive around inhabited area's our patience was put to a severe test; to go 25 km in morning traffic takes you 2.5 hours. Outside the rush hour you still need one hour though. The main roads are flooded with off ramps and the amount of traffic lights is unreal. You hardly ever reach 5th gear and sometimes you only realize later that in one acceleration you have passed two sets of traffic lights.