Batopilas was full of indo's, as a politician had invited them for free food in return for their votes. On our way back the sunny weather had changed. First we get a bit of rain, but at night it starts snowing. Fortunately it's not too cold in the morning. We shuffle our way out of our camping spot and make it to the sealed road, but loose the fight on a steep hill where deep fresh snow is frozen up and the dead weight on our sidecar wheel does not want to go through.
We have to decide to wait either till the sun has melted enough snow, or till cars have flattened the deep snow. Two days we camp on a beautiful hill. There's enough wood for warm evening fires, when temperature drops below freezing. During the lazy day the sun is there and the snow makes fine water.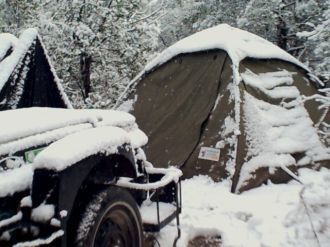 In Los Angeles we'd bought a good map of Mexico (Guia Roji), which enables us to take the small and more interesting routes and leave the terribly expensive toll road (routa de quota) behind. Many Americans only take the toll roads because they think that these are safer. We think this is more some kind of paranoia, for 'the bad guys' are only attracted to places where they can steal money or valuables and these are only owned by those who can afford the quota.
Meeting people
Mexicans are very hospitable and we never have to worry not to find a secure place to camp on the ranchos if there's no bush around in which we can disappear. In Cuauhtemoc we asked at a Mennonite rancho if we could camp. We were invited to stay in the house and spend the evening with a big family.
In Hidalgo the Parral we met the key-makers (and motorcyclist) family Puga and spend many a happy hour together. They organised that we could stay overnight at the police station. Fortunately not in one of their ugly cells, but in the 'gymnasio', where a huge 5 by 6 metres mat was the biggest bed we ever slept on. There was no hot water at the police station, so to shower, we had to go to the 'bomberos' fire dept. next door.
The plazas in the villages are our favourite place to stop for a coffee. There are always curious people around and because we speak enough Spanish many times we meet nice people.
Full circle
From Hildalgo de Parral we drive past Torreon to Parras, to Linares and past Ciudad Victoria to Tampico. Just before Tampico we reach the same road that we'd driven back in 1997, when we were heading North coming from Central America. It's a crazy feeling as we recognise the road and even see a similar sidecar we'd seen back then, from which seviche (Peruvian, different types of raw fish with onions and lemon) is sold. A crazy feeling also because we now have made our circle around the world physically full.
We start heading west for the first time too. Towards Valles, Matehuala and Real de Catorce, another small mining village, but in real we feel that our tour to Japan, Siberia and Russia has now started.

Tiempo the Feria in Sombrerete
On our way from Fresnillo to Durango we pass Sombrerete and decide to buy some fresh French bread (pan Frances) and vegetables (verduras). It's a nice little town full of narrow streets, big churches, plaza's and little shops where you can buy all kinds of sweets (dulces), taco's, burrito's, boiled cornpops on sticks with butter and cheese on it; A perfect place for a cup of coffee on the plaza de Armas, we think. A poster in the shop tells us that it's party time. The weekend will be a big 'feria', with music everywhere and different parades and tomorrow well-known toreadors will fight 6 bulls on the Plaza de Toros. --
And the feast is big: Everywhere in the city drum and trumpet bands are playing. Many bands are being driven through town in the back of a pickup truck and it happens many times that two of these pickups stand alongside each other for a stop light. No worries mate; they just as happily keep on blowing their trumpets and beating their drums.
At night we go for a beer to the local bar and again we are greeted with music. The cymbal-player smashes his two shiny disks into each other like tomorrow does not exist and our hair moves with it as we sit on the bar. Rob decides to tip the players and asks them to play a little softer, but the men like Robs gesture and play the next song even louder.
Bull Fight
Fighting bulls has a long history in Mexico, even longer in Spain. With beautiful horses, dressed up toreadors and picadors with blindfolded horses in full armour. It is a cold day that Sunday. The first bull scratches his hoof through the dust that blows up over his strong back. An older toreador offers a seemingly noble man in the crowd his hat, which is accepted and the fight begins.
First enters a man on horseback. The spectators love him: "Ortega, Ortega," we hear. He's an artist in riding his horse and gets very close to the bull without harming himself or his horse. We cheer with the crowd, as this is really spectacular. Suddenly the bull is distracted by the music that is played by a large band. The bull looks at the director, who makes a show out of it by challenging it.
Then the band sets in a different tune and another toreador fights the bull till he drops through his knees. His first so fierce looks have disappeared and his eyes show sadness and misery. I've got a lump in my throat and Rob is moved and shocked when we see how the bull is put to death with a knife.
In the next fights we see the harnessed horses and the picadors, who make big holes with their spears. We also see that it's not easy to fight a bull from the ground when a young toreador loosed his red cloth on the horns of a bull. The art of a professional toreador impresses us, as well as a group of cheerful men who let themselves be caught on the horns of a bull and force it on it's knees. After the fourth bull is towed off the arena we cannot stand to see another bull being finished off though and we decide to leave.
Through Parral and Cuauhtemoc to Hermosillo
The road back to Arizona was nice but very cold. Between Hermosillo and Cananea we were hit by a sleet-storm and got so cold that Rob had to stop for he could not feel his hands anymore. And hurting it does when blood slowly starts coming back to your fingers.
Fortunately we find a reasonable place to pitch down our tent and we there's enough dead wood hanging in trees that is still dry. The night is freezing cold but dry and the next morning all and everything has a small white layer on it. We make a fire with wood that we'd kept dry in our waterproof tent bag to make some tea and fill up our thermos, for our petrol stove has died due to a blocked generator.
We leave Mexico with pain in our hearts. It's such a beautiful country with such lovely people. We like the food so much and the dulces are definitely Rob's favourite. We'll miss the relaxed rhythm of life in the small towns and villages, but have to move on.
We stayed for a while in Bisbee with Jane and her family, did our project with the children of many different classes in three schools and then travelled North through Arizona. The dessert was beautiful and full of flowers. Close to the Grand Canyon we ended up in even more snow we'd ever had. One more sunny day was all that was left, for one after the other depression were heading our way and we were quite soaked upon arrival in Los Angeles, where sidecar builder Doug Bingham's little caravan was waiting for us.
Japan here we come
We are very busy at the moment organising our transport to Japan. We still hope to be able to sail onboard a ship, but everybody knows how seldom this is possible. The article we wrote for the American magazine Motorcyclist has come out great, 9 pages full colour, featuring 30 of our best slides, so you should really try to get a copy of that (May issue). In Canada another of our articles is published in Cycle Canada's March issue.
The World on a Children's Drawing
In Mexico (Parras) as well as in Arizona (Bisbee and Sierra Vista) children of 4 schools and an orphanage joined our project. In Mexico the children drew sombreros, ranchos with horses and caballeros and the church of Parras. In Arizona the dessert with the giant cactuses, coyotes and snakes and also the Grand Canyon were favourite subjects. We left many drawings behind from all over the world and we are sure that many a message will be sent to the addresses on the drawings and new friendships are made.
Contact
We have received many messages lately, which we could not reply yet. Partly because we are so busy, mostly because it has been too cold at night (in our tent) to get out our laptop. Sorry for that. Our next newsletter will be there in about 2 months, coming from Japan.
Greeting and a smile,
Rob en Dafne de Jong
Ride-on World Tour