Want to know what people thought of last years Meeting? Is it worth coming to the Meeting?
"I'm so looking forward to another UK meet. My only problem is that I simply can't get to every talk I want, such is the amount of terrific presentations on offer. Each year I've been astonished at how articulate, intelligent, informative and entertaining the speakers are. I'm willing to help with anything that doesn't keep me from a talk - and my timetable will be full to bursting!" More comments here.
Important!
Registration is closed for the UK 2010 event! We've had a record number of registrations.
Semi-final Detailed Schedule Posted!
In case you're worried it will be too crowded, we've made arrangements to accommodate more people, including streaming the evening presentations in the main room to a very large (16 x 16 meter) marquee in the parking lot with a full outdoor 5 meter screen plus sound system and 160 chairs. This will allow those who don't fit into the main room to enjoy the presentations outside, but under cover and somewhere to sit!
We also have a record number of presentations this year, 86 over the Thurs-Sun, so three presentation rooms will be going non-stop, with repeats of popular presentations!
There will also be lots more toilets, and Angela has promised 7 a.m. access to showers (YAY!) and more staff in the pub. Getting in and out of the Africa room will also be easier, and access to the food order area will be better.
We're always going to be crowded, so please bear with us as everyone tries extremely hard to make it the very best possible event we can without turning people away. There's been a lot of people involved in planning this, and we all think it's going to be fantastic! See you all there!

Charity draw prizes will not be drawn in between presentations on Saturday night. The prize draw will be at 5, and prize numbers posted in the Souk/Marquee from 6 pm on Saturday. Note, it's not first in best dressed for prizes, winning numbers will be stuck on prizes, so you don't have to mob the place at 6 pm!
See you there!
The Plan
The plan is simple. Show up on Thursday or at the latest Friday afternoon, meet people and setup. Travel Presentations and Tech seminars are planned throughout the meeting, starting Thursday night.
2010 Speakers and Tech Seminars:
Inspiration
Jupiters Travels - the start...

Ted Simon
An expanded account of the beginning of the first journey, and more on the second journey, two talks.

Every country in the world!
Septuagenarian Odyssey
The Sibirsky Extreme Project

Walter Colebatch
Going Where No Motorcycle Had Been Before - into the ultimate depths of Siberia

Mongolian Mayhem

Tiffany Coates
A journey across the 'Stans and Central Asia to the far corners of Outer Mongolia

Touring New Zealand's South Island

Lilian Hobbs
Wendy & Lilian spent 3 weeks touring New Zealand's South Island in rental motorcycles. Come see video of Biking Heaven where glaciers can be easily ridden to and road signs warn of bends for 10's of kms!

Six weeks in Oz

Dave Owen
Cyclones, deserts, mountains, animals and bikes

Beyond Bucharest

Bob & Viv Goddard, Timbuktu Publishing
We barely survived this ride to Eastern Europe. Sixty-two others weren't so lucky...

UK2India
Riding the Pink Porridge - Trans Canada

Craig Carey-Clinch and Barbara Alam
Tales from the Canadian Highway, a new journey from west to east, including The Labrador territory

Himalayan Highway Code

Nicola Taylor and Craig Robinson
Spectacular scenery and survival tips from Himalayan India

Scoots2: C90s to Bansang, The Gambia
American Idle, From Gold Beach to South Beach... and back again!

Jenny Morgan
23,000 miles coast to coast across the USA including the desert southwest, the Gulf coast, the Trans-Am Trail, Moab, and the mighty Rubicon Trail... Jenny Morgan reveals what the USA has to offer the dual-sport adventure rider, and also offers tips on packing light and traveling solo all over the USA.

An Italian Bike??

Paddy Tyson
Even the most inept bikes can provide fun, frolics and frustration on the road.

Black Sea by 1948 Panther
Tea with Bin Laden's brother - the graphic novel!

Simon Roberts
An Illustrated journey overland to Katmandu via Iran, Pakistan and India.

'Salt and Gold' Timbuktu and beyond the hard way

Dave Lomax
The tale of an attempt to reach the Salt Mines of Taoudenni following ancient camel routes across 3000km of virgin desert. Includes previously unseen film sequences of the recent 'Salt and Gold film' filmed by Austin Vince.

Around the World - Borders, Bribes, Bugs and Bandits...

Tom McInally
A tale of part-solo RTW west to east across Eastern Europe, Ukraine, Russia, Kazakhstan, Japan, USA and Ireland

Riding Asia - The Silk Road
Another Cunning Plan

Brendon and Tasha Ball, "KIWI 7"
"The wrong way round" Canada, Japan and Russia in 3 months

RTW 10 Years After

Chris Bright, "chris"
An introspective look at the trip TheBrightStuff did 10 years ago, including lots of pictures and trying to answer lots of FAQs the budding adventurer might have e.g. Do my alli boxes look big on this bike, should I pack my curling tongs etc.

Leprechauns in Latin America
One Man Caravan
Learn
Would you take your own G.P. biking up the Andes?

Wendy Peters
Travel Medicine, should I take my own G.P. with me?

Communication systems for Motorcycles

Richard Graham
The practical and effective way to communicate on and from a motorcycle, the nuts and bolts issues.

Publish Your Story!
Overweight is Underprepared!

Dave Lomax "davidlomax"
How to pack and travel as light and economically as possible.

RTA Trauma care

Drew Wilson, "drewwilson636"
Emphasis more on trauma care than basic first aid

Motorcycle Outreach

Barbara Alam and Craig Carey-Clinch
Can motorcycles help make the world a better place? Would you like to do your bit for people in poorer countries? Does your next big trip need a charity angle? Motorcycle Outreach is a charitable organization which works to introduce effective healthcare delivery in remote areas of developing countries.

Help! I'm about to go RTW next month!

Dom Giles, "Lonesome George"
Where do you start when planning a trip? What do you need to do before you can actually set off? This session is a "support group" for all of us who are in the planning stage. Bring along your questions, ideas and thoughts and hopefully we can help each other make the planning stage run smoothly.

GPS for Travellers

Ian Bradshaw
How it works - Availability problems, comparison of current Garmin/TomTom/etc models - Getting the most from GPS on different trip types - Navigating without GPS - Q & A

Thailand - Ride it, Live it, Love it

Mark & Joyce Groucutt, "followthedream"
We will share our knowledge and experience of travelling and living in this amazing country including snippets from the rest of Indochina.

Keeping your Airhead running
Preparation and Planning for that big trip

Colin & Dee Masters
Pitfalls & worries of long distance travel

Maintenance for Beginners

Greg Baker, "Gregorius"
The basics of maintenance at home or on the roadside.

Chains - not always the weakest link

Greg Baker, "Gregorius"
Beginners guide to chains and sprockets, maintenance and replacement.

Demystifying the dark arts of blogs and websites

Iain Harper
Setting up a blog for your journey, or even a whole website, is a lot easier than you might think and it can all be done for free. This presentation will show you how. (Includes HU Blogs!)

Camping Forum, Anyone can rough it.
View From The Saddle: the tips and tricks I learnt

Paul Read, "karter257"
One man, 2 years, 25,000 miles, 10 countries, 2 bikes must have learned something. Among others come along to learn the biscuit tip, the SpectroTesteInvertor trick and just what can be done with a tin mug.

Plan? What Plan?

Jacqui Furneaux
How to have fun whilst going with the flow.

Hearing Protection & Ultimate
Tax refunds available to fund your trip

Steve Mercer, Mercer and Co
Gordon/David/Nick (*) please give me a tax refund to pay for my trip. (* delete as applicable post election :)

Photo Composition for Travellers

Grant Johnson, Canada, RTW
We all want to take great photos of our trip - so why don't we? This easy seminar will transform your photos from boring to FABULOUS!

Solo on a single
Motorcycle + Sidecar
Fix that flat! How to change a tyre anytime, anywhere. Two hours.

Grant Johnson
'Basic Guide to changing and maintaining tyres.' How to prevent flats in the first place, and fix them when you get one. Grant's changed thousands, and will show you all the secrets to make it easy. The best tools and how to use them for tube and tubeless tires. Bring your changing / patching kit with you! Hand's on practical, try it yourself.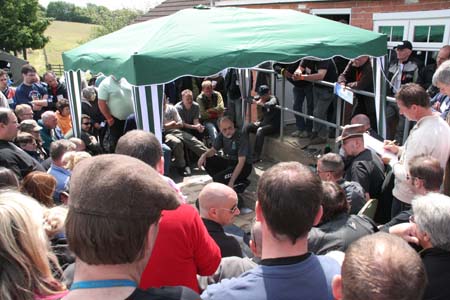 Changing a Tyre, tech sesssion 2009
Note: we'll have a sound system and a big screen for 2010!
Tyre Changing Contest for beginners to experts!

Grant Johnson
Come prepared to show everyone how fast you can do it - classes for beginners and experts, and ladies! Prizes too!

How yoga can help keep you safe, healthy, sane and able to fully enjoy your ride

Tori Lang, "YogaforBikersTori"
Save your back, and ease the aches - before they happen. Talk and demonstration: come and find out what it's all about, how yoga can really help your riding in more ways than you might realise. Includes demonstration of some basic practice. (45 minutes)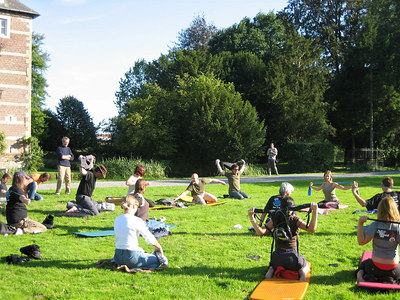 Yoga session with Tori Lang
Yoga for bikers - practical session

Tori Lang, "YogaforBikersTori"
You've heard the talk, now give it a go. Come along and try it out for yourself - no previous experience necessary. Please avoid eating heavily for 2 hours before and bring a roll mat/blanket to lie on and a sense of adventure! (80 minutes)

Panel - volunteers please!

How to get someone of the opposite sex to go travelling with you - panel and discussion.
Why is it so hard? What are you doing wrong - or right? All viewpoints discussed!

Women only

A VERY popular session - It's a must for the ladies, so plan on being there!

Roadkill Cookout

Danny Taylor and Fil Schiannini
Watch and learn - how to make a firepit, skin a rabbit, pluck a pheasant, fillet a trout, cook it and eat it. Check schedule at the firepit for demo times.

Ask the Experts!

Panel Session! Still have a nagging question or two? Want to ask, but not sure who? There will be a panel session to get all those last details covered - ask anything at all! MOST of them we'll answer...
How about you? We're all here to learn, and there's LOTS to learn! We want to do more presentations and seminars - but we need volunteers to give them! Any topic you can contribute having to do with motorcycle travel, maintenance, planning etc, lasting 20 minutes or more, would be great. Please contact me here to volunteer.
See the Schedule here
Rideouts
A selection of legal green lanes and road rides in the Derbyshire area.
The TRF has VERY generously volunteered to lead rides.
We plan to have rideouts on the Friday and the Saturday. On paved and unpaved road. Leaving at 10.00 AM both days, arriving back around 5.00 PM. All riders must have signed the usual H.U. disclaimer, but its up to the ride leader who goes and who doesn't, nothing to do with H.U. Full on crossers with race pipes, knobblies, and numbers are likely to be frowned upon for the unpaved ride. Numbers are limited and that again is up to the rideout leader.
If you're interested please put your name down on arrival at the registration tent. There will be signup sheets for each ride posted. First in best dressed.
All participants have to sign a liability waiver in advance. YOU are responsible for your own safety, rides are NOT guided, you will ride with volunteers who will point out the interesting routes to you.
All rides will be back on site at or before 5.00pm
The cost of going on any ride is included in the registration fee.
Charity
Our chosen Charity is Motorcycle Outreach, supported through the sale of raffle tickets and the generous donation of prizes from all the vendors on site and from afar. If you'd like to donate a prize, please contact Glynn below.
Motorcycle Outreach does much the same as Riders for Health, but in Indonesia! :) At this meeting we raised £800.00 for them!
Food
Served all day from 8.30AM every day and well into the evening, a wide and varied menu - including vegetarian, at various excellent prices.
Camping
Camping is INCLUDED in your registration fee.
Travel Vendors
Vendors sign up here to join us next year!
Books - get your signed copy direct from the Author!
Austin Vince will have his DVD's for sale as well as his books 'Terra Circa' and 'Mondo Enduro'
Dennis Robinson, 'Scooters in the Sahara'
Lois Pryce, 'Lois on the Loose', will have books, including her African adventures book.
Robert Wicks, 'Building the Ultimate Adventure Bike' and the rest of his series: 'Adventure Motorcycling', and 'Adventure Riding Techniques'
Simon Gandolfi, UK, will have his book 'Old man on a bike' (Ushuaia to New York on a 125)
Simon Roberts, with his motorcycling graphic novel - 'Tea with Bin Laden's brother'
Ted Simon, Jupiters Travels will have his books and a great two-part talk on his travels. Confirmed.
Bob Goddard will have his latest 'Beyond Bucharest' and earlier 'Land Of The Long Wild Road' books.
Chris Scott was seen wandering around too!
Bike SHOW!
New for this year, the first HU Travel Bike Show!
Free to enter, open to all bikes.
2010 Winners:
Most Unsuitable - Winner: Rollo Turner - 1948 Panther
Most Stickered - Winner: Peter and Kay Forwood's Harley-Davidson
Best Modification - Winners: The Freezer/Fridge basket panniers and boxes on the 2 Honda CB500's owned by John Goode and Simon Bird
Most Travelled - Winner: Peter and Kay Forwood's Harley-Davidson
Tyre Changing Competition:
A tough challenge - on and off, a stiff old sports bike tyre, and a wide tubeless rim, and only short tyre irons and a bit of soap to do it with.
Winner of a £50 gift certificate redeemable at the TravelDri booth: Ciaran McFerran, in 5:39.
Second Place, a £20 gift certificate redeemable at the TravelDri booth: Richard Tibbets, in 6:32.
Other competitors were Bram Dumolin in third, and Dermot Moriarty in fourth.

Overall Schedule (not Seminars and clinics)
All times - and everything - approximate!
An up-to-date schedule will be posted at the Meeting.
Thursday
8:00 - Breakfast, all morning
09:00 AM - 09:00 PM CHECK-IN! You MUST check in and get your name badge etc. to go on a ride or for entry to any events, seminars etc. EVERYONE must check in!
Speakers presentations schedule - check the posted times on the day for all details.
Food served all day, various prices. Vegetarian meals available.
Friday
8:00 - Breakfast, all morning
09:00 AM - 09:00 PM CHECK-IN! You MUST check in and get your name badge etc. to go on a ride or for entry to any events, seminars etc. EVERYONE must check in!
9:30 Ride briefing. Be gassed up and ready to ride if you're going.
Speakers presentations schedule - check the posted times on the day for all details.
Food served all day, various prices. Vegetarian meals available.
Saturday
8:00 - Breakfast, all morning
09:00 AM - 09:00 PM CHECK-IN! You MUST check in and get your name badge etc. to go on a ride or for entry to any events, seminars etc. EVERYONE must check in!
9:30 Ride briefing. Be gassed up and ready to ride if you're going.
Speakers presentations schedule - check the posted times on the day for all details.
Food served all day, various prices. Vegetarian meals available.

Charity Draw Prizes! 6:00 PM Saturday until Noon Sunday - Door prize winners will be posted in the Souk, and prizes available to pick up there!
Sunday
Breakfast served from 8:00
Sunday Carvery from 12:00 till 3:00, cost is £5.95 payable to the venue.
Presentations - there will be a few repeated presentations Sunday morning. LAST chance to get the ones you missed.
There will also be several travel oriented vendors there, so a great opportunity to have a good look at the latest goodies. Vendors please contact me for details.
Miscellaneous notes:
Organizers will be there Wednesday afternoon, if anyone wishes to arrive early and just hang out or go for a ride in the area. There is no problem arriving even a couple of days early, Lumb Farm will be happy to see you and feed you, and camping is free. If you arrive early you might get put to work - there's a lot to do setting up! All assistance greatly appreciated! :)
Plan what you want to see! The schedule is subject to change, so don't hold our feet to the fire - stuff happens! But we will try very hard to ensure that it goes off as planned. To avoid disappointment, be sure to check the latest schedule posted at the meeting on the day.