Want to know what people thought of last years Meeting? Is it worth coming to the Meeting?
"I'm so looking forward to another UK meet. My only problem is that I simply can't get to every talk I want, such is the amount of terrific presentations on offer. Each year I've been astonished at how articulate, intelligent, informative and entertaining the speakers are. I'm willing to help with anything that doesn't keep me from a talk - and my timetable will be full to bursting!" More comments here.
Important!
Registration is limited! So to be sure you get in and avoid disappointment, get your registration and payment in early!
As of mid-June, over 650 people have registered!
We really don't want to turn anyone away, but more importantly we want to be sure of having a great meeting - and overcrowded facilities will be no fun for anyone. Please be patient and bear with us - and them - as we all try very hard to bring the best possible meeting to as many as possible.
See you there!
The Plan
The plan is simple. Show up on Thursday or at the latest Friday afternoon, meet people and setup. Travel Presentations and Tech seminars are planned throughout the meeting, starting Thursday night.
2011 Speakers and Tech Seminars:
Inspiration
Confirmed:
Austin always has something fun!
The Road of Bones

Walter Colebatch
A detailed look at the various routes that make up the Road of Bones and its history.

Long distance with limited cubic centimetres.

Joel Juergens, Canada (fredsuleman) - Canada to Central America, and next across Europe to Turkey.
Challenges of setting up and traveling with small motorcycles. (under 250cc!)

One day you have to live your dream...

Manuela Beis
How to plan, prepare and realise a 4-month solo journey through South America on a DRZ.

Even Italian bikes provide laughs

Paddy Tyson
Travelling the Americas with a standing joke.

Amazing Vietnam

Sam Manicom
Know you can't get away on the big trip, yet. But would love a two or three week break, on a bike in an exotic land. How about amazing Vietnam? No organised tour needed. You can do it all - easily. Check in on Sam's talk to find out more.

R1 Around the World

Sjaak Lucassen
The story of Sjaak's amazing round the world trip on an R1 that took more than 5 years and covered almost 250,000 km through 75 countries.

Arctic Riding Adventures

Sjaak Lucassen
In the middle of winter to the North Cape, the most northern point of Europe, being the support act for the World Championship Ice Speedway, midwinter from Florida to the frozen Arctic Ocean in northern Alaska and all about what Sjaak's planning for riding on the Polar ice again!

Touring on Ice on a C90

Ed March
2500 miles on ice on a C90 in January from the UK to the Elephant Rally in southern Germany.

Financing your trip through writing and sponsorship

Alun Davies (Editor of Adventure Bike Rider magazine)
Q&A session about what sponsors and editors really want.

Central and Southern Asia - Part 1

Simon McCarthy
Tales of bike abuse, local vehicles, dust and smiley children in some of the less travelled parts of central and southern Asia.

Central and Southern Asia - Part 2

Simon McCarthy
Tales of keeping body and soul together - food, markets and accomodation in some of the less travelled parts of central and southern Asia.

Touring Thailand on 125's

Mark & Joyce Groucutt, "followthedream"
Size does not matter, blend and see the country at the locals' pace.

Septuagenarian Odyssey
Tea with Bin laden's Brother, 'Overland to Nepal via Iran, Pakistan and India'

Simon Roberts
An illustrated journey through countries where you won't get travel insurance

Rider in the Rain

Eryl Price-Davies
A 25,000 mile solo (and often very soggy!) round trip from New York - to LA, Mexico, Alaska and Trans Canada.

Riding Dorothy

Nathan Millward
Sydney to London on a 105cc Australian Post bike called Dorothy.

Santiago to Ushuaia without giving up work

Lilian Hobbs
Dream of riding to the bottom of South America, but can't afford to give up work? Then see how we did it by going on an organized tour for 3 weeks!

RTW 3 Months 2 Amateurs 1 Bike

Brendon and Tasha Ball, "KIWI 7"
Trans Canada and the Russian Federal Highway. With what worked and what didn't!

Leprechauns in Latin America

Norman & Maggie Magowan
Tall Tales from the Panamericana: 35,500 miles of Mud, Sweat & Tears! Part I of their Adventures in Yellow covering the Latin American leg of the trip.

Leprechauns to Alaska

Norman & Maggie Magowan
Tall Tales from the Panamericana: 35,500 miles of Mud, Sweat & Tears! Part II of their Adventures in Yellow covering the North American conclusion of this epic journey.

Living and working with motorbikes in Peru, South America

David Groves - Adventure Peru Motorcycling
My experience of living and working in Peru for 11 years and organizing running and guiding bike tours for motorcyclists to experience The Real Peru with Peruvian guides and mechanics.

Live! On the Road Q&A from the 'Stans!

"Zebb" and Henry
Technology-willing, Zebb and Henry will host a live Q&A session from somewhere in the 'Stans.

Scooters in the Sahara - Come and Join us
UK2India

Alexandros Papadopoulos
Why YOU have to do this trip. A non-extreme trip that YOU can do. Practical tips & advice given for those on the brink.

Oz

Colin O'Carroll
Around Australia on a Triumph, Highway One = world's longest national highway.

Cardiff to Cairo, A Solo holiday on a bike

Francis Maxey
Just going for a ride, EVERY DAY! The pit falls and joys of travelling alone.

The Trans Am Trail 2003

Dave Lomax
When there were no GPS points and Nevada seemed big and empty! 3 guys, 3 bikes and 5000 off-road miles in four weeks. Heaven!

No Experience Neccessary

Henry Nottage
A brief intro into how I got into overlanding without any riding experience and a synopsis of next years ridiculous trip - desert racing on pizza delivery bike!

Hidden Morocco 'The Film'

Dave Lomax
A professionaly created short travel/exploration film about the more remote areas of an increasingly popular travel destination. Oh, and a great way for me to get a superlightweight desert fix!

UK to India on an Enfield and a Transalp

Simon Chegwyn
A light-hearted and unstructured look at a classic overlanding route - and why the Enfield didn't make it!

Mad in the Med

Graham Hoskins
Graham dragged Danny John-Jules (the Cat from Red Dwarf) on a 15 day, 7000 mile endurance ride circumnavigating the Med Sea. Hear and see the story before it comes to Sky.

Indian Himalayas on a Bullet

Chris Bright
The best fun you can have for not a lot of money.

New Zealand and Africa

Ian Mutch
The art of surviving ineptitude on inappropriate machinary and how to fail with women.

Enduro Gazmundo

Steve Mallon
A film of a trip made by 7 guys on 7 Royal Enfields in 2008 around the Himalayas from Delhi and back.

Crossing the Arctic Circle

Lilian Hobbs
Two ladies, two BMW's and 3 weeks to go from the UK to Norway to cross the Arctic Circle. See how we did it, survived expensive Norway and watch the video from our trip.

2 Pegs to Patagonia

Bruce and Jean Porter
We are just 2 people with a desire to see places. This trip is about Jean seeing penguins in the wild. We just decided to start near the top and bimble down.

Real Way Round

Jonathan Yates
Getting round - no frills - no spills.

Rider in the Rain

Eryl Price-Davies
A 25,000 mile solo (and often very soggy!)round trip from New York - to LA, Mexico, Alaska and Trans Canada.

Dusty Old Bags RTW

Sheonagh Ravensdale & Pat Thomson
Lack of planning plus being hijacked by hospitality meant we only managed 14 countries in 15 months on the Honda Falcons: Panama to Cambodia, but we did it with less underwear than last time.

thedomwayround: Part 1. Alaska to Panama

Dom Giles
A 6 month, 22,000 mile,8 country journey through North and Central America. - Attacked by bears in Alaska - Struck by lightening in Nevada - Bitten by a sloth in Costa Rica. Find out if any of these things actually happened to Dom.

thedomwayround: Part 2. Cape Town to Nairobi

Dom Giles
A 3 month 6,000 mile, 10 country journey through South and East Africa. - crashing in the sand of Namibia - getting arrested by the Zimbabwe police - charged at by an elephant. These things almost happened to Dom, but not quite. thedomwayround - the antidote to "adventure" travel.

Flash Floods in a Moroccan Wadii

Mike Vitkovitch
How we got caught and submerged in a flash flood...and survived...
Learn
Confirmed:
Overweight is Underprepared!

Dave Lomax "davidlomax"
A full breakdown of the best lightweight kit to take with you on your next trip. Complete with film and images from a recent super-lightweight trip to North Africa.

thedomwayround - what worked for me.

Dom Giles
Heading off on a trip soon? Not sure what to take? I've just spent nearly a year in North/Central America and South/East Africa. I'll share with you what worked for me (and what didn't). What gear stood the test of time and why you should definitely take a Pogo!

Keep your Airhead on the road
Stretch the body, Travel further

Francis Maxey
A practical guide to stretching the muscles before you ride and releasing the stiffness when you stop.

First Aid on Two Wheels

Ashley St John-Claire
Getting to know the really basic things that will save your life, and those of your fellow riders.

Bike Recovery From Deep Water and on Steep Ground
Body Mechanics-- How to Make the Long Ride Easier; Why work so hard?

Ramey (Coach) Stroud (Coach)
Come learn the trick of the trade that will give you Miles of Smiles in all conditions. Will be in either TWO sessions or one long session. This is a 5* clinic for the thinking rider!

How to have the trip of a lifetime and keep your house

Craig Robinson
You don't have to sell everything to keep the Free Spirit flying.

Planning your trip with Garmin Mapsource
Morocco: Safe, Exciting and Inexpensive
An Idiot's Guide to Technical Clothing

Alan Perrins (HUBB: ZZSPEEDZZ)
What makes a technical garment and in what environments you should use each garment. Discussions on waterproofing, windproofing, base layers, wicking, insulation choices, synthtics vs cottons etc. Alan will bring a huge selection of various technical garments that will demonstrate and improve a riders understanding, which will lead to greater comfort and safety.

Maintenance on the Move

Greg Baker, "Gregorius"
How to keep things going!

Demystifying the Myth

Yosi Rapaport
Maintenance, tools, which bike.

Using the HU Blog

Bruce Porter
Why you should, plus it's easy to use and read for your friends! Plus how to shrink pictures and upload them.

Bushcraft for Bikers

Kevan Palmer (HUBB: Desert Ways)
Different relevant bushcraft demos over the weekend, e.g.firelighting, foraging..

It's All in the Mind?
Fix that flat! How to change a tyre anytime, anywhere. Two hours.

Grant Johnson
'Basic Guide to changing and maintaining tyres.' How to prevent flats in the first place, and fix them when you get one. Grant's changed thousands, and will show you all the secrets to make it easy. The best tools and how to use them for tube and tubeless tires. Bring your changing / patching kit with you! Hand's on practical, try it yourself.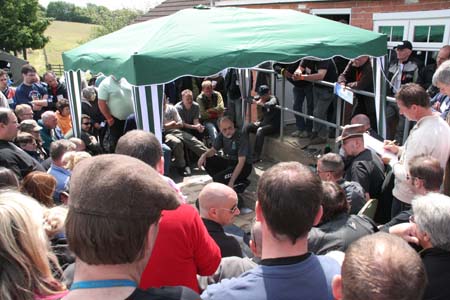 Changing a Tyre, tech session 2009
(It will be in the Souk / Marquee for 2011)
Tyre Changing Contest for beginners to experts!

Grant Johnson
Come prepared to show everyone how fast you can do it - classes for beginners and experts, and ladies! Prizes too!

How yoga can help keep you safe, healthy, sane and able to fully enjoy your ride

Tori Lang, "YogaforBikersTori"
Save your back, and ease the aches - before they happen. Talk and demonstration: come and find out what it's all about, how yoga can really help your riding in more ways than you might realise. Includes demonstration of some basic practice. (45 minutes)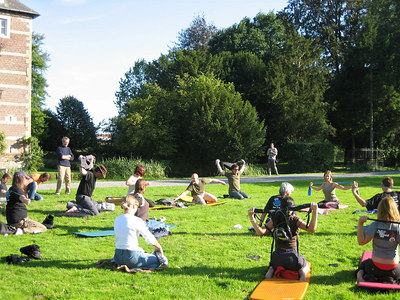 Yoga session with Tori Lang
Yoga for bikers - practical session

Tori Lang, "YogaforBikersTori"
You've heard the talk, now give it a go. Come along and try it out for yourself - no previous experience necessary. Please avoid eating heavily for 2 hours before and bring a roll mat/blanket to lie on and a sense of adventure! (80 minutes)

Panel - volunteers please!

How to get someone of the opposite sex to go travelling with you - panel and discussion.
Why is it so hard? What are you doing wrong - or right? All viewpoints discussed!

Women only

A VERY popular session - I'm told it's a must for the ladies, so plan on being there!

Roadkill Cookout

Danny Taylor and Fil Schiannini
Watch and learn - how to make a firepit, skin a rabbit, pluck a pheasant, fillet a trout, cook it and eat it. Check schedule at the firepit for demo times.

Ask the Experts!

Panel Session! Still have a nagging question or two? Want to ask, but not sure who? There will be a panel session to get all those last details covered - ask anything at all! MOST of them we'll answer...

Tax refunds to help fund your trip
Photo Composition for Travellers

Grant Johnson, Canada, RTW
We all want to take great photos of our trip - so why don't we? This easy seminar will transform your photos from boring to FABULOUS!

How to make beer money from your travel blog

Iain Harper
Following on from last year's info about creating travel blogs, this presentation will explain how you can monetise your blog to contribute to your travel budget.

Hearing Protection "We're not all size 9!"
Digital Security on the Road

Alexandros Papadopoulos
When you hit the road, you have to do some business on the road... whether that's rudimentary email with family, editing your blog or sorting out money transfers "for that final stretch", there are a few things you need to be aware of to protect yourself from identity theft (also known as "fraud") and all its unpleasant consequences. This session will teach you everything you need to know on the topic.

Camping Forum, Anyone can rough it.
Preparation and Planning for that big trip

Colin & Dee Masters
Pitfalls & worries of long distance travel

Motorcycle Outreach

Barbara Alam and Craig Carey-Clinch
Can motorcycles help make the world a better place? Would you like to do your bit for people in poorer countries? Does your next big trip need a charity angle? Motorcycle Outreach is a charitable organisation which works to introduce effective healthcare delivery in remote areas of developing countries.
Video from 2010: Tiffany Coates with a masterclass in picking up a dropped bike
2010 Speakers were:
Inspiration
Learn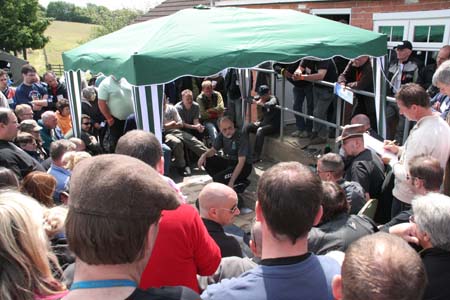 Changing a Tyre, tech sesssion 2009
Note: we'll have a sound system and a big screen for 2010!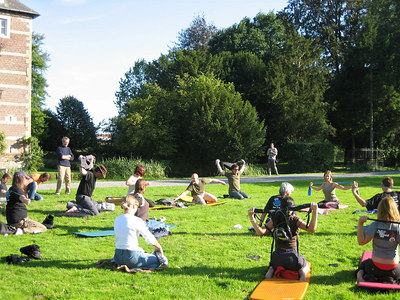 Yoga session with Tori Lang
Important!
The main conference room will squeeze 250 people. Smaller rooms hold up to 100, so there will be THREE and sometimes FOUR shows happening simultaneously, so you can pick and choose what you watch. We will do a few popular shows twice.
The Marquee (the Souk!) we used for the first time in 2010 will be back, and will be used even more. It easily holds 3-400 people with standing. Many of the shows in the main room will be streamed to the big screen in the marquee, so you have two choices for where to watch.
There will also be Breakout sessions, which anyone can call! We'll have signup sheets for breakouts, just grab a sheet and list what subject you want to talk about and where and when, and people can sign up and meet you there! Sessions can be during dinner, or over breakfast or meet at someone's bike, whatever, it's up to you.
There will be slide shows and talks Thursday, Friday and Saturday night, as well as all Saturday morning and afternoon, and Sunday too, (see the schedule). Come early and make it a great weekend! We recommend planning on riding Thursday/Friday and Sunday, and leaving time for Seminars all day Friday and Saturday.
NEW AT RIPLEY THIS YEAR - SLOW BIKE RACE!
All overlanders know that you are going to spend a significant amount of time, picking your way at slow speeds through mud, slaloming potholes and slow motion dodging through loony traffic. What better way to show off your skills than to have a go at this year's 'Slow Bike Race', supported by Rieju Motorcycles. It won't be easy, but it'll be fun. First 20 people to book with John May at the Meet get to take part. Kick off 10am sharp on Saturday morning. Meet outside the Traveldri-Plus marquee. There'll be a prize! And a bonus prize for the slowest rider who completes the course within the rules, but carrying a log (chosen by John) from Danny's Roadkill Firepit. Um, NO SIDECAR OUTFITS or 4x4's :)
BIKE SHOW!
Back again this year, the HU Travel Bike Show!
Free to enter, open to all bikes.
Prizes for:
Most Unsuitable
Most Stickered
Best Modification
Most Travelled
Shine it up - or perhaps get it dirtier... and bring it to the front parking lot area Saturday afternoon - details at registration.
See the Schedule here
Rideouts
Rideouts are limited to 6 to 12 people per ride, no exceptions.
The TRF has VERY generously volunteered to lead rides.
We plan to have rideouts on the Friday and the Saturday. On paved and unpaved road. Leaving at 10.00 AM both days, arriving back around 5.00 PM. All riders must have signed the usual H.U. disclaimer, but its up to the ride leader who goes and who doesn't, nothing to do with H.U. Full on crossers with race pipes, knobblies, and numbers are likely to be frowned upon. Numbers are limited and that again is up to the rideout leader.
If you're interested please put your name down on arrival at the TRF tent across from the Registration Tent. There will be signup sheets for each ride posted. First in best dressed.
All participants have to sign a liability waiver in advance. YOU are responsible for your own safety, rides are NOT guided, you will ride with volunteers who will point out the interesting routes to you.
All rides will be back on site at or before 5.00pm
Donations to the TRF fund are requested from all ride participants.
All rides are "register on the day." There will be signup sheets for each ride posted the evening before. First in best dressed.
Charity Draw
2011 Charity is Motorcycle Outreach, through the sale of raffle tickets and the generous donation of prizes from all the vendors on site and from afar. If you'd like to donate a prize for the charity raffle, send it direct to Lumb Farm marked to Angela Woods FAO Dee Masters HU.
Motorcycle Outreach does much the same as Riders for Health, but in Indonesia! :) In 2010 you raised £800.00 for them with your raffle ticket purchases!
One of the great prizes included in the raffle this year has been kindly donated by the French ferry operator, LD Lines, who are offering a return ticket for a motorcycle and up to two people, with a 2 berth cabin if available, between either Le Havre/Portsmouth, Dieppe/Newhaven or Saint-Nazaire/Gijon.
As with 2010, the draw will be held at 5 pm on Saturday in the marquee, and numbers will be matched to prizes. Prizes will be available to pick up from 5 pm Saturday until 10 am Sunday, so no need to be there to win! The raffle for any uncollected prizes will be redrawn at 10 am on the Sunday - so don't throw your tickets away.
Food
Great food served all day from 8.30AM every day and well into the evening, a wide and varied menu - including vegetarian, at various excellent prices.
Camping
Camping is INCLUDED in your registration fee.
There are TWO camping areas, one as you come in on your left, and the main area at the end of the driveway behind the buildings. Access to BOTH is behind the buildings. The main camping area fills up fast, so early arrivers please don't take a big area, just squeeze in, and leave a pathway for early departures. The quietest area is probably the secondary area, on your left as you arrive - but no promises!
NOTE: The lower field has a small area that's prone to seepage from the site's septic tank - which is supposed to be "no problem" but as the weekend goes on it has been errhhm "overwhelmed" so look for the signs and steer clear!
NO 4 wheeled vehicles in the main camping fields, too much damage to the grass, and too crowded, so there is an area specifically for you. Same as in previous years, directly opposite the main building front entrance, across the driveway, backed up to the paddock fence.
Showers - limited but adequate showers are available in the main building, in the sports area. Open at 7:00 AM
Wi-Fi - there is Wi-fi available in the Pub area, but it's a single connection for EVERYONE so don't expect fast! Just look for the Horizons Unlimited network!
Barbecues - ONLY at the firepit area, not on the camping fields AT ALL. There are NO cooking facilities except what you bring, but there's tons of excellent pub food at good prices available. Water is available from a tap at the back of the main building.
Dogs - due to a particularly noisy dog in '07, there will be no dogs allowed to camp in the main camping areas at all. VERY sorry we have to do this, but there were a lot of complaints, and understandably so, about a dog barking all night, so we're forced into this restriction. 4 Wheelers can have their dogs in the parking lot area, and there is an area on the driveway on the right as you arrive, near the very bottom of the hill, where people with dogs and tents camped last year and were happy with it, so we will continue to do that this year. Noisy dogs will be ejected regardless, so please keep your dog quiet.
Children - the organisers have come to the conclusion that this is not a suitable event for children. Safety concerns have been raised, especially with folks riding around on motorcycles, not always sober! Some of the presentations are absolutely inappropriate for kids, and yet their parents brought them along anyway! It is not fair to the presenters (or the audience) to expect them to censor themselves so that children can attend talks that are intended for an adult audience, and we could run afoul of child protection legislation. So for 2011, IF you wish to bring your kids along, YOU must sign a waiver on the day taking FULL responsibility for kids under 16 (and 14+ year olds will pay full adult price). NO children admitted to talks after 9pm.
Equipment for Sale
There will be a pin board for you to post equipment, bikes etc for sale.
Free stuff - A Scratch Patch
(as suggested by Michelle Clarke in an email:)
"We all know how expensive these overland travel dreams can be, but also how you often manage to accumulate travel equipment and bits and pieces that just end up gathering dust. That thingamabob that you have been meaning to give away for ages could be exactly what some skint newbie is in need of before a first trip.
How about a table set aside inside as the Scratch Patch at the UK HU meet? A place where people can put those extra inner tubes for the bike that they already sold but forgot to give to the new owner (clearly labelled as to size of course ); that jerry that you bought that doesn't fit your mountings; that Lonely Planet for Mongolia - anything that might be a big help to someone else.
(of course, anything that does not find a home by the end of the weekend will need to be reclaimed)"
Perfect - we'll set up a spot somewhere, so bring your goodies!
Travel Vendors
Vendors sign up here to join us!
2011 Vendors:
Books - get your signed copy direct from the Author!
Expected attendees (but no guarantees):
Austin Vince will have his DVD's for sale as well as his books 'Terra Circa' and 'Mondo Enduro'
Dennis Robinson, 'Scooters in the Sahara'
Lois Pryce, 'Lois on the Loose', will have books, including her African adventures book.
Robert Wicks, 'Building the Ultimate Adventure Bike' and the rest of his series: 'Adventure Motorcycling', and 'Adventure Riding Techniques'
Sam Manicom , with his books 'Tortillas to Totems', 'Distant Suns', 'Under Asian Skies' and 'Into Africa'
Sjaak Lucassen, with his DVD 'Sjaak the World'
Paddy Tyson, with his book 'The Hunt For Puerto del Faglioli'
Overland Magazine, the great new publication from Paddy Tyson
Simon Gandolfi, UK, will have his book 'Old man on a bike' (Ushuaia to New York on a 125)
Norman Magowan, with his NEW books 'Leprechauns in Latin America' and 'Leprechauns In Alaska'
Simon and Georgie McCarthy 'Sorebums Rattling Around Asia'
Simon Roberts, with his motorcycling graphic novel - 'Tea with Bin Laden's brother'
Bob Goddard will have his latest 'Beyond Bucharest' and earlier 'Land Of The Long Wild Road' books.
Chris Scott may be seen wandering around too!
Bring some cash! :)
Overall Schedule (not Seminars and clinics)
All times - and everything - approximate!
An up-to-date schedule will be posted at the Meeting.
Registration is on all day, from Thursday noon all day every day.
Thursday morning
10:00 - 10:00 PM CHECK-IN! You MUST be registered to go on a ride or for entry to any events, seminars etc. EVERYONE must check in!
Friday
10:00 AM - 10:00 PM CHECK-IN! You MUST be registered to go on a ride or entry to any events, seminars etc.
9:00 Ride briefing. Be gassed up and ready to ride if you're going.
Speakers presentations schedule - check the posted times on the day for all details.
Saturday morning
8:00 - Breakfast, all morning
10:00 AM - 10:00 PM CHECK-IN!
9:00 Ride briefing. Be gassed up and ready to ride if you're going.
Saturday Lunch
Carvery - from 12:00 noon served all day. Cost is £5.95 payable to the venue on the day. Range of specials from the blackboard served all day, various prices. Vegetarian meals available.
Saturday afternoon,
Rideouts - details here if you're riding on your own.
On road runs - we'll post a sheet of paper up for you to add your name to a destination, volunteers to lead appreciated!
Speakers presentations schedule - check the posted times on the day for all details.Saturday, dinner
5:00 in the Marquee: Raffle prize draw. You do NOT have to be there to win. Any ticket drawn, and prize not collected immediately, will be affixed to the prize and left till noon Sunday for pickup. Any prizes not collected will then be given to Motorcycle Outreach to be drawn at another event.
Sunday
Breakfast served from 8:00
Sunday Carvery from 12:00 till 3:00.
Presentations - there will be a few repeated presentations Sunday morning. LAST chance to get the ones you missed.
There will also be several travel oriented vendors there, so a great opportunity to have a good look at the latest goodies. Vendors please contact me for details.
Miscellaneous notes:
Organizers will be there Wednesday afternoon, if anyone wishes to arrive early and just hang out or go for a ride in the area. There is no problem arriving even a couple of days early, Lumb Farm will be happy to see you and feed you, and camping is free. If you arrive early you might get put to work - there's a lot to do setting up! All assistance greatly appreciated! :)
Plan what you want to see! The schedule is subject to change, so don't hold our feet to the fire - stuff happens! But we will try very hard to ensure that it goes off as planned. To avoid disappointment, be sure to check the latest schedule posted at the meeting on the day. And even that can change. :(
Registration
Registration will be CLOSED when we fill up. Check back here to be sure we're full Currently there IS still a little room, but online registraiton si closed. Register onsite.
Admission pricing (for PAID pre-registration):
Register and PAY between January 1 and June 15, 2011, admission is £45.
At the door, IF space is available, admission is £60.
Friday ONLY £30 at the door, no camping.
Saturday ONLY £30 at the door, no camping.
NOTE: Car parking - due to the EXTREMELY limited car parking space, and a lot of problems in 2010, there is a £10 charge for onsite car parking. Pay on the day. All parking charges will be donated to Motorcycle Outreach.
4WD / Adventure Travel vehicles that you're sleeping in, no additional charge, and we have a private area for you.
Presenters with equipment no parking charge.
Entry fee includes admission to the slide shows on Thursday, Friday and Saturday night and Sunday am, and other events during the day every day. Camping is also included in your entry fee for Thursday, Friday and Saturday night. If you arrive a day or two early there is no problem finding a spot to camp, no charge. Just eat there and they're happy! If you want to stay over a day, similarly no problem.
Accommodation other than camping, and meals are NOT included.