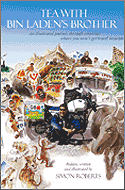 Tea with Bin Laden's Brother, by Simon Roberts
An Adventure motorbiking graphic novel telling the gripping story of a solo ride through Iran, Pakistan and India to Nepal. Take a look inside...
---
Motorcycle Therapy, by Jeremy Kroeker
From the Canadian Rockies to the Panamanian Jungle, Motorcycle Therapy rumbles with comic adventure as two men, fleeing failed relationships, test the limits of their motorcycles and their friendship. Get it here!
---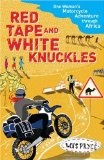 Lois' adventures in Africa!
'Alone. No support vehicles, no fancy GPS and no satellite phone. Leaving from London, finishing in Cape Town - and the small matter of tackling the Sahara, war-torn Angola and the Congo Basin along the way - this feisty independent woman's grand trek through the Dark Continent of Africa is the definitive motorcycling adventure.' Get it here!
---
Distant Suns, by Sam Manicom

'Sam Manicom's dynamic third book transports you to Southern Africa, South and Central America in an action-packed three year voyage of discovery. a thought-provoking mix of scrapes and encounters with people which illuminate some moments of true darkness. acute observations on everything from human behaviour, to remote and stunning locations. Distant Suns grabs you, enthrals you and spits you out as a convert to the dream of overlanding these amazing continents.' Buy direct from Sam here!
---

Adventure Motorcycling Handbook, by Chris Scott
---

Into the Den of the Bear and the Lair of the Dragon on a Motorcycle. Werner, 66, was born in Germany and worked in Canada until his retirement. He has authored a number of books since getting bit by the motorcycle travel bug, including
-8 Around the Americas by Motorcycle,
-Into the Den of the Bear and the Lair of the Dragon on a Motorcycle, and
-Africa Against the Clock on a Motorcycle.
All his books are available directly from Werner. Tell him we sent you and get US$5.00 off the regular US$20 price!
For details on his books see here.
---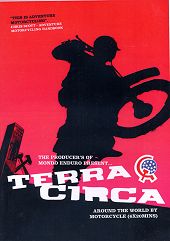 The Producers of Mondo Enduro present Terra Circa, Around the World by Motorcycle
(6 x 20 minute episodes).
Regular readers of this newsletter will remember Terra Circa's adventures around the world, and especially the Zilov Gap. Now's your chance to see it in video. Austin Vince is a very funny guy and the video is hilarious, as he leads his intrepid crew through misadventure after misadventure.
'This is adventure motorcycling' says Chris Scott, who wrote the book, so he ought to know!
---
Looking for a travel book for someone special?
Go to our Books pages, where we have listed some of the best motorcycle travel books, as well as a number of BMW books, general motorcycle books, and travel guides.
There's links to Amazon USA, Amazon UK, Amazon Canada, and Amazon Deutschland, so no matter where you are - you can order books at great prices, and we'll make a dollar or a pound or a Euro, which goes a very little way to supporting this e-zine.
There's also links to search Amazon sites for all their products, books, CDs etc., and yes, we get a tiny piece of that too. We really appreciate it when you start your book search from our website. Thanks for the support!
NOTE: If you buy a book starting with one of our links below, we get a little bit to help support the website!
If you have a book or want a book that you think other travellers would be interested in please let me know and I'll put it on the site. Thanks, Grant
---
Help support your favourite website! Here's how!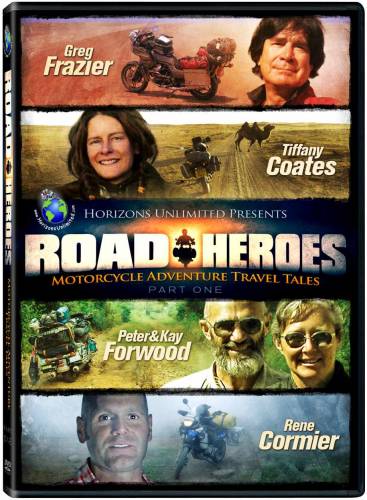 Road Heroes Part 1!
Get your Road Heroes DVD now for inspirational and funny tales from the road!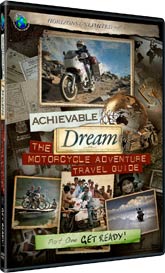 Part 1 - Get Ready!
Get the Achievable Dream DVD's NOW and learn how YOU can get on the road!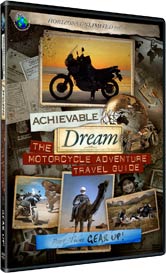 Part 2 - Gear Up!
Get the Achievable Dream DVD's NOW and learn how YOU can get on the road!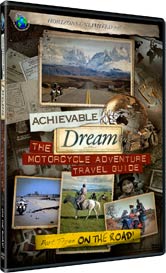 Part 3 - On the Road!
Get the Achievable Dream DVD's NOW and learn how YOU can get on the road!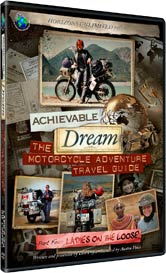 Part 4 - Ladies on the Loose !
Get the Achievable Dream DVD's NOW and learn how YOU can get on the road!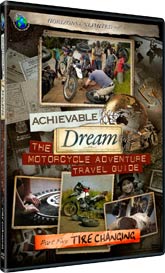 Part 5 - Tire Changing!
Get the Achievable Dream DVD's NOW and learn how YOU can get on the road!
---
Support Horizons Unlimited - check out the HU Souk for DVD's, map stickers, jumpers / pullovers, mugs, steins, t-shirts, hats and other products with a variety of slogans!
Thanks! Grant and Susan
---
Motorcycle Therapy, by Jeremy Kroeker
From the Canadian Rockies to the Panamanian Jungle, Motorcycle Therapy rumbles with comic adventure as two men, fleeing failed relationships, test the limits of their motorcycles and their friendship. Get it here!
---
Please be assured that we will NOT under any circumstances, rent, lease, sell, or give out our mailing list, and/or your name and e-mail address, to anyone for whatever purpose. Your privacy is assured, and personally guaranteed.
See our complete Privacy Policy here.
Grant & Susan Johnson, Editors
Please note that you are receiving this newsletter only because you requested it! We are 100% opt - in only.
To remove yourself from the list, please go here.
If you've had problems receiving the e-zine due to spam filters or insufficient bandwidth, remember you can subscribe to the 'Notice' edition instead of the full HTML version. The Notice edition is a short, straight text message that contains a URL to bring you to the full text on the website. Because the Notice email is so small, it downloads in a flash, and leaves your mailbox uncluttered. Change to the Notice version here.
We now have an RSS feed for the e-zine (you'll need an RSS Reader to use it) and all the travellers' blogs have their own feeds. The HUBB has a full RSS feed here. If you're not sure what that's all about, there's a detailed RSS Guide here.
All comments and suggestions are carefully read, and where possible will be acted on. Your help will make this a useful service for all travellers.
Please use the Bulletin Board for questions and suggestions.
If you would like to advertise your product or service in this newsletter or on the website, please contact me. Ad rates are very reasonable. Details at this link.
---
ISSN 1703-1397 Horizons Unlimited Motorcycle Travellers' E-zine - Copyright 1999-2011, Horizons Unlimited and Grant and Susan Johnson. All rights reserved.
Redistribution - sending it on to friends is allowed, indeed encouraged, but other than the following requirements, only with permission. You may forward copies of the Horizons Unlimited Motorcycle Travellers' e-zine by forwarding it yourself by hand. You must forward the issue in its entirety, no fee may be involved. Please suggest they Subscribe!
Legal gibberish: (particularly for those in countries that have more lawyers in one town, just for instance, New York, not to name any names, than some whole countries, as another example, Japan. Again, not naming anybody specifically you understand).
Recommendations are based on positive or negative experiences of somebody, somewhere. Your mileage (kilometrage if you insist) may vary. We are not responsible in any way for any product or service mentioned, and do not warrant any such mentioned product or service, and are not responsible for any bad things that may befall you. You are responsible for yourself! Act accordingly. We check all links and information given as close as possible to publication, and all info is correct as best we can determine at that time.
Hubert Kriegel, France, Sidecar-ing the world, in Namibia,
"On a trip to the desert to view the hidden wildlife, with Francois, the owner of the guesthouse.
François saw a hint with the traces of a 'Web footed palmato gecko' hiding under the sand...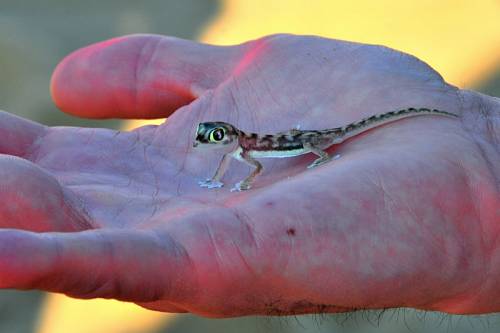 A Gecko cannot be exposed at direct sun and stays under the shadow of the sand during the day. It weighs only a few grams.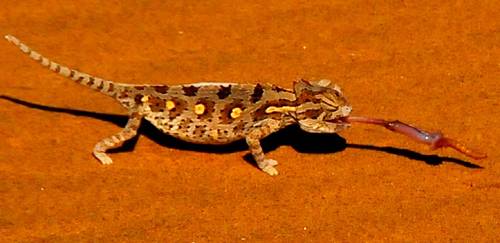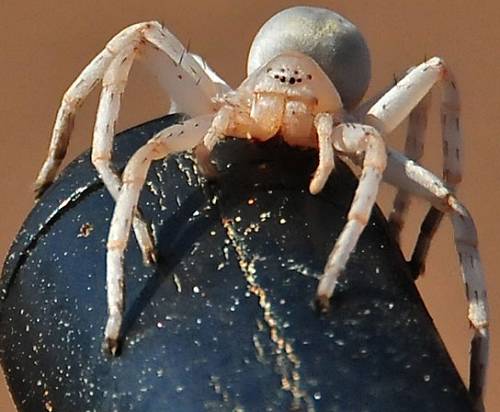 Welcome to the 'White dancing lady' with 8 eyes. When we put her back on the sand, she dug her hole within minutes."
Ed. More great photos on Hubert's blog!
Daan Stehouwer and Mirjam van Immerzeel, Netherlands, the Americas, Africa and beyond, in Botswana and South Africa, Africa Twins,

"Botswana, country of elephants! We love it here and have a great time. Internet is hard to find and slow; we have uploaded some stories and pictures but the movies will be put online once we arrive back in South Africa and have fast internet! After already 6300km's through Botswana and Namibia, we're back in South Africa. We did finish the movie of Botswana though!"
Ronnie Borrageiro, South Africa, RTW, in Mexico, BMW 1200 GSA,
"Dudes! Mexico is a big country! I have covered almost 5 000 km since crossing the border from Belize... and I am still 2,000 km from the border with the USA! Suffice to say, that I have been hosted by a fantastic bunch of Motorcycle Clubs since leaving the Venados in Huajuapan de Leon... They have passed me on to the Manosos Riders in Morelia, where I had a brilliant time... Details to follow as soon as the fog in my head clears sufficiently!
TV and newspaper interviews were followed by a presentation from the Secretary of Tourism, who all but gave me the keys to the city of Morelia! With me are Gabriel, Juanito and Maurizio of the Manosos Riders... They in turn passed me on to their Guadalajara chapter, where I spent a great evening with the riders from this city...
I am currently in Mazatlán, being hosted by the Moto Club of Mazatlán Riders, who have an annual get-together which I just missed, and where over 17,000 riders from all over the world had a rip-roaring time in this seaside city! Lots of ripping and roaring, I am told!
Today I am riding further north, with a slightly aching head after yet another late night! Mexican bikers do not need sleep it would seem! And they have cast iron livers!
I need to get into the USA by Wednesday, and take a short break to tell you all about Mexico... I am looking for a place that has sugar-white beaches, preferably an island relatively close by..."
Jay, Mercedes and Erik, Canada, A year in the Americas, in French Guyana,
"28/May 2012 We wake in the morning in our tent under the canopy of the combined police/duty office. The 'European' side of the bridge is completed and ready for traffic. The Brazilian side is still in progress.
The narrow road curving thru lush rain forest toward Cayenne is in excellent shape with European road signs. Frequent rain falls alternate with blue skies. Humidity is 100%.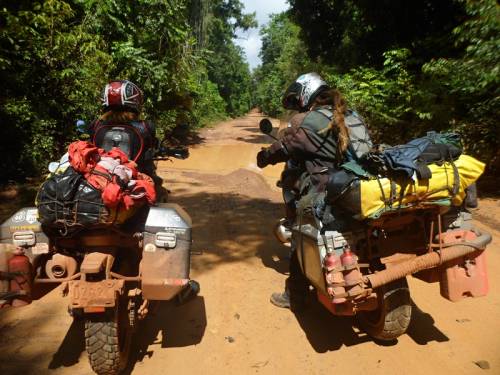 The gas station attendants are delighted by our shock at the price of gas €1.80/l.
We are even more shocked by the condition of Cayenne. This is the seediest capital of South America indeed! We seek refuge from the scraggly crack heads in the main square's only nice restaurant.
Mercedes ignores the one completely nude guy who is yelling at her thru the window. The nude guy throws a plastic bottle at M. He misses the target and he gets punished by another guest and the staff of the restaurant. The nude crack head is in a wheel chair. He is missing his left leg. The leg was cut off with a machete many years ago by the owner of a car which the crack head stole.
We secure ourselves for the night in a friendly lady's garden outside of Cayenne. Diana is from (British) Guyana and she lives in a simple but charming house with her four children. She enjoys the French social benefits."
Rocky and Paula, Canada, two earthlings ride around the world, in Utah and Colorado,

"...The following morning we were well rested and ready to visit Mesa Verde National Park. The area features numerous ruins of homes and villages built by the Ancestral Puebloan people (sometimes called the Anasazi), and is best known for cliff dwellings, which are structures built within caves and under outcropping in cliffs.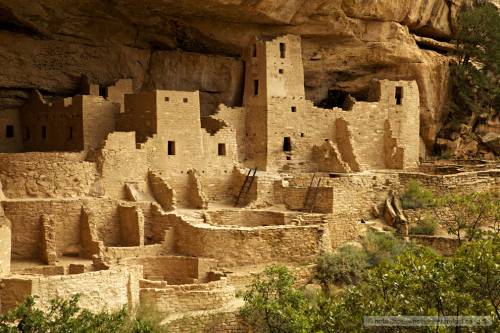 It was beautifully well preserved, and before I nearly squashed a tarantula as I was walking, I imagined that it could have been a fantastic place to live. I am not a fan of spiders, I am petrified actually but as soon as I noticed this one, I couldn't help but stare at it for a few seconds, it was huge. As I was admiring it, a girl, maybe 7 years old, was running backwards laughing and singing. She wasn't paying attention to where she was stepping and as she came awfully close. I had to stop her and warn her to be careful not step on the spider. She starred at me with a very bratty expression on her face, she was probably wondering what kind of person goes out of their way to protect a spider from getting stepped on. I pointed to the tarantula for her to see it and her reaction was priceless as she screamed in horror and cried hysterically. Maybe I'm mean, but I laughed about it most of the ride back into Utah."
by Sam Manicom


The latest Adventure Motorcycle travel book by the legendary Sam Manicom

Motorcycling the magnificent landscapes of Mexico, the USA and Canada. 'Sidetracked by the Unexpected'

'One of the World's leading Motorcycle Authors' - Motorcycle Sport and Leisure
'Sam's descriptions are in Technicolor.' - The Riders Digest
'Inspirational reading.' - World of BMW
'Superbly entertaining travel writing.' - BM Riders Club
'Few travel writers can conjure up sights and smells so provocatively as Sam.' - Daily Record - Scotland

Signed copies available directly from the Author here.
Order your copy now! Be sure to tell Sam where you heard about him!
Brad Cougle, Canada, Calgary to Argentina, in Peru, Suzuki V Strom 650 ABS,
"Potosi was not as lovely as I expected, but I didn't come here for lovely, I was here to survive a Silver Mine tour. And that's what I did damn it. Initially I wasn't doing the tour, but enough people convinced me that I had to. It is always easier to face a mountain in a group than alone.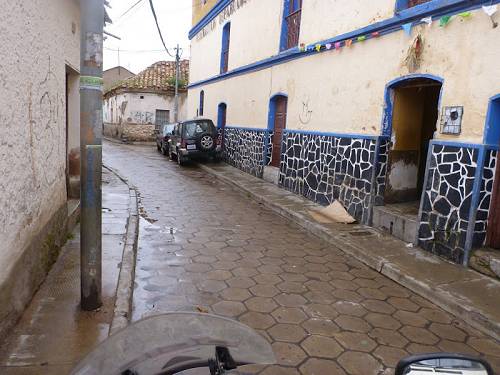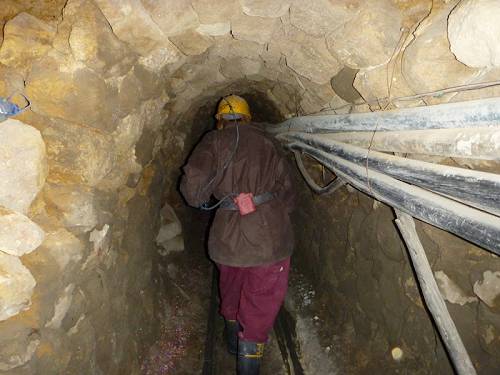 Luckily my group 'Sexy Dynamite' was full of great internationals (no local would be dumb enough to pay for this tour!). I would recommend a tour of one of the mines (likely Candaleria), but I will tell you right now you probably won't enjoy it. I'll let the photos and videos do the talking..."
Danielle Murdoch, Australia, Australia to Africa, in Zanzibar, Suzuki DR350,
"A cloudless blue sky that merges seamlessly in to the bluely green ocean that washes gently onto the blinding white sand. Dhows dance in the sun, as they head out for their night fishing. Birds in skimpy fluorescent bikinis & old hairy men in Speedos dip their toes into the warm water while their very own Masai warrior dressed in traditional clothing, topped off with hot pink trendy sun glasses, stands guard against any sea urchins or local predators.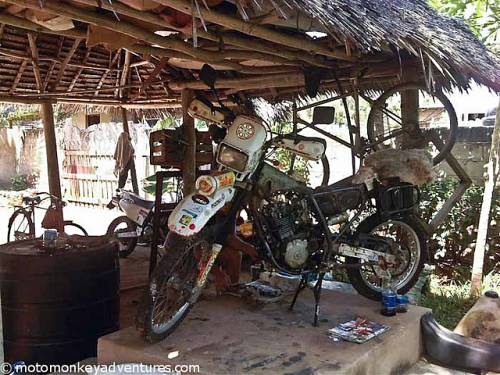 After spending nine months in strict Muslim countries, I felt pretty much naked as I lay half buried in the white sand, struggling to keep the sun from turning my skin an ugly pink colour. After a week or so relaxing in the sun, slowly turning my skin from pink to brown, getting accustomed to walking around bare footed, it was time to get to work."
Sherri Jo Wilkins, Australia/USA, RTW, in Mexico, KTM 690 Enduro,

"From Puerto Vallarta we all want to head inland again. Found another very curvy road to follow... shock!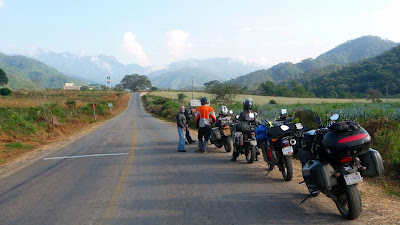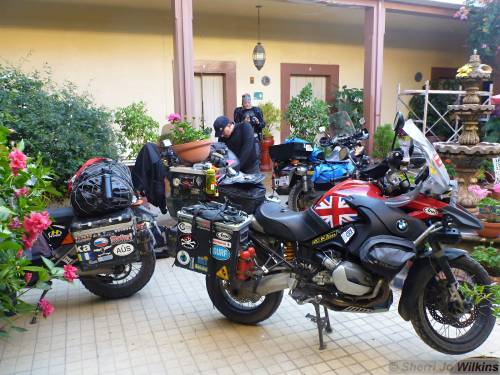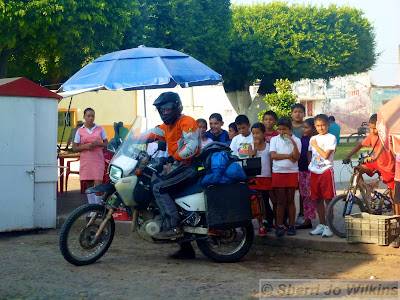 I personally want to make my way toward Mexico City. The boys do too at this point, as there are some really cool ruins near the city. But first we ride away from the west coast.
The boys spot a tequila distillery and took them 2 seconds to turn around and check it out. It's like Tequila school! I have no patience... can we just try the stuff? Not like we can try and swallow. We haven't been on the road very long yet today and we still have a long ride on the bikes. (I didn't inhale either, Bill! ;-)"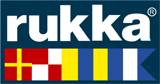 Paul and Angie, UK, RTW, in New Zealand, Yamaha XT660Rs,

"...Our host checked the weather and with it looking dull on the west side of the island we decided to cross the mountain divide via Arthurs Pass and visit the museum in Christchurch which is home to an impressive Antarctic display. Although cold, we had a spectacular day en route to Christchurch through snow-capped peaks.
On entering the city no signs of the earth quake were readily visible, only a few undulating roads that may have been like that before. The nearest motel we could find to the centre that offered a cheap rate had props under a cracked arch but still no obvious signs. The next morning we walked down town to the red zone, the museum is just outside of the no go area.
On first glance most of the buildings look unaffected until on closer inspection you notice that the rain water down pipes have all pulled out of the inlets... the paving is all 6 to 9 inches lower than garage floors and entrance steps have sunk leaving a double size top step. The earth quake proof buildings have survived but all services to them are sheared off with the sinking ground levels. Some of the newer buildings have sunk to one side but still look perfect; they still have to be demolished. Roads that once were straight now have bumps and kinks in them, only noticeable to the stranger by the cracked and repositioned walls and fences.
The red zone, probably a square mile is being slowly demolished... High rise buildings are being stripped of valuable fixtures to be reclaimed and refitted to new buildings before the demo balls swing. The museum had closed the week before as the engineers had brought in new stricter criteria to test buildings integrity and the museum was waiting to be cleared as safe. Bugger!"
Ron Fellowes, The Old Bloke on a Bike, in Turkey, on FN,
"...I was getting utterly sick of climbing hills when the road began to level out and the riding became easier. The hills which thankfully all seem to be behind me are really steep, in fact they're a 7% gradient and that's a hell of a lot to expect of a bike as old as Effie to manage, but she's done a pretty good job. Mind you I think I've done nearly as much pushing as I've done riding these past few days so we're probably on a par.
...It's becoming much hotter now I'm out of the hills and for a short time today I rode without my long sleeved shirt on. Not a wise thing to do obviously as I've now got sunburnt arms to show for it. But that's not such a big deal now I realise I'm halfway across Turkey and reckon I must have covered about 8000kms since I set off from Nepal . The back tyre is looking like it is almost due to be changed again so I can put on one of the good ones from Europe and know I've got plenty of rubber between me and the tarmac for a change. The bike is running nicely again now I've solved the problem with the drive shaft bearing not getting the grease into it. I'm keeping it well greased now and that seems to be working well.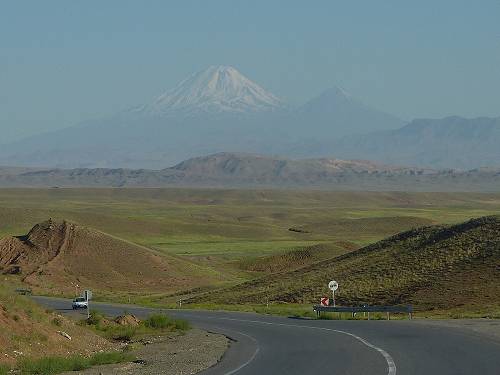 Despite the difficulties, the loneliness, frustration and the sheer exhaustion I've felt at times, I'm starting to feel pretty chuffed that I've made it this far. Not that I ever doubted I would, but there've definitely been times when I wondered what the hell I was doing this for. But I can think back to when I was working on my lathe over the past years making parts for the FN and dreaming about what it would be like to ride her back to Belgium. Now I know what it's like and while I've still got a good long way to go, no doubt with plenty more hills (make that mountains) to climb, nothing seems half as daunting as it did in the beginning."
Heike Wanner, Switzerland and Filippo Fania, Germany, Europe to Australia and beyond, in Turkey, BMW F650G and BMW R1150 GS,
"We know motorcycle festivals at home – you meet like-minded people, you talk, you have a beer or two, you tell stories of your travels or you talk about the motorcycle techniques and equipment – some rock music and BBQ: these are normally the credentials of a motorcycle meeting or festival in central Europe.
Now we have also experienced a motorcycle festival in Turkey, and actually most of it was not so different from a meeting at home – but it still was very different from what we know. But in any case: it was a great experience. We were just about to look for a place to set up our tent for the night, when in a supermarket we were told about this meeting. And of course we didn't want to miss this chance and so we went there.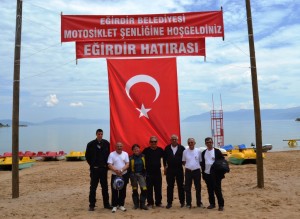 We were welcomed with open arms, and of course we were also a bit of an attraction being the only non-Turkish motorcycle riders there. Heike as a woman attracted some more attention: She even got an award for being the only woman at the festival that was riding a bike herself.
Beer, motorcycle talk, BBQ, fire, rock musique – all this was also present at the meeting in Turkey. But it was rather special that the whole festival was also a kind of a party for the whole city, where everybody went to see the freaks on their motorcycles – including the mayor, who stayed with a very serious but friendly face until the music stopped. In front of the stage motorcycle rockers and children were jumping to the music – and the folk dance in traditional clothes was also rather unexpected at such a meeting.
It was a very nice and interesting experience. It has shown us that we are not so different from each other – but still, a motorcycle festival in Turkey is something completely different from what we know at home."
Andi & Ellen Delis, New Zealand, Alaska to Ushuaia, write to the HU Vancouver Island community:
"Good evening HUBBers, Ellen and I have arrived on Vancouver Island and only on one bike as Ellen's bike failed and is in hospital in Bellingham getting fixed.
We are traveling very lite with two of us wedged on one DR650, we are looking to meet fellow HUBBers and if possible we are looking for places to stay over during the next few days as we can not carry our camping and cooking gear.
We have air beds and sleeping bags so only need something to keep us dry and keep the mozzies off, we look forward to meeting you guys and enjoying your Island.
We have a phone but probably won't hear it while riding, if you can help and would like to meet up please txt us and we will ring or txt back 780 240 9240. Many thanks, Andi & Ellen"
Overland to India

by Gordon May

Paperback, 21x14.8 cm 234 pages incl 8 pages of colour photographs. £9.95.

Synopsis:

In 2008, Gordon May set off on an 8,400 mile ride from Manchester, UK, to Chennai, India, on his 1953 Royal Enfield. Despite encountering intense heat, suffering a crash in the Baluchistan desert and battling against some of the worst roads and driving standards on the planet, Gordon and his old Bullet did make it to Chennai.

In Overland to India Gordon describes how he restored his beloved motorcycle, the build up to departure, the larger-than-life characters he met and how he tackled the many challenges that came his way. He also recounts the more personal highs and lows of life on the road. Above all, Overland To India is a heart-warming book that reveals that there is much human kindness and hospitality to be found, sometimes in the most unexpected places and situations.

Review:

What I really liked about Overland to India was the sheer determination of the rider. Gordon's love of his motorcycle shone through too; he often thanks it for getting him to his various destinations along the gruelling route and I liked reading about his running repairs. I felt his joy, his euphoria, at being out on the open road. I also felt his exhaustion. When Gordon suffered a crash I could almost feel those bruises and also his fear following an attempted highway robbery. What was also really striking was the generosity, friendliness and humility of many of the people he met along the way, who Gordon describes with real warmth. It's uplifting to discover that it's a welcoming world out there. Overland to India is a lesson to all of us who have a dream and want to pursue it. Inspiring. Judith Coyle
Tiffany Coates, UK, RTW traveller, discovers strange goings on in Seattle,
"Remember that picture of those strange looking Mounties?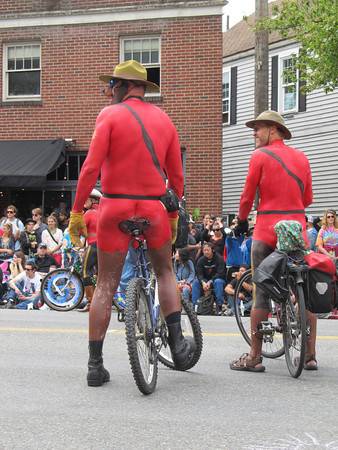 Due to the economic recession, it looks like they've had to trade in their horses for bicycles and the uniforms aren't quite as smart as they used to be, then look more closely and you'll see that actually they are naked! It's all body paint.
Yep, folks... America, a country not known for its tolerance of nudity (I've never seen a topless woman on a beach here) had a festival parade which consisted of naked or nearly naked people riding bicycles. And in case you missed them first time, they rode and skated past several times!
I had to retire to the pub for a drink to settle my nerves after that."
Seen on the Road, by Grant & Susan
Miguel Silvestre, Spain, RTW, in Canada, stopped over at an HU Vancouver mini-meeting last month to tell stories about Borneo, Indonesia and the Philippines on the trail of the forgotten Spanish explorers. Who knew that much of the Pacific northwest was settled by Spanish explorers? Perhaps the clue is in names like 'Juan de Fuca Strait', and 'Galiano Island' - doh! Read about/see Miguel's travels around the area on a borrowed RT here on the HUBB Ride Tales Forum.
Leaving soon below...

The contest is now an annual event, where you can showcase your best photos, and they can help inspire others to get on the road too. The best 13 photos will be used in the calendar, and those photographers will share equally in half the proceeds. All winners get a free 2012 calendar, and 1 year Gold Member status on the HUBB.
Grand Prize for 2012 is a South America Tour with Compass Expeditions! 28th Dec 2012 to 5th Jan 2013 - This wonderful 9 day tour by Compass Expeditions explores the scenic wonderland of the famous Chilean Lakes District, the frontier lands of Chiloe Island and the epic riding experienced as you cross the Andes and ride into Argentina. As with all Compass Expeditions rides the lucky winner will be aboard a BMW F650GS Twin. Approximate Value at time of writing: $3,990.
First Prize - For Suzuki DL1000 / 650, Kawasaki KLR650, BMW F650GS / F800GS entries wins a Progressive Suspension Makeover, approx value US$650, shipped to your door.

To enter the 2012 contest, start here!

"After reading so much the HUBB until my eyes closed by themselves in front of the screen and avidly watching the Achievable Dream DVDs and telling everyone around me about how wonderful my trip would be, I have finally set off on my own adventure around the world...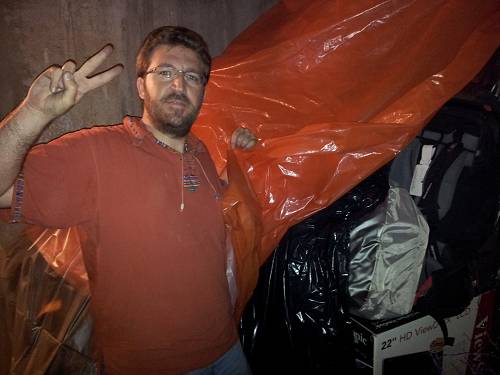 ...I heard the muezzin's call and I knew I was somewhere else. The muezzin was calling for the Maghrib prayer just when I was arriving to María José and Gabriel's apartment. It was a good sign, I like cities with muezzin calls.
There's is so much to say about Istanbul and so little words, maybe the stupendous welcome from Gabriel and María José helped me perceive this city as I did (Thank you María José and Gabriel!). Maybe the city is just magnificent on its own. For a fan of maps, a city that spans over two continents is already something worthy of attention. You arrive on one side, let's say Europe and you can leave from the other side into Asia.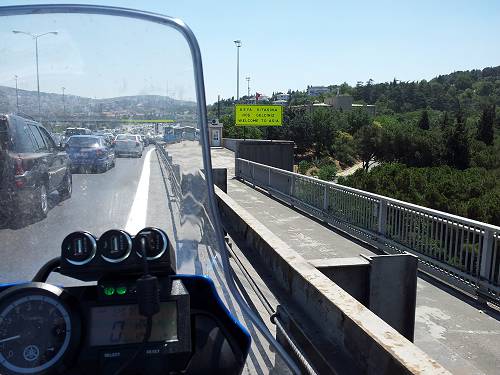 The first day I stayed on the European side. No particular reason other than that the most well-known attractions are on that side, in that part of the city that is Istanbul proper. I visited, among other attractions, the blue mosque and Ayasofya. Amazing! In the evening we went to a local restaurant to taste the local specialties and it was very good but the shock was yet to come: we went for a walk after dinner into the crowded Istikal street. On a Thursday! It wasn't even Friday. On the next day I went on my own only to be confronted with hordes of people walking on the same street. This city has such a vibe, there is parties everywhere, bars everywhere, restaurants, it's just amazing.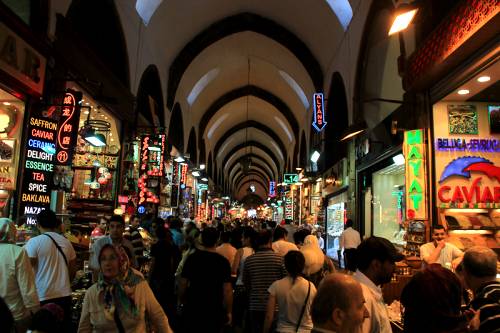 The third day I went on my own with the bike to the Grand Bazaar and managed to not get lost while getting there and to do get lost after 2 minutes inside. It's almost a miracle I managed to exit through the same entrance and find the place where I had left the bike. That place is a maze! Whatever landmark you try to remember, you will find it somewhere else and realize it was a useless landmark. On the other hand, the secret to not getting lost while getting there is simple: I didn't aim for the Grand Bazaar, I aimed for the Grand Bazaar OR Hagia Sophia. That way, when I got to one of them, I could say I didn't get lost and got to my original destination. One of them at least.
This third day was also the extra day, it was July 14th and Gabriel had invited me, as soon as I got to Istanbul to the consulate party for Bastille day and since I am a good citizen, I accepted joyfully. That and the free wine, the free dinner (including pork cold cuts) and the chance to see where my tax money goes. If you are a French taxpayer and wonder where your money goes, now I can tell you: Into big awesome parties!"
Brian Foster, Australia, RTW, in Tajikistan and Kyrgyzstan,

"After about 45km, there had been no sign of the Kyrgyz border post at Bor Dobo. Based on the direction of my shadow on the road and the position of the mountain range, I was convinced that I was heading along the wrong road. I stopped at some roadworks and asked if this was the road to Murghab. After looking at my map, the road workers assured me it was and pointed down the road. I continued for another 10km to a small village, all the time convinced I was on the wrong road. I found another gang of road workers and asked them if this was the road to Murghab. They perused my map carefully and confirmed I was on the wrong road.
Damn! This was my first significant navigational error. I had no choice but to retrace the 55km back to Sary Tash and find where I had gone wrong. Just outside Sary Tash on the way back, I stopped at a minor road junction and asked an old man in an equally old stone building if he knew where the road to Murghab was. He immediately pointed to the minor side road. This was the Pamir Highway? To Murghab? He assured me it was. I had wasted almost 2hrs and 110km of fuel. After topping up the bike again (I wanted to have a full tank for the 235km trip to Murghab) I headed out of town for the second time that morning to the turnoff at the old stone building. The first 10-15km was not too bad but the road deteriorated rapidly after that. I couldn't believe that this was a 'highway'. Convinced I had made another mistake, I stopped and waved down a passing car. Yes, this WAS the Pamir Highway to Murghab.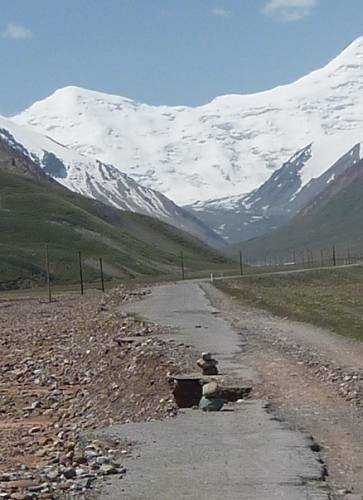 I arrived at the Kyrgyz border post at Bor Dobo about 11:30am: Formalities took a staggering 15min and I only had about 15km to cover before I reached the actual border at Kyzyl Art Pass. The road to the pass deteriorated even further and it was back to a 1st gear crawl.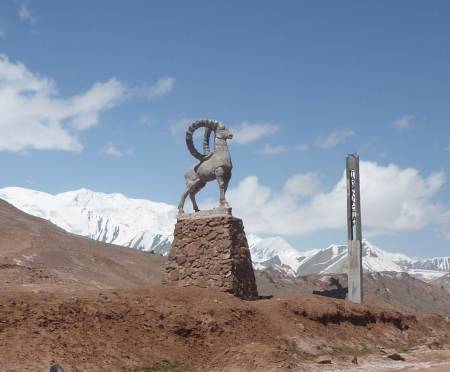 A few kilometres after the pass I arrived at the border checkpoint where I was greeted warmly - firstly by the border police, then by the Immigration officers and finally by the Customs officers. All were very friendly and were very curious about the Australian travelling across Asia by motorcycle. The formalities were over in about 20-30min. And, as for the GBAO permit that I had had so much trouble getting in Islamabad - they barely looked at it. One officer who spoke a bit of English said it was not important and to forget about it."
"We are now in northern Montenegro - it is absolutely lovely here in the mountains - we were not impressed by the beach area and were keeping our fingers crossed that the northern part would be better. We are not beach people anyway and the temps have been in the high 30s, pretty unbearable. Also, this country is much more affordable than Croatia, which wasn't that bad either. We like this area so much, we have rented a cosy apartment for 25 euros for 3 nights, to nest a little - bit of bike maintenance, bit of human maintenance too! It is good to stop now and then and just unwind, as you well know.
Dennis Robinson traveled with us for a couple of weeks and then we split up in Italy - he headed straight to Greece and we went to Croatia. We will meet up again at the Greece meeting. We sure did laugh a lot with him.
We have decided to go through Kosovo and Macedonia on our way to Greece instead of Albania. Can't do it all. Until later, Susan and hugs to both of you, Taz"
"During the summer of 2012 Irishmen Kieran Elliott and Patrick Mullen will drive two motorbikes 35 thousand kilometers around the world. Their journey is being undertaken as an opportunity to raise funds for the 'Make a Wish Foundation' and the Holy Family School for Disabled Children.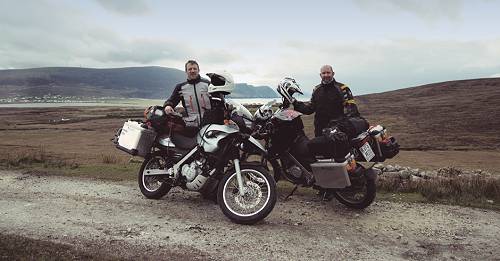 ...We arrived into Vladivostok on the boat from Korea and on the boat we met Andrew and Frank from Australia who are on a bike trip to Istanbul and then Andrew is traveling to Amsterdam. They offered great advice on the customs clearance in Russia and also advised of a fixer called Uri who could help with clearance. We also met a Japanese biker called Akira Yokota who we have christened the "Dominator" as he rides a Honda Dominator 650. He is a legend of a man. He has three answers for everything. Wow, Really and Ohhh. We have had brilliant crack with him over the last few days.
The five of us have travelled together and looked out for one another along the way. The Aussie boys are great fun as well, Frank is a Principal of a special needs school and Andy or Chandy as he is originally from China is retired but worked in computers.
We had been warned that the road from Khabaravosk to Ulan-Ude was pretty dangerous and several people had been killed while camping and several robbed at gun point. Now this is not want you want to hear once landing in a country. The locals ask you what road you are going and straight away you get this funny look as if to say, you crazy. They laugh at each other wondering how far we will get before we are shot and buried out in the woods and never heard of again. But we are here in Ulan-Ude safe and sound.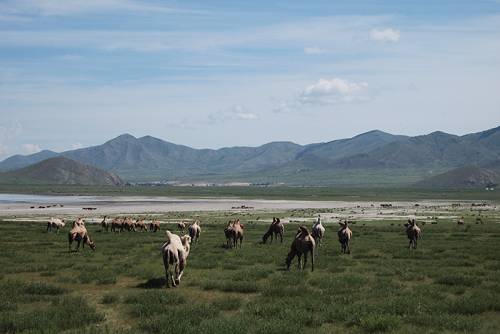 The last couple of days have been tough. The roads can be great one minute and then completely shit the next, huge potholes, massive dips and just shitty conditions. We had no idea of petrol stops and accommodation. We have arrived late to a few places. One night we had to camp on the verandah of a cafe after riding in the pissing rain and wet to the skin. It was better than nothing. The hard part is trying to explain to the lady in the cafe with very limited Russian that we want to camp here for fear of being attacked in the middle of the night."
Mitch Flint, from Australia, writes to the HU Santiago Community:
"Hi, I am trying to buy a bike in Santiago and cannot get a RUT. I went to the SIL office and they told me I needed a visa. After spending half a day at the department of immigration I was told I can't get a visa... Do I actually need a visa for RUT?? Any advice would be much appreciated."
Later, Mitch writes:
"Yes you definitely need a RUT to buy a bike in Chile (legally). I was able to get one by filling out the form f4415 which you can get off the SII online site. I then took this form to the SII office just off Santa Rosa av and I received my RUT. I have no idea why I was told at the first office I went to that I needed a visa. That same office sent me on a wild goose. The first day they sent me to the department of immigration, where I spend many hours trying to get a visa, which I couldn't get and didn't need anyway. The next day they sent me to a different building in the city, I have no Idea what it actually was. But when I told the security guard at the door that I was trying to get my RUT he then sent me to the correct building... Please note that I have read you are supposed to go to the SII office which corresponds with your address. I'm not sure how we got away with that one...
After that I simply found a bike I was happy with off chileautos.cl and bought it. After a test ride of course. This involves quite a lot of paperwork at a Notaria (of which there are many). There are a couple of good guides on the net about the paperwork, one on the HUBB and another I found through google.
The only other problem I had was withdrawing enough cash. All the banks are closed on Saturdays and Sundays. The bike I bought was 2.300.000 pesos. Which is about $4600 Australian. I had 2 cards which both had only $1500 ATM withdrawal limits (not to be confused with a daily transaction limit). So basically I had to withdraw cash on 2 different days (based on Sydney midnight). Unfortunately I withdrew before midnight but the transactions took some time to go through and I missed the time. My bank flat out refused to help me with this problem and in the end the man I bought it off signed the papers before receiving the full amount, which I then paid through depositing into his account through an ATM today. This was basically the only hard thing about buying from a private seller as opposed to a shop. The shops also have very very few used bikes.
So we had been in the country for 5 days, one of which we spent completely jet lagged, and were able to legally buy a bike. However I would warn you that it was very tiring and stressful, especially considering we don't speak Spanish. Many people have been surprised we could organise it so quickly, so I would leave more time than that. We're still waiting on the Pardron (official ownership paper) which we need to leave the country, but we should be able to pick that up from a Registro Civil in 5 working days.
I hope some of this story is useful to you.
Cheers, Mitch."
Sara and Dan Pedersen, Canada, the Americas, on the Dempster Highway, BMW F650GS,

"A guy and his gal have got to live somewhere and this is our 'Palace' that we are taking on the road."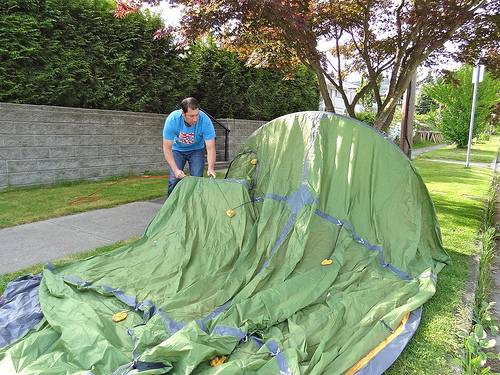 How is it possible that we have never been to northern BC and the Yukon! This land is massive and spectacular. We followed the Gold Rush trail thru 100 Mile House, Burns Lake, and Dease Lake. The highlight has been the ride into Stewart, BC with the valley dripping in green and dotted with dozens of waterfalls streaming down the steep sides. The Bear glacier comes down to meet you at the bottom of WINDY hill. We visited Hyder, Alaska at mile zero then headed north to the Yukon.
Sara: It was all smiles and sunshine as we started out from the mile zero sign up to Tombstone. We had an amazing view from the campsite. We hiked up the Klondike river trail to see the ice still on the river. There will be no photos from the day up to Eagle Plains because it poured rain all day. The riding was challenging at best. The mud was 4 inches thick for several hours and was like trying to drive in peanut butter. Thank goodness for our rain over suits!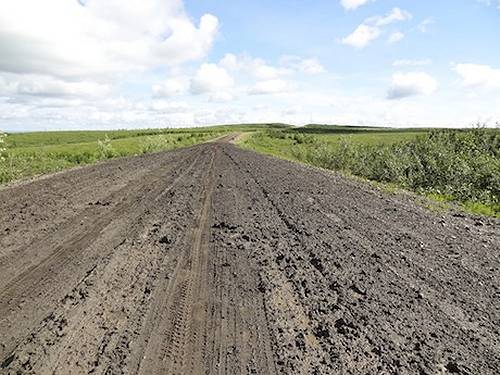 Daniel: A little note about Sara is in order here. Wow was the mud bad. Like hardcore for the big guy bad. Like OMG we may not make it and why are we doing this stupid Dempster highway bad. Okay with this in mind picture tiny Sara on a very big machine, loaded to the max and weighing over five hundred pounds. Wow what a trooper. My wife is officially a hardcore adventure rider forged out of the mud of the Dempster at its very worst.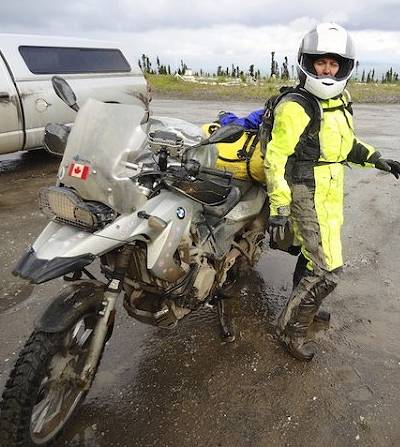 Sara: Just when we thought the northern highway was not going to reveal its wild inhabitants wow did we get treated to an arctic spectacle. Fifty kilometers north of the Arctic Circle in the gleaming sun and green tundra we happened upon a massive herd of Caribou. This day was adventure riding at its very best."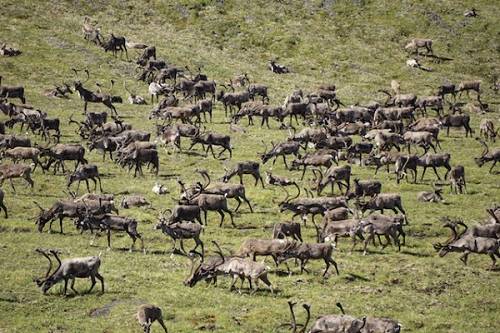 Chris and Chloe Granger, UK, Buenos Aires to Vancouver, in Bolivia, F650GS DAKAR and F650GS,
"We had been given the opportunity to take on a project of our own in Bolivia: to take a semi-derelict shed and turn it into a library and meeting point for the children of a small community.
Working in the community, (Comunidad Maria Auxiliadora), from 8.30am till 6.30pm, seven days a week left us a little bit stuck for time to ourselves, or indeed to write a blog.
It has been two months since our last update, and when we left off last time, we had been digging and pouring foundations with the help of the local bowler-hatted women, and were getting ready to start building with adobe blocks, once we could afford to buy them - a quick thank you to those of you who responded to our last plea for donations in our last blog!
With some help from friends we'd met on the road, Daniel, Anders and Josefin, we quickly got off to a good start on the walling, Daniel being particularly keen to prove himself with a trowel and marathon sessions of adobe block-laying. Their stay however was short lived and before we knew it, we were back on our own, with the help of faithful Gustavo.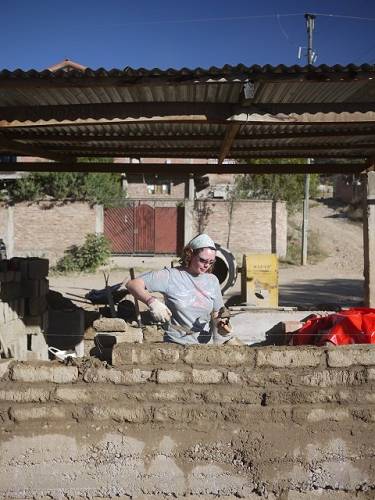 In these first few weeks we did have a few festivities to break up the work, including a Community Food Festival, a traditional dance evening, a Mother's Day fete which also included traditional dancing performed by pupils from the school, then a visit to the water park and aquarium with our little ward Pablito, (aka Erick), depending on what mood he, or we were in.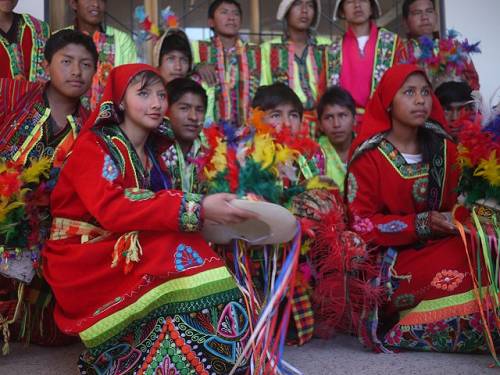 ...Back to the building, adobe walls were steadily going up, and the old dilapidated roof came off ready for an impatient Chris to start erecting the new timber beams, with some help from Gustavo and Miguel. Only after much frustration and days and days of broken promises did Chris finally manage to get hold of a drill, enabling him to drill holes for the bolts, only to find there was no power supply from the house we were connecting up to. Hours later we managed to cobble together a ridiculously long cable with raw wires at the end that we could push into some open sockets in the local shop. Great!
...The big day arrived - Sunday morning, Community Asemblea. We were called up to accept and give thanks and be clapped at, before rushing off to frantically finish fixing the ceiling covering, signage and generally cleaning up ready for the bookshelves and books to be brought down... All before the community descended for the 'official opening'.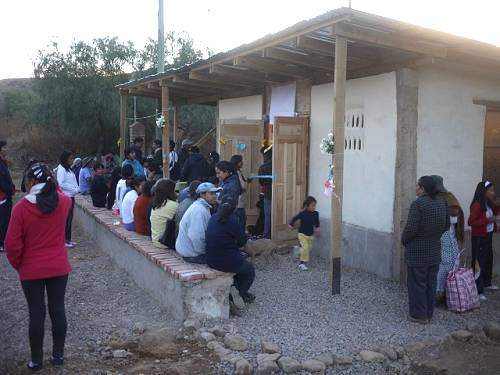 By 5pm, people started to arrive and we tried to stay calm. A quick scrub of the bottles while the book shelves were being stacked was all that was left, then we snook off to quickly change and were back as good as new within record time, ready to face the limelight! Speeches, cutting of the ribbon, gifts, drinks and dancing all ensued, bringing the community together in one big party, well on into the night...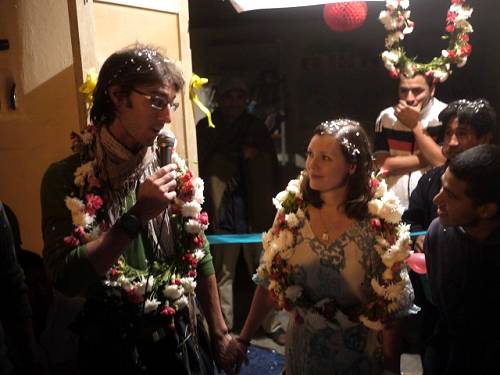 "My name is Pat McCarthy (aka Barcelona Pat), and I am travelling by motorcycle solo from Tierra del Fuego at the southern tip of Argentina to Alaska.
However, as I head from the developing countries into the more affluent world, I thought it timely to reflect on some of what I have seen and how that relates to my fundraising efforts.
Once I had taken the decision to do the 'Big Trip' I quickly realised that it would be more meaningful if I linked my efforts to some cause. I had two thoughts: the organisation had to be working in each of the countries through which I travel (for obvious reasons); and they had to be helping kids (the reasoning for this is explained in the Day 76 entry on my website). There were not many organisations that met these criteria, and UNICEF was the obvious choice.
I was aware of their work in a general sense through my job, but it was only when I looked more closely into what UNICEF are achieving across the world in support of those most in need did I fully realise how worthy an organisation they are. While a United Nations agency, they are only funded through voluntary donations, but they are very efficient. For example UNICEF UK is able to direct 76% of all donations direct to programme work with children (2009 figure). That's pretty impressive in my book.
I have deliberately not taken photos of young people as I have travelled, emotive as they can be. But the images I have seen will remain with me. Children as young as 5 or 6 years old having to hawk their wares on street corners, instead of having the opportunity to learn and enjoy a true childhood. Cheeky and often cute it is easy to forget as a traveller passing through that they should not be there! I am alive to the economic pressures placed on people in poorer countries - but depriving small children of their rights to education, their rights to gain the tools to achieve their full potential, their rights to better contribute to their own societies as they grow up - is false economy in my book. UNICEF works to ensure that children's rights are protected - as violence against kids is not limited to the developing world. Just have a look at the statistics for the number of children living in poverty in the world's richest countries - eye opening stuff!
This is where UNICEF plays a real role. Because of who they are they are able to affect change at the Governmental level in over 190 countries around the world, ensuring that policies and programmes are put in train that protect these kids, and their right to be children. But they are also able to work at the ground level directly funding projects that changes real lives every day.
In the education field, an area close to my heart, they help build schools, train teachers and buy books so that those without access can learn. But interestingly they view the development of the child in a holistic way. A child's wellbeing is not simply served through access to classes. UNICEF's rights work is essential, so are their health programmes. An estimated 4,000 children die every day from diarrhoea caused by poor sanitation and a lack of safe water. A preventable disease that claims so many is outrageous in the 21st century. Any world traveller who has experienced the 'travellers trots' (as I did in Peru) will have some insight into the problems experienced by these kids on a daily basis.
UNICEF's work in seeking to tackle these problems is truly amazing stuff by anyone's standards - and that is why I chose to link my journey to their work.
I am funding every penny of this trip myself, but I want to eventually match those costs with donations to UNICEF."
---
MedjetAssist is an
air medical evacuation
and consultation membership program and is HIGHLY recommended by us and many others for all travellers. The regular MedjetAssist program is for citizens or residents of the US, Mexico and Canada, and gives hospital of choice protection virtually anywhere in the world and air evacuation as needed. (See below for more on the Foreign National Plan). Follow the logo below for US, Mexico and Canada citizens to find out more. (NOTE: It's still in progress for the final HU version,
but you can get MedjetAssist now
!)

For OTHER nationalities it is currently a little more complicated. There IS a Foreign National Plan, but you can't enrol online. It's a faxable enrolment and subject to underwriting approval. The rates are the same, but transport is restricted to 'back to home country - hospital of choice' rather than 'anywhere in the world - hospital of choice'. We are working on improving that, but at least it IS available! Go here to contact MedjetAssist and inquire about the Foreign National Plan. Be sure to mention Horizons Unlimited.
Michael Paull adds his endorsement of MedJet (and he DID use their services - twice!):
'. After an additional three days in Beijing, I was deemed stable enough for air evacuation back to the University of Washington Medical Center in Seattle, WA, in the company of my wife Aillene (who had flown in from Japan), and an air transport trauma nurse provided by the company that I had procured medical evacuation insurance from, MEDJET Assistance - without doubt, the best insurance coverage I have ever purchased in my life. A small plug here - these people were remarkable. If there was ever a better case for '. don't leave home without it.', MEDJET Assistance is at the top of my checklist, no matter where I travel (and I hope to do a LOT more).'
Note: Per the Medjet Assistance site: '. a medical transport between Europe and America can run more than $35,000. Middle East and South American flights range from $60,000 to $80,000. Transport from Asia often exceeds $100,000.' Sounds like $205.00 for a single is pretty cheap insurance!
Marco Hoffmann (BikingMarco), Australia/Germany, Sydney to Germany - the African way, Suzuki DR650,
"After Ethiopia the exotic feel of Africa somehow lost itself. The desert countries of Sudan and Egypt were very different in mentality and environment than all previous places. And pretty developed. The wide open landscapes again making my 'feeling free' experience top of the list of good things.
My accident in Egypt changed a lot and eventually gave me a very special experience, meeting the unconditional charity and hospitality of two families. Said's family in MitGhamr who took care of me bleeding on the roadside and of my little Suzuki and all my stuff during my recovery. Ameen and his family in Ismailia who hosted me for three weeks and helped me so much recovering. Both expecting nothing in return. During that period 'people' became the only topic of my journey.
After Egypt came Turkey and Eastern Europe. The further I travelled through these countries the more efficient life became. Feeling less welcoming to me. Combined with the rainy and cold weather I felt like riding and riding and riding towards Germany and the end of the trip. Rules and regulation began to creep up on me again from Hungary onwards. Things like Vignettes and paid parking. So during the last few days it was the 'riding' of my little Suzuki which I enjoyed most. She's been an awesome bike all along.
The three most impressive and most enjoyable things of this trip in no particular order: people, freedom, riding.
And you guys from the HUBB have been there all along. Travelling with me from your computers. I hope you enjoyed the trip and maybe, hopefully, you got an inspiration or two for your own trip out of this story. Somehow. One day. Believe me, it's an awesome thing to do!"
Ed. note: Read Marco's stories in the HUBB Ride Tales Forum!
Kurt Nugent, USA, Mexico and the American West, back home, BMW R1200GS,
"Trip is Done! I rode on through the mid-west which, as you know, is a lot of flat, straight riding where 500 mile days are easy.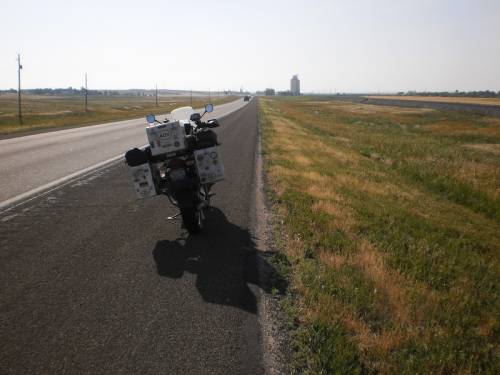 While riding through Dodge City a lady talking on her cell phone almost ran me down. I was riding in the right lane of a four lane road and she was pulling out of a veterinarian's parking lot. She was too busy talking on her phone to even check traffic before pulling out into the road. She never looked in my direction. Luckily no one was passing me and I swerved into the left lane. My right pannier missed her front fender by no more than six inches. I leaned on the horn and looked back at her and she just shrugged her shoulders. I really hope that call was important.
About the only stops I made were to get gas.
The next day I made it to Oklahoma. Northern OK is a lot like Kansas. I made it into Muskogee and stayed in the Catalina Motel. The proprietor of this establishment likes motorcyclists. The room was only $35 and was really pretty good.

The next night I stayed somewhere east of Memphis. My GPS decided I should experience the wonders of downtown Memphis during rush hour.
The next day I made it home to an empty house. The frau is away on business in Washington, D.C.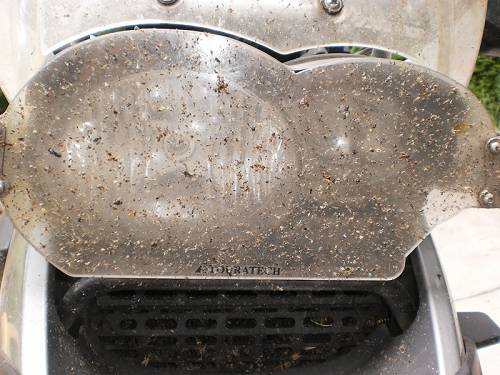 I would like to thank the several thousand bugs that died making this trip possible."
Greg Powell, Canada, exploring the Americas, back home in Canada, Honda Varadero,
"After spending so many months riding solo it felt very strange to be pulling out onto the road with so many other bikes. When my friend Sean emailed me a few weeks ago about the Hero's Highway ride I told him he could count me in, I would be there rain or shine. I could not think of a better way to spend a Saturday, riding motorcycles, climbing on Military equipment and supporting people who deserve support but don't always get the support they deserve.
Arriving early was a great idea! The Soldiers were very eager to give us a tour and explanation of the equipment they had on display and a Canadian C-130 Hercules made a low flying pass as a thousand motorcycles revved their engines. Talk about creating excitement!
We left in groups of 50, pulling out of Canadian Forces Base in Trenton and heading towards Toronto along the Hero's Highway. Over 1,000 bikers came out to show support for our Canadian Soldiers serving overseas. It did not take long for the groups of 50 bikes to get bunched up, we were riding as a group of several hundred by the time we were only 50 kilometers into our 200 kilometer ride. It felt amazing, we passed under bridges covered in people waving the Canadian Flag and giving us the thumbs up. It was a great show of support all the way to Cherry Beach in Toronto.
Photo: Arrived in Toronto We all arrived at 'The Sound Academy' in Toronto for the closing ceremonies. Some of the speeches were too long, the personal stories of fallen soldiers were too short but the live music was nice and loud. It was also here that I met the lovely and very sweet Theresa Longo – aka; Miss Italia North America 2011 -12, Miss Budweiser Honda Indy 2010, 2012 SUNshine Girl Swimsuit Edition , 2010 SUNshine Girl Calendar (Miss December). I invited her for a ride on my motorcycle; she accepted, I gave her my number and I have been waiting by the phone ever since. She must be busy."
David Bailey, UK, Single ticket to Sarajevo, home again, Aprilia Pegaso,
"There were the white cliffs of Dover. A wonderful welcome home and I really mean that. Home is home, it may not be as wonderful as some of the things that you see, but it is home, and home... well... it's Home!
It had gone from right right right to left left left, but old habits die hard so I reverted to scooteristis and took whatever lane I wanted. Soon I was on the M25 and found the Dartford Tunnel creating a 5 mile traffic jam. It was Friday. I filtered between cars expecting a right who har, but to be honest, I had no problems apart from a transit van driver who tried to kill me by closing up the gap. Well, he might need a new nearside wing mirror, because I hit it pretty hard. Nob.
I got to the toll booth and didn't pay anything again only to find Betty was flashing red and overheating, her fan had not come on and she was about to pop, so a slow build up to speed brought the temperature back down. Any standing in traffic was going to be bad so I guess I had a doctor's note...
The rest of the trip up the M1 and M6 was a nightmare, stop, start standing traffic, roadworks, it was a terrible welcome home. I decided to take the M6 toll road to avoid more traffic around Birmingham, although I was convinced that there should not be so much traffic. Typical English people working late on a Friday Evening. Then I realised I had not put my clock back, therefore, I was in fact in the middle of the rush hour!
The toll road was great apart from a massive thunderstorm that turned it into the M6 toll river. One biker had stopped under a bridge, it was so bad.
Getting off the motorway, I was sup prised by how many people had put out bunting and union jacks to celebrate that I was coming home, especially as it was a bit of a surprise for everyone. I wonder who had told... Saying that, it could have been some other minor event that had happened like some old lady having a job for a very long time being celebrated...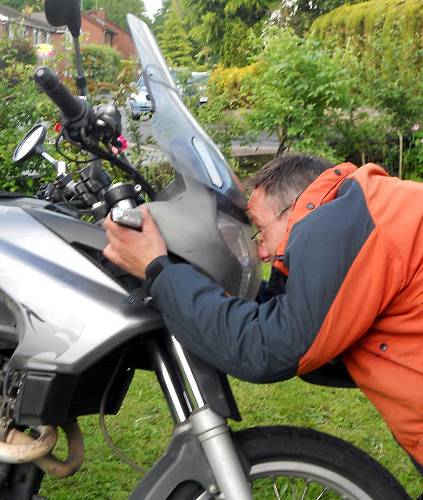 So I arrived home... How good it was to see everyone again, should I start telling the stories now... No. I was going to enjoy a really big cup of tea that someone else had made, but before I did that, Betty and I had a little 'Valle' moment. It wasn't 'bye bye baby', it was 'Well done Baby'. 'Oh, and I will buy you a new clutch lever'."
Ed. Read Dave's stories in his blog here on Horizons Unlimited!
Graham Holden, UK, RTW, home again temporarily, BMW R100GS PD,

"Well after a month on a cargo boat, which did seem to drag on the last week and England being the hardest country to get into, after four years on the road passing through world, I'm home, but only for a short time before leaving again for Thailand.
So the last month here on home soil has been spent catching up with old friends, selling bikes and parts and preparing my next bike for its trip to Thailand.

Where do I start to thank all the wonderful people I've met along the roads of the world, to me I've seen some wonderful things, from ancient to modern, but nothing comes close to the help, friendship, love and wonderful memories I will carry for the rest of my life of all you fantastic people out there, if you're reading this you know who you are and what a special part I hold in my heart for you. Love Graham!"
Road Heroes - Motorcycle Adventure Travel Tales, features tales of adventure, joy and sheer terror by veteran travellers Peter and Kay Forwood (Challenges of travelling to 193 countries 2-up on a Harley Electra-Glide), Dr. Gregory Frazier (5 times RTW on a variety of bikes), Tiffany Coates (RTW traveller recounts her Mongolia Mayhem) and Rene Cormier (5 years in the University of Gravel Roads). Not to be missed!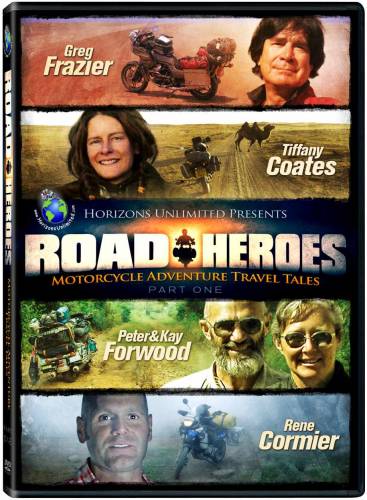 If you've been inspired by the stories you've read in this e-zine and are keen to get on the road yourself, the Achievable Dream is the definitive 'How To' series on long-distance motorcycle travel.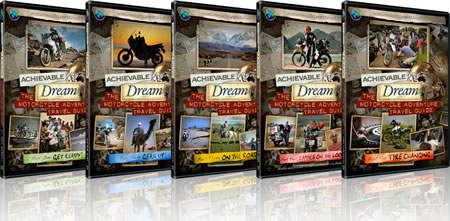 The 'Collectors Box Set' is also available - all 5 DVDs (18 hours of informative and entertaining content!) in a custom box at a gift price of $139.00.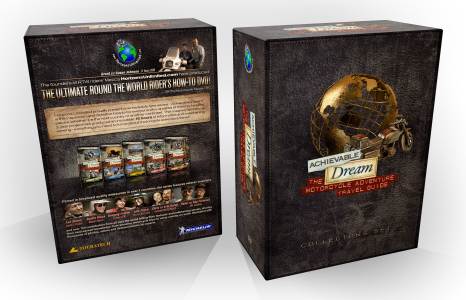 After selling over 6,000 DVDs, we're pretty confident you'll like them. If you're not completely happy with them, just let us know within 30 days of purchase for a full refund or exchange. And you don't even have to send them back!
If by some chance you've never heard of the Achievable Dream and Road Heroes DVDs, you can see the trailers and read the comments for all the DVDs here.
New Communities:
We've now reached an amazing 725 Communities in 109 Countries as of July 31, 2012! A big thanks to all those who took the first step and established the Community in their area.
If you are on the road, do check out the Communities - don't feel like you're imposing on people! They signed up for a Community because they want to meet travellers - that's you! You'll have a great time, so go to the Communities page and let them know you're coming. Please remember that they are volunteers and offering to help because they're great people - common courtesy helps! When you write, tell them who you are, that you're passing through, and would like to meet them. Let them know if you need anything, and I'm sure they'll help as best they can.
Remember that although some HU communities are very small, many others are large and could be more active in getting together for rides (even just to the pub!) or other activities. It's a great way to meet other travellers in your area - who knows, you could meet your next travel partner! All you need is for someone to suggest a place and time, kick it around a bit and make it happen. If there aren't any HU Travellers Meetings in your area, perhaps it's time there was one? A Community could do a Mini-Meeting, (just a get-together in someone's backyard or at a restaurant), or a full meeting! Let us know about it and we'll help promote it :)

For details on how you can join a Community in your area, or use the Communities to get information and help, or just meet people on the road or at home, go to the Community page. Send me some photos - with captions please - and a little text and you can have a web page about your Community! A few links to web pages about your area would be useful too.
Just a reminder to all, when you Join a Community in your area, send a note to the Community introducing yourself and suggesting a meeting, or go for a ride or something. It's a good way of meeting like-minded individuals in your own town.
Book special just for Horizons Unlimited Readers!
'Into the den of the Bear and the Lair of the Dragon on a Motorcycle'
'8 Around the Americas on a Motorcycle'
'Africa Against the Clock on a Motorcycle'
'From Nordkapp to Cape York on a Motorcycle'
Werner Bausenhart has written several books on his travels around the world, and has offered them to HU readers at a great price. Tell him we sent you and get US$5.00 off the regular US$20 price!
For details on his books see here. Contact Werner now via this link to get the deal.
---
Become a Horizons Unlimited Contributing Member or Gold Member!
To help with the cost of creating and distributing the newsletter and running a huge website, which has been a full time job for Grant for ten years, Susan for 3 years, plus occasional part time assistants, we gratefully accept contributions via PayPal, credit card, and cheque. Members also get additional privileges on the HUBB, such as more PM's, custom avatars, and more photo space.

Support this Newsletter by becoming a Contributing Member today, by PayPal, credit card, or cheque.
Become an HU Contributing Member!
If you want a t-shirt or other logoed merchandise, go to the Store.
All contributions will be acknowledged and gratefully accepted. If you later decide you do want a t-shirt or other member logoed merchandise from the store, let us know and we will arrange access to the Members Private Store.
More ways to support your favourite website!
How to Link to Horizons Unlimited
Also, you can just follow any Amazon link on the site and we'll get a small commission on your purchase of any Amazon merchandise - and it won't cost you any more!
Thanks, Grant and Susan