Latest updates
NOTE: If you're going south on the Big Sur road to Cambria, it will be closed daily from 9 pm through 7 am beginning October 8. (For the first week, to about the 15th, I'm told it's only 10 minute closures, so if you're coming early you're ok.)
NEW GPX file to make it really easy to find!
Full location details here - be sure to click the "more information>>>" link in that section!
Important note: This is a residential area you're riding through - to prevent problems in the future, please respect the neighbors and keep it quiet and slow!
---
How you can help - put up a few posters!

Event poster available! Please post it everywhere!
Want to know what people thought of the HU California Meeting? Is it worth coming to the Meeting?
"It was wonderful!! Loved the chance to rub elbows with experienced rtw'ers, and get their experiences/ views/ perspectives. The mantra I took away was 'just do it'." Gary
"Met so many NICE people... and helpful people, that it has made me really want to get out there on the road." Randy
"Warm atmosphere-a very friendly and relaxed event." Art
"Folks were all great and the most amazing thing was there was NO ATTITUDE." Richard
"Being my first HU meeting plus having been invited as a presenter, I was full of excited anticipation in being filled with the utmost inspiration any weekend could hold. My expectations were far exceeded." Nicole
Nicole has written up the 2011 meeting for the latest issue of Adventure Motorcycle magazine.
The Plan
The plan is simple. Show up on Thursday afternoon, meet people and setup. Travel Presentations and Tech clinics are planned throughout the meeting, starting Thursday night. More Detailed Schedule here.
We can always use some help! If you want to assist, please sign up to volunteer to assist on the day or here for advance work or to ask questions. Thanks!
NOTICE: Numbers are strictly limited! Be sure to sign up early to guarantee entry. The registration form will be CLOSED when we fill up.
Coach2Ride will be putting on a full one day clinic on the Friday morning of the event! Here's a GREAT opportunity to improve your skills before you head off-road, or around the world! Sign up here now before it's booked up! Only US$60, to Coach2Ride.
2012 Speakers and Tech Clinics:
There will be slide shows and tech clinics on
starting Thursday, and throughout Friday and Saturday.
Come early and make it a great weekend!
Inspiration!
Rolling through the Isles

Ted Simon, of Jupiters Travels and more fame, will have a show about his latest adventure, and his new book too!
Crossing Tibet on an Enfield 500

Clement Salvadori, USA
Author, photographer and Rider Magazine contributor Clement Salvadori
How to kickstart a 500 single at 17,200 feet and other Himalayan adventures.

Clem will recount the trip accompanied by his slide show, and answer your questions.
Here's a chance to get the first hand scoop on one of the great American adventure rides.
Vietnam on Lucy

Cliff Danger
A presentation of my trip throught Vietnam and Cambodia on a Minsk motorcycle named Lucy!
Cliff will be showing photos, telling stories and answering questions about his two month trip through Vietnam and Cambodia aboard a 1975 Minsk motorcycle named Lucy. Come and meet Cliff and Lucy While hearing helpful suggestions for your trip to Vietnam and receive a free set of bunny teeth.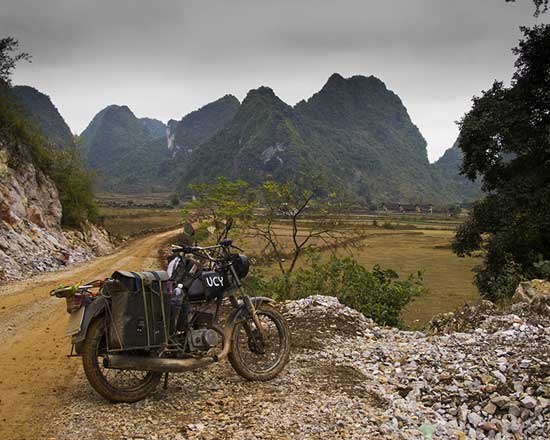 Cliff's "Lucy" in Vietnam
Central America, Middle East, North Africa

Jeremy Kroeker (Hopelessly Lost)
Jeremy Kroeker has traveled to over 30 countries with his motorcycle and done at least one outrageously stupid thing in every one. One October, he rode from Canada to Panama in an attempt to flee the pain of a broken relationship. Motorcycle Therapy - A Canadian Adventure in Central America tells his story of personal discovery, friendship and reconciliation that occurs along the way.
More recently, Jeremy rode from Germany through the Middle East into Iran, and finally through North Africa before returning to Europe. He is working on a second book.

The joys of being on the road RTW

Will English, UK
Five months on the road so far. "I set off from Newcastle UK May the 6th and headed through Europe. Stopped off to see Dracula's castle in Romania, headed to Dougs campsite in Bulgaria, through Turkey, crossed the Georgian border into Russia. There I met stuffed bears... real bears! and had a 50mph off resulting in a lovely 100 metre slide down the road! Got dressed up in Mongolia and enjoyed watching the Nadene festival. Shipped from South Korea to Tacoma and while the bike was on the ship, I headed for Thailand and a quick train trip to Cambodia. My talk will be a slide show of the journery, I am happy to take questions on visa's and paperwork etc."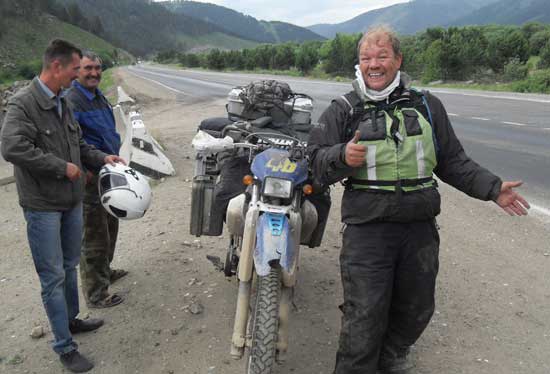 "After the crash I think I was in shock!"
Mexico and the Copper Canyon

Jeff Smith
A wonderful adventure right at your back door!

Smitty in the Copper Canyon - clearly having fun!

Gregory riding SE Asia
How to make the most of your trip!

Merritt & Pierre Saslawsky
Slow down, meet people and come back alive!
Merritt and Pierre spent three years on the road, and have amazing photos - and a ton of experience to pass on.

One Woman's Advice & Adventure in the 3rd World.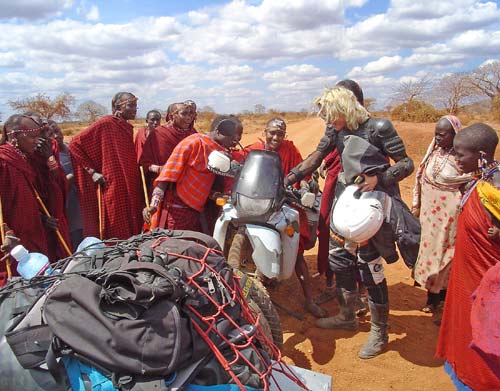 Merritt meeting the Masai
Family Adventure Travel

Sandy, Terry and Jack Borden, Adventure Trio
The Adventure Trio (Terry, Sandy and Jack Borden) will be talking about their travels from the past 6 years as a family of 3 on 2 motorcycles. We will talk about the good, the bad and all things in between. From packing to cooking, decision making to weather, we'll share our stories and how this has brought us together as a family more than we ever expected. Jack will also be telling his road stories and what he has learned while on the road. Our goal is to inspire other families to turn off the TV, get off the couch, and GO!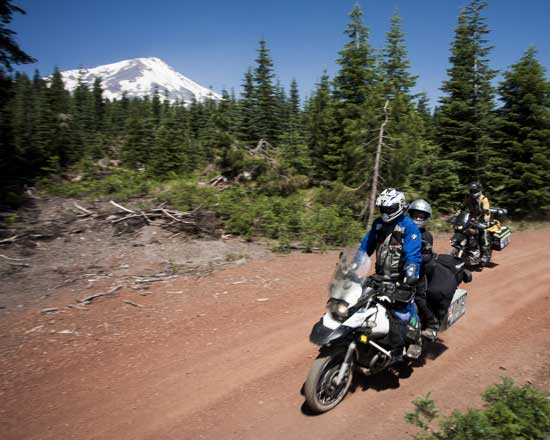 The Adventure Trio
Breakdowns in Small Towns All Around the World (TBC)

Carla King USA
Carla will talk about her various trips on indigenous motorcycles: China on a cranky Chang Jiang, India on a Royal Enfield Bullet, and riding a Moto Guzzi in Italy and around the Adriatic. And why breakdowns aren't always a bad thing?!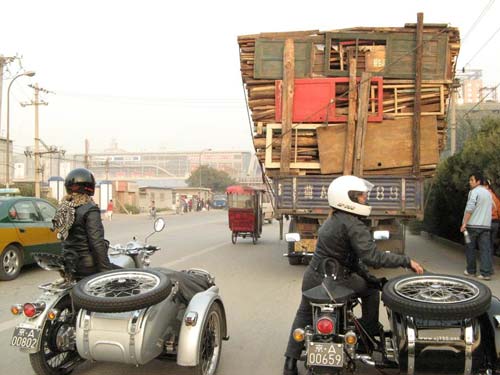 Carla King - Riding China on Chang Jiang's
Carl Stearns Clancy - the FIRST ride around on the world in 1912, on a Henderson

Gregory W. Frazier
Greg will talk about this amazing first ride, and the 100th Anniversary ride happening soon, and how you can ride a part of it.


Carl Stearns Clancy at the beginning of his historic ride.

Horizons Unlimited, the beginning!

Grant and Susan Johnson
How it all began, the story of Grant and Susan's trip around the world, without a plan or a clue!


At the end of the road in Ushuaia
Get Ready! Tech and How-To clinics


Getting to the Road Less Traveled....Safely!

Walt Fulton, Streetmasters
Riding and safety tips to help you get TO the adventure.
Walt Fulton is a recognized name in motorcycling. From being in the iconic movie "On Any Sunday," to being a factory racer for Harley Davidson, Kawasaki and Suzuki, to being an expert in crash investigation and reconstruction, Walt has an enormous amount of knowledge and experience to share with his fellow motorcyclists. Join Walt to learn his secrets to being a safe rider and hear about his lifelong experiences on motorcycles. He's pretty much done it all - road racing, dirt track racing, off-road riding with the best (from Malcolm Smith on a big GS to riding trials bikes with Gary LaPlante), sport touring, adventure touring and more!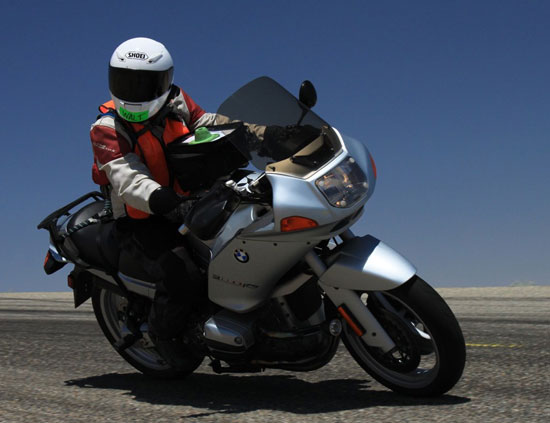 Walt Fulton on his R1100RS
You don't have to do it in the road...
you can do it in the dirt too! It just takes a little practice and a little help from your friends at Coach2Ride.

Bonnie Warch and Andrea Beach, Coach2Ride in Ramona, CA
will be giving a talk and demonstration on off-road riding techniques. Bonnie and Andrea are both MSF Certified Dirtbike Coaches and licensed ASI Instructors as well as active Motocross racers.
Coach2Ride will be putting on a four hour clinic on the Friday before the event! Here's a GREAT opportunity to improve your skills before you head off-road, or around the world! Sign up here now before it's booked up! Only US$60. Reviews from last year: "Awesome, I learned a LOT!" "A bargain!!"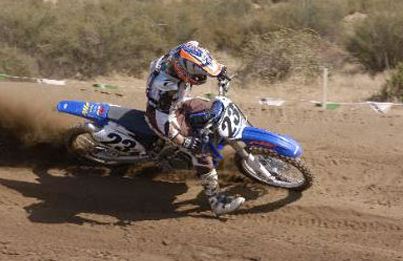 Bonnie Warch, Coach to Ride, having fun!
Fuel Economy - does it matter?

Craig Vetter, the master of streamlining and fuel economy, is "intrigued to talk with 'adventure' motorcyclists about how to make bikes - well, go longer distances with better fuel economy. Most of the time it's to trend down and of course use fairings and other streamlining features." I think it will be fascinating, and not to be missed!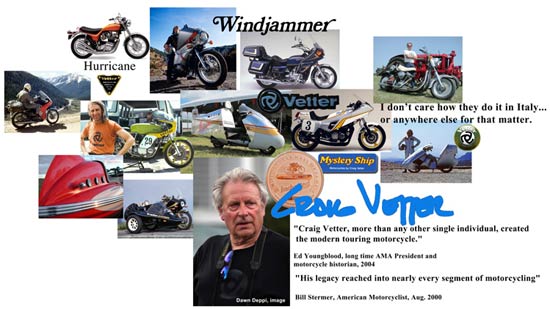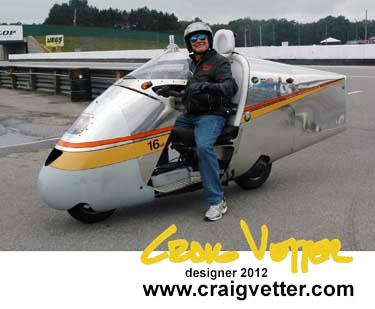 2 Up. 90 Days. 9000 Miles in South America

Fred Walti
The trials and travails of two baby boomers riding through Argentina, Chile, Peru, Bolivia, and Uruguay on the first leg of their ATW trip. We didn't think we could do it until we went to our first HU meeting.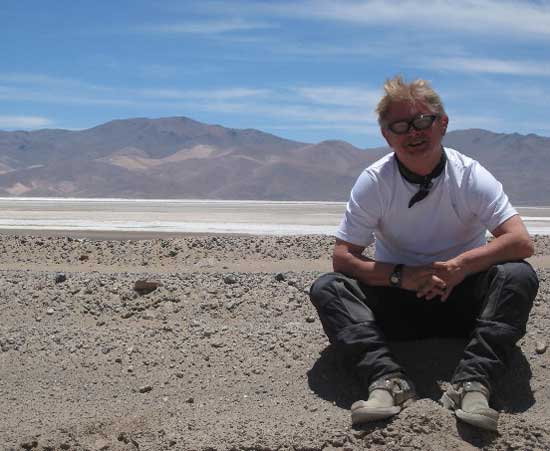 "Rewiring" Your Life for Travel: The ability to travel a lot is a lifetime's pursuit.

Fred Walti
This is one man's experience in figuring out how to organize a life around travel. This will be an interactive session with lots of audience participation. Fred covers the "Eat What You Kill" job mentality as well as tips on using technology, cost cutting, simplifying and other hard earned tips.
Sidecar Vagabonds (nearly) RTW

Iain Patterson + Debbie Simpson
Sidecar travel from UK to USA on our RTW trip
This is a show and tell session in the parking area - they'll show you their gear, how they pack and why.
RTW - halfway round, what's working - and what's not - for

Darren (dazzerrtw) and Leigh soon-to-be-Mitchell
This is a show and tell session in the parking area - they'll show you their gear, how they pack and why. This is going to be interesting - two very different setups!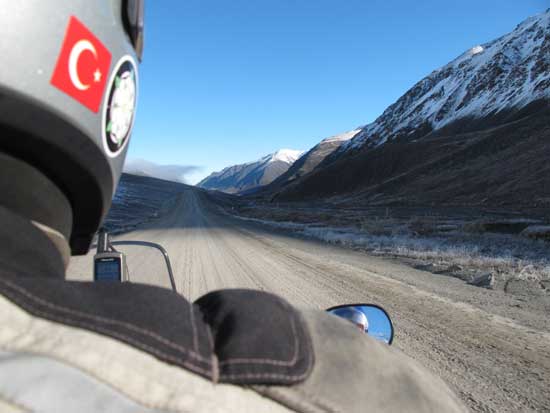 Darren and Leigh, Dalton Highway - a pilions eye view of the road.
Talkin' Solo Riding and Good Eating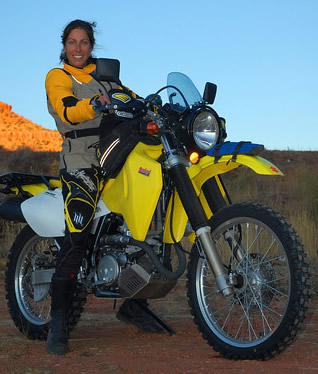 Feeling the Pull of the Road: Making Motorcycle Dreams Happen

There is a strong pull today for something greater. I feel it as a yearning to hit the road and experience life in a bigger way. Come experience my solo adventures and how I'm making my dreams happen as a woman, parent, and business owner.

Nicole will talk about her solo West Coast travels, and also she'll also demonstrate her innovative techniques for preparing your own dehydrated meals for travel. In addition to writing for Adventure Motorcycle magazine, Nicole designs dual sport accessories for her business Rugged Rider, tackling fun solo adventure rides, and finding passion in telling her stories through photography and writing in Los Angeles with her children.
Bluetooth & Communications Technlogy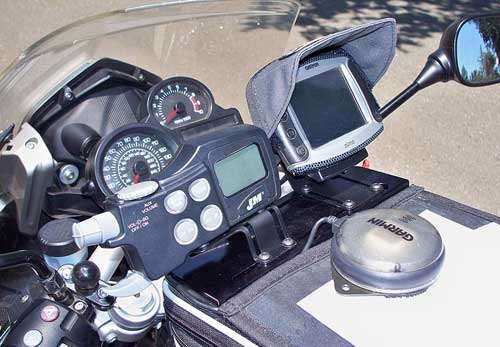 Comms central
Good eats on the Road!

Peter Dean, Executive Chef
You CAN eat really well on the road - learn from the master! Practical demo - bring your notebook!
Gear 411

Joanne Donn, GearChic
Shopping Tips, how to shop for your gear, what to look for, how to get the right fit and the most out of your budget
Joanne is the founder of GearChic.com, the only website solely dedicated to providing information about protective motorcycle gear for women. In 2007, she identified an information gap when it came to showing people how and where to shop for gear. As a result, she her website to focus exclusively on these issues. Although her reviews and product recommendations are mostly for female riders, she writes about universal fitment and shopping issues that men can benefit from as well.

She provides reviews, fitment tips, shopping advice and insight on all things related to what you should be wearing while riding your motorcycle or scooter. You can also find helpful resources such as her blog, gear forums, newsletters, podcasts and more. Joanne has a passion for motorcycling and enjoys speaking with everyone and anyone about riding, especially those who are new to riding and might need help starting out.
Off-road Tips for Adventure Travelers

Bonnie Warch and Andrea Beach, Coach 2 Ride
Parking lot demo Saturday morning.
Women only

a very popular session - I'm told it's a must for the ladies, so plan on being there!
Group Participation, facilitated by (among others!):

Carla King - Author, photographer and adventurer
Cam Arnold - MIC
Susan Johnson - Horizons Unlimited
Joanne Donn - Gearchic.com
Nicole Espinosa - Solo woman adventurer

They'll all be participating in the Women Only session to talk about anything and everything of interest to women riders.
Photo Composition for Travellers

Grant Johnson, Canada, RTW
We all want to take great photos of our trip - so why don't we? This easy seminar will transform your photos from boring to FABULOUS!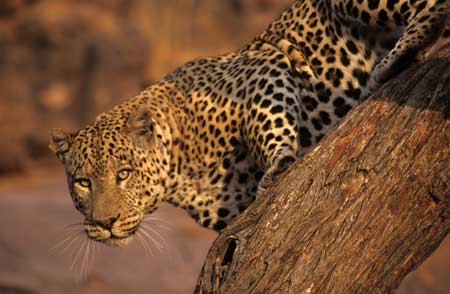 Fix that flat! How to change a tire anytime, anywhere

Grant Johnson
How to prevent flats in the first place, and fix them when you get one. The best tools and how to use them for tube and tubeless tires. Hand's on practical and tire changing contest for beginners to experts.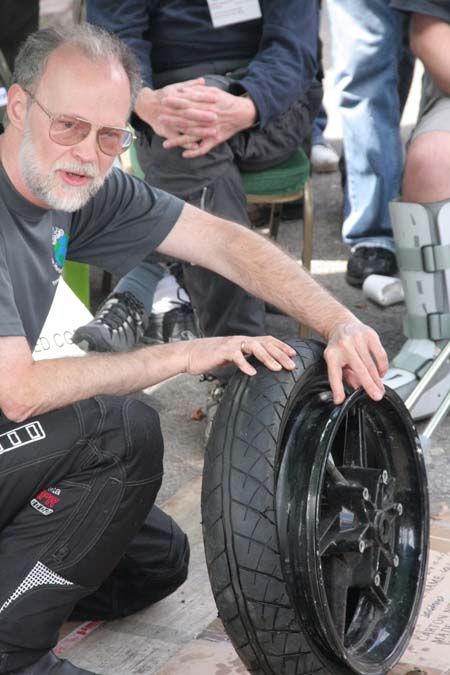 Horizons Unlimited - You can do it, we can help!

Grant and Susan Johnson
The origins of Horizons Unlimited, what's on the site and how to find your way around it, and more...
Your NEW bike doesn't fit you!

Grant Johnson
Ergonomics! When you pickup your new bike, did they take the time to make it fit you? You'll learn the amazing difference a properly setup bike makes to your riding fun.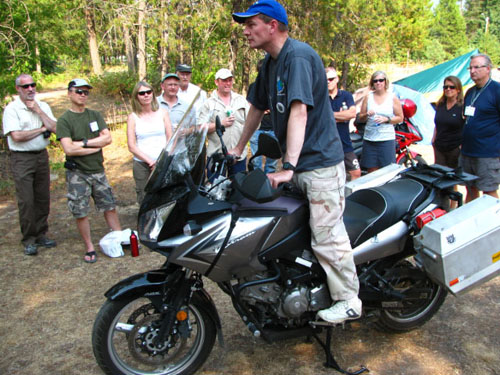 Experienced Travellers Panel - ask the experts anything you want!
and more to come! How about you? We're all here to learn, and there's LOTS to learn! We want to do more presentations and clinics - but we need volunteers to give them! Any topic you can contribute having to do with motorcycle travel, maintenance, planning etc, lasting 20 minutes or more, would be great. Please contact me here to volunteer.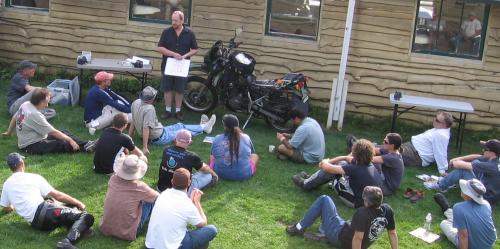 Rideouts
Rideouts - will be limited to 10 people per ride per group.
Jeff (Smitty) Smith will lead a dual sport ride FRIDAY morning. Be gassed up and ready to leave camp at 8:30.
"The ride will take most of the day, depending on road conditions and rider speeds. The ride starts at Los Burros road, which is ~40 miles north of Cambria on the One. From there, we ride up (a couple thousand feet) into the Santa Lucia Mountains. Then we ride the ridge of the mountains to Nacimiento Road, with a nice side trip to Prewitts Ridge. The ride back down to the One, on Naciemento Ferguson Road, is very scenic, with some spectacular views. We meet the one at Kirk Creek Campground, then we have about a 45-50 mile ride back to Cambria on the One. I rode it today, (Sept 29 2012) to check out the road condition. For the most part, the road was a relatively easy ride for anyone with off-road experience. However there were a couple of very steep up hill and down hill sections, with very tight turns and deep talcum-like powder, that may be difficult for some (including me). Smitty"
Ride leaders and sweep riders wanted!
Do-it-yourself Ride information.
Here's a map highlighting many of the best roads (some paved - some not) on the central coast.
More ride info to come. Send in any you have!
Vendors
Adventure Motorcycle Magazine
will be attending, giving away free copies of the magazine to everyone (well the first 150 anyway!) so look for Nicole Espinosa or Paul Smith if you have any questions or just want to talk about the magazine. And they'll be snapping pics and writing a story about the event too!
| | |
| --- | --- |
| | Gregg Evans will be there with a load of great camping equipment! |
Joanne Donn, GearChic
Shopping Tips, how to shop for your gear, what to look for, how to get the right fit and the most out of your budget. GearChic.com is the only website solely dedicated to providing information about protective motorcycle gear for women.
| | |
| --- | --- |
| | Giant Loop will be there to show their great products. Talk to Harold and get the real scoop on their innovative products! |
| | |
| --- | --- |
| | RKA Luggage Richard will be attending as a presenter (tech presentation on how the connect various bits of electronic gear - gps - cell phone - intercom - bluetooth) and as a vendor - motorcycle touring gear. |
| | |
| --- | --- |
| | Rugged Rider sells innovative dual sport motorcycle parts, dual sport accessories, dirt bike accessories, dual sport apparel, dirt bike apparel, camping equipment and original dual sport aftermarket parts. Rugged Rider also provides dual sport and camping tips and tricks and an entertaining dual sport blog. |
San Jose BMW will be there with Schuberth helmets and Sidi boots!

Schuberth will have their excellent helmets available. (Our personal favorites.) The Schuberth C3 (and C3W for women) is the world's lightest, quietest, most aerodynamic flip-up motorcycle helmet. Add the optional, easy-to-install Schuberth Rider Communication System for the ultimate in-helmet communication solution. Made In Germany.
Walt Fulton, Streetmasters


Walt will also be doing a talk about how to travel safely, with riding tips and techniques to get you there in one piece! Or you can sign up for one of their courses and really improve your riding. (NOTE: I always recommend this type of course if you haven't had one int he last few years - they're a great refresher, and no matter how good you are, you will learn!)
James Siddall, Super Plush Suspension

James will be doing a presentation on setting up your suspension, and setup demos at his stand. You can get YOUR suspension set up by a real pro at a very special price we've negotiated for you of only $30 instead of the usual $50 at the shop! See him early to get it booked.

Grant says: I'm a big fan of getting your suspension set up right, the difference it makes has to be ridden to be believed. Just do it!
Horizons Unlimited - we'll have all our DVD's and 2012 t-shirts too - but order your t-shirts in advance when you register - we'll only have a VERY few extras!
Carla King will bring her books - get her to sign your copy!
Ted Simon will have his books - get a new signed copy from him! He's happy to sign your old copy, but a new one does him more good. ;)
If you know of any other travel equipment vendors who should be there, please suggest it to them! Vendors please contact me for details.
Schedule
Download the latest pdf version.
The schedule is subject to change, so don't hold our feet to the fire - stuff happens! But we will try very hard to ensure that it goes off as planned. Check the latest schedule to be posted at the meeting on the day.
The basics:
All times - and everything - approximate!
An up-to-date schedule will be posted at the Meeting.
As presenters may or may not get there on time - or at all - this schedule is seriously subject to change.
Thursday
Noon check-in.
There WILL be presentations starting at 3pm!
Friday
8:30 Ride briefing. Be gassed up and ready to ride if you're going. details here
10 AM (or later) CHECK-IN and sign up! You MUST be registered to go on a ride or for entry to any events, clinics etc.
There WILL be presentations in the afternoon!
Friday night
All day! Speakers presentations.
Saturday
Tech Clinics
and seminars all day. We have a number of informative and exciting tech clinics planned, so check the schedule Friday on-site for latest details.
Saturday Dinner
5:30 - 7:00 approximately - see the main schedule on the day!
Saturday evening,
7:00 pm sharp: Speakers presentations
8:00 pm - Raffle prizes and wrap-up
Sunday
There will be repeat and new presentations!
Head for home, hang around and chat, or head out for a last ride!
12:00 - it's all over! :(
Miscellaneous notes:
NO camping on-site until Thursday night!
Pre-Register and save $10!
Register and PAY before October 11 is $59.
At the door, admission is $69
Entry fee includes admission to all events Thursday noon through Sunday noon. Meals and accommodation are optional, book below. There may be optional extra charge events.
Camping / bunks are NOT included.
Please PRE-BOOK to be sure you get in by filling in the form below and click the "Count me in" button below it. NOTE: Use one form per person!

Option 1. Pay by PayPal

a. You will shortly receive an e-mail confirmation. Check to ensure the details are correct. If you don't receive an e-mail confirmation within a few minutes, it means your e-mail address wasn't correct, (or the Internet has eaten your e-mail). Try again. A human being will actually get a copy of the e-mail, and we promise we won't sign you up multiple times. ;-)

b. After you have filled in the form and submitted it, you will have an opportunity to pay by .

OR:

Option 2. Pay by cheque

a. You will shortly receive an e-mail confirmation. Check to ensure the details are correct. If you don't receive an e-mail confirmation within a few minutes, it means your e-mail address wasn't correct, (or the Internet has eaten your e-mail). Try again. A human being will actually get a copy of the e-mail, and we promise we won't sign you up multiple times. ;-)

b. PRINT THAT EMAIL (or write out the important bits by hand if you don't have a printer) and MAIL it with a check (in US$ or CDN$ - prices quoted are US$,

made payable to Grant Johnson, and mail to:

Grant Johnson
102-15910 Fraser Highway
Suite 472
Surrey, BC V4N 0X9
CANADA
Payment and Registration details AFTER October 11:
1. Please fill in this form below to let us know you're coming. NOTE the registration fee is + $10 at the door!

2. You will shortly receive an e-mail confirmation. Check to ensure the details are correct. If you don't receive an e-mail confirmation within a few minutes, it means your e-mail address wasn't correct, (or the Internet has eaten your e-mail). Try again. A human being will actually get a copy of the e-mail, and we promise we won't sign you up multiple times. ;-)

3. Print the emailed confirmation form and bring it to the meeting.
IF you have ALREADY registered and just want to pay, go here!
Sorry, online registration is now closed. There is still space left, so get rolling and we'll see you there!
Membership - Show you're proud to be a Horizons Unlimited Traveller!
Just to clarify the membership situation: Currently there is no requirement to be a member to access the website, the HUBB or to receive the monthly e-zine. For now, what you get for your membership contribution is our sincere gratitude, good karma and knowing that you're helping to keep the motorcycle travel dream alive.
We will also upgrade your status in the HUBB to Contributing or Gold Member. In addition to recognising your contribution through your status, this will allow you to upload a custom profile picture and custom avatar, store more private messages, upload more pictures, add events to the calendar and create polls.
If you wish to buy a t-shirt, mug, fleece jacket or other Horizons logo product from the Souk, you can purchase Member or Gold Member logo products at the basic price. Just let us know and we can arrange access to the Members Private Store.
Note that new Memberships with your Meeting Registration are applied as of the Meeting date or as soon as possible thereafter, not earlier, unless you make a special request in the Comments box when you register.
T-Shirt Deal
Cotton: Top quality heavy cotton t-shirts in black or grey.
Synthetic: (Dri-Fit) t-shirts are in a beautifully made wicking material, and make great travel / riding t-shirts as well as all-round wear t-shirts. Available in a variety of colours at most meetings, and always black or grey. The order section will list the colours available.
Note that we will have a very few t-shirts extra at each meeting, but very limited - we can't carry many! So please pre-order and pay in advance so you can be sure of getting what you want.
2012 Tshirt slogan "The open road is calling, and I have a world to ride!"
Back:
(large, full back)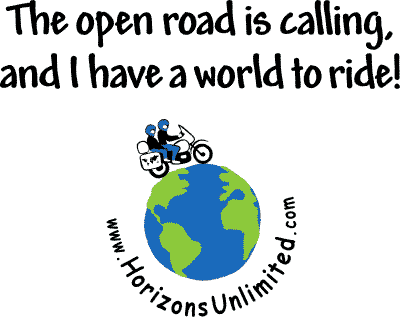 Front: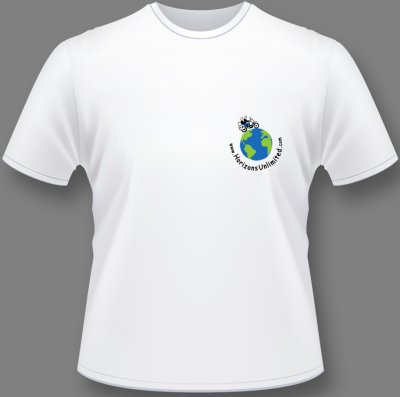 You can help!
If you have a few minutes, please download the poster (Adobe pdf format) and print off a few and hand them round your club or your local bike shop or anywhere seems like a good place.
Poster in pdf format (500kb) full colour Event poster. (You may need to right click and choose "save target as...")
Thanks!
The Meeting Location
Camp Ocean Pines, Cambria, California
Climate
October is a GREAT month to be there - temperatures have cooled off nicely, but still pleasant, low of 6 C (43 F) and average high of 20.5 C (69 F) and an average of only two days of rain per month. Dry season is April to October. Sounds like PERFECT riding weather to me!
Maps and distances and how to get there!
NOTE: If you're going south on the Big Sur road to Cambria, it will be closed daily from 9 pm through 7 am beginning October 8.
click the "More Information>>>" link below for much more details!
Distances:
Cambria is:
215 miles from San Francisco (via Big Sur)
235 miles from Los Angeles (via Highway 101)
138 miles from Fresno and the Central Valley
12 miles from Hearst Castle
72 miles from Big Sur
10 miles from Sebastian's General Store (best sandwiches in CA)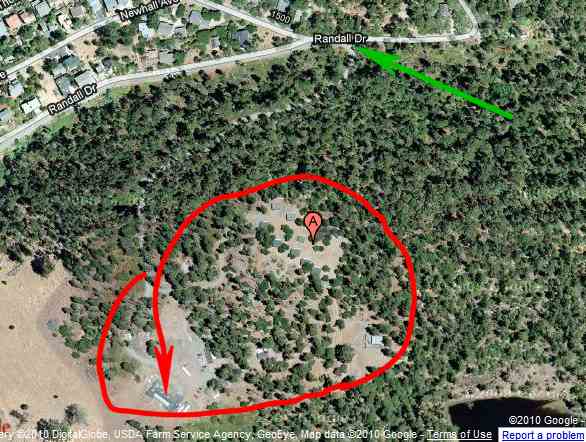 Green arrow is entrance gate, red arrow is main lodge, red area is grounds.
Google maps, enter: 1473 Randall Drive, Cambria Ca 93428 to find it.
Important note: In 2011 we had quite a few complaints from neighbours about the traffic and noise, so PLEASE be super careful to be quiet, and follow the HU signs to the event.
GPX file to make it really easy to find!
From Camp Ocean Pines information:
In short, despite what Google Maps may lead you to believe, reaching camp from Highway 1 is simple, left on Ardath, left on Randall and you can't miss it!
Need a bit more detail?
From the 101 N -
1. Exit the 101 in San Luis Obispo onto Highway 1 North (Exit for Morro Bay)
2. Drive north past Morro Bay and Cayucos
3. Turn Left at the Ardath Dr. and take it until you reach a 4-way stop. Continue straight on Ardath veering slightly to the left once the ocean is in view. Turn left onto Randall Dr. after reaching the next stop sign. From here you will travel up a hill and the sign for Camp Ocean Pines will be on your right.
From The 101 S -
1. Exit the 101 in Paso Robles onto Highway 46 West (Towards Cambria)
2. Exit the 46 onto Highway 1 North (right turn)
3. Turn Left at the Ardath Dr. and take it until you reach a 4-way stop. Continue straight on Ardath veering slightly to the left once the ocean is in view. Turn left onto Randall Dr. after reaching the next stop sign. From here you will travel up a hill and the sign for Camp Ocean Pines will be on your right.
Easily lost or just directionally challenged? Just give us a call (805)927-0254 and anyone on staff will give you the easiest way to get here. We're here to help!
Camping and Bunks
The buildings at Camp Ocean Pines are unique to say the least! Straw bale constructed, passive solar cabins have a wonderful "hobbit house" look. They also utilize timber from wind-felled trees as posts, beams and siding. The buildings and site plan become real-life lessons in conservation and the wise use of natural resources.
Cabins sleep ten guests in bunk bed fashion. Each cabin is 400 sq feet, with handpainted interior murals. Each cabin has it's own shower and changing stall, 2 sinks and a toilet. Guests bring their own towels and bedding. Cabins are LIMITED. Book early to get in!
Two or more cabins are dedicated as showers and toilets for campers.
If you'd rather not camp, or share a room with others, there are other - but much more expensive - options. :(
The BlueBird Inn Motel in Cambria is supporting our Meeting by offering a discount to HU Travelers if you mention Horizons Unlimited when you book your room. The BlueBird is located about 3 miles from Camp, in Cambria, and is very reasonably priced. You can reach them at 1-800-552-5434 Toll Free.
There are also numerous very nice ocean view lodging options along Moonstone Drive in Cambria (about 4-5 miles). The least expensive options are in San Simeon (about 10 miles away).
http://www.cambriapineslodge.com/
Links to local Hotels and Motels.
Information about the area
There are 200 wineries in the area. Highway 46 from Paso Robles to Cambria has dozens of excellent choices along it.
Cambria: http://www.cambriachamber.org/index.php

Central Coast tourism: http://family.go.com/travel/article-203294-driving-california-s-central-coast-t/

Central Coast points of interest: http://www.amwest-travel.com/awt_centralcoast.html

Central Coast Elephant Seals: (14 miles) http://www.elephantseal.org/

Hearst Castle: http://www.hearstcastle.org/
Weather forecast
Any info you have on the area, rides etc, please let me know.
---
Local Bike Shops
Let us know any good dealers nearby!
Local bike shops with mechanics:
Coast Riders (formerly Bits & Pieces)
3285 S Higuera St, San Luis Obispo, CA 93401
805.543.0354
Open Saturday (Recommended by Gary Auth)
Hidden Power Cycle Clinic
1333 Riverside Ave, Paso Robles, CA 93446
805.239.8913
Open Saturday, closest to Cambria.
Villa Racing, Jack Wagner mechanic
34 South St.
San Luis Obispo
542-9904
Parts & Gear Only:
Cycle Gear
455 Madonna Rd, San Luis Obispo, CA 93405
805.783.2660
Open Saturday & Sunday
Local Hosts
Mike and Sandy Dimond found this great location for us, so a big thanks to them! We could also use someone to help lead the event and keep everything together, and especially we REALLY need help on the day - please volunteer to help out for a couple of hours!