How you can help - put up a few posters!

Event poster available! Please post it everywhere!
Want to know what people thought of the meeting? Is it worth coming to the Meeting?
Some comments from other meetings we've had around the world:
"Huge thanks to all of you for the super job done. It was great to meet people we have read about, to hear their stories, the food was wonderful and very well organized, and the location a delight for those of us who have never been there! Hopefully we can make it again...happy travels all!"
"I don't even have plans to go ride around the world, but the presentations and people were great and you guys did an awesome job!"
"Location was Killer! Organization of the event first rate."
"WOW what a fun group of peeps. Of course it never hurts to be into bikes and travel and all but we had such a good time. So cool to chill with folks that just want to get out and ride it all. Fun Fun Fun!"
"I have not done much travelling so it was like visiting with a world traveller - Presenters were very approachable."
"Great atmosphere and camaraderie, especially at dinner time, and interesting presentations."
The Plan
The plan is simple. Show up on Thursday or at the latest Friday afternoon, meet people and setup. Travel Presentations and Tech clinics are planned throughout the meeting, starting Thursday night. More Detailed Schedule here.
We can always use some help! If you want to assist, please sign up to volunteer to assist on the day or here for advance work or to ask questions. Thanks!
2012 Speakers and Tech Clinics (
Watch this space!

Many more to come!):
Get Inspired!
One couple, one bike, 30 countries in 14 months

Quirien Wijnberg, doschinos.net
Our travels on our bike starting from United Arab Emirates through Europe, to Canada via South and Central America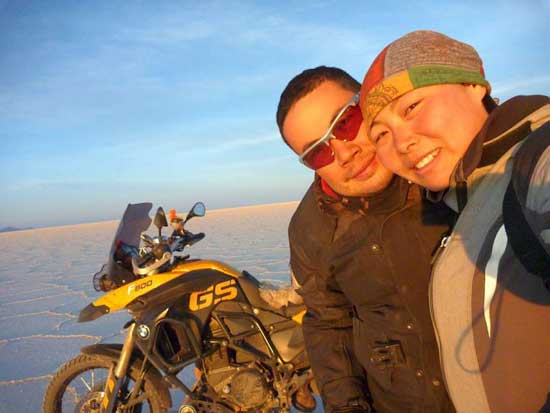 Quirien and Shu in Bolivia
The Geography Lesson

Andree Crepeau
Kids discover their country by the seat of their pants!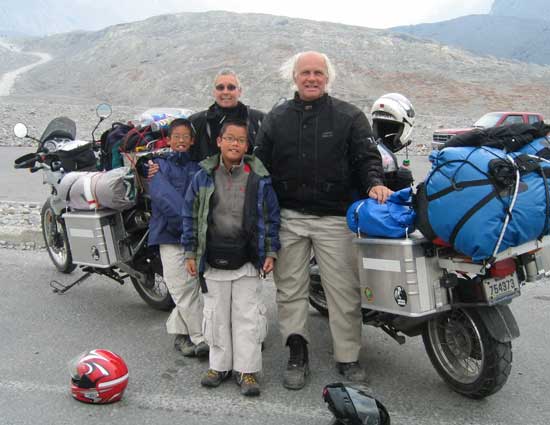 My husband and I are 65 years old. We had done a fair amount of biking before the kids came along. Figuring we wanted our kids to have parents for a while we quit the dangerous stuff for 20 years. When I finished my chemotherapy I woke up one morning with this crazy idea that the 9 year old twins needed a "coming of age" ritual, like a nice long trip. The next week my husband had bought 2 bikes and the rest is history!
Two Ways Down.

Bill Hooykaas and Greg Powell
Tip to tip in the Americas. Two friends head out to Ushuaia in 2011, one rode solo, one with GlobeBusters. We'll discuss the pros and cons of each method, so bring your questions!

Bill: "I have been riding BMWs non-stop since 1972 and a BMW MOA member for nearly 35 years now, and have well over 1 million kilometres in various saddles. I am very slowly working my way around the world over the span of a lifetime (funny how raising a family and having a job can delay things). I rode Europe and parts of North Africa on a BMW 75/6 that I bought new in Rotterdam in 1974 after finishing school. I have now gone tip to tip in the Americas, and the only piece missing will be the remainder of Africa. I will have then completed my longitudinal RTW in the footsteps of Grant and Susan and others who followed. I hope to finally complete this journey by 2014 so that my 40+ year BMW RTW dream will be complete. Join me now as I take you along, on this, my recent ride to Patagonia."

Greg: "I bought my first motorcycle in 1981 (a Honda Z50 minibike) and my second motorcycle 26 years later (Yamaha V-Star 650) and 2 years ago the Honda Varadero. (Amazing how getting 3 accounting degrees, married and divorced interferes with the important things in life – motorcycle travel). I have ridden various rented motorcycles in Asia (Vietnam, Cambodia and Thailand) while on short vacations. Finally in 2011, 3 months after getting my full M license, I quit my job, sold my house and left for a journey across the Americas. I rode from Toronto to Newfoundland, then to Alaska and all the way to Ushuaia Argentina for a total of 65,500 kilometres over 10 months. I am now addicted to motorcycle travel and have returned to Canada to make money so I can do another trip. My next trip will most likely be Russia, Eastern Europe and into the Middle East. Not sure what bike I will take but I am thinking of buying a Ural in Russia and keeping it through the Eastern Europe part, then perhaps a Honda Transalp."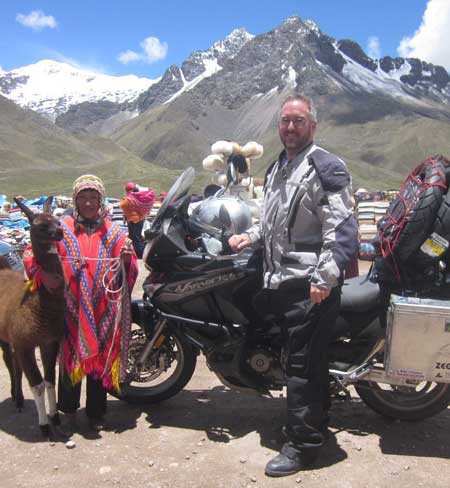 Highlights of Peru

Jody Hatch
Taking a trip with a commercial tour company
RTW - the story so far

Paul Stewart, UK
52,000 miles and counting!
Trans Canadian Adventure Trail

Ted Johnson
A look at the making of a 15,000 km overland route across Canada
Lawrence Hacking has something planned... "an hour long presentation on different events such as Japan, Mongolia, Dakar, and other rides that I have done. Plus I will be there with some books"


Learn
Re-entering the Workforce

Greg Powell
How to re-enter the workforce after a long motorcycle adventure! Everyone will tell you that you'll never get a job when you come back since you're obviously a flake... but is that true? HU has MANY stories of travellers coming back and getting a BETTER job than they had before. How did they do it? Come and find out!
Greg says: "I was given a lot of advice, both good and bad, before and after my trip about re-entering the workforce. I think that sharing this advice would be helpful and I don't think it matters what kind of a job people are looking for, professional, blue collar etc. There are some real 'Do's and Don'ts' and helpful tips to be passed along. Today I signed an employment offer as Chief Financial Officer (CFO) for a Canadian diamond mining company and my trip, in part, contributed to me getting the job."
My Top Three Annoyances from Our Trip!

Shu Liang, doschinos.net
The pillion perspective, or "How to make your passenger HAPPY!"
Free to be Me!

Liz Jansen
Maximizing your personal power and fulfilling your greatest potential.
Rugged Electrical Accessories and Heated Gear, toastie, not burn!

Jeffrey Bottrell, Powerlet Products
Discussion on how to conveniently access power from your motorcycle to power consumer electronics. Atendees will gain an understanding of the Powersports Standard Connector, Excess Electrical Capacity, BMW CANBUS, and RapidFIRe Heated clothing.
Jeffrey says:

"Worked as a BMW and Ducati tech for a number of years until 2002 when I opened Detroit Eurocycles, a multi-line dealership featuring Moto Guzzi, Aprilia, Vespa, Piaggio, MZ, KTM, and a couple other great brands that don't sell well. 6 good years later after establishing a great reputation for the shop, we were forced to close due to the poor local economy. Went to work for Powerlet as Director of Marketing and then Dealer Development / Sales manager.
I am a long time motorcyclist dipping into Long Distance Touring, trail riding, Adventure touring, SuperMoto, and my biggest passion - Vintage Roadracing. I have been competing in AHRMA since 2004 and in 2010 even won an AMA #1 plate in Vintage 125 Grand Prix. While I have a lot of miles and motorcycles under my belt, my Adventure destinations have not been anything too exotic so far as I have 2 young boys at home that keep busy with Hockey and Scouts. I am fortunate that I travel quite often on my motorcycle in the name of work.
Current main ride is a 93 BMW R100GS PD. Racebikes - 1978 Moto Guzzi Lemans Vintage Superbike, 1970 Honda CB175, 1966 Aermacchi CRTT factory road racer Others - 2 73 Moto Guzzi Sports that have LSR records and AMA Superbike history, 1969 Moto Guzzi Ambassador, 1973 Moto Guzzi Eldorado with Steib sidecar, 1986 Ducati/Cagiva Alazurra, 3 2002 MZ 125's (SM, and 2 FunX), Aprilia SR50, 78 Moto Guzzi Lemans, and a couple other odds and ends. Yes, I am sick but it is ok."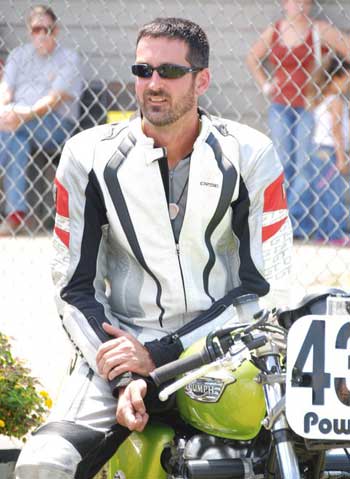 Jeff ready to race
OptiMate Chargers

Mike Cooper, Tecmate, manufacturer of OptiMate, will conduct a seminar on keeping your battery going, and of course discuss their chargers! Here's your chance to get those battery maintenance myths sorted!
Feed Me!

Steve Elmhirst
New adventures with Jetboil - baking bread, cornbread and more - eat like a king on the trail! Adventures in food - cooking the local foods you'll find on the road.
Performance and Maintenance

Paul Humeniuk
Daily exercises and stretches to keep you riding! This is an interactive seminar. Participants will be given a hand-out with approximately 6 stretches and 6 exercises. Then we will go outside (weather permitting), and I will take everyone through the program step by step. we will need to be with our motorcycles as I have designed the program so that you use your motorcycle to stretch on. If time allows we will talk about diet tips for the road.
Fix that flat! How to change a tire anytime, anywhere

Workshop
How to prevent flats in the first place, and fix them when you get one. The best tools and how to use them for tube and tubeless tires, and choosing tires for travelling.
Off-road riding tips

by Clinton Smout

How to ride thru loose terrain (sand, gravel, mud) talk and demo!
Defensive riding seminar (for street riding), how to minimize being cut off from the car turning left etc. One hour presentation. This will be done in the big tent.
We need volunteers for the following:
How to pick up a fallen m/c
First Aid tips
IT. For example, what websites etc to refer to during your preparation, how did you keep in touch, what IT did you use on the trip, do you store your photos on Flickr, Google/Gmail, Yahoo, etc. Access to the Internet, what sort of phones: Android, Windows, iPhone etc. This could be done be several people all pitching in. Anyone interested?
Stove Cook-off

Everyone bring your stove and let's see what works - and what doesn't!
The Pros and Cons of stoves, fuels and pots, recipes, pans etc

Bedding Discussion

Discussion in the camping area
What works, cheap vs dear and which ones keep you warm and comfy!

Tent Discussion

Discussion in the camping area
What works, cheap vs dear and which ones keep you dry and comfy!
Panel Discussions
Women only!

A must for the ladies, so be sure to plan on being there! A chance to talk to experienced travelling women without the men around!

Experienced Travellers Panel - ask the experts anything you want!
and more to come! How about you? We're all here to learn, and there's LOTS to learn! We want to do more presentations and clinics - but we need volunteers to give them! Any topic you can contribute having to do with motorcycle travel, maintenance, planning etc, lasting 20 minutes or more, would be great. We have had lots of interest in clinics, ranging from 30 minutes to several hours. Possible subjects: GPS / maps / compass; packing and packing lists; chain lube/repair/replacement, brake changing, oil changing; riding tips for dirt roads; roadside first aid; motorcycle videography and undoubtedly many others! Please contact us here to volunteer.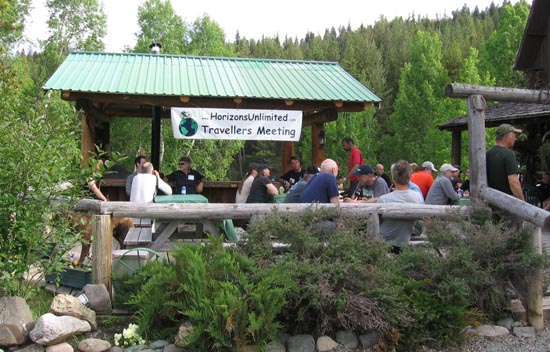 2011 Canada West Speakers and Tech Clinics were:
Get Inspired!
Tajikistan

Rene Cormier, Canada
The most epic riding place you've never heard of. You just haveta go...
Reconnecting With Canada: The North

Joe and Flora Lloyd, Canada
A crew of four brave souls, two motorcycles and support, battle the elements, and their own wits, as they cross northern Canada to Tuktoyaktuk. 10,000 kilometres of winter conditions, ice roads and mind numbing adventure.
Because I Can!

Sherri Jo Wilkins
Why am I traveling around the world? Because I can... currently 30 countries complete and about the 1/2 way mark now... From Australia, across Russia including the Road of Bones.
3 Months in South America
Chile to Canada via Florida, missing out a few important countries along the way

Trevor "Skip" and Rachel Skipsey, Australia
Chile to Canada, 3 bikes, unusual detours and all the techy stuff you would like to know
Northern Vietnam, Seattle to the Arctic Ocean (Dempster Highway), and Baja with the Chihuahua named Ducati

Mike and Shannon Mills, USA
Sustainable Unaccountability: How we make motorcycle adventure touring happen amidst a normal life of careers, mortgages, and student loans.
Grade 7

Mercedes and Erik Rajmoolie and Jerome Levesque
Unusual family trading bungalow for tent and hammock around the Americas
High heels and Motorbikes

Adrienne Denham
South America on a Suzuki - solita.
Iceland!

Andy Miller, UK/Canada
Riding the land of ice and snow.
Bumbling (and sloshing) around Australia

Robert Thode
Shipped two bikes to Australia and Martha and I rode for 7 weeks in Nov. & Dec. during many flood events. Then son Ryan and I returned for three weeks in May. What to expect if you want to ride Australia.
Horizons Unlimited - You can do it, we can help!

Grant and Susan Johnson, Canada
How it all began, the story of Grant and Susan's trip around the world, without a plan or a clue! Plus the origins of Horizons Unlimited, what's on the site and how to find your way around it, and more...
Learn
Basic Roadside Repair

Kevan Ibbotson, Canada
The English would call it bodger repair or us Canadians might call it a "farmer fix" but basically it means "How do I get my bike back on the road so I can get to the next town with a qualified mechanic to get it fixed properly". Designed for the novice rider who has little mechanical skills and who is concerned about having to make that dreaded roadside repair. Does duct tape or WD 40 actually fix everything? No, but you'd be surprised what will plug a leaking radiator. We will go over basic mechanical applications of the motorcycle: fuel, electrical and cooling systems, and how to diagnose their failure. What tools and repair materials to carry with you and how to use them to find out why your bike has quit working. More importantly we will review how to use on hand items to get yourself back on the road.
Riding Skills Session

Michael Fodor, Canada
How to get the wrong bike into the wrong kinds of places!
Preventing Further Injury

Rick Wallace
How to protect yourself and the injured in the chaos of a crash scene and beyond.
Managing Your Money While You Travel

Richard Sherry, Canada
Casting yourself into the great vastness of motorcycle travelling means lots of fund and memories. But money is the fuel that keeps the gas tank and belly full, and puts a roof over your head. This presentation will give you practical ideas for managing your money while you are "out there."
Bears, a humorous insight into the do's and don'ts!

Nevil Stow, Canada,
Putting you and bears into perspective from a motorcycle camping stand point."
Nevil has worked as a Mountain Guide in the past in the Banff area. He has encountered many bears during his 14 years in Canada and,while he is not a biologist or any other form of "ologist", would like to share his knowledge and experiences gained in the field with anyone who could be bothered to listen!
Your NEW bike doesn't fit you!

Grant Johnson
Ergonomics! When you pickup your new bike, did they take the time to make it fit you? You'll learn the amazing difference a properly setup bike makes to your riding fun.
Photo Composition for Travellers

Grant Johnson
Transform your photos from boring to fabulous! We all want to take great photos of our trip - so why don't we? This easy clinic will transform your motorcycle travel photos from boring to fabulous! BRING your photos on a CD or Flash Drive, max 10, and we'll critique and discuss YOUR photos - what's good, and what's not - and how they could be improved.
Women only

Led by Susan Johnson; a very popular session - I'm told it's a must for the ladies, so be sure to plan on being there! A chance to talk to experienced travelling women without the men around!
Fix that flat! How to change a tire anytime, anywhere

Workshop, Grant Johnson
How to prevent flats in the first place, and fix them when you get one. The best tools and how to use them for tube and tubeless tires.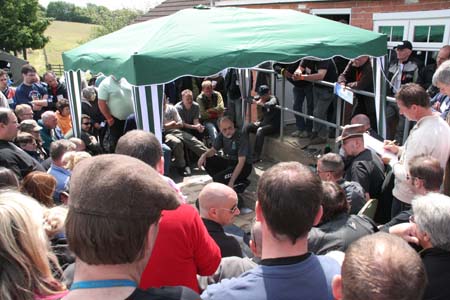 Changing a Tyre, UK Tech session 2009
Experienced Travellers Panel - ask the experts anything you want!

Leaving on a big trip in 2012?
Plan on leaving from the Meeting - we'll make it a great send-off! Or coming home around the time of the Meeting? What a great place to arrive at!
Vendors
Dualsport Plus will be there with loads of goodies for you, like KLIM riding gear!
OptiMate will be there to help you with everything you could want to know about looking after your battery.
Klim
Oakville Yamaha
We would like to have more travel oriented vendors there. Vendors please contact me for details.
Rideouts
Lawrence Hacking will lead a dualsport ride.
Schedule is here, in Excel, or PDF
...so check back and plan what you want to see. The schedule is subject to change, so don't hold our feet to the fire - stuff happens! But we will try very hard to ensure that it goes off as planned. Check the latest schedule to be posted at the meeting on the day.
All times - and everything - approximate!
An up-to-date schedule will be posted at the Meeting.
There will be slide shows and clinics on Thursday evening and all day Friday and Saturday. Come early and make it a great weekend!
Thursday morning
CHECK-IN and sign up! You MUST be registered to attend any presentations, clinics etc.
5:00 pm Dinner in the Arena
6:30 pm Presentations following dinner in the evening.
Friday
CHECK-IN and sign up! You MUST be registered to attend any presentations, clinics etc.
Breakfast you're on your own - check with organizers for the best spots.
9:00 AM Presentations start in the Arena. Demonstrations / field events start adjacent to the campground.
Friday Lunch
noon-ish! :) Feed yourself...
Tech Clinics all afternoon, schedule and details to come at the event.
Friday night
5:00 pm Dinner in the Arena
6:30 pm
Speakers presentations start, so be sure you've eaten early!
Saturday morning
Breakfast you're on your own - check with organizers for the best spots.
9:00 AM Presentations start in the Arena. Demonstrations / field events start adjacent to the campground.
Saturday Lunch
noon-ish! :) Feed yourself...
Saturday afternoon,
Tech Clinics all afternoon, schedule and details to come at the event.
Saturday evening,
5:00 pm Dinner in the Arena
6:30 pm sharp:
Speakers presentations
9:00 Door prizes - you have to be there to win!
Sunday
Breakfast in town
Head for home, hang around and chat, or head out for a last ride!
Miscellaneous notes:
Organizers will be there all of Thursday, hopefully Wednesday too, if anyone wishes to arrive early and just hang out or go for a ride in the area.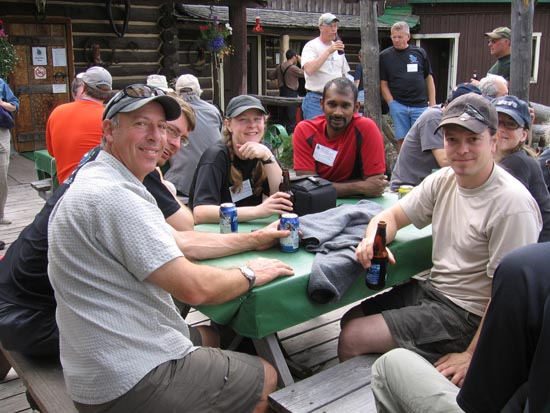 Camping
Camping is included in your admission price!
Pre-Register and save!
The admission price is on a sliding scale to encourage early registration and help us organize facilities better.
Admission pricing (for PAID pre-registration):
Register and PAY before Aug 16, admission is only $55.
Register and PAY after August 15 to September 16, admission is only $65.
At the door, IF space is available, admission is $75 for all three days.

Friday ONLY $35 at the door.
Saturday ONLY $40 at the door.
Includes admission to all slide shows Thursday, Friday and Saturday, Tech Clinics and demonstrations, and camping. Meals are NOT included.

Payment and Registration details BEFORE September 17
1. Please fill in the form below and click the button below it. NOTE: Use one form per person!
2. You will shortly receive an e-mail confirmation. Check to ensure the details are correct. If you don't receive an e-mail confirmation within a few minutes, it means your e-mail address wasn't correct, (or the Internet has eaten your e-mail). Try again. A human being will actually get a copy of the e-mail, and we promise we won't sign you up multiple times. ;-)
3A. After you have filled in the form and submitted it, you will have an opportunity to pay by

.
OR:
3B. PRINT off the e-mail confirmation (or write it out by hand) and MAIL it with a check (in US$ or CDN$)
made payable to Grant Johnson
(NOT Horizons Unlimited!!),
BEFORE August 16, to:
Grant Johnson
102-15910 Fraser Highway
Suite 472
Surrey, BC V4N 0X9
CANADA
Payment and Registration details AFTER
September 16
1. Please fill in this form below to let us know you're coming. NOTE the registration fee for all 3 days is $75.00 at the door!
2. You will shortly receive an e-mail confirmation. Check to ensure the details are correct. If you don't receive an e-mail confirmation within a few minutes, it means your e-mail address wasn't correct, (or the Internet has eaten your e-mail). Try again. A human being will actually get a copy of the e-mail, and we promise we won't sign you up multiple times. ;-)
3. Print the emailed confirmation form and bring it to the meeting.
Sorry, online registration is now closed.
There is plenty of room, so come and join us! We have travellers from all over the world attending!
Membership - Show you're proud to be a Horizons Unlimited Traveller!
Just to clarify the membership situation: Currently there is no requirement to be a member to access the website, the HUBB or to receive the monthly e-zine. For now, what you get for your membership contribution is our sincere gratitude, good karma and knowing that you're helping to keep the motorcycle travel dream alive.
We will also upgrade your status in the HUBB to Contributing or Gold Member. In addition to recognising your contribution through your status, this will allow you to upload a custom profile picture and custom avatar, store more private messages, upload more pictures, add events to the calendar and create polls.
If you wish to buy a t-shirt, mug, fleece jacket or other Horizons logo product from the Souk, you can purchase Member or Gold Member logo products at the basic price. Just let us know and we can arrange access to the Members Private Store.
Note that new Memberships with your Meeting Registration are applied as of the Meeting date or as soon as possible thereafter, not earlier, unless you make a special request in the Comments box when you register.
T-Shirt Deal
Cotton: Top quality heavy cotton t-shirts in black or grey.
Synthetic: (Dri-Fit) t-shirts are in a beautifully made wicking material, and make great travel / riding t-shirts as well as all-round wear t-shirts. Available in a variety of colours at most meetings, and always black or grey. The order section will list the colours available.
Note that we will have a very few t-shirts extra at each meeting, but very limited - we can't carry many! So please pre-order and pay in advance so you can be sure of getting what you want.
2012 Tshirt slogan "The open road is calling, and I have a world to ride!"
Back:
(large, full back)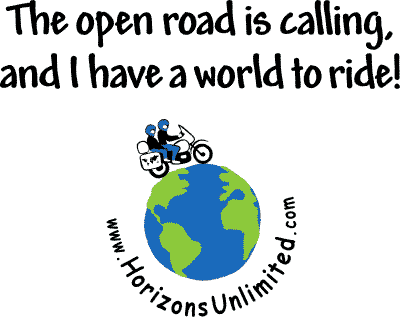 Front: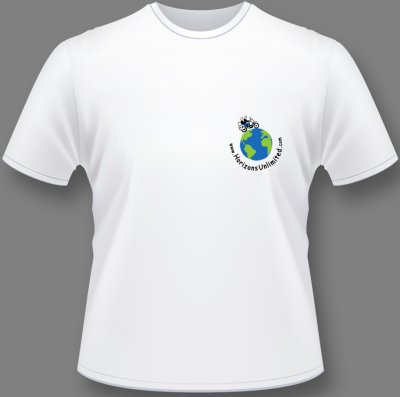 You can help!
If you have a few minutes, please download the poster ( Adobe PDF format) and print off a few and hand them round your club or your local bike shop or anywhere seems like a good place.
Poster in PDF format (300kb) or JPG format (160kb) full colour Event poster. (You may need to right click and choose "save target as...")
Thanks for the help!
The Meeting Location and "Official" Campground / Meeting spot / Rooms:
Adjacent to Horseshoe Resort, Barrie, Ontario
Located across the street from the Horseshoe Riding Adventures main training site.
Training site entrance GPS coordinates:
(44° 32' 38.4" N, 79° 40' 45.74" W) or, equivalently, (44.5440 N, 79.679373 W).
You'll see us set up across the street in the farmers fields. There will be signs!
Directions from the Toronto area
Take Highway # 400 North past Barrie
After passing the Duckworth Street exit ramp, please watch for the sign: 400 North 69 Sudbury / Parry Sound
Stay to the right lanes of the highway to avoid taking Highway # 11 to Orillia
Once you are on the 400 North extension, take the second possible exit at Horseshoe Valley Road East, exit # 117
Travel east approximately 4 kms and then turn right on Line 3 North.
Drive slowly along this winding road that has tight corners.
You will find signs on your left saying Carriage Ridge Resort and Horseshoe Riding Adventures Powered by Yamaha
Turn left after going down a hill into the driveway of the Carriage Ridge Resort. Keep left and watch for the Horseshoe Riding Adventure powered by Yamaha sign and Horizons Unlimited direction signs!
Driving Distance / Time to Campsite:
| From | Distance | Google Time |
| --- | --- | --- |
| Toronto | 118 km | 1:38 |
| New York | 553 miles | 9:54 |
| Detroit | 298 miles | 5:23 |
| Ottawa | 403 km | 6:06 |
| Montreal | 644 km | 7:19 |
Accommodation
Camping IS included in your registration. There are only 75 sites, so please share as much as possible. Thursday through Saturday nights only.
Firewood will be available at $15 per site for the whole event. We will also have a central bonfire for all to relax and tell tall tales around!


Campground Location Map

Other Accommodation Possibilities
Hotels
We have arranged a special rate with the Carriage Ridge Resort. Carriage Ridge Resort is next door to where we are. Check-in is 1.4 km away, but the units are right next door. Here is a direct booking link with rates from $89 at Carriage Ridge Resort. Note: Don't bother phoning, the desk hasn't a clue, just book it online.
Also TripAdvisor.ca and booking through Expedia.ca or Booking.com or Hotels.com MAY get a good price, or availability. There is availability for Sep 20-22nd as of Aug 4, but suggest booking soon!
For the latest prices:
The following are 1.7 km from venue, 4 minutes riding time!
Carriage Ridge Resort (Trip Advisor)

Carriage Hills Resort (Trip Advisor)
6.5 km from venue, 12 mins driving time:
32 km from venue, 27-35 mins driving time
Super 8 Barrie (Trip Advisor)
30 km from venue, 25-30 mins driving time:
Hampton Inn & Suites (Trip Advisor)
Facilities etc in the area:
Information about the area
Local Hosts
Contact for event questions!
Thanks to Catharine, Les, Jody and Clinton for all their help!
See you at a meeting this year!
Grant and Susan
/hubb/hu-travellers-meetings-north-america/ontario-canada-2012-hu-travellers-65501