Want to know what people thought of last years Meeting? Is it worth coming to the Meeting?
"I'm so looking forward to another UK meet. My only problem is that I simply can't get to every talk I want, such is the amount of terrific presentations on offer. Each year I've been astonished at how articulate, intelligent, informative and entertaining the speakers are. I'm willing to help with anything that doesn't keep me from a talk - and my timetable will be full to bursting!" More comments here.
The Plan
The plan is simple. Show up on Thursday or at the latest Friday afternoon, meet people and setup. Travel Presentations and Tech seminars are planned throughout the meeting, starting Thursday night.
2009 Speakers and Tech Seminars:
Every country in the world
Jupiters Travels - the start...

Ted Simon
An expanded account of the beginning of the first journey, and more on the second journey, two talks.

Parallel World
R1 Goes Extreme!
In search of Distant Suns

Sam Manicom
Sam will talk about the trip that inspired his latest book 'Distant Suns' - Adventure in the vastness of Africa and South America. A dream? An adrenaline buzz? A disaster? A happy ending?

Old men can't wait, a septuagenarian odyssey,
Africa Solo: The Long Way Around

Werner Bausenhart, Canada
A Circumnavigation of Africa, from London and back to London.

Dusty Old Bags - South America, 15,000 miles, 6 months, 15 "offs" and just 1 puncture...

Sheonagh Ravensdale and Pat Thomson, UK, Honda Falcon NX400s
Two fifty-something women show you don't need big bikes, posh luggage (or in the case of much of Peru - even a map!) to have a great trip.

Bike expedition medical kits

Andy Grieve
What and what not to take on that trip

Scoots Across The Sahara

Ian 'Cogs' Underwood and Lisa Booth
'Half Way Down'... C90s to Bansang, The Gambia

UK to Australia (via Kazakhstan and China)

Charles Fellowes
A 28,000 mile trip of madness through sparse and densely populated lands.

Off road Baja California

Chris Bright, UK,
"On a dark desert highway". Following in the tyre tracks of the Baja 1000 and sipping margaritas on the beach. Including videos.

Off road Romania

Chris Bright, UK,
"Buddha meets Dracula." Super off road fun with great people in the Carpathian and Transylvanian forests and mountains. Including videos.

Salt and Gold 2008

Dave Lomax
The Ultimate Saharan Exploration Adventure; A filmed attempt to explore previously unridden areas of Mauritania and Mali ending in a super lightweight attempt to cross the Tuareg Badlands of Northern Mali to Taoudenni via a series of fuel and water dumps...(whose idea WAS this?!)

Scandinavia: THE hidden adventure destination

Dave Lomax
8000km over 10 days around the Arctic Circle.

An Eventful year around South America
London to Mongolia on 125cc
Sunderland to Sydney

John and Naomi Frears Hogg
Low key and lo-fi

Brighton2Capetown

Dan Adams
From prepping the bike to flying it home, with a few African anecdotes in between...

A brief Australian adventure

Dave Owen
6 weeks in Oz featuring cyclones, deserts, oceans and bikes!

Around the world by motor cycle Part 1

Paul Pratt, UK, Triumph
The Pan American Highway in 1967 by Triumph Thunderbird.

Packing: What to take and How to Carry it.

Charles Fellowes
A fine line between taking the kitchen sink and being unprepared. Covering everything from clothing to camping and spares to electronics.

TomTom Rider 2 - GPS for Overlanders and City Bikers alike.

Colm O'Flaherty, UK
A discussion on the TomTom Rider 2 GPS system, and its usefulness to both overlanders and city bikers alike. Includes a demo, and a chance to play with the unit. Questions & Answers session to finish up.

Live, ride and survive

Craig Robinson
Sorebums, splints and sunstroke. Basic expedition first aid.

Overweight is under-prepared 2!

Dave Lomax
It's no longer enough to cut your toothbrush in two, now it must be DRILLED! A more complete version of last years hurried sessions including kit to examine, more comprehensive listings and photo examples of what NOT to take!

Remote Medicine on 2 wheels

Andy Grieve
How to stay safe on your expedition

Motorcycle Outreach

Barbara Alam and Craig Carey-Clinch
Can motorcycles help make the world a better place? Would you like to do your bit for people in poorer countries? Does your next big trip need a charity angle? Motorcycle Outreach is a charitable organisation which works to introduce effective healthcare delivery in remote areas of developing countries.

Panel

How to get someone of the opposite sex to go travelling with you - panel and discussion. Why is it so hard? What are you doing wrong - or right? All viewpoints discussed!

Women only

A very popular session - I'm told it's a must for the ladies, so be sure to plan on being there!

Beyond Morocco, Mauritania: a practical guide

Richard Kemplay
A practical guide to desert travel in Mauritania for 2 and 4 wheels.

Central Asia

Paul Mercer
There and back again...

Fly and Ride Thailand

Mark & Joyce Groucutt
How beginners can have a taste of the independent travel lifestyle without selling the house and giving up the job. Facts and figures about finding suitable bikes and riding excellent roads and staying on the cheap in Thailand. (Including a free homestay)

Camping Forum

Leslie Madge
Anyone can rough it, but doing it in style takes a bit more research.

Up to £1000 tax refund to pay for your trip

Steve Mercer
Gordon, I'm not a bank but I still need the money!

Yoga for Motorcyclists, Part 1, the why's and how's

Tori Lang
Save your back, and ease the aches - before they happen. Talk and demonstration: come and find out what it's all about, how yoga can really help your riding in more ways than you might realise. Includes demonstration of some basic practice.
Yoga for Motorcyclists, Part 2, Practical

Tori Lang
You've heard the talk, now give it a go. Come along and try it out for yourself - no previous experience necessary. Please avoid eating heavily for 2 hours before and bring a roll mat/blanket to lie on and a sense of adventure! (80 minutes)

First Class Motorcycling

Lilian Hobbs
Want to tour, but don't want to go camping? Then this talk is for you. Learn how to rent motorcycles, plan a route, use a GPS on a rental bike, stay in nice hotels and travel without breaking the budget.

Preparation & Planning your dream

Colin & Dee Masters
A sideways look at m/cycle world travelers


BMW Airheads

Phil Hawksley, The Boxer Man
Q&A session to help keep your Airhead running

Roadkill Cookout

Danny Taylor and Fil Schiannini
Watch and learn - how to make a firepit, skin a rabbit, pluck a pheasant, fillet a trout, cook it and eat it

Garmin Satellite Navigation

Tim Cullis
Focusing on Streetpilot, 2610 and Zumo models

First Aid on 2 Wheels

Ashley St.John-Claire
Practical essentials for every rider on a trail, greenlane, track or tarmac! Keep them breathing, stop them bleeding, get help! This is a FOUR hour workshop - bring a notebook, and prepare to learn a LOT!

Photo Composition for Travellers

Grant Johnson, Canada, RTW
The one everyone SHOULD take... We all want to take great photos of our trip - so why don't we? This easy seminar will transform your photos from boring to fabulous!

Morocco: safe, exciting and inexpensive

Tim Cullis
Overview and hidden/special places

Spend less, enjoy more

Austin Vince
DIY adventure travel is the new burgeoning scene. Find out more from the master of no-budget thrills, Austin Vince

How to Get Published

Peter Henshaw, UK
Top tips on how to get your adventure travel story into a bike magazine. Peter is a regular contributor to a number of magazines, so come and get the skinny on how he does it in a roundtable discussion

A silk purse from a sow's ear: making the best of video footage

Michael Shulver
Tips and tricks for capturing and editing video of your trip.

Broadcasting From The Saddle

Johan Lundin, Sweden
How it works in practice with helmet cams, shooting, editing and publishing videos while you are out travelling.

From GPS To Online Maps

Johan Lundin, Sweden
How to use your GPS with online maps to share information about where you are and recommended roads you have ridden.

Fix that flat! How to change a tire anytime, anywhere.

Grant Johnson:
'Basic Guide to changing and maintaining tyres.' How to prevent flats in the first place, and fix them when you get one. Grant's changed thousands, and will show you all the secrets to make it easy. The best tools and how to use them for tube and tubeless tires. Hand's on practical and tire changing contest for beginners to experts! Come prepared to show everyone how fast you can do it - classes for beginners and experts, and ladies!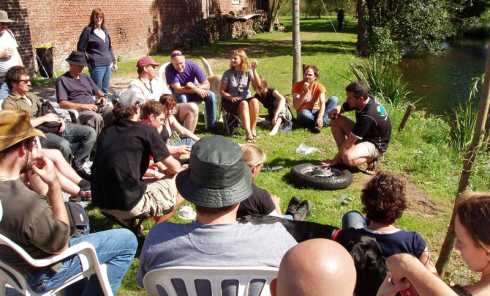 Changing a tyre tech sesssion
and more to come as we get closer to the date.
How about you? We're all here to learn, and there's LOTS to learn! We want to do more presentations and seminars - but we need volunteers to give them! Any topic you can contribute having to do with motorcycle travel, maintenance, planning etc, lasting 20 minutes or more, would be great. Please contact me here to volunteer.
There will be slide shows and talks Thursday, Friday and Saturday night, as well as all Saturday morning and afternoon, and Sunday too, (see the schedule (to come)) so come early and make it a great weekend! We recommend planning on riding Friday and Sunday, and leaving time for Seminars all day Saturday.
Rideouts
Rideouts are limited to 6 or 12 people per ride, no exceptions.
A selection of legal green lanes and road rides in the Derbyshire area.
All participants have to sign a liability waiver in advance. YOU are responsible for your own safety, rides are NOT guided, you will ride with volunteers who will point out the interesting routes to you.
All rides will be back on site at or before 5.00pm
The cost of going on any ride is included in the registration fee.
All rides are "register on the day." There will be signup sheets for each ride posted the evening before. First in best dressed.
Charity
2009 Charity is Motorcycle Outreach, through the sale of raffle tickets and the generous donation of prizes from all the vendors on site and from afar. If you'd like to donate a prize, please contact Glynn below.
Motorcycle Outreach does much the same as Riders for Health, but in Indonesia! :) Last year we raised over £600.00 for them!
Food
Served all day from 8.30AM every day and well into the evening, a wide and varied menu - including vegetarian, at various excellent prices.
Camping
Camping is INCLUDED in your registration fee.
There are TWO camping areas, one as you come in on your left, and the main area at the end of the driveway behind the buildings. Access to BOTH is behind the buildings. The main camping area fills up fast, so early arrivers please don't take a big area, just squeeze in, and leave a pathway for early departures. The quietest area is probably the secondary area, on your left as you arrive - but no promises!
NO 4 wheeled vehicles in the main camping fields, too much damage to the grass, and too crowded, so there is an area specifically for you. Same as in previous years, directly opposite the main building front entrance, across the driveway, backed up to the paddock fence.
Showers - limited but adequate showers are available in the main building, in the sports area.
Barbecues - ONLY at the firepit area, not on the camping fields AT ALL. There are NO cooking facilities except what you bring, but there are tons of excellent pub food at good prices available. Water is available from a tap at the back of the main building.
Dogs - due to a particularly noisy dog in '07, there will be no dogs allowed to camp in the main camping areas at all. VERY sorry we have to do this, but there were a lot of complaints, and understandably so, about a dog barking all night, so we're forced into this restriction. 4 Wheelers can have their dogs in the parking lot area, and there is an area on the driveway on the right as you arrive, near the very bottom of the hill, where people with dogs and tents camped last year and were happy with it, so we will continue to do that this year. Noisy dogs will be ejected regardless, so please keep your dog quiet.
Equipment for Sale
There will be a pin board for you to post equipment, bikes etc for sale.
Free stuff - A Scratch Patch
(as suggested by Michelle Clarke in an email:)
"We all know how expensive these overland travel dreams can be, but also how you often manage to accumulate travel equipment and bits and pieces that just end up gathering dust. That thingamabob that you have been meaning to give away for ages could be exactly what some skint newbie is in need of before a first trip.
How about a table set aside inside as the Scratch Patch at the UK HU meet? A place where people can put those extra inner tubes for the bike that they already sold but forgot to give to the new owner (clearly labelled as to size of course ); that jerry that you bought that doesn't fit your mountings; that Lonely Planet for Mongolia - anything that might be a big help to someone else.
(of course, anything that does not find a home by the end of the weekend will need to be reclaimed)"
Perfect - we'll set up a spot somewhere, so bring your goodies!
Travel Equipment Vendors
Vendors sign up here to join us!
Adventure-spec, waterproof riding gear, luggage, tools, bike protection parts, first aid kits, camping bits and pieces
Beast of Burden Expedition Company, Expeditions to Mauritania and Mali
Gravel Travel - African motorcycle safari tours: Botswana, Namibia, South Africa
James Cargo Services, bike shipping around the world.
Metal Mule, overland luggage systems
Michelin Tires
Traveldri-Plus, motorcycle travel and camping goodies specialists
Sjaak Lucassen, Netherlands; an R1 around the world
Touratech UK, the adventure travel specialists - everything for your bike!
Books - get your signed copy direct from the Author!
Expected attendees (but no guarantees):
Austin Vince will have his DVD's for sale as well as his books 'Terra Circa' and 'Mondo Enduro'
Dennis Robinson, 'Scooters in the Sahara'
Lois Pryce, 'Lois on the Loose', will have books, including her African adventures book.
Nick Sanders will be there with a collection of his books
Paul Pratt, one of the original overlanders with signed copies of his best selling, 'World Understanding on two wheels'
Sam Manicom, with his books 'Distant Suns', 'Out of Asia' and 'Into Africa'
Simon Gandolfi, UK, will have his book "Old man on a bike" (Ushuaia to New York on a 125)
Ted Simon, Jupiters Travels will have his books and a new talk on his travels.

Bring some cash! :)
Overall Schedule (not Seminars and clinics)
All times - and everything - approximate!
An up-to-date schedule will be posted at the Meeting.
Registration is on all day, from Thursday noon all day every day.
Thursday morning
CHECK-IN and sign up! You MUST be registered to go on a ride or for entry to any events, seminars etc.
Friday
CHECK-IN and sign up! You MUST be registered to go on a ride or entry to any events, seminars etc.
9:00 Ride briefing. Be gassed up and ready to ride if you're going.
Speakers presentations schedule - check the posted times on the day for all details.
Saturday morning
8:00 - Breakfast, all morning
8:30 - 9:00 Late Check-in.
9:00 Ride briefing. Be gassed up and ready to ride if you're going.
Saturday Lunch
Carvery - from 12:00 noon served all day. Cost is £5.95 payable to the venue on the day. Range of specials from the blackboard served all day, various prices. Vegetarian meals available.
Saturday afternoon,
Rideouts - details here if you're riding on your own.
On road runs - we'll post a sheet of paper up for you to add your name to a destination, volunteers to lead appreciated!
Speakers presentations schedule - check the posted times on the day for all details.Saturday, dinner
9:00 (not sharp) - Door prizes - you have to be there to win!
Sunday
Breakfast served from 8:00
Sunday Carvery from 12:00 till 3:00, cost is £5.95 payable to the venue.
Presentations - there will be a few repeated presentations Sunday morning. LAST chance to get the ones you missed.
There will also be several travel oriented vendors there, so a great opportunity to have a good look at the latest goodies. Vendors please contact me for details.
Miscellaneous notes:
Organizers will be there Wednesday afternoon, if anyone wishes to arrive early and just hang out or go for a ride in the area. There is no problem arriving even a couple of days early, Lumb Farm will be happy to see you and feed you, and camping is free. If you arrive early you might get put to work - there's a lot to do setting up! All assistance greatly appreciated! :)
Registration
PLEASE NOTE:
In 2009 we filled up!
Discussion, updates and Event Report with Photos here on the HUBB