Want to know what people thought of last years Meeting? Is it worth coming to the Meeting?
"I'm so looking forward to another UK meet. My only problem is that I simply can't get to every talk I want, such is the amount of terrific presentations on offer. Each year I've been astonished at how articulate, intelligent, informative and entertaining the speakers are. I'm willing to help with anything that doesn't keep me from a talk - and my timetable will be full to bursting!" More comments here.
The Plan
The plan is simple. Show up on Thursday or at the latest Friday afternoon, meet people and setup. Travel Presentations and Tech seminars are planned throughout the meeting, starting Thursday night.
2012 Speakers and Tech Seminars:
Inspiration
Heroes of Adventure Travel - Saturday Night Live!
Austin Vince will be back again this year with more unique humour and travelling insight.





Jupiter's Travellers & Rolling Through the Isles
Ted Simon
We're delighted to report that Ted has confirmed he'll definitely be at Ripley again this year. He'll be talking about his new book and the Foundation that's been created in his name to support selected adventure travellers.
Everyday An Adventure
Sam Manicom






20 Years and 500,000km Around the World
Sjaak Lucassen
Famous for riding 250,000km through 75 countries on an R1, Sjaak's adventures began in 1992 with a journey around Australia. In 2008 and 2009 he completed winter rides to the North Cape in Norwayand the Alaskan town of Deadhorse, facing temperatures lower than -30°C! This double-session will give you a taste of all those past adventures, including Sjaak's expeditions on a Fireblade and his plans for the North Pole!





Riding the Pink Porridge - Trans Canada
Craig Carey-Clinch and Barbara Alam
Tales from the Canadian Highway, a new journey from west to east, including The Labrador territory.
Touching the World: A Blind Woman, Two Wheels and 25,000 Miles
Jupiter's Travellers - Cathy Birchall & Bernard Smith
The story of the first blind person to circle the world by motorcycle.





Riding Dorothy
Jupiter's Traveller - Nathan Millward
Sydney to London on a 105cc postie bike named Dorothy.
The Bike is the Catalyst
Paddy Tyson
How forsaking plans and choosing a shit bike can lead to political insurrection, beautiful scenery, fear, excitement, love and new friendship, as well as a sore arse, sunburn, paralysis, dinner with a president and being held at gun point. The bike is the catalyst, let it lead you out of your comfort zone.
A year (almost) around the world (sort of)!
Jupiter's Traveller - Dom Giles
In 2010 Dom set off from Alaska taking 6 months to make it down to Panama (he probably should have taken a GPS). From there he shipped to South Africa and then hit the road (once literally) heading for Nairobi, finishing in June 2011. This presentation will fill in the gaps and leave you wondering why, if it's all this easy, you're still sat in a field in Derbyshire instead of out on the road somewhere.
Scooters in the Sahara
Peter Darke
The continuing story of the project to support Bansang hospital...
Malaysia to UK on a C90
Ed March
A 7 month 20,000 mile solo journey from Asia to England on a C90. Engine rebuilds, constant modifications, filming music videos, machine guns and ladyboys. This is not your average 'by the book' motorcycle adventure.
Seven-Day Adventures
Matthew Cashmore
Traveling the world on your motorbike with a job, a wife and a budget. A rough guide to living the dream in the real world.





It doesnt matter how much time or money you have, there is a trip for you!
Dave Lomax
It's all about the ideas and inspiration! Come and see what you can do with your annual holidays. Think you can't have a big independent adventure in a small amount of time... come along and see film and photographs that tell very different stories (from five of the world's six continents!).
A Glimpse of South Africa
Alex Jackson
From the coast to the bush and more.
Ineptitude and Romantic Failure
Ian Mutch
How to get lost in Morocco and Spain and fail with women in New Zealand.
Two Pegs to Patagonia
Bruce Porter
My wife wanted to see Penguins in the wild. I wanted a long bike ride. From Canada to the tip of the Andes and back on two Italian bikes. 24,500 miles later...
One day you have to live your dream...
Manuela Beis
How to plan, prepare and realise a 4-month solo journey through South America on a DRZ.
From Dreams to Reality - What Anyone Can Achieve
Graham Hoskins
Life changing travel adventures that anyone could try. With just 2 weeks and a limited budget what could you? 7000 miles and 16 countries. How about the old Dakar Rally? Graham talks about his adventures with Danny John-Jules (The Cat from Red Dwarf) with clips from the TV series.
From Beijing to Paris on a Yamaha XT250X
Frédéric Scheffer
17,000km, 3 months, 10 countries. At the age of 23, Frédéric rode from China to France on a 250cc bike. It was the roadtrip of a lifetime.
London to Cape Town via the West Coast
Russell Anthony and Adrian Jonson
Africa via the west coast, 2 riders, 2 bikes, 2 tents. Definitely 2 tents...
Baikal is Halfway Home
Brendan Ball
Two beginners survived the Zilov Highway.
Panama to Cambodia
Sheonagh Ravensdale & Pat Thomson
Sheonagh and Pat (aka Dusty Old Bags) have been riding bikes for a combined total of 75 years. This is a lighthearted account of their latest attempt to get round the world: 22000 miles, 15 countries in 16 months on a couple of Honda Falcon NX400s.
UK to India
Simon Chegwyn
Royal Enfield and Transalp to India in 2009.
eBay to America
Simon Chegwyn
North America on a 1982 Gl500 eBay bargain.
But I only have two weeks!
Stephen Clark
Getting the most out of two weeks without it turning into an "Iron Butt ride"
The presentation will be based around letting travellers know they can get much more than they think possible from two weeks in parts of Europe that don't require 500+ miles a day. I will explain how meeting the people rather than just passing through their landscape is what makes the journey. I considered calling the presentation "A madman on the road to recovery" as I have fallen victim to the dreaded stress, had to take time off work, change my job etc and was even unable to ride my bike for 6+ months, this will form part of the presentation - as we say "If I can do it, so can you!"





Two Pensioners and a 10 year old bike to North Cape (Nordkapp)
Nigel and Sharyn Tailyour
If two pensioners can get to North Cape in Norway on a 10 year old bike then you can too.
Turning to the Dark Side
Mathew Quarterman
5800km Lima to Rio. 2 wheels, but no engine.
Morocco in a Nutshell
Tim Cullis
It's now 40 years since Tim's first trip to Morocco on a TriBSA cafe racer and in the intervening time he's spent about three years in the country including trips with offroad bike, 4x4 and trekking with mules. As well as a full logistics run down this session will show the beauty and strange places that Morocco has to offer.
How to avoid the Mother-in-Law at Christmas
Chris Bright
Trail-riding in northern Thailand. Superb sights, sounds, culture and fun for not a lot of money.
TeapotOne - Brewing a Journey
Bruce Smart - TeapotOne
What is TeapotOne, why is it happening, and how do you go about planning a trip of a lifetime?
Living and Motorcycling in Peru
David Groves
13 years riding and running a bike tour company in Cajamarca, Peru.
Budget Overlanding - Necessities vs Luxuries
Graham Field
Dispelling the myth that only the privileged and those who lead a charmed life can do a trip. Keeping the challenge and avoiding the endurance test.
Travelling with a Classic Bike
Rollo Turner
If bike and rider add up to more than 100 years these are just some of the things you might never need to know!
Life on the Line
Jerome Bullard
A 33,000 mile trip that changed my life - from the United States to the southern tip of Argentina.
Motorcycle Outreach - Motorcycles for Healthcare
Craig Carey-Clinch and Barbara Alam
Be inspired by the story behind HU's nominated charity and how Motorcycle Outreach supports healthcare projects in Indonesia.
The Himalayas on a Royal Enfield
Lilian Hobbs
A video of my trip on a Royal Enfield across the Himalayas. One moment it's tarmac, the next it's a river crossing, but who cares when you get to ride at over 18,000 ft on the highest road.
More coming soon as details arrive!
Learn
Lots more to come!
Live Engine Re-Build for Charity
Ed March (and his Honda C90)
Watch Ed in the marquee as he attempts a full top-end re-build of the C90 to raise funds for Motorcycle Outreach. To take part, just buy a ticket and guess how long it will take him.
Ed March and his unstoppable C90
Fix that flat! How to change a tyre anytime, anywhere. Two hours.

We're delighted that Continental Tyres will be giving this year's guide to changing and maintaining tyres. They'll show you how to prevent flats in the first place, and fix them when you get one. The best tools and how to use them for tube and tubeless tires. Bring your changing / patching kit with you! Hand's on practical, try it yourself.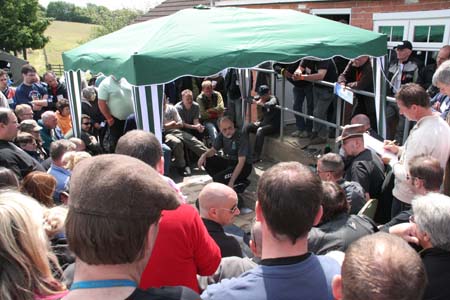 Changing a Tyre, tech session 2009
(It will be in the Marquee for 2012)
Overweight is Underprepared 5!


Dave Lomax
Who would have thought 5 years ago that this presentation would be used on Grant and Susan's DVD series and prove so popular? Updated and back again by request to let you know about the things that are essential to travelling light. Not least, the difference between what you 'want' and what you 'need'. You will be astounded at how little you really need to travel super efficiently and light (cheap!!!).
How to Film your Adventure


Austin Vince
Instructional double-session from the master of adventure motorcycle film-making.
Travel the world and get paid to do it

Paperwork for the 'Stans


Zebb from Motoloco
Everything you need to know about essential paperwork for travelling through the 'Stans.
Keeping your Airhead on the road


Phil Hawksley
A Q&A session to help you keep your Airhead running.
GPS Mapsource and BaseCamp


Tim Cullis
Double session workshop on using Garmin products to plan your trip.
A fortnight round Morocco - a detailed beginner's package


Mike Vitkovitch
Aimed at novice adventure riders, a well proven route with details of where and how to travel, stay, eat and enjoy the trip! A handout of the information will be available at the talk.
Demystifying the Myth


Yosi Rapaport
What to pack, how to pack it, and why less is always more.
Trip Preparation and Planning


Colin and Dee Masters
The pleasures and pitfalls of long-distance riding.
Adventure Motorcycling Medicine Update

First Aid Demonstration - Including the Safe Way to Remove a Helmet

Tax refunds to fund your trip


Steve Mercer
How to get the HM Revenue and Customs to give you monrey to fund your trip.
Escape to the Country


Andrew Sercombe
All the gear and a Big Idea. Now what? Getting started the easy way.
Panel - volunteers please!

How to get someone of the opposite sex to go travelling with you - panel and discussion.
Why is it so hard? What are you doing wrong - or right? All viewpoints discussed!

Women only

A VERY popular session - it's a must for the ladies, so plan on being there!

Roadkill Cookout

Danny Taylor and Fil Schiannini
Watch and learn - how to skin a rabbit, prepare, cook and enjoy other tasters. And what does Thai Green Curry have to do with Roadkill? Check schedule at the firepit for demo times.






Ask the Experts!

Panel Session! Still have a nagging question or two? Want to ask, but not sure who? There will be a panel session to get all those last details covered - ask anything at all! MOST of them we'll answer...
Important Presentation Info!
The main conference room will squeeze 250 people. Smaller rooms hold up to 100, so there will be THREE and sometimes FOUR shows happening simultaneously, so you can pick and choose what you watch. We will repeat as many shows as possible so that you don't miss out.
The Marquee (the Souk!) we used for the first time in 2010 will be back, and will be used even more. It easily holds 3-400 people with standing. Many of the shows in the main room will be streamed to the big screen in the marquee, so you have two choices for where to watch.
There will also be Breakout sessions, which anyone can call! We'll have signup sheets for breakouts, just grab a sheet and list what subject you want to talk about and where and when, and people can sign up and meet you there! Sessions can be during dinner, or over breakfast or meet at someone's bike, whatever, it's up to you.
There will be slide shows and talks Thursday, Friday and Saturday night, as well as all Saturday morning and afternoon, and Sunday too, (see the schedule). Come early and make it a great weekend!
SLOW BIKE RACE!
After the roaring success of last year, the 'Slow Bike Race' is back again for 2012 with the fantastic support of Rieju Motorcycles. All overlanders know that you are going to spend a significant amount of time, picking your way at slow speeds through mud, slaloming potholes and slow motion dodging through loony traffic. What better way to show off your skills! It won't be easy, but it'll be fun. The first 27 people to book at the Meet get to take part. Kick off 10am sharp on Saturday morning. There'll be a prize! And a bonus prize for the slowest rider who completes the course within the rules. Um, NO SIDECAR OUTFITS or 4x4's :)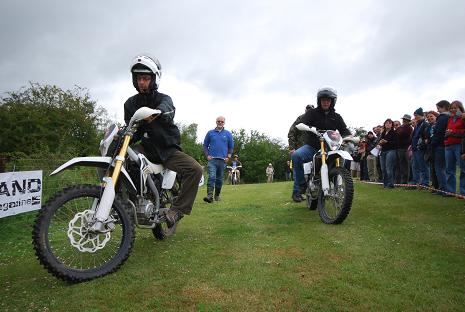 BIKE SHOW!
Back again for another year, the HU Travel Bike Show!
Free to enter, open to all bikes.
Prizes for:
Most Unsuitable
Most Stickered
Best Modification
Most Travelled
Shine it up - or perhaps get it dirtier... and bring it to the front parking area Saturday afternoon - details at registration.
See the Schedule here
Trail Rides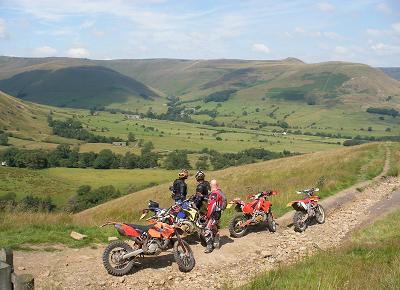 The TRF has VERY generously volunteered to show you some excellent trail rides in the beautiful Derbyshire countryside. These guys know this part of the world like the backs of their hands. There will be three grades of rides you can book onto:
- Hardcore (Knobblies)
- I'm Smiling (Enduros)
- Beginner (I can do this!)
The rides are roughly 30 miles and can last 2-3 hours. Talk to the guys on the TRF stand if you don't know which is going to be the best grade for you.
The rides will be on Thursday & Friday and will leave from a meeting point 26 miles from Lumb Farm at 10am and 2pm. There will be another set of rides on Saturday at 12pm.
Due to the kind of roads, it'll take you about 40-50 minutes to get to the meeting point. So, for the 10am rides you'll need to leave Lumb Farm by 9am and for the 2pm rides you'll need to leave by 1pm.
If you're interested please put your name down on arrival at the TRF stand across from the Registration Tent. There will be sign-up sheets for each ride posted. First in best dressed. Rideouts are limited to 6 people per ride.
Full on crossers with race pipes and numbers are definitely likely to be frowned upon. It's up to you to make sure that your bike is road legal and insured. All participants have to sign a liability waiver at the time of booking. The TRF has tried to ensure that the routes chosen are all legal, but run leaders are volunteers who will not be held liable for any legal problems. YOU are responsible for your own safety and any damage to your bike.
Donations to the TRF fund are requested from all ride participants, but will be waived if you join the TRF at the event.
Live Music - Saturday Night - Round the Bonfire
In what has become a tradition for the Ripley meeting, on the Saturday night you'll find live music round the bonfire. This year we'll be rockin' to Stevie Simpson and his mandolin...
Charity Draw
2012 Charity is Motorcycle Outreach, through the sale of raffle tickets and the generous donation of prizes from all the vendors on site and from afar. If you'd like to donate a prize for the charity raffle, send it direct to Lumb Farm marked to Angela Woods FAO Horizons Unlimited or just bring it along with you to the event itself.
Confirmed prizes so far include a £200 voucher from Brittany Ferries, 12 month subscriptions to RiDE and MCN, a voucher for a pair of tyres from Continental Tyres, the hire of a Suzuki V-Strom DL650 with topbox for 3 days and 2 nights from Saltire Suzuki in Edinburgh, signed copies of all four of Sam Manicom's books and Adventures in Yellow by Norman Magowan, plus two motorcycle jackets and a scarf from Turcano Urbano.
Motorcycle Outreach does much the same as Riders for Health, but in Indonesia! :) In 2011 you raised a very vital £1,200.00 for them with your raffle ticket purchases!
As with 2010/11, the draw will be held at 5 pm on Saturday in the marquee. If you're in a presentation at the time, numbers will be matched to prizes for you to collect later. Prizes will be available to pick up from 5 pm Saturday until 10 am Sunday, so no need to be there to win! The raffle for any uncollected prizes will be redrawn at 10 am on the Sunday - so don't throw your tickets away.
Food
Tasty meals with generous portions served all day, every day, from 8.00am and well into the evening. There's a wide and varied menu, including vegetarian options. Lumb Farm haven't increased their food prices since last year, which you'll find are equivalent to, or less than, what you might find in most pubs. Eat in the restaurant, bar, or al fresco!
Camping
The £10 camping fee for the whole 4 days is not included in your registration fee this year. The camping fee is being charged by Lumb Farm and not by Horizons Unlimited.
There are TWO camping areas, one as you come in on your left, and the main area at the end of the driveway behind the buildings. Access to BOTH is behind the buildings. The main camping area fills up fast, so early arrivers please don't take a big area, just squeeze in, and leave a pathway for early departures. The quietest area is probably the secondary area, on your left just as you arrive - but no promises!
NOTE: The lower field has a small area that's prone to seepage from the site's septic tank - which is supposed to be "no problem" but as the weekend goes on it has been errhhm "overwhelmed" so look for the signs and steer clear!
NO 4 wheeled vehicles in the main camping fields at any time without specific permission. It's too crowded and causes too much damage to the grass.
4x4 and Camper Vehicles - Unlike in previous years, the 4 wheeled 'camper' zone will be in a designated area at the top of the bottom field.
Showers - Men's available in the new outside blocks. Women's still inside the main building.
Wi-Fi - there is Wi-fi available in the Pub area, but it's a single connection for EVERYONE so don't expect fast!
Barbecues - ONLY at the firepit area, not on the camping fields AT ALL. There are NO cooking facilities except what you bring, but there's tons of excellent pub food at good prices available.
Food and Beer - available in the pub. Please DO NOT bring YOURS into the pub! Angela, the landlady, obviously got upset when people did this in the past.
Dogs - due to a particularly noisy dog in the past, there will be no dogs allowed to camp in the main camping areas at all. VERY sorry we have to do this, but there were a lot of complaints, and understandably so, about a dog barking all night, so we're forced into this restriction. 4 Wheelers can have their dogs in the parking lot area, and there is an area on the driveway on the right as you arrive, near the very bottom of the hill, where people with dogs and tents camped last year and were happy with it, so we will continue to do that this year. Noisy dogs will be ejected regardless, so please keep your dog quiet.
Children - safety concerns have been raised, especially with folks riding around on motorcycles, not always sober! Some of the presentations are absolutely inappropriate for kids, and yet their parents brought them along anyway! It is not fair to the presenters (or the audience) to expect them to censor themselves so that children can attend talks that are intended for an adult audience, and we could run afoul of child protection legislation. IF you wish to bring your kids along, YOU explicitly accept these stipulations and therefore FULL responsibility for kids under 16 (and 14+ year olds will pay full adult price). NO children admitted to talks after 9pm.
Equipment for Sale
There will be a pin board for you to post equipment, bikes etc for sale.
Free stuff - A Scratch Patch
(as suggested by Michelle Clarke in an email:)
"We all know how expensive these overland travel dreams can be, but also how you often manage to accumulate travel equipment and bits and pieces that just end up gathering dust. That thingamabob that you have been meaning to give away for ages could be exactly what some skint newbie is in need of before a first trip.
How about a table set aside inside as the Scratch Patch at the UK HU meet? A place where people can put those extra inner tubes for the bike that they already sold but forgot to give to the new owner (clearly labelled as to size of course ); that jerry that you bought that doesn't fit your mountings; that Lonely Planet for Mongolia - anything that might be a big help to someone else.
(of course, anything that does not find a home by the end of the weekend will need to be reclaimed)"
Perfect - we'll set up a spot somewhere, so bring your goodies!
Travel Vendors
Vendors sign up here to join us!
2012 Vendors:
Many more expected...
Books - get your signed copy direct from the Author!
Expected attendees (but never any guarantees):
Ted Simon with his brand new book 'Rolling Through the Isles', plus the classic 'Jupiter's Travels' and 'Dreaming of Jupiter'.
Austin Vince will have his DVD's for sale as well as his books 'Terra Circa' and 'Mondo Enduro'
Dennis Robinson, 'Scooters in the Sahara'
Nathan Millward, with his first book 'The Long Ride "Home"'
Robert Wicks new book 'The World's Great Adventure Motorcycle Routes' and the rest of his series: 'Adventure Motorcycling', 'Adventure Riding Techniques', and 'Building the Ultimate Adventure Bike'.
Sam Manicom, with his books 'Tortillas to Totems', 'Distant Suns', 'Under Asian Skies' and 'Into Africa'
Paddy Tyson, with his book 'The Hunt For Puerto del Faglioli'
Graham Field, with his first book 'In Search of Greener Grass'
Overland Magazine, the great new publication from Paddy Tyson
Jerome Bullard, 'Life on the Line'
Rollo Turner from Panther Publishing will be there with several great travel books.

Bring some cash! :)
Plan what you want to see! The schedule is subject to change, so don't hold our feet to the fire - stuff happens! But we will try very hard to ensure that it goes off as planned. To avoid disappointment, be sure to check the latest schedule posted at the meeting on the day. And even that can change. :(
Registration
ONLINE Registration is closed, but there is still room to register on the day!
Admission pricing (for PAID pre-registration):
If you registered and paid before November 1, admission was £45 plus Camping/Venue fee.
If you registered and paid before March 1, admission was £55 plus Camping/Venue fee.
Register and PAY between March 1 and June 30, 2012, admission was £65 plus Camping/Venue fee.
At the door admission is £75 for all four days plus Camping/Venue fee.
Friday ONLY £35 at the door, no camping.
Saturday ONLY £40 at the door, no camping.
NOTE: Car parking - due to the EXTREMELY limited car parking space, and a lot of problems in the past, there is a £10 charge for onsite car parking. Pay on the day. All parking charges will be donated to Motorcycle Outreach.
4WD / Adventure Travel vehicles that you're sleeping in, no additional charge, and we have a private area for you. Presenters with equipment, no parking charge.
Entry fee includes admission to the slide shows on Thursday, Friday and Saturday night and Sunday am, and other events during the day every day. Camping is NOT included in your entry fee for Thursday, Friday and Saturday night. If you arrive a day or two early there is no problem finding a spot to camp, no charge. Just eat there and they're happy! If you want to stay over a day, similarly no problem.
Accommodation and meals are NOT included.