Too many to list! If you haven't checked out the Links page it's time you did - it's scary long, but it's a fascinating browse.
---
Get your website listed in the LINKS Section
by listing Horizons Unlimited on YOUR web site, let me know you've done it by mailing me a link to the page, and you may get listed here in the next newsletter and on the Horizons Unlimited web site Links page. To make it easy for you, we even have our logo and link code here!
All sites will be considered for listing, but must be a MOTORCYCLE or TRAVEL site, useful or of interest in some way to travellers. We reserve the right to refuse to link back.


Motorcycle Express
MC Air Shipping, (uncrated) USA / Canada / Europe and other areas. Be sure to say "Horizons Unlimited" to get your $25 discount on Shipping!
Insurance - see: For foreigners traveling in US and Canada and for Americans and Canadians traveling in other countries, then mail it to MC Express and get your HU $15 discount!
There are many 'Helpful People' listed on the Links page, a huge thanks to all of them. How about you? Or you can join a Community, or start your own!
Do you know of a good shop 'on the road,'
...in other words, somewhere there isn't a large number of shops? (Also of course any shop that specializes in travellers equipment and repairs is of interest.) But we're particularly looking for those rare items, good repair shops in South America, Africa and Asia etc. Please post your info in the Repair shops around the world Forum on the HUBB.
There are now 100's of shops listed in out - of - the - way places, from Abidjan to Ghana to Peru! Be sure to check out the HUBB 'Repair shops around the world' forum if you need work done!
When you meet people on the road, and they haven't heard of this e-zine or the website, we'd appreciate it (and hope they would too!) if you'd get their names and email addresses and send it in to me.
Thanks, Grant
Request for info
Wouldn't YOU like to know all about the border you're approaching - what it should cost, paperwork required, 'tips' needed, and who to talk to, etc.?
When you cross ANY border, take some notes, and pass them on to us. Thanks!
Shipping
The Shipping page on the site is HUGE! It can be reached directly or from the Shipping link on the Trip Planning page.
Travel Advisories:
The Foreign Office in London's Travel Advice Unit advises against travel to all sorts of places. Check out the listing before you start!
The US State Department regularly issues updated travel advisories, information and/or warnings.
Motocare
Motorcycle Rental, hiring Honda's Transalp for touring Argentina and Chile. Ride across the Andes, from the Atlantic Ocean to the Pacific, lakes, deserts, salt pans, waterfalls, beaches, rain forests, glaciers...
Motocare Argentina
Motorcycle Therapy, by Jeremy Kroeker
From the Canadian Rockies to the Panamanian Jungle, Motorcycle Therapy rumbles with comic adventure as two men, fleeing failed relationships, test the limits of their motorcycles and their friendship. Get it here!
---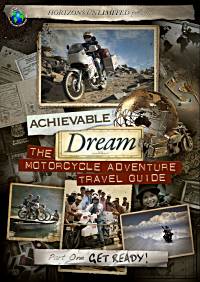 Get the Achievable Dream DVD's NOW and learn how YOU can hit the road!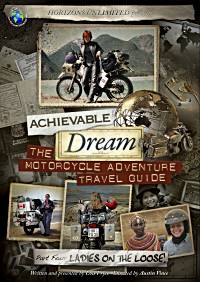 Tiffany Coates, UK, UK to Mongolia, in Uzbekistan and Tajikistan,
"At the border crossing, the Uzbeki guards were very thorough in their search (which as we are leaving the country seemed a bit odd), they x-rayed every bag and started searching through them by hand as well-the sort of treatment I have only seen at an Israeli border several years ago. It was going to take a long time so drastic action was required - I went very pale and vomited copiously at the entrance to their office - not surprisingly they quickly decided that their search was over and they urged us to continue our journey (yes, Annie did take a picture).
Before we could leave though, the cleaner came over and stroppily thrust a brush and pan into my weak and clammy hands. I was unable to stand up at this point. Luckily the sniffer dog came to investigate and liking what he saw, proceeded to eat the vomit on the ground which made me feel better as he was looking a bit emaciated and I knew that this was definitely one meal that included the five food groups...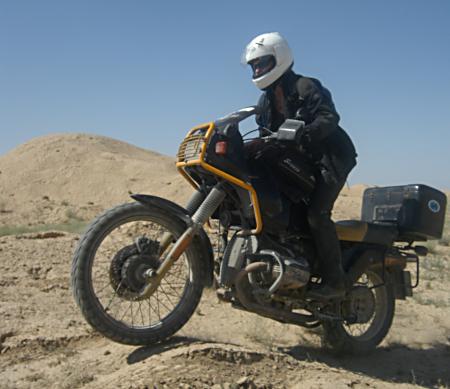 ...As always when we were getting Thelma ready to leave, a small crowd gathered and asked where we were going - an incredulous look when I announced Dushanbe and the crowd said 'On that bike over those mountains?' making high mountain gestures in the air - I managed to distract Annie as they did that - it's a need to know situation and I really don't think she needs to know that we have two huge mountain passes ahead of us, and anyway as she has currently mislaid her reading glasses (my now blind navigator) she has not been able to read the route description in the guidebook so is blissfully unaware. I had told her the thermal balaclava was for the dusty conditions. So far it had been almost unbearably hot, like riding in a convection oven set to full heat, but I knew this would change.
The tarmac was good to begin with, scenic mountains, dry, dusty valleys and occasional oasis towns. Roadside hawkers included blokes holding out writhing snakes, not sure what people were buying them for. 100 miles further on, a police checkpoint and they indicated a rock and gravel strewn track leading upwards as the way to Dushanbe.
It got very bumpy and then the snow appeared, small amounts at first until it was banked up at the sides of the road, some of it melting and falling onto the track in front of us. The surface got more slippery as I was faced with the unenviable choice of slippery mud or slippery slabs of ice on a narrow dirt track at 3300 metres altitude. The lack of oxygen was starting to give me a headache and I was desperately conscious of the fact that I had donated my last square meal to the customs sniffer dog yesterday and had eaten only a bit of dry bread since then - I decided to not dwell on my weakened state and just focus on the road as we lurched towards the edge of the precipice. I stopped in time, straightened Thelma and apologised to Annie as I then gunned it up the final straight - we had made it to the top, now all we had to do was get down the other side - and for those who know my feelings about downhill stuff, it was not a pretty sight. I got Annie to walk about 15 yards at one point as there was so much snow across the track, it was downright dangerous.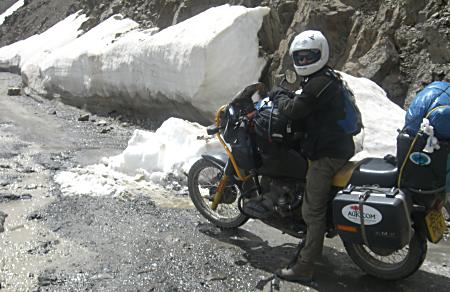 ...Eventually the tunnel of terror loomed up before us, I had been pre-warned about this, it's an Iranian constructed four mile pitch-black flooded tunnel with deep potholes and a delightful carbon-monoxide atmosphere. At least it meant we didn't have to go all the way to the top of the mountain in the snow again.
We paused and a cement mixer lorry came along and beckoned us to follow him through - what a gent. He even put on his light at the back to act as a small spotlight for us, the upside was that we could see the watery surface ahead though the downside was that we had to choke on his fumes all the way through and at times when it would have been safer for us to go a bit faster we were trapped behind him going slowly - Thelma is more stable on uneven ground at faster speeds.
Within 50 yards we had lurched into a very deep pothole that soaked us and I almost dropped Thelma, I think it was only the thought of trying to pick up Thelma in 2 foot deep filthy water in the inky blackness that enabled me to desperately keep her upright. After that I watched the truck's wheels intently (a bit hard with my eyes stinging from all the fumes), looking out for that tell-tale lurching. It seemed to take forever, but finally we were out into fresh air once more and now it was definitely downhill all the way."
---

---
Mark Hammond, USA, from Morocco to Cape Town, in Congo, Suzuki DR650,
"Puddle doesn't do it justice. A mud puddle is a small pool of water that a little boy in yellow rubber galoshes jumps into on his way home from school on a rainy April afternoon, for the thrill of the splash.
These were not mere puddles - they were ponds, swamps even, some as long and wide as a Greyhound bus and a good three feet deep. It rained regularly here in northwestern Congo, even in the so-called dry season of mid-January. These ponds were ecosystems unto themselves, with tiny organisms skittering atop the surface and, in at least one, even newts.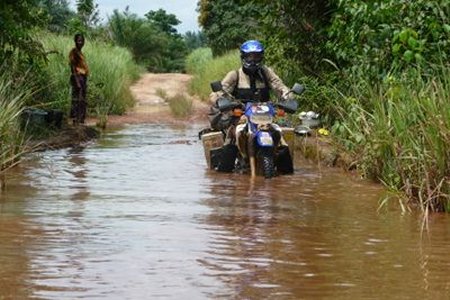 I have always enjoyed water fordings, and after we crossed from Gabon into the Congo, at a tiny border settlement called Nyanga, I would have more than my share of fun. I propped my arse up slightly on the waterproof duffel bag lashed up on pillion, steered with my feet, locked my elbows straight on the handlebars, and plowed on through these gigantic ponds.
Great V-shapes of brown water sprayed into the air. The water was warm and fetid and soaked my torso and legs and boots and tank bag and painted an ear-to-ear grin on my dripping wet face. I kept the motorbike in a mid-first gear, ready to gently administer additional throttle if necessary. In the middle, the water could be nearly seat-high and the surface below snotty and thick. Or bumpy - at the bottom, there would potholes within potholes, or logs or rocks. No one was about to do any deep-pond diving to find out.
All of a sudden, in the middle of a crossing, I'd hit some obstacle and vroom! The motorbike would heave, the front wheel would lurch - keep those bars straight and the throttle steady!"
Carol and Ken Duval, Australia, RTW (again), Uruguay to Brazil,
"Our hosts were keen to take us into the surrounds of Porto Alegre for some sight seeing so we chased the Super Tenere into the mountains enjoying the ride and Carol enjoying a holiday from navigating. Taquara, Sao Francisco de Paula, Cambara do Sul then a very rough stony 20 kms to the Canyon Itaimbenzinho in the Parque Nacional de Aparados da Serra. We were a bit concerned as our tyres were more street orientated and a little thin.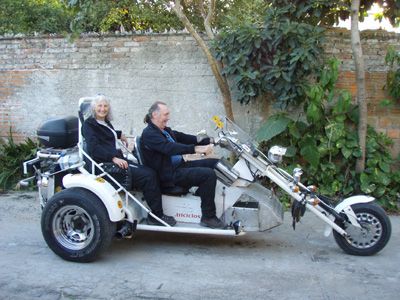 We survived the ride then walked a few kms to view the spectacular canyon. We took way too many photos then rode the remaining 20 kms out of the park, however around 5 kms from the end of the dirt the rear tyre let the air out. Patched tubes with 'slime' do not hold we found out, and it was dark before we left our unplanned stop.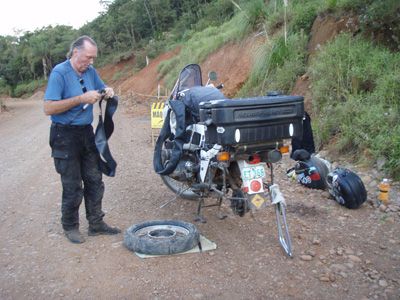 For the second time on our world travels both our pumps failed so it was our hosts small hand pump that brought our tyre back to life. Our destination of Torres was not too far and the distance was covered quickly."
---

Adventure Riding Techniques - The essential guide to all the skills you need for off-road adventure riding.
---
Oliver Abrahams, UK, in Mexico, Honda XL650 Transalp,
"I met my couchsurfing host (Paulina) and her friends on Friday evening and on Saturday morning we were going to ride bicycles naked through Mexico City, as part of the World Naked Bike Ride. You may have gathered from my last post that I was fairly tense about this undertaking. It's not every day that you ride through a city in your birthday suit with a group of people you've only met 12 hours earlier. Plenty of questions had been bothering me in the days leading up to the event. Things like: Are there protocols for this type of thing? When do you actually get your kit off? Will there be any chafing? Where do you look? What do I do about sun cream? What if it's cold?
Oh please don't let it be cold! What if they're all really attractive. Oh God. What the hell have I signed up for, etc. However, as Saturday drew near I managed to convince myself everything would be ok and I was rather looking forward to it. That's a bit of a lie. I was actually still sh*tting myself.
Unfortunately, we all went to a party on Friday night and everyone got to bed very late. I was actually ok on Saturday morning and probably could have made it to the ride but Paulina (my host) felt too bad to venture out so we cancelled. I thought about going myself but I think that might have been a bit weird!"
Rob Jardine, UK, Melbourne to London, in Pakistan and Iran, on Honda Transalp,
"50 in the shade (if you can find any). Yes, that's right, I didn't know temperatures went that high, but they do, in Pakistan in the summer, and I rode right through the middle of it. Since the last update from Dharamsala, I've holidayed in two of the world's most notorious hotspots (Peshawar and Quetta), endured hours of police escorts, and I am now recovering in Bam from a spot of heat exhaustion (read - extreme diarrhea). I'm still travelling with T-bone, my intrepid German companion.
I would normally have steered clear of Peshawar, but I had received a strong recommendation for a tour guide there, and when I contacted the Prince he assured me that all was well. The ride from Islamabad was fairly straightforward until I got a puncture about 20km outside Peshawar. There was a big shard of metal in the tyre, so it went down pretty quick and gave me a big speed wobble at about 100kph. Fortunately there was a tyre shop about 50 metres away, so after taking the back wheel off, I paid the grand sum of 50 rupees and spared myself the trouble of changing the tube.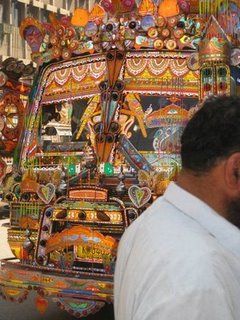 On arriving in Peshawar, we checked in at the Rose Hotel and called the Prince, who came out to meet us with his colleague Hussain. While I was waiting for the Prince, I went across the road to a tyre shop to see if I could find a replacement inner tube (for a Transalp? Not easy...), where they told me that the Taliban had bombed an internet cafe in Peshawar earlier in the day with many casualties - I decided the situation was sufficiently hazardous for me to stay off Facebook for a few days. The Prince and Hussain arrived and they were an absolute blast, so we decided to stay in Peshawar for a couple more days so that they could give us the full tour. On the way up to their office, there was a loud bang which sounded suspiciously like a bomb blast, but the Prince assured me it was a wedding - he later fessed up that it was a bomb, but he didn't want to worry us on day one...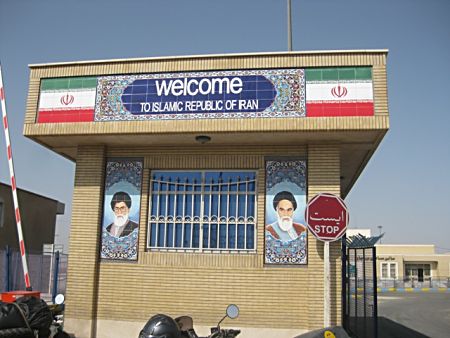 ...The nonsense started as soon as we entered Iran. Our passports were confiscated with no explanation, leaving us stuck at the border. Eventually it was explained to us that we would need a bodyguard to proceed to Zahedan, but no indication was given as to when this bodyguard would arrive. After 90 minutes, a boy-soldier (about 19 going on 12, and doing his best to act tough) presented himself, with no radio, no gun and no transport. Not much of a bodyguard. But he had our passports. Now there's not much spare space on the back of my bike, but this lad can't have been more than about 50kg, and since the alternative was to pay $25 for a taxi for him, he was duly added to the rest of the luggage and we set off.
I'll spare the gory details of the remainder of the day, but it took us 14 hours to cover the ~350km to Bam, with brief spells at 120kph behind police escorts interspersed with lengthy waits in 40+ degree sunshine outside many, many police stations. At one point we waited 30 minutes to be escorted 500 metres to the next post. No smiles, no explanation, no passport. I was extremely pissed off. We eventually received our passports back about 50km from Bam, but only because the final escort ran out of petrol. We were then almost run off the road by another police escort arriving in Bam, who thought they could tell us which hotel we would be staying in. To make matters worse, it was the hotel that I had planned to stay at anyway, so I had to make it absolutely clear that I was staying there because I chose to, and not because they wanted me to.
Akbar's Tourist Guest House in Bam proved to be a great place to stay, and Akbar and his son Mohammed were wonderful hosts. My stay there was somewhat spoiled by a chronic case of heat exhaustion / diarrhea, for which I blame the Iranian police for keeping me hanging around in the sun the previous day. Bam was completely devastated by an earthquake in 2003 and is still being rebuilt, and the ancient mud-brick city is a far cry from what it once was, but it's still an interesting place to visit."
---
---
Ian Moor, UK, Wrong Way Round The World, in the USA, F650GS,
"After the Memorial Day Weekend I headed back to the northern end of the Blue Ridge Parkway by a slightly different route to start the Shenandoah Skyline Drive. When I arrived there was heavy fog in the mountains along Skyline Drive although either side was fine. I camped at nearby Waynesboro for a couple of days and set off in clearer weather. Shenandoah Skyline Drive is a 105 mile scenic drive with a strictly enforced 35mph speed limit. I opted to go slower than that and try and spot a black bear which were supposed to be fairly common in Shenandoah. Naturally I didn't see one although there were deer and other unidentified creatures.
When I stopped to camp 20 miles from the end of Skyline Drive I asked the park ranger what was the chance of seeing a bear. She reckoned 30% and the best way of seeing one was to quietly walk the trails or stay still in the forest and wait for one to come past. As I left the rangers office a black bear was by the side of the road about 150 yards away. A deer crossed the road in front of it then the bear slowly wandered across the road and disappeared into the forest on the other side.
Spurred on by my first sighting of a bear in the wild I pitched the tent and set off on a 'bear hunt'. Following the Park Rangers advice of being as quiet as possible I turned my hearing aid off as I have found I do everything more quietly that way. I spent a day and a half enjoying the trails through the mountains but never saw another bear.
I have done over 4500 miles from Miami to Princeton New Jersey in eight weeks. The direct route is about 1350 miles. I have avoided Interstates and major roads wherever possible and done less than 100 miles in total on these. The only built up area has been at the mouth of Chesapeake Bay around Newport News, Portsmouth, Norfolk and Virginia Beach on the way to and from False Cape State Park for the Memorial Day Weekend.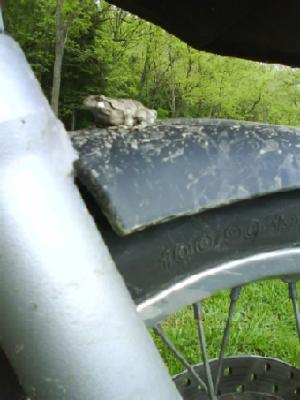 The vast majority of the roads have been very quiet and enjoyable to ride on (unlike the Interstates). I have done a couple of 30 mile stretches of dirt road and a few shorter sections. These could have been avoided but added to the variety. I have camped every night except one when I stayed in a B&B because the camping gear was wet. Not including getting to America, cost of paperwork and bike parts (tyre, chain & sprocket) it has cost about $260 per week (185 pounds sterling). Most of this was on camping fees of between $5 and $33 per night.
When I return in three weeks time I intend to head north, mainly along the coast to Nova Scotia to do the Cabot's Trail."
---

---
Adam Lewis, UK, RTW, in Uruguay and Brazil, BMW F650,
"I rode a few hours further south to the beautiful and aptly named colonial town of Colonia. On the way I came across the unusual sight of a guy using a chainsaw to cut a 10m tall Christ from a tree trunk.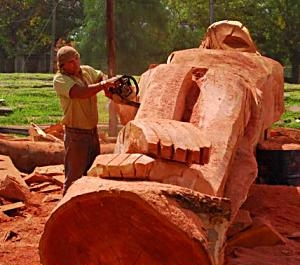 Hostel Espanol, a rambling old rabbit's warren of a place arranged around both indoor and outdoor courtyards proved a great place to stay and was well located for walking to the 'Old Town' where cobbled streets lined with painted houses were adorned with gas lamps. I moved along the coast to the capital, Montevideo in the hope of finding a pint of Guinness on St. Patrick's Day. It remained a hope though as 'Shannon's' turned out to be a Guinness free Irish pub - the irony wasn't lost on me!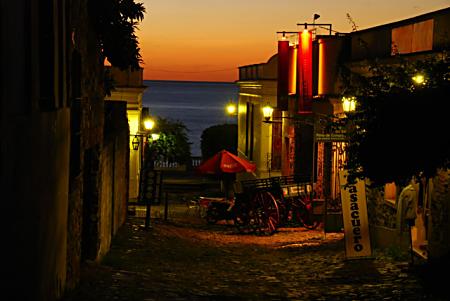 Curitiba is the starting point for one of Brazil's most spectacular railway journeys and was my reason for going. I'd noticed a contributor on the Horizons Unlimited website forum lived in Curitiba and so sent him a message asking if he knew a hostel that had parking for Lady P. He replied saying there was no need for a hostel as I could stay with him and so the following day I met Reginaldo in a petrol station south of the city.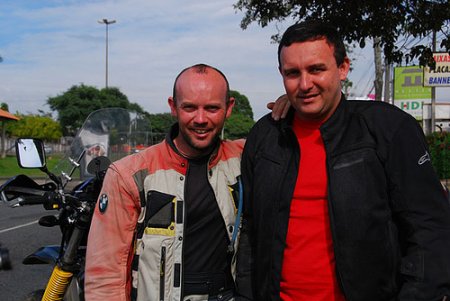 He worked for the fire service and had recently been promoted to station officer, a post he would take up after returning from a forthcoming trip to Chile on his Suzuki DR650. As well as putting me up for the weekend he took me around the town as I gathered the parts I would need for servicing Lady P when I got to Avaré. We spent the evenings swapping information as I had travelled the route he was planning through Argentina and Chile and he furnished me with GPS maps for Brazil, Peru and Venezuela.
The railway journey was spectacular. Plodding along at a mere 28km/h it climbs through a series of tunnels before emerging on the side of a huge forested valley where it descends via a combination of high bridges and yet more tunnels in a giant 'horseshoe' around the valley and back to sea level at Morretes before continuing on to the port town of Paranagua."
---
---
Simon Fitzpatrick, UK, Americas, in Peru and Ecuador,
"'You have committed two serious infractions señor, and the fine, with a receipt, amounts to 375 Peruvian Soles (75 GBP)', barks the uniformed shortarse in the layby (just after the tollgate 150 miles north of Lima). Bingo! I think, on hearing the phrase 'with a receipt'. I loathe bribery - it rots people and societies from within, but... the officer has a point. I was, in fact, speeding, and I do not, on this occasion, seem to have 3rd party insurance for Peru. I meant to get some - truly I did - but it appears I haven't been able to get round to it. So I am - I suppose - in the wrong, and he is - in theory - a policeman (read 'armed pickpocket').
I explain that I don't have 375 Soles on me - a massive lie. He asks me what I would like to do. I show him 50 Soles (10 GBP). He pockets it. Game over. I feel sickened and ashamed for 24 hours, but - look - I had actually done the crime, and if you're gonna do the crime, hurrah for corruption...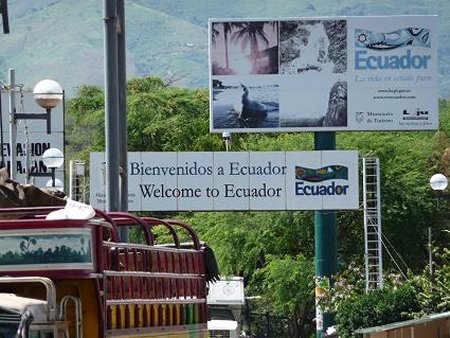 After this incident, and still uninsured, I scheme up a foolproof new plan; the next time I'm flagged down by these fellows, I'll pretend not to notice and sod off quickly. It works! Four times between Lima and Trujillo! It's all extremely exciting, despite the fact that they're not fussed enough to give chase.
Fun though it's been, I do now intend to buy some insurance for the last 500 miles - if only so I can get back on my high horse (which is currently lying down in a deep ditch with its hooves over its eyes) and refuse to pay subsequent bribes.
A little bit of insurance back story: In Argentina, you have GOT to have it. I had, and I was stopped and asked for it 50 miles outside BA by some very nice, un-corrupt cops. Chile - according to the border chaps, motorbikes don't need it. I was never asked. Bolivia - same story. Peru - well, I guess I'd sort of lost interest in the whole insurance issue by then.
So when you boil it down, a 10 GBP bribe covered me for 8000 miles and 6 months of uninsured riding. The game is SO up.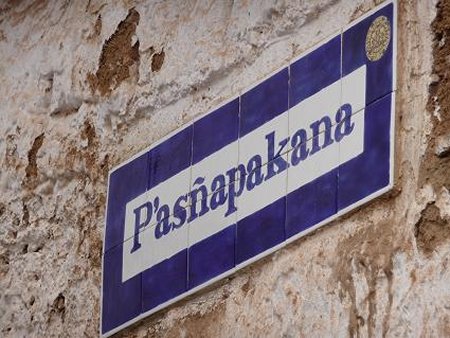 ...Talking to a motorbike is stupid and pointless isn't it? But, hell, I challenge you to ride one 10,000 miles across the continent of your choice and not start doing just that. We bang over a pothole and I pat the tank and say 'sorry darling'. I promise oil-changes out loud. I remind this lump of metal, plastic and rubber, when things get weird, that 'I told you we were going on an adventure'. Never say anything like 'what an excellent motorcycle you are' though. That's a magic spell that causes something to break, however much you believe that Homo Superstitio is an evolutionary mid-point between flint-arrowed, mammoth-bothering cave-thug, and facted-up, Spock-a-like future person."
---

---
Peter and Kay Forwood, Australia, around the world since 1996, 193 countries two-up on Harley Davidson, in the UK,
"They say it is rarely sunny on the Isle of Man, but today, after the fog cleared, it was T-shirt weather and everyone was out enjoying. It was late in the day when we arrived in Castletown, after strolling through the pre TT Classics compound where participants were preparing for the afternoons practice session. The short road circuit, 7km's, near Castletown, came alive shortly after 6pm with two stroke motorcycles, an era gone. Seven practice events, as lively as a real race, the leader losing it on our corner of the first event, but no other excitement as they progressed from 125cc motorcycles up to the open class plus sidecars.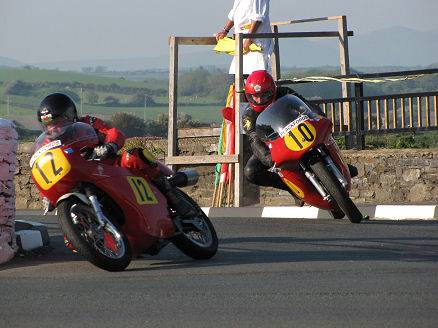 The general public motorcycle enthusiasts are starting to arrive, more motorcycles on the roads and at camp grounds. We visited a great private motorcycle museum, the ARE Collection, in the morning, mostly British brands, old Triumphs, Norton's, BSA's, Enfield's plus names I haven't heard of. Then, as it is Honda's 50th anniversary of competition at the TT's, there was a special exhibition at the Manx Museum, including the first Honda to win a TT, in 1961. We joined the leather clad lads at Creg ny Baa, a popular race watching spot at the end of the mountain road. Racing boots, leather racing pants and jackets, colourful full face helmets their uniform, quite different from the H-D uniform of Harley events, or even the goretex uniform that we saw at the overland riders rally recently in Germany. We were the only ones not in a dress code, just members of 'Joe Public', anonymous, while our motorcycle took most of the heat from onlookers.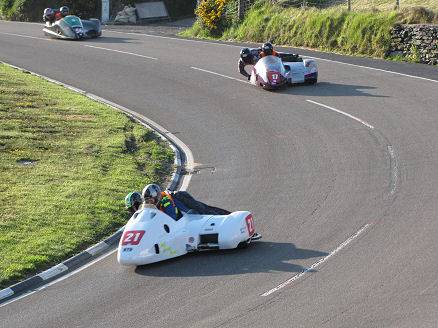 ...Glynn's friend, Danny, a KTM Adventurer rider, an outdoor guy, invited us to his home for dinner, with his family, wife and three children. Danny does the Road Kill Cookout at the Horizons Unlimited Rally in the UK, bringing along rabbits, squirrel, and other animals he has caught for the event. Tonight he honoured us with a taste of his new brew of silver birch wine. Made from the sap of the tree, taken in early spring, it is fermented with yeast, then bottled. We had the first tasting of last years brew, a clear white, strong, a nose of apple, a pleasant taste. It was accompanied by a venison stew, one Danny had shot, and shared with Joanne, another overland traveller.
At the Horizons Unlimited UK meeting
...Danny has a great sense of humour and an amazing array of food that he had prepared, most of which we had not encountered during out travels. Woodcock, pheasants, elderflower champagne, wild garlic, game stew with a variety of animals, not to mention trout and yabbies fresh from local streams. We had been invited to a special guests preview of his cookout assortments over the last few days and today he had an amazed and slightly stunned audience as he proceeded to humorously describe unimaginable ways of catching yabbies and trout by motorcycle, or attempting to run down rabbits or deer using a motorcycle. There was a demonstration of preparing the 'road kill', the audience could assist, preparing their own, and cooking it in the log fire, a well received, although squeamish for some, but immensely humorous presentation.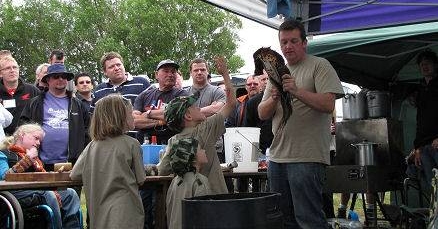 ...We don't visit a lot of Harley-Davidson shops, finding we now have less and less in common with the riders there who, like we used to, use their motorcycles more for a social event rather than for riding, but this morning we needed to restock our supply of wheel bearing seals, so we visited the H-D shop in Southampton. Unfortunately they were out of the seals but we stayed, talking to 'Red' the chatty ex-American sales manager and had a coffee with a couple of Harley riding Horizons Unlimited followers, but the other riders, who turned up for the short ride out, were more locally social."
Horizons Unlimited is proud to host Peter and Kay's complete RTW story and pictures here!
Paul Brealey, Australia, across the USA, in California,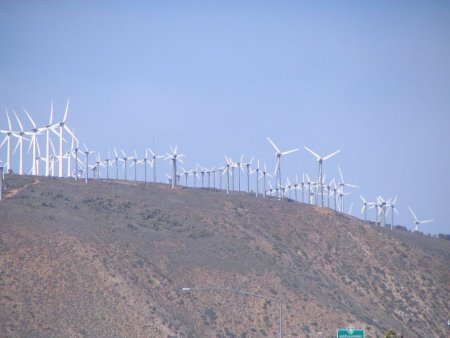 "The ride into the Bay was pretty uneventful until I got close to the city. I had written out driving instructions and placed them on my tank bag and they were good until I got to a fork in the highway and I had to make a guesstimate. Next thing I have a toll both in front of me and the whopping big Bay Bridge looming in front of me. I stopped to pay my $4 to cross the bridge and ask the lady in the booth if I'm heading the right way. Yep, stay on the right side over the bridge. Phew! My instructions were saying go left. Off I head to cross the Bay with a smile on my dial that I was nearly at my goal.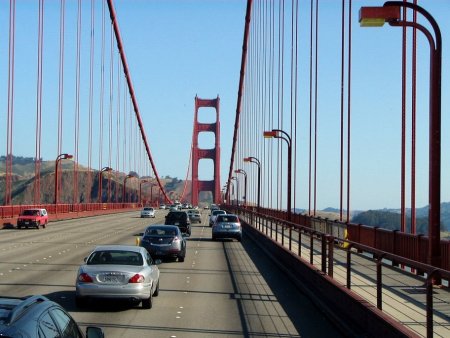 What's that in front?? A friggin large sign reading 'Strong Winds on Bridge'. I don't think I'll write what I thought. There were 5 lanes of traffic in each direction and I positioned myself as close to the middle as I could to try and get protection from all of the cars but they still found a way of beating me up.
After what seemed like an eternity, I finally made my way down and into the streets of Frisco and to my hotel. It is the Andrews Hotel on Post Street. A boutique hotel recommended by my man in Charlotte. Now I have since uncovered the code and now know that boutique doesn't necessarily mean 'top shelf' hotel. No sirree Bob. Ladies and Gentlemen, Boutique means small. Yep, I'm on the 6th floor and there are about 5 rooms on each floor and I had to walk sideways to get in the door. They used a crane that is permanently attached to the roof to lift my bags up and passed them in through the window. Nah, it's not that bad ;-) but yes, it's the smallest hotel room I've ever seen but it's nice enough. It was built back at the beginning of last century and has an elevator that has two doors on it. One that you open manually outwards and then inside a steel grill gate. I also have a King size bed which I am becoming accustomed to having. Now, don't go getting upset Bill, I like it and I'm just stirring you up a little. The great thing is, that it is smack bang dead in the centre of town and easy walking distance to everything. Also, you get a complimentary glass of wine in the bar each day."
---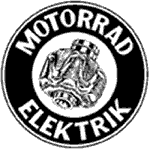 Motorrad Elektrik has been offering the best in electrical parts for classic and modern BMW's for over 11 years. From 12 volt conversion for /2 to better than stock replacement parts for your late model 'R' or 'K', we've got you covered. Specialty parts for 'hardening' the charging and ignition systems for world-travelling Airhead GS's. Riders like Bob Higdon, Dr. Gregory Frazier, Grant Johnson and hundreds of others depend on Motorrad Elektrik components as they wander the globe.
Our Omega system has solved the charging problems for 1970-95 Boxers with 400 Watts Output, and our Nippon Denso starter is the perfect cure for Valeo syndrome.
Stephen Bray, Ireland, Argentina to Alaska, now on a bus in Mexico!
"I swap trucks. This one had a full load on the back so when we take off down the road I saw the branches whizz past my head a meter above. The sun goes down. In the dark we zip through tunnels as the engine brakes belt out a deafening roar. It was quite an experience and then in the distance the sky flashes. We are driving towards a storm and soon the whole sky above me is a constant explosion of light. I had the perfect viewing platform for this storm, but I was pretty sure I was going to get soaked. For half an hour more we drove deeper into the the storm and closer to my destination. Nicely, but not perfectly timed the rain started. Not a drop on the back of the truck but once he left me at the corner it bucketed down, central American style.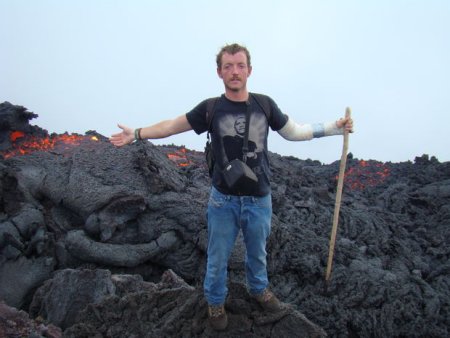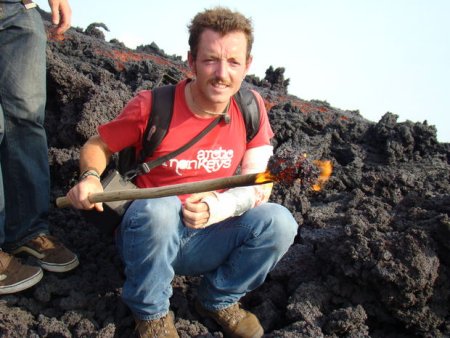 Thank god for my trusty giant black plastic bag. I ran through the rain with my bags bouncing about my shoulders, plastic bag strewn loosely over my head and got only a tad bit wet. Moments later I was drinking a beer and telling my story, later on the storm got louder and I heard the loudest thunder clap I have EVER heard. Car alarms went off and I was again in total awe of the power of nature. Later that night I saw the brightest lightning bolt I have ever seen. The fork was a thick strip of brilliant white and it seemed to have another bright glow of white on both sides of it. It was a crazy storm and went on most of the night but I treated myself to a few beers and slept fine."
---
---
Peter Hendricks, in Malaysia and Sumbawa, Indonesia,
"It only takes us two days to ride from Cherating to Georgetown. I had read about Malaysian motorways: there are rain shelters for bikers and bike lanes go past the toll booths, so we don't have to pay. What people didn't tell us is the other half of the story: the bike lanes continue all along the motorway, at half the width of an emergency stopping lane. At the entrance you have to dodge a steel barrier. Most bikes in Malaysia are small and slow, but it's quite dangerous to overtake them, as two bikes barely fit past one another. Either side of the lane is lined with solid crash barriers and sometimes trees. If you crash you will be chopped up by the crash barrier supports and what's left will be smashed by the trees. But it gets worse: at every exit there is a speed bump and a stop sign. Bikes must leave the motorway, stop at the lights, then ride up the ramp with the cars and enter the next section of bike lane. We ask people and apparently the cops will give us a ticket if we don't ride in the danger lane.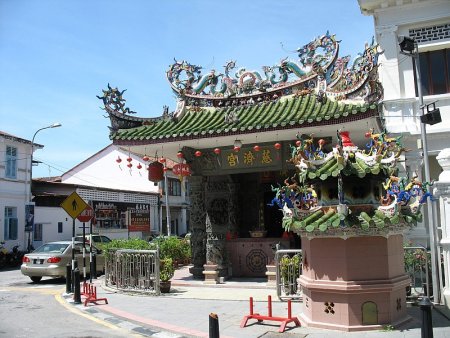 Our original plan was to try to get from Sumatra to Borneo. This hasn't quite worked out (we didn't try very hard) and Su decided she didn't really want to go there anyway, so we continued along the Indonesian island chain and we are now on Sumbawa, having crossed Java, Bali and Lombok. The 'new' plan now is to go to Sulawesi and then Philippines, although there is still a big '?' about the latter, not least it being typhoon and rainy season there now.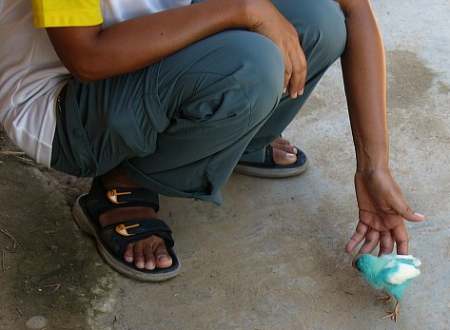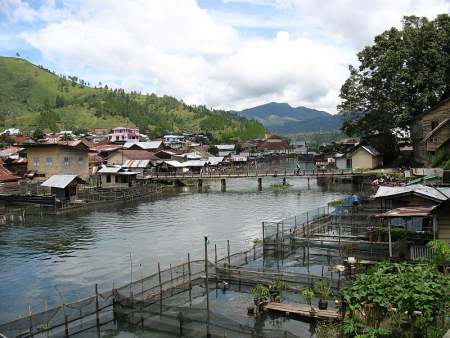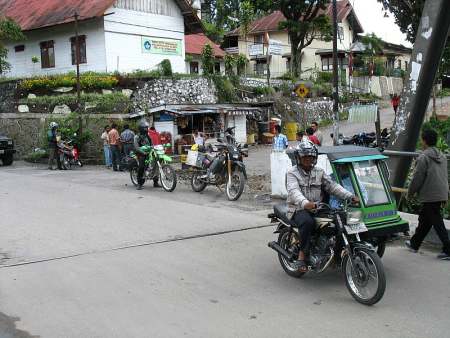 We are now in Bima on the island of Sumbawa. Today we were told we can't take the big modern passenger ship to Sulawesi, as it won't take our bikes. We have to take 3 ferries, going via Flores and some other island. We will find out in due course."
---

---
"To get to Jeff's place you go from Pedro Ruiz South on the road in the direction of Chachapoyas. You will ride through a beautiful valley over a smooth asphalt road (a great pleasure after all those bumpy tracks!) next to a river, along Scottish Highland look alike mountains (but with banana trees). Than 6 km up a windy dirt track that takes you to San Pablo De Valera.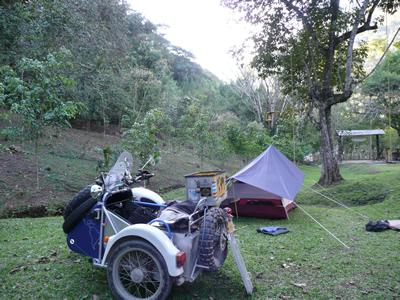 Ed. Maya and Andy explain 'why a sidecar' on the new 'Ladies on the Loose!' Achievable Dream Series DVD - shipping now!
We met Jeff 3 years ago in Cuzco, he is the owner of a bar called 'Norton rats' and has the one and only riding Norton Commando in Peru. We spent 3 weeks in Cuzco and a big part of that was in his bar drinking beer and talking about bikes and travel adventures. Later we met again and together we visited Chan Chan, the remains of an immense ancient adobe city near Trujillo. Jeff had bought a Triumph Speed Triple than and he was riding it home at that time. At the moment he is building a house and a hotel at the outskirts of this little village and it's near the 3rd highest waterfall in the world and other beautiful spots worth a visit (like Kuelap, an ancient oval-shaped pre-Inca city, South of Chachapoyas and other archaeological sites).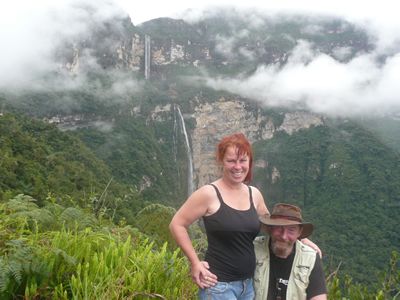 House and hotel are in an absolute great spot! Clouds like huge battleships are floating by, we are in a place where people live above the clouds. Butterflies, rainbows, this place is a treasure high up in the mountains, surrounded by waterfalls.
The people in San Pablo De Valera are super friendly and get also very old. They get up by the first light and go to bed when it's getting dark. It has electricity since 2 years, so there are TV's as well. The people here love soap operas and wrestling shows. Everything here goes in slow motion. The village is very small, but it has a little restaurant and 3 tiendas (mini shops), where we can buy toilet paper, bread, water, just the basic stuff.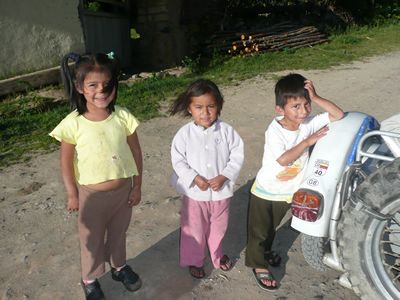 Every evening we walk from Jeff's house and our tent on a ancient Inca path towards the village, which is a pleasure. Along this path you meet horses loaded with firewood or bags with corn, dogs who bark and wiggle their tale at the same time, woman carrying sugarcane on their back and a chicken (ready to be slaughtered) under the arm, three ducks and a few chicken families, a huge pink pig, a small black piggy..."
"And so we are on our way back to Blighty. We have had to cut short the trip due to me having unexpected work type commitments and if we are honest, Russia (which was becoming by far the largest part of the trip) was not the 'adventure' we were seeking. Long tedious riding only to get to grim industrial crappy cities where we were made to feel extremely unwelcome does not make a 'trip of a lifetime'. Going further east would have made this the rule rather than the exception. Even me popping back to the UK and then returning to Russia would have resulted in Kaz being impossible (you can only get a 2 entry visa for Russia).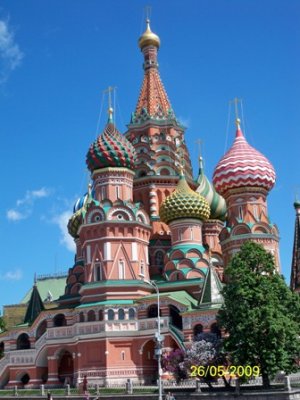 So in summary:
We expect to have covered close to 5000 miles, driven through 9 countries, stayed in 14 cities, (I think) and had some real experiences that will stay with us forever, however, Kazakhstan will have to wait for next time.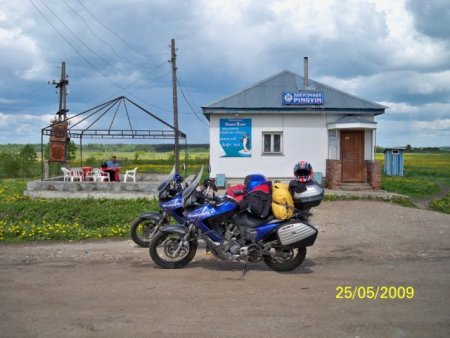 London to Moscow and back on two Honda Transalps has proven how great these bikes are. They have been supremely comfortable, with strong reliable engines, handled the excessive amount of kit we have hauled (but not really used) around Europe's roughest roads and we have never once regretted our choice of steed.
We are really looking forward to seeing family and friends (and, no doubt, the largest mobile phone bills ever recorded) and are already planning our next trips overseas. We have had a great time and thanks must go to all who have either supported us, encouraged us or simply sat there as we rabbitted on about the trip. Be warned however, we have 100's of photos! If you are wondering whether to do a similar trip, the answer from us would be a huge YES."
Erdem Yucel, Turkey/USA, RTW, in Albania and Greece, Suzuki V-Strom 1000,
"Albania has recently opened its borders. Most Albanians still don't have the financial and official means to travel outside their country but there is an increasing number of tourists eager to visit this country and its amazing people. The road conditions and traffic is really bad. Actually it's the worst I've seen so far. I had to stop and change the suspension settings on the bike. Bad roads are sometimes worse than off-road conditions, because riding on a paved surface, you expect some sort of consistency and adjust your speed accordingly. In Albania, this would be a mistake. You can easily fall into a huge pothole in the middle of the city. Locals know to avoid these obstacles, and there aren't too many visitors so it's not really a priority on the long list of improvements.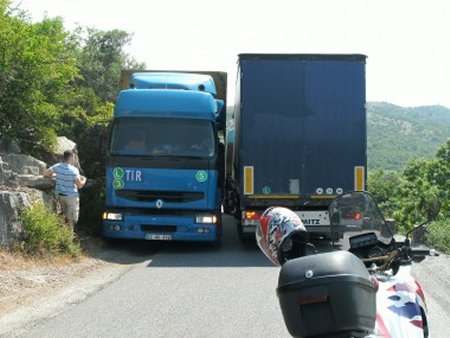 Somewhere between Thessaloniki and Kavala, I missed the highway exit and the road took me about 20 kilometers inland. I wanted to camp on the seaside but there weren't any roads on the map. However, there seemed to be a thin road barely visible over the mountains. I decided to take it. After a few kilometers, I arrived at a hut where the road seemed to disintegrate. I took a few uncertain turns and found it again. Climbing further up, this time I ended up near a TV antenna tower. Apparently, the road existed for the construction of this tower and did not continue beyond it.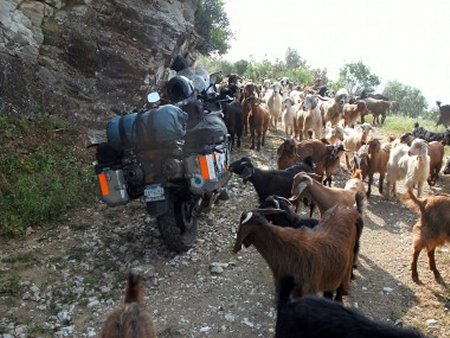 Then I heard some goat bells and followed the sound. The shepherd was quite surprised to see me. I explained to him where I wanted to go and he gave me directions. All in sign language. I told him my name and asked his. He said 'Tanr', which means God in most Asian languages. I followed his directions and found the road that took me towards the sea. Campgrounds in Greece are mostly on the seaside. They cater to locals who want to spend the weekends. It didn't exactly feel like heaven, but I found a nice place to spend the night. There were a few other RV's and tents scattered around. I took a swim, had a shower, cooked something to eat and retired to my tent. Before I fell into sleep, a funny paranoia entertained me. I could be dead! I wouldn't have known if it were a sudden accident on the freeway. The ascent towards the mountain, the shepherd and the campground all made sense. I wouldn't mind it as long as I could keep on riding tomorrow..."
---

---
"Leaving Pato Branco in scattered rain showers, we press on westward to one of the world's greatest natural wonders, Foz do Iguaçu. Located well away from well known large cities like Buenos Aires, Rio de Janeiro or Asunción, this corner of the world is literally that, with the borders of Argentina, Brazil and Paraguay meeting here.
Meeting here too is the Rio Iguaçu, after wandering westwards for 600km, with a three kilometre wide escarpment. The result are 275 individual falls, averaging from 60m to 87m in height, making the whole spectacle wider than Victoria, higher than Niagara and to our mind, grander than either.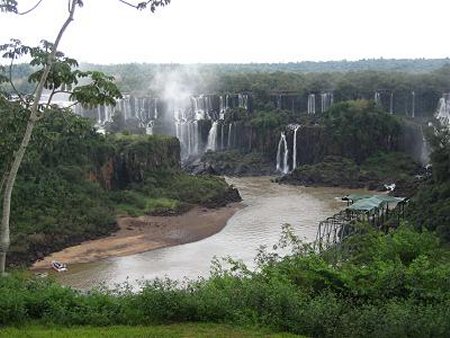 Joyce visits arm in arm with a friendly macaw. Unfortunately, once again, communication is a problem, for the bird can only speak Portuguese and Macawanese, neither language Joyce is comfortable in. But, as with all foreign travel, eye contact and a smile can go a long way.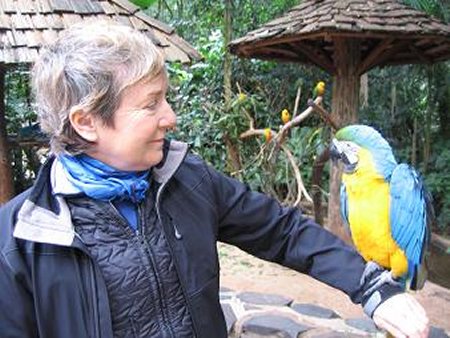 ---

---
Alastair Todd, Round the World, in Uzbekistan,
"...There's no way I can ride the bike today, I feel like I'm not far short of needing to go to hospital. In desperation I ask the hotel if they have a better room, and remarkably they do, with air conditioning and without the godawful stench. I wish we'd been in it from the start, instead of the fetid squalor of the room we have been in. The air con starts to cool me down and rescues me from what was probably quite severe heat stroke brought on by the food poisoning. I catch sight of myself in the mirror and am shocked to see that with the beard and the effects of 3 days vomiting and diarrhea I'm so gaunt I look like I've just come out of a prisoner of war camp. Everything I drink, so far I haven't eaten, still just pours straight through, but if I can sleep tonight there's a good chance i can get back on the bike and head off through the desert towards Bukhara tomorrow. I'm hoping that the terrain isn't so harsh as what we've just come through, and that the river on the map actually has water in it and might offer a chance to cool down if I start overheating again.
God knows what I've eaten to put me in such a bad state, or how the locals tolerate it. I hope this doesn't happen again. As i lie here watching the same songs loop round on an italian music tv channel, which is slightly more watchable than any of the Russian or Uzbek stuff, I find myself craving a peanut butter sandwich. The only food we could find locally that wasn't left out in the open, unrefrigerated and with flies buzzing around, was pretty much limited to a packet of crisps. The Italian music channel selects james blunt as the next track, and suddenly i'd rather be watching the bad Russian soap.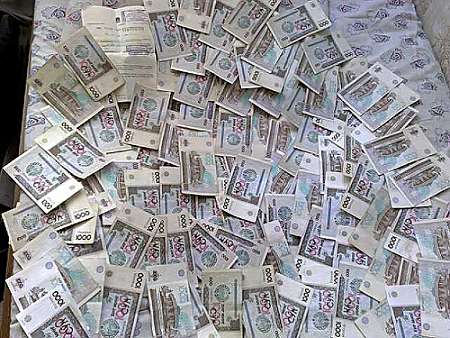 Currency inflation in Uzbekistan.
The hotel is grim, but I'm mostly just lying on the bed, swatting away flies and trying to keep cool. The plan had been to ride up to the aral sea, but with Dave ill, and realising how hard it is to ride in this heat in the desert, we scrap the plan in favour of trying to get well. Dave gets bitten by a thousand insects, I seem to escape. I exchange a few left over euros at the bank and end up with 134,000 of the local currency."
Nathan Thompson and Akiko Nishikura, Taking the slow road round the world, on the cheap, on a postie-bike... 2-up, in India,
"After an overpriced lunch in Jambusar the road to Kural turned very rough and I noticed a strange sensation round my right ankle. The plastic oil reserve bottle I keep in front of the seat had dislodged and leaned on the exhaust, leaving a trail of oil behind us and one boot full of warm motor honey. It was about this time that I realized we had been on the road for nearly 5hours and had done just 130kms!
On any normal day we would start to look for a place to sleep but it turned out that rural Gujarat is VERY rural and the hamlets were often little more than one street, one Jain Temple and one government building surrounded by makeshift tents and structures. Strict Jain's believe that liberation is achieved by shedding all matter generated by ones actions which actually equates to their towns being some of the simplest we have seen thus far. No guest houses or lodges around so we were forced to push on...
We hedged our bets on Lothal but when we rolled through it was too dark to see the ruins but light enough to see there was nothing else around at all so a 20km ride further out to Bagodra had us hoping it was a big enough place to have a lodge... It was but the sole hotel was fully booked!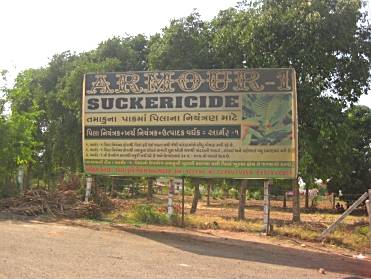 Unfortunately no one in Bagodra could tell us where the nearest place was so we headed down the dark south road in search of something before I fall over from exhaustion. An abandoned homestead filled with homeless kids was too much, a 24 hour service station too noisy. Riding through the darkness racing the clock and chasing native Blackbuck filled the next 4 hours and it wasn't until midnight that we found ourselves in Bhavnagar, finally lying down on a hard mattress and drifting off to a well deserved sleep.
Over 400 kms done in just under 14 hrs was the toughest day for us yet. I said I would never ride at night here, my assumption that lodging is easy to find in India was dashed and it's clear that the Rs50 ($1) IMS Road Atlas cannot be trusted...
Our whole MO of travel has been to take things in slowly, without pushing it, keeping the stress low. The previous days ride was so out of character for us that I wanted to make sure nothing was broken. After a lengthy walk around the ancient bazaars one afternoon we decided what was needed was a place to chill out for a few weeks and gather our thoughts. The pace and craziness of India was somehow clouding our greater vision.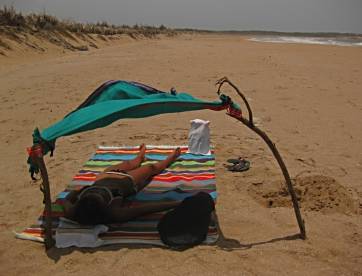 What better place than the tiny island of Diu. A former Portuguese colony at the very tip of Gujarat, it has beaches, good weather and it's off the tourist trail so we had the water pretty much to ourselves. The tourists that do come are mainly Gujarati's coming for the cheap booze and crowded Nagoa Beach Resort. It took us a few days to find a secluded beach of our own...
...We have been in Diu for 3 weeks now and are ready to move again. Tomorrow we are on the road north, deep into the remotest parts of Gujarat. Hoping to catch a glimpse of the last pride of Asiatic Lions at Sasan Gir WLS as we ride through. Apparently they are well fed so here's hoping they won't be chasing after us on our little bike. Will be checking out a place where the people have been in a constant communal chant since 1964, not sure how they get any sleep! Will head out into the desert to witness the great Rann of Kutch, ride around a bit and throw stones over the Pakistani border. If lucky enough we may swap the bike (for a day or two) for a camel and sleep out under the stars in the desert dunes.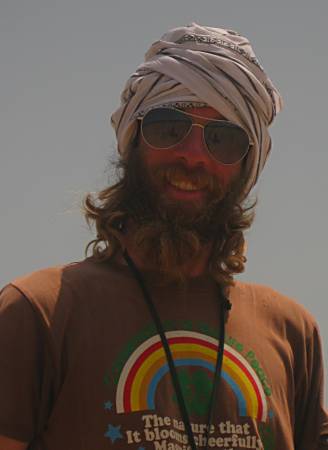 Things are better now, we are back to full strength and have returned to our initial plan of having no plan. We have torn up our maps and are excited about the uncertainty of it all. It's good to be back..."
---

---