Online Registration is CLOSED! There is still room, just show up and pay at the door.
How you can help - put up a few posters!

2009 poster available! Please post it everywhere!
Want to know what people thought of other HU Meetings? Is it worth coming to the Meeting?
"I'm so looking forward to another UK meet. My only problem is that I simply can't get to every talk I want, such is the amount of terrific presentations on offer. Each year I've been astonished at how articulate, intelligent, informative and entertaining the speakers are. I'm willing to help with anything that doesn't keep me from a talk - and my timetable will be full to bursting!" More comments here.
See what it was like last year! Canada West 2008 Meeting Report here.
The Plan
The plan is simple. Show up on Thursday or at the latest Friday afternoon, meet people and setup. Travel Presentations and Tech clinics are planned throughout the meeting, starting Thursday night. Detailed Schedule here.
2009 Speakers and Tech Clinics (so far, more to come):
Riding South!

Ekke and Audrey Kok, Canada
Munich to Cape Town on an F650GS and an R100GS. Originally intended to be an RTW from North to South it ended up being just Africa!

Planning the big one
Around the World

Rene Cormier
(Focus on either Mongolia or Tajikistan)

The Great Escape

Robert Thode
Off to South America without much of a clue what I was doing. A newbies perspective on solo travel in South America.

The Panama Run 2008
Exploring Alaska
Iceland

Andy Miller
A land of ice and snow - and fantastic riding!

Tip to Tip: South America to North America

Tom Mamic
Blurry pictures and vague recollections (on an F800GS)

RTW

Rene Cormier
around the world on an F650GS

A lap of South America

Peter Cameron and Carol Palladino
Two up from Canada to and around South America

Basic Roadside Repair

Kevan Ibbotson, Canada
Basic Roadside Repair, The English would call it bodger repair or us Canadians might call it a "farmer fix" but basically it means "How do I get my bike back on the road so I can get to the next town with a qualified mechanic to get it fixed properly". Designed for the novice rider who has little mechanical skills and who is concerned about having to make that dreaded roadside repair. Does duct tape or WD 40 actually fix everything? No, but you'd be surprised what will plug a leaking radiator. We will go over basic mechanical applications of the motorcycle: fuel, electrical and cooling systems, and how to diagnose their failure. What tools and repair materials to carry with you and how to use them to find out why your bike has quit working. More importantly we will review how to use on hand items to get yourself back on the road.

Fix that flat! How to change a tire anytime, anywhere

Andy Miller, UK / Canada
How to prevent flats in the first place, and fix them when you get one. Andy's changed thousands, and will show you all the secrets to make it easy. The best tools and how to use them for tube and tubeless tires. Hand's on practical.

Your bike doesn't fit you!

Andy Miller, UK / Canada
Is your bike ready for long distance travel? Andy will discuss bike set up, ergonomics and prep, looking at YOUR bike.

Women only

Group Discussion
A very popular session - I'm told it's a must for the ladies, so be sure to plan on being there!

Middle East and North Africa
How about you? We're all here to learn, and there's LOTS to learn! We want to do more presentations and clinics - but we need volunteers to give them! Any topic you can contribute having to do with motorcycle travel, maintenance, planning etc, lasting 20 minutes or more, would be great. Please contact me here to volunteer.
2008 Speakers and Tech Clinics were:
The Achievable Dream

Grant Johnson, Canada
Learn from Horizons Unlimited's founder and 11 year round-the-world veteran everything you need to know to ride to the next country or the next continent. Sound scary? Get the inspiration and information so YOU can hit the road! In two parts.

Traffic Safety Away From Home

Ian Thomas, Canada (BC Safety Council)
Keeping the ride tuned to avoid collisions and crashes

Another Cunning Plan

Brendon and Natasha Ball "Smilemenders" UK, en route...
The first Cunning Plan involved a van, an aid journey and Chernobyl. We are now returning to Ukraine, the "wrong way round" it seems alright so far?

Solo Through Russia and China

Werner Bausenhart, Canada
London-Vladivostok and back to London via China.

UK to Iran and back

Chris Stone, UK/Canada, R100GSPD
The trip started as UK to Nepal - oh! how it changed.

Bike Prep

Chris Stone, UK/Canada, R100GSPD
What you need to do to your bike to travel - and what don't you need to do!

Photo Composition for Travellers

Grant Johnson, Canada
The one everyone SHOULD take, but no one does... We all want to take great photos of our trip - so why don't we? This easy clinic will transform your photos from boring to fabulous! There may also be an advanced class if enough interest - bring 10 photos on a USB key, CD or SD card for discussion and evaluation.

Fix that flat! How to change a tire anytime, anywhere

Grant Johnson, Canada
How to prevent flats in the first place, and fix them when you get one. Grant's changed thousands, and will show you all the secrets to make it easy. The best tools and how to use them for tube and tubeless tires. Hand's on practical, and tire changing contest for beginners to experts!

11 Years on the Road, RTW

Grant Johnson
Grant and Susan's show of their RTW trip hasn't been seen since 2000, so due to popular demand - well one or two - it's been resurrected with loads of never seen before pictures.

Prep your bike for the long trip!

Grant Johnson, Canada
Is your bike ready for long distance travel? Grant will conduct a hands on assessment and discussion of bike set up, ergonomics and prep, looking at YOUR bike.

Off-road basics!

Grant Johnson, Canada and others!
Never ridden off-pavement? It's easy when you know how - and terrifying if you don't. We'll work on the basics to get you started right!

Women only

Group Discussion
A very popular session - I'm told it's a must for the ladies, so be sure to plan on being there.

Leaving on a big trip in 2009?
Plan on leaving from the Meeting - we'll make it a great send-off! Or coming home around the time of the Meeting? What a great place to arrive at!
Vendors
We would like to have travel oriented vendors there. Vendors please contact me for details.
There will be slide shows and clinics on Thursday, Friday and Saturday evenings, and all day on Saturday. Come early and make it a great weekend! We recommend riding on Thursday, Friday and Sunday, and participating in the clinics on Saturday.
Rideouts
Rideouts - will be limited to 10 people per ride per group.
Ride leaders and sweep riders wanted! Contact Ekke below.
Do-it-yourself Ride information.
to come - if you know of a good ride let us know!
Schedule
All times - and everything - approximate!
An up-to-date schedule will be posted at the Meeting.
Thursday morning
CHECK-IN and sign up! You MUST be registered to go on a ride or for entry to any events, clinics etc.
Info for Thursday rides will be available on-site.
5:30 pm Dinner at the campground
Friday
CHECK-IN and sign up! You MUST be registered to go on a ride or entry to any events, clinics etc.
9:00 AM Ride briefing. Be gassed up and ready to ride if you're going.
Friday night
5:30 pm Dinner at the campground
7:00 pm
Speakers presentations start, so be sure you've eaten early!
Saturday morning
Breakfast you're on your own - check with Ekke and organsiers for the best spots.
9:00 AM Ride briefing. Be gassed up and ready to ride if you're going.
Rideouts - off-road runs details to come.
Saturday Lunch
noon-ish! :) Feed yourself...
Saturday afternoon,
On road runs - we'll post a sheet of paper up for you to add your name to a destination, volunteers to lead appreciated!
Tech Clinic, schedule and details to come at the event. If you want to volunteer to lead a clinic or breakout session, on any appropriate topic, please contact us. We have had lots of interest in clinics, ranging from 30 minutes to several hours, on subjects from GPS to packing lists to tire changing.
Saturday evening,
5:30 pm Dinner at the campground
7:00 pm sharp:
Speakers presentations
9:00 Door prizes - you have to be there to win!
Sunday
Breakfast in town
Head for home, hang around and chat, or head out for a last ride!
Miscellaneous notes:
Organizers will be there all of Thursday, hopefully Wednesday too, if anyone wishes to arrive early and just hang out or go for a ride in the area.

Camping
INCLUDED! You will want to be at the official HU Campground so you don't have to go looking for people to talk to.
Details and location below
.
Food
We've learned over the years that some people wanted meals all organized, others preferred to make their own arrangements or bring their own food.
For this year we have arranged dinners:
Dinner: $11 each, served buffet style, with abundance of food. Thursday will be Greek food (souvlaki, Greek salad, etc.), Friday will be German (weisswurscht etc.) and Saturday will be Steak or Chicken (please choose when registering). Veggie meals are possible if you tell us at the time of registration (veggie burgers on Friday and veggie lasagna on Saturday).

Please PRE-BOOK food with your registration. There will be limited amounts extra for late-comers available.
You can, of course, cook for yourself, or go to restaurants in Nakusp.
Pre-Register and save $10!
Pre-registration fee C$45 per person, C$55 at the door. Includes admission to all slide shows Thursday, Friday and Saturday nights, Tech Clinics, Rideouts, Camping, and all other HU events. Meals are NOT included. Camping is included.
Payment and Registration details BEFORE August 1
1. Please fill in the form below and click the button below it. NOTE: Use one form per person!
2. You will shortly receive an e-mail confirmation. Check to ensure the details are correct. If you don't receive an e-mail confirmation within a few minutes, it means your e-mail address wasn't correct, (or the Internet has eaten your e-mail). Try again. A human being will actually get a copy of the e-mail, and we promise we won't sign you up multiple times. ;-)
3A. After you have filled in the form and submitted it, you will have an opportunity to pay by

.
OR:
3B. PRINT off the e-mail confirmation (or write it out by hand) and MAIL it with a check (in US$ or CDN$)
made payable to Grant Johnson
(NOT Horizons Unlimited!!),
BEFORE August 1, to:
Grant Johnson
102-15910 Fraser Highway
Suite 472
Surrey, BC V4N 0X9
CANADA
Payment and Registration details AFTER
August 1
1. Please just show up and pay at the door! If you want food let us know immediately on arrival!

Membership - Show you're proud to be a Horizons Unlimited Traveller!
Just to clarify the membership situation: Currently there is no requirement to be a member to access the website, the HUBB or to receive the monthly e-zine. For now, what you get for your membership contribution is our sincere gratitude, good karma and knowing that you're helping to keep the motorcycle travel dream alive.
We will also upgrade your status in the HUBB to Member. In addition to recognising your contribution through your status, this will allow you to upload a custom profile picture and custom avatar, store up to 50 private messages, upload more pictures (10 MB maximum storage) and create polls.
Another benefit we can provide is if you decide you want a t-shirt, mug, fleece jacket or other Horizons logo product from the Souk, you can purchase Member logo products at the basic price. Just let us know and we can arrange access to the Members Private Store.
T-Shirt Deal
Top quality heavy cotton t-shirts in black, or grey if pre-ordered. We will have a range of sizes available, but quantities will be very limited, so if you wait till the day, there might be none left in your size.
The new Synthetic t-shirts are in a beautifully made wicking material, and make great travel / riding t-shirts as well as all-round wear t-shirts. Available in black or grey at most meetings. MUST be pre-ordered.
Note that we will have a few black cotton t-shirts extra at each meeting, but anything else must be pre-ordered and paid in advance.
2012 Tshirt slogan "The open road is calling, and I have a world to ride!"
Back:
(large, full back)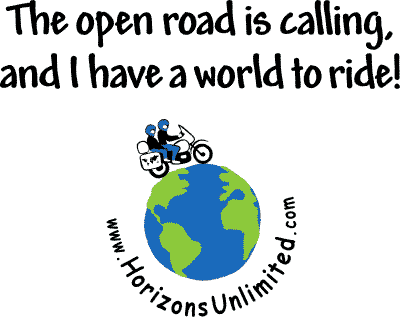 Front: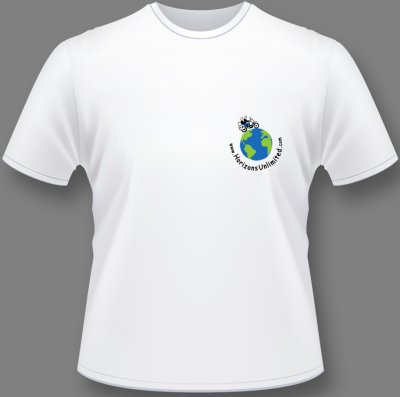 You can help!
If you have a few minutes, please download the posters ( Adobe pdf format) and print off a few and hand them round your club or your local bike shop or anywhere seems like a good place.
Poster in pdf format (886kb) full colour 2009 poster. (You may need to right click and choose "save target as...")
Thanks for the help!
The Meeting Location
Nakusp, BC
Nakusp is located 47 km. (29 miles) north of New Denver on Highway 6. Nakusp Airport is located 3km north of town. See map below.
Driving Distance / Time to Nakusp:
| From | Distance | Google Time |
| --- | --- | --- |
| Vancouver | 664km | 7:58 |
| Seattle | via Abbotsford: 481 miles | 9:12 |
| | via I-90 east: 533 miles | 9:40 |
| Calgary | 511km | 6:43 |
| Edmonton | via Hwy 2 S: 805km | 9:35 |
| | via BC-Yellowhead / Hwy 16W: 920km | 11:11 |
| Missoula MT | 448 miles | 8:18 |
| Denver CO | 1341 miles | 20:29 |
| San Francisco | 1127 miles | 20:24 |
The "Official" Campground / Meeting spot / Rooms:
We have an area reserved just for us, so just show up, no need to reserve in advance. Thursday through Saturday night.
Nakusp Location Map
Facilities etc in the area:

Other Accommodation Possibilities
There are a few hotels within walking distance.
Travel BC Accommodation guide for the area
Nakusp Chamber of Commerce Information site
Information about the area
Attractions include national parks all around, fantastic roads that are easily among the best in the world, beautiful lakes and more, so plan to spend a few days!
The village of Nakusp Information
BC Adventure Tourism site
Nakusp and District Visitor Info Centre
92 West 16th Avenue
P. O. Box 387,
Nakusp, BC V0G 1R0
Telephone: (250) 265-4234 • Fax: (250) 265-3808 • Toll Free: 1-800-909-8819
Local Hosts
Contact Ekke Kok for questions on presenters and local questions, meeting logistics etc.
See you at a meeting this year!
Grant and Susan