Too many to list! If you haven't checked out the Links page it's time you did - it's scary long, but it's a fascinating browse.
---
Get your website listed in the LINKS Section
by listing Horizons Unlimited on YOUR web site, let me know you've done it by mailing me a link to the page, and you may get listed here in the next newsletter and on the Horizons Unlimited web site Links page. To make it easy for you, we even have our logo and link code here!
All sites will be considered for listing, but must be a MOTORCYCLE or TRAVEL site, useful or of interest in some way to travellers. We reserve the right to refuse to link back.


Motorcycle Express
MC Air Shipping, (uncrated) USA / Canada / Europe and other areas. Be sure to say "Horizons Unlimited" to get your $25 discount on Shipping!
Insurance - see: For foreigners traveling in US and Canada and for Americans and Canadians traveling in other countries, then mail it to MC Express and get your HU $15 discount!
There are many 'Helpful People' listed on the Links page, a huge thanks to all of them. How about you? Or you can join a Community, or start your own!
Do you know of a good shop 'on the road,'
...in other words, somewhere there isn't a large number of shops? (Also of course any shop that specializes in travellers equipment and repairs is of interest.) But we're particularly looking for those rare items, good repair shops in South America, Africa and Asia etc. Please post your info in the Repair shops around the world Forum on the HUBB.
There are now 100's of shops listed in out - of - the - way places, from Abidjan to Ghana to Peru! Be sure to check out the HUBB "Repair shops around the world" forum if you need work done!
Derek Fairless advises on border crossing process at El Salvador:
"I reached the border of El Salvador at La Hachadura and was pleased to hire a couple of locals to get me through the procedures. Once you have done it a few times, it is not difficult, but those first few times can be confusing.
Basically you go to Immigration control and get yourself stamped out of the country you are leaving. Then you go to Customs to get your bike booked out. Then you may pass by a police checkpoint where they check that you have done everything correctly, before proceeding into the country you are heading for.
Here you do it all over again but it takes ten times as long because you have to fill in paperwork declaring that you are the person that your passport says you are, you are only going to stay up to 90 days, and that the bike is only coming in for the same amount of time. Every piece of paperwork requires a wait at a different window, the Customs one is usually the longest due to the lorry drivers having sheaves of papers covering all the items they are carrying.
Eventually you get to the barrier and are checked out, but often there is another police checkpoint a mile down the road and you may have to show all your paperwork again, once this happened to me three times as I went through a Border Police Checkpoint, a Municipal Police Checkpoint and a Federal Police checkpoint, all within the first few miles of the border.
The local minders you hire can often cut the time down for you and as at later border, it can make a dramatic difference, but it will cost money. That's another thing to remember to do, go to the money changers and change the money left over from your last country, into the currency of the new country you are visiting. It doesn't matter who you do it with, they have a cartel and all give the same rate anyway."
When you meet people on the road, and they haven't heard of this e-zine or the website, we'd appreciate it (and hope they would too!) if you'd get their names and email addresses and send it in to me.
Thanks, Grant
Request for info
Wouldn't YOU like to know all about the border you're approaching - what it should cost, paperwork required, 'tips' needed, and who to talk to, etc.?
When you cross ANY border, take some notes, and pass them on to us. Thanks!
Shipping
The Shipping page on the site is HUGE! It can be reached directly or from the Shipping link on the Trip Planning page.
If you have any information to contribute, please go here, and register (or just login IF you have used this system before) and you can then submit your information. Thanks!
Travel Advisories:
The Foreign Office in London's Travel Advice Unit advises against travel to all sorts of places. Check out the listing before you start!
The US State Department regularly issues updated travel advisories, information and/or warnings.
Motocare
Motorcycle Rental, hiring Honda's Transalp for touring Argentina and Chile. Ride across the Andes, from the Atlantic Ocean to the Pacific, lakes, deserts, salt pans, waterfalls, beaches, rain forests, glaciers...
Motocare Argentina
Grant Guerin and Julie Rose, Australia, RTW?, in Zimbabwe and Mozambique, Suzuki V-Strom,
"Most things you can prepare for, however nothing prepares you as you enter a city of one million people, Bulawayo. It is something akin to travelling through a war torn country without the smoldering rubble heaps. On rare occasions another vehicle may pass by, the populations mill about on the roads in groups on one side hoping to hitch a ride and then the other people walking to and from home, work, markets, wherever they need to go...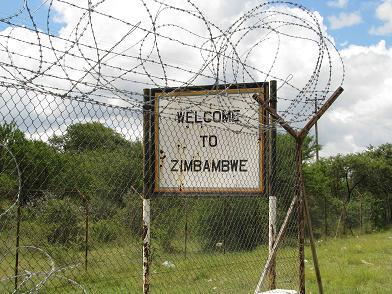 The industrial area is full of factories and warehouses, empty, closed up and though modern in appearance they stand, broken windowed, overgrown and dilapidated from lack of attention... Obviously Zimbabwe has had better times but certainly not at this time. So the pictures seem rather bleak and depressing. One would ask, why bother going, and why indeed did we go?
Well to tell the truth for us Zim is our most enjoyed country in Southern Africa so far! Part of the adventure was the difficulty in being there and truly the Zimbabwean people are courteous and friendly far beyond what their current economic climate should dictate.
Another reason was to view the Great Zimbabwe Ruins. A truly beautiful, mysterious and grand ancient stone city. Built 1,500 years ago and estimated at its peak to have housed over 25,000 people it is the largest stone structure in the Africa's other than the Pyramids of Giza (Egypt) and of course with our obsession for ancient cities we had to see it!
We spent almost one month in Mozambique. In that time covering over 2,000 kilometres. We were robbed, bent the front wheel rim, had our first fuel injection problem and discovered the worst paved road we have been on. On top of all that, we counted approximately 3,200,270 individual pot holes on the main EN1 highway from South Africa, Komaliport/Ressano Garcia border, to Malawi, Zobue. If you don't believe us you can count them yourself! At first we deduced the majority of pot holes were in towns or just before/after bridges... then came the Save to Changara section of road. One hundred kilometers or so of pot holes laced together loosely with scraps of tar.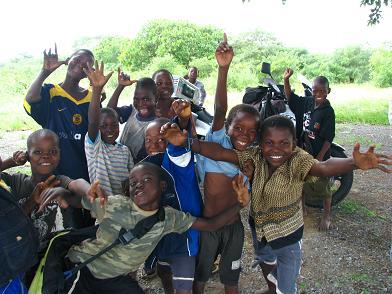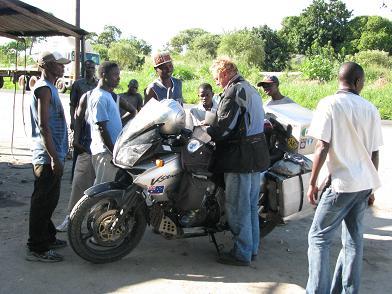 The mighty Zambezi passed behind our favourite market stalls and we were to cross it again to continue our journey north. Here in Tete it is heavily polluted. Rubbish and effluence is poured into the river sending the refuse downstream making it someone else's problem further down the line. Tete's water supply is straight from the river, so drinking it is out of the question. Grant mistakenly picked up a bottle containing tap water that he was using to wash the bike and with a few swift gulps downed the entire contents. Panic stricken. Disbelief at such a dumb ass thing to do.
Remedy for drinking toxic water? We decided copious amounts of whiskey should kill any bug he may have swallowed. (Note: He did not get sick, only a hangover)."
---
---
"The high desert was really beautiful with lagoons and flamingos and barren mountains, but as my bike started to chug and spit halfway through the thought of having to spend the night up there was not sounding so nice. It was starting to get bitter cold and windy and my bike was not liking the altitude. It would hardly go in first gear so Brad and I switched bikes and he pushed it along with his feet, kind of like the Flintstones.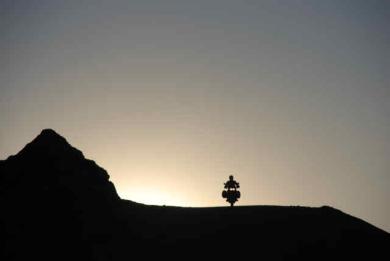 We finally made it to San Pedro De Atacama right at dark. Then we spent a week trying to get my bike to run at altitude, because we would not be able to go to Bolivia, since Bolivia has the highest everything, cities, lakes, passes, etc. Unfortunately we were in a small town without a motorbike store and had to head to a bigger town an hour away every time we broke something on the carburetor we were trying to get to work, oops.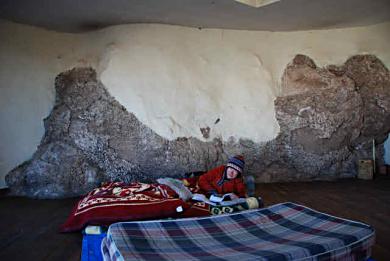 After two trips to the city of Calama, and four trips up the pass, testing different jets and wires and air screw adjustments, we finally got it to work. To give the bike a final test we took it to El Tatio Geysers the highest in elevation in the world not too far away and stayed at a little shelter near by. The bike ran well, thanks to Brad, my mechanic and we were ready to enter the Bolivian Altiplano which we had heard so much about. It was supposed to be desolate, freezing, stunning, and have terrible roads which go in all directions. Most people take a 4-wheel drive tour for 4 days in there, but what fun would that be."
Richard Miller, through Europe, the Middle East and Africa, in Benin, Burkina Faso and Bamako, Mali, 1955 Royal Enfield Bullet,
"When the wheel arrived I was overjoyed…having paid almost as much as to fly home and pick the thing up myself I had to chase Fedex up and they were most surprised at the notion that they should have called me when it arrived and that they might actually be expected to deliver it. Being a Friday afternoon and with the office to close for the weekend I had to hotfoot it to the major city of Cotonou to pick up. So delighted was I that I celebrated in a nice restaurant with a side of beef in roquefort sauce, a pastis and several ales. I arrived back to the room half cut, carrying my large box of wheel in component form and at midnight decided the best thing to do was to build it there and then.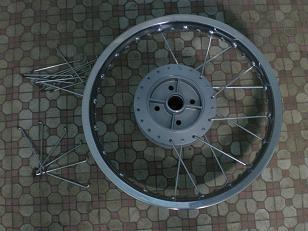 I've never built a motorcycle wheel though I used to work as a cycle mechanic and have laced a few of those together, so thought it couldn't be too difficult. I guess normally it's not but in a mild state of inebriation it was trickier than expected. The difference between a bicycle and a motorcycle wheel build seems to be that the bicycle one is easy to lace up and hard to true whereas the opposite is true of a motorcycle. Several half builds and then dismantlings later it was three am and the wheel was ready to put in the bike to true up.
The next day with beers slept off all was easy and the bike got a good service too. And the next morning after that it was au revoir to my friends at the museum (Da Silva Museum of Afro-Brazilian culture) and on the road to Abomey. All went well on the ride bar a minor starting difficulty. Abomey was one of the ancient kingdoms of Benin and known for their human sacrifices, slave trading and general fearsome ways. Having visited the largest palace and museum there I can attest that they were indeed bloodthirsty, cruel and gratuitous. The king's throne mounted on four skulls of enemy chiefs is one of the famous exhibits there. The Abomey Kingdom also resisted French rule for a number of years which has made them national symbols of resistance to this day. That they killed and enslaved many of their neighbours in modern day Benin seems to pass by unnoticed!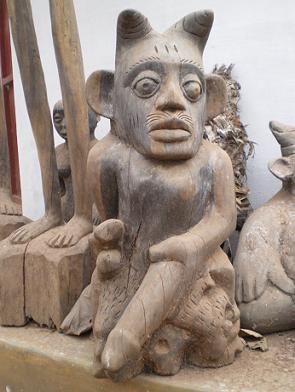 Sadly though no museum in Benin allows photos, either inside or out, even if it just a mud brick building so I can bring you no pictures of the treasures therein. I asked why and was told that photography damaged the exhibits; I decided it wasn't an argument worth having. So instead of photos of the great imperial structures I give you two images of the local woodcarving tradition. The chap above with a large member, devils horns and a very simple look on his face is supposed to be placed at the entrance of your house and will ward away evil. Not sure how but I'm told he will.
Riding North the ignition trouble got worse. In the town of Natitingou right in the North, close to the Burkinese border it became evident that carrying on as was was not an option. On top of this the bike was blowing exhaust gas past the piston into the crankcase. I stayed for a couple of days, perplexed and somewhat demoralised having just spent so long in Porto Novo. Then decided to ship back down to Cotonou to sort things out. A couple of days in a nice hotel with a pool and good food and I had inspiration, shifted to a cheapy and fixed the bike. At this point I had been considering shipping home and got Sascha's hopes up that I would be home soon, only to dash them by fixing the bike (sorry Sasch....)
An email to magneto wizard Sean Hawker and the synopsis was weakened magnets and a suggestion for rigging up an auxiliary ignition system through the battery. Thus I created a veritable Frankenstein's monster of an ignition system. Many thanks for the rapid help Sean.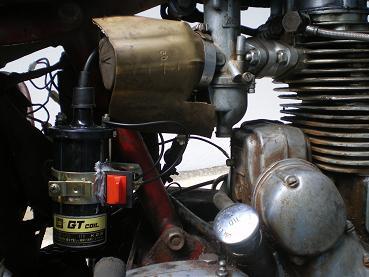 Bike nerds note the exhaust blowing past the piston was caused by a pattern points set with a different to original-profiled cam follower which advanced the timing slightly. With a fresh sparking plug I headed back up to Natitingou and made it in a day. The longest yet at 540km. One more day and I was in Ougadougou. This was really motoring. A day to get the Mali visa and then on to Bobo Dioulasso for a spot of sightseeing. The city is noted for its mud-brick mosque.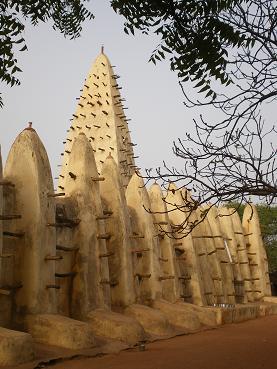 I checked the spark plug before I left and found that the electrode had burnt out. I looked at it and realised it was a dodgy fake and I had thrown away my old and worn but still working plugs. So off to the market to find some fresh ones. A Bosch and it looked OK so off we went. My voodoo protector was obviously crap because after a couple of hundred kms the bike made a loud bang and I was hit in the arm by half a spark plug. It was still attached to the HT lead and like a tazer gun the remains of the bare electrode delivered a serious of sharp shocks.
I was worried that the other half of the plug might still be in the engine but a new one fitted and all seemed well. Except then the exhaust gas past the piston problem came back with a vengeance. The next day with a mildly limping bike I was in Bamako. A few days left before my pledge to be home at Easter expired and still a long way to go. I went through it all in my mind. Glazed cylinder bore, dodgy spark plugs and an absolutely worn out chain and sprocket. I would have to get parts from England. Another week at least and then at least four to get back and that if there were no further problems. To set off as it was, even though the problems were minor and easily sorted with a few parts, for a ten day ride across the Sahara would be foolhardy.
The decision arrived at was ship home. I had really looked forward to turning up back at home on the bike but with a pining fiancee on the verge of mutiny, several bike problems and to be honest a real wish to be home myself, flying looked like a good option. Crating the bike up at Bamako airport was a real chore but happened in the end, though not cheap, and I fly home myself tomorrow.
Hopefully though the story is not over. I'm treating shipping the bike back to the UK the same as the time it was shipped on from Malawi to South Africa. I'll return sometime in the near future and ride that last 8000kms!"
---

---
Derek Fairless, ATW Adventure Travel, in Central America, BMW F650 Funduro,
"Chaos once more at the border with Guatemala. The bridge across the river forms the border, but the river is so shallow that illegal immigrants just wade across further upstream; this probably explains why Belize's population has increased from 28,000 to 280,000 in 20 years as other Latinos seek a more stable country to live in.
By now I was used to the formalities, Passport, personal details form, Customs forms for the bike, get duplicate copies of all of these from one of the little booths around, pay a kid to keep an eye on the bike, wait in line with disgruntled lorry drivers shuffling sheaths of papers detailing their cargoes, wave goodbye to the policeman at the barrier who wanted one last look at everything before you are free to open the throttle and storm the road. Except that the first 40km of this road is broken pavement under 6 inches of white compacted chalk I was warned of this at the hotel, the explanation being that this area did not vote for the politician who won, so he wouldn't spare the cash to mend the road. 40km further on the road suddenly surfaces from under the chalk and limestone, and now you can open the throttle, except watch out for those pot holes!
Turning off the main highway and passing through a small village I was flagged down by a big man with a huge grin on his face. 'Hi, where you going, ain't nothing more down this road, if you're looking for a hotel come and stay at ours, it's really good. My name's Fred by the way.' Thus I made the acquaintance of 'Fast Freddie' a fellow member of Horizons Unlimited from Calgary, Canada. This meeting was to have quite an impact on me.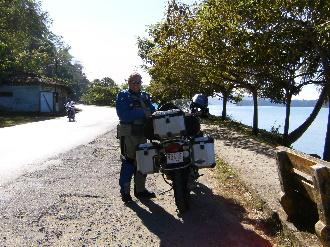 Freddie had ridden his bike, BMW1200, to Costa Rica, met up with his wife and daughter, and flown to Guatemala for a holiday with them before they returned to Canada and he went on to South America.
The hotel 'El Gringo Perdido'; The Lost Gringo; was on the lake shore with cabins that had tarpaulin fronts that rolled up during the day, and mosquito netting hanging over all the beds. It had hammocks to laze in and jetties to swim from but most importantly, and unpredictably, it had some special guests.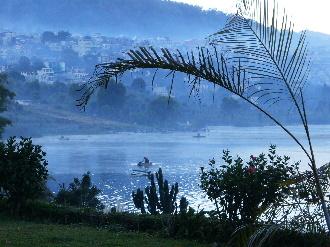 The roads here are very variable, and I found that following a car or van worked well, as they swerved between the potholes, only you have to make sure you choose one set of tyres to follow, as sitting in the middle will lead you to certain doom. Coming over one hill crest I narrowly missed a pothole about the size of a tabletop, 9 or 10 inches deep and looking as though it had been just made ready for repair since the sides were clean and at 90 degrees to the road surface. I remember thinking that if someone on a motorbike hits that unawares, they will be in serious trouble. Sure enough, 500 yards up the road there were all the signs that a road gang had been repairing the potholes, but looked as though they had run out of tarmac.
Fred introduced me to a Texas couple, Curtis and Janet, who were riding a GS1150 and also to Roger from Alabama who was on a Buell. Roger was on a mission however and could not stay and chat. You may remember that I described a large pot hole the size of a tabletop that I had seen when first entering Costa Rica, well Roger hit it and it took out his front and rear wheels and his rear sub-frame. Lucky for Roger he was not injured and lucky for Linda that she was still in the States waiting to fly out and join him in Costa Rica. Being an ex-dealer, Roger was able to organise the spare parts he needed and Linda was going to fly in with them, thus hoping to circumvent the long customs delays and import duties that he would normally encounter if he had them shipped by carrier. The next day Linda arrived with all the parts required and then found out that a Yellow Fever jab was mandatory for Colombia, so she and Janet went off to the local hospital for their jabs and certificates. In the meantime Fred introduced me to the local travel agent and I signed up to fly to Bogota with the rest of the group."
---
---
Lionel Haggard, Dubai to Cape Town, in Tanzania and South Africa, BMW GS 1150 and KTM 950,
"On my ride from Dar es Salaam to the Malawi border I encountered my first rain of the trip. It was late afternoon and I was about 10 km's from the camping site that I had identified as my overnight stop on the GPS when it started to rain heavily. I had to slow down as the visibility became very poor due to the heavy downpour. I eventually found the turn off to the camp site and proceeded to make my way down a dirt road that had started to turn into a small river and as I progressed, the road turned into two ruts with water rushing down them. I was expecting to hit a submerged rock at any moment that would send me and the bike crashing into the water and mud. By the time I thought of turning around I was on a steep downhill and there was no way I was going to be able to turn 300 kg's of bike around in those conditions.
I continued on in the pouring rain until I reached what under normal conditions would have been a small stream that crossed the road but had now turned into small river and tried to stop but the bike skidded and hit a submerged rock and I went down. Fortunately I was traveling slowly and there was no serious damage but I was now standing ankle deep in water with the bike on its side in ankle deep water, rain pouring down and not sure that this camping site even existed.
I proceeded to unpack the bike as it was too heavy to pick up fully loaded and managed get it in the upright position and then walked over to the small river to try and establish the depth of the water. I did this by placing my one boot in the water and slipped and ended up standing knee deep in this stream with water pouring into my boots. As you can well imagine I was pretty fed up by this time and decided to stay where I was and pitch my tent and get out of the rain. I manhandled the bike off the road and identified a place where I could pitch the tent.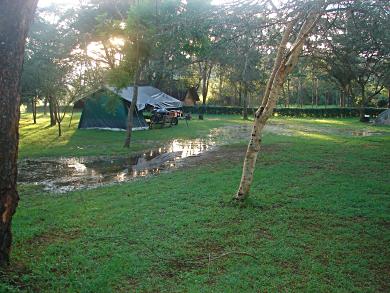 I was about to unpack the tent when I heard the unmistakable sound of a diesel engine making its way down the road. It was the owner of the camp site and he informed me that the site was 500 meters further down the road. We decided to leave the bike next to the road and return when the rain had stopped and the water levels had dropped. Phillip, the owner took me down to his campsite and put me up in the tent on the photograph that had a dry bed with sheets and blankets and invited me for coffee and a great meal. We returned to the bike just before dark and with the help of a couple of Phillip's workers managed to maneuver the bike across the stream.
After a good night's rest, a hot shower and dry clothes I was in a much better mood and ready for whatever the day would bring. Phillip took my luggage up to the tarred road for me while I rode the bike back up the dirt road without any mishaps and proceeded on to Malawi.
South Africa - Andrew had ridden up from Cape Town on the N1 to join me in Bloemfontein and we were going to explore the Drakenberg and make our way south along the coast.
The scenery around the Drakensberg was stunning and I realised that there were many parts of my own country that I have not explored and that many of the best sights that I had seen on my journey through Africa was in South Africa.
My friends in Cape Town arranged a welcome home party for us and this was officially the end of my trip through Africa. When you have completed a journey/adventure like this people tend to ask you what it was like and the best way I could explain it is a continues bombardment of your senses by the elements, the landscapes, the people that take you through the full spectrum of emotions that you could experience and therefore remind you that you are alive.
I would urge any of you out there that have been considering doing a similar trip to get out there and do it as the longer you postpone the more difficult it gets. You could ask any of the many travellers we met in Africa and they would all say it was worth the sacrifices that had to be made. Africa is changing and I think that the days of true adventure are numbered on this continent.
It was a great experience and who knows I may be out there again in the not to distant future. This is me signing off till the next time. Safe riding! Lionel Haggard"
---
---
Hamish Oag and Emma Myatt, UK, Asia, Australia and the Americas, in Panama and Costa Rica, BMW R1100 GS,
"Having established yet another crack around the shock mount whilst in Ecuador, by the time we reached Medellin, it was high time to solve the issue. The local brake pads had got us this far, but I wasn't going to risk any more mishaps, so they were to be replaced. My $2 fork seals from Lima were showing their worth and no longer retaining oil and the rattling tappets were telling me it was time for a decent service.
Mauricio, owner of local BMW dealer, Ruta 40, is a motorcycle traveler himself, having ridden the length of the Americas some years ago and is therefore sympathetic to us motorcycling vagabonds. He therefore very kindly let me use the workshop for three days to carry out what was necessary. By the end of three days I was beginning to think we had a new bike, if it wasn't for the gleaming new 1200's lined up in the showroom that is. You can keep 'em, Bertha's part of the family now!
Riding along the North coast brought us to Cartagena, once the most ransacked cities in the Americas. The Spanish used it as a base from which to export goods they'd "acquired" from the continent. Francis Drake was one of the toughest pirates to beat and he made many successful attacks against the city. In the end a submarine wall was built to prevent him entering the natural harbour.
The old city is surrounded by impressive fortress walls and the new city is a modern town full of tall and glittery buildings. We got a room in the old town, in a place which turned into one big party in the evenings (we must be getting old). heading out for lunch we settled down to eat...
All my investigations into flying came up blank - it was stupidly expensive and hassle-filled so we changed plans again and decided to take a boat from Cartagena. Hame had picked up details from the notice boards in our hotel - every week there are private boats leaving for Panama. We'd heard a fair few horror stories about this trip but thought we'd found someone good - we made contact with Guido and arranged to meet him on Sunday night back in Cartagena.
We met with Guido and arranged to put the bike on board the following day. Right away we both liked him and the other passengers seemed like good folks. The Seeadler was a comfortable looking boat which had been Guido's home for the past 15 years. With the help of a couple of guys we managed to get Bertha on board from the fuel station (that's the royal 'we' again, I took pictures).
Spirits were high as the lights of Cartagena faded into the night; motoring through the submarine wall erected to defy Drake and into the open Caribbean Sea. However, the atmosphere was quick to change as a swell picked up, the boat rocking and rolling like Elvis on a good night. We had a few concerned thoughts of Bertha strapped to the aft, but after almost 48 hours of open water, we anchored in paradise, Bertha firmly attached.
The same couldn't be said of poor Em, who disappeared below at the sight of the open sea, only to appear some 36 hours later, somewhat ashen! Fortunately she was in time to see a school of dolphins swim along side, seemingly guiding our passage.
Isla Hollandaise appeared to be picture postcard perfect as we woke the next morning, all passengers grateful for a good nights kip in calm waters. Swimming ashore we padded around the islands powder sand shores, pinching ourselves to remind us this was for real!
Sailing the short distance to Porvenir, capital of the San Blas Islands, we officially entered Panama, having our passports stamped before sailing on in search of yet another paradisiacal island. Not exactly difficult in these parts it would seem.
Anchoring in the bay of an island inhabited by the Kuna tribe, we had the pleasure of meeting a few of the local folks. With interesting customs - the women cut off their hair and wear large nose-rings upon marriage - the Kuna are the world's second smallest people, second only to the Pygmy tribe.
We could easily have stayed longer but the 'Seeadler' was anxious to get home. Sailing around Panama's most northerly point, we anchored at Puerto Lindo, our Caribbean adventure almost over. Almost, but not quite. We still had Bertha to get ashore, an adventure all in itself!
With no suitable pier to dock by, it was necessary to lower the bike on the dinghy winch into a local skiff. Sounds straight forward until you're in the skiff guiding your pride and joy through mid air whilst attempting to maintain balance in a small fiberglass boat!"
---

---
Simon Roberts, UK, The Road to Kathmandu - the comic strip - in Turkey!
"Gumbet. Didn't sound inviting but Gumbet had a campsite. On the beach. It also had a main street full of signs advertising Fish and Chips, Roast Beef and Yorkshire pudding, and Satellite Football. I'd talked my way back into Turkey at Bodrum (Green card wasn't green enough, remember?) and ridden along the coast looking for a campsite, ideally close to the beach. Well, the beach was only a beer can's throw away so I unpacked my tent. Enough traveling for one day... an early night perhaps.
I climbed into my sleeping bag hoping to be lulled to sleep by the sound of the waves on the shingle beach. I would have been if it hadn't been howled out by campsite dogs...who were barking at the guitar playing backpackers...who were trying to be heard above the thumping bass from the nearby 'Club Gumbet'.
'...I can't get no sleep...' sang Faithless. Appropriate. The bass faded at around 4.00a.m. Peace at last. The call to prayer began at 4.30a.m...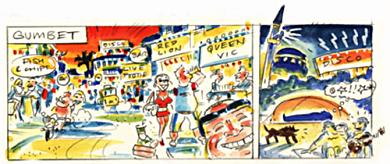 Click here to see the full story.
I escaped British occupied Gumbet and made my way round to Fethiye - another beautiful harbour in a sweeping bay. Rode (guiltily) past the dusty campsite on the outskirts of town and settled for the Irem Pension. Fine room - lovely terrace overlooking the harbour. Patted the LP smugly and settled down with a tea.
...Celia (name changed to protect the innocent) and I spent a wonderfully relaxing week together which, if filmed in soft focus, would have been a perfect promotional video of all southern Turkey has to offer - beaches, boat trips, cafes and excellent fish restaurants. Perfect. Barring one incident. The scene. 'Our' restaurant. Fish had been selected and cooked, wine served and the evening seemed set until Celia started crying. 'I'm not sure why I'm here... where's our relationship going?' she sobbed, sipping her wine. The waiter looked sternly at me. 'Well,' I began,' I think it's like this..' At that moment I took a mouthful of food and bit into a chilli the likes of which I have never experienced in my life. My tongue burst into flames..my ears steamed.. my eyes ran... unbelievable oral pain! So we were then both sat there, red eyes, tears running down our faces... God knows what was going through the waiter's mind.
The next day we kissed and said Goodbye. Celia went West and I went East.
The coast road to Antalya was stunning and beaches called me at every turn. But at Antalya I headed inland up a sweeping 'alpine' road and made it to Egirdir, a village built on a spit of land out into a beautiful lake. I was tempted to stay for a few days but the 'gritty biker' in me made the decision to press on the following day.
Roads out here are so deceptive. I was often lulled into a relaxed state on smooth roads. The road which skirted the lake was one such silky smooth road - Bliss - but I knew it wouldn't last and, sure enough, that telltale 'men at work' sign was soon in my sights. Tarmac ended and the rough road began which turned into several inches of gravel. Tricky, but not impossible. I turned the corner and my heart sank... fresh tarmac - as far as the eye could see.
This stuff is just poured on the road - full width - for mile after mile. It was like riding on wet, black mud. Luckily I survived long enough to ride into the DEEP SAND section... What joy. The terrain really opened out over the following two days. This 'space' was new to me. Shimmering horizons ...deserted highways. Stuff of the movies. It felt liberating. Cappadocia was different again. An alien landscape... as I was to find out."
Ed. See Simon's 'Road to Kathmandu' comic strip on Horizons Unlimited.
---

Drop in on Alaska Leather on your Alaskan adventure for service, tires, accessories and a hot cup of fresh coffee!
---
Peter and Kay Forwood, Australia, around the world since 1996, two-up on Harley Davidson, in North Korea,
"Firstly we would like to say thank you to both Harley-Davidson of South Korea, and Hyundai Asan as owner and manager of the Mt. Kumgang facility in North Korea. Without their joint and generous efforts this visit with our motorcycle to North Korea would not have been possible. We would also like to thank the North Korean joint partners of the Mt. Kumgang facility for allowing us to ride our motorcycle in North Korea.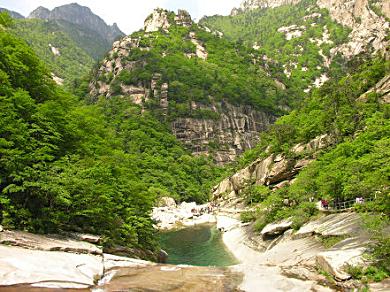 ...We were taken to our hotel, and were surprised to recognise it as the floating hotel that had once been anchored on the reef near our home town of Townsville in Australia, 20 years ago. It had now been refurbished and modernised. Our suite, with views overlooking the bay, is perhaps the most opulent hotel we have stayed in. The motorcycle had been unloaded at the work depot, and joining in with other tourists we were bussed to Mokran-Kwan then walked to Kuryong Falls. It had been raining early morning but now the skies and air was clear for magnificent views of granite peaks and hillsides of tortured pines and oaks. Following the stream we had our first contact with North Koreans. Guides from both Koreas were happy to converse, with little bits of english, assisted with taking photos, and monitored everyone's movement along the walk. North Koreans were conservatively dressed in dark blue or grey, the only brightness, a badge of their leader, worn proudly on the chest.
After a snack lunch of North Korean biscuits and buckwheat pancakes we rode the motorcycle, unaccompanied, to our hotel, just 1.5 km's, for restricted photos, only allowed towards the ocean. Taking our time we rode the route four times. After shopping for some North Korean souvenirs, liquor, with ginseng or made from wild berries, for people who had assisted our visit, we relaxed at our hotel over a couple of beers, listening to live music, hardly believing we had ridden the motorcycle in North Korea.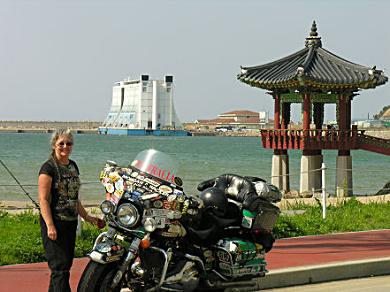 We were extremely surprised this morning when Hyundai Asan advised they had arranged an escorted ride to Mokran-Kwan. The ride was eleven km's in each direction, escorted by separate North and South Korean vehicles, we rode past check posts, through unfenced pine forests and up the river valley, for a photo session at the end of the road before returning. The Kumgang area is spread out, 20 km's by 30 km's, its many hotels, hot spring spa, shopping complex, restaurants and golf course are often km's apart, linked by frequent shuttle buses, walking is only allowed in small restricted areas. In between, North Koreans go about life as they always have, seemingly unaffected by the tourists. Staff within the co-operation area is a mixture of North-South employees.
After our ride we were bussed to Manmulsang hiking trail for another mountain walk before a traditional North Korean cold noodle lunch. Seated on the floor at a low table, we ate black noodles, accompanied by kimchi, buck wheat pancakes and a burnt rice water drink. Hyundai Asan had provided us with complimentary hot spa tickets, so our last event was to rest weary muscles at that complex of a dozen pools, spa's and sauna. Separate facilities for men and women, bathing is communal and naked. We gained more than a few sideways glances being the only westerners, and I guess returned a few.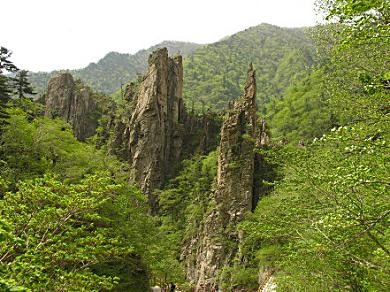 The debate of should people visit North Korea, where much of the costs of a visit go directly to the government, to us is a personal choice. More than two million South Koreans, those who have visited via the same route as ourselves, have made the choice to do so. Other South Koreans we have spoken to have chosen differently. What is fairly universal is a desire to bring the two Koreas back together, something that is more likely achievable if each side better understands the other, something that can occur through co-operation.
We paid the normal rate for a one night, two day visit, about $US 300.00 each, plus $US 400.00 for the motorcycle's transportation expenses. We understand about $US 300.00 of that money goes directly to the North Korean Government, visa and entry charges."
Ed. The Forwoods have travelled to a staggering 188 countries now, over 480,000 km during 12+ years on the road. Horizons Unlimited is proud to host their complete RTW story and pictures here!
---

---
Carol and Ken Duval, Australia, Life On A Bike - RTW 2, in Chile, BMW R80G/S PD,
"Eventually we met Daniel in Neuquen on Ruta 22 and it was really great to hook up with him again. It was in the latter half of 2000 we first met in Islamabad, Pakistan, albeit for a brief time, however we have remained in constant contact as we followed his traveling exploits over the past eight years. Some serious talking for several hours over a day or two and Daniel departed for Zapala where he is looking at a new job prospect. We need to stay another day in Neuquen to organize a new rear tyre.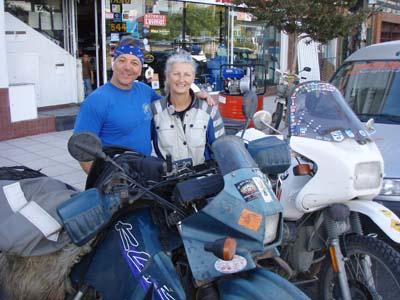 The Tourist Information came to our rescue with directions to an area where there were numerous motorcycle shops. We scored a Metzler Enduro3 at the first port of call and adjourned to the Hostel to fit it. The purchase and fitting went so smoothly we could have left town around lunch time but we had committed to stay for another day so we caught up on some emails at the YPF (Repsol) garage across the road. A lot of these garages with cafes have great coffee and free WiFi.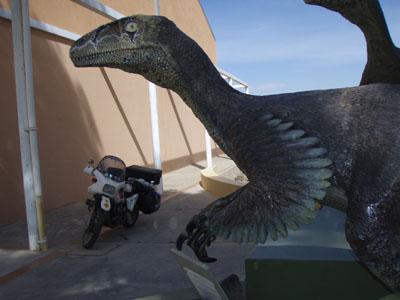 Continuing west on Ruta 22 we stopped at Plaza Huincul to look at the Dinosaur Museum. It was a very small display but with some great skeletons and mock up creatures. Our hosts were very helpful with information and also allowed us to park the bike on the premises for security reasons. We doubt there would be a problem but it is always good to know someone is watching the bike while we wander off.
A couple of days later the weather was fine and we pack slowly as there was plenty of time to ride the fifty kms of ripio to Puerto Pirihueico via Paso Huahum and catch the 5 pm ferry. Leaving Ruta 234 just outside San Martin we are greeted with our nemeses of freshly graded ripio and two graders providing added entertainment with high mounds of soft soil to jump to avoid their neat maneuvers. We survived the ride and stopped on the edge of Lago Pirihueico after negotiating another Argentina to Chile border crossing.
Two trucks loaded with wood joined us at the ferry ramp around 4 pm and we confirmed with the drivers in our poor Spanish that the ferry was due at 5 pm. While the ferry was disembarking several more cars arrived which included some of the customs and immigration officials that had just processed our papers on the Chilean side. The lake was like a millpond but Carol noticed fresh snow falls on some of the surrounding peaks. This no doubt fell over the past few days when we were in San Martin as the weather there was very cold. Docking at Puerto Fuy we noted most of the passengers left town immediately. We decided to stay however and rode the seven or eight dirt streets in relative darkness as the smoke from hundreds of heating fires and stoves enveloped the town. Booking into a little Hostel we organized dinner and breakfast and settled in beside the fire. This village was very damp and cold. The gentle tapping of rain awoke us around 6.00am and we contemplated staying another day over breakfast as the rain increased. By the time we were sugaring our second cup of coffee little white fluffy balls were falling outside the dining room window. We were unfazed at first but them it began to settle. The black bike cover was looking more white than black!! I expressed concern to Carol that we should move today in case the snow gets to a point where the road is closed. So we hastily packed the bike as the snow increased and removed a one kilo lump of ice from the folds of the bike cover. Frozen rain... this is cold...
We rode for around 15 kms on soft ripio before the snow stopped. Concern that the puddles of water would freeze over did not eventuate and for almost 200 kms, drizzling rain and cold accompanied us to Villarrica. We found out later that Puerto Fuy is one of those unique places in South America with a micro climate and it was probably the only place experiencing this extreme weather. No wonder all the other passengers did a runner when the ferry docked the previous day.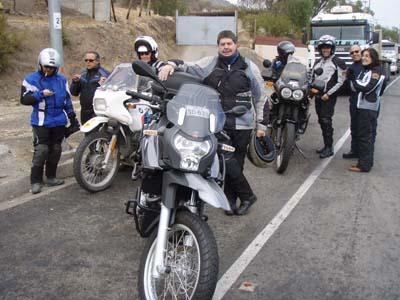 Our days spent with Mario were fun as he now has 12 young puppies to keep him occupied. Talk about chaos at feeding time. Also, we were invited to his motorcycle club's (www.aperrados.cl) anniversary ride and lunch. One of the clubs members was also a computer whiz and he sorted out our WiFi gremlins at a recent club get together. Many thanks Patricio (Warlock). Meeting up with our friends Bob and Gloria was once again a really fantastic. In all a great time with everyone and we could have easily stayed longer, however we need to keep moving as the sun is shining ever brighter in the north. We vowed to return to Santiago in January next year to catch up with everyone again."
---
The place to go to get good brakes for that overloaded world touring bike.
---
Mike and Jo Hannan, Australia, RTW, in Hungary, BMW 1150 GS Adventure,
"Communicating is always a problem for the independent traveler. It is not that the lack of language skills stops the traveler getting fed or finding a bed. Far from it, most of the basic things in life are simple transactions. If you walk into a hotel it is reasonably obvious that you are after a room, a fact that you can confirm with a single word: room, zimmer, camere or whatever. After that, it is just a matter of confirming that the room is livable by looking at it and sorting the price by writing a few numbers on a scrap of paper. The rest is just the detail.

Nor have we lost weight because of our lack of language skills. Apart from boasting that we can order a cold beer in 20 languages, there are many forms of communication other than speech that can get you fed. On several occasions we have been in restaurants and, being short of language and a menu, have used some hand signals to indicate that we needed feeding. Food and drink have always appeared, often a better selection than we would have made had we been able, and often more enjoyable for the mystery.
No, the problem of language is not domestic. Rather, it goes to the heart of our reasons to journey independently in the first place. Without language a culture seems impenetrable. Without language, we can observe, note, question and infer, but we cannot really understand. Language and culture are entwined, each so fundamental to the other that at the end of our time in each country, when we have filled pages of our journals with observations, historical rationale and explanations, much remains a mystery.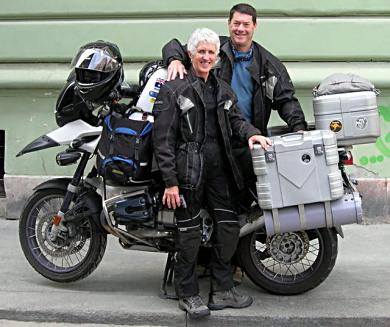 None of this dents our enthusiasm to go on and to learn what we can. There is a simple joy in being adrift in an exotic sea of humanity, washing along in its day to day tides. We may never understand the forces at work below the surface but, soon enough, we understand the routine and the rhythm of daily life.

Besides, it seems to us that culture is only one layer of understanding and that people are more similar than many would like to admit. The mothers speak to their babies the same way in every language, the fathers lift their children onto their shoulders with the same simple joy everywhere. The young men pose and the young girls flirt with a thousand cultural variations but basically the same message and purpose. The old men walk around the mighty Elephant with the same misty look, remembering the sheer joy of their youthful strength and passion and wondering, like the old Ulysses, if life will hold one more adventure.

And above it all, people are kind to strangers, and this propels us on. Each time we tell the story of our journey in return for a favour done, we carry forward the expectations of yet another soul. For it seems that the idea of the journey transcends culture and that there is a universal belief that to journey among strangers is an honourable thing, worth doing for its own sake.
We have found that the best way to cross into a new country is to avoid moving straight from the border to the major city. Instead, we select a medium sized place that is within one hour's ride from the border. We then concentrate on getting into town by mid-day with plenty of time to find accommodation and figure out how things are done in the new society.
This thinking led us to make our first stop in Hungary the city of Debrecen, located in the east of the country and close to the Romanian border. Debrecen is Hungary's second city but it is a relatively relaxed place. It is so relaxed, that it makes Canberra seem like Party-Town. Debrecen is also spacious, clean and well ordered, and a great place to get a feel for the country. Our two days there also allowed us to explore the surrounding area including the nearby National Park.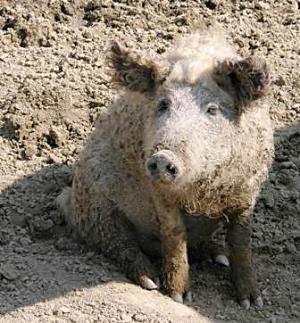 By the time we arrived in the 'big smoke' of Budapest, we had Hungary tabbed; in short, orderly, beautiful and Western European expensive! The capital had a few more lessons for us. It is a truly beautiful city straddling the Danube River. One of those places you 'have' to visit before you die.
...We fronted up to the Russian Embassy Visa Section with our newly arrived invitations and all of the other paperwork we should need for a visa. It was a frustrating visit as we failed to speak to any official who spoke any English whatsoever. We were simply told, through the good offices of another customer with a little English, that, as Australians, we could only apply in Australia."
Ed. See Mike and Jo's blog here on Horizons Unlimited!
---
---
Belinda and Patrick Peck, Australia, in Jordan, Yamaha Super Tenere XTZ 750,
"We left Athens, Greece with our great friend Orestis (HU Community) as our Greek Guide and the best maintained Super Tenere motorbike on the planet! Our goal is to see as many UNESCO sites as we can, so before we left Pat programmed the sites from the internet into our GPS. Yes, we have hit the 21st Century and now have a GPS and even an MP3 player so we play music through our Autocom Communication system while we are driving in the countryside, not in the city Mum and Mom!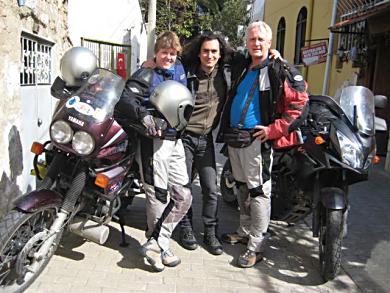 Syria was wonderful. It gets a bad rap because of its long border with Iraq, which has not affected the people at all and doesn't affect tourists at all, except keep them away! They were all SOO friendly, always waving and smiling and passing us food from their cars as we are driving along!
We went to Lattakia, Syria's port; then UNESCO Ancient City of Aleppo; then wonderful Hama with its wooden waterwheels. Next stop was UNESCO Crac des Chevaliers- 'the finest castle in the world'; UNESCO site of Palmyra 200km out into the desert; then UNESCO Ancient City of Bosra before crossing the border into Jordan. We were moving fast as we were in a hurry to get to the south of Jordan and Petra before it got too hot.
The first thing we noticed as we crossed the border was no other motorbikes. Until recently the King had the only motorbike in the country! Hence, we get saluted all the time and people treat us like royalty, which quite frankly we could get very used to! 'Welcome to Jordan' is the most commonly used English phrase and is shouted at us everywhere we go and everyone wants us to stop and have some tea with them.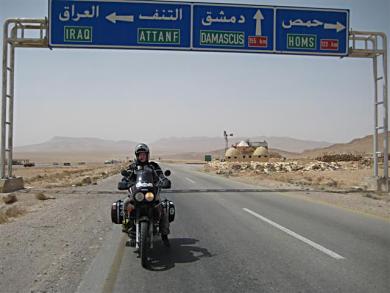 We started Jordan at the University town of Irbid; next more ruins of the beautifully preserved Roman city of Jerash; then down the Jordan Valley to the Dead Sea to have a float! We then drove down the Dead Sea Highway all the way to Aqaba in the extreme south of Jordan. From our balcony window we could see Israel, Egypt and Saudi Arabia and half of Aqaba partying! Friday night is the big party night and our hotel was overlooking all the action which was good but not at 4am! We collapsed at Aqaba, we were exhausted from constant travelling (I can hear all your sympathy!) and needed to stop in one place for awhile.
Well, the Red Sea was the perfect place to chill for a few days and do some serious people watching (well, what else is there for us to do). We had a great time, met some lovely people, locals and travelers and caught our breath!
Next stop was the amazing desert scenery of Wadi Rum where Lawrence of Arabia fought the Turks for the Arabs in the early 1900s. We hired a 4WD and driver for 8 hours and slept in the desert in a Bedouin tent made out of camel hair. These things are boiling in the day and freezing at night, but with great sunsets and amazing stars at night in the desert.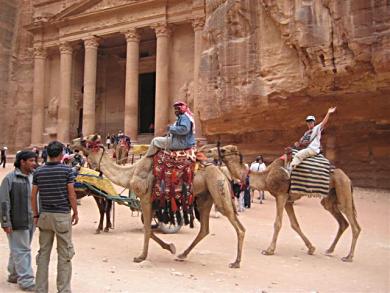 The awesome UNESCO site of Petra was our next destination and with very high anticipation we were not disappointed. Petra is half built, half carved into the rock and is surrounded by mountains riddled with passages and gorges. It is one of the most famous archaeological sites in the world and for good reason, it is simply stunning. Do not live your life and not see it, it's a MUST SEE. We saw it for 2 X 12 hour days and were exhausted at the end of every day. There are not enough adjectives to describe wonderful Petra. We got to Petra at the right time, it was not too hot, about 26C during the day, early April.
Following the Kings Highway north we visited the charming 15th Century stone village of Dana; Shobak castle; ancient Crusader castle of Karak; UNESCO site of Um er-Rasas and now the wonderful Mosaic town of Madaba where the famous mosaic map is of all the Biblical sites from Lebanon to Egypt constructed in AD 560. Madaba has been inhabited for at least 4,500 years and is mentioned in the Bible as the Moabite town of Medeba. Surrounding Madaba is the the site where Christ was Baptised; site where John the Baptist was beheaded and Mt Nebo, the site where Moses is said to have seen the Promised Land and then died (at age 120!) From Mt Nebo we could see across the Dead Sea: Jerusalem, Bethlehem and Jericho in Israel.
Tomorrow we are off to the oasis town of Azraq, 100 km east in the desert; then back to Syria, Lebanon maybe, Cyprus and East coast of Turkey and over to Georgia and Armenia.
We will be in Georgia for awhile end June and love catching up with HU members."
Robin Breese-Davies and Rik Davis, UK, RTW, in Colombia, BMW R1150GS,
"I am sitting here in Taganga, Colombia near to the Venezuela border trying to reflect on the last 7 months since my last up date, it's impossible to put it all into words but I am going to try in the shortest way possible.
Mexico was everything we expected it to be and more, with the rich and the poor, superb beaches and mountains, wonderful history but also modern cities. As always though the people are its biggest asset who were so warm and welcoming to us, we were warned so much before entering about all the problems and crime but we saw none of it and felt safe everywhere we went. From Mexico we flew to Cuba to visit our first Communist country and yet another tremendous experience, the people of Cuba have nothing to offer other than their hospitality and their stories. Things like our t-shirts, books, pens and other miscellaneous items were classed as luxury goods and we were asked to give them away constantly. It was great to be able to drive from coast to coast and experience all this when normally a package holiday to Varadero or Cayo Coco you only see the modern hotels and great food, this is not what the rest of Cuba are allowed to experience or see because of the government. Our timing was perfect as the week we flew back to Mexico Fidel Castro retired from office and several reforms have already started to take effect. It will be interesting to see how it modernises from now on.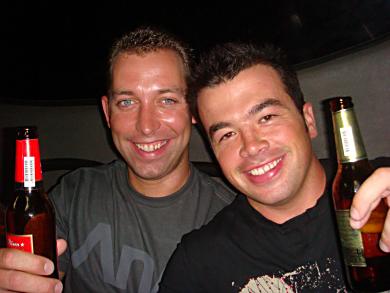 Once back from Cuba we headed south to Central America and Belize was our first stop, Belize is all about the Ocean and its reefs & beaches, the water is clear blue, the coral reef is second only the Great Barrier Reef in Australia so the colours and the creatures are a true spectacle. After Belize we spent almost 4 weeks in Guatemala to see its sights but also to try and learn Spanish, we went back to school in Antigua and had one to one lessons for two weeks and I can confirm it has added to our Latin American experience already as most places we visit they cannot speak English. The rest of Central America has so much to offer but Costa Rica possibly takes my preference purely because it has the most, great beaches, rain forests, escapism from other tourists, volcanoes to name just some of the natural wonders. I spent my birthday on the beautiful Boca Del Toro Islands on the Caribbean coast of Panama and Rik made sure it was a weekend to remember. From Panama City we flew our bikes to Bogotá, Colombia and this is where our South American adventure has begun.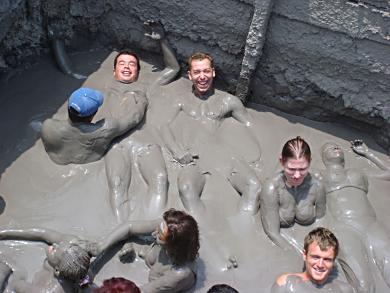 If the rest of South America is as rewarding as Colombia then I might not be home for some time, it is the least visited Latin American country because of its dangerous reputation, great for us but it cannot last for long as this country is amazing, it has the stunning Andes, fantastic mountain roads, 2000km of Caribbean coastline, fascinating history, temperate climate, modern cities but also beautiful colonial pueblo's, even though our first three days of biking we experienced rain it was still superb riding, Colombia ranks as one of my best motorcycling experiences and we still have so much more to see before we start heading south to Ecuador, so the rest of South America has a lot to live up to, but I am sure it can."
---
---
Ruby and Mike, Canada, in Angola and Congo, BMWR1200GS,
"A country that we will never forget. It took all our strength, willpower and mental state to make it through. We thought we were prepared, but the real Africa caught up with us. Tourism is non-existant. The roads are bad, but for the most part passable. The rainy season from August to May means torrential rains every day.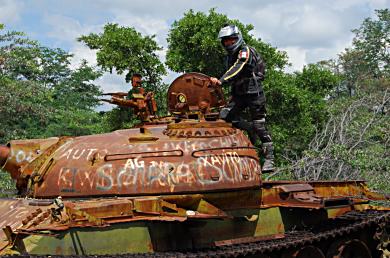 The people are reserved, but curious. Villages and towns once lined with colorful Portuguese houses are dilapidating and turning into ghost towns. Our worst nightmare became reality as one of our motorcycles broke down 85km from the Angolan/Democratic Republic of Congo border on the worst road we had ever experienced and in the midst of a jungle without any other traffic. We told ourselves, if we would make it out of here we would make it anywhere.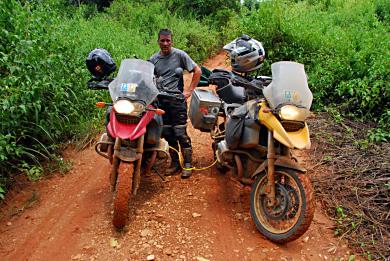 After posting the Angola Pictures and Journal, the trouble only started. We have now covered the Democratic Republic of Congo, Congo, Gabon and are in Cameroon. The motorcycle trouble never went away after Angola to a point of total electronics failure in Brazzaville, Congo. No BMW service meant we had to fly the motorcycle to Germany and continue our journey two (2) up through some of the toughest roads yet. 100's of km of deep sand, clay covered wet roads and a crash added to the never ending events. But we will keep the best to the journal and pictures which should be up in another week or so. A little hint, we hope to have Mike's motorcycle back in Cameroon in another week. It has been a very testing few weeks of endless things going wrong and still are. But we are living our dream through Good & Bad, Easy and Hard Times. Cheers, Ruby & Mike"
"Set off at 0600 in the dark. Bit of a risk with the 'roos but wanted to get across the Nullabor in one push if possible. Extremely tiring 14hr day. Rode in all sorts of weather. Literally hundreds of dead 'roos on the road ... so that's why Mrs Macs Road Kill Pies are so popular. Robin took an alternative route but still caught up with the Transalps by the WA border. Shortly after crossing the border Robin was out in front again on the Street Bob when his exhaust fell off. Not noticing any difference in noise Robin rode on none the wiser while Henk risked life and limb kicking it into the path of an oncoming road train. Been on some big long straights today. One of them 164km long. Had 7 fuel stops across the Nullabor. Henk ran out of fuel and Mike's bike ran out just as he was rolling into the servo. Both now carrying extra fuel.
Saw a couple of Dingos. Henk then made Mike zip his tent up at night and tie his leg to the bike in case the Dingo tried to carry baby Mike off in the night. Saw some fresh Camel footprints. Mike got down and felt the prints with the back of his hand (like they do in the Westerns) and said that they must have passed through a couple of hours ago. Eagles scavenging on road kill are another hazard to look out for. These Eagles bring back vivid memories of flying Turkeys crashing into Henk's helmet on Turitea road Otorohanga NZ and the resulting crash and Triumph Trophy being written off.
Speaking of 'offs' Mike had an off today... no wounds though as he wasn't even moving. Bike fell on top of Mike as he scoffed his 3rd Road Kill pie for the day.
Until now flies haven't been too bad. But now a rest stop is a compulsory helmet on job. You wouldn't believe how hard it is to jam a Mrs M's Road Kill pie through a visor without swallowing a swarm of flies too...
All the bikes going well, the boys are having heaps of fun but needing to do plenty of road hours to keep to schedule. Especially for Robin as he has a scheduled service for the Harley booked in in Albany which is another 2 days further round the island. Started day with Robin locking himself out of his room but after leaping from roof top to roof top managed to squeeze down the chimney to get back in again. Henk had this idea that when they stopped for a few minutes they should run round the bikes in opposite directions giving each other high fives as they pass. I was wondering if the hypnotising effect of white line fever had set in. Then I heard that Mike, dressed in his riding gear, including his one piece dri rider overall, had found the appropriate tree to relieve himself against, unzipped one of the many zips in the suit and after the customary sigh was surprised to see that the tree was dry while his left leg wasn't and left boot proceeded to fill with about a cup full of warm liquid. I am now certain that white line fever has set in. A day off the bikes will be needed very soon.
Henk and Mike checked into the Police station at Derby to let them know that they were going to attempt the Gibb River Track through to Wyndham 667 km to the N. After battling 8" wide by 8" deep corrugations and 2 ft deep bull dust holes for 117 km Henk and Mike decided to save the bikes and bodies and head back to Derby and stay on the seal. Had to stop twice on the way back to Derby to retrieve Henk's teeth out of the bull dust. Henk now rides with his teeth in his pocket."