Too many to list! If you haven't checked out the Links page it's time you did - it's scary long, but it's a fascinating browse.
---
Get your website listed in the LINKS Section
by listing Horizons Unlimited on YOUR web site, let me know you've done it by mailing me a link to the page, and you may get listed here in the next newsletter and on the Horizons Unlimited web site Links page. To make it easy for you, we even have our logo and link code here!
All sites will be considered for listing, but must be a MOTORCYCLE or TRAVEL site, useful or of interest in some way to travellers. We reserve the right to refuse to link back.


Motorcycle Express
MC Air Shipping, (uncrated) USA / Canada / Europe and other areas. Be sure to say "Horizons Unlimited" to get your $25 discount on Shipping!
Insurance - see: For foreigners traveling in US and Canada and for Americans and Canadians traveling in other countries, then mail it to MC Express and get your HU $15 discount!
There are many 'Helpful People' listed on the Links page, a huge thanks to all of them. How about you? Or you can join a Community, or start your own!
Do you know of a good shop 'on the road,'
...in other words, somewhere there isn't a large number of shops? (Also of course any shop that specializes in travellers equipment and repairs is of interest.) But we're particularly looking for those rare items, good repair shops in South America, Africa and Asia etc. Please post your info in the Repair shops around the world Forum on the HUBB.
There are now 100's of shops listed in out - of - the - way places, from Abidjan to Ghana to Peru! Be sure to check out the HUBB "Repair shops around the world" forum if you need work done!
When you meet people on the road, and they haven't heard of this e-zine or the website, we'd appreciate it (and hope they would too!) if you'd get their names and email addresses and send it in to me.
Thanks, Grant
Request for info
Wouldn't YOU like to know all about the border you're approaching - what it should cost, paperwork required, 'tips' needed, and who to talk to, etc.?
When you cross ANY border, take some notes, and pass them on to us. Thanks!
Shipping
The Shipping page on the site is HUGE! It can be reached directly or from the Shipping link on the Trip Planning page.
If you have any information to contribute, please go here, and register (or just login IF you have used this system before) and you can then submit your information. Thanks!
Travel Advisories:
The Foreign Office in London's Travel Advice Unit advises against travel to all sorts of places. Check out the listing before you start!
The US State Department regularly issues updated travel advisories, information and/or warnings.
Motocare
Motorcycle Rental, hiring Honda's Transalp for touring Argentina and Chile. Ride across the Andes, from the Atlantic Ocean to the Pacific, lakes, deserts, salt pans, waterfalls, beaches, rain forests, glaciers...
Motocare Argentina
"Windhoek was our cross roads. We needed to decide which route to take trans Africa. Eventually we decided on the Eastern. The classic Cape Town to Cairo, but in our usual round about way. The main reason for our decision was the steadily increasing rain and steadily decreasing road conditions. Serious flooding in the north of Namibia and Angola turned roads into nothing more than muddy rivers. This really was not appealing! Whereas at least along the east coast you have a choice, most of the time, to take a paved or dirt road. We have planned to undertake some of the West Coast of Africa, Morocco - south, while waiting for Europe to warm up, but that is a long way off at the moment.
Many overland travelers passed through Chameleon Backpackers. Their machines varied from a 1954 650 Triumph carrying Denise and Clive and a 1955 Royal Enfield loaded with Richard and his gear.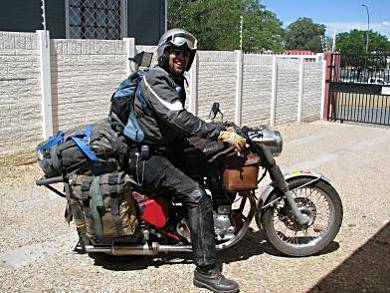 A group of lads on a combination of Africa Twins (Dan and Ed) and BMW's (Michael and Chris) to a whole variety of trucks and jeeps.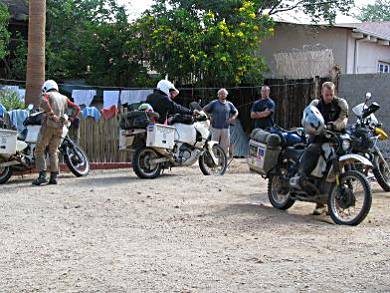 Everyone had a different story, everyone had different advice, everyone had different information. It was fabulous!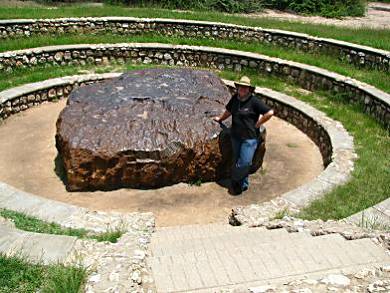 ...Grootfontein is a home to the largest, discovered, intact meteorite that has impacted with planet earth. This fascinating chunk of space debris weighs approximately 60 Tons and is composed of nickel, iron and other rare elements. In places the surface has been machined by scientists to an almost chrome like finish that does not appear to rust. We discovered an interesting phenomenon. Whilst the temperatures in the midday sun soared past 40 degrees Celsius and all around, including the cement compound, was extremely hot to touch, the metal meteorite remained unusually cool... we don't know why? Do you?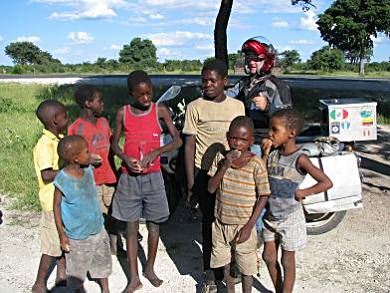 We stopped under a large shady tree (Eucalyptus, all over the world now, it seems) near by sat one of these small villages. As we eat our light lunch by the side of the bike we notice a group of children from one of the huts staring curiously at us. They crept cautiously closer in the safety of their group only to beat a hasty retreat as a bull cow made itself known to them. Another advance, this time skirting the heard of cows and concealing themselves, not to well, behind a large tree. We watched them as they watched us for perhaps 10 minutes only for us to start packing up to continue. Grant mounted Miss Piggy and seeing a few of the children advance a little closer, beckoned to them with a wave. They immediately scrambled over to us, so for a further 10 minutes we took photos of them with the bike which they seemed awfully pleased to view on our camera and passing over a packet of bickies we continued on.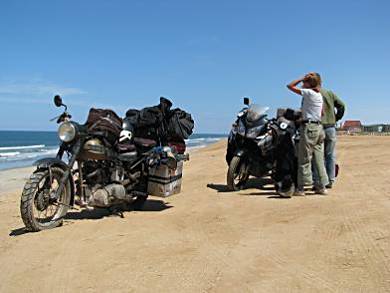 ...At 'Dog Poo Lodge' (not its real name, but an apt description) we met Clive and Denise, a British couple who had ridden their '54 Triumph, 'Trinny' down the East Coast of Africa. We are constantly being told, by naysayers, that we cannot ride our Suzuki in Latin America/on the dirt/through Africa/etc etc etc and that you can only do it on a Brand X/Brand Y/Brand Z. It all becomes a little monotonous. So when we meet Richard (Miller) on his 55 Royal Enfield and Clive and Denise with Trinny it restores your faith that you can ride what you want where you want. People are doing it quite well."
"We started out as many other travelers backpacking using various forms of transportation. In Fiji we went by boat, in New Zealand we bought a van, and in Malaysia we used public transport. Then we found our ideal mode of transport, a big black motorcycle. Our motorcycle journey began in Cape Town, South Africa, when went to a free showing of The Motorcycle Diaries. So after a few bottles of wine to get our courage up we made the leap and told everybody we were going to buy a motorbike and tour Southern Africa.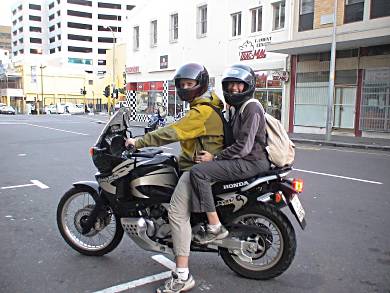 From there we bought our Africa Twin, a map of Southern Africa, and shipped 70% of our backpacking gear home. Riding through Southern Africa was great, because even though there was some similarity in topography, climate and people; it was still very different from country to country and always kept us on our toes when switching borders. We found that South Africa was a great place to become a biker.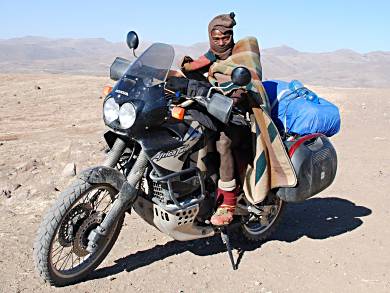 The white South Africans are the most hospitable people we have ever met, and with the big biker community there they are especially welcoming to bikers. We would get free accommodation, braes (bbq), beverages, etc, almost in every city we pulled in. People would chase us down in stores, down streets, cafes... Anyhow, the racial tension is pretty high there (which included some rock throwing at us riding), but it is made up by amazing scenery, great roads, and hospitality.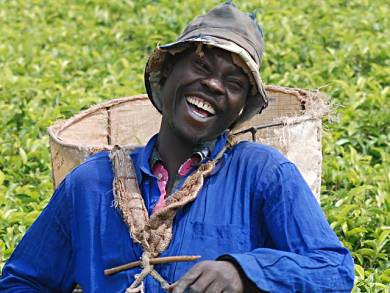 On the other hand, we were happy to leave South Africa and ride through the less developed countries, where the locals were very friendly, the roads were rough, and the culture abound. The Malawians were by far the friendliest we met in Southern Africa, very friendly, helpful and sharing of what little they have. And the wildlife is wild especially in Malawi, Zambia, Botswana and Namibia where you can get chased by elephants or have hippos chew on bushes next to your tent. We had quite a scare in Vwaza Marsh Wildlife Reserve in Malawi when the elephant decided to play tag with us. We decided that if you want to die in Africa you can, people don't stop you from doing stupid things like in other countries. This includes boogie boarding down class V rapids on the Zambezi, which we highly recommend...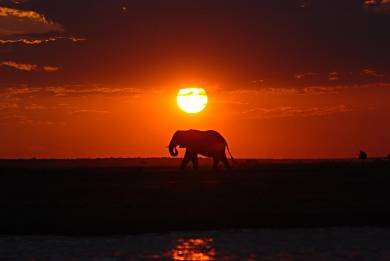 So we left Southern Africa after 5 months because we don't have endless amounts of money and we still wanted to ride to the states from South America. Our first stop was Brazil which was fantastic, after we finally got our bike out of Sao Paulo customs, which only caused us minor ulcers. We rode from Rio de Janeiro, down through Uruguay and are now in Argentina trying to buy a second bike, so we can have a little more bum room.
However, it turns out that buying a bike in Argentina is not as easy as one would think, so we are headed to Santiago, Chile in hopes of less excruciating rules for buying a bike and taking it out of the country, and then down to Ushuaia. Happy Travels and hope to hear from you. Brad and Jola.
---
---
Richard Miller, through Europe, the Middle East and Africa, in Nigeria and Benin, 1955 Royal Enfield Bullet,
"The road between Mamfe, near the border with Nigeria, and the Nigerian border town of Ekok has a reputation as being one of the roughest on the West Coast route. What no-one said is that the road from Limbe to Mamfe is in fact equally bad in sections. With the back wheel still decidedly oval I tried to arrange to take a dugout canoe down the Cross River, parallel to the road. That also sounded like a nice way to enter Nigeria, in a dugout along a river through the jungle. The previous evening I had been told that there were two boats leaving in the morning, both at ten. I rode down to the riverbank and found out that one had left at nine and the other had decided not to bother after all. Fate was really stacked against me on the boat into Nigeria front so I set off down the road.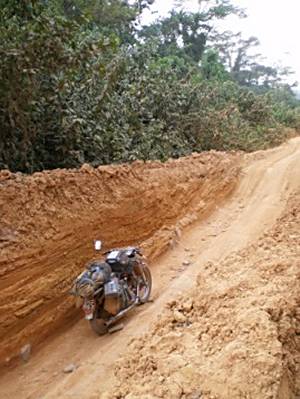 Arriving in Nigeria and all was mellow at the border. It had been my intention to spend a while site-seeing in Nigeria to find out what it is all about but the egg shaped wheel put paid to that and I ended up passing through the country in four days. Despite the reputation of Nigeria it was a really easy and friendly place to be. I didn't get stopped at any police checkpoints, asked for any bribes or get any hassle of any sort. What was actually refreshing about Nigeria was how people were very low key about my presence, there was very very little staring and shouting out at me as in most places I've been in the last month or so, but if I went up and asked someone something or greeted them they were warm and helpful.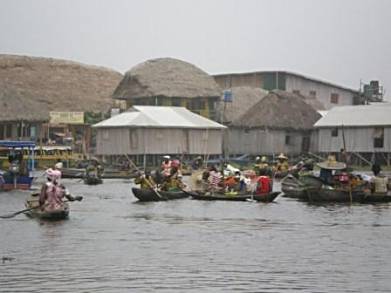 ...So, here I am in Porto Novo waiting for a new rim, hub and spokes to arrive for me to lace together. I had hoped to get in a lot of site-seeing whilst waiting but the place I checked into and committed to with my immobile bike is refusing to offer left luggage so I've been on day trips with just one night spent away from Porto Novo. But an excellent night away- to the stilt village of Ganvie. Most of the coastline of Benin is flanked by an inland lagoon. The lagoon is seldom deeper than six foot deep. When the European slave traders put pressure on local slave trading kingdoms to supply ever greater quantities those fleeing persecution took to a life on the lagoon. The African slave traders had a taboo against entering water so to live in the middle of the lagoon offered sanctuary. As time has gone on the aquatic life has flourished and in Ganvie alone there are more than 30,000 living on the water. I stayed the night in a stilt hotel in Ganvie and then the next day chartered a boat across the lagoon to get back to Porto Novo some 45km away. An excellent adventure.
So, crossed fingers and I'll be mobile again in a couple of days and then heading up to Burkina Faso and Mali. Hopefully with the bike roadworthy once more things will look up and Burkina and Mali will offer more laid back experiences."
Derek Fairless, ATW Adventure Travel, in Mexico, BMW F650 Funduro,
"Salina Cruz has the unfortunate privilege of being both a commercial town and a port. Along the coast here there are shallow lagoons that for centuries have been flooded and then dried out to produce sea salt. The town is unfortunate because the combination of commerce and the port have turned it into a busy, dirty and noisy place, with more than the usual amount of heavy trucks belching out black smoke as they fight for their few square meters of space on the road.
Up in the mountains the features of the people changed. They were of a shorter, stockier build with the flatter roman nosed faces of the Maya. Many of the women and boys I passed up in these mountains were carrying huge bundles of wood on their shoulders, supported by a strap that passed across their foreheads. A young boy stoically pushed a wheelbarrow up a long steep hill with what looked to be a large sack of potatoes on it. The sack was twice the size you see in the UK now, and was I expect 112lbs. Strange that they still use pounds here and not kilos. On the mountainsides the farmers have formed a patchwork of small terraces, not the neat level steps of the Andes, but nevertheless an attempt to make a manageable agriculture in these hilly peaks.
...A couple of hours up the road is a local beauty spot, Aqua Azul – Blue Waters – and because I knew today's destination, Palenque was not too far up the road, I pulled in and spent a pleasant couple of hours watching the water roar down the waterfalls. Returning to my bike and the couple of kids that I had hired as 'security guards', I was shown a huge iridescent green beetle with a big horn on its head. It was about the size of my palm, and the children tried to frighten me by telling me it was alive and offering to put it in my hand, but when I smiled and held out my hand they all laughed and ran off to frighten another gringo.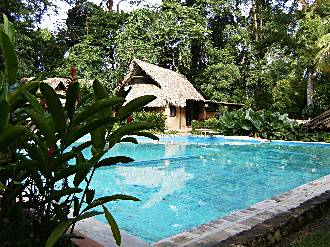 The campsite at Palenque is a mixture of cabins, RV park and campsite. The campsites here often consist of open sided thatched huts, under which you pitch a tent, or maybe just sling a hammock. As it had obviously been raining here earlier that day, I chose a cabin instead and was shown to a nice room next to the swimming pool. The bar and restaurant were very pleasant and served food from early in the morning until late at night, I had found that the one of the few dark Mexican beers was very pleasant and made sure to have one each evening during the three days I stayed here.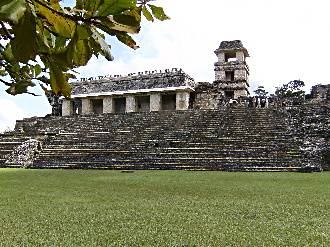 Just up the road, about a kilometre, were the ruins of one of the finest Mayan sites in Mexico, Palenque, and the next day I walked around the site finally able to appreciate the scale of these 1000 year old mesa American buildings."
---

---
Lionel Haggard and Jerry Finley, Dubai to Cape Town, in Ethiopia and Kenya, BMW GS 1150 and KTM 950,
"Crossing into Ethiopia we did not realize that there would be no petrol for almost 400 km's and although there were many fuel stations they only stocked diesel. Running on fumes and stopping to drain fuel from BMW's to keep the KTM going we eventually came across a fuel station that sold petrol in cans at an inflated price. Needless to say we were happy to pay whatever he wanted.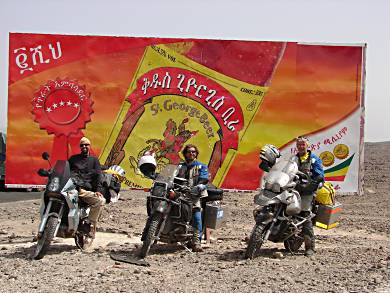 Deciding to turn north to Lalibela we did not realize how remote this area was and did not make contact for seven days and this caused great concern in Dubai and Cape Town. I would like to apologise for any distress that was caused and would like to thank everyone who attempted to locate us. It was also reassuring to see so many people concerned about our well being.
We left Lalibela and made for Gondor in the west. The road we took was the worst I had been on and it took almost 12 hours to cover 200 km's. By the end of that road my right front shock was starting to leak oil but it did not affect the handling of the bike. I got separated from Carlo and Jerry in the dark and we were only able to locate one another the next morning.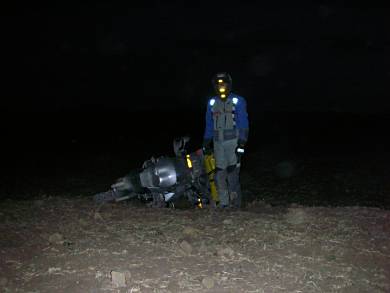 After our visit to Gondor we turned south to Lake Tana which is the source of the Nile. It was late afternoon and we had the sun in our eyes when a cow wondered out of the shadows into the road. Carlo who was riding up front did not see the cow and struck it on the neck at approximately 80 km/h. The cow's neck was broken and it died instantly while Carlo continued down the road with the BMW on its side for about 15 meters and came to a stop in a cloud of dust. Amazingly he did not even have a scratch on him although his BMW jacket took a bit of a beating.The bike sustained damage but the most serious was the brake fluid reservoir that had disintegrated on impact.
Soon at least 50 people had gathered around and the negotiations started for payment for the dead cow. The price was agreed at 250 dollars and we arranged a truck to take Carlo's bike to the next town. The next day was spent knocking out pannier boxes and straightening out parts on the bike that had moved or been bent. Carlo found a guy that could work with Perspex and gave him what was left off the brake fluid reservoir to try and construct something temporary.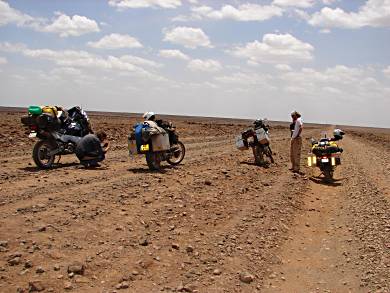 We were told upon arrival at Moyale the road had been graded 2 weeks before but this turned out to be a vicious rumour and it seems the locals like playing these games with unsuspecting motorcyclists.
This section of road has a lot of loose gravel and deep ruts and one needed to focus on staying on an existing truck tyre print to prevent the bike from being sucked into the deep gravel on either side of you and just to complicate matters further there are plenty of large stones lying about waiting to direct that front wheel into the loose stuff. A moment's lack of concentration ensured that all of us dropped our bikes on this section, fortunately without any serious damage or injury.
The road from Marsabit to Isiolo is almost 300 kms and although there is not as much loose gravel it is heavily corrugated for the entire 300kms and you and your bike will take a pounding. The temptation was always there to ride it fast but without fail a very large pothole would appear and would force you to slow down. I know of many motorcyclist who have destroyed their suspensions on this stretch of road and would advise a slow but steady pace and prepare yourself for a long day.
As we were repairing Simon's tire we were unaware that Jerry had been involved in a collision with a vehicle a couple of kms ahead of us. Once we had the tyre repaired and set off we found Jerry and the vehicle waiting for us. He had been very lucky and narrowly avoided being run over and seriously injured. The vehicle had hit the back of the bike and bent the sub frame and exhaust. The luggage straps had also broken and we had to improvise to get the bike on the road again. Jerry was able to continue and we needed to get to Nairobi to check out the bikes and repair the damage they had sustained.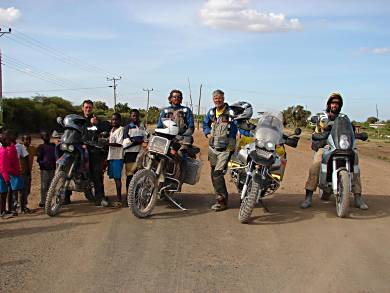 Absolute relief by all at making it to asphalt after two days and almost 600 kms of the worst road I have ever encountered. It was great teamwork and support that got us through and I would like to thank you all for a great ride."
Pablo Alvarez, Spain, Paris to Thailand, BMW R850R,
"My idea was to do a motorbike solo trip, driving about 25000 kilometres from Paris up to India continuing to Thailand during a Sabbatical year from May 2007 to May 2008. Crossing Croatia, Albania, Crete, Turkey, Iran, Pakistan, India, Nepal and Bangladesh. In Bangladesh I will put the motorbike in an airplane to Singapore. From there, go up the peninsula of Malaysia finishing the trip in Thailand. For the return, I will choose the plane for me, and the ship for the motorbike.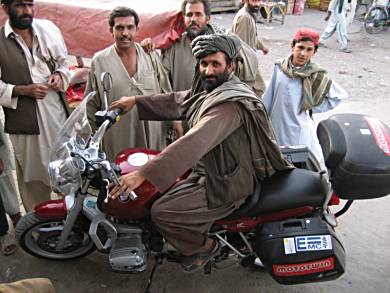 I left Paris in a grey and rainy afternoon the 9th of May 2007. I enjoyed the good weather and the coast roads of Croatia and Albania to arrive in Crete two weeks later. Istanbul was great fun with its night life and good food. Riding through the lunar landscapes in Cappadocia was almost a mystical experience.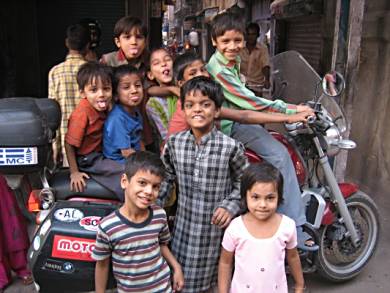 I was really surprised by the good roads in Iran and above all of the kindness and friendliness of its population. The mosques of Esfahan were the most beautiful of the trip and Persepolis sent me back to the ancient Persian times. I crossed the south of Iran heading the Pakistani border only three days after the kidnapping of a Belgium couple on the same road. The bandits must have been busy counting the money of the rescue as I had no troubles to go through.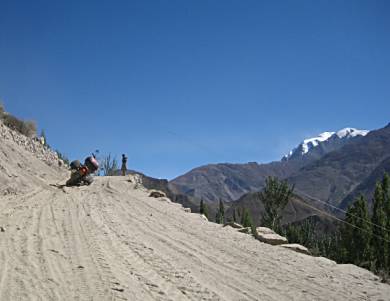 The bazaars in Baluchistan Quetta were a real human zoo, full of Pashtuns, Afghans, and Baluchies with their daring glances and turbans. The Karakoram Highway in north Pakistan gave the best glimpses of some of the highest snowy mountains of the Himalayas. I finally reached India after five months and 20000 kms of roads. The highlight of my journey has been the unbelievable Leh-Manali road in Ladakh. No doubt, the most beautiful road in the world riding a motorbike. The astonishing almost moon landscape, at more than 4000 m altitude, of the Himalayan chain with the highest pass of the world at 5600 m. The craziness of Delhi's traffic and the Rajput palaces of Rajasthan and some elephants and holy cows to be avoided all the way on the messy roads of India.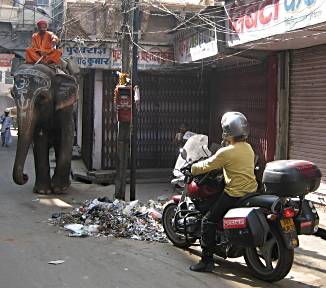 I'm now in Goa. Relaxing on the beach and enjoying its cool atmosphere after 8 months travelling and 30000 kms on the road. I will be heading north, in some weeks, to ride on the winding roads of Nepal."
---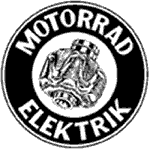 Motorrad Elektrik has been offering the best in electrical parts for classic and modern BMW's for over 11 years. From 12 volt conversion for /2 to better than stock replacement parts for your late model "R" or "K", we've got you covered. Specialty parts for 'hardening' the charging and ignition systems for world-travelling Airhead GS's. Riders like Bob Higdon, Dr. Gregory Frazier, Grant Johnson and hundreds of others depend on Motorrad Elektrik components as they wander the globe.
Our Omega system has solved the charging problems for 1970-95 Boxers with 400 Watts Output, and our Nippon Denso starter is the perfect cure for Valeo syndrome.
---
Peter Hendricks, Germany, in Thailand, Suzuki DR 650SE,
"I've made a series of mistakes and now I'm paying for that. Here is what happened:
In a guesthouse in Sangkhlaburi I met an Italian who told me this tantalising story he had been told by a Thai soldier about a short dirt track linking up two ends of road shown on his map close to the Burma border. Since I have a slight sense of adventure, I like travelling where others don't go and like to avoid main roads I thought I'd give it a try. I can always turn around and have done a lot of that lately anyway. Mistake #1: I believed in a story he had been told by someone else, i.e. he hadn't been there himself.
I think I found the right road, or rather, dirt track, in a national park. Mistake #2: when I came to a junction I chose one, rather than waiting for somebody to ask for directions.
A few m further on there was a farmer and his wife. Mistake #3: instead of asking: "which way to...?" I asked "is this the way to...?". The answer to the latter question invariably in Asia is Yes. As it turned out, the farmer was right. All 4x4's had to go this way, but for bikes there is a better way. I know now.
After crossing a large mud hole without too much trouble I arrived at a large ford. I heard a motorbike on the other side, so I waited to see how he would deal with the ford. He didn't, he just passed it on the other side. Not wanting to go back and the ford not looking too bad I made the final mistake and tried to cross. It turned out to be knee-deep with a decent current, holes and large boulders in the water. I got about to the middle until I dropped the bike. The right pannier went under and filled with water. I managed to get most of the other luggage off the bike more or less dry and get the bike up.
A quick try confirmed my worst fears: the starter couldn't turn the engine, full of water. It took 4 people from a nearby village to push the bike back out, I pitched my tent for the night in the jungle, the next morning dried out most of my stuff and attempted to dry out the engine. It didn't work and I had to organise a pickup back to town, where a workshop cleaned out the carburetor with compressed air.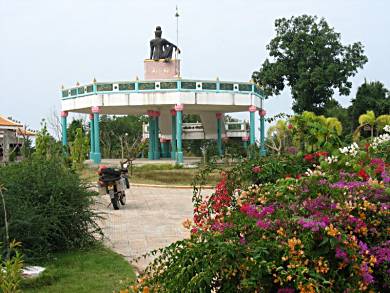 The result: a dead PC, containing the diary from Laos and half the photos from Laos and Thailand so far, not backed up yet. If the hard disk is dead they will be gone for good. A nasty rash on arm and shoulders that in a week hasn't healed, diagnosed by a hospital in Mae Sot as acid from the squashed body of a flea (!) and very likely more damage to bearings, etc. that have yet to show themselves as the rust sets to work in hidden places. My passport and carnet also went under, but survived remarkably well.
In Mae Sot I got an attack of fever again, of the sort I have had before in Yemen and Pakistan, which is why I went to the hospital, fearing it might be Malaria. They didn't find any.
So, I've had my adventure. However, I am well and I'm really enjoying my time in Thailand even more than Laos and I think I'll be using my full 3 months on my visa here. People, countryside and food are just wonderful and the country continues to surprise me. Kind regards, Peter."
---
---
Hamish Oag and Emma Myatt, UK, Asia, Australia and the Americas, in Peru, BMW R1100 GS,
"We'd had a great time in and around Cusco, however it was time to go. The touts and package tourists were beginning to get to us, so we set off in search of tranquility. However, before reaching nirvana, we first opted to check out those Nazca lines. Astronomical calendars, or extraterrestrial landing strips, we thought we'd suss it out for ourselves.
Leaving Cusco we soon entered a bikers' fantasy. No, it didn't involve leather and handcuffs, only wonderful swooping bends. One after another, all the way to Nazca, some 600kms away.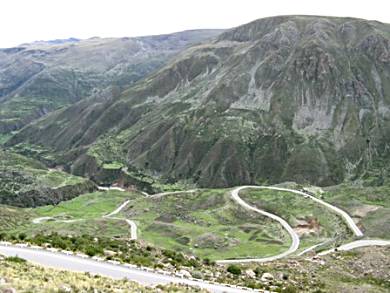 Along the way we met yet more eccentric Frenchmen aboard aging BMW outfits; just as we had in Antofagasta, in North Chile. Em fancied the idea of three wheels. Thinking a mere 18hp was insufficient to power them over those 4000m passes, we next met Dominic pedaling away with his tandem and trailer. 'Aren't you missing someone?', I asked. As it turned out, he wasn't. His trip was all about taking different folks along for the ride. All the way from Alaska, he'd so far picked up around 190 passengers to help him pedal towards his Ushuaia destination. Hats off! Dominic's website: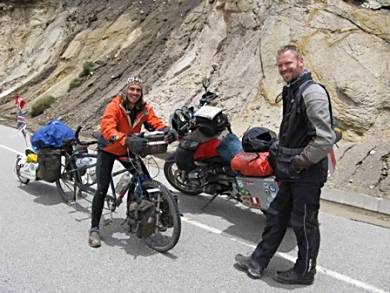 We continued to enjoy the bends as far as Puquio, where the mist descended into a right pea-souper. Slowing us to a crawl, we could barely see the cab of the articulated truck we followed into town. In fog worse than Victorian London, we stopped off for a king size pollo de milanesa (breaded chicken) reviving our dampened spirits, allowing us to continue on. Fortunately the mist cleared as we neared the desert plains and Nazca town. Resembling Mr and Mrs Michelin sweltering in our rain gear, we waddled into a hostel and began to shed clothes, quite unaccustomed to the heat after Cusco.
...We'd been in touch with Lorraine (Chittock) via e-mail, having met on the HUBB. She'd driven her old Chevy van down from the States together with her two dogs. It was good to finally meet and have a beer or two. Especially for Em, having a female to talk to and not another male biker. Lorraine's website: On a Mission from Dog.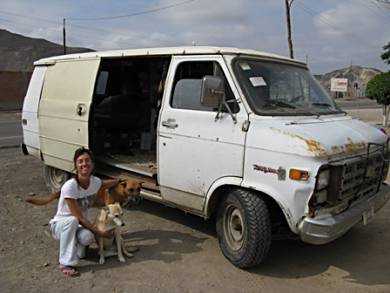 ...Bidding farewell to Lorraine, we headed North to Paracas after two Slovenian cyclists we'd met en route recommended the place as worth a visit. As a National Reserve it was full of aquatic wildlife; from greedy pelicans along the foreshore, to barking sea lions on Isla Bellestas. Scoring a room with a sea view topped off the seaside experience.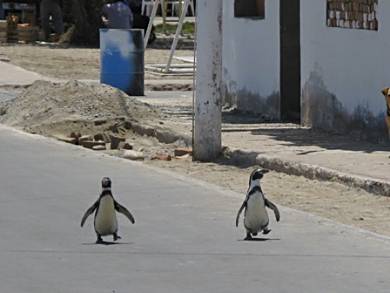 Just to the North of Paracas was the town of Pisco, unfortunately affected by an earthquake some six months previously. The damaging effects were immediately obvious, the poorly constructed buildings wiped out, replaced by charity supplied tents. With no insurance and little or no government aid, we had to wonder what the future held for these unfortunate folks. For not the first time, we were reminded how fortunate we are."
Simon Roberts, UK, The Road to Kathmandu - the comic strip!
"The Lonely Planet says...'Quetta. A meeting point for numerous tribal groups. Unlike most other Pakistani cities, it exudes the air of a wild frontier town'. I read on. 'Although the main township is safe for tourists, occasional tribal clashes do spill out onto the street'. Right.
I picked my way through the day's debris back to the Hotel, quickening my pace as dogs crossed the road. This was their time of day. During the daylight hours they cowered under tables, scavenging for scraps but as darkness fell they'd race through the streets like packs of hyenas. Best avoided. I was relieved to reach the gated parking lot of the Hotel Bloom Star. I was not ready for what followed...
Click here to see the full story.
'And now you draw us, Mr Simon!' said the young man on reception, excitedly. I glanced around and my heart sank. Seated in the foyer were a dozen swarthy looking men. Dangerous looking men. The 4x4s double parked outside indicated they were also important men.
Earlier that evening, I'd chatted to him about my trip, mentioned that I was an artist and that I could draw his caricature after I'd been out to eat. A mistake.
I dutifully fetched my sketch book and pens and the first victim, sorry, subject was volunteered. I looked up from my pad at a man who could have been Bin Laden's brother. Thick beard, hooked nose and piercing eyes under a mono brow. Normally perfect material for a caricaturist. But this was not normal. This was not a Company Christmas party. This man was not drunk - or smiling. A drop of sweat ran down my temple.
I sketched feverishly trying to do a drawing that would not result in me being dragged naked behind galloping horses. I knew he was expecting something grand. A falcon on his shoulder... women at his feet... a proud white stallion rearing up in the background. I should have warned him that I didn't do horses. Instead I concentrated on his head and shoulders - hoping to keep mine connected.
I turned the drawing round. He frowned. An expression of confusion bordering on anger. I swallowed hard. He showed the rest of the assembled 'frontiersmen'. Silence. Then one started laughing. And another. Then all of them guffawed with laughter which set my subject off. 'Good! GOOD! Now you draw all of us!'
I rubbed my neck, smiled nervously, and moved to the next man."
Ed. See Simon's 'Road to Kathmandu' comic strip on Horizons Unlimited.
---

---
"We had a good ride from Agra to Jaipur, about 260km and as we entered Rajasthan the roads seemed to improve with lots of roadwork going on. At least half the roads in India seem to be under construction and we spend a lot of time on a detour or a detour on a detour. However it seems we will now have to add camel carts to our list of road hazards! Camels are preferred to Oxen in this desert state, which our guide book describes as 'the land of kings', and 'India's most colourful state'. As usual, we arrived in a strange city at rush hour, but found our hotel without too many hassles, unless you count this one little white car that pushed into the side of us hitting the left hand pannier. I managed to maintain control and traded the white paint he left on our pannier for a size nine boot imprint on his front mudguard. Anyway, a comfortable room, friendly staff and wireless internet, what more could you ask for? Seems just like home, except for the friendly staff of course.
Jaipur is known as the pink city because the entire old city was painted pink. Nowadays it is more of a dusty pink, but nevertheless it is very different. To minimise the problems with parking the bike and carrying helmets we succumbed to a 50 rupee (A$1.40) tuk tuk ride to Hawa Mahal or the palace of winds. An Interesting feature of the palace is the row of small windows that run the length of the street. Seems these were so the harem ladies could see the outside world and day to day activities without themselves being seen. Not sure how many 'royal ladies' king Sawai Pratap Singh had, but there are 152 windows!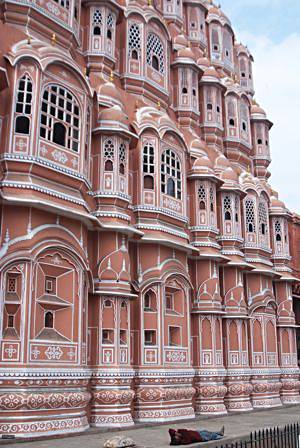 Apparently King Sawai also dabbled a bit in astronomy, when he wasn't entertaining his ladies, and built the largest of 5 outdoor observatories here. This was back in 1728 and these complex instruments were used for measuring local time, (to within 2 seconds), the altitude of the stars, the suns declination, determining eclipses etc. etc. Quite impressive even if we didn't fully understand it, despite detailed explanations on how it all works.
We had another 'Incredible India' experience as we were about to return to the hotel. Dianne needed new sunglasses and we just happened to wander past an optician shop. As is the norm, they asked if we needed anything, claiming the best prices and service around. Well they did offer fantastic service at an incredible price. For A$50.00 they supplied a new frame and put Dianne's prescription on the tinted lenses and delivered them to our hotel 2 hours later!
| | |
| --- | --- |
| | |
| These women have to find firewood in this barren landscape. All that's available are thorny twigs. | |
We just love India now, and we've also discovered a local middle class restaurant around the corner where the food is cheap and wonderful. Again, when you're onto something good it's hard to be more adventurous and we find we're eating all our meals here and feeling like this is home, but after 4 days it's time to move on, this time to Pushkar, considered to be one of the most sacred sites for Hindus.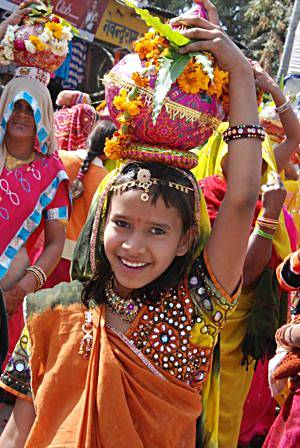 Pushkar has significant religious importance to Hindus, in fact it is referred to as Tirth Raj or king of the pilgrim centers and Hindus believe that a pilgrimage to any of the other main Hindu centers is rendered incomplete without a holy dip in the sacred waters of Pushkar. Religious 'priests' offer Hindus and tourists alike a chance for a blessing, in fact they can be most insistent. A flower, to place in the waters, is thrust into your hand followed by the blessing for the entire family, some splashing of the water and a request for a 'donation' of several hundred rupees. We believe we lead a good enough life without needing additional blessings so we declined the insistent and persistent offers. Just hope we made the right decision.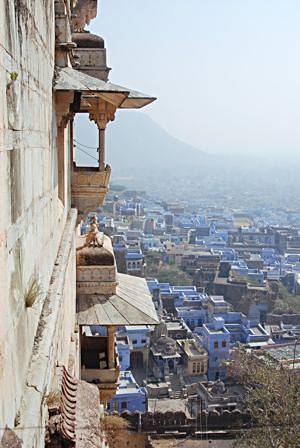 One day in Pushkar is enough for us though and now it's time to head for Bundi, a small town about 150km away with some (more) amazing forts and palaces and after an uninspiring ride we arrive about midday. As usual Dianne checks out the accommodation and after the clean but cramped quarters last night, we're looking forward to something a little more spacious. We had phoned ahead to a place called Kasera Paradise and booked the room, but what we didn't realize is that this is a haveli (a traditional, often ornately decorated residence) Well this is the best room we've had - probably ever. For 800 Rupees (A$22.00) we have this enormous ornately decorated bedroom with huge bathroom. Everything is clean and comfortable and we even have two chairs! There is a roof top cafe with views of the fort and palace and the food is great. It feels like home and we don't want to leave."
Peter and Kay Forwood, Australia, around the world since 1996, two-up on Harley Davidson, in Palau,
"27-28/2/08 Settling in to our month in Palau, the two bedroom apartment's rental was extended to mid next month. We also visited the port to talk to the captain of another vessel, hoping he would allow us to put the motorcycle on as deck cargo, not too optimistic, but he will email us prior to the ship's return in three weeks time, otherwise pretty slow days as rain showers passed through on the lush island.
8/3/08 The full container option for the motorcycle died this morning when we received a negative on a substantial discount so the motorcycle will go as break bulk via Korea then in a shared container to Taiwan, leaving Palau on the 15th. We will follow by air on the 22nd. Never good at doing loops or out and backs on the motorcycle, preferring to move on to new destinations, as we travel around the world, we are finding the timing restrictions of being effectively held captive in a country, by shipping logistics, a little wearying. The countries we are now visiting all have interests, often unique, but we travel to ride more than ride to travel.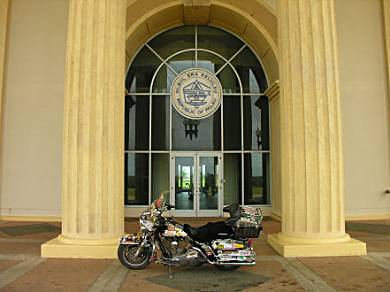 9/3/08 Sam's Tours collected us at our hotel in the morning. We had arranged to do their snorkel tour and took the option of camping overnight on one of the rock islands, an unusual event we were told as most people come to Palau on a package tour, staying only a few nights. The country is aiming towards upmarket tourism and the $US 35.00 ten day validity permit to use the Rock Islands park and Jelly Fish Lake, same for a one day visit, is quite steep. Our boatload was a mix of nationalities, Sam's Tours attracting most of the non package tourists, headed first to 'Milky Way', where slimy white coloured mud can be lathered onto the body, with all its reputed great healing and regenerative properties, wrinkle reduction, even a product used by Michael Jackson? was alluded to.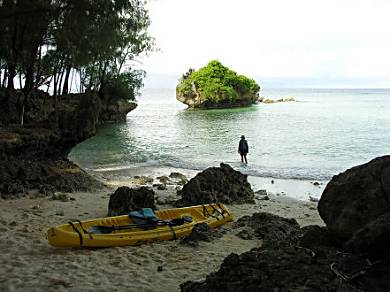 We washed off the mud and moved onto a snorkel area, roped off, a slow drift from one buoy to another, and were instantly overrun by small fish, nibbling at our out held hands, a sure indication that they are fed to ensure the tourists see their density of bright colours. The fish and corals were quite magnificent. The highlight of the tour is Jelly Fish Lake. Separated from the ocean a long time ago, surrounded by limestone hills, this large lake contains millions of hand sized, half moon jelly fish, which have lost their ability to sting. Seeking out the sun and warm waters to the middle of the lake we snorkelled amongst them, our fins gently swishing them away in the disturbed water, brushing past their golden bodies. Just floating, watching their pulsating bodies, oblivious to our interest or the broader world, they had unknowingly found jelly fish heaven, no predators, and the sun for food.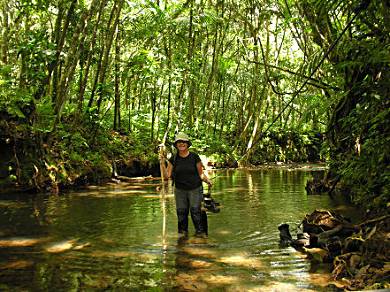 Lunch and a snorkel with a dozen sharks. Black tip reef sharks are the predominant ones we have been seeing. Again fed to ensure their presence at call, mostly at two metres long, they were impressive to see circling, remoras attached and small fish looking for the spills of food. A short snorkel with giant clams at an old clam breeding facility and we were taken to Long Island for camping. With a red cloud-filtered sunset coming in and the tide rising across the sand spit small reef sharks came into the shallows, a couple rolling together, either fighting or mating we weren't sure. We had opened a couple of coconuts, discarding some of meat, which attracted a small, fist sized, coconut crab. Unperturbed at our presence he started munching the coconut as we photographed. Salty we stood naked, well at least I did, as an after dark storm passed through, washing the days salt from our bodies, dried we slept soundly in the tent."
Ed. That image may haunt my dreams for awhile, Peter ;-) The Forwoods have travelled to 185 countries now, over 470,000 km during 12+ years on the road. Horizons Unlimited is proud to host their complete RTW story and pictures here!
---

Drop in on Alaska Leather on your Alaskan adventure for service, tires, accessories and a hot cup of fresh coffee!
---
Carol and Ken Duval, Australia, Life On A Bike - RTW 2, in Chile and Argentina, BMW R80G/S PD,
"Los Antiguos and its paved roads faded quickly into the distance as we headed south on Ruta 41. The ripio was sandy and corrugated (washboard) and the newly repaired fairing rattled more than I would have liked. Stopping, we contemplated returning to an easier route but a quick inspection revealed a loose mounting bolt. On the road again and things were a fair bit quieter as we rattled along.
Around the fifteen kilometre mark we were stopped by the Chilean Police in the middle of a fairly inhospitable piece of real estate. A bit of sign language and 'Spanglish' we deciphered that a bicycle race was in progress and there would be around a 15 minute delay until all competitors had passed safely. Forty minutes later the backup vehicle appeared after around a dozen bike riders gathered around the Police vehicle and drank quickly from their bottles. They were looking a little spent as well as dusty and the ripio to Los Antiguos would certainly sap their last little bit of energy.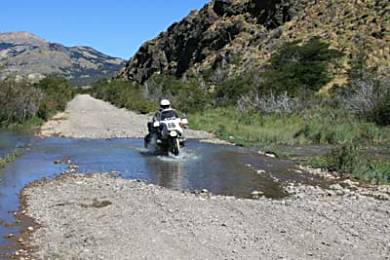 Resuming, we rode through quite different country side, that, although little better than Ruta 40, was more entertaining because of the varied track and scenery. There was flat country with stones and sand and steep climbs into undulating hills. Some of the higher roads gave great views of the arid terrain. Sheep, cattle and horses were the only animal life seen. Traffic was almost non existent and because of the open country, could be spotted a long time before they ever reached us. We rode down a very steep grade to the Argentinean border post. This place is so remote, and the officer processed our papers in record time. There were no tour coaches in this part of the world. The nine kilometres of narrow gravel that separated the border to Chile was rough and indicative of what was to come over the next sixty kms. Chile always takes a little longer with the paper work and they always like to have a bit a chat when they inspect our luggage and documents.
The next bit of road was the roughest we had tackled so far and the corrugation (washboard) was teeth rattling stuff at any speed. Arriving at Cochrane we had just completed our first few kms of the Carretera Austral and what a dusty road pounded by the sheer volume of traffic, no doubt. Today we had only traveled just over 200 kms but it felt like a 1,000 kms! Heading to the town square we met up with Thomas and Katharina from Germany who had been with our huge party of travelers at Ushuaia for Christmas and New Year.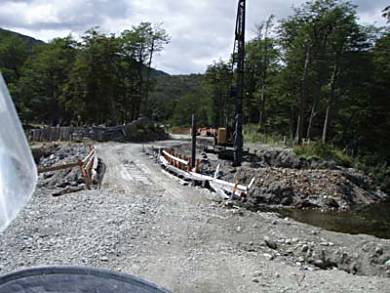 ...Our plans went completely astray when I noticed the rear sub-frame welded in Los Antiguos had broken again due to the severe road conditions between the border and Cochrane. Our handy little map obtained from the tourist office when we arrived listed a mechanic who obliged the community and many travelers in way of repairs. Inspecting the damage he tossed his head and said 'no problema' and promptly left me to remove all the obstructions to the job including the back-box and mudguard. In a matter of minutes several vehicles had arrived with flat tyres. He eventually got to the bike after six puncture repairs with my welding being interrupted twice for travelers requiring urgent tyre repairs. A very busy man. His welding albeit rough looked the business and to date has held even after some pretty severe roads.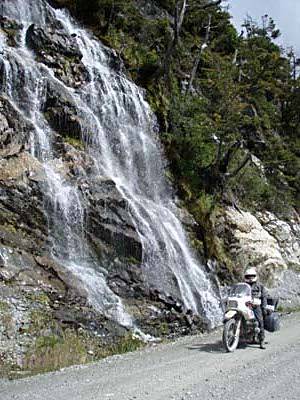 The road out the next day was still dusty despite the rain and filling up on the outskirts of town, we spoke to a German couple whose approach to travel was a little different to ours.. a very large motor home. Sometimes we envy their comfort but sometimes I believe they envy our mobility. On the dusty road again we headed north on the famous Carretera Austral. The ripio was on a par with most we had ridden only with a lot more dust. Scenery included fast flowing rivers through undulating hills to huge blue lakes. There is so much fresh water in South America. The road wound its way through dusty sleepy villages often with patient backpackers sound asleep propped up on their packs waiting for the next bus or even a vehicle to hitch a ride. Pto. Bertrand to Pto. Tranquilo twisted its way through the hills revealing postcard views of Lago General Carrera or Lago Buenos Aires depending on what side of the border you lived.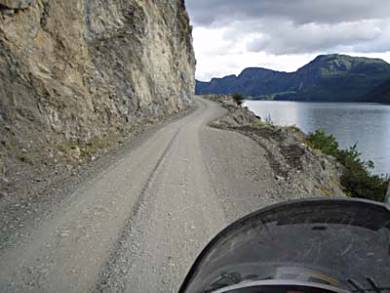 The wind joined us after Pto Tranquilo and persisted until we reached Coyhaique. We must mention the drivers along this stretch were a little fast for the conditions with overloaded minibuses searching for the smoothest, quickest piece of road exploding dust trails in their wake. Carol took to waving them down to slow them as we hit white-outs a couple of times. A recently rolled Pajero sighted on this route indicated many were not experienced with the conditions. The 100 kms of pavement from Villa Cerro. Castillo was a slice of heaven. The wind however was unrelenting and its strength was so intense that the bike moved sideways with each gust. Perhaps the government could consider wind energy instead of the dams!"
"Hi, we're Henry Mawson and Kirsten Heerwagen from the North West of England, and this is our trip. We left England on the 2nd Jan 2008 with the intention to ride around Europe for 6 months before heading across the Atlantic. We plan to start by riding to Morocco to see Paris-Dakar Rally, then take in France and Northern Italy, Central Europe, Russia and Scandinavia, before taking in the Simmer Dim rally in Shetland and the Sniglars Rally on Iceland. We'll then ship the bikes to Halifax, Nova Scotia and ride around North America for 6 months. Phew! We wanted to post a blog to let people we know what we are up to, but also to encourage other people sitting on the fence, you do not have to be anyone special to do these trips but just need the desire. Kirsten and myself have certainly never done anything like this before. We hope you enjoy reading about out trip as much as we hope to enjoy doing it. Let the adventure begin...
Riding the Rif was rumoured to be fraught with possible incidents. Well we're obviously lucky cos it was awesome. The roads, the scenery, the ride. All worth the irritations, and there were some. We (I) took the slightly more minor route of Quezzane to Moulay-Idriss and Meknes because of the green route on the map.
Stopping to take pictures or go to the loo in a seemingly unpopulated area would prompt a handful of heads to pop up out of nowhere and make a beeline for us to try and bum a bonbon, a Dirham - TEN Dirhams on one occasion! The only hostile occasion was a group of kids - being alerted by Kirsten's bike, picked up stones and sticks and raced down the hill towards us. All to no avail, as it happens, as we were beyond the range of all but one. This imaginative chappie, who was a bit bigger than the rest, got within striking distance of me and, at full tilt, charging down the hill, let go of an enormous hawk of phlegm. In his excitement, or fear of us escaping unmarked, he mistimed his assault - which had no velocity to it - and ran right into it. The cunning little tyke nearly had me though, as I laughed so hard at the sight of him covered in snot I nearly fell off my bike!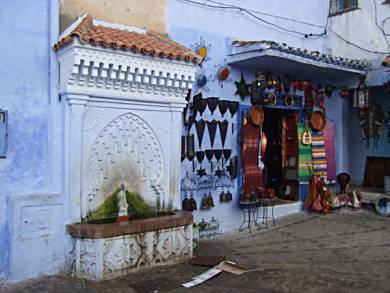 We arrived in Azrou in darkness, and with the GPS reference from the UKGSER site, found the wonderful Gite de Charme Ras Alma, who due to a last minute cancellation had a room. A big thank you to Mehdi and Azizi, who gave us a very warm welcome and a most excellent dinner and breakfast.
Between Errachidia and Merzouga, the first 'ooh aah' moment of the day was seeing the Oasis du Ziz, a splendidly green valley in what was now becoming almost featureless desert. I pulled off the road and to the edge of the gorge, beckoning Kirst over for a photo opportunity. She took some persuading but eventually braved the piste most of the way - me taking her bike to the edge for the piccies. That done, we carried on, Kirst had to stop and get off her bike purely so she could jump up and down with glee at being in the desert!"
Ed. See Henry and Kirsten's blog here on Horizons Unlimited!
Mike and Jo Hannan, Australia, RTW, in Tunisia, Italy and Greece, BMW 1150 GS Adventure,
"We have felt comfortable and at home in Tunisia. The Tunisians have been good hosts and the country, while lacking the (geological) drama of Morocco, has some wonderful sights mainly in the deserted south. It certainly provides a better desert experience than the over exploited patch of sand that passed for the Moroccan desert. The archaeological sites were stunning and numerous and were the highlight for us both. Visiting in the dead of winter we often had these places to ourselves with plenty of time to look for the small detail that gave a clue to the lives of the original inhabitants. Grand temples are all well and good, but the real story of their lives is more often in the plumbing! We have eaten simply but well in Tunisia. The food is probably less distinctive than Moroccan fare but we could generally go to bed with full bellies for a few dollars. The small local restaurants all had basically the same menu and similar prices and all have at least one TV in the corner at full volume.
The passage from Tunis to Palermo, Sicily, was smooth. We rolled the Elephant down the ramp from the vehicle deck and straight into the streets of Palermo. I think I heard the Elephant groan, 'so, this is Sicily, now get me some decent clean petrol!'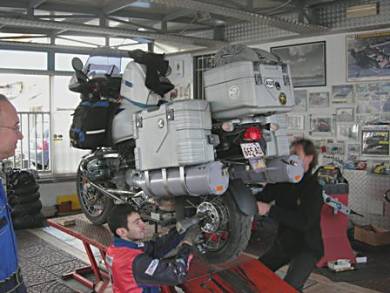 Back in the land of digital mapping, we had programmed the GPS well in advance with the location of the BMW dealer but, unfortunately, not the BMW 'Moto' dealer. It took us an hour in the traffic to find the place but it was time well spent getting used to local traffic. Greg and Kerry Lane will be pleased to know that the Sicilian drivers make the Italians look like masters of restraint.
We weren't surprised when they couldn't service the bike late on Friday afternoon, but the friendly and helpful service manager booked us for Monday and gave us the address of a business to fix the slow leak in our rear tyre.
We were told to ask for Mario Gambino and we did just that when we arrived an hour later. Mario had been phoned and warned that we were on our way. He and his team marvelled at the Elephant's fit out, where we had been, where we were planning to go and the whole idea of the Ulysses Club and its crazy motto. In short order, they removed a shard of steel from the tyre, repaired the wound and pumped it with 3.5 bar of Palermo smog.
We left Mario with a Ulysses sticker still chuckling over Antonio's interpretation of the Ulysses motto and the special hand shake we had shown him. With two days to explore western Sicily we headed for the coastal town of Trapani, a warm hotel and two more alarmingly good pizzas and long neck of local beer."
Ed. See Mike and Jo's blog here on Horizons Unlimited!
---

---
Belinda and Patrick Peck, Australia, in Egypt, Yamaha Super Tenere XTZ 750,
"We then had a long flight to Cairo, Egypt and it took us ages to get over the jet lag. The traffic was amazingly congested and we had to learn to 'walk like an Egyptian' to make it across the street alive! We stayed in Cairo for 4 days and visited to Egyptian Museum with 5000 year old Mummies with visible teeth, hair and lips! Amazing! We also visited the Pyramids, of course, the Sphinx, Memphis and Saqqara, the oldest Pyramid in the world. Everything here is so VERY ANCIENT.
Next, we took an overnight sleeper train to Aswan and stayed in a hotel with a window overlooking the Nile. Aswan was very photogenic and warm and relaxed with a great souq. The museum was wonderful and we visited the temple of Philae which has been relocated stone by stone to save it when they built the Dam- amazing effort.
We then found a great cruise ship and went down the Nile for 2 days to Luxor- very relaxing way to travel for a few days! We arranged everything ourselves as we went along. Most people in Egypt were on package tours. We didn't take our motorbike as the Egyptian Government doesn't like independent travellers and make it expensive and difficult to get your bike in and hard to travel around. Buses have to travel in convoy at pre arranged times with police escort. Tourism is so vital to their economy they don't want anything to happen to any tourists and there are tourist police everywhere.
Luxor was any amazing place and we spent many days exploring. The Temples of Karnak, Luxor Museum and Luxor Temple. We hired a bicycle and rode to the Valley of the Kings, which is a city of the dead with magnificent temples to honour the Pharaohs entombed in the cliffs. The tombs were colourfully decorated and designed to resemble the underworld: a long, inclined, rock-hewn corridor descends into either an antechamber or a series of halls and ends in a burial chamber. So much emphasis on the afterlife! Sailing on the Nile in a Felucca and riding around town in a horse carriage are Tourist Must Dos. They hassle you so much you end up doing it and it was fun!
We then flew back to Cairo over the Nile, visited Islamic Cairo area and the Citadel.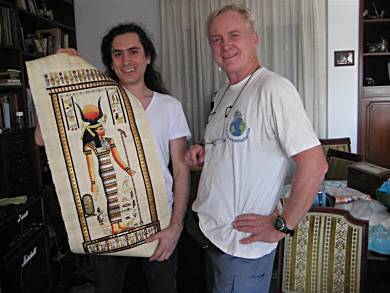 Next stop was Athens, Greece which is where we are now with our friend Orestis who has had his mechanic get our motorbike, Miss Adventure II ready for the next 8 months travelling around the Middle East. She is now in top running condition and we are ready to head East any day now.
As Linda and Con Diamond said 'You two are having too much fun!'"
Darren and Emma Homer, UK, Prudhoe Bay to Tierra Del Fuego, in Ecuador, BMW R1200GS,
From the airport we jump into a taxi and head for the hotel that we had booked online. The hotel was not too pricey, but more importantly it was only 5 minutes from the airport and the air cargo terminal. As the taxi pulls up, Em and I look at each other - this will do! Somehow we had managed to book a cracking posh hotel for very little money - result. It got better, after we check in we are shown to our room - a suite.
Em hurriedly ran around the room checking out all the freebies, toiletries, chocolates etc, when she gets to the bathroom she lets out a scream. I run in to find her almost in tears of joy - we have a Spa bath!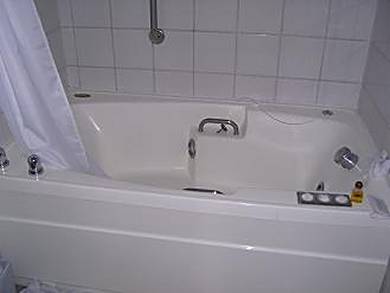 The reason we got so excited is that we really aren't used to these luxuries now. We resolve to get our monies worth and take it in turns to use the bath to sooth our biker aches and pains. We have decided that our backsides aren't just sore - they are actually broken... We eat in the hotel restaurant that evening which overlooks Quito, with the rain and fog it reminded me of London. Quito is the second highest city in the World and you can feel the lack of air at first. Em was unaffected, but the bike and I were decidedly down on power. During the meal the service was impeccable and first impressions of the Ecuadorian people are that they are very friendly and nice, this is a great start to our South American adventure.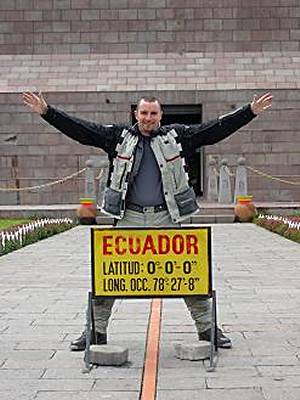 ...Next day we leave our hotel and head out for a trip North of Quito to see the Mitad del Mundo - The Equator. This is a great day out and we meet some lovely people interested in the bike and our travels as we wander around. Some even ask to be photographed with us. It feels like we are celebrities for all of 5 mins... This is a pretty big moment for me, I had seen so many websites and blogs of bike travellers standing with a foot either side of the Equator - well now its our turn."
---
The place to go to get good brakes for that overloaded world touring bike.
---
Michael Beckett, UK to Cape Town, in Angola, BMW R1200GS,
"The cockerels woke me at some ridiculously early hour as I slept on the front steps of the police station. While I was waiting for the immigration to open I sneaked back into The Democratic Republic of Congo to find some breakfast: baguettes and La vache quirit that is a one of the good things the French did for Africa. At eight o'clock the policeman came out with our passports, which he held in the police safe over night. The six passports had been stamped in using yesterdays date so we had already lost a day off the expensive and stingy five-day visa.
Customs hadn't shown up for work apparently he was still sleeping. We didn't have time to wait so headed off without getting our carnets stamped in. It was time to ride! I had been looking out over the beautiful view of the Congo River and the green hills for too long, I wanted to get amongst it. So with only four days to cover one of the biggest countries in Africa and no stamp in the Carnets we rode off into the valley. We would over stay our visas and no stamp in the carnet could be a problem at the next border but this was going to be next week's problem.
Angola has only been at peace for the last five years but no one has told the millions land mines which still scatter the countryside. After the heavy rains these mines move and sometimes they are washed onto the roads, nowhere is one hundred percent safe. There are reminders of the war everywhere you look I don't think I saw many building that weren't riddled with bullet holes. The country has had more war than any other country in Africa over the last forty years.
...While we were filling with fuel after an epic day's ride a few sports bikes past us and signaled for us to follow. We did and they led us to the Falcon motorcycle club. It was Jose's place and he welcomed us with cold beers, he fed us all and gave us a place to stay as well as welding up Chris's frame and a luggage rack on one of the KTM's. Jose really was a top shelf bloke! He showed us his old yellow land cruiser, which he had owned for twenty-eight years. In the frame of the windscreen was bullet hole he then pointed to a scare on his ear lobe, the bullet may have only scared him but it went into the arm of a soldier that was sitting in the back.
So I was riding along, lovely blue sky the only clouds are the clouds of dust in my mirrors dodging the potholes and loving life. Thinking that it's pretty good making it this far through Africa, and then I see another bike approaching in the opposite direction. That's not an African bike, we both pull over on the road and introduce ourselves it's Richard he's ridden from England to the Cape down the east coast of Africa and now he's heading home back up the west coast but the best part is he's riding a 1956 Royal Enfield. He's keen to make it home for Easter so we all have a quick chat and exchange road info before we head off in our different directions.
It was a shame to leave Angola, only just seven days. There was no problem over staying the visa if I'd known I would have stayed longer the people we met were very warm and friendly and Angola has fantastic scenery. I'd like to return one day."
Andi Naumann, Germany to India, in Tibet, now on a bicycle,
"After leaving Ali and thereby crossing the Indus River, the road is paved for the first few hundred kilometers. A blessing to all travellers, this is of course intended to increase accessibility and improve living conditions for the chinese immigrants. Due to the asphalt I had no trouble in ascending the first pass. In fact it felt easy enough that I didn't even take a picture on the top. On the other side I looked down the wide Gar river valley along which the road runs in a southeastern direction, thus slowly approaching the Himalayas. The view to its peaks was still obstructed by another range that I was to cross over several 5000+ meter passes on my way to the 9th century ruins of the Guge Kingdom. On the left side of the road the Kailash range rises higher and higher, but its most famous peak (Ganrinpoche as the Tibetans name it) was still hundreds of kilometers away.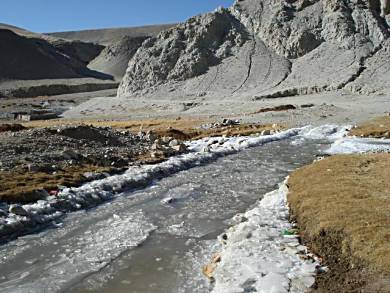 Unfortunately the side trip to the Guge kingdom leads over more than 200km of ever worsening tracks crossing half frozen rivers that were sometimes difficult to pass. So the next three days saw me pushing hard over two 5300m passes and a final stretch through very sandy terrain. The first evening I had a hard time because I had planned to ride further and hadn't allowed myself enough time to eat and rest. Finally I had to give up and find a wind sheltered spot for the tent. After spending almost an hour in trying to get some water from a small stream that was mostly frozen to the ground I stumbled off the "road" across the steppe to check out a stone wall that I could see in the distance. As I was pushing my bike across the rocky field, I was very surprised to find scattered and mostly broken stones with tibetan inscriptions. Then, just out in the open came a spot with many of them piled up - I couldn't believe it. I thought this find to be very special and spent some time admiring and taking pictures.
The rest of the way was less difficult since Zadah is at an altitude of 3600m and therefore the way was mostly downhill or straight from now on. But my head started to give me pain and I felt a fever coming. After a night in an abandoned stone house I had some trouble getting my bones in order and out of the sleeping bag. The remaining 40km took me 6h hours through fantastic scenery, which at times I couldn't appreciate because of the road being so bad and my cold developing rapidly.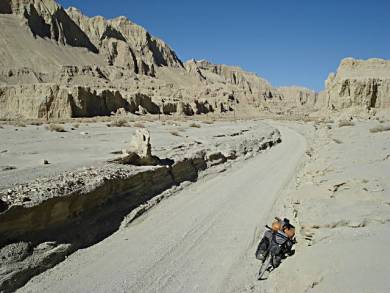 In Zhada I spent a few days recovering, which really I didn't. My 'hotel room' had no heating (we started calling them fridge, but it's actually a freezer) and I spent the time under thick blankets watching CCTV9, the english-speaking channel in China. Having no power to move was quite tough for me, especially having nobody to talk to. So after 8 month travelling I slowly started thinking it might be time to go home soon. Being with friends and family, climb the mountains in the Bavarian Alps and maybe settle down a bit. What, Settle DOWN? -> Yeah, I still had a fever :-)
Anyway, I developed some exciting ideas of how to go on with real life. Getting more into mountaineering (possibly even into guiding), finding a job which really suits me and doesn't just drain my energy, learning more Russian and returning to Kirgistan next year, hopefully organizing a small climbing / mountaineering expedition."
---


Heat-Troller
The authentic solid state DC power controller, designed and made in the US. Heated Liner Jackets and Gloves!
Keep yourself warm, save money and support HU at the same time!
Log in for a 20% discount on your electric vest / waistcoat (and Horizons Unlimited gets an affiliate fee).
---
Maria and Alistair Robinson , France and UK, to South America, in Argentina and Chile, F650GS and 1200GS,
"Once again I found myself in a tow truck with the bike at the back! But let's start from Coyhaique.
We finally left (on Friday 23rd), 4 weeks exactly since my accident. During our stay there we saw all our motorcycle friends pass on. We met with few of them and also got to know few people in town. We met Patricia, a local pediatrician, through friends of friends, and we met her few times around town. We also got to live with Jaime and his family, and discovered how generous and kind the Chileans can be. After a long wait and some suspense, we received a first parcel from Rafael. All the parts (with the exception of the wheel that he was rebuilding) arrived. However, instead of steering bearings he sent us wheel bearings! Argh! So we had to wait few more days to get the wheel and the steering bearings. Lucky enough the bearings are not specific to BMW and it was easy for Rafael to find them in Santiago. So with the bike sorted and rebuilt, it was time to move on at last! The night before, Jaime organised a goodbye party for us, inviting also Pablo, our invaluable mechanic. As usual in Chile (and Argentina) we had a big barbecue!
So on Friday it was with quite a bit of a hang over that we got on the road. Jaime provided few Cuba Libres to Alistair, with such a generous amount of Vodka on them, that Alistair had a hard night! Let's only say the bathroom was a bit of a mess! So we left and rode the unpaved road to Puyahuapi where we spent 2 nights, taking the opportunity to visit a suspended glacier! By then my indicators were dead. More electric problems then. Added to my speedo/mileage counter and ABS that are also constantly on and off! None of that is a major problem, but the indicators help us to communicate when riding, as we do not have bike-to-bike radios. About 60km before Bariloche, while finishing to overtake a truck, my engine suddenly switched off! A bit surprising! I stopped by the side of the road, switched the ignition off and back, tried to start the bike, only a nasty noise came out! Not good!
We wheeled the bike away from the road and the crazy Argentineans drivers and took all the luggage off, then all the panels. We spent a good 45 minutes trying to figure out what was wrong. We tried to jump start the bike, using the Dakar for that, but as soon as we unplugged the cables, the engine stopped. Finally it became clear that my bike would be going nowhere!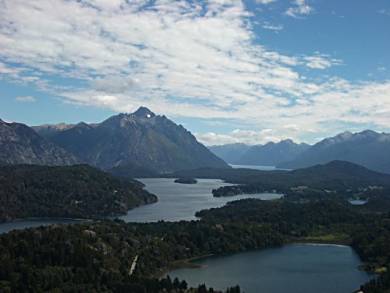 Alistair rode to Bariloche to get a tow truck and find a workshop, while I was left behind with the bike. During my wait I had plenty of time to curse my bike and reflect on the wisdom of taking a BMW for such a trip! Definitely NOT a reliable bike! 3 and ½ hours later, a crazy Argentinean driver, on a 4X4, stopped.
So the cavalry was there then. Alistair did not manage to follow the crazy speed at which the small truck had been going and only arrived when we had finally managed, with difficulty, to put the bike into the truck. So it is only by late afternoon that I arrived in Bariloche. On the plus side, there are lots of motorcycle tours (and rental) companies in town, so I was hoping there would be a competent workshop in town. Alex, my driver, took us to the only workshop in town. There were lots of BMW's parked outside, reassuring!"
"Our trip has changed a bit. As we travelled south through Syria, Jordan, Egypt and Sudan we felt that we were always under pressure to keep going. If we stopped we would be getting further and further behind and eventually it would not be possible to make it to the southern tip of South America before the snow started to fall. In Ethiopia we really did slow down; long enough to take a good hard look at what we wanted out of this trip. Since the accident in Germany our dream of riding around the world from North to South via Nordkapp was dashed so we really didn't 'need' to go to Ushuaia anymore. We decided to focus on Africa this time and do South America another time.
...Stanley gave us a couple of choices for a Safari. The first was to have a vehicle to ourselves and camp, staying in a tent in a fairly primitive campground. The second was to share the vehicle with two other people and stay in luxury accommodations. Hmm. Of course we went for the luxury option and it worked out really well. Our guide, Boniface (our shuttle bus driver for the Kilimanjaro trek), was fantastic and was very knowledgeable about plants, animals, and where to find animals eating other animals. Newlyweds Christine and Will from Boulder, Colorado were our travelling companions in the Land Rover. (Does this sound like an episode of 'Amazing Race' or what?). They were great at spotting wildlife, as they had already visited Kruger National Park in South Africa and knew the difference between an eland and a dik-dik. But alas, they had not yet seen the elusive leopard, the last of the 'Big 5' to check off their list. The 'Big 5' are, according to legend, the five most dangerous animals to hunt, and include elephants, buffaloes, lions, rhinos and leopards. We were really hoping to see any of these animals, let alone all of them.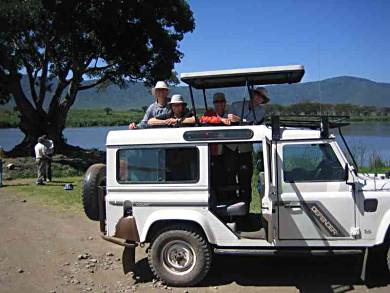 Magda joined us in the Land Rover for the first day, and then went back to Arusha for shopping and a cultural tour. She is now the proud owner of a two metre tall wooden giraffe. We'll have to see if that one makes it on the plane as carry-on. Lake Manyara was our first stop, a National Park known for bird life. Hundreds of storks circled high above us, and we noticed that they spiralled counter-clockwise if you needed more proof of the coriolous effect south of the equator. We didn't notice too many more birds because something absolutely huge came stomping out of the bush, an African Elephant! Seeing our first elephant in Africa was a momentous occasion. We had seen the dung before, also a momentous occasion, but this was really something else. Elephants in zoos are amazing. Elephants in the wild are really amazing. The huge, lumbering beasts got quite close to the Land Rover, and could have reached right in and snatched any of us away with their trunks. Fortunately, that didn't happen, and we made a graceful escape in the direction of the zebras, buffaloes and giraffes.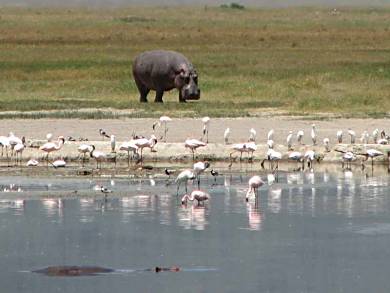 Herds of impalas dotted the landscape, recognizable for the big, black 'M' on their backsides. Nearby was always a bachelor group, the young males not yet strong enough to get a harem of their own. The hippo pool actually had hippos and they were fun to watch with all that yawning and lollygagging about in the shallow water. Apparently these roly-poly creatures are the most dangerous animal in Africa, and you wouldn't want to get between a hippo and its water source. So, nobody was getting out of the truck for a bush-bathroom break right then."
Ruby and Mike, Canada, in Egypt and Sudan, BMWR1200GS,
"We entered Botswana from Namibia at the Mohembo Border Post. The immigration officials were very friendly. At customs we had to sign in the motorcycles and pay the carbon/road tax of $10.00US/motorcycle. It started to rain as we left the border post and headed south. In Sepupa we pulled into town looking for a bank. There was not much for official buildings, mostly straw/mud huts. We continue south hoping for a bigger town.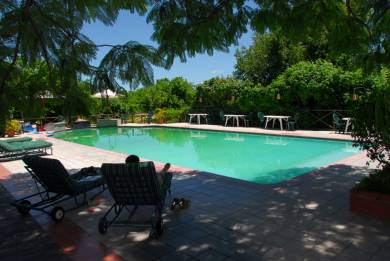 Maun, the main hub where all the tours are organized from for the Okavango Delta, is a buzzing town, with large grocery stores, expensive slow internet cafe's and lots of traffic. We head for the Sedia Hotel located 11km north-east of town. The rain had stopped a hundred kilometers earlier and the sky was getting bluer, a welcome sight. The camping area behind the Sedia Hotel was deserted and we had the pick of a nice site under the trees. Camping is only 40.00 Pula/night ($6.50CDN/night) and the facilities are clean with hot showers. The restaurant/bar is located beside a large swimming pool with comfortable lawn chairs.
...The water was crystal clear, our path only a couple of meters wide as we push through the high grass. An abundance of animals live in the Okavango Delta and the waters are home to crocodiles and hippos. It is weird to be this close to the water and to be able to see right to the bottom of the water. I told myself to stay calm in case of spotting a crocodile. We had been assured that the canoe is stable. The water lilies covered large areas. It was very quite and peaceful to glide through the water. The only sound was the birds chirping and the canoe rustling against the grass or water leaves. Non poisonous fogs and spiders make their home in the long grass and we were fortunate to see a white/black spotted fog.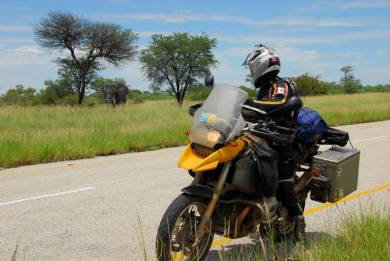 ...Leaving early in the morning we ride all day until almost sun set from Maun to Palapye (650km). En-route we pass through the Makgadikgadi Pans Game Reserve and Nxai Pan National Park. Here we have an encounter with a lone large Elephant. As we stop on the side of the road the Elephant comes charging at Mike. It is all on Helmet Video Camera. Quite scary, especially as I had turned off the motorcycle and would have been unable to get out of the way in time. Mike was on the gas, but told me he was not scared. I was."