Motorcycle Therapy, by Jeremy Kroeker
From the Canadian Rockies to the Panamanian Jungle, Motorcycle Therapy rumbles with comic adventure as two men, fleeing failed relationships, test the limits of their motorcycles and their friendship. Get it here!
---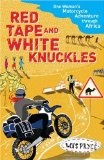 Lois' new adventures in Africa!
"Alone. No support vehicles, no fancy GPS and no satellite phone. Leaving from London, finishing in Cape Town - and the small matter of tackling the Sahara, war-torn Angola and the Congo Basin along the way - this feisty independent woman's grand trek through the Dark Continent of Africa is the definitive motorcycling adventure." Get it here!
---
Distant Suns, by Sam Manicom

"Sam Manicom's dynamic third book transports you to Southern Africa, South and Central America in an action-packed three year voyage of discovery. a thought-provoking mix of scrapes and encounters with people which illuminate some moments of true darkness. acute observations on everything from human behaviour, to remote and stunning locations. Distant Suns grabs you, enthrals you and spits you out as a convert to the dream of overlanding these amazing continents." Buy direct from Sam here!
---

Adventure Motorcycling Handbook, by Chris Scott
---

Into the Den of the Bear and the Lair of the Dragon on a Motorcycle. Werner, 66, was born in Germany and worked in Canada until his retirement. He has authored a number of books since getting bit by the motorcycle travel bug, including
-8 Around the Americas by Motorcycle,
-Into the Den of the Bear and the Lair of the Dragon on a Motorcycle, and
-Africa Against the Clock on a Motorcycle.
All his books are available directly from Werner. Tell him we sent you and get US$5.00 off the regular US$20 price!
For details on his books see here.
---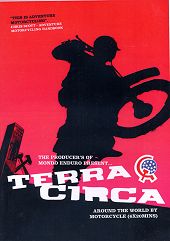 The Producers of Mondo Enduro present Terra Circa, Around the World by Motorcycle (6 x 20 minute episodes).
Regular readers of this newsletter will remember Terra Circa's adventures around the world, and especially the Zilov Gap. Now's your chance to see it in video. Austin Vince is a very funny guy and the video is hilarious, as he leads his intrepid crew through misadventure after misadventure.
"This is adventure motorcycling" says Chris Scott, who wrote the book, so he ought to know!
Contact Aimimage for the PAL video or all format DVD. Don't forget to tell them you heard about it on HU, we'll make a bit, and it won't cost you any more.
---
Looking for a travel book for someone special?
Go to our Books pages, where we have listed some of the best motorcycle travel books, as well as a number of BMW books, general motorcycle books, and travel guides.
There's links to Amazon USA, Amazon UK, Amazon Canada, and Amazon Deutschland, so no matter where you are - you can order books at great prices, and we'll make a dollar or a pound or a Euro, which goes a very little way to supporting this e-zine.
There's also links to search Amazon sites for all their products, books, CDs etc., and yes, we get a tiny piece of that too. We really appreciate it when you start your book search from our website. Thanks for the support!
NOTE: If you buy a book starting with one of our links below, we get a little bit to help support the website!
If you have a book or want a book that you think other travellers would be interested in please let me know and I'll put it on the site. Thanks, Grant
---
Help support your favourite website! Here's how!
Please be assured that we will NOT under any circumstances, rent, lease, sell, or give out our mailing list, and/or your name and e-mail address, to anyone for whatever purpose. Your privacy is assured, and personally guaranteed.
See our complete Privacy Policy here.
Grant & Susan Johnson, Editors
Please note that you are receiving this newsletter only because you requested it! We are 100% opt - in only.
To subscribe or UNsubscribe to this newsletter.
If you've had problems receiving the e-zine due to spam filters or insufficient bandwidth, remember you can subscribe to the 'Notice' edition instead of the full HTML version. The Notice edition is a short, straight text message that contains a URL to bring you to the full text on the website. Because the Notice email is so small, it downloads in a flash, and leaves your mailbox uncluttered. Change to the Notice version here.
We now have an RSS feed for the e-zine (you'll need an RSS Reader to use it) and all the travellers' blogs have their own feeds. The HUBB has a full RSS feed here. If you're not sure what that's all about, there's a detailed RSS Guide here.
All comments and suggestions are carefully read, and where possible will be acted on. Your help will make this a useful service for all travellers.
Please use the Bulletin Board for questions and suggestions.
If you would like to advertise your product or service in this newsletter or on the website, please contact me. Ad rates are very reasonable. Details at this link.
---
ISSN 1703-1397 Horizons Unlimited Motorcycle Travellers' E-zine - Copyright 1999-2010, Horizons Unlimited and Grant and Susan Johnson. All rights reserved.
Redistribution - sending it on to friends is allowed, indeed encouraged, but other than the following requirements, only with permission. You may forward copies of the Horizons Unlimited Motorcycle Travellers' e-zine by forwarding it yourself by hand. You must forward the issue in its entirety, no fee may be involved. Please suggest they Subscribe!
Legal gibberish: (particularly for those in countries that have more lawyers in one town, just for instance, New York, not to name any names, than some whole countries, as another example, Japan. Again, not naming anybody specifically you understand).
Recommendations are based on positive or negative experiences of somebody, somewhere. Your mileage (kilometrage if you insist) may vary. We are not responsible in any way for any product or service mentioned, and do not warrant any such mentioned product or service, and are not responsible for any bad things that may befall you. You are responsible for yourself! Act accordingly. We check all links and information given as close as possible to publication, and all info is correct as best we can determine at that time.
Motocare
Motorcycle Rental, hiring Honda's Transalp for touring Argentina and Chile. Ride across the Andes, from the Atlantic Ocean to the Pacific, lakes, deserts, salt pans, waterfalls, beaches, rain forests, glaciers.
Motorcycle Therapy, by Jeremy Kroeker
From the Canadian Rockies to the Panamanian Jungle, Motorcycle Therapy rumbles with comic adventure as two men, fleeing failed relationships, test the limits of their motorcycles and their friendship. Get it here!
---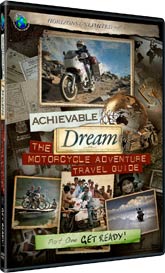 Part 1 - Get Ready!
Get the Achievable Dream DVD's NOW and learn how YOU can get on the road!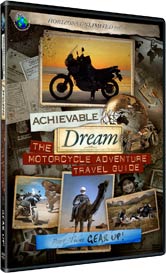 Part 2 - Gear Up!
Get the Achievable Dream DVD's NOW and learn how YOU can get on the road!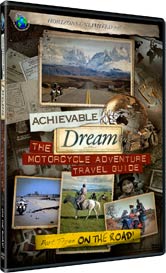 Part 3 - On the Road!
Get the Achievable Dream DVD's NOW and learn how YOU can get on the road!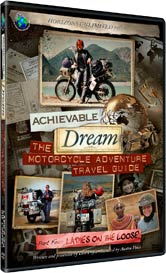 Part 4 - Ladies on the Loose !
Why Come to a Horizons Unlimited Motorcycle Travellers Meeting?
You can meet people who don't think you're crazy for wanting to ride your bike to South America or Africa or across Asia, or even around the world! Admit it, all your 'normal' friends and most of your family fear for your sanity! So, this is your opportunity to meet the people who will encourage you in that craziness, share their experiences and advice on how to do it, and maybe you'll meet them again in Mongolia or Timbuktu!
Also importantly, the meetings help to make HU more than just a website, but a community of motorcycle travellers - real people, not just e-mail addresses ;-) And last but not least, they make a significant contribution to HU revenue, thus helping us to keep the HUBB and website going! So thanks to everyone who comes!
The HU Australia meeting just took place last weekend in Cooroy, Queensland. Despite a rainy Saturday, the Aussie meeting was well attended and sounds like a good time was had!
Danielle Murdoch, our lead organiser, reports on the HUBB from :
"Hi Everyone, I just want to say thank you everyone for making this weekend possible, we had over 130 people arrive to this years Australian HU meeting. I want to thank all the volunteers for pulling together all the information we required to make this weekend possible. You guys were amazing, I could have never done it without you guys! Also to those volunteers who stepped up on the and helped out over the entire weekend. Thanks a lot.

I specially want to thank Glen and Guy for helping me pull all the volunteers strings together to make this weekend possible. They ran around endlessly for the entire weekend, being plumbers, electricians, first aiders (ones still looking after our only incident! Thanks Guy)

For those who couldn't make it, we arrived Thursday night, to a wet ground which dried out over Friday only have it pour down with rain on Saturday. But this didn't stop everyone from arriving plus more... Presenters kept on talking until 2am... you know who you are Richard! and then Sunday went off without a hitch! We had a great line up and continued into the night also.

Thanks again to everyone, our SPONSORS, supporters and the die hard people who hung around long enough on Monday to help pull down the marquee. Oh and I will upload photos as soon as I receive them.
Thanks, Danielle. "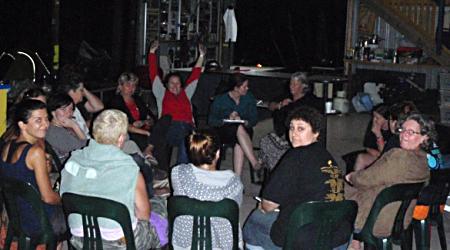 First comments from participants:
"I would like to thank all involved for a fantastic intro to bike travel. Our 1st meeting and definitely not the last. The weekends activities were 1st class. Thanks again to all involved. Mike and Sally"

"I had a fantastic time at my first HU meeting. I am looking forward to attending many more in future years with hopefully some of those being overseas. Thanks to the organisers and presenters you did a fantastic job. Becsta"
Meetings and Events, 2010. Mark your calendars and sign up now!

Ireland (North) - 28-30 May. Liam McIlhone and Drew Millar are organising this event near Enniskillen. Registration open now!
UK - 24-27 June. This is the event of the year for motorcycle travellers - with 50+ presenters including Ted Simon, Austin Vince, Peter and Kay Forwood, and many more telling their stories and giving their best how-to demonstrations in 3 separate rooms over 4 days, and of course, activities like Yoga for Bikers and the Road Kill Cookout that you won't find anywhere else! Numbers are limited, and we've got over 450 registrations by mid-April, so register and pay early to avoid disappointment -we really hate to see grown men cry ;-) Register here!
Germany - 1-4 July. Jens Ruprecht is our local host for this event, near Heidelberg. Full details and Register here!

Bulgaria - 9-11 July. Doug Wothke is our local host, at Moto Camp Bulgaria, near Idilevo. Registration open now!

Italy - 15-18 July, near Lake Garda. Details to come very soon, but get it into your calendar and be sure to register early, it's a small venue and the numbers will be very small, only 60 people. The riding in the area is truly spectacular, so if you've never been, now's a great time! Registration open now!
HUMM - 27-29 July. The 4th Annual Horizons Unlimited Mountain Madness (HUMM) event. A two and a half (riding)-day, no GPS, orienteering event in the eastern Pyrenees of Catalunya, Spain and Andorra. Test your map reading and navigation skills, find hidden secrets and enjoy the fabulous riding. This event is presented in partnership with Austin Vince (Terra Circa/Mondo Enduro) and (Red Tape and White Knuckles), who lay out the off-road course. As usual, Austin and Lois have outdone themselves again in 2010 and laid out even more markers for the off-road HUMM in an all new area!
Susan and I laid out the HUMM on-road course, two up on our ancient R80 G/S, riding the many well-paved, twisty and fantastic tarmac roads in the area for over two weeks, loving every minute. Awesome roads, from first gear slip the clutch hairpins to high speed sweepers, with amazing views, minimal traffic, some roads you'll see one car in 10 minutes or more - and some less than that - roads you dream of.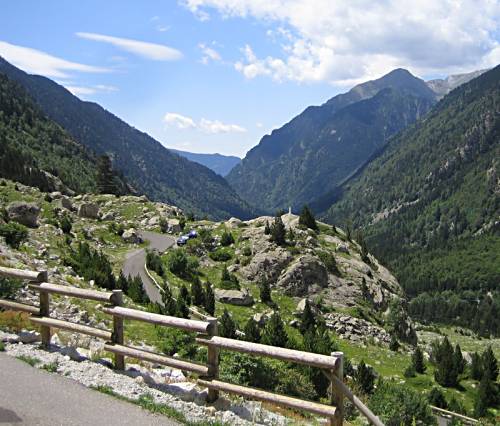 OFF or ON road, it's the most fun you can have on two wheels ;-) Registration is closing soon so get in quick!
Canada West - Nakusp, BC. 12-15 August. (NOTE date changed!) Ekke Kok and Andy Miller are the local organizers for this event. Grant and Susan will be there. Full details and Registration open now!
California - 19-22 Aug, the 'Lost Coast' north of San Francisco. Stephen Leblanc is our local organizer. Grant and probably Susan will be there, and we hope, Ted Simon, after missing last year due to illness. Full details and Registration open now!
Colorado - 26-29 Aug, Silverton. By popular request, and after a lot of negotiating with the venue, we're returning to Silverton! Hal Johnson and Brad and Judy Tutor are the local organizers. Grant will be there. Full details and Registration open now!
Portugal - 3-5 Sep, Gois. António Caldeira, our local organiser, and the town of Gois are welcoming motorcycle travellers back to this great venue in a very scenic part of Portugal. Austin Vince (Terra Circa/Mondo Enduro) and (Red Tape and White Knuckles) will be featured presenters! Registration coming soon, but mark your calendars now!
North Carolina - 9-12 Sep, Iron Horse Motorcycle Lodge is located near the Tail of the Dragon at Deals Gap and the scenic Cherohala Skyway, two of the best motorcycle destinations in the United States. Mike Kilpatrick is the local organizer. Full details and Registration open now!
Malaga, Spain - 9-12 Sep. Alison Makin is the local organizer for this event. Registration coming soon.
Germany (Autumn) - 29 Oct - 1 Nov. Same location as summer event. Registration coming soon.
Presenters
How about you? We're all here to learn, and there's LOTS to learn! We want to do more presentations and seminars - but we need volunteers to give them! Any topic you can contribute having to do with motorcycle travel, maintenance, planning etc, lasting 20 minutes or more, would be great. Please contact us here to volunteer.
Volunteers and Hosts
Volunteers for all meetings are needed, just a couple of hours of your time makes it all a lot easier - and fun - for all. You can volunteer a few hours of your time for any meeting here. And volunteering is always a great way to meet a lot of people!
If you'd like to host an HU Meeting in your area, please see the How To Host a Meeting page for details.
See the Meetings page for more details on all events.
See you there!

Grant and Susan
Graham Holden, UK, RTW, leaving Thailand, R100GS PD,
It's my Birthday and I was invited to the Kings palace, unfortunately it wasn't by the King, it was Jeab's suggestion as a birthday treat. We shot down to central Bangkok, parked up and entered the palace, the building within the complex are so varied and so beautiful, so much detail! Wow!
It was yet another steaming hot day as we wandered around snapping away at the many different exotic features. We watch the guards march along stopping to change guard, I must be getting old as they all look so young in their white uniforms."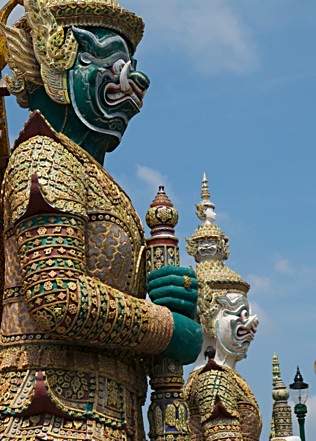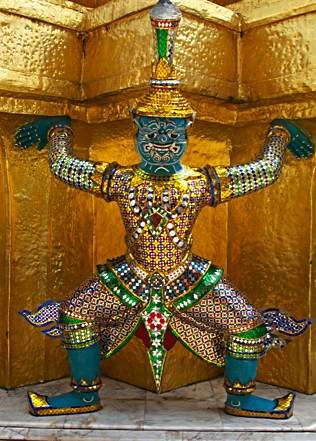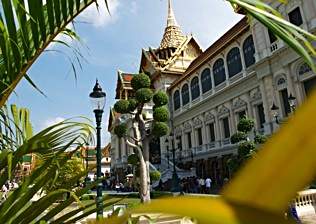 Simon Gandolfi, Old Man on a Bike, in Darjeeling, India, Honda Stunner 125,
"A Swiss baker built the Hotel Swiss in the 1920s as a family home and place of work. Now 'Help Tourism' have the lease and run the hotel as a training ground for local employees. I follow the pick-up down a steep narrow road. The turn to the hotel is on a sharp corner and at an angle of 300 degrees. The gradient is even more acute. Three tour jeeps parked on the corner bar the pick-up from making the turn. The driver waves me on. I creep in first gear. An Indian tourist seated in one of the jeeps opens the door in my face. I can't hold the bike upright against the slope. Down I go, head in the ditch. A couple of drivers drag me and the bike upright. The Indian tourist continues chatting on his mobile."
Jon Yates, UK, in Argentina,
"After just over 27,000 miles I'm currently having time out in northern Argentina and looking to ride into Bolivia in the next few days - having the bike serviced on Wednesday & replacing the tyres etc."
---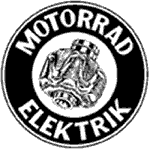 Motorrad Elektrik has been offering the best in electrical parts for classic and modern BMW's for over 11 years. From 12 volt conversion for /2 to better than stock replacement parts for your late model 'R' or 'K', we've got you covered. Specialty parts for 'hardening' the charging and ignition systems for world-travelling Airhead GS's. Riders like Bob Higdon, Dr. Gregory Frazier, Grant Johnson and hundreds of others depend on Motorrad Elektrik components as they wander the globe.
Our Omega system has solved the charging problems for 1970-95 Boxers with 400 Watts Output, and our Nippon Denso starter is the perfect cure for Valeo syndrome. NOTE: Omega has been upgraded - now even more power!
---
Frank Butler, PNG, RTW since 2002, in Chile, BMW F650 GS Dakar,
"The story starts in Puerto Montt, Chile, where I boarded the Navmag ferry for a cruise for four days and three nights through the Patagonian Fjords. It always rains and the clouds are always low.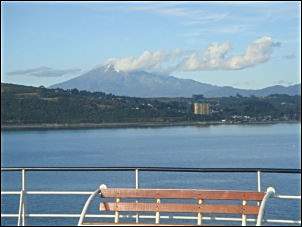 This is the infamous Ruta 40, the roughest road a biker can travel, assuming he has never been to Africa. it is famous for loose gravel and super strong winds.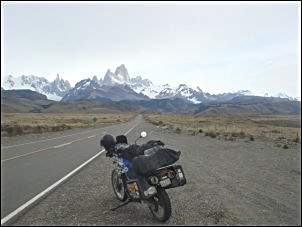 As I headed north I began to see signs of earthquake damage.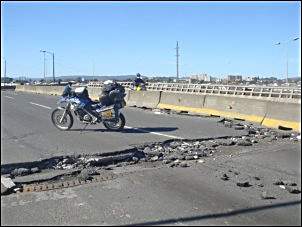 The high rise with earthquake damage was in Conception, which was the nearest to the epicentre. The house with red walls was called 'The Happy House Hostel'. I was going to stay there. it was completely destroyed"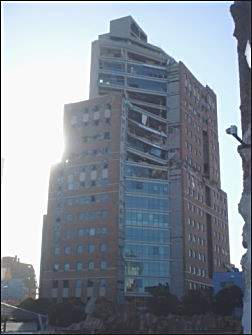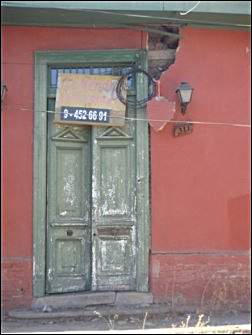 Tormod Amlien & Klaus Ulvestad, Norway, King Croesus Contempt for Death Tour, RTW, in USA, on 1937 Nimbuses with sidecars,
"Leaving Las Vegas. After some fear and loathing in Las Vegas due to some head gasket challenges we're hitting the road again today. Thanks a lot to Tyler that hosted us, and the guys helping out. This weekend we had the one year anniversary for the trip, and we celebrated in an extremely controlled form at Tyler's place, no 'hålligong'* this time. The route now is through Death Valley to Visalia, Monterey, maybe San Francisco and down again to LA. Cheers, Tormod
* Holligong: -noun. A noisy or drunken feast or social gathering; revelry. Origins from Scandinavian and is highly regarded up North, but gaining popularity all over the world due to Holligong Ambassadors sent out by the Norwegian Government."
Alisa Clickenger, USA, to South America, in Bolivia, DR650,
"I meant to stay two days and ended up staying over a week here. La Paz is a GREAT city-and I don't even like cities!
I spent a couple of days running around to embassies getting visas, getting more pages added to my US passport, jumping through hoops with UPS to get my tires out of customs etc. And then I fell down.
I got hit so hard by an intestinal parasite I ended up in the hospital and IN BED for most of the last week. Today I could eat real food (although my gut still wants to liquefy it).
Tomorrow? I ride. It has a terrible name but let's just say it's Bolivia's most famous road.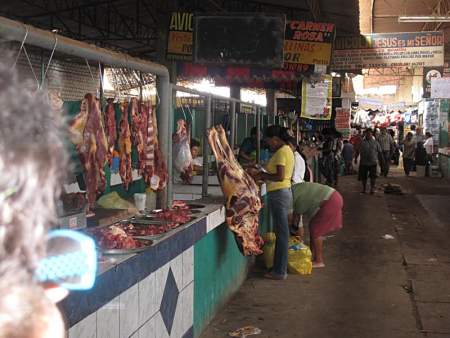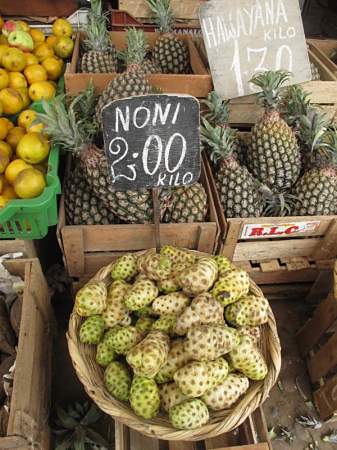 "We have made it to South Africa, home of the friendliest people in the world!
On our way south from Windhoek we visited Fish River Canyon, one of the largest canyons in the world. On the way in we met a group of bikers, all South African fathers and farmers all out for a long weekend ride. We stayed at the same campsite as them on the Orange River and had a great time with them. They all invited us to visit their farms and families all over South Africa! We are now in the process of doing that! One of them has offered to store our bike for 6 months, just out of Johannesburg. Fantastic!
We have visited people on winery farms, Ostrich farms and in the cities! Pat turned the big 60 in the last few weeks and we celebrated that in style at H/U members, Johan and Nicky Naudes wine farm outside of Capetown. We danced to music videos in front of an open fire and drank South African Chardonnay and ate Bins Red Thai chicken and veggie curry with noodles.
We have slowly worked our way along the coast and in the wine growing region around Capetown... stunning! Capetown has got to be one of the most beautiful cities in the world, gorgeous setting and the weather was fantastic while we were there.
We revisited Jeffreys Bay, one of the best surfing breaks in the world and stayed at African Perfection with our room having the best view of Supertubes available! Yes, it was expensive, but worth it. There were hundreds of dolphins surfing the waves, as well as some of South Africa's best surfers! We couldn't watch them enough!
We are now in Port Elizabeth, staying with HU members, Terry and Dorrienne Baker's lovely home with Bins turkish lentil soup cooking now for dinner!
From here we will travel up the coast via Durban and the Drakensberg Mountains towards Dries's place near Johannesburg to store Miss Adventure II again, while we go to Europe for 6 months of summer! Then back to Africa in October when our children Kate and Jonathan will join us and travel on a motorbike behind us! This will fulfill a lifelong dream of ours!
We have had an absolutely superb time in Africa, though its cost us a lot more than we thought! There are 2 ways to travel here. camp for next to nothing or stay in beautiful lodges and pay a fortune! Luckily it was always low season, so we could negotiate with the lodges. B&Bs in South Africa are very nice, plentiful and about US$50 per night... great value!
As usual we can't wait for the next step and see all our great friends. We have a saying that 'the world is full of friends we haven't met yet!' Bring it on!"
MedjetAssist is an
air medical evacuation
and consultation membership program and is HIGHLY recommended by us and many others for all travellers. The regular MedjetAssist program is for citizens or residents of the US, Mexico and Canada, and gives hospital of choice protection virtually anywhere in the world and air evacuation as needed. (See below for more on the Foreign National Plan) Click the logo below for US, Mexico and Canada citizens to find out more. (NOTE: It's still in progress for the final HU version,
but you can get MedjetAssist now
!)

For OTHER nationalities it is currently a little more complicated. There IS a Foreign National Plan, but you can't enrol online. It's a faxable enrolment and subject to underwriting approval. The rates are the same, but transport is restricted to 'back to home country - hospital of choice' rather than 'anywhere in the world - hospital of choice'. We are working on improving that, but at least it IS available! Go here to contact MedjetAssist and inquire about the Foreign National Plan. Be sure to mention Horizons Unlimited.
Michael Paull adds his endorsement of MedJet (and he DID use their services - twice!):
". After an additional three days in Beijing, I was deemed stable enough for air evacuation back to the University of Washington Medical Center in Seattle, WA, in the company of my wife Aillene (who had flown in from Japan), and an air transport trauma nurse provided by the company that I had procured medical evacuation insurance from, MEDJET Assistance - without doubt, the best insurance coverage I have ever purchased in my life. A small plug here - these people were remarkable. If there was ever a better case for '. don't leave home without it.', MEDJET Assistance is at the top of my checklist, no matter where I travel (and I hope to do a LOT more)."
Note: Per the Medjet Assistance site: ". a medical transport between Europe and America can run more than $35,000. Middle East and South American flights range from $60,000 to $80,000. Transport from Asia often exceeds $100,000." Sounds like $205.00 for a single is pretty cheap insurance!
"Monday April 5, we left Flores and wanted to go to Lanquin. The ride was beautiful and according to the map we also had to do some unpaved roads. We figured that would be about 30 km's and would take us an hour. At 3 in the afternoon we said goodbye to tarmac and hello to dust. What looked like a short unpaved route on the map appeared to be a 80 km's curvy mountain route which led us through the poorest Mayan villages.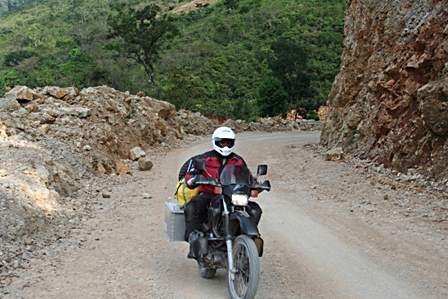 We were definitely off the Lonely Planet trail and had taken quite an alternative route to Lanquin. Although tough, we were rewarded with the most beautiful views and with the real Guatemala.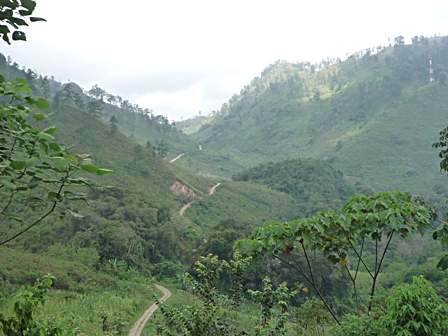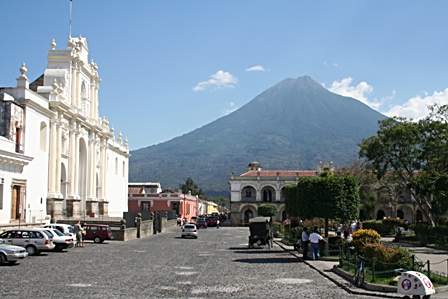 We've spent now ten days in this dangerous place. Dangerous because before you know it, you'll never leave. Surrounded by volcanoes, this colonial city with its plazas, bars and nice restaurants seduces you and before you know it... you're married. But as real bikers, we can't be seduced by anything else than a bike, so we will leave this place soon.
What have we done these days? We did a week Spanish course. 5 days 4 hours in a row. One teacher, one student. So, quite intensive. We really improved our Spanish. Instead of tres cervezas, we can now order seis cervezas."
by Sam Manicom


Sam Manicom's dynamic third book transports you to Southern Africa, South and Central America in an action-packed three year voyage of discovery. a thought-provoking mix of scrapes and encounters with people which illuminate some moments of true darkness. acute observations on everything from human behaviour, to remote and stunning locations. Distant Suns grabs you, enthrals you and spits you out as a convert to the dream of overlanding these amazing continents.'

Reviews

"It's been a pleasure to read as it makes me feel as if I'm there seeing the people and landscape that Sam describes. He has a gift for painting pictures with words, which is rare amongst long-distance riders. In summary, a damn good read, not to be missed." Dave - BMW Club Journal

". as the book progressed and the story unravelled, it developed into a truly involving and enthralling read. Distant Suns doesn't just document the journey, Sam also describes cultural differences, traditions and lifestyles of the various countries they cross, whilst painting a vivid picture of the terrain they cross. A really great read that'll doubtless give you itchy feet. " TBM - Trail Bike Magazine

"Distant Suns' is based on what Sam acknowledges are Birgit's wonderfully descriptive diaries. The result is a strangely powerful combination of Sam's already masterful writing with the added perspectives of a travelling companion who is both in-tune and adding a different melody line to the rhythm of their journey together." Nich Brown - The Road Magazine

Signed copies available directly from the Author here.
Order your copy now!
Ken Thomas, UK to Cape Town, in Ethiopia and Kenya, Yamaha TTR,
"We headed south-west from Isiolo into the Rift Valley and its many lakes. There's plenty to see and do, not the least zig-zagging across the equator about five times in ten days.
Our first sight-seeing stop was Nyahururu and Thomson Falls, a scenic Rift Valley water fall. A few days later we arrived at Lake Boringo, to the north, and Robert's Camp located on its shores. Both had been recommended to us quite a few times. The camp, like most we had stayed at, is within a fenced compound, and we had become grateful to find such fenced areas now and again on this journey.
It's all very well, and entertaining, stopping on the road somewhere for a break, or the shops, or outside a hotel, and being surrounded by curious children and welcoming adults, wanting to know 'Where from?' 'What country?' 'Where to?' 'How long in Ethiopia/Kenya?' 'How much the motorcycle?' 'Give me the motorcycle.' 'Manchester United!' 'Jambo!' But a spot of relaxation is needed now and again. So a hotel inside a walled compound is welcomed, or even, in southern Ethiopia, roadside restaurants within fenced courtyards that we could ride straight into.
So we were happy to ride through the gates of Robert's Camp and to be able to park and unload with no one around.
But no! Within a few minutes of selecting a likely-looking spot for my tent, these two locals ambled up."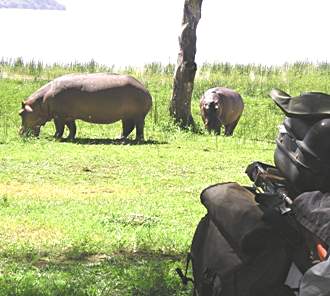 Overland to India

by Gordon May

Paperback, 21x14.8 cm 234 pages incl 8 pages of colour photographs. £9.95.

Synopsis:

In 2008, Gordon May set off on an 8,400 mile ride from Manchester, UK, to Chennai, India, on his 1953 Royal Enfield. Despite encountering intense heat, suffering a crash in the Baluchistan desert and battling against some of the worst roads and driving standards on the planet, Gordon and his old Bullet did make it to Chennai.

In Overland to India Gordon describes how he restored his beloved motorcycle, the build up to departure, the larger-than-life characters he met and how he tackled the many challenges that came his way. He also recounts the more personal highs and lows of life on the road. Above all, Overland To India is a heart-warming book that reveals that there is much human kindness and hospitality to be found, sometimes in the most unexpected places and situations.

Review:

What I really liked about Overland to India was the sheer determination of the rider. Gordon's love of his motorcycle shone through too; he often thanks it for getting him to his various destinations along the gruelling route and I liked reading about his running repairs. I felt his joy, his euphoria, at being out on the open road. I also felt his exhaustion. When Gordon suffered a crash I could almost feel those bruises and also his fear following an attempted highway robbery. What was also really striking was the generosity, friendliness and humility of many of the people he met along the way, who Gordon describes with real warmth. It's uplifting to discover that it's a welcoming world out there. Overland to India is a lesson to all of us who have a dream and want to pursue it. Inspiring. Judith Coyle
Ian Moor, UK, Wrong Way Round The World, in Wyoming, BMW F650GS,
"I had been looking at the snow capped mountains behind the ranch all winter hoping for an opportunity to walk amongst them. I made an attempt on my last weekend although I could see there was a fair bit of snow higher up. It was a warm sunny morning when I set off. After a couple of miles and a 1000 feet of height gain I got to a plateau with snow drifts here and there and solid snow all the way up to the peaks. A hailstone shower started and lasted half an hour just as I wanted to sit down for a picnic lunch. The route went through a dip before climbing again and the dip was full of snow. I tried crossing in two places and was sinking into the snow almost to my waist. I bravely or foolishly (depending on whether you are my mother or not) crawled and dragged myself through the drift at the second spot reaching trees where I thought the snow wouldn't be so deep. I was right but I was still sinking into soft snow up to two foot deep with no sign of it reducing. After a couple of hundred yards I gave up and retraced my steps back down.
The forecast for 19th April 2010 was good in Montana and on my route to Utah so I made plans to leave then. I had hoped to travel south through Yellowstone and Grand Teton national parks but the road south from Yellowstone was still closed for the winter. The north and west entrance roads had just opened on the 16th April so I was able to travel through Yellowstone from Gardiner to West Yellowstone passing through the Theodore Roosevelt arch.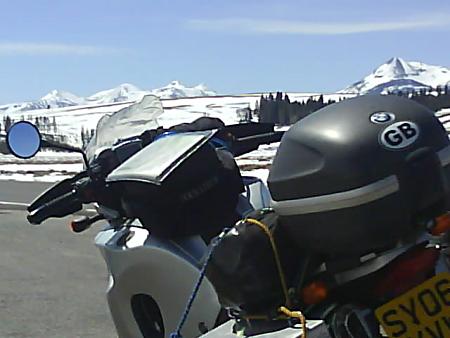 I saw my first grizzly bear in Yellowstone. It was between 200 and 250 yards away. Close enough to see clearly but too far to get a photograph with my camera. It looked pretty big and in good condition considering it must have just emerged from winter hibernation. I'd assumed they would be thin, bedraggled and hungry for tourist blood after sleeping through the winter."
Book special just for Horizons Unlimited Readers!
"Into the den of the Bear and the Lair of the Dragon on a Motorcycle"
"8 Around the Americas on a Motorcycle"
"Africa Against the Clock on a Motorcycle"
"From Nordkapp to Cape York on a Motorcycle"
Werner Bausenhart has written several books on his travels around the world, and has offered them to HU readers at a great price. Tell him we sent you and get US$5.00 off the regular US$20 price!
For details on his books see here. Contact Werner now via this link to get the deal.
"We rolled into Puerto Iguazu right on schedule, and found our current digs - a great little hotel called the 'Jardin de Iguazu'. It is only 4 months old and extremely well maintained, which means all the towels are new, the rooms are perfect - everything is tip-top! And the staff are equally fresh and friendly. We would absolutely recommend this one to anyone headed this way. After a great dinner, we hit the sack with plans to go and see the falls in the morning.
And see the falls we did! When we recount the many memorable places and things we have seen on this trip, this is definitely one of the most remarkable, and should mark a place on everyone's 'things to see before I croak' list. Legend has it that Eleanor Roosevelt, when shown the falls here, said that Niagara was a 'dripping faucet' after Iguazu. It is absolutely tremendous and we now understand fully why people come here from all over the world. Well worth the days spent riding to get here. No question.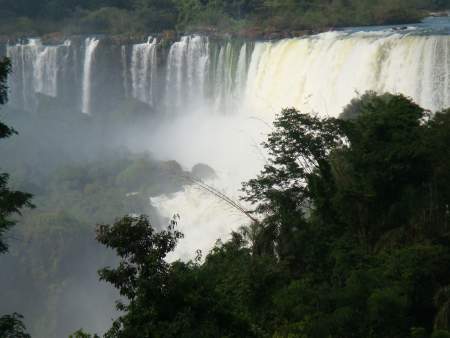 We started our tour by taking the bus to the park, which is a few miles outside the town. It filled a good, full day to walk the many catwalks and bridges they've installed to get folks up close and personal with the many different falls that comprise Iguazu, for Iguazu isn't really just one fall, but a wall of waterfalls that stretches across several miles. Without question, the most exhilarating part was the boat-ride that takes you right up into the crashing waters. It's a full soaking event, and worth the considerable hike down to the river where the boats launch. We both commented how much James and Becky would love it.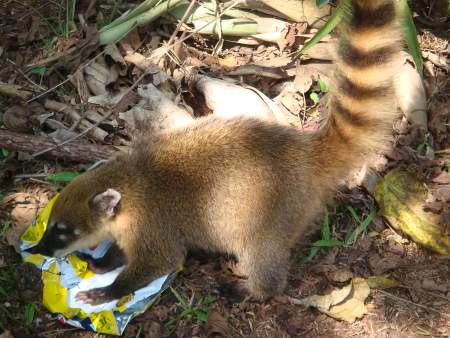 The park is home to LOTS of critters, including literally millions of butterflies, some the size of small birds. We saw dozens of Coatis - the South and Central American cousin to the raccoon, tame as cats. Lots of signs warn the visitors not to feed the Coatis - but the Coatis seem to have quite another view. One particularly bold youngster started nosing through a ladies purse that had been enticing him with potato chips, to the crowd's delight, when he suddenly grabbed her bag of potato chips and bolted. I guess he didn't read the signs that say human food is bad for him, and nobody was ready to try and get that bag back."
Nicolas Cavallero, Ecuador, writes to the HU Cartagena community about how to get his bike to Panama:
"Hola amigos espero que esten vien les tengo una consulta. He estado viajando en mi moto ya hace par meses años y bueno estoy regresando a los USA, en este momento estoy en Ecuador. Queria legalizar la moto aca pero como no me dejan me toca regresar a los estados, estoy viendo la forma mas economica para llegar a Panama. Alguna sugerencia. Muchas gracias y espero verlos pronto. Nicolas"
Tim Bussey, USA, in Morocco, Harley-Davidson,
"I did the tourist thing in Marrakesh today. Walking around the market, check out a famous garden and getting over charged buy taxi drivers. I did meet the one honest driver, he was the one that said, 60 cents not 5 euros. I'm hearing that there isn't much gasoline in the Western Sahara so I'm mailing some stuff home and going to carry as much gas as I can. I'm not sure I want to be sitting on the side of the road bumming gas in the middle of nowhere. I'm also practicing saying in English, 'do you wish you had a Beemer now?' the weather is overcast here in Marrakesh, looks like it might rain tonight.
I'm in Rabat till Monday. I have to get a visa for Mauritania then I'm heading to Marrakesh. It's been raining here in the North. I spend a couple of hours on mountain roads in heavy rain. That was interesting. I did some hiking, not too much just enough to start wishing I had a donkey like everyone else. I saw the Roman ruins yesterday that was very cool. The bike has been running good. The gas here is 4 to 5 dollars a gallon but my mileage is up. I'll update when I can."
Peter Russell, Canada, in Mexico, KLR's,
"The morning ride from Monte Pio out to Angel Cabrada was similar to the ride in, tight curves, lush tropical green mountain landscape, and plenty of topes. Topes is the Mexican term for each of the multitude of speed bumps placed across any populated section of road. They must be quite severe for cars and trucks, because drivers slow to a virtual stop to pass over them, creating long lines of traffic behind. Our bikes barely notice the bumps, and if we stand on the pegs, we can ride across them at 60kmh. At first a nuisance, the topes quickly became our allies in passing buses, trucks, and other vehicles - as they'd slow we would sail past them unhindered - especially useful given that most of the trucks are double length trailers. We rode through Boca del Rio and Veracruz around lunchtime with little trouble. They are beautiful and modern cities with a mix of new and colonial buildings, and a long beach waterfront.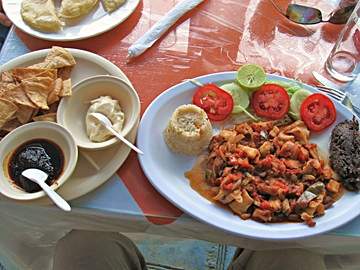 Lunch was in a roadside restaurant outside of Los Palmas. I had a delicious Pulpos (octopus) Veracruz. The sauce was tomato based with onions and tarragon, and a delicious chile picante on the side.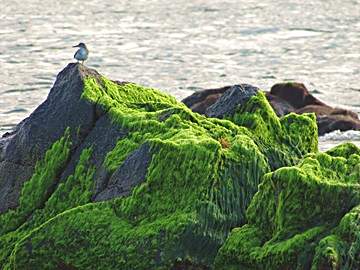 Atlantic Coast of Mexico
This is the first time we have seen the Atlantic Ocean since leaving Argentina for Tierra del Fuego."
Ken and Carol Duval, Australia, in Peru, write to the HU Lima Community about tyres/tires:
"Hola, We are Australians travelling Sth America and currently in Lima. We will need tyres further north of Lima. Maybe in Trujillo, Piura or Sullana. Does anyone know if the following sizes are available in MT60 or MT70's. 90 x 90 x 21 and 120 x 80 x 18 for a BMW R80 g/s. We are heading north along the coast to Ecuador. Thank you for your help. Carol & Ken"
Ali Franks, UK, in Colombia, Bajaj 135, writes to the HU Cali Community for suggestions on places to see:
"Muy buenas, yo soy un ingles aqui en Cali, hace ratico compre una moto Bajaj 135 y he disfrutado pasear con ella muchichisimo por el valle y el norte del cauca. En semana santa recorri bastante, hasta Antioquia, Caldas, Tolima, pero me preguntaba si ustedes conocian otras buenas partes para conocer. Ademas, dentro de unos meses quiero hacer un viaje mas largo, pero no se como es de adecuada la moto para hacer eso. Muchas gracias, un saludo, ali"
Iza Gamanska, Poland, in Bolivia, writes to the HU Lima Community about selling a bike:
"Hi all, We are a Polish couple travelling around the world on Africa Twin and Honda Bross for last two year(singapore2poland.com). Now we are in La Paz and heading soon to Lima. Our family member who has been traveling with us from Buenos to Lima is going back to Poland, therefore his bike registered in USA, KLR650, 2008 year is for sale. The price is very attractive, 2800 USD, and the bike is ready for touring. The bike is for sale from 9th May onwards. Let us know, if anyone interested, wants to have a chat or few beers. Iza"
Björn Holland, Germany, in Paraguay and Bolivia, BMW F650 Dakar,
"The Paraguay photo-diary/slide show is online now. Had a very interesting & fun time there: cheap electronics shopping in Ciudad del Este, very friendly people, hardly any tourists, quite a hot ride on the Trans-Chaco Highway, some wildlife and an interesting encounter with some motorcycle-crazy Mennonites in the Chaco :)"



The contest is now an annual event, where you can showcase your best photos, and they can help inspire others to get on the road too. Your photos could also be in the "Achievable Dream" DVD series! The best 13 photos will be used in the calendar, and those photographers will share equally in half the proceeds. Winners will also get a free 2010 calendar, and 1 year Gold Member status on the HUBB.
Prizes (two categories)
First place NON V-Strom / KLR photo prize is generously donated by Touratech.de, the popular "Trackpicker Qstarz BT-Q 1000 X"! By simply pressing a button you can store your favourite places as waypoints!
(Winners responsible for any customs and duties payable. Touratech is awarded rights to use the Photo in promotion and advertising)."

Trackpicker Qstarz BT-Q 1000 X
First Place KLR or V-Strom photo wins a Progressive Suspension Makeover, approx value US$650, shipped to your door.
(Winners responsible for any customs and duties payable. Progressive Suspension is awarded rights to use the Photo in promotion and advertising)."

Submit up to 6 photos, in high resolution jpg or tif format. To be a winner, so we can publish the calendar, you must have available at least 2300x1800 pixel or greater files, at a high jpg quality. Either dimension - or both can be larger! Photos must clearly portray Motorcycle Travel. The whole bike doesn't need to be in the picture, but it must be obvious that it's a motorcycle trip. If you are NOT THE PHOTOGRAPHER - please don't submit it!
Note: Copyright remains with the photographer, but Horizons Unlimited (HU) requires the right to:
publish the photos on the Horizons Unlimited website as we see fit,
in Horizons Unlimited DVDs, and
in the Horizons Unlimited Travellers Calendar. If used in the Calendar, you will receive a portion of the proceeds.
You will always get credit for your photo wherever it's used.
Remember, contest closes September 1, 2010, so get your entry in soon! Anyone can win!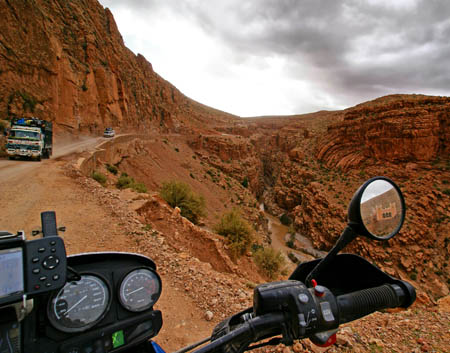 The 2010 calendar is still available! Check it out and get your copy now, for some terrific travel inspiration! The calendars are available through CafePress, and the price is US$24.99 plus postage. The cost to us from CafePress is $14.99, and we split the $10.00 profit with the photographers.
"My name's Pascal but friends call me Nish, I'm originally from France (Le Mans) but I moved to Hong Kong 27 years ago. I got married there with a local Chinese girl and we had two superb Eurasian daughters. Then I got divorced a decade or so ago and raised them up myself. Now they're gone to live their own adventures and I just turned 50 last Monday.
I guess I've reached that age when, like Mike Carter says in his 'Uneasy Rider', one starts feeling rather puzzled with the whole point of it all. I knew it would come but I had my plans for it, I had always kept that secret hope in a corner of my mind that one day, perhaps, I'd be free enough to go on a big ride, a big trip that one begins without knowing when or wanting to ever come back to 'normal' again. And I've always hoped to be able to do it by the age of 50. We both had just watched 'The Long Way Round' and somehow we weren't too enthusiastic about repeating that very same journey. It just looked too short all of a sudden, too expectable. We needed more. So naturally, we decided that since we were going to start from UK, we might as well take the really long way round which would include riding down all along the West Coast of Africa to Cape Town and then up again by the East Coast to Egypt and then Jordan, Syria, Turkey, Greece and finally head North until the cold would drive us East towards Mongolia. Ha, that would be more like it! It could take us two to three years to ride all these miles, that's perfect for what we have! Let's go homeless for a while see what's that got in store for us! We might end up our trip in New Zealand and settle there or carry on and go to South America. No boundaries! Yeah, that's what we need.
So while Geoff (Giles) began searching for good wheels, Abby started taking some riding lessons. I took her to the local MX Club as well so she could get her feel of dirt tracks and she showed a real determination and perseverance which delighted me even further. Alas Hong Kong had a new dirty trick to play on our little project. Even if Abby was to pass her licence in time, she'd still be on probation for a year and that would prevent her from obtaining her International Driving Licence, damn! We rushed to Horizon Unlimited web site to ask and see if there was any way out of this one, being even flying her to the Bahamas if required but to no avail. Alright then, no worries, we'll start our journey with just one bike and once we're in Africa, she could still have a go at it on rented bikes so that when we'll reach Cape Town, hopefully a year after our departure, she could get herself some decent wheels as we heard lots of adv bikers sell their bike there and fly home. It should cut our cost too.
It took me a while to get used to the idea that I'll have to ride about 350kg of bike + 2 persons + luggage around Africa's pistes but decided that, at 50 years old, I shouldn't be dreaming of winning the Paris-Dakar anymore but should rather consider taking a look at the landscape instead, for once. That did it.
So we did start looking at the landscape. I downloaded as many documentaries about Africa as eMule would allow me, in French, in English, we got to know a certain Bear who taught us how to eat snakes alive in deserts and sleep in dead camels, we read tons of diaries on the HUBB, tried to find answers to the most obvious questions that popped to our minds, we collected Lonely Planet guidebooks, ordered more novels from Amazon, got maps, searched for visa requirements, freaked out about vaccinations and malaria threats, selected equipment items. and began to feel good, to smile again, to take it easy with life and people, we knew our trip had already started by then and it felt great.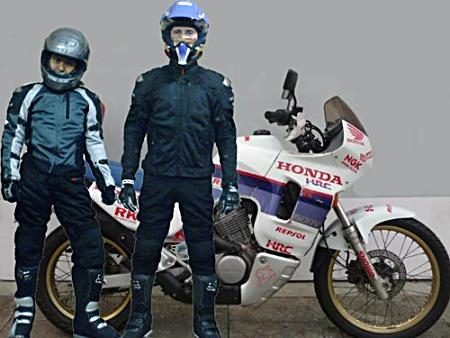 We met other adventure riders while watching the excellent DVDs produced by Horizon Unlimited and were delighted to conclude that they were indeed the sort of people we wanted to hang around with. Watching them tell us about their own adventures was the turning point I think when Abby and me both looked at each other with a confident smile on our faces: yes definitely, that's what we wanted and no, definitely, we weren't scared, quite the opposite! And we started suffering from a daily burst of 'I just can't wait to be gone!' that's just getting louder and louder every day, the trip had turned into our primary concern. Everything else, our duties, our possessions, our daily routines started to feel secondary and a bit dull... Soon we'll have to cancel our internet accounts, mobile phone plans, arrange a few things with the banks, do those vaccinations and visit the dentist as well as a doctor to sort out our first aid kit. Already, we don't have to pay rent anymore, we're on the two months deposit return period! Oh yes, it feels good, we getting there. Everyone we meet asks us about our trip. We're in the queue already, all we need is a little more patience but I'm already kick starting when asleep! So you know what? We just can't wait to be gone!"
David Kitson, UK, writes to the HU Merida Community,
"I'm on my way. If anyone would like to meet up would be good to get some info about your country maybe even a place to stay. Thanks David"
Jorge Sánchez, Barcelona, writes to the HU Barcelona Community:
"Hi, I am planning a trip in August this year from Barcelona to Istanbul and I would like to contact people who plan to make the same trip or a similar path."
Ben Campbell, Sydney, Australia, writes to the HU Seoul Community:
"Hello My Name is Ben Campbell and I will be riding my bike from Osaka, Japan to London UK. I am trying to find some help booking the Korean owned ferry 'Eastern Dream' from Japan to Vladivostok. I'm unable to translate the website as it is coded in Flash. If there is someone who is able to help me translate and book this ferry I would be greatly appreciative. I would be happy to compensate you for your time. The ferry is based out of Dong Hae and the website is here. Many thanks in advance Ben"
Si Johnston, Belfast, Northern Ireland, writes to the HU Moscow Community:
"Hi, I'm thinking of riding my bike from Ireland to Magadan this summer, and am wondering if it's possible to somehow get me and the bike on the trans-siberian or a train afterwards? I'm looking for the most economical way of getting the bike back to Europe. Many thanks for your help."
"Hi! Me and my wife are planning a RTW trip that will obviously take us to the US. We're applying for a US Visa and obviously during the process of filling the form 'Uncle Sam' wants us to provide an address in the US as a reference. Would it be possible to obtain such an address from you guys? We would also love to visit you once there! Kindest regards, Andy and Gosia"

---

---
Peter Hendricks and Su, stopping to work in New Zealand, sigh...
"April 2010: We have enjoyed our trip around both islands, despite the initially chilly and windy weather. After long deliberations we have decided to stay here, if Su is allowed to stay. Our trip is now finished. However, we have given up the idea of buying or renting a camp ground/hostel in Northland. Instead, once Su has her work permit, we will do what all good people have to do occasionally in their lives - work."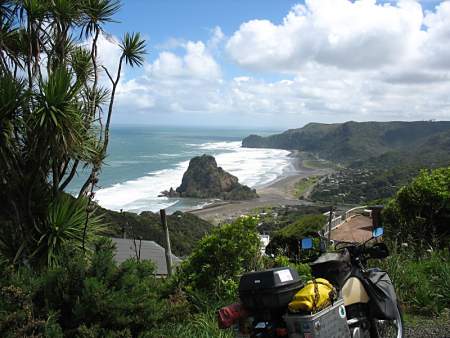 Oliver Abrahams, UK, back home in the UK, on a Honda XL650 Transalp,
"After 345 days away I'm back on British soil, and it all feels rather strange. I'm hoping this will be my penultimate post. The final post explaining how uneventful collecting my motorbike from Tilbury docks was, in about 2 weeks time.
I didn't find what I was looking for. Although if I'm honest, I probably couldn't tell you exactly what 'it' is. I did have a good time looking for it though and I definitely learnt quite a bit about myself in the process. I met some wonderful people that I hope I'll remain in contact with. It wasn't all rosy though and I also met people I'd happily never see again. Fortunately may more of the former than the later. Over the 27,500 miles I got through 5 rear tyres, 3 front tyres, 4 oil filters, 10 litres of oil, 1 chain and sprockets, loads of chain lube, 1 helmet, about 2,500 litres of petrol and about £15,000 (total for everything consumed. i.e. I don't have it now - plane tickets, bike transport, insurance, living/spending money, etc.)
I've been asked quite a few times this year: 'So what's next? You going to ride round the world?' The thing is; I like riding my motorbike but I'm not fanatical about it. I only learnt to ride a bike for this trip because I thought it would be more interesting than doing it on a bus. And it was. However, if there is a next adventure I think it will be slightly different. The idea of flying a light aircraft around Africa or sailing a boat to a far off land are top of the list at the moment. Whether they remain just ideas is another matter though, as I would imagine the time and financial commitment involved in either is considerably more than learning to ride a motorbike. I guess we'll see what happens."
---
Thanks! Grant and Susan
---
New Communities:
We've now reached an amazing 650 Communities in 106 Countries as of April 26, 2010!
A big thanks to all those who took the first step and established the Community in their area. New Communities are too many to list!
David Bird writes from Kas, Antalya, Turkey"
"Hi Grant and Susan, Just a quick note. Thanks for a great site. Since putting my Kas, Turkey Community page up we have had the pleasure of meeting and hosting a number of Germans, Brits, French and Belgians and have thoroughly enjoyed the experience. We would like to meet more travellers. Do you have any suggestions on how to increase our exposure? Take care and thanks once again. Kind Regards, David and Julet"
If you are on the road, do check out the Communities - don't feel like you're imposing on people! They signed up for a Community because they want to meet travellers - that's you! You'll have a great time, so go to the Communities page and let them know you're coming. Please remember that they are volunteers and offering to help because they're great people - common courtesy helps! When you write, tell them who you are, that you're passing through, and would like to meet them. Let them know if you need anything, and I'm sure they'll help as best they can.
For details on how you can join a Community in your area, or use the Communities to get information and help, or just meet people on the road or at home, go to the Community page. Send me some photos - with captions please - and a little text and you can have a web page about your Community! A few links to web pages about your area would be useful too.
Just a reminder to all, when you Join a Community in your area, send a note to the Community introducing yourself and suggesting a meeting, or go for a ride or something. It's a good way of meeting like-minded individuals in your own town.
---
Become a Horizons Unlimited Contributing Member or Gold Member!
To help with the cost of creating and distributing the newsletter and running a huge website, which has been a full time job for Grant for ten years, Susan as much as she can, plus a couple of part time assistants, we gratefully accept contributions via PayPal, credit card, and cheque. Members also get additional privileges on the HUBB, such as more PM's, custom avatars, and more photo space.

Support this Newsletter by becoming a Contributing Member today, by PayPal, credit card, or cheque.
Become an HU Contributing Member!
If you want a t-shirt or other logoed merchandise, go to the Store.
All contributions will be acknowledged and gratefully accepted. If you later decide you do want a t-shirt or other member logoed merchandise from the store, let us know and we will arrange access to the Members Private Store.
More ways to support your favourite website!
How to Link to Horizons Unlimited
Also, you can just click on any Amazon link on the site and we'll get a small commission on your purchase of any Amazon merchandise - and it won't cost you any more!
Thanks, Grant and Susan