Too many to list! If you haven't checked out the Links page it's time you did - it's scary long, but it's a fascinating browse.
---
Get your website listed in the LINKS Section
by listing Horizons Unlimited on YOUR web site, let me know you've done it by mailing me a link to the page, and you may get listed here in the next newsletter and on the Horizons Unlimited web site Links page. To make it easy for you, we even have our logo and link code here!
All sites will be considered for listing, but must be a MOTORCYCLE or TRAVEL site, useful or of interest in some way to travellers. We reserve the right to refuse to link back.


Motorcycle Express
MC Air Shipping, (uncrated) USA / Canada / Europe and other areas. Be sure to say "Horizons Unlimited" to get your $25 discount on Shipping!
Insurance - see: For foreigners traveling in US and Canada and for Americans and Canadians traveling in other countries, then mail it to MC Express and get your HU $15 discount!
There are many 'Helpful People' listed on the Links page, a huge thanks to all of them. How about you? Or you can join a Community, or start your own!
Do you know of a good shop 'on the road,'
...in other words, somewhere there isn't a large number of shops? (Also of course any shop that specializes in travellers equipment and repairs is of interest.) But we're particularly looking for those rare items, good repair shops in South America, Africa and Asia etc. Please post your info in the Repair shops around the world Forum on the HUBB.
There are now 100's of shops listed in out - of - the - way places, from Abidjan to Ghana to Peru! Be sure to check out the HUBB 'Repair shops around the world' forum if you need work done!
When you meet people on the road, and they haven't heard of this e-zine or the website, we'd appreciate it (and hope they would too!) if you'd get their names and email addresses and send it in to me.
Thanks, Grant
Request for info
Wouldn't YOU like to know all about the border you're approaching - what it should cost, paperwork required, 'tips' needed, and who to talk to, etc.?
When you cross ANY border, take some notes, and pass them on to us. Thanks!
Shipping
The Shipping page on the site is HUGE! It can be reached directly or from the Shipping link on the Trip Planning page.
Travel Advisories:
The Foreign Office in London's Travel Advice Unit advises against travel to all sorts of places. Check out the listing before you start!
The US State Department regularly issues updated travel advisories, information and/or warnings.
Motocare
Motorcycle Rental, hiring Honda's Transalp for touring Argentina and Chile. Ride across the Andes, from the Atlantic Ocean to the Pacific, lakes, deserts, salt pans, waterfalls, beaches, rain forests, glaciers...
Motocare Argentina
Motorcycle Therapy, by Jeremy Kroeker
From the Canadian Rockies to the Panamanian Jungle, Motorcycle Therapy rumbles with comic adventure as two men, fleeing failed relationships, test the limits of their motorcycles and their friendship. Get it here!
---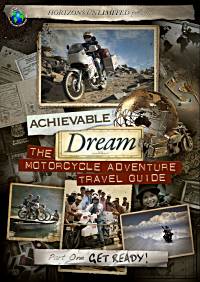 Get the Achievable Dream DVD's NOW and learn how YOU can hit the road!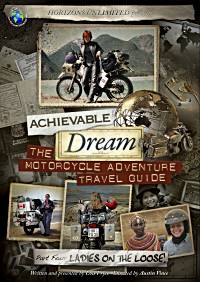 Daniel Shell, UK, in Colombia, Harley-Davidson,
"The ingenious villagers living in the mountains had managed to create a routing system for the water coming down off the mountains to put it to good effect. Around every corner, huge trucks were parked by the side of the mountain, and the locals were using the diverted water to wash them. The men would spray the trucks down, and the kids would climb all over the trucks to wash them down with soapy water.
It was quite a sight. Water jets sprayed up from the side of the road round every twist, I rode through one just to get a quick shower and cool down, before continuing winding and twisting along the mountain road.
There was a lot to see on the road apart from the amazing scenery. I passed a bunch of not so young kids riding a trolley jack down the side of a mountain, more kids were clinging onto the backs of lorries getting free rides to the top of the mountains on their bicycles, then freewheeling down to the bottom.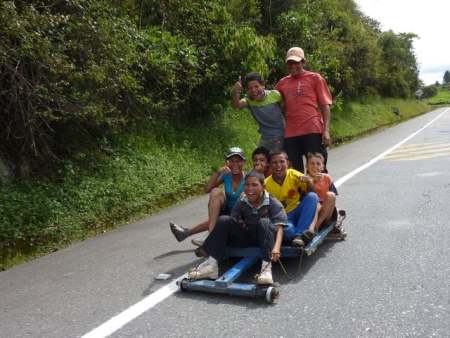 Our next stop was the Zona Cafetera, Colombia's coffee growing region, we left the wet and cloudy Bogota behind us, and rode through even more breathtaking scenery until we reached Armenia, a short ride from Salento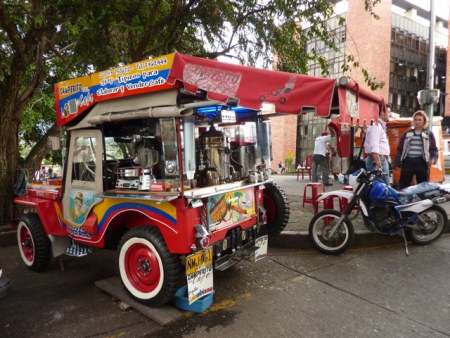 We met up with a local biker friend from the ever useful Horizons Website, shared a delicious coffee served to us from the back of a Willys Jeep parked in the town centre, and then followed him out of town and on to the road to Salento.
Cali, Biker heaven! We had been in contact with another group of riders who were listed on Horizons, and headed straight for the Asturias bike shop in the town, where we met Jorge, the gregarious owner, and Harley rider, his wife Sory, and their French friend, Alain, who came to the shop when Jorge phoned him to inform him of our arrival.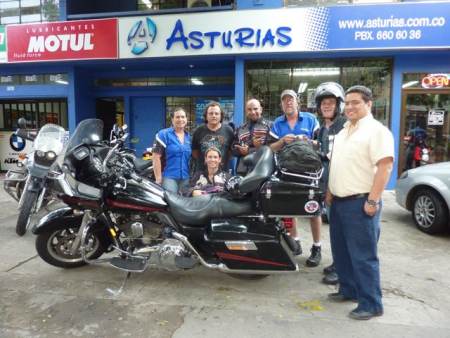 ... Alain the Frenchman came to the hostel the next morning to take us out to the afro Caribbean port town of Buenaventura, and after a fresh fish lunch in the colorful market, he dropped us off in the village of Cordoba. We left the bike at the house of one of his friends and said goodbye to Alain, while we walked down to the railroad.
The trains no longer ran along these tracks, but instead, the locals had come up with a novel form of transportation-the Moto-Rail.
The front wheel of a common 125 motorbike was bolted onto a wooden platform, which had a runner on one side, connecting with the old train track, while the rear wheel sat on the track and drove the contraption. We sat on a little wooden bench on the platform, and the driver started the motor and off we went. It was an ingenious mode of transportation, and as we rode along the tracks, Jacquie and I couldn't suppress our maniacal grins. We passed over old railway bridges and looked down into the dense jungle below.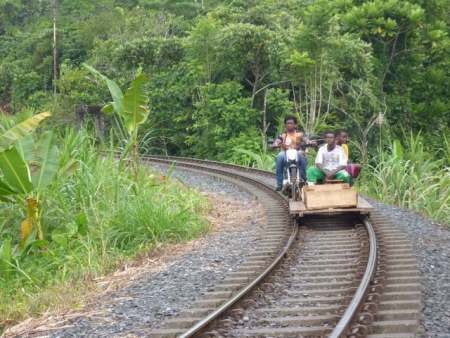 We rounded a corner, and coming in the other direction another moto-rail contraption approached. This was a single-track railway and someone had to get off. Our driver asked us to get off the platform, and he and his co-pilot swiftly picked up the whole bike and platform combo off the tracks and on to the side of the railway, the other bike passed us, and we picked the bike back up and placed it back on the tracks, this happened another two or three times on the way to our final destination, some 25 minutes down the tracks, San Cypriano."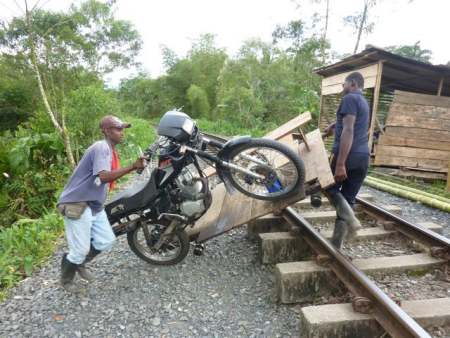 ---
---
"We follow route 40, great fun, the ripio (wash board) isn't bad. We are riding through red mountains with cactus everywhere and because it has been snowing there is snow on top of them!
There is a check point, but we didn't get checked. What we did get was getting sprayed. It might have been the purpose to avoid fruit flies and other little creatures to go with us into a new Province, but all what happened was that, totally unexpected, some biting wet stuff got out of two poles next to us. My helmet was open so it got right into my face, nowhere else. Luckily I was wearing sun glasses, I was cursing in all the languages I know, trying to wipe it off my skin, using baby wipes.
The road to San Rafael is so boring that I am using, for the first time on this trip, my I-pod. And while I am listening to Rory Gallacher I see more farms and vineyards, we are back in the wine and fruit area. We are excited, we are looking forward to being back in San Rafael, to see John and Annette. They have been traveling around the world on their motorbikes, couldn't settle down again in Britain and bought Finca Rita, a farm in Argentina. We have been at their place before. We are looking forward to sleeping in a real bed and eating good food. Annette's kitchen qualities are excellent and so is the Argentine meat!
Travelers can stay at their place and have free food and board in exchange for giving them a hand on the farm. So here we are. There is something in the coke here that makes us wobbly and we should lose weight, we move around a lot, but we are probably putting on weight. Wonder why that is.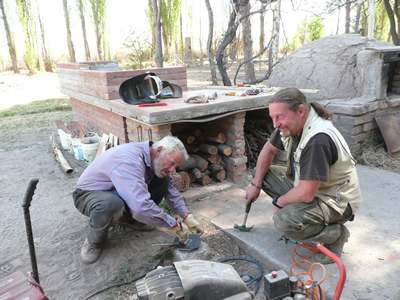 The farm looks great, neat. There is a new vegetable garden, a camping area, a duck and chicken house, 2 more dogs and a snobby cat that fights with the dogs. The house is painted, new tiles on the floor (Phil you did a wonderful job!), Internet and a swimming pool!
Annette managed to organize a birthday party (I got 50 in August, but we were in the Amazon), without me having any clues about it... and there are many people we have met before. That was such a nice surprise!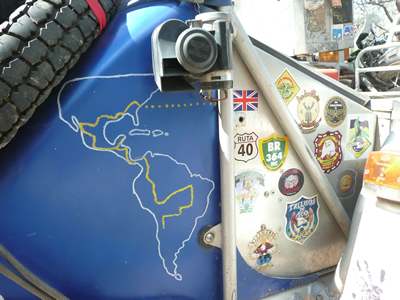 Every morning I go to the field to tie up the vines, followed by 5 dogs, a chicken and a cat and Andy is creating a galleria from real Argentine wood, banana shaped it is, so it's difficult to build something that is accepted by high British standards. But it looks very good to me. It's fantastic to be 'normal' for a while, to enjoy the spring here. All the trees have changed their fragile green into darker green and the buds on the plum trees are coming out. There is still snow on the mountain tops far away, but some days it's hot already. What a bad life."
Obadiah Mazo, USA, New York to Argentina, in Peru,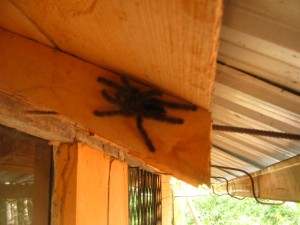 "A short list about Peru and Driving (Parents and Loved Ones - skip this it will just stress you out!)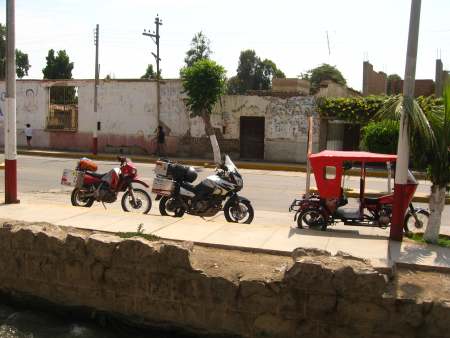 There are about 6 billion mototaxis in each small town. And each drives as if it is a military tank.
A mototaxi is the back of a rickshaw attached to a 125cc motorcycle. I blame this abomination on the Piaggio corporation, though now the main perpetrators are Bajaj of India, and various Chinese companies.
Headlights and brake lights appear to be optional.
Horns are NOT optional, and besides your normal horn noises, taxis also use police sirens, car alarms, and the beep beep of a large truck backing up.
Stoplights don't go green, amber, red here. They go amber, green, red. This means that everyone drives through the red, as they don´t have an amber warning to slow down, and everyone drives through the amber because they see it as a warm-up your engine and peel out alert as the green is coming. Well most of the time. Sometimes no lights lit means green, sometimes no lights lit means red, and sometimes amber and green light up at the same time, I still have no idea what that means.
Pedestrians DO NOT have the right of way.
Might makes right, so the smaller you are, the more you get cut off.
So, despite all that madness in the streets (we arrived in Piura during rush hour, so I saw Peruvian traffic at its worst, to be fair) I got berated by a police officer for jay-walking. For like 5 minutes! For a moment I was unsure whether I was in Peru or San Francisco.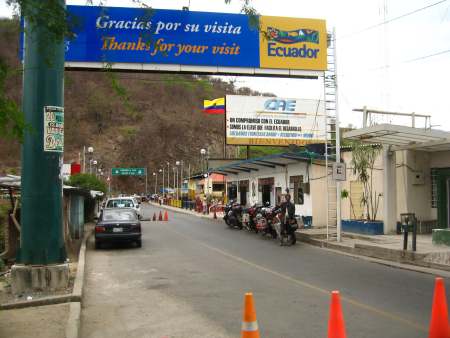 The good bit about Peru and driving is that outside the towns, the roads are very good, well marked, and there is very little traffic, because most people can't afford cars, and gasoline is incredibly expensive. You often have to drive onto the edge of the road because trucks like to pass each other and force you off the road, but the edge of the road is quite wide, so there is space to be forced off onto. This is kind of a self-fulfilling prophecy. Rather than make the roads wider so there could be passing lanes (much safer) they just make the sides of the roads just as wide, so the roads become unofficial passing lanes."
---

---
Oliver Abrahams, UK, in Peru, Honda XL650 Transalp,
"Firstly, thank you very much to all those that have dug deep into their pockets and donated to the skate ramp project. I'm truly touched by your generosity and perhaps misguided faith in my abilities. I generally don't do things by halves so I can assure you I'll do everything I can to make it a success. Now that you've forked out I guess I should give you a quick progress update...
As any Las Vegas gangster will tell you. Digging holes in the desert is hot and tiring work and generally speaking you should not dig them unless you're going to use them. Unfortunately it feels like all I've been doing this week is digging holes I don't use.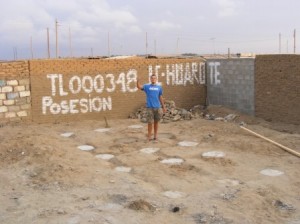 Just over a week ago Hannes got caught short at the skate ramp site and had to use a torn up cement bag for loo roll. Oh how I chuckled in the knowledge that cement is an irritant to the skin and who knows what would happen if he cemented his arsehole shut! Well, sure enough a couple of days later it was me crouching over a ditch in the corner with nothing more than a handful of shiny brown cement bag. As further penance for my schadenfreude this was the start of a rather unpleasant 48 hour stomach bug that had me curled up in bed with cramps and more for much of the run up to Christmas. Cement bag is not the most absorbent of materials...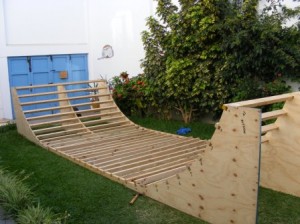 In the fear that everything would be closed from 25th to 28th Dec I dragged myself out to Trujillo during a lull in bowel activity to buy wood for the the skate ramp. This lull was in fact just another calm before a storm that confined me to bed and bathroom for another 16 hours, missing the Peruvian celebrations on Christmas Eve. They do it all on Christmas eve here. Fireworks and church at midnight, followed by eating and drinking into the small hours. Christmas day is generally meant for sleep. Thankfully, Santa gave me a new digestive system for Christmas so I didn't miss the Otra Cosa volunteer Christmas party and I feel back to normal now.
A couple of issues have delayed progress. The first was Najin (the Otra Cosa manager) asking me to organise the painting of a volunteer house. The second was the recently mentioned stomach bug. However, they are both now over and in the time I wasn't painting or being ill we managed to get the foundations filled with concrete (with the help of Hannes, James and Morgan) and over half of the ramp frame measured and cut. It looks rather large."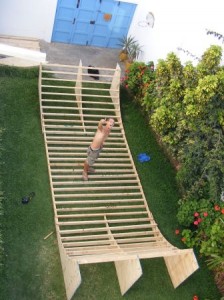 Frank Butler, Papua New Guinea, RTW, in Colombia and Peru,
"I went to see Fernando in Turbaco, a little town twenty kilometres south of Cartagena. Fernando and his son Phillipe were very relaxed hosts, they both had Suzuki V-Stroms parked out front, But Fernando was not riding as he had just had a small operation and the doctor thought it best for him to keep both feet on the ground.
I spent most of my time there trying to sort out a place to get Beem looked at. He had been grumbling for the last few weeks in a most un-germanic way, and was becoming a pig to ride, no power and uncharacteristic noises, I had diagnosed the problem as crankshaft bearing, based on the engine noise under load. So I was trying to find a place to get a good engine rebuild... cheap.
I sent out a call for help on Horizons Unlimited and a flood of replies came back with various recommendations, but most were to take the bike to Ruta 40 in Medellin about six hundred kilometres away to the south.
Carlos Gomez sent a message that he and a bunch of friends were coming up to a little holiday town called Rincin del Mar about a hundred kilometres south of where I was and that I could ride down and meet them there and ride back to Medellin with them. So that is what I did.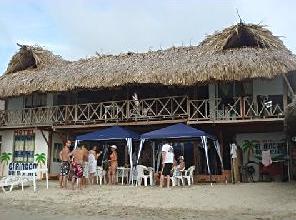 I said farewell to Fernando, Philippe and the Argentineans and headed down the road in cool afternoon sunshine. After a hundred odd kilometres the road turned to dirt so I carried on for another fifteen k's and came to the sandy main street of Rincin del Mar a small fishing village recently trying its hand at tourism. I met Carlos, his brother Andres, a couple of Albertos and a whole gang of beautiful women, at the little hotel right on the beach.
Next morning at six o'clock we were all packed up ready to leave... it had been raining through the night, not a lot but not a little, so the road that I had enjoyed cruising in on had now turned into South America's longest skating rink, It wasn't that it was rough, it was that it was as slippery as hell, you could hardly stand up on the bloody thing, much less ride a heavy motorcycle on it.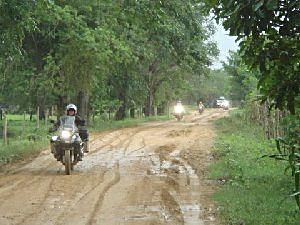 Having said that this is one of the rare times when I had just the right tyres on Beem, the other bikes were V stroms and big BMWs and they were suffering, the V-Stroms particularly were collecting mud on the front wheel to the point where it was locking up. That fifteen kilometres took us two hours with just about everyone taking a fall, it was a bad start to the day. Once we hit the tarmac there was much back slapping in that particularly South American way.
Back on the sealed roads the big bikes were off and running, once more back in their element, and me and Beem were tail-end Charlie again, poor old Beem coughing and wheezing but trying his best. Nine o'clock that night we all arrived in Medellin safe and sound if a little wet, the Medellin boys had got us there in one piece...
I never take for granted the extraordinary effort that bikers will go to to look after their own, it makes me proud to be part of this small band of brothers.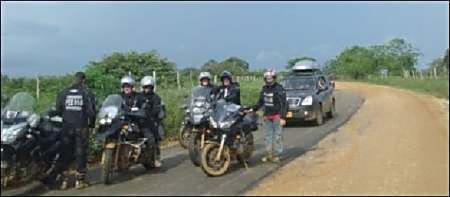 ... Now I am in Trujillo on the coast of Peru about five hundred kilometres north of Lima. All is well. I am waiting for Fernando and Isi to catch up they are on their way from Cartagena. Should be here in a couple of days.
Peru is lousy with Police I was stopped five times yesterday. Mind you one of them was for going around a roundabout the wrong way... long story, no fine.
Beem is going like a champion and I am well... losing a few pounds getting ready to go home and face the crowds. I have a new plan... surprise, surprise. I am going to mount a major expedition around PNG going up the Sepik River and down the Fly River and circumnavigate the coast."
---

---
Alisa Clickenger, USA, to South America, hanging out with butterflies in Mexico, DR650,
"My bike was not happy climbing the last 1000 feet up into Angangueo, so this morning I sucked it up, and did my first on-my-own chain adjustment. After double, triple, quintuple checking, I thought I had it right, and left this still-sleepy (and really freaking cold!) town at 9000 feet elevation.
Turns out my carbureted bike likes altitudes under 8000 the best. It tends to protest anywhere above that-not vociferously, mind you, just like a whiny child in a I-don't-really-like-this-but-I'll-humor-you-anyway kind of way. So I ride this really great road up to the monarch butterfly preserve, and I'm pretty damn proud of myself. First chain adjustment, totally empowered to take on the world, energized by the cold (and darned happy I have heated hand grips on my bike!). I pay my 15 pesos to 'park', and ride in. I've been told by Francisco in the tourist office in Angangueo that the last 800 meters of the driveway are a little rough, and I figure he knows what he is talking about since he owns three bikes (turns out they are scooters, not bikes).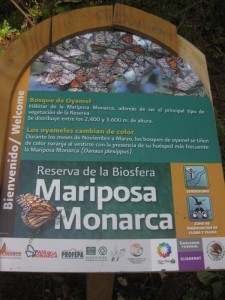 Easy road, pass some huts on the left with no signs of life (houses? ghost town?), keep going. And going. Hmm. longer than 800 meters? Then the road dips down, steep down, and I think to myself 'this is not right-the butterflies like elevation'. So I get myself turned around, and take my next right UP. Groovy. Up. And Up. and UP.
OK, Altimeter says 10,000?, 10,200?, 10,300? etc. until I am over 11,000 feet, and remind you my bike doesn't like to be very high up, so it's protesting more and more, and just about the time the altimeter says 11,200 feet (really now, how high do these butterflies really like to live anyway?), and about the time that the road turns into a Billy goat path about as wide as my bike, and about the time that the heavy dews make the mud in between the rocks totally slippery, and about the time I almost pass out from holding my breath, the bike will not move forward (too little power, too much gear, too high up, etc.) I realize I think I may have made a mistake.
My heart is beating frantically, my bike is stuck on a path about as wide as it is (which seems exceedingly narrow at this point), my rear wheel is stuck between two rocks, and I am beginning to think I may have made a wrong turn...
Oh well, I am in the middle of nowhere, in a beautiful lush forest, my motorcycle stuck and I have come to see the butterflies. So what's a gal to do? Put the kickstand down, get off the bike, lock the helmet onto the seat, and decide to deal with the motorcycle later.
I have come to see the butterflies, and I will see the butterflies. I must have been quite a vision in reflective motorcycle gear to the high altitude cows chewing their cud along the billy goat path. So I continue up the cow-and-billygoat path, and after a half hour of steadily climbing, in full-out motorcycle gear (hey, at least I am not COLD anymore!) I am rewarded with a couple of butterflies.
What? There must be more. Then I get lucky, and realize the orange moss on the pine trees? Butterflies!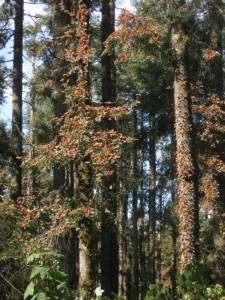 Butterflies everywhere!
I walk towards the butterflies. They are on everything. Cover practically everything. It's the coolest thing I have ever seen. And the sound? The sound of rain in a lush rainforest? No. The sound of Millions upon Millions of beating butterfly wings.
May I present to you these delicate creatures that have flown across the Gulf of Mexico, to do their butterfly thing here in the high mountains of Morelia, Mexico.
I have to be very careful not to step on them as I move around. They are everywhere! Feeding. Flying. I am in awe. I take my time walking amongst them, listening, wondering, taking pictures."
---
---
Kev and Lorraine Hatchett, UK, Round the world, in Argentina, BMW R1200GS Adventure,
"Whale day today. Speaking to the German guy camped next to us, he recommended taking an afternoon boat trip as there would be fewer people on the boat. 14:00 we set off for Piramides, about 100 Km's back up north. As the Peninsular is a national park we had to pay entrance fees to get in, we should have thought about that earlier and could have had the whole day there, not to worry, as long as we get to see whales.
Fuelled up then had a wander around the port before going to book the trip. The girl in the office said that even though the 15th is the date that the season is supposed to finish it is only approximate and guaranteed we would see whales, through the day other trips had seen up to a dozen whales with their young, so on that we booked the next trip in 30 minutes. The time came to get on the boat, 7 of us on a boat that could carry 60, loads of room to move about. 10 minutes after leaving the shore we spotted the first whales in the distance, so far much better than we saw at Hermanus Bay in South Africa, and it got even better as we pulled around into a small bay, at least 10 whales and all coming very close to the boat, you could nearly reach out and touch them. We spent over an hour watching them and took 240 pictures. I managed to get a couple of classic tail splash shots but no shots of them breaching the water. An amazing day.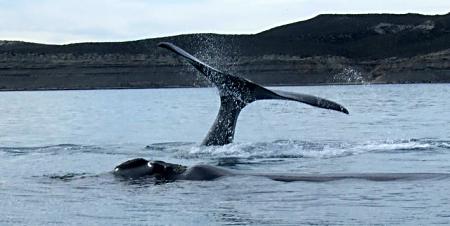 Two border crossings, 1 Ferry crossing and 140Km's of Ripio to get through today. Let's just see how it goes. We have been told that it is best to get to the Border crossings early to miss the buses who have priority and could cause delays. We still have 122Km's to the first crossing so probably means an early start. As it is nice and warm in the kitchen we decide to take our chances with the buses and leave at our normal time. We got to the first border and no buses, 30 minutes later we are cleared and into country number 19, Chile, albeit only for a short while.
Next is the ferry across the Magellan Straits into Tierra del Fuego, they run every 40 minutes so we are bound to have just missed one. We arrived at the ferry and our luck is holding, there is a one just coming in, the book says the crossing is US$25 per vehicle, nobody even approached us for money. Off the boat and into Tierra del Fuego. We have 22Km's of tarmac and then we are on the ripio, which we are not overly sure about. No need to have worried, it was really good for around 120Km's, with two sections of road works, at the first we were held up at until the bulldozer had got half way through then we were directed to drive slowly in its tracks, easy.
The next stretch of road works was a bit different, again we were held up until the grader had gone through and sort of levelled the surface. The grader wasn't as heavy as the bulldozer and didn't compress the dirt leaving some nice tyre width grooves filled with loose dirt, front wheel hits one and the back wheel hits another and we are all over the place, just managing to keep the bike upright. The last 7Km's before San Sebastian is bad washboard nearly all the way to the Argentine border, my hands are tingling with all the vibration.
At the border there are again no buses and we sail through in less than 30 minutes. The wind has picked up again while we were clearing the border, this time quite strong. The bike would have blown over if I wasn't watching it, the wind was rocking it on the side stand, glad we are back on tarmac in this wind and not the ripio!
Arrived at Rio Grande and another problem with co-ordinates on the GPS means a bit of running around looking for the canoe club we had been told about that we could crash out in upstairs in the gym and park the bike indoors. We found it after a bit of traipsing around and asking some local cops. From the outside it looks a bit of a dump but inside it is warm, clean and tidy and free internet.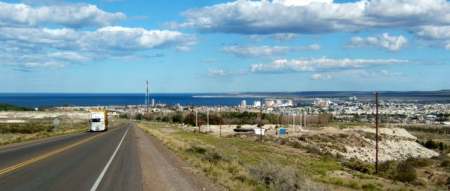 Final day and the last push, shouldn't be too bad if the wind stays away and it is tarmac all the way.
The scenery is changing, from desert, flatlands and coast line to the jagged peaks of the snow capped mountains. The weather is also changing, glad we didn't take the liners out of the suits as the temperature is dropping by the mile. We were recommended to stop at the Panaderia (Bakery) at Tolhuin for our lunch and had some nice Empanadas. Riding along past Lago Fagnano and over the mountains, we kept stopping for pictures and a two hour ride turned into four, one of the best rides so far.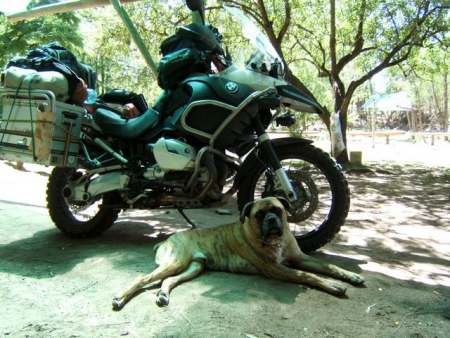 Now we are here, Ushuaia, the Southernmost city in the world, Fin del Mundo, End of the World. We are staying here until Jan 3rd 2010 so hope to meet up with some of the other people we have met on the way while we are here."
---
---
"... As I begin writing this entry I am sitting in the airport in Mazatlan waiting for a flight home for Christmas. I expect to see a change from about 28 deg C to perhaps -18 deg C. It was an easy decision though, I really miss Janine and it will be good to be at home over Christmas. I have the motorcycle stored securely in Mazatlan.
The past three days in Mazatlan have been fun. I met Mike, from Scotland, who owns the BMW 1200GS that was sitting in the lobby of the Belmar when I arrived. I believe he has been traveling on that bike continuously since 2004 or 2005, with the exception of a total of 18 months during that period. He is a fascinating guy, retired from the Royal Air force. We spent a couple of evenings chatting and he can give you precise information about just about every motorcycling road in the world, from South America to Africa to India to Asia and beyond.
On the first evening we met, we were sitting in from of the Belmar and next thing you know Casey & Sheila Boyle, a couple I had met at the Horizons Unlimited meeting in Nakusp last summer, walked up and joined us. They are on their way to Central America. Another fellow on an old BMW R100 from Arizona also showed up and joined us. He is on his way to southern Mexico and Guatemala.
On Saturday night a guy on a Honda from Alberta showed up, on his way to South America. I went to introduce myself and found him sitting with a fellow who used to work for me and had just finished working for my brother James, at a gas plant shut-down in Alberta. The world really is getting smaller all the time.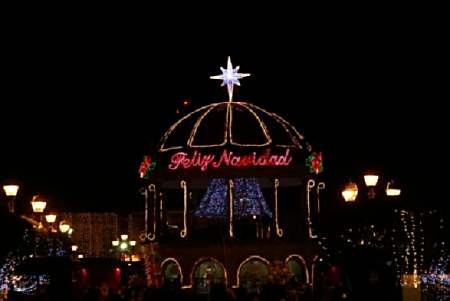 Last night there was a delightful fiesta in the Old Plaza. There was a Beatles music cover band playing for a while, then a blues group. There were all kinds of things going on in the square including a group twirling blazing batons while doing acrobatics. The square is surrounded with sidewalk cafes and it was fantastic having dinner there and taking in all the excitement.
This morning I said goodbye to quite a few people. It is surprising how many people you get to know in such a short period of time here. The old Belmar is just like that I guess.
I have no firm plans on when we/I might return other than I expect it will likely be mid January. I also have no plans as to where we/I will head when we/I do return. So much will depend on how Janine is feeling and if she will be able to come south sometime soon. Hasta Luego. (Until Then)
P.S. After arriving in Calgary at midnight it was almost 2 ½ hours of white knuckle driving through a blizzard to get home to Red Deer. We passed several transport trucks and cars in the ditch. At home there is perhaps 2' of snow but the bright side; it was only about -13 deg C."
Graham Holden, UK, RTW, in Malaysia and Thailand, R100GS PD,
"Ok it was decision time, do I risk the heat of the northern territories in Oz, or head back up to Thailand, visit Cambodia then return in the New Year.
So after careful consideration my decision was made and spending the last couple of days in KL with Oliver and Tino was coming to an end. Oliver was shipping his bike to Canada and was about to embark on a new line of work, teaching in Korea. Tino was shipping his bike home, then flying to Oz, little old me, going north and wait out the Oz summer.
On the morning of my departure we arranged to meet up at Sunny Cycle's for a photo session, we arrived at 9.30 but he was still locked up, then he arrived, a quick photo call and said our good byes and I was yes you guessed it on the road again. The roads here in Malaysia are fantastic, which I think I may have mentioned before. I made good time heading north and just after Penang I recorded 30,000 miles on the road since leaving the UK.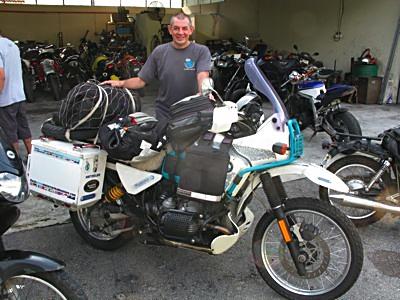 The border once again was straight forward and I was into the chaotic road systems in southern Thailand. It's difficult getting into a good rhythm on these roads, just as you get going there will be traffic lights or a crazy junction.
Time was passing by, but I was making good time, the weather was shinning on me, what little rain that was about seems to have been one step ahead of me, so apart from a few damp roads everything was going well.
My plan was to stop around half way between KL and BK, but as I approached halfway the sun was still sat in the sky, the bike was running sweet and I felt good. So onwards I rode, the roads seemed easier now and I got into the zone, miles were just being eaten away, then little voices in my head kept saying maybe you can get to BK in the day, no that's crazy, night had fallen and still the wheels were rolling, the roads were a lot quieter now apart from the trucks, which all seem to labour along.
The signs for BK appeared and the mileage seemed doable, so I just carried on, stopping for a rest here and there, filling the bike with the not so good Thai petrol, when I rode around Thailand earlier I notice my fuel range was about forty miles shy to when I was hitting reserve throughout the rest of my journey to date, I thought maybe the bike was just getting worn or I'd altered something, but no it's the lousy petrol here in Thailand, and that's the petrol not the plant fuel they are trying to make everyone use, I know because in Malaysia the bike was back to normal before hitting reserve!
Anyway after that ramble, BK was getting closer and closer, I thought I can do this, yes break the rule of not riding at night, but on the highways in Thailand it's much safer than India or Pakistan or so I convinced myself.
So fifteen hours after saying good bye to my friends in KL, I was entering the mind blowing road system in BK, not bad for a 16 year old classic BMW, I'm sure you guys with the ultimate sports bike would have knocked spots off the time, but for my old girl it was pretty good!
Bangkok, what a nightmare, the GPS kept trying to put me on the toll roads, where bikes aren't allowed, one way systems and multilane junctions, aahhhhh! Anyway after arriving at one in the morning in BK, I eventually found Jeab's home around three! And that's thanks to the roads being pretty empty.
I think the longest ride I've ever done in one day - 1465k (915 miles), To put in perspective, Lands End to John O Groats is 837 miles. But not the craziest!"
---
---
Chris and Erin Ratay, Ultimate Journey, now in southern Africa,
"Namibia - It was another HOT day, somewhere around 110F. It's times like these that we envy vehicles with air-conditioning! We arrived in the 'town' of Divundu around 4pm, and we were tired. It was another 14km to the campsite, which we knew was down a sandy road requiring 4x4 for access. With a full tank of gas and some hydration, we headed out. By the time we arrived at the remote camp ground, we were exhausted and sweaty. What awaited us, however, was paradise. Ngepi is the name of this paradise of a rest camp, and it means 'How are you?' in the Mbukushu language.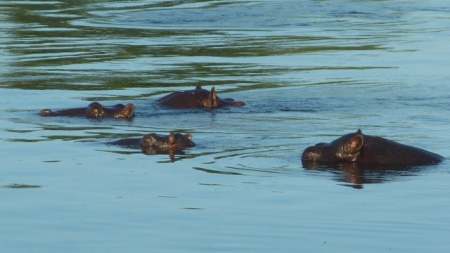 Our campsite was right along the Okavango River, with soft grass surrounded by large shaded trees, and about 100 yards from the pool and community hang out area. While we weren't sure how long we would stay, we managed 3 days of 'hanging out' barefoot, no internet access, and lots of hammock time reading (and snoozing!) while listening to the constant calls of the hippos in the river.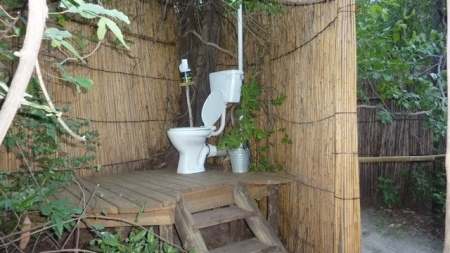 Zimbabwe has been printing money for years - when the $1,000 note was losing value, they printed then $10,000, then $100,000, then $1,000,0000, then... Well, you get the idea. We saw a real/official note valued at $10 Trillion Dollars! It was a strange way to fight inflation. What took us awhile to understand was that the number of zeros doesn't matter, each piece of paper was worth US$1!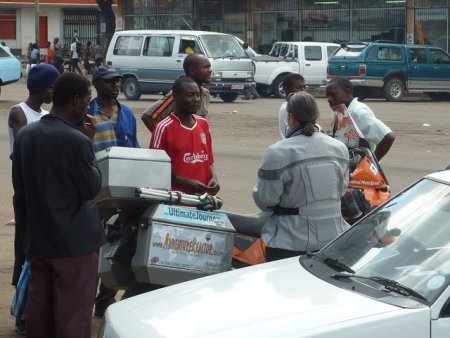 In March of 2009, the Zimbabwe currency was terminated, and the US dollar became the official currency. They have access to paper bills, but no coins. It's a bit odd, and when change is due back to you, you are given your choice of pieces of gum, lollypops, or chocolate as change. At gas stations, drivers request a specific dollar amount, and don't say 'fill it up' as we are used to. BTW, fuel costs $1.30/liter, or $4.95/gallon!"
---
---