Motorcycle Therapy, by Jeremy Kroeker
From the Canadian Rockies to the Panamanian Jungle, Motorcycle Therapy rumbles with comic adventure as two men, fleeing failed relationships, test the limits of their motorcycles and their friendship. Get it here!
---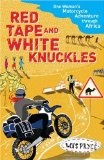 Lois' new adventures in Africa!
"Alone. No support vehicles, no fancy GPS and no satellite phone. Leaving from London, finishing in Cape Town - and the small matter of tackling the Sahara, war-torn Angola and the Congo Basin along the way - this feisty independent woman's grand trek through the Dark Continent of Africa is the definitive motorcycling adventure." Get it here!
---
Distant Suns, by Sam Manicom

"Sam Manicom's dynamic third book transports you to Southern Africa, South and Central America in an action-packed three year voyage of discovery... a thought-provoking mix of scrapes and encounters with people which illuminate some moments of true darkness... acute observations on everything from human behaviour, to remote and stunning locations. Distant Suns grabs you, enthrals you and spits you out as a convert to the dream of overlanding these amazing continents." Buy direct from Sam here!
---

Adventure Motorcycling Handbook, by Chris Scott
---

Into the Den of the Bear and the Lair of the Dragon on a Motorcycle. Werner, 66, was born in Germany and worked in Canada until his retirement. He has authored a number of books since getting bit by the motorcycle travel bug, including
-8 Around the Americas by Motorcycle,
-Into the Den of the Bear and the Lair of the Dragon on a Motorcycle, and
-Africa Against the Clock on a Motorcycle.
All his books are available directly from Werner. Tell him we sent you and get US$5.00 off the regular US$20 price!
For details on his books see here.
---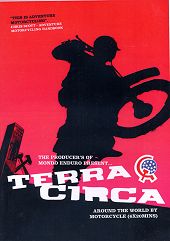 The Producers of Mondo Enduro present Terra Circa, Around the World by Motorcycle (6 x 20 minute episodes).
Regular readers of this newsletter will remember Terra Circa's adventures around the world, and especially the Zilov Gap. Now's your chance to see it in video. Austin Vince is a very funny guy and the video is hilarious, as he leads his intrepid crew through misadventure after misadventure.
"This is adventure motorcycling" says Chris Scott, who wrote the book, so he ought to know!
Contact Aimimage for the PAL video or all format DVD. Don't forget to tell them you heard about it on HU, we'll make a bit, and it won't cost you any more.
---
Looking for a travel book for someone special?
Go to our Books pages, where we have listed some of the best motorcycle travel books, as well as a number of BMW books, general motorcycle books, and travel guides.
There's links to Amazon USA, Amazon UK, Amazon Canada, and Amazon Deutschland, so no matter where you are - you can order books at great prices, and we'll make a dollar or a pound or a Euro, which goes a very little way to supporting this e-zine.
There's also links to search Amazon sites for all their products, books, CDs etc., and yes, we get a tiny piece of that too. We really appreciate it when you start your book search from our website. Thanks for the support!
NOTE: If you buy a book starting with one of our links below, we get a little bit to help support the website!
If you have a book or want a book that you think other travellers would be interested in please let me know and I'll put it on the site. Thanks, Grant
---
Help support your favourite website! Here's how!
Please be assured that we will NOT under any circumstances, rent, lease, sell, or give out our mailing list, and/or your name and e-mail address, to anyone for whatever purpose. Your privacy is assured, and personally guaranteed.
See our complete Privacy Policy here.
Grant Johnson, Editor
Please note that you are receiving this newsletter only because you requested it! We are 100% opt - in only.
To subscribe or UNsubscribe to this newsletter.
All comments and suggestions are carefully read, and where possible will be acted on. Your help will make this a useful service for all travellers.
Please use the Bulletin Board for questions and suggestions.
If you would like to advertise your product or service in this newsletter or on the website, please contact me. Ad rates are very reasonable. Details at this link.
---
ISSN 1703-1397 Horizons Unlimited Motorcycle Travellers' E-zine - Copyright 1999-2009, Horizons Unlimited and Grant and Susan Johnson. All rights reserved.
Redistribution - sending it on to friends is allowed, indeed encouraged, but other than the following requirements, only with permission. You may forward copies of the Horizons Unlimited Motorcycle Travellers' e-zine by forwarding it yourself by hand. You must forward the issue in its entirety, no fee may be involved. Please suggest they Subscribe!
Legal gibberish: (particularly for those in countries that have more lawyers in one town, just for instance, New York, not to name any names, than some whole countries, as another example, Japan. Again, not naming anybody specifically you understand) Recommendations are based on positive or negative experiences of somebody, somewhere. Your mileage (kilometrage if you insist) may vary. We are not responsible in any way for any product or service mentioned, and do not warrant any such mentioned product or service, and are not responsible for any bad things that may befall you. You are responsible for yourself! Act accordingly. We check all links and information given as close as possible to publication, and all info is correct as best we can determine at that time.
Motocare
Motorcycle Rental, hiring Honda's Transalp for touring Argentina and Chile. Ride across the Andes, from the Atlantic Ocean to the Pacific, lakes, deserts, salt pans, waterfalls, beaches, rain forests, glaciers...
Motorcycle Therapy, by Jeremy Kroeker
From the Canadian Rockies to the Panamanian Jungle, Motorcycle Therapy rumbles with comic adventure as two men, fleeing failed relationships, test the limits of their motorcycles and their friendship. Get it here!
---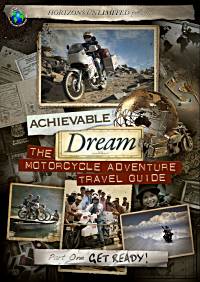 Get the Achievable Dream DVD's NOW and learn how YOU can hit the road!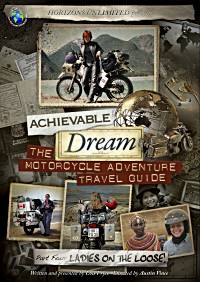 "...In between those two end points, the little Honda faced things a geriatric pizza bike should never have to be put through: sun washed and dust packed deserts, equatorial downpours, talcum fine sand, washboard corrugations, cracked up crazy paving concrete like broken ice on a puddle, rocks the shape and size of razor edged rugby balls, rubble roads to nowhere far more rubble than road, stream crossings deep enough to flood the engine, and fiery wastes hot enough to boil the oil. -5 degrees in England, to 55 degrees in Sudan, 600km autobahn days to 60km hub deep sand days, and everything in between. The CG has taken it all in its stride, succeeded and survived where many modern and expensive bikes have failed.
It deserves to be put in a museum after all it has been through.

Instead, we want to take her from Alaska to Argentina.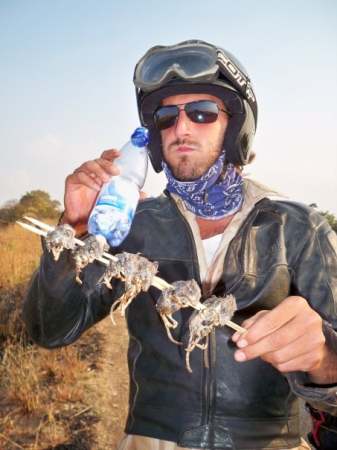 Time and time again on the road, we have met people, locals and foreigners, who have been amazed that a 27 year old commuter can 'do' Africa. More photos have been taken of us than Posh Spice; we have been celebrities everywhere we have been. We have arrived at places we had never heard of, and been greeted on first name terms by people who know us simply through gob smacked word of mouth. Without any initial intention to, we have inadvertently been a hugely positive advert for Honda, and the reliability of the marques. My forthcoming book, tentatively titled 'Bandits and Bad Roads,' can only reinforce this."
Albert Sollini, UK, North to South America, in Mexico,
"I left San Felipe and rode across Baja California to Ensenada on the Pacific coast across a good mountain road, with the temperature dropping to 9 degrees C. The road from Ensenada goes inland for a while before following the coast to El Rosario, where I stopped for the night and met Mark a fellow Englishman, riding a BMW GS 1200, on the same route as me. We decided to ride together to La Paz. The next day we rode to Bahia D'Los Angeles on the East coast of Baja and 66 KM of the main Ruta 1 we had been following. We stayed at a beach front hotel with an amazing colonial lobby area.
The following day we rode south through Guerrero Negro which is in the state of Baja California Sur, across a landscape of huge boulders and cacti, which rapidly changed to a lush green mountain landscape. The greenness was a result of a hurricane and flood that happened at the beginning of September. The other immediate effect of the hurricane was the road would suddenly be gravel from where the tarmac had been washed away. We stopped at San Ignacio, a small village with a tree lined square dominated by large church. Our accommodation was a yurt on a riverside B&B owned by a Canadian couple who showed us the devastation left by the floods with the water mark at 4 feet deep and a Yurt that had been uprooted complete with its concrete base."
Ed. See Albert's blog here on Horizons Unlimited!
Hubert Kriegel, France, Sidecar-ing the world, in Siberia,
"I left Irbit for Mongolia, I have 2500 miles of the Trans Siberian highway to ride before November 30 due to my visa.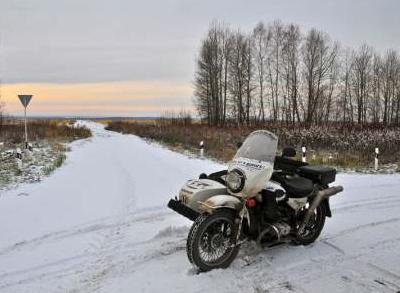 My thought always came back to the same thing 'Winter is good, I am riding Siberia!'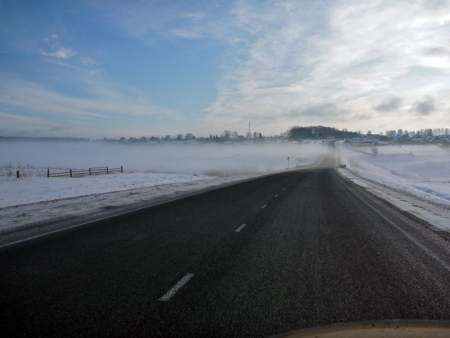 Mile 1150 - The locals have a sinister look but they were very nice.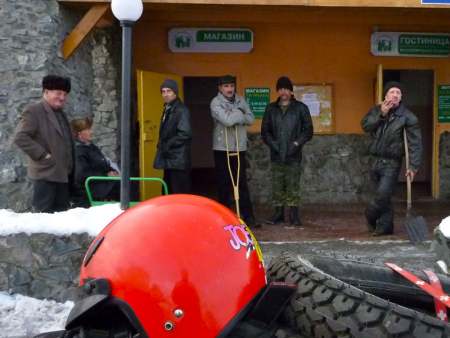 All the big cities in Siberia are rich. Kemerovo is a mine city.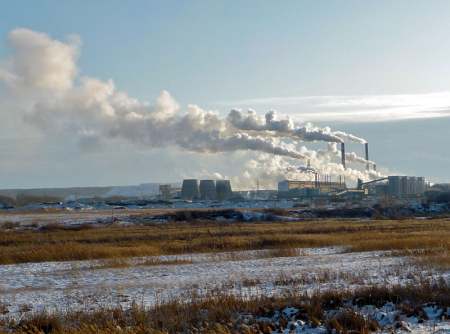 I am doing very well, I did 1875 miles. I had a hard time to get the momentum because the conditions were changing every day. I went from light snow to sludge to heavy snow and now the thermometer is at 0ºF. The road is very icy. Irkutsk at Lake Baikal is in 400 miles. I will stay there for a few days to investigate sidecar-ing the lake Baikal in February with Giorgio and his friends."
Jeff Smith, USA, writes to the HU San Cristobal community,
"Hi, I am currently in San Cristobal taking a Spanish class. I'll be here until the 28th. You can read about my travels here. Would enjoy meeting you for a drink some evening."
Archie Taylor, UK, to West Africa, in Segou, Mali and beyond, Honda Transalp,
"I hit Bobo just as a tropical storm exploded not being able to get a street map out in the rain I shot into the first hotel I saw. It was the most expensive 60 yes 60 Euros a night and they even gave me the shits next day after an expensive meal.
I was forced to stay a 2nd night as being away from the toilet was not possible. I then moved to a cheap backpacker hotel for a day, there being no other guests I headed for; wait for it Quagadougou pronounced wag a do gou what a name better than derby eh. Oh by the way what was Bobo like Ok I headed back there after Quaga.
People may wonder what west Africa is like. Well in the northern part it's savanna, mile after mile the same. A few days ago I took a pic of the road and surroundings the same after another 50 and so on for 300 miles. Looking at the pics later you would have thought they were a mile of each other.
You pass through small very very poor villages and every 100 miles or so a small town that looks like a rubbish tip. I must say the people are always very friendly.
On a bike you often feel and are on your own. Other bikers I've met all feel the same, we all dread punctures on tubed tyres."
---

---
"We arrived in Melbourne in August with high expectations and wanted to travel around the country before settling down somewhere. It was decided that Charmaine would ride her own bike here, so we bought her a second-hand Suzuki DR200. I fabricated a carrier and brackets for saddle bags, so she can carry some luggage when necessary. The DR is a small bike with a big heart. It will slow our pace down a bit, but not by that much, as the speed limit down here is slow anyway and we are passed the stage of racing through places.

We entered the country with new residents' visas that got issued after a two year application process (it is a long story). As new residents, we had to register for a few things first and get the local Driving License. We had three months to do this. The car driving license was a challenge, and I even failed my first test, Charmaine was the better driver and passed it first time (another long story). The motorcycle licence was fun and easy; we both did well and got it without problems. The problem with these registrations and licenses is that everything cost $$$. Then the GS arrived, and we were soon reminded and introduced to the cons of a First World Country, it's expensive! Because we intend to keep the GS for more than 12 months in the country, we had to import and registered it locally. This process sucked about $4,500 (US$4000) out of our travel budget, and was the final nail on the coffin for our Australian Travel plans. At this stage we regretted buying the DR for Charmaine, but the deed was done and she likes her new mode of transport. The good thing about our visa is that we can work and stay anywhere in the country, so we started to look for work. It proved to be tougher than what we expected.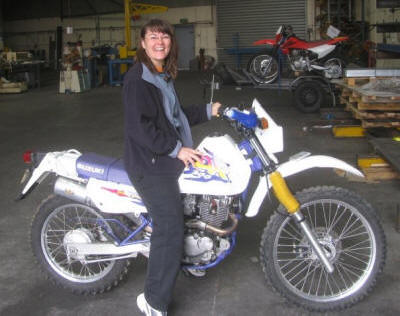 We have done some travelling in Victoria to job interviews, but not the exciting kind of travelling that you would want to read about. Victorian scenery is lovely and there is plenty of nice motorcycle riding roads. People are friendly and helpful. We saw some amazing animals in the wild; some species I never knew existed, like the Wombat and the Echidna. The Echidna is one of only two known mammals that lay eggs, and the Wombat is the type of creature you just want to hug, it is so cute. Yes, and of course we saw some kangaroos, grazing next to the road. Many of the birds down here are colourful and the variety in bird species is great.

After one month of seriously searching for various kinds of jobs a good offer came our way and we have made up our minds, we are going to Perth! It could not have come on a better time, as we are almost completely out of money and will scrape some cents together to ride the 4000kms across the country to Perth. The nice thing about this ride will be the fact that there is a job and an income waiting for us that side, something to look forward to. This way we also get to see the southern part of the country, and Charmaine gets to ride her DR200 across the country.
So jc4ever will be on the road again soon, for the last leg of our RTW ride and we'll keep you informed."
---
"I would love to live in a city like Rio. There are fresh fruit stalls on every corner. Great beaches, warm weather, bicycle paths, greenery everywhere and friendly people. All London has is the bicycle paths. Guastuav a friend of Bernados wrote out a list of things for me to see and eat on my last day. It was like following a treasure hunt with gems of food and drink. Plus the obese are listed up there with pregnant and old people for seats on buses and on the metro carriages are reserved for women during rush hour.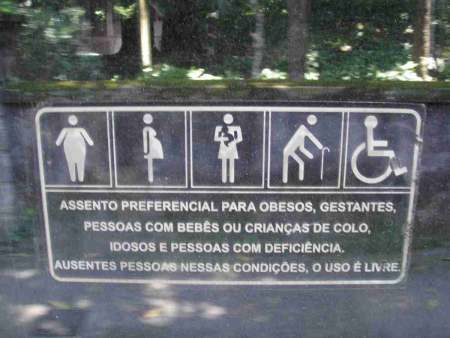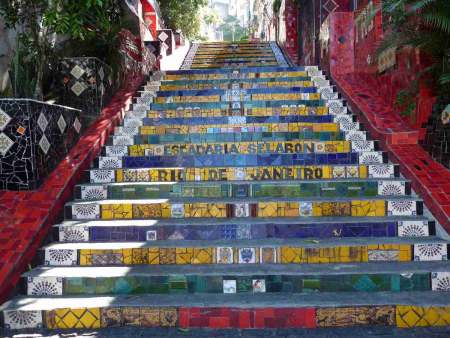 I had heard that there was good diving just north of Rio so I took a bus and headed up to Cabo Frio. Cabo Frio has one of the whitest sand beaches I have seen, cold water and warm people. Thanks to Vitor and his family for letting me stay.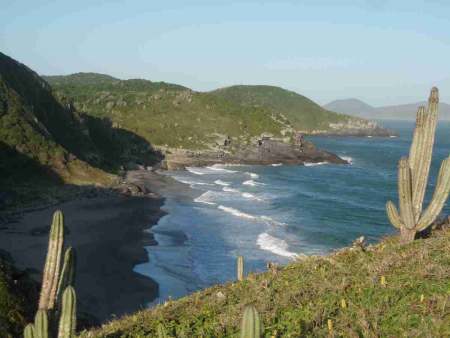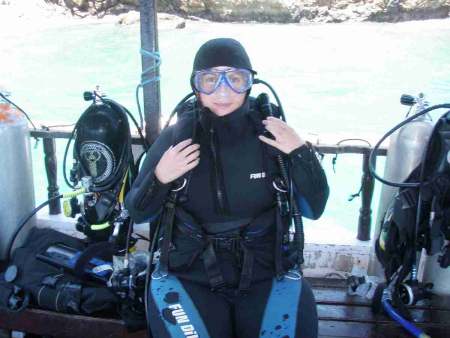 Peixe is the Portuguese name for fish of which there is many in Arraial do Cabo due to a food stream that comes on the cold current. Usually the water is crystal clear but they have had a lot of wind so I wasn't so lucky but I still saw lots of fish and for the second dive asked that we stay at 3 meters so I could use my camera."
Ken and Carol Duval, Australia, on their second RTW, took a spill in Argentina,
"We are in Rosario de la Frontera north of Tucuman in Argentina. We had a front wheel flat that sent us cart wheeling down the road. Not a pretty sight. Fortunately we have nothing broken but are very sore and sorry. Our BMW bike clothing took the impact and (looks very second hand now), we only have a couple of fabric burns on the elbows and Ken a small gravel rash on his wrist. Looks like we won't be riding for a little while. Not sure how the bike is. Ken has gone to the police station to see the bike with a local man who was behind us when it happened and has been just wonderful. The hospital has said we have nothing broken and this local man and his family have taken us in until we are mobile.
We will also have to source some replacement gear, clothing, pannier etc. Must check the camera, I had it over my shoulder and it skidded down the road as well! Hugs and kisses to you and Grant from the sore and sorry Aussies. Carol and Ken"
---

---
David Radford, Canada, in the Alps, BMW R1200 GS Adventure,
"In the mountains you can really see the freeze line when it's raining/snowing. And when it's getting colder, the same area gets whiter in the few minutes it takes to take a corner and pass by. So, with the freeze line rushing down quite quickly, it wasn't very surprising when my pass of choice ended up being closed by the time I got there. So, with passes closed and highway option less than appealing what is one to do? Take the train of course!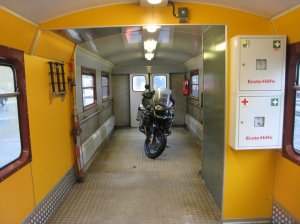 With all the wonderful views in The Alps why would I take this picture and post it? Movie buffs should know.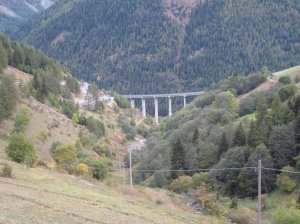 This is the bridge from the opening scene of the original Italian Job. As far as I'm concerned a fantastic movie and the best opening sequence ever filmed.
The road itself leads to the Great St. Bernard Pass and one heck of a great stretch of tarmac. Going up from the Italian side is fairly straight forward with a few switchbacks, but mostly just tight, fast corners. When you hit the pass you ride along a lake, through a hospice founded in 1049, and then into the fun part. Going down into Switzerland the road never gives you a moment's rest - corners almost magically change direction and angle midway through, straight bits turn out to have curves hidden in the dips, and oncoming traffic seems to be laying in wait around every blind corner. Despite this, it's almost impossible not to speed a bit (sorry mom & dad)- it all works together to draw you in and push you to try and carry just a little bit more speed, brake just a little later, and accelerate just a little earlier as you pass through each corner. It's a short run, but a poster child for 'good things come in small packages'."
Dave Petersen, USA, RTW, in Cambodia, BMW F650,
"The bike and I are in Cambodia now finalizing paperwork for our ride into Vietnam. During the past year we have ridden through Thailand, Burma, Laos, and Cambodia."
"Leaving Georgia is as easy as coming in. On the Turkish side the situation is rather different. Darius, as the driver, has to ride through the check post; Jane has to join the queue for passengers. With hundreds of Georgians crossing the border, Jane has to be patient...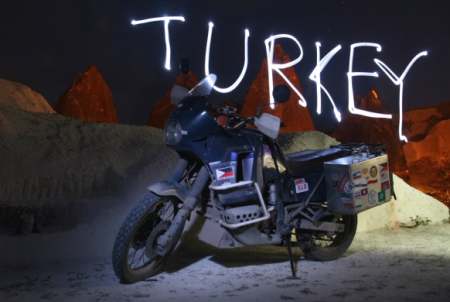 Big Georgian Mamas are pushing severely and even more patience has to be applied as the Immigration officer hasn't got a clue about Jane's Passport and the Turkish visa. Same confusion awaits me when I'm finally arriving at the Immigration desk for drivers. Luckily, I'm shown where the back door is... That's the place you want to slide the passport in one of the officers hands (I pretended that I didn't know the drill and didn't fold in some Euros...) and get it back within minutes.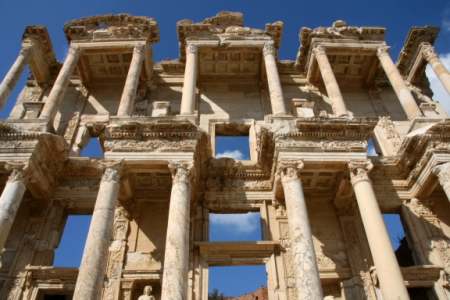 Few more checking of our passports and some questions about our green card insurance followed by some more checking of our passports before we're finally free to go."
Ed. Not many words but lots of pics on Darius and Jane's trip in their blog here on Horizons Unlimited.
MedjetAssist is an
air medical evacuation
and consultation membership program and is HIGHLY recommended by us and many others for all travellers. The regular MedjetAssist program is for citizens or residents of the US, Mexico and Canada, and gives hospital of choice protection virtually anywhere in the world and air evacuation as needed. (See below for more on the Foreign National Plan) Click the logo below for US, Mexico and Canada citizens to find out more. (NOTE: It's still in progress for the final HU version,
but you can get MedjetAssist now
!)

For OTHER nationalities it is currently a little more complicated. There IS a Foreign National Plan, but you can't enroll online. It's a faxable enrolment and subject to underwriting approval. The rates are the same, but transport is restricted to 'back to home country - hospital of choice' rather than 'anywhere in the world - hospital of choice'. We are working on improving that, but at least it IS available! Go here to contact MedjetAssist and inquire about the Foreign National Plan. Be sure to mention Horizons Unlimited.
Michael Paull adds his endorsement of MedJet (and he DID use their services - twice!):
"...After an additional three days in Beijing, I was deemed stable enough for air evacuation back to the University of Washington Medical Center in Seattle, WA, in the company of my wife Aillene (who had flown in from Japan), and an air transport trauma nurse provided by the company that I had procured medical evacuation insurance from, MEDJET Assistance - without doubt, the best insurance coverage I have ever purchased in my life. A small plug here - these people were remarkable... If there was ever a better case for '...don't leave home without it.', MEDJET Assistance is at the top of my checklist, no matter where I travel (and I hope to do a LOT more)."
Note: Per the Medjet Assistance site: "...a medical transport between Europe and America can run more than $35,000. Middle East and South American flights range from $60,000 to $80,000. Transport from Asia often exceeds $100,000." Sounds like $205.00 for a single is pretty cheap insurance!
Gert and Liesbeth Stevens of Antwerp, Belgium, writes to the HU Tabriz Community,
"We're a Belgian couple, Gert en Liesbeth. We are riding a Suzuki v-strom from Belgium to Nepal. We're now in Van but in about 10 days we'll be in Tabriz. We are really looking forward to visiting Iran. We do have some questions about where to go. What should we visit in Tabriz and around? What is a good way to go to the east of Iran, if we don't want to go to Teheran? Are there interesting sights in the south and west of Iran? Thank you for your help! If you like, maybe we can meet for tea? Hope to hear from you, Gert and Liesbeth"
Frank Butler, Papua New Guinea, RTW, in Colombia,
"I am in Cartagena, an old historic Spanish style town in Colombia in the north of South America, on the Caribbean coast. The reason I mention this is because it is about ten degrees north of the equator and as such it has a whole lot of weather. At the moment it is raining as it only can in the tropics I was out on the bike in town and got caught coming back, even the insides of my ears were wet. Soon the rain will stop and the humidity will go up to about ninety percent, which is only a few degrees less than you would find in a sauna.
I am making plans to meet the Dakar Rally in northern Chile in the New Year and will probably do some diving work here as I need a lot of pounds to do an engine rebuild on the bike."
Ken Thomas, UK to Cape Town, in Turkey, Yamaha TTR,
"We are now in Dalyan on the south coast, camped right opposite the Lycian 'Tombs of the Kings' rock carvings of Kaunos.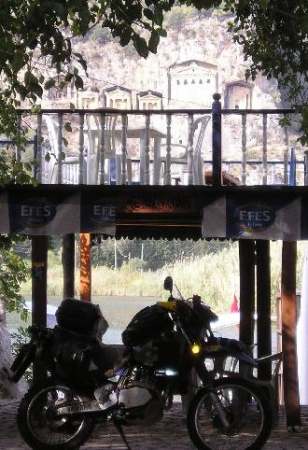 It's a bit of a tourist trap, where we rest awhile. For a week, for family visits. At least, amongst the end-to-end tourist restaurants with their incessant touts, we have found an excellent Turkish pide house in a corner of the main square. And Café Betus (Betty's Café), a house next to the campsite where Betty serves some excellent Turkish dinners in her front garden.
As well as the Lycian ruins, Dalyan is known for nearby Iztuzu beach. Famously and strictly protected as a breeding place for Loggerhead Turtles. There's a spectacular dirt road up to a spectacular view of the whole area at the top of Bozburun Hill."
by Sam Manicom


Sam Manicom's dynamic third book transports you to Southern Africa, South and Central America in an action-packed three year voyage of discovery... a thought-provoking mix of scrapes and encounters with people which illuminate some moments of true darkness... acute observations on everything from human behaviour, to remote and stunning locations. Distant Suns grabs you, enthrals you and spits you out as a convert to the dream of overlanding these amazing continents.'

Reviews

"It's been a pleasure to read as it makes me feel as if I'm there seeing the people and landscape that Sam describes. He has a gift for painting pictures with words, which is rare amongst long-distance riders… In summary, a damn good read, not to be missed." Dave - BMW Club Journal

"…as the book progressed and the story unravelled, it developed into a truly involving and enthralling read. Distant Suns doesn't just document the journey, Sam also describes cultural differences, traditions and lifestyles of the various countries they cross, whilst painting a vivid picture of the terrain they cross… A really great read that'll doubtless give you itchy feet…" TBM - Trail Bike Magazine

"Distant Suns' is based on what Sam acknowledges are Birgit's wonderfully descriptive diaries. The result is a strangely powerful combination of Sam's already masterful writing with the added perspectives of a travelling companion who is both in-tune and adding a different melody line to the rhythm of their journey together." Nich Brown - The Road Magazine

Signed copies available directly from the Author here.
Order your copy now!
"What a week. Back in Ankara, after seeing the good doctor off (sniff) and suffering my first (partial) data loss due to a crashed Internet cafe PC. But let's try to put things in order.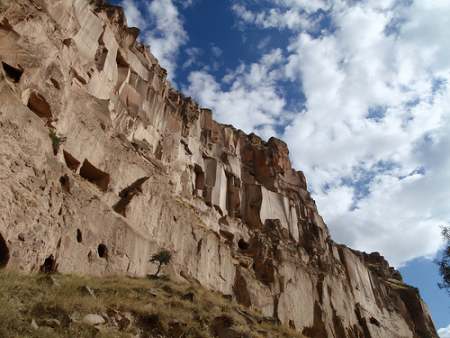 This week was meant to be spent with Ping-Yi doing some classic tourism in Cappadocia and not moving about too much as she's not stocked up on protective equipment for the bike through the years like I have, and we didn't want to take any chances.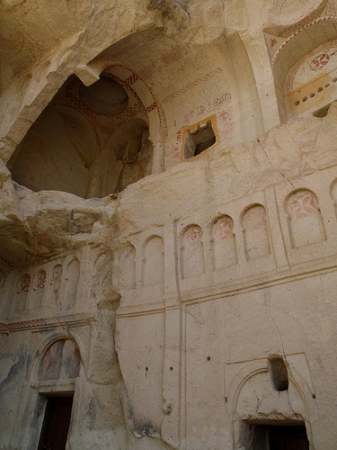 So we spent five days in Goreme, the center of Cappadocia's tourist attractions (the ill-translated 'fairy chimneys') doing some sightseeing."
Ed. See Alexandros' blog here on Horizons Unlimited!
David Allen, UK, RTW, writes to the HU Bogota Community,
"Hi. I am on a round the world trip and currently in San Cristobal, Mexico. Tomorrow I depart for Guatemala and then ride south. I intend to fly the bike from Panama to Bogota. Could you please advise me about hotels where I can safely park and work on my bike and also the best route south to Quito. Thanks for your time and help.
Regards David"
Frank Butler writes to the HU Quito Community on behalf of Julie Rabbits,
"Hi Guys, it's Frank Butler here, a couple I met on the boat from Panama to Colombia are broken down in Peru and have asked if I can get a bearing here and bring it to them they have a BMW 1150 GS, the drive shaft crown bearing has collapsed... where will I find a new one... see below Best regards... Frank"
Original correspondence below...
"Julie, Sorry to hear of your plight, I will do anything that needs to be done to help. I am still in Quito, so send the bearing number and dimensions and I will find it for you. There is a good bunch of Biker boys here in Quito, I am sure they will help. When I get it, I will run it straight down to you. Enjoy the down time, as a friend of mine says... the Interruptions are the journey. Regards to the ol'man. Suerte... Frank"
From: Julie Rabbits To: Frank Sent: November 21, 2009
"We are stuck at present, on a bus to Lima tomorrow night after 8 days here in Trujillo with Customs not letting our rear crown bearing spare from the US enter the country. Reason being they don't have us registered in the Peru national database as they have not entered us yet from the border... Long story short... Fedex is useless... lying, and no good at all with helping us so we have taken matters in our own hands and hope to have it fixed Monday if we are lucky... we don't have much hope but we'll see. The bad roads in Ecuador have killed the bearing unfortunately - totally - so we are stranded at this stage.
Are you anywhere near or heading near this way over the next few weeks... The only thing we can think is if we give you part numbers maybe there is a bearing and seal in Quito. Anyway - just a thought - hopefully we will get things sorted but there are no bearings in Peru of the type we need - we have had 3 people looking with no luck."
Overland to India

by Gordon May

Paperback, 21x14.8 cm 234 pages incl 8 pages of colour photographs. £9.95.

Synopsis:

In 2008, Gordon May set off on an 8,400 mile ride from Manchester, UK, to Chennai, India, on his 1953 Royal Enfield. Despite encountering intense heat, suffering a crash in the Baluchistan desert and battling against some of the worst roads and driving standards on the planet, Gordon and his old Bullet did make it to Chennai.

In Overland to India Gordon describes how he restored his beloved motorcycle, the build up to departure, the larger-than-life characters he met and how he tackled the many challenges that came his way. He also recounts the more personal highs and lows of life on the road. Above all, Overland To India is a heart-warming book that reveals that there is much human kindness and hospitality to be found, sometimes in the most unexpected places and situations.

Review:

What I really liked about Overland to India was the sheer determination of the rider. Gordon's love of his motorcycle shone through too; he often thanks it for getting him to his various destinations along the grueling route and I liked reading about his running repairs. I felt his joy, his euphoria, at being out on the open road. I also felt his exhaustion. When Gordon suffered a crash I could almost feel those bruises and also his fear following an attempted highway robbery. What was also really striking was the generosity, friendliness and humility of many of the people he met along the way, who Gordon describes with real warmth. It's uplifting to discover that it's a welcoming world out there. Overland to India is a lesson to all of us who have a dream and want to pursue it. Inspiring. Judith Coyle
"I am Andy from Germany and travelling on my Kawasaki KLR650 around OZ at the moment. I am pretty much open-minded and keen on getting to know 'locals' especially since I made some good experiences when I travelled in India, Nepal and Tibet 3 years ago.
Currently I am spending some time in Brisbane waiting for my doctor to see me because I fell off my bike and hit myself near Mt. Isa. I would enjoy to swap some bike travel tales with you in the meantime and it would be really great if you might have a couch for me to stay at night, since I had to leave my tent and all my luggage with my bike near Mt. Isa. I am looking forward to hear from you and hope you have a good time."
Peter Ridley, Manchester, UK, writes to the HU Singapore Community,
"Hi, the wife and I are on a RTW tour on our XT600s. We will be in Singapore in about 10 days, we will be looking for a biker friendly hostel and we will need some workshop facilities as I need to service both bikes, I have my own tools and spares we just need somewhere that will let me work on the bikes, you can check us out. Any information gratefully accepted. Thanks in advance, Pete n Brucella"
Tomas Harrison, Santiago, Chile, writes to the HU Rome Community,
"Hello, I am from Chile and I am making a world trip in a Kawasaki KLR 650. I rode all the way from SAntiago de Chile to USA and then i ship the bike to Germany and now I am in Fiorenze, Italy. I started the trip the last december 6, so is a year on the road and 52.000 kms from Chile to here. I am planning to go to Rome in a couple of days, and my question is if somebody can tell me something about a good and cheap place to sleep. And would be great if i can met somebody from the community.
Cheers and see you on the road Thanks!"
"...are in Hayward, California, looking for a place to do some work on the bike, also a referral for a campground around San Francisco. Now we are 1.5 years on the road and we want to go to Mexico soon. Thank you for your help. Axel and Katharina"
Book special just for Horizons Unlimited Readers!
"Into the den of the Bear and the Lair of the Dragon on a Motorcycle"
"8 Around the Americas on a Motorcycle"
"Africa Against the Clock on a Motorcycle"
"From Nordkapp to Cape York on a Motorcycle"
Werner Bausenhart has written several books on his travels around the world, and has offered them to HU readers at a great price. Tell him we sent you and get US$5.00 off the regular US$20 price!
For details on his books see here. Contact Werner now via this link to get the deal.
Torben Pijpers, The Netherlands, California to Patagonia, KLR 650,
"Brice, a Canadian friend that I also studied with in Korea, came over for a weekend in LA! So together we did a lot of typical tourist stuff, like visiting Santa Monica beach, checking out the nightlife and going to a baseball game. In LA, just about every person owns a car. Also, everyone goes everywhere by car, even for the shortest distances. We however, were driving around 2-up on my KLR 650. Brice is pretty big guy, so to be somewhat stable on the road Brice had to really move to the center of the bike. This was of course very awkward for both of us, and resulted in many funny looks from just about everyone else on the road. Especially during traffic light stops where we just avoided eye contact with people.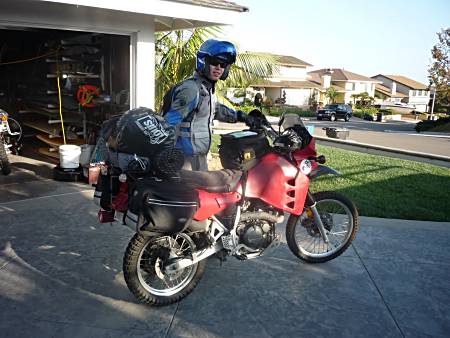 ... I did find out on that campground in the Valley that there are a lot of bears in the park (Yosemite). I didn't know about it before. I also saw a sign that said something like 'This year 200.000 USD in damage from 100 bear attacks.' (I forgot the exact numbers, but both were quite high).
I found out here that there are metal lockers everywhere in the camp in which everyone puts their food and other bear-attracting items (like deodorant, toothpaste, all of these can attract bears). The lockers are just a few meters from everyone's tent though, so I didn't really get why that would help. They could still smell it and after being frustrated about not being able to get to the food, they'd be right next to everyone's tent. Maybe bears don't eat people?"
"On October 31st, 2009, I leave Peacedale, RI, and will ride my motorcycle across the USA, through Mexico, Central America and South America. I plan on traveling approximately 6 months through two continents and 17 countries for the adventure motorcycle ride of a lifetime. My ride is a fundraiser for breast and ovarian cancer cures and is dedicated to all those who have been affected by these dreadful diseases.
I was honored and very privileged to be one of this summer's fundraisers in the 'Dirty Dozen' group, the 'Adventure for the Cure'. It was a great opportunity for me to take action and help the Women's Motorcyclist Foundation raise money for the Gynecologic Cancer Foundation and the Dr. Susan Love Research Foundation.
As I was planning this current trip, I decided 'why not' make my South American journey trip a fundraising adventure as well. Certainly I am going to generate some press being a female rider, and I hope to bring valuable attention and fundraising monies to these worthy causes. Twisted Throttle (providers of high quality motorcycle adventure touring accessories) is sponsoring me with a motorcycle, and I am paying all my own travel expenses on this journey. Please know that when you donate to this cause, every single dollar goes straight to the folks that are researching cures."
Trale Bardell, USA, Ride to Aconcagua, DR650,
"This is the first entry for a tale which will hopefully reach from just outside Chicago, Illinois, to Mendoza, Argentina, and Aconcagua. I plan to take the most direct route through Mexico, Central America, and down the west coast of South America in order to get to Mendoza. I'll be keeping notes here regarding border crossings, experiences in countries along the way, and how conditions are for this type of transit. My hope is to get across into South America by the end of November, with the goal of reaching Mendoza before the beginning of the high season for park entry to Aconcagua.
At the moment I am at the US/Mexico border, staying in Edinburg, Tx. This proves to be a pretty reasonable town, with all the stores and supplies that you could need. I am waiting for sprockets for the 95 DR650 that is to be my method of transport through central and south america. The shop that I found, F&T valley motorsports, was able to overnight the parts, so I was happy about that.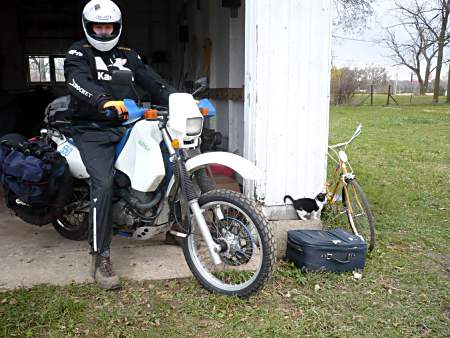 The forward plan is to get the sprockets and get across the border tomorrow, and make some distance before night fall. I've been told to be careful of shady people on the roads in Mexico, and Central America in general, and not to try to run after dark. I am interested to see just what the real situation is."
Bill Atchison, Alberta, is leaving for Mexico,
"My wife Janine and I rode our motorcycle from Red Deer, Alberta to the Panama Canal and back last winter (2008-2009). We spent six months weaving our way through Mexico, Guatemala, El Salvador, Honduras, Nicaragua, Costa Rica, Panama and Belize. It was simply fabulous. Last year we turned around at Panama City.
This winter, we planned on shipping the motorcycle by plane to Colombia and carrying on south, exploring South America. One of the requirements to ship the motorcycle by air to Colombia was to crate it. I was just beginning to work on a crate when, on September 1st, poor Janine cut her Achilles tendon helping me move the bike off of the crate platform.
Janine has not yet recovered from her Achilles tendon injury and it may be weeks or even a couple of months until she is comfortable enough to travel so... Last Friday, after six months of intensive planning, we decided to postpone our trip to South America until next year. Very disappointing, as I know you can relate to.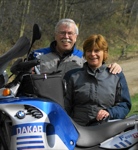 However, the next day I lucked into a ride for my bike down to Nevada and will be flying down today to begin a ride into Mexico tomorrow. No plans other than starting with the Copper Canyon then touring around Mexico for a couple of months until Janine is able to travel. Hopefully she will then fly down to meet me somewhere."
Peter and Kay Forwood, Australia, around the world since 1996, 193 countries two-up on Harley Davidson, in Australia for the northern winter,
"Our old motorcycle gave us an array of problems as old motorcycles and even older people often will. The engine, after 540,000 km's, and after having visited every country in the world, carrying two people and a house load of luggage, I guess was just a bit tired, and the main engine bearing collapsed. It was kind enough to give us a couple of thousand kilometres of noisy warning during which time we ascertained it would take considerable time to repair, if indeed it was economically repairable. Luckily we found a near new replacement engine, and for the first time in the motorcycle's 15 years the engine was removed from its frame. Our old engine is now at the Thames Valley Harley dealer in London awaiting assessment as to whether it can be repaired or not. Harley-Davidson and Harley Owners Group have indicated a willingness to assist with these repairs. Meanwhile we have been travelling with the new engine the last couple of months, and it has now covered 13,000 km's.
On the 12th of October we became Grandparents. John our son and his wife Petria produced us a lovely grandson, a couple of weeks earlier than expected, but we are on our way home to Brisbane, Australia, on the 26th of October so won't have to wait too long to see him in the flesh, and with modern technology we have already received a few lovely photos over the internet.
Following Christmas in Brisbane we will be back in Europe next year, collecting our motorcycle from Thames Valley Harley in London, hopefully with our original, rebuilt engine installed, from where we will head south to Spain and Morocco for the worst of the northern winter. We plan at least another summer in the region, Eastern Europe, Scandinavia, and perhaps Central Asia and Russia. Perhaps we are still being a bit lazy after all the shipping in the Pacific, or all the bad roads and visa hassles of Africa, but we are still enjoying the easy riding of this region of the world. In the country areas, the mountains, and away from the congested cities there are still plenty of roads to explore, so there is currently no time to finish writing the book, and anyway, there are plenty of other motorcycle travelers books out there, probably much better written, for people to read.
As always we love hearing from you, perhaps meet up along the road, or ride together for a while, so if you have the time please drop us an email and let us know what is happening in your lives. Thanks, Peter and Kay"
Ed. Peter and Kay will be on the road again on 30 December 2009. Horizons Unlimited is proud to host Peter and Kay's complete RTW story and pictures here! Although they haven't finished their book yet, Peter and Kay have shared their stories with us on the new Achievable Dream DVD series. Considering how long they've been 'On the Road', we think they have a wealth of advice and tips to contribute, especially to the Part 3 DVD, scheduled for release next month.
Alastair Todd, Round the World, home again (temporarily),
"That's it, done it, finished, all over. 19,000 miles around the world by motorcycle in 147 days. OK, it's probably actually 146 if you account for the whole international date line thing, but technically I started a day early too, so 147 it is. Feels good to have accomplished a complete circumnavigation after all the effort that went into it, but I wish I was still going. There is something indescribably wonderful about stopping for a rest on a dirt road in the mountains, hundreds of miles from civilisation, with no-one else there, gazing around at a jaw-dropping view, knowing that you've come half way round the world and still have half to go, wondering where'll you be that night, who you're going to meet next, what drama is going to be thrown at you, and being at once as serene as a Buddhist monk yet as excited as a child. It has been a life-changing experience, in so many different ways.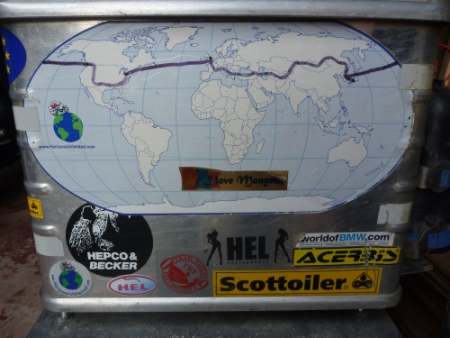 ... A thousand thank you's go to the many incredible people who have helped me along the way. If any of you ever happen to be in this neck of the woods, be sure to look me up. There'll be a beer waiting for you! So, I hope to do something bigger and better, the sooner the better, but realistically in a couple of years."
---
Thanks! Grant and Susan
---
Hame and Emma, last seen in Scotland with a second baby due any minute!
"We are all well here in Scotland, still really enjoying being home. It seems unbelievable that we've been back over a year... Hamish is working hard but still managing to get as much dirt bike riding in as he can (not enough, I'm sure) Sam is growing well and changing every day. He's now 10 and a bit months old, crawling and trying to climb on everything, babbling away and showing a somewhat stubborn and determined side when he wants something (hmmm, with parents like us, no surprises where he got that from!). He's loads of fun and it's wonderful watching him growing and changing. I'm well, busy being a mum and getting rounder again... for those of you who don't know, Hamish and I are expecting another baby in February - all very exciting!
We finally bought a house so we're about to move - for the past year we've been renting a place. It's in a small fishing village 25 miles south of Aberdeen with a shop, a school, a chippy, and most importantly, a pub within staggering distance of the house. We're over the moon with the house, it's just what we were looking for. It also has a big garage which I guess was the main selling point for Hame! It's on the edge of the village right next to the sea, but unlike 'Rancho Relaxo' in Malaysia there are no palm trees and the water's ever so slightly colder...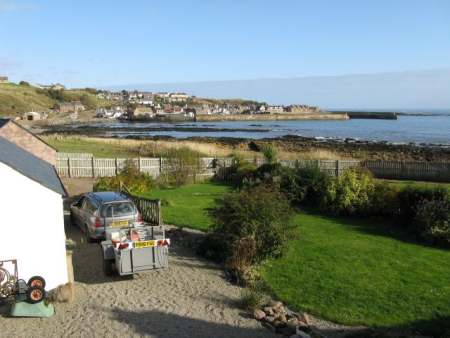 The attached pictures are of us on a recent holiday to NW Scotland in the camper and one of the view from our new house. As always, visitors welcome! Love to everyone and hope to see you soon - Em, Hame, Sam and Bump XXXX"
---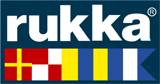 ---
New Communities:
We've now reached an amazing 621 Communities in 103 Countries as of November 11, 2009!
A big thanks to all those who took the first step and established the Community in their area. New Communities are too many to list!
If you are on the road, do check out the Communities - don't feel like you're imposing on people! They signed up for a Community because they want to meet travellers - that's you! You'll have a great time, so go to the Communities page and let them know you're coming. Please remember that they are volunteers and offering to help because they're great people - common courtesy helps! When you write, tell them who you are, that you're passing through, and would like to meet them. Let them know if you need anything, and I'm sure they'll help as best they can.
For details on how you can join a Community in your area, or use the Communities to get information and help, or just meet people on the road or at home, go to the Community page. Send me some photos - with captions please - and a little text and you can have a web page about your Community! A few links to web pages about your area would be useful too.
Just a reminder to all, when you Join a Community in your area, send a note to the Community introducing yourself and suggesting a meeting, or go for a ride or something. It's a good way of meeting like-minded individuals in your own town.
---
Become a Horizons Unlimited Contributing Member or Gold Member!
To help with the cost of creating and distributing the newsletter and running a huge website, which has been a full time job for Grant for ten years, Susan as much as she can, plus a couple of part time assistants, we gratefully accept contributions via PayPal, credit card, and cheque. Members also get additional privileges on the HUBB, such as more PM's, custom avatars, and more photo space.

Support this Newsletter by becoming a Contributing Member today, by PayPal, credit card, or cheque.
Become an HU Contributing Member!
If you want a t-shirt or other logoed merchandise, go to the Store.
All contributions will be acknowledged and gratefully accepted. If you later decide you do want a t-shirt or other member logoed merchandise from the store, let us know and we will arrange access to the Members Private Store.
More ways to support your favourite website!
How to Link to Horizons Unlimited
Also, you can just click on any Amazon link on the site and we'll get a small commission on your purchase of any Amazon merchandise - and it won't cost you any more!
Thanks, Grant and Susan