Peter and Kay Forwood, Australia, around the world since 1996, two-up on Harley Davidson, in Tonga and New Zealand,
"With little sleep overnight we had a slow afternoon walking around the capital of Nuku'alofa, a small city of about 20,000 people, less modern than Samoa, poorer and with older vehicles, but with pleasant local produce and craft markets.
Toni's is a cheap, comfortable accommodation place located in the suburbs but with regular shuttle minibuses to town, and is a convenient place for us to wait for the motorcycle, with other travellers passing through.
We joined an enlightening and humorous island tour with five others, visiting royal tombs dating back to the 13th century, the landing spot of Captain Cook, beaches, blowholes, and the trilithon, a Pacific version of England's Stonehenge, although much smaller in complexity. An interesting day encompassing what the small island offers in one tour.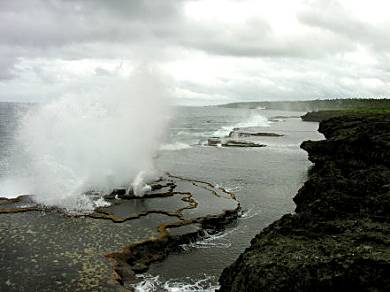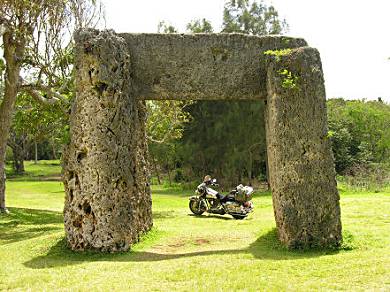 The evening was spent with a similar number of people over Toni's kava bowl, lasting well into the night with the relaxed conversation that drug provides.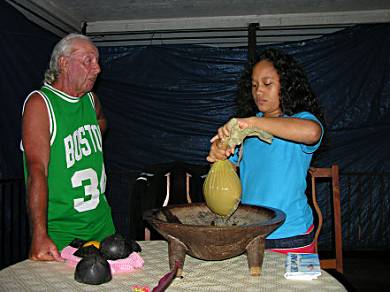 It is always great to see the expected boat at the wharf and just two hours later, after the smoothest of unloadings and unpackings, we were riding the motorcycle in Tonga the 192nd and second last country in the world, just leaving New Zealand to have ridden it in every country. The wharf, port and customs staff all assisted with the smooth unloading. It looks like we will have three days to ride about the small island before onshipping to New Zealand.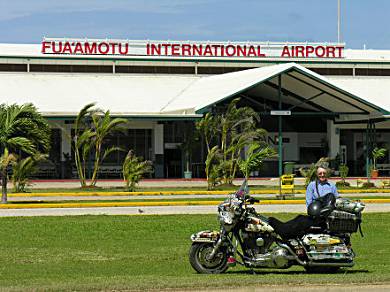 We met many people wanting to drop out in the islands, a lovely quiet lifestyle, but western born, I am not old enough yet, and hope never to be that old. Having been to New Zealand before we have found it to be a low population western society, something we usually enjoy in our travels, and look forward to some great rides.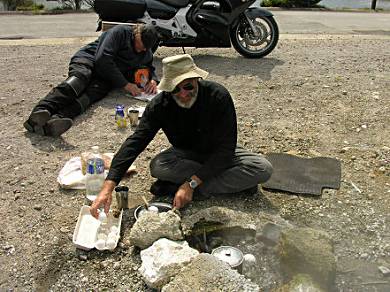 ...New Zealand is supposed to be in a recession and the share markets around the world are crashing and banks collapsing but there is little sign of it as we walk the tidy streets of Rotorua. Steam gushes from parks in town, from gutter vents and mud pools bubble and boil. We found a small boiling pool, in a Maori part of town, and boiled a dozen eggs and made billy tea for lunch, soaked our feet in a hot foot pool, them ending up looking like lobsters, in another park of large hot lakes and streams."
---

---
Hamish Oag and Emma Myatt, UK, Asia, Australia and the Americas, in Mexico, BMW R1100 GS,
"As soon as we crossed the border, we noticed that Mexico seemed to be obsessed with sleeping policemen (or 'dead policemen', as my brother used to call them when he was little). They were everywhere. Every few hundred metres, there were these 'topes' as they are called in Mexico. Sometimes they were official ones, painted with warning stripes and with a handy sign announcing them; other times they had been homemade by the villagers and disguised as a bit of normal road, so the first thing we'd know about them was hitting them.
(Don't tell Dave but we sent him first, so we'd see him fly up in the air as he hit them unawares).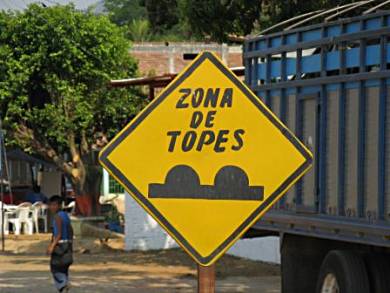 While in Nicaragua, we'd made the exciting discovery that we were carrying a third passenger! We were both very happy about this and it was perfect timing as by the time we got home I'd be about 14 weeks pregnant - over the nasty tired stage and into the full of energy stage. Or so the books say! Actually I'd been very lucky and not had any sickness, which would have been a complete nightmare on the bike. Because of this, Hame and I decided to take it a bit more easily than we had been, avoiding the dirt roads and extra vibrations. We also planned shorter days and splashed out a dollar or two more for a room, ensuring I could get a good night's sleep.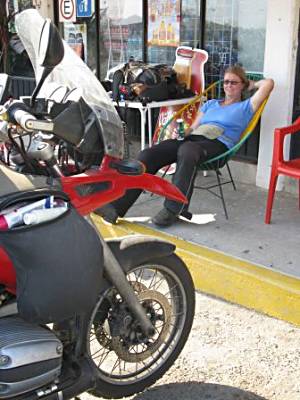 I thought I felt a vibration from the bike's back end as we rode into San Augustinillo, but as it had been a long day's ride and the fact the roads weren't the best, I ignored my instincts. To be honest, the last thing I wanted to do was replace the final drive bearing for a second time. After our fairly major rebuild in Medellin, Colombia, I'd hoped we'd make it home before conducting any more repairs. I should have known better!
So when we set off from San Augustinillo, my fears were confirmed. Even Em could feel a vibration through her foot-pegs, indicating a final drive bearing on its way out. However, unlike myself, Em wasn't too disappointed as it meant another day by the beach!
After our big farewell, it was hello once again to DeNel and Brent before I set to work, catching the local collectivo to town in search of a press to remove the failed bearing.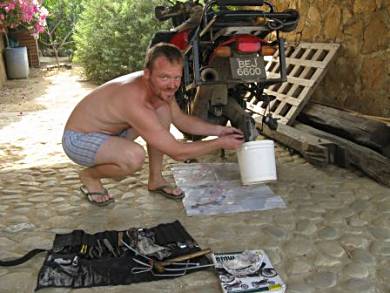 We said farewell to the Pacific until who knows when, and headed inland to the very lovely Taxco, an old silver mining town which still sells silver in every other shop. Taxco's markets were built along its steep, narrow streets and covered with tarps - so it was easy to get lost. It was a wonderful place to explore.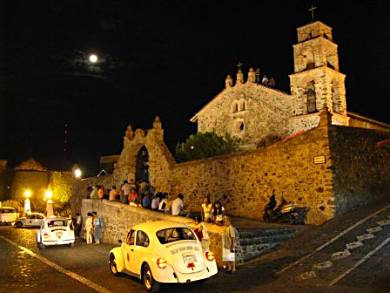 All the way through South America we'd been in touch with Eduardo and Margarita, friends of Jules and Grant. We'd met them when they visited Jules and Grant in San Rafael. They live in Mexico City and had asked us to call in on the way through.
As we left Taxco it started raining and the wet stayed with us all the way to Mexico City. We'd been running ahead of the rainy season but it felt like it'd caught us up. By the time we met Eduardo, we were very cold and wet, but he made us so welcome - food and hot showers were waiting for us so within minutes we were comfortable and grateful for the fantastic welcome into their beautiful home.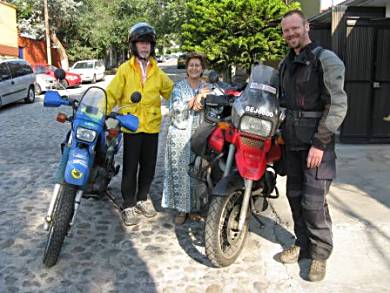 Mexico City is home to 23 million people. Hame and I are not great city people, so we found the traffic and general busyness quite draining, but the sights of the city were excellent.
Even the local Police were a sight, jetting around on their little electric buggies...
We weren't sad to leave the big city and ride North to quieter areas. We stopped off in Guanajuato, a fantastic town which was once an important mining town. Many of the original tunnels are still there, now occupying the town's roads, thereby saving the town from congestion. The town itself seemed to be built on many levels, with tunnels giving way to high walls and houses perched on steep hills.
Again, Guanajuato was a place we could have stayed for far longer but after a couple of days we had to maneuver Bertha out from her space by our room, and get back on the road.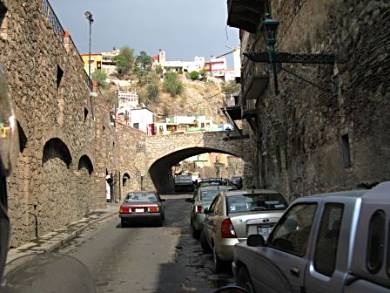 Stopping off further north in Zacatecas, we took in the colonial architecture whilst wandering the streets in search of a clinic. Em had been pregnant for ten weeks now and was therefore due a scan, as we'd not be able to get one easily in the States and it would be a few more weeks before we were home. Stepping into what we would later learn to be the oldest hospital in Mexico, we were treated extremely well, both overjoyed to learn all was well with junior to be. (Although perhaps we'll have to play recordings of motorcycle engines to get him or her to sleep! - Em)"
"The first town we stopped in, in Alaska was Chicken! Yes, that is the name of the little town with the population of 8 and a three legged dog. The miners that started the town could not pronounce or spell the local Sioux Indian name for a bird so they called the town Chicken.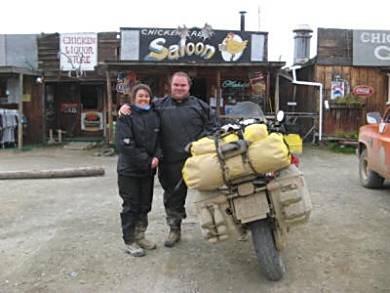 The town has a post office, souvenir shop with fuel, pub and a restaurant. Oh, and the chicken poop... the long drop toilet! Well worth the stop for something warm to eat and drink. After warming up and filling the bike with fuel we headed down toward Tok. It was drizzling and cold but we found a really wonderful camp site called the Thomson's Eagles Claw Motorcycle Camp, yep they love bikers. And there were no RV's. The camp area is set up amongst spruce trees with a ground covering of the thickest softest moss carpet I have ever seen. There are little plants with berries, ferns, toad stools and mushrooms sticking up through the moss, a real children's fairy tale picture (I kept thinking that I would see pixies and fairies). There is an area to pitch tents or you can stay in the teepee, the little tent-house or bunk house. Each has a place to relax outside with a flowering pot plant on the table, a woman's touch I'm sure. They also set up a little gas stove under a shelter where we could heat water for washing.
It was really chilly that evening and the next morning as we were heading out of town we saw the fresh layer of snow on the mountains. The scenery on the road north was still spectacular with the bright yellow and orange of the autumn colours changing the leaves of the trees.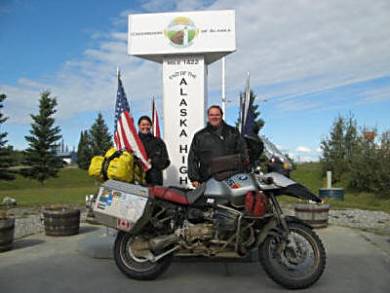 The air was really crisp all the way to Delta Junction which marks the end of the Alaskan Highway. We stopped at the visitors centre for a coffee and to take some photos of the GS at the highway marker. By the time we were ready to leave the sun had come out and we were warming up nicely.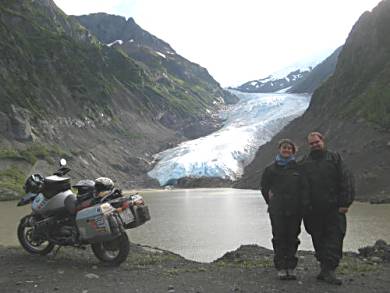 The next stop was the North Pole... and Santa's house! This town is about 10 miles before Fairbanks and is a tourist attraction because someone clever put up a huge Santa's House next to the highway. We went to have a look and were rather disappointed as it was not a 'toy factory' as we thought but a shop selling all sorts of Christmas decorations... and very expensive coffee! The only interesting thing was the real live reindeer in an enclosure outside."

Ed. Johan and Charmaine stopped off at the HU Meeting in Ripley on their way from Dubai to North America to tell some of their trip stories. Best wishes on the next leg of your RTW trip!
---
---
Belinda and Patrick Peck, Australia, in Iran, Yamaha Super Tenere XTZ 750,
"Salam from the Middle East! Last time we wrote we were in Greece. We spent a wonderful week riding around the Greek Island of Lesvos Island, a lesbian pilgrimage island, with wonderful rides and scenery.
Next appointment was with our Turkish friend Baha in his summer holiday apartment! Its amazing the people we have met this trip! We travelled with Baha along the west coast of Turkey for a week and then we drove back along the Black sea coast of Turkey to Trabzon to pick up our Iranian visas from the Iran embassy there. Very easy, US$50 each and it took them 3 weeks to approve us!
Iran... wonderful Iran... how to we tell you about our fantastic time there. Firstly, it's law that women are covered up in public from head to toe. In 40deg heat, it's a chore, but it's a jailable offence, just like dancing in public or showing affection in public!
Ramadan, a Muslim tradition of fasting in daylight hours for a month was half way through when we entered Iran, so food was very scarce.
The people of Iran have to be the friendliest in the world and we felt very safe, in fact we felt like movie stars and everyone made such a fuss over us to make sure we were happy and everything was OK. When we would arrive in a town the 'flies'- young guys on motorbikes would drive really close to us to talk to us and touch us and show off doing wheelies in front of us. Boys, the same the world over!
The food was very boring on the whole... kebabs and rice or kebabs and rice... for 30 days, twice a day... uurrgghhh.
Highlights were Esfahan... the jewel of ancient Persia and one of the finest cities in the Islamic world. Imam square and Imam Mosque are to be seen to be believed, one of the most beautiful mosques in the world.
Yazd in the desert is the best old and still inhabited city in the country and one of the oldest towns on Earth according to UNESCO. We stayed at the famous travellers meeting place Silk Road Hotel for 5 nights and had to drag ourselves away. There were lots of other cyclists and a Turkish biker there and lots of other travellers to share tales with!
We are now in Abu Dhabi where HU member David Mildwater has kindly offered to store our bike and gear for a year. Tomorrow we are off to Oman for a week, then Hong Kong for a week, then home to Cairns Nov 2."
---

---
Darren and Emma Homer, the Americas 2007-2008, Disaster in Argentina,
Emma - "Back on the main road towards Rio Gallegos the road is pretty straight and boring. There are deep ditches on either side of the road too.
10 mins later we are heading along at our usual 55-60mph when I feel Darren back off the throttle and start braking hard, I look over his shoulder and see a llama coming up fast, it has frozen with fear in the middle of our path, I just have time to think 'we are going to hit it' before the impact.
I don't remember much except being thrown off to the right as the bike pitches and we hit the ground. I land face down in the gravel with my arms outstretched above my head and skid backwards for a good 20 metres. I remember seeing the gravel up close as I skid through it.
I come to a stop and manage to get up on my knees, Darren runs over to me shouting are you alright, are you alright? It takes me a moment to answer, Darren slaps me on the shoulder and tells me 'well done for staying with the bike'.
He runs back to the bike and I look round trying to take it all in. The llama is still in the middle of the road and I think it is dead, then suddenly it shakes into life and jumps to its feet before running at me for a second then back down the road. A car passes us at this point, not even slowing down through the carnage left on the road.
Both my hands are really hurting and I remember thinking 'my left hand is broken'."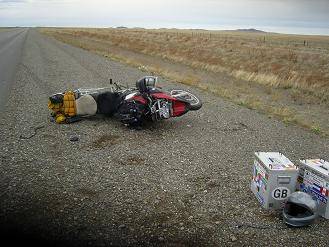 Darren - "as we left the lake I was feeling good about the day, it's then that I spot the Llama coming out of the ditch to our left.
I get off the throttle and start to brake just in case, sure enough the animal bolts across the road, the ABS is now working hard as I try to scrub off speed.
Just as it gets to the middle of the road the animal freezes, shit! There's no time to get off the brakes and try and swerve, I just pray it moves.
The impact is hard, I guess we are still doing around 50mph as the front beak of the bike forces itself under the belly of the Llama. The front subframe breaks as the animal is forced up smashing through the oil cooler, light, clocks, GPS, mirrors and screen. The animal now makes impact with the bars and my hands as my head impacts its belly, Beamer now has too much weight on the front wheel and it tucks to the left and we go down.
I assume this is when Em comes off, I stay with the bike as we slide on our side through the gravel on the side of the road. Eventually I let go and the bike spins away from me, desperate to get to Em, I put my foot down thinking I have stopped, I hadn't, I flip up in the air and eventually come to a stop.
I look back up the road and see Em on her knees, shit shit shit, running up to her I start to shout, I need to hear her say she is ok, please let her be ok.
Em manages to say she is ok, clearly in shock but ok, 'your face is bleeding' she says 'don't worry it's fine I answer', just head butted the stupid thing. Once I hear Em say she is not badly hurt my thoughts turn to the road, our panniers and bits of bike are everywhere and cars are just whizzing by..."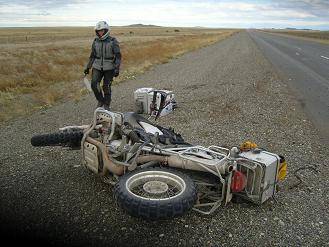 "...we spent the next few days chasing a chain and sprockets, as we were clicking away, waiting for the chain to break since Colombia. We headed to San Jose for a three hour ride to get the parts which the motorbike store said they had. However, when we got there they tried to tell us that the numbers 525 and 530 were the same and they didn't actually have the parts any way, as they usually don't. Luckily another store was able to make us a chain but no sprockets so we went on to the rainforest of Monteverde.
After getting drenched and a bumpy road we made it by dark. The next day we went on our first zip-line canopy tour. It was enjoyable but not as thrilling as we had hoped, but I really enjoyed the Tarzan Swing, which was similar to a bungee jump, which is one of my favourite adrenaline rushes.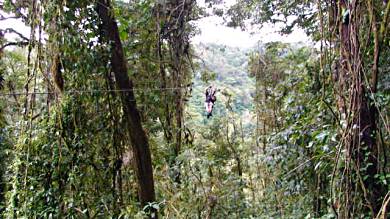 There was also a Honda shop in town so we thought we would go talk to them and see where we could find sprockets for our Sweet Baby. He was really nice and called all over Costa Rica, and said they had parts in San Jose and could be shipped on a bus and be in Monteverde in the morning. We told him that we called the Honda shop but they said they did not have the parts so we were not very hopeful but decided to wait a day just in case. Much to our amazement the parts came in the morning and we were even more amazed when they were the right parts. This was just fantastic, saved us from looking for the parts throughout the rest of Central America. Miracles do happen...
The border crossing into Nicaragua was not too bad other than paying lots of strange little fees for who knows what, and getting our bike fumigated, which meant spraying the tires with some water like substance for $3. On we rode to a ferry to get to the Island of Omepete on Lago, Nicaragua. We rode around the island which was relaxing with a walk in a park seeing turtles, howler monkeys, and strange birds.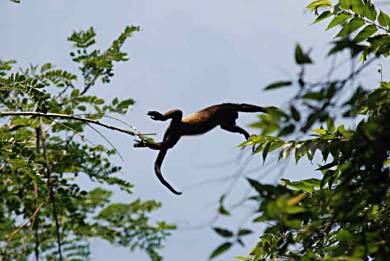 We also swam in a fresh water spring which came out of the ground while being served $1 beers. It was all great fun, but unfortunately our friend Bruce had lost his fourth camera on this trip, sad. The first one was stolen in Buenos Aires, one was left at an internet café, one got soaked in one of our rainstorms in Costa Rica and now one more had disappeared after checking out the photos at a restaurant.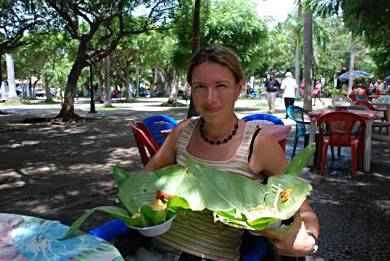 The border crossing in Copan was the most pleasant border crossing since South America. It was virtually empty and no one hassling us for money, to exchange money, to help us get through the border, or telling us twenty different places we should start the process and what papers we need (which we usually don't need and don't need to pay for), etc. The immigration offices for both countries were close by, with no lines, and just friendly people. I befriended a young Guatemala cowboy who kept telling me how big Brad was, because Brad's height really stands out here, along with his brute strength (AKA Belly) too, while Brad did his magic with our passports and his bike paperwork. The rest of the day we rode in the scorching heat to get to Antigua."
---
---
Derek Fairless, ATW Adventure Travel, in Peru, BMW F650 Funduro,
"Riding through the busy streets of Nasca searching for a hotel, I am surprised how un-commercialised it is. The same run down streets and shops, the dogs and old men dozing in the sun in the plaza, and a busy street market, it could be any small Peruvian town. The hotel I choose, in truth it is the only one that looked open to me, has small bungalow accommodations at the rear with small terraces outside to sit and laze on, as well as being in line of sight of the parked up bike. After a walk around the streets to get my bearings and having chosen a place to eat I sit with an after dinner beer and watch a gaggle of elderly American tourists waddle up the street. Behind me a couple take a table and I hear the unmistakable sound of a Yorkshire accent. We talk for a while and then I head back to the hotel.
The next morning after breakfast I head out to look for an ATM and am accosted by a ticket tout who offers me a flight to see the lines. Not only that but there is another couple booked on the flight, so I get the co-pilots seat; how could I refuse?
A bumpy taxi ride to the airport, a swift introduction to my Korean co-passengers and we climb aboard the small high winged monoplane. The interior looks a bit like a badly maintained Morris Minor with extras, but it all seems to work ok and we get the ok from the tower as we taxi across the apron.
Now once more on my own sturdier mount the next morning I head for the next 'must do' in Peru, Cusco and Machu Picchu, unaware that I will be knocked out by the stunning scenery on the way. The road climbs steadily out of the plane, through barren small mountains with verdant valleys. The little town of Puquio is a mess with a torn up detour through its back streets, but the horizon promises high mountains ahead.
Further up the road I come to a sharp bend at the top of a mountain pass and there are skid marks all over the road. 'Wow!' I think, somebody certainly overcooked it here.' But the way they drive here made it no surprise. Around the bend a few hundred meters there were a couple of cars and a lorry stopped, nothing unusual about that, until I got level and saw the safety barrier burst open and the debris on the road. A little further on the road turned across the slope and I could see the ruined shell of a bus in the rocks with paper and cloth still blowing around along its route to its resting place. 'This has only just happened' I thought, maybe an hour ago.' About a mile down the road I passed a group of people, heavily laden with bags, boxes and reels of plastic water pipe. It was only after passing them that I realised that these were the surviving passengers from the bus! They had been left to make their own way to the next town or maybe the hospital to see loved ones who had not been so lucky. Unfortunately there was not much help I could offer, having no room for a passenger. I briefly thought of unloading the bike and offering to ferry them, but with insufficient Spanish for the task, and all the stuff they had, it would be an almost impossible task, much to my regret at my inability to help I carried on.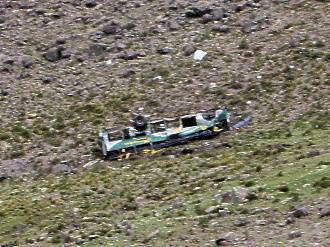 The road follows the river gorge, crossing and re-crossing the raging torrent below. All too soon I have to branch off and head back up into mountain passes where the road zigzags up and down the mountain sides, then through lush valleys that you can see are following the general direction towards the higher ranges ahead. After crossing through green pastured farmland set in wide valleys, I eventually see the city of Cusco spread out before me."
Nathan Thompson and Akiko Nishikura, Taking the slow road round the world, on the cheap, on a postie-bike... 2-up.
"East Timor - Looking back at the conditions that we faced on East Timor roads I can generalize and say that they were not as bad as we expected...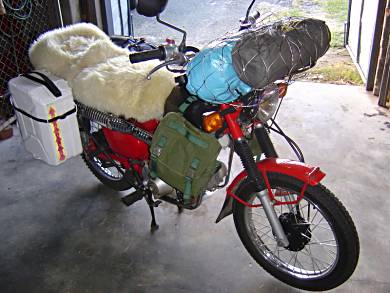 Although we only went to the eastern limits, the riding experiences to be had in this country are endless. From Dili all the way to Baucau on the northern coast the sealed road is in decent condition with only a few surprises. These surprises are however quite scary at times. Speeding trucks and UN vehicles are a menace throughout the country and the people in the northern coastal towns have hit upon a good strategy of slowing them down... Invisible speed bumps! A raised section of bitumen the exact same colour as the road sneakily hiding under the shade of a tree.
It's very effective as you can often see vehicles parked on the side of the road with their suspensions completely ripped out from underneath them. So effective in slowing down traffic that the town folk set up stalls to sell drinks and handicrafts to occupants of the now slow or immobile vehicles passing through. I imagine it's pretty entertaining for the locals to watch as there is usually a group crowding around the stalls, not to buy merchandise mind you, but to see all the spectacular mechanical failures transpire throughout the day.
It's a give-away really, and we soon learned to look out for the ladies selling baskets and warm coke rather than squinting into the shadows.

East of Com the roads are quite rough in parts with sections of sand no longer than a few hundred meters. Rocky sections threw up some challenges for us but the size of the rocks were never bigger than baseballs. Luckily the friendly locals haven't learnt to throw them at rich foreigners yet either.
To get to Jaco Island from Tutuala is serious 4WD territory though I highly recommend it. We had an absolute blast tackling this section on our little motorbike and the scenery is fantastic all the way.
Timor Leste is a beautiful country with beautiful people. It will give you all the adventure and colour you could ask for. We will most definitely be coming back.
Indonesia
There is no way you will ever decipher the indication system used in Indonesia, that is if indeed one even exists. Sometimes indicators are used by the vehicle in front of you to tell you if it's safe to overtake, other times they are used to warn you it's unsafe. Sometimes indicators are used in the 'normal' way, to warn you that they are going to be turning, sometimes that warning never comes. And sometimes still the driver just simply forgets to turn his/her indicators off. Confused? I hazard a guess everyone else is too.
But if you see the passenger on a motorbike, gracefully flapping one arm, be sure he is not a ballet dancer in training... This wounded swan-like action is clear indication that the bike is soon turning.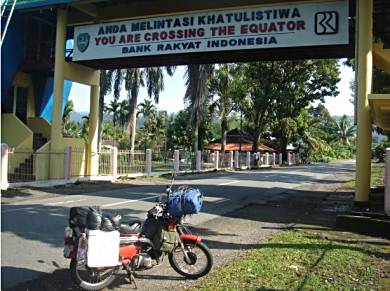 In reality as a motorbike rider you will soon learn to flow with all the other road users around you, think of it as a hyper real computer game, it helps me. Just don't get stuck behind that rubber truck..."
---

---
Robin Breese-Davies and Rik Davis, UK, RTW, in Bolivia, Argentina and Brazil, BMW R1150GS,
"This was always going to be a hard day because of the road conditions which was mainly sand and loose gravel, but we were getting in the stride of things and handling everything no problem, but towards the end of the day Rob hit a soft sand patch which pushed him off the road which should have been just sand but unfortunately he was crossing a bridge at the time and the bike went down 12ft into the river below, Rob went flying over the handle bars and luckily landed the other side of the river, but the bike was a mess and yet again will need some fixing. We managed to stop a passing truck some 3 hours later to take Rob's bags & panniers, we then nursed the bike to Uyuni in the hope of some help and advice.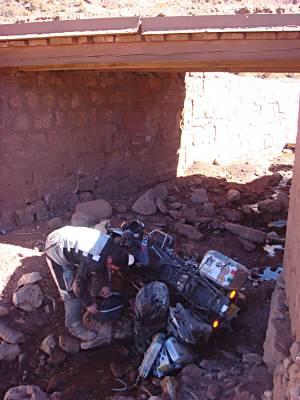 We started to realise that there was not a lot we could do here in Uyuni, but over breakfast an English guy called German stopped us and asked if we were the guys on the bikes, we then started to tell him our story and the position we were in, he was actually half Chilean and had a truck in Calama just across the border in Chile, he offered to organise a truck to take us there, pick up his truck then return to Uyuni to pick Rob's bike up and then fix everything in Chile, this all sounded too good to be true but as we spent two days getting to know him & his girlfriend, exchanging stories etc we decided to trust them.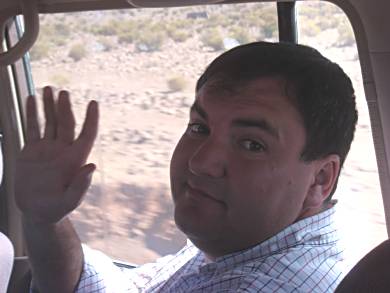 Things just didn't seem right, the truck taking us to Chile was late, then the truck went via the police station, then we had to change trucks, then German had to pay a fine because his Bolivian visa had expired, when we eventually hit the road he was totally inaccurate about where we were on the map, how far the border was, the names of tourist sights we were passing, he then started getting nervous the closer we got to the border, he was asking the driver what the border guards were like & how many so it all started to smell, smell really bad, when we were filling our paperwork in for Chile he tried to sneak past into Chile illegally, he got arrested and manhandled into a police cell, we had no idea what was going on until the police told us he was a wanted man for serious crimes, we were shocked but started putting past events together and realised that all our belongings were back in Uyuni with his girlfriend, so our plan was to get back there as fast as we could. This was a difficult task as there is no transport in the area during the night because of the conditions, so we had to simply wait, sleep and get the first bus out of town which was 6.30am tomorrow, there was nothing we could do...
...The worst possible news awaited, we had been robbed of almost everything, the bikes were still in the hotel but all of our bags had literally been emptied and Viviana was nowhere to be seen. The hotel knew nothing and were not very helpful, the police never turned up, we were both shocked, upset & hurting, we couldn't believe we had been robbed when we were in the need of help in the first place. We were in a very isolated place in the world so it all felt even worse, this is going to be a big challenge to sort this mess out. As you can imagine we were running over everything over the last couple of days to see where it went wrong and Rob remembered a lady questioning us why and how we knew German, at the time it meant nothing but now it rang alarm bells, she then confirmed that he was a very bad guy, wanted in Chile for smuggling cocaine, murder of a border patrol officer, theft and fraud, we then found this website from another victim who had lost a lot, we had been done by professionals and didn't see it coming, but it could have been so much worse.
Making a full assessment of what has been stolen, how it happened, trying to get a police report which proved impossible, in the end we had to write the report then pay the police for them to sign it... they are as bad as German & Viviana our thieves. We are both looking forward to leave this country which is a shame as it is so beautiful, but the people let it down. We were told by a Bolivian that it is the second most corrupt country in the world, we can now see why!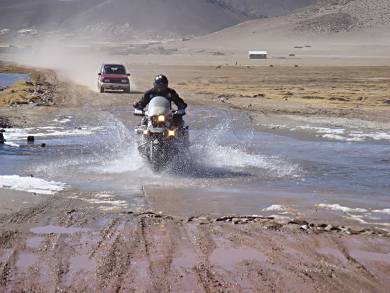 Immediately on entering Argentina there was a difference, tarmac roads, decent shops, police who didn't need bribing and a general positive feel in the people. Some great roads as we were approaching Salta and Rob's bike seemed to be holding up quite well. Enjoying the choice of good food, sophisticated shops, well dressed people, modern cars, no beggars and a real sense that we are in the 21st century. Rob also decided to put his bike on a truck just in case more damage was done to his bike.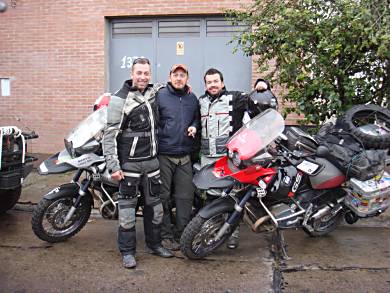 Amazing, simply amazing, we had expectations but this was one of the few times that reality exceeds them, the scale of Iguazu Falls are unmatched and so far both Rik and I agree this is the highlight of the trip so far.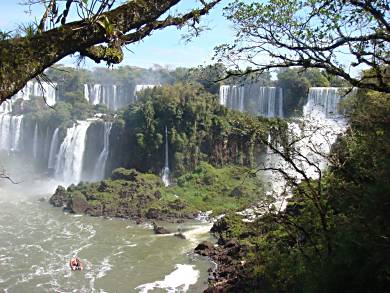 We started the day visiting the immense Itaipu Hydro Plant and Dam, this is the biggest hydro dam in the world producing 75% of Paraguay's need and 25% of Brazils demand, huge! It's 8km wide, 65 stories high, just one of it's 16 water pipes releases as much water as the whole of Iguazu Falls, incredible.
After that we headed to Paraguay but there is not much to see and do so we just crossed the border into Ciudad del Este, Paraguay for a few hours before then going back into Brazil.
We then stayed with João and his family who we had been in communication with from Horizon's Unlimited, amazing hospitality and welcome, there is no way that Brazil can keep going like it's first 24 hours, simply amazing! Doing some admin, seeing the local sights and being spoilt by João and his family, also getting ready for four full days of riding into the interior of the Amazon.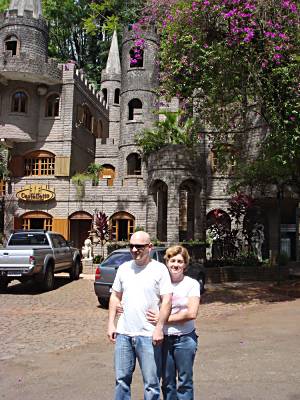 Another amazing thank you to João & Eliete for being such wonderful hosts, we were not allowed to spend anything and they treated us to get home cooked food as well as a great local restaurant.
... We put our bikes on the barge first of all which was supposed to be pulled behind the ferry, but at the last minute the captain changed his mind so we had to put our bikes on the ferry, then the bikes got surrounded by bags of onions, potatoes & garlic, so we did not see them for the whole trip.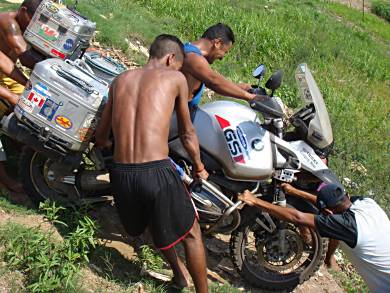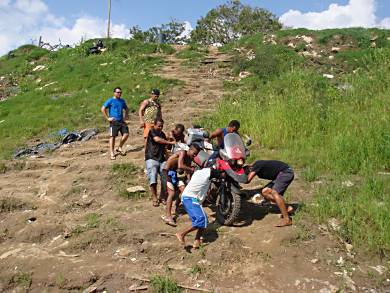 This trip is supposed to be one of the best in the Amazon basin as the Rio Madeira is quite narrow compared to the Rio Amazon & Rio Negra which can be up to 3km wide, so the whole trip we were able to see the river banks, wildlife and local indigenous communities go about their normal life. The River was very low and on many occasions the boat would bottom out on sand banks which was quite entertaining. We were accompanied by the famous pink fresh water dolphins throughout the journey. The heat was with us 24 hours a day which made sleeping uncomfortable especially as our air conditioner was intermittent, but we got there in the end."
Simon Roberts, UK, The Road to Kathmandu - the comic strip - in Iran!
"I reached the desert town of Yazd at sunset. Food, drink and accommodation were uppermost in my mind together with the little known fact that Yazd was apparently an important centre for the religion of Zoroastrianism. Something to discuss with fellow travellers over dinner...
I'd been tipped off about a certain 'Silk Road Hotel' by a man I'd met in Esfahan. He talked of courtyards with fountains and wide cushioned benches where one could lounge and smoke hookah pipes. 'There's a restaurant there too - no problem with Ramadan'. Too good to be true? That's what I thought as I pulled up after a long search onto what looked like a building site.
On the far side of the wasteland, a single light illuminated a doorway. It was getting dark. I needed to stop. I'd take a look. I rode across, flicked down the side stand, and unpacked the bike.

I ducked through the doorway and a narrow passageway opened onto a large tiled courtyard. In the centre an ornate fountain splashed into a circular pond surrounded by potted plants. Cushioned lounging areas were spaced... 'Hey Simon!... Good to see you!'
Jo and Richard, a couple I'd met earlier in Tabriz grinned up at me from one of the lounging sofas. I looked around and recognised one or two other people too.. Ha. This would indeed do nicely. I booked into one of the excellent rooms that were spaced around the courtyard...and rejoined everyone for an evening meal.
We talked into the night about the importance of Zoroastrianism in the region and caught up with each other's news. The KTM had let them down resulting in truck rides and modified parts in back street work shops. I thanked Allah that I was riding with basic BMW technology. My time would come...
The Dusty Highway rolled beneath my wheels and I visited Shiraz and the wonders of Persepolis before deciding to veer from 'The beaten track'. While looking at my maps I realised how close I was to the Persian Gulf and thought 'This is a bike trip. It's about the roads and the landscape...how cool would it be to ride down the Persian Gulf Highway?'. The next day, I headed South...
The road crossed through miles of arid mountains with only solitary trucks for company. South West of Bandar-e-Bushehr I saw the thin strip of sparkling blue on the horizon. 'Azure blue is such an uplifting colour in all this ochre coloured land' I thought, artistically. I rode on picturing the whitewashed village where I would watch the sun go down with a cool drink. Recommended as a 'pretty fishing village' in a Lonely Planet I'd seen, Bandar-e-Kangan was the town I headed for.
A concrete dual carriageway took me into the town. Hmmm. The harbour must be where the 'pretty fishing village' is. I turned right and made my way down a pot-holed road. Rusting fishing boats were tied to a crumbling quay side. Men sat around in groups and looked up as I pulled up along side them.' Salaam!' I said, ' Hotel?' A crowd gathered. Moped riding kids, who'd been following me, swelled the crowd and the tension began to rise...' YOU! Come with us!' A shout went out. Shit. The police had arrived. The crowd dispersed and I was forced to follow them to their compound. I rode in and the gates were shut behind me.
My pulse raced. I feared the worst... Now what?"
Ed. See Simon's 'Road to Kathmandu' comic strip on Horizons Unlimited.
---

---
Darius and Jane Skrzypiec, RTW 2008-2011, in Thailand, Cambodia and Laos, Africa Twin,
"After decades of ploughing through mud and gravel, the route 13 is finally rebuild and sealed by the Chinese. Now, the 200km to Luang Namtha can be done in 3 hrs instead of the former 10 hrs at least! The construction on this stretch of road just finished yet it's deteriorating again. Landslides taking its toll, covering the new string of asphalt with mud or, even worse, sending it down the slope. No question, Laos has severe deforestation problems. Logging, wrong planning and budgeting during the construction will be the reason for the quick damage. The road is likely to 'regain' its former state pretty soon.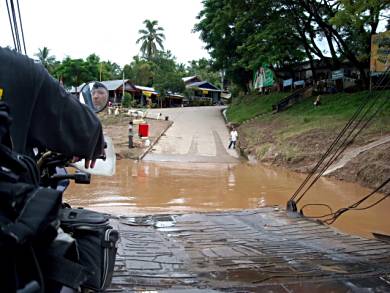 From the first day on in Laos we're in love with this beautiful and so unspoiled country. During the stretch to Luang Namtha we encounter no more than 10 vehicles; we're passing through villages with bamboo houses on stilts, the children are screaming and waving at us and all kind of animals walking in herds along the new asphalt band.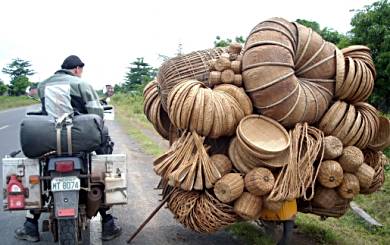 As soon as we stop, we're surrounded by curious kids, their parents observing us rather from a distance. With no electricity, no running water and no means of personal transportation, there must be a different definition of happiness in the mountains of northern Laos... and we've seldom seen so many happy faces!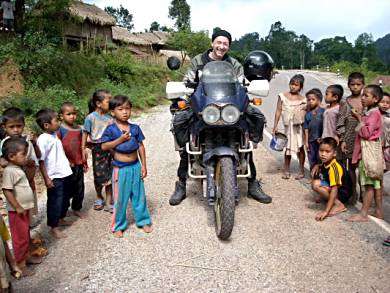 Spoiled by the first 200km of great asphalt we're not really looking forward to encounter the worst stretch of 'highway' in Laos, the No. 13 connecting Luang Namtha with Pak Mong. Right at the intersection to Boten the road conditions change dramatically. How I would love to follow the smooth road north to China instead. No, China isn't on our schedule yet. So, turning my head to the right I can see what appears to be the road - few hundred meters of black mud! At this time I only can hope that these aren't going to be the general road conditions in Laos.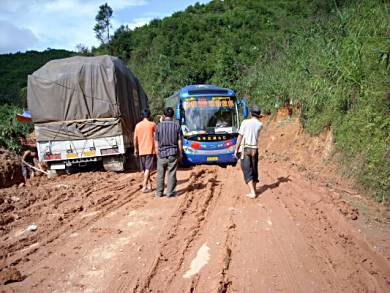 The permanent mud disappears pretty soon and now we actually can make out some pieces and bits of asphalt in between the gravel, mud, potholes and stagnant water. There is some big mud holes where most of the cars instantly getting bogged. These places are 'guarded' by village men, who are very willing to push the car through for several thousand Kip. To me it looks like the guys are helping themselves and watering the hole every now and then because it's always just one special wet hole around and the boys are just waiting for the next victim.
For the trucks it is a bit harder. Manpower alone doesn't help and the truck is stuck for hours if not days.
On the way South, we're visiting some waterfalls close to Pakse and the Wat Phu in Champasak. To reach Champasak we have to cross the Mekong. Nothing wrong with this we think, well, until we see the actual 'ferry', which consists of 2 wooden canoes which are connected by a 2m*2m wooden platform and driven by a little Honda pump boat engine. The boatman is kind of sure what he is doing (me not really) and directs me on the platform. I have to cross another 3 similar boats first before finally reaching our ferry, which is not an easy task either. As soon as the front wheel reaches the joint section of the 2 catamarans, it tries to push both boats down and apart… my adrenalin level shoots up. Somehow it works and we reach dry land safely!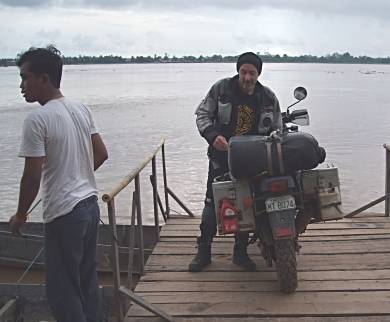 Our plan is to stay overnight in the border town but there is no border town... so, we find ourselves crossing the Cambodian border unintentionally today. Good bye Laos!"
Ed. Follow Darius and Jane's trip in their blog here on Horizons Unlimited!
"On the road between Khabarovsk and Chita - the former Zilov Gap...
We are nearly halfway across Russia, with less than half the time left on our visas.
We are staying in a 'Guest House' dormitory with other travelers (in cars) The building errs on the dilapidated side of quaint. Still it's less than £10 for the night and all the cucumbers you can eat.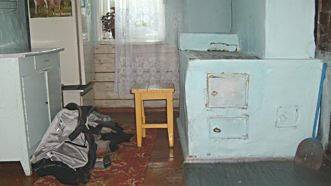 The road to Krasnoyarsk was a dilapidated maze of puddles, holes and obstacles. Then the rain came back, but we were onto decent tarmac... for about 30 km. The next 80 were fun as we pressed on. Cars just don't manage at all in that stuff. 4x4's also slow down a lot. We were able to pick our way past all but the most extreme drivers, but even they can't match a GS when it got narrow. We saw an inverted lorry at one point, but thought it better to plod on, rather than play photographers. We don't have a marine housing on the camera.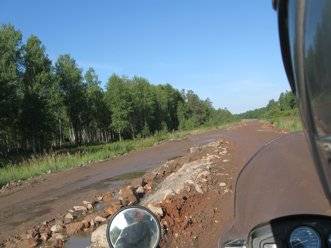 Today is Natasha's birthday. It hasn't been much for her, but she has borne it well, only threatening me with death by slow mutilation on a dozen occasions.
We continued to Krasnoyarsk. What traffic! Bumper to bumper at a crawl with Russian drivers talking to each other in Morse on their car horns. With much trauma, we found a hotel. Bugger the comments in Lonely Planet. It's one you can see, and it has parking in front of it. Who gives a toss that it is on the number 9 trolley bus route. Don't these people realise that somewhere to leave the bike is more important than the local museum of tapestry and wooden spoons.
It was far easier to exit Krasnoyarsk at 7am than our arrival. The day looked as though it wouldn't be a scorcher. So we put on our liners and Natasha dug out her heated gloves. Good move, the temperature didn't get above 14C until after lunch.
The journey was LONG, but comfortable. We caught up with Piotr and Marina, the Russian chap.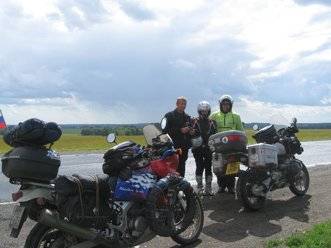 We actually had a bit of a chat. It seems that the roads in Mongolia are easier than the last 200km to Krasnoyarsk. They are expecting to be in Samara, his home by Friday. It will take us a bit longer I expect.
We headed out of the city following directions from a taxi driver near the hotel. 'You wont find any signs for Omsk, they don't do signs here.' And he was right, 140km before we found a sign. It was raining gently when we departed, The dawn bright orange behind us and sinister dark clouds ahead. The roads however were becoming a pleasure. We were able to achieve 500km by noon (just, I had to speed up to 130km/h to make it!) We saw a pair of bikes at a cafe and decided to have some coffee.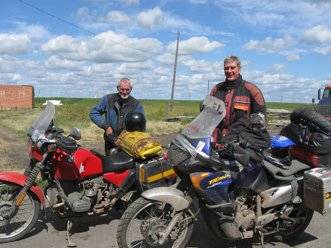 These chaps had ridden to Vladivostok for a night, turned around and headed straight back. They asked us what bikes we had. Just the one.
'What, and you have ridden to Chita with a pillion?'
'Yes, Without Natasha I wouldn't have made it.'
'And you sat on the pillion?'
'Er yes,'
'We thought that we were crazy, but doing that road with a pillion, Hey, you are crazy too!'
We all headed away towards Omsk. We were not planning on going much further.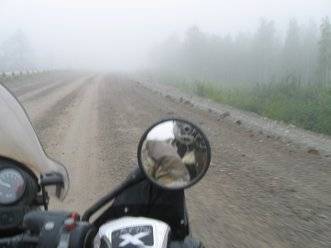 We were beginning to turn south when some light rain started. We filled with fuel, but didn't bother with wet gear, as it seemed to be easing, and trundled along. The traffic heading towards Ufa seemed to become heavier, with many slow lorries. But the air seemed to be getting thick with fumes as well. We were making progress, passing when there was a good space ahead, like you do, when it happened...
One second I had looked from behind a particularly filthy lorry, the next there was a lurch as the bike went down, and there we were, all three of us, in some sort of bizarre luge event. We seemed to accelerate from 80 to at least 200 km/h. At first the bike was winning, scraping along on its side. Natasha was in third place, then I managed (with no particular skill) to slide past the bike and stop just at the edge of the road. Natasha was up and running and she overtook the bike that was now pointing back the way we came on the wrong side of the road.
As there wasn't a trail of Brendon's knickers across the highway I assumed the pannier was still in one piece. The bike was hauled up and it seems as though the crash bar has done its job.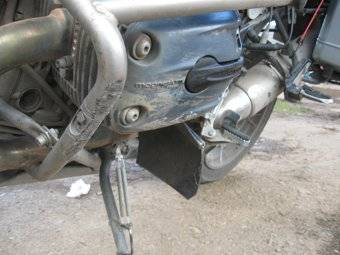 The plastic base rail of the pannier was somewhat abraded. OK it's not there anymore! The left pannier needed a bit of bungee chord to hold in in its frame. Natasha has a bruise on her elbow and knee, and I have a bruised bum.
Did the traffic stop? Only when Natasha flagged someone down. The bike started and sounded OK, so we did a U turn and got back on.
The cause? well there hasn't been a full forensic examination, but my guess is that we were unlucky to have been travelling over spilled oil mixed with the light rain. The road surface was glassy black, and looking at the distance we all slithered and the comparative lack of injury we were lubricated rather than victims of friction, which would have left marks on our clothing.
We rode for a few miles before stopping where there was comparative safety of a souvenir stall.
... Volgograd is BIG. We were very fortunate that the driver of a mini-bus that Natasha asked 'Is this the way to the centre of town?' said 'Just follow me'. I would NEVER have found the route, and certainly not at the speed we hurtled along. Somehow, doing 100 km/h in a city seems just a bit dangerous.
By the time we found Hotel Intourist the temperature was up to 35c. A couple of young bikers came and chatted in a bit of English. They were impressed with what we have done, and even escorted us to the secure parking, about 600 m from the hotel. So, we are safe and are hoping that our bruises will heal. We don't want to get on the bike for a day or two."
---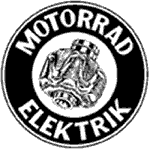 Motorrad Elektrik has been offering the best in electrical parts for classic and modern BMW's for over 11 years. From 12 volt conversion for /2 to better than stock replacement parts for your late model "R" or "K", we've got you covered. Specialty parts for 'hardening' the charging and ignition systems for world-travelling Airhead GS's. Riders like Bob Higdon, Dr. Gregory Frazier, Grant Johnson and hundreds of others depend on Motorrad Elektrik components as they wander the globe.
Our Omega system has solved the charging problems for 1970-95 Boxers with 400 Watts Output, and our Nippon Denso starter is the perfect cure for Valeo syndrome.
---
Graham Shee, UK, Alaska to Argentina, in Colombia, Kawasaki KLR 650,
"Mexico - this is how it happens. You are cruising down highway one south of San Diego which is a three lane freeway. In front is a Chevy pick up truck with a California licence plate. The overhead sign reads - Border Crossing Ahead. The truck slows down as do you, almost to a standstill. You cross a speed hump in the road and a set of metal protrusions with accompanying sign - Do Not Reverse. And then you are in downtown Tijuana. Yes really! That can't be right - but for me it was very much reality. What happened to the big traffic queues, the immigration officials, customs inspections, dogs, guns etc. Nothing!
At least I had done enough research to realise that I needed an entry visa and an import permit for the bike. After some navigating, good judgment or maybe good luck I found an official looking building to do the necessary. The relevant documents are issued by a bank (Mexican Military Bank) - it was kind of strange having the bank girl come out to the car park and do a visual check on the bike. Inside the bank she only spoke Spanish and relied on other customers to translate, but outside spoke good English and was interested in my trip. They had picked up a small typo on my bike registration/VIN and hence the inspection. OK here, but hopefully won't come back and bite me in the future.
Having got the Mexican paperwork sorted, I was then faced with the reality that I had not checked out of the US. The immigration departure card clearly states that it has to be surrendered to a US official on departure. Only one thing for it - join the queue of Mexicans waiting to cross the border and go back and do it again. Eventually found a US official to 'check out' with, but they don't make it easy. Turns out that the border is effectively open for Americans travelling into Baja California (north only). The border into Baja south is the 'real' border.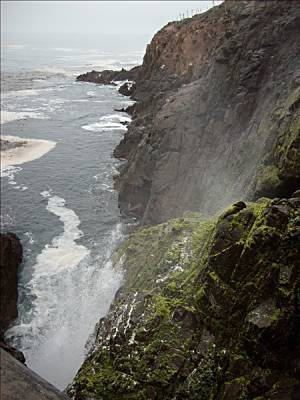 I decide to head down the coast and Baja California. Baja is big - just over 1000miles long. The first 80 miles is very commercial - with luxury condos and resorts springing up. You get the impression that planning control is not high on the agenda. After Ensenada (80 miles down) it all changes and becomes true wilderness (in a good sense). The roads are quiet with very little traffic. The landscape is rugged - almost desert-like in places but with mountains on the horizon. The countryside is dotted with cacti - real ones, just like you see in the movies. It is easy to feel remote here. Did manage two nights of camping - the second was excellent, with trees for shade, green grass to camp on and three swimming pools - all for 60 pesos (3GBP). However, I think hotels are the future - good value at 3 - 400 pesos (15 - 20GBP).
Its not until I reach Sants Rosalia that I actually get inspired. What a sweet little town. It has proper streets, pavements and neat little houses. Makes a change from the dirt and shacks that have prevailed up to this point. And so it continues. The Baja just gets better the further south I travel. Some of the landscape is absolutely stunning. The roads are good and very well maintained - full marks to the mexican government. Only the occasional washway (culvert) requires me to slow down - tropical storm Julio came through the week before and in places took the road with it. But it's all well signed. I think Julio may also be responsible for the greenery that prevails in the south - totally unexpected.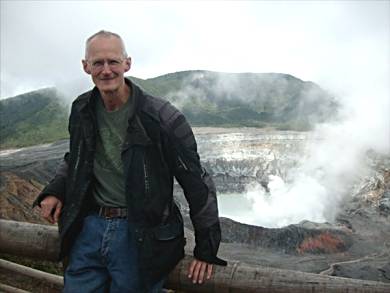 ... And on to Colombia. Before each new challenge I like to get everything sorted. The local Chinese laundry got a week's worth of washing to do. The hotel gave me a bucket to wash the bike - couldn't find a car wash type place anywhere. The bike has been checked - yet one more notch goes by on the chain adjusters. Several dollars has been spent in the internet cafes (there are loads here) and my Colombia research completed. Because of the Darien Gap (i.e. - no road for 200miles) the bike is booked on a flight with Copa Airlines. At $629 reasonably priced. Straight forward to organise at the Copa office - hopefully it will arrive OK. For future travellers, some tips that might help:
i. There is a customs office right at the entrance to the cargo terminal. It was a five minute job to close out bike permit and get relevant stamp in passport.
ii. Allow at least two hours at Copa to get the bike checked in and complete the paperwork - I only allowed an hour and created anxiety for myself (my flight to Bogota was imminent).
iii. They asked about petrol but didn't actually check. No need to disconnect the battery. You can leave all of your luggage on the bike. I took my mirrors off, but probably no need.
iv. You should take some photo prints of the bike with you. They do a detailed visual inspection and use the photos to make notes. I guess they then use these to check at other end also and cover themselves against any complaints.
v. Although I didn't see my bike loaded, there were three other bikes ready to go to Medellin. They were loaded on an aluminium airline pallet (more like a tray) and strapped down. Looked good. No crate required.
vi. They have a proper cashier - credit cards accepted.
vii. Copa can organise a taxi to get back to the airport - about 20minutes to the departure terminal (there are no taxis within the cargo terminal area).
My flight to Bogota is with Copa also, but not the same one as the bike obviously - the bike goes in a freighter. $320 for me, booked three days in advance. Because the bike can only fly on a Friday, it was a toss up as to whether to wait in Panama or Bogota. Bogota won. Hopefully this was the right decision...
Bogota - I've been here two days now and am at the airport collecting my bike. Its here - exactly as I left it in Panama. Copa Airlines use a handling agent so I have to part with some cash to cover their input (about 70,000 pesos - less than 20GBP). They direct me to the customs office for some form filling - but no charge for my Temporary Import Licence. What's even better, I do the whole process myself - no fixer required. The only way out of the warehouse is via the loading dock - no problem. The cargo guys borrow a DHL truck with a rear lift platform and soon I'm sorted and ready to go.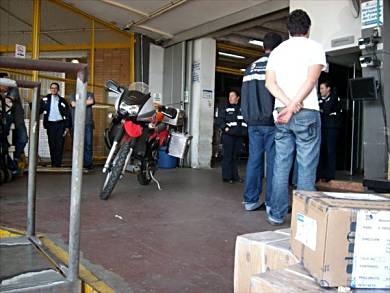 The whole process was amazingly straightforward. There were so many places where it could all have fallen down - but it was nigh on perfect. My only mishap was the taxi taking me to the flight departure terminal rather than the cargo terminal. I thought my instructions were perfect, albeit in English. Maybe some Spanish would have helped!"
Ed. Follow Graham's trip in his blog here on Horizons Unlimited!
Ruby and Mike, Canada, in Morocco, BMWR1200GS,
"We had been looking forward to Morocco for two (2) main reasons. (a) our return to western civilization and (b) the amazing history and culture. Morocco was exactly what we needed after a tough, but rewarding battle up the west coast of Africa.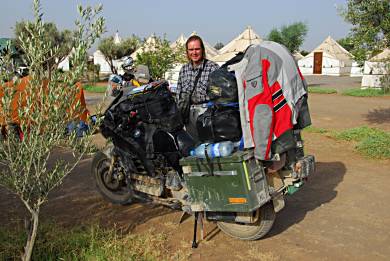 The country exceeded our expectations in every aspect. It is very easy to travel in Morocco, the road system fairly new and well signed for African standards. The accommodations, both hotels and campgrounds were cheap and very clean. We fell in love with the Moroccan food and their freshly squeezed Orange Juice.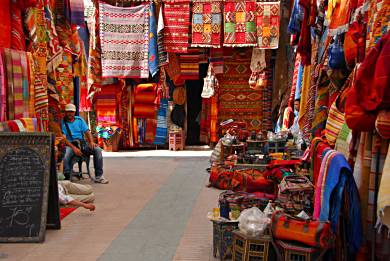 Morocco feels like Spain 30 years ago, but it is moving in vast steps toward modernization. Of course this is sad for those of us, who love the Morocco of today with its Berber traditions and Muslim architecture. There are still places in the High Atlas Mountains untouched by the Western World. The advantage of Morocco is its close proximity with Europe.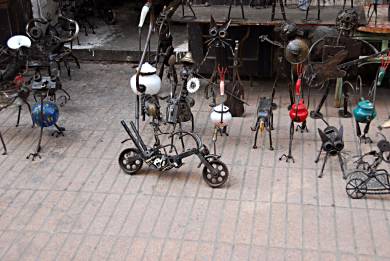 You can make Morocco as adventurous as you want. The option is yours, as it offers both some tough off-roading in remote places from high mountain passes to the open desert. If that is too adventurous take a wander through the souks of Fes and Marrakech or immerse yourself in the relaxed atmosphere of Chefchaouen.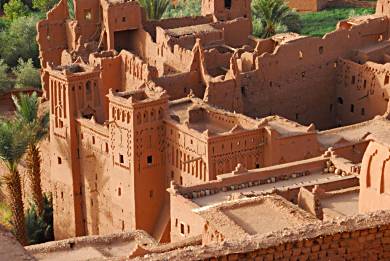 With tears in our eyes we left the African Continent behind, knowing in our heart that we will be back."
---
---
Johan Lundin, Sweden, in Brazil, KTM 640 Adventure,
"It has been 7 weeks since last update and you might wonder how it can take 7 weeks to fix a bike. The first action I needed to sort out was to find out the problem so I consulted my personal bike expert Simon. After about a day I was pretty confident taking the engine apart so headed to the local mechanic workshop in Santa Luzia do Parua where I broke down. It didn't take too long to find out that the problem was that a bearing had broken which in turn had caused some additional damage to the engine. It was nothing major in the sense that the engine needed replacement but meant that I needed to get KTM motorbike parts.
I checked up all the KTM dealers in Brazil which was quite easy since I've passed them, buying spare parts, on my way up north. Unfortunately all the required parts were not available in Brazil. I needed two rocker arms and one cam axis. I was able to buy one rocker arm from Sao Paulo. Due to import taxes all bike parts are twice the price in Brazil but the part arrived to Sao Luis within 12 hours.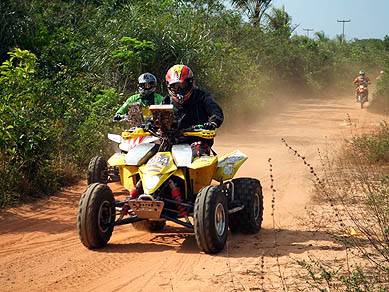 Now I needed to get the other two parts. Simon who was stuck waiting for parts in Mexico recommended a guy working for BMW in San Diego who had good KTM contacts. He sent other parts down to Simon and his brother in Central America and Peru in 5 days. I called him up and he was very helpful and knew how to deal with custom declarations. He ordered the parts from different sources within US and sent them my way after about a week and a half.
Back in Sao Luis I could follow my parts from US using the USPS tracking system but they made slow progress towards Brazil. I headed back to Santa Luzia when they had a motocross race there.
It took two weeks to get the parts thru customs. I spent the time helping Marcelo out when he was racing the three day Rally Rota Maranhao. For those that have heard about Paris - Dakar, this is a small version of the same thing.
Back in Sao Luis my parts finally arrived and within a few days my bike was back in action. With the benefit of hindsight I should probably insisted on sending the parts with DHL or UPS but that is a learning experience for next time. Luckily I haven't suffered very much at all waiting since Brazil is a nice place with the friendliest people in the world.
Hope you are all doing fine across the world. I'm heading north now in the humid heat (33C / 92F) into the Amazonas rainforest. Johan"
Carol and Ken Duval, Australia, RTW (again), in Argentina,
While in B A we decided to do some servicing on the bike and fix some annoying oil leaks. Javier and Sandra of Dakarmotos are very well known in Argentina as the people to be in contact with when, as a motorcycle traveler, you need help. We stayed at their basic hostel (attached to the work shop) for a few days to work on the bike.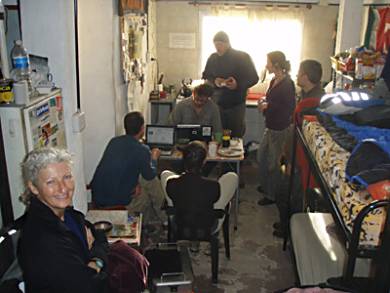 This was to be a major exercise. We dismantled the engine to replace the push rod seals and looked at stopping a leak around the right cylinder barrel stud, the thread of which had been replaced (third time in bikes history) in Santiago, Chile when we first arrived in South America. When the heads were removed a valve inspection revealed severe recession in the inlets to the point where they really needed to be replaced. This problem was of some concern as we had only completed 24,000 kms on what we believed to be reconditioned heads. Our host Javier however was unperturbed and reassured us the job would be taken care of in the following two weeks we were in B A. While this was being done we also sent the rear shock absorber away for servicing.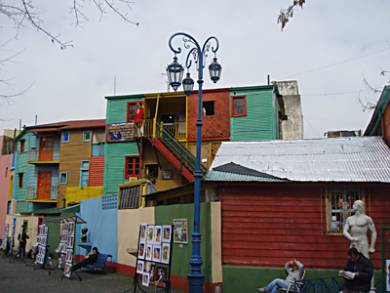 ...The next 13 days with Mike and Jane were a whirlwind of driving, sightseeing and meeting up with old friends. Carol caught a cold coming over Paso Los Libertadores between Uspallata and Santiago, Chile and shared it with us during the journey. In Santiago we stayed with our good friend Mario for one night and had a fantastic evening out to dinner with him and his bike club. The Aperrados Moto Club is a bit like our extended family in Chile as we have enjoyed rides and social outings with the members every time we have been in Santiago. Once again we had a fantastic time eating exotic foods at an Arabic Restaurant. Mike and I even had the pleasure of dancing with the resident belly dancer. Our moves were somewhat out of rhythm but it was worth a laugh.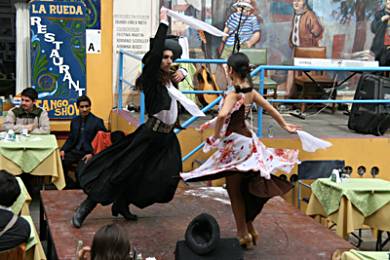 ...Over the next few days we sorted out our gear again and planned our route north. This time we plan to break through the shackles of Argentina and Chile and venture to other South American countries. No commitments yet but we hope to make it to Paraguay Brazil and Uruguay but there is a lot to see in Argentina before we get there.
There is very little motorcycling other than the San Rafael to Buenos Aires return journey in this update and our apologies for this but we promise to make up for this over the next few months. After two weeks in the tin top we found it a tad restricting in respect to the meeting of people. The bike tends to attract locals, travelers, adults and children alike. We missed the smells on the wind as we ride including the numerous flowering trees and eucalypts.. Even the dead skunks! (Carol said she could do without the skunks!)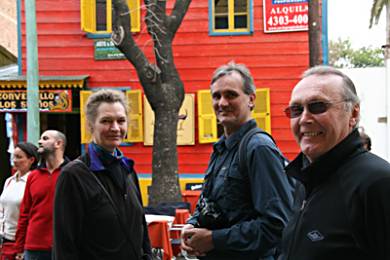 It was cold however, and the likelihood of snow was high during this time so it was doubtful we would have done this journey on our bike. We found summer in Patagonia cold enough. I think there were times Mike wished he was on his R100GSPD or even his mountain bike instead of the car but compromises had to be made to enjoy at least part of this great country at this time of year. We had a great time with Mike and Jane and would love to see them tackle a similar journey on their own bike."
---

Drop in on Alaska Leather on your Alaskan adventure for service, tires, accessories and a hot cup of fresh coffee!
---